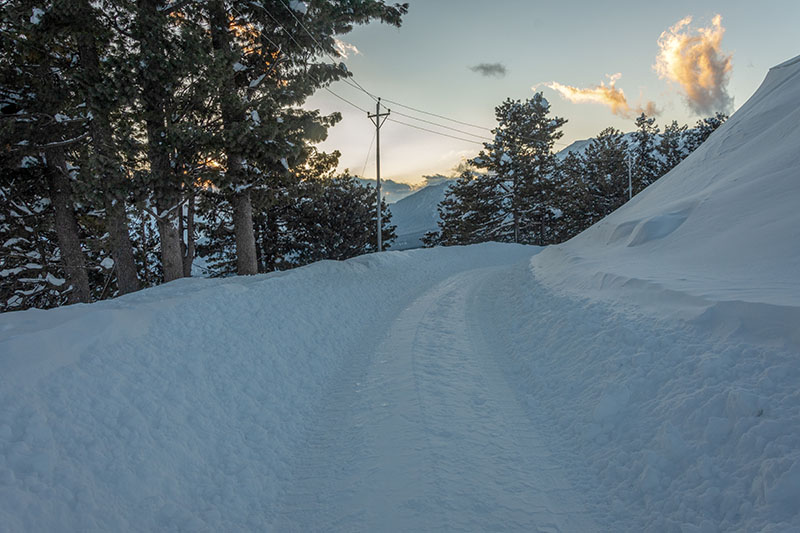 Are you planning a trip in near future and wondering where can you find snowfall near Delhi? In this travel guide, I will provide a list of some best places you can go to, broken down by the months. Depending on when you are planning to go, you can pick any of these places and have a great time.
Due to its close vicinity with the states of Uttarakhand and Himachal, there are plenty of places near Delhi that can be a good destination if you wish to see some snow. The list is of course bigger in the winter months and much shorter during the summer. Where to go will completely depend on how many days you have in hand.
Though I am using Delhi as the starting place here, it is just for a reference. No matter where you stay, you can visit these places from your city in the mentioned month and will find some (if not plenty of) snow here. Snowfall in the months from May to August will be extremely rare; but you can still hope to find some snow on the ground. Read on to find out more.
 Snowfall near Delhi
 If you have about a week or so, then there are several places that you can go to throughout the year. While in the winter season, the choice of places is endless and you may even be able to catch a snowfall; options in the months of summer are severely limited. If traveling in months like June or July, the snow only you will see probably will be on top of the peaks or at high altitude passes.
If you would like to read this information by the duration of this trip, I will urge you to read the other 2 articles I wrote on this topic. Take a look at 2 – 3 days trip for a quick weekend getaway or 4 – 5 Days trip for places that you can cover in a longer duration.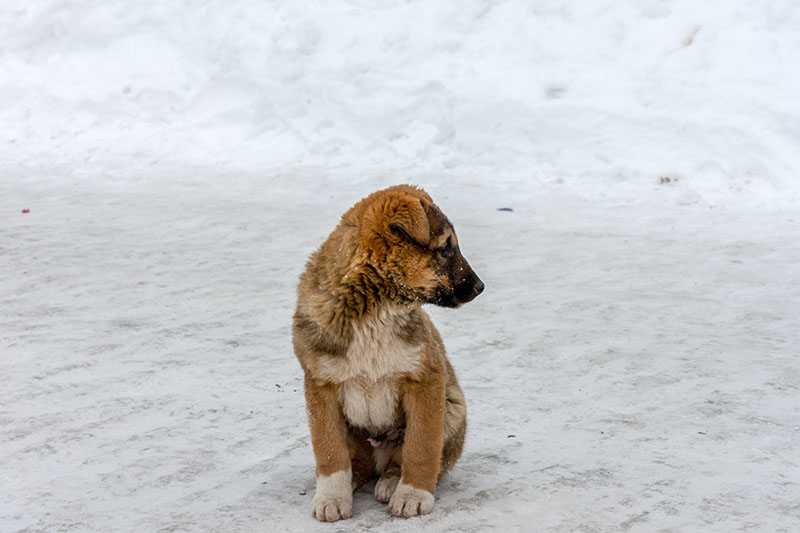 Snowfall near Delhi in January
It is the peak winter season and you can pretty much go anywhere in Uttarakhand, Himachal, or J&K. Places like Shimla, Manali, Mussorie, or Srinagar get crowded with tourists as the valleys turn white with snow all around.
Uttarakhand
In Uttarakhand, some of the top places to go to would be Auli, Dhanaulti, Chopta, Mussorie, Nainital, Almora, Munsiyari, and Chakrata. If you are looking for a place with not that many tourists, it would be best to avoid Mussorie and travel towards Dhanaulti and Kanatal. If you want a place as close as possible to Delhi, give Landour a shot in January.
Khirsu is another place that receives heavy snow and is probably one of the least known tourist spots. A few other destinations you may choose to visit are Harsil, Dharali, Mana Village, Juda Lake, Chaukori, Kedarkantha Peak, and Kausani.
Himachal
 In Himachal, Shimla and Manali are two hill stations that you can never really go wrong with. If this feels a bit too crowded, then try traveling a bit ahead of Shimla towards Kufri and Narkanda. Two other great places to witness snow and white valleys would be Dalhousie and Khajjiar.
If you are up for some adventure as well then take out 7 days and travel to Spiti valley in the dead of winter. The amount of snow you will find at other places is nothing as compared to what you will find in Spiti. Kasol is another great place to go to in Himachal.
If you are into trekking than travel to Dharamshala and Mcleodganj and take a walk towards Triund. Heavy snow may not allow you to reach the top; but walk as far as you can until snow makes it impossible to go any further.
Some other places you may visit are Jalori Pass, Shoja, Tirthan Valley, Prashar Lake, Rohru, and Chanshal Pass.
Kashmir
Come January and the entire Jammu & Kashmir gets completely covered under a thick sheet of snow. Every town here is a tourist spot in itself and you can go in any direction. Srinagar, Sonamarg, and Gulmarg are probably hot favorites. These places are paradise in themselves. In January, as the valley turns white, the sight here is one to behold.
Some other great places to be at would be Pahalgam, Patnitop, Anantnag. If you want to go to places with a bit fewer tourists then catch a flight to Ladakh. The amount of snow you will find in Ladakh will be enough for a lifetime.
Though not near Delhi but if Northeast is on your mind than Katao and Yumthang Valley in Sikkim, Tawang in Arunachal Pradesh, Lava, Lolegaon, and Rishop in West Bengal would be a great choice of places to visit.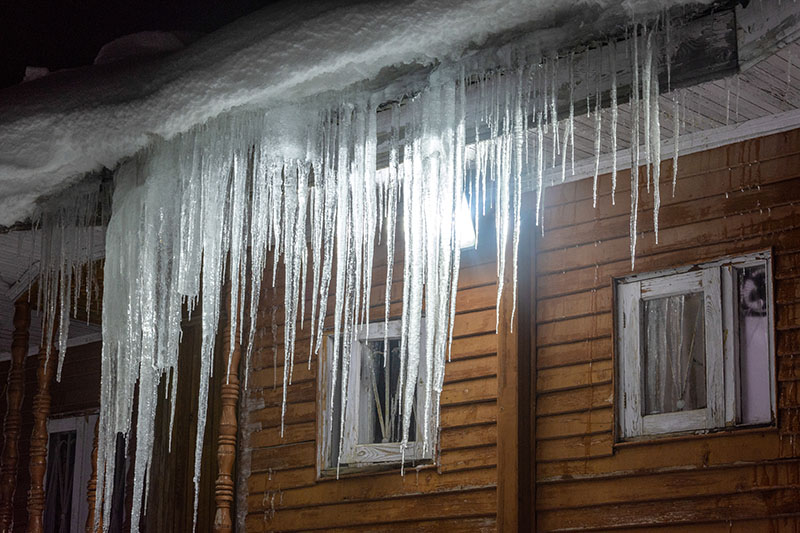 Snowfall near Delhi in February
The month of February will pretty much be the same deal as January. The only change will be that the chances of catching a snowfall will be lesser this month. Some of the places at a lower altitude like Landour, Shimla, Dhanaulti, Patnitop, etc may not have much snow in February but the rest of the above-mentioned places will definitely will.
You can pick either of these places and plan your trip. I will still recommend calling in advance and confirming if there was still any snow or not. Like in Kashmir, Gulmarg will definitely have snow in February but Srinagar may not.
Snowfall near Delhi in March
If you have about 7-9 days in hand, then take a drive towards Spiti valley in March. Though a little adventurous and will require some serious riding or driving skills, it is will be totally worth it. March is a good time if you want to plan a winter trip to Spiti.
Places like Shimla, Manali, Mussorie, or some other hill stations from the list I mentioned above may not have snow all the time but there will still be occasional snowfall. Before planning a trip to either of the places, you should call any of the hotels in the region and inquire about the status.
If you want to see snow in March, then Chopta, Deoria Taal, Auli, and Mana village will be good choices. In Himachal, apart from Spiti, you can drive towards Jalori Pass or Chanshal Pass. Manali will also be a great choice for snow in March. Though there may not be any in the town itself, you will definitely find snow towards Rohtang Pass.
In J&K, if there is no snow in Srinagar then just take a drive toward Sonamarg and you will have ample snow all around. As a ground rule for March, try to travel in the earlier weeks. The longer you delay, the lesser the chances are of finding snow. The second rule is to look for a place that is at a higher altitude.
But before you finalize Sonamarg, make sure the road from Srinagar to Sonamarg is open. You can keep a track of it in this thread Srinagar Sonamarg Road Current Status.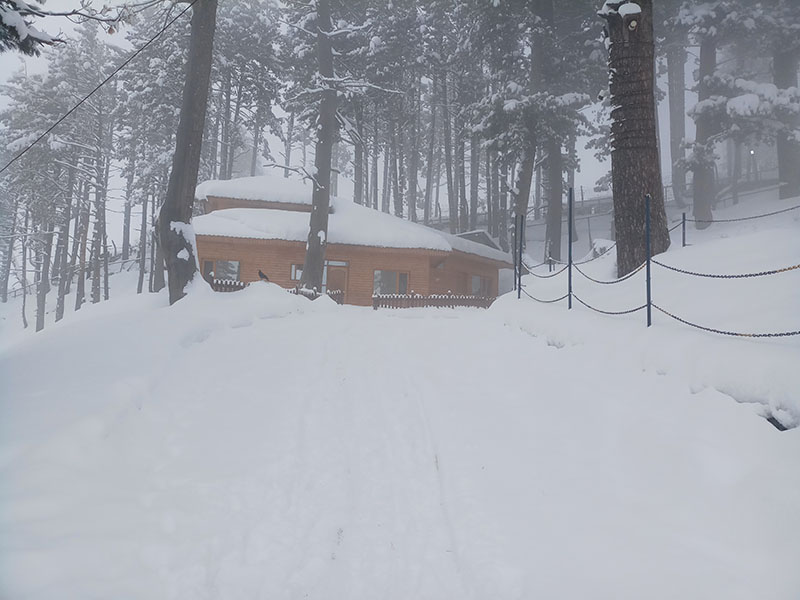 Snowfall near Delhi in April
Your options will get severely limited from April onwards. Most of the snow in the Himalayas would have melted by April and you will really need to look for a place high above.
In Uttarakhand, take a drive towards Gangotri or go to Auli. You can also try the Deoria Tal to Chandrashila Trek if you had 4-5 days in hand and were up for some walking around and climbing the mountains.
In Himachal, you can ride towards Rohru and Chanshal Pass. Manali however will be your best choice. You will definitely find some snow towards Rohtang Pass or Solang Valley.
Kashmir can also be a good choice to visit in April. Places like Sonamarg and Gulmarg may still have some snow left. Chances in Gulmarg may be a little less. But if you went in early April, you will surely find snow in Sonamarg. If not Sonamarg, you can just try driving towards Zojila which remains buried under snow in April.
Snowfall near Delhi in May
In the month of May, you will really need to go towards some high altitude pass. You will also have to make it in the early part of May.
For a short 4-5 days trip, visiting Rohtang or Chanshal Pass will be your best bet.  If you have some more time, visit Kashmir as Sonamarg may still have plenty of snow towards Zoji La Pass.
Srinagar Leh highway reopens towards the end of April or early May so you can take a drive towards Kargil from Sonamarg. There will be an ample amount of snow at Zojila Pass and you will not be disappointed at all.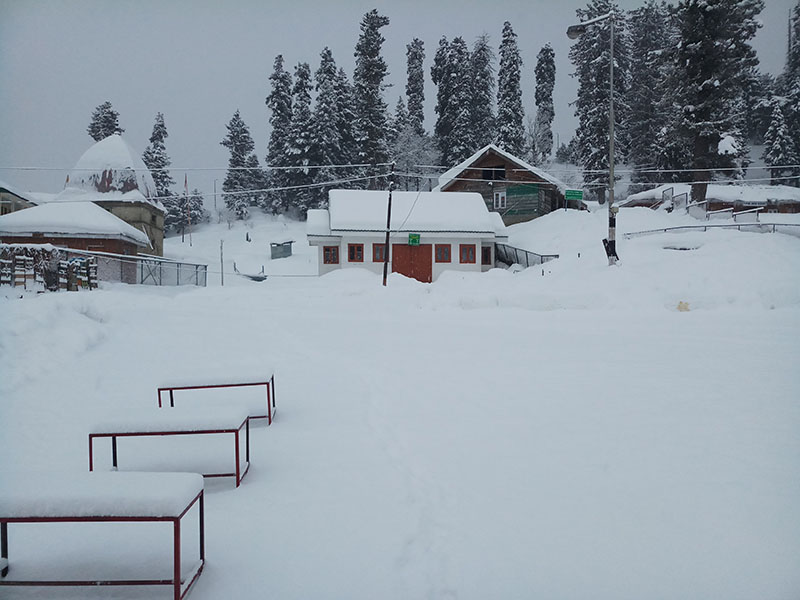 Snowfall near Delhi in June & July
Both these months are not really great times if you want to go hunting snow as there will be none left. Your choices are mostly restricted to high-altitude passes only.
For a short trip, you can visit Manali and go to Rohtang Pass. Sach Pass too will have plenty of snow in June and some left even in July.
June is also a great time to travel on Srinagar to Leh or Manali to Leh routes. As the passes have just opened, snow will still be melting and you will find plenty of it on top of the passes en route.
Snow near Delhi in August & September
Ladakh is probably the only place where you may hope to see some snow in these months. That too will be limited to the top of the peaks only. You can try your luck towards Sach Pass as well. If it is snow you desire, then I would recommend postponing your trip by a few months and waiting for the winter to arrive.
Snow near Delhi in October & November
There are not really many places where it snows this early in winter near Delhi. The only place guaranteed to have snow during these months are Ladakh and Spiti. You can travel to Kaza from Shimla and visit Kunzum Pass to see the snow.
You can also plan a trip to Manali and Rohtang Pass or catch a flight to Ladakh. Sach Pass too would have closed. You can go to Bairagarh and take a drive from there towards the pass as far as you can go. But for this, you will really have to talk to the cops at Satrundi check post in letting you go.
Snow Near Delhi in December
Your options in December are vast. It may not happen early in the month but by mid or late December, it would have snowed all over the Himalayas.
The places that I mentioned for January in the article will all apply to December as well. Travel towards the end of the month and you are in for catching a live snowfall at all these destinations.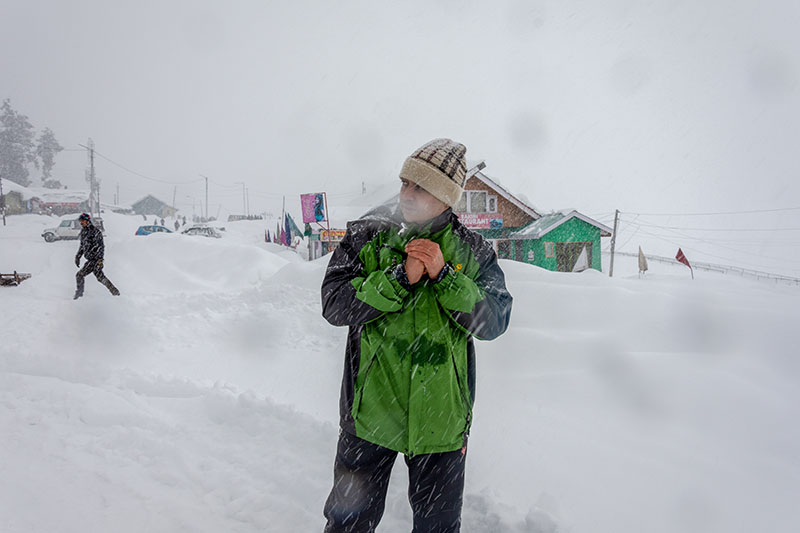 Conclusion
I hope the information above regarding snowfall near Delhi was helpful. If you have any questions, you can contact me on Instagram and I will be happy to answer. You can also consider subscribing to my YouTube channel and asking a question there.