Manali is one of the most visited hill stations in our country. I think it would not be wrong to say that the tourist season here never really ends; except for maybe the monsoon season but even then, you will not find the town entirely devoid of tourists. People visit here all the time and from all parts of India. It is a preferred spot for family vacations, honeymooning couples, and even adventurous trips. Manali has a little something to offer for everyone. While the main town receives the majority of the tourists, there are numerous other areas nearby that are not so well known but have a tremendous amount of scenic beauty. One such place, not far from Manali, is the enchanting Solang Valley.
Not just around Manali but Solang Valley is considered one of the most beautiful places to visit in the entire Himachal. It is marked by snow-capped mountains, stunning glaciers and turns paradisiacal during winters as a thick sheet of snow turns it white. It is famous for its ski slopes but that is not really all. Solang Valley has much more to offer. It is a year-round destination that offers a great combination of serenity, solace, adventure, and natural beauty.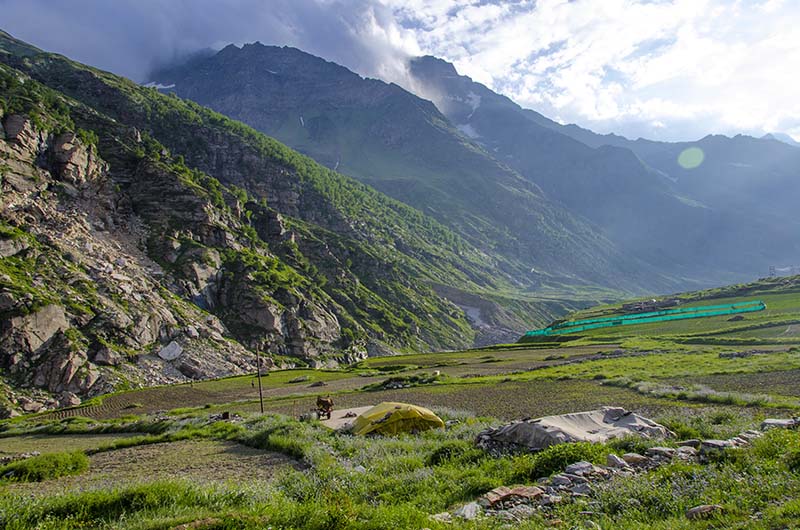 Solang Valley Travel Guide
How you can plan a trip to Solang is what I will be discussing in this article, including details like how to reach Solang Valley, the best time to visit, where to stay, what to see and things to do.
About Solang Valley
The Valley is named after the nearby village of Solang and derives its name from the combination of words Solang and Nallah. It is a side valley at the top of the Kullu Valley in Himachal Pradesh and is a preferred spot for adventure activities like parachuting, paragliding, skiing, and zorbing.
Also Read: Taxi Rates in Manali – Updated Rate List
Where is Solang Valley
Solang Valley is located at a distance of 14 kilometers from Manali. The valley is located between the village of Solang and Beas Kund. More details on this are provided further in the article.
How to reach Solang Valley
In order to reach Solang Valley, you will have to first reach Manali town, which is not difficult at all. From Manali, you can then go to Solang by either your own vehicle, a cab or by Bus. In order to explain the route below, I will assume Delhi as your starting point. However, even if you were coming from a different city, the information below can still give you an idea of how to get to Solang. If you were coming from Chandigarh, then the journey will pretty much be the same as Delhi but shorter.
How to reach Solang Valley from Delhi
Starting from Delhi, the route will be as mentioned below.
Delhi – Panipat – Ambala – Chandigarh – Swarghat – Sundernagar – Mandi – Bhuntar – Kullu – Naggar – Manali – Vashist – Palchan – Solang
The total distance covered will be about 550 kilometers and will take you around 14-16 hours to cover; depending on your speed, breaks and where started from in Delhi.
From Delhi, you will start driving on NH1 all the way till Ambala. Just before Chandigarh, take the bypass towards Rupnagar via Kharar rather than entering Chandigarh city. After Rupnagar, continue driving to Kiratpur Sahib and from there the hilly area will start. Until Kiratpur the roads will be mostly good except for a brief stretch around Chandigarh.
But after Kiratpur, you will be stuck behind a long line of trucks and the journey will become slow and a bit annoying until Mandi. Vistas will improve after Mandi and you will be able to enjoy the journey better. Continue driving through Bhuntar, Kullu, and Naggar to finally arrive at Manali.
Also Read: Manali Bus Service – Schedule & Timetable
How to reach Solang Valley from Manali
Now that you are in Manali, you can either stay here for a night and go to Solang the next day; or you can continue driving straight to Solang. Pass through the busy Manali town, cross the bridge after Bus stand and take the road towards Rohtang Pass. After 11 kilometers, you will arrive at the small village of Palchan. Here, the road bifurcates. The one to your right will take you towards Rohtang Pass but the one to your left will take you to the village of Solang.
Turn left and shortly after Palchan, you will cross a bridge. This is where you enter Solang Valley. You will first reach the Solang Village where most of the hotels are and this is where the majority of the tourists stay. The road, however, continues further ahead for about 8 kilometers and ends at the mouth of Rohtang Tunnel after Dhundi Village.
You can stay at the hotel in Solang Village and drive all the way to Dhundi to explore the beauty of Solang Valley.
Nearest Airport to Solang Valley
If you want to reach Solang by flight, then the closest airport is in Bhuntar; at a distance of 63 kilometers. From the airport itself, you can find prepaid taxis to drop you either at Manali or Solang. The taxi charge will be around Rs. 4000 – 5000 depending upon your time of arrival and negotiation skills.
Other than Bhuntar, the next major airport is in Chandigarh.
Also Read: How to Plan a Trip to Dalhousie
Nearest Railway Station to Solang Valley
If you want to reach Solang by train, then the closest railhead is at Joginder Nagar, at a distance of 50 km. It is, however, a narrow gauge track connected by a Toy Train to Pathankot, much like the Kalka Shimla Toy Train. So you will have to first board a train to Pathankot, then to Joginder Nagar and then a taxi to Manali.
A better way thus would be to catch a train to Chandigarh which is a major railhead with several trains to every major city in India. Then you can board a Chandigarh to Solang Bus for your final leg of the journey.
Solang Valley by Bus
Listed below is information on buses traveling to and from Solang Valley.
Also Read: How to Plan a Trip to Manali
Manali to Solang Valley Bus
There are total of 5 buses daily traveling from Manali to Solang Valley. Of these 5, three are ordinary HRTC buses while the remaining two are electric buses which are a bit more comfortable than the HRTC buses. The first bus starts at 8 AM which is the ordinary HRTC bus. It is then followed by two electric buses at 10 AM and 1:30 PM. Then there are two more ordinary buses 2:00 PM and 4:15 PM.
Manali to Solang Valley Bus Fare
Total Bus fare for Manali to Solang is Rs. 70 per person.
Delhi to Solang Valley Bus
There are no direct buses between Delhi and Solang Valley. You will first have to reach Manali and then board a bus for Solang from there.
Also Read: How to Plan a Trip to Mcleodganj
Solang Valley in Winter
All the modes of travel that I explained above will remain applicable in the winter season as well. January and February is actually peak tourist season here so all the roads remain open and you will have no trouble getting in and out the valley.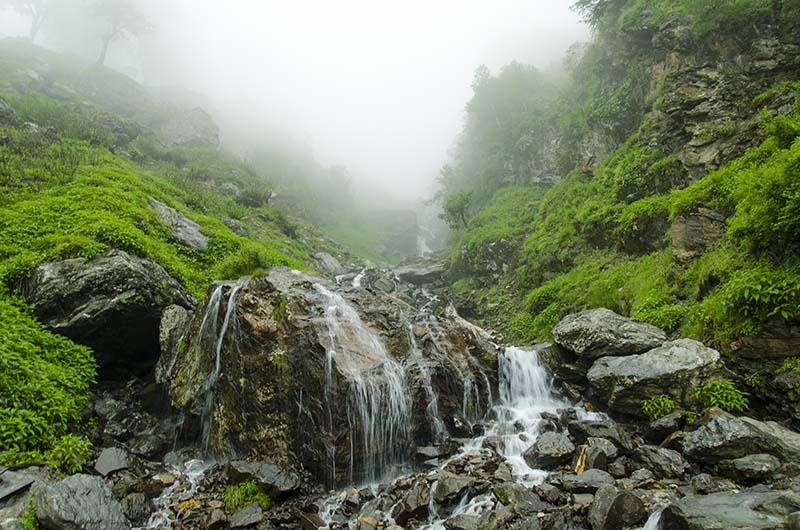 Why visit Solang Valley
Is Solang worth visiting? The answer is a definite yes. Manali is beautiful no doubt but can feel a lot crowded sometimes. So what do you do if you want to visit less crowded places? You go to Solang Valley. It is only 14 kilometers away from Manali, almost never gets crowded and is truly what you can call an offbeat place.
It has easy connectivity, good accommodation choices, plenty of scenic beauty and tons of activities that you can indulge yourself in. If you want to stay away from the main town, crowded mall road, traffic, noise, hustle-bustle of the city and would rather spend time in the lap of mother nature, then Solang Valley will suit you just fine. The beautiful vistas here and the view of snow-covered mountains will surely leave you charmed.
Also Read: Triund Trek – How to Plan your Adventure
Weather of Solang Valley
Winters in Solang Valley are long and take up almost half of the year. During January and February, the temperature drops down to 0 and even further below. The entire valley turns white and people start arriving to enjoy snow and winter sports like Skiing. You will find a lot of families as well as honeymooning couples here at this time.
The summers of Solang are pleasant and last from April to June. This is when the valley receives the highest amount of visitors. The weather remains to be enjoyable with warm days and moderately cool nights. You will have clear views and sunny skies. The average temperature at this time is around 15 °C.
Monsoon season is mostly considered to be a bad time to visit Manali or Solang. This entire region receives heavy rainfall each year, sometimes enough to cause landslides and block roads. It is highly possible that you came to visit but were forced to remain indoors because it kept raining all the time. So please check the weather forecast before you leave home.
Best time to visit Solang Valley
The best time to visit Solang Valley is either in January, April or September. May, June, and February will be the next best months to go.
You should arrive in January or early February if you wanted to see snow. If you just want to enjoy pleasant weather and escape the heat of the plains, plan in April, May or June.
For a budget trip, plan in July, August or November. For photography, plan in January, July, August or September. If you do not like cold weather; do not go between October to March. If you do not want to risk the rain, avoid July or August. If you want to go when there aren't many people around; plan between July to November. For a family trip, plan in April, May or June.
For more details on the topic of the weather in Solang and an ideal time to visit, please read When is the Best time to visit Solang Valley?
Clothes for Solang Valley
What clothes to pack will depend on your time of arrival. For a trip in winters, you must pack your woolens and a heavy windproof jacket. Thermals too will come in handy if you were coming in January. Good waterproof gloves, warm socks, and shoes with good grip (waterproof too if possible) will be needed as well.
For a trip in summer, you just need to pack your regular cotton clothes accompanied by a light jacket or a couple of woolens. It gets pretty warm during the day and you may not even need a jacket actually. But the temperature drops quite a bit at night and you will definitely need a light jacket to step out during mornings and evenings.
If you were coming in the monsoon season, then pack clothes that dry faster, like polyester. Do not pack heavy clothes for a trip at this time. Carry an umbrella if possible.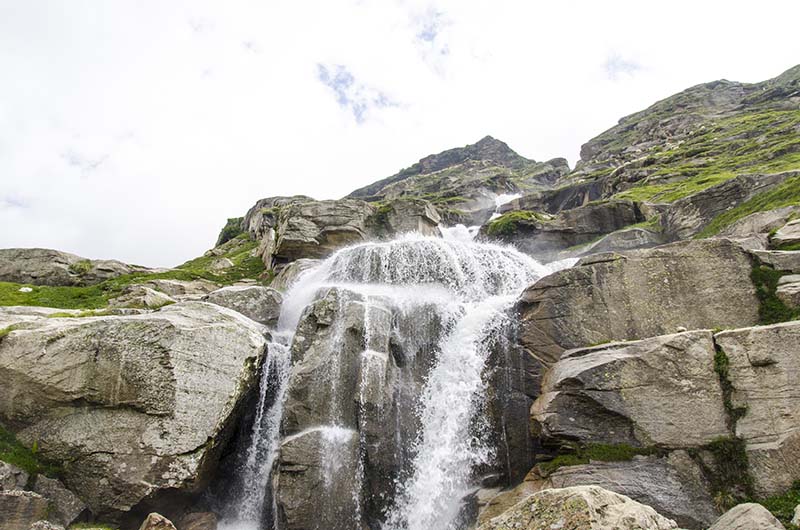 What to see in Solang Valley
I have actually covered this topic in detail in another article. I will list down the tourist attractions in Solang Valley here to give you a list. If you, however, want to know more about these places, I will request you to read Sightseeing in Solang Valley – Places to Visit in Solang Valley.
Natural Beauty
An Offbeat Experience
Solang Village
Kothi Village
Rohtang Pass
If you want to read about all the places that you can visit in and around Manali, I will recommend you to read Sightseeing in Manali – What to See in Manali.
What can we do in Solang Valley?
I have covered this topic as well in the tourist places article that I provided the link to above. But below is a list for an overview.
Mountain Sports
Paragliding
Gondola Ride
Skiing
Quad Biking
Snow Mobile Ride
Zorbing
Trekking
Camping
To get more details on these topics, please read What to do in Solang Valley?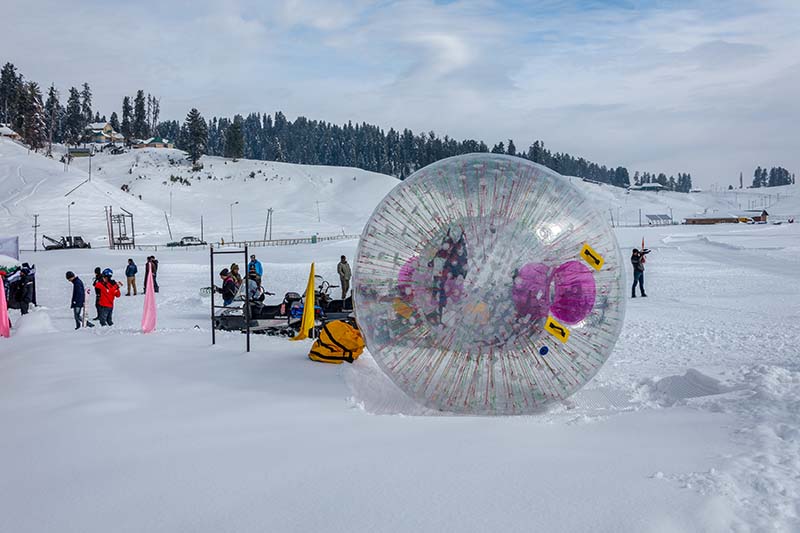 Local Transport
Local transport in Solang Valley is not that great. It is just a small village so you really do not transport if you just want to move around in the village. That is best explored on foot.
For moving from Manali to Solang, or towards Rohtang or further in the valley, you will definitely need a car or motorcycle though. If you weren't traveling by your own vehicle, then you can rent a local taxi in Manali. For a budget-friendly choice, you can also rent a motorcycle which will cost you much less than a taxi.
Bus connectivity is there but the frequency is very less. It would be wise to not depend on the buses actually and just rent a bike or an automatic scooter like Activa.
Also Read: Gulmarg Gondola – The Best Gondola Ride in India
Where to stay in Solang Valley
There are several hotels in the main Solang Valley and several locals have started homestays as well. If you, however, did not find or like a suitable place in Solang, then you can also try in Kothi. You will, in fact, come across several hotels on the entire 13 kilometers stretch from Manali to Solang Valley.
In Kothi, there is an HPPWD Resthouse (also known as circuit house) where we stayed and it was a good experience. You will, however, need to book your stay in advance. We were lucky that we were able to talk the caretaker in allowing us to stay for a couple of days but I will still recommend booking to be on a safer side. For more details on this, please read How to Book an HPPWD Rest House.
You may not find a budget hotel in Solang Valley though, not as far as I can tell. We checked and almost all the hotels here were quoting Rs. 2000 or above for decent enough rooms. If you were traveling on a budget, I will recommend staying in Manali itself and making a day trip to Solang Valley.
Also Read: List of Necessary Items to Carry for Trekking
Camping in Solang Valley
Yes, camping also is a possibility in Solang Valley if you wish to do that. There are several campsites in and around the valley (all around Manali actually). Most of them are located just at the banks of the River Beas and you can choose one according to the location, activities, and facilities.
Do not book in advance though. See a few campsites after you arrive here and stay at one that has the best location and facilities.
Self Camping
Self camping can be done as well but you may struggle to find an appropriate camping ground. Most of the good spots are already taken by travel and camping agencies. A friend of mine pitched their tents near Kothi but ran in trouble with the locals and had to pay off a little amount in the end.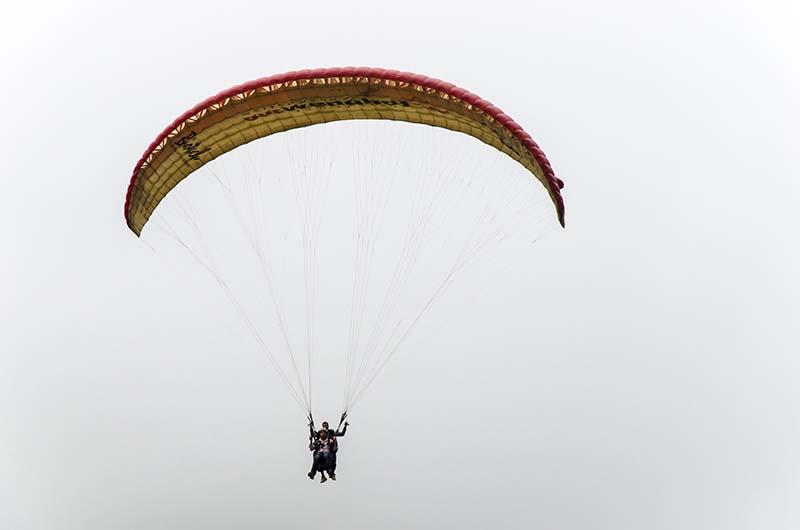 Road Conditions
Conditions of the road are mostly good all the way to Solang. If you were coming from Delhi, the only rough patch you will hit is between Kiratpur and Swarghat. Other than that, it is a smooth journey.
The biggest hassle is the trucks and overtaking them one after another will surely tire the person on the wheel. Drive carefully and do not hurry.
Best Vehicle
There is no best vehicle as such for visiting Solang. The local taxi drivers take passengers to Rohtang Pass in Maruti Alto. So all kinds of cars can easily reach Solang Valley, provided that it is well maintained.
Please keep in mind though that vehicles 10 years or older are not allowing to travel to Rohtang Pass. You will not get the permit for it and the rule applies to motorcycles as well. So if you want to visit Rohtang as well, then bring a vehicle that is not 10 years of age or rent a taxi in Manali for the same.
For more details, please read How to Plan a Trip to Rohtang Pass and How to get your Permit for Rohtang Pass.
What & Where to eat
There are a few places in Solang Valley where you can eat. Manali is, however, the best place to try different types of food. There are a few restaurants in Solang, Palchan and Kothi where you can get most of the north Indian dishes. There is a Pizza Hut in Solang if you want to try some Italian. Cafe 1947 is another good place to eat but it is located slightly before Palchan and not in Solang Valley.
If you were not in a mood to step out, then just order in your hotel only. In the winter season, this actually seems like a better choice.
Shopping
Solang is really not the right place to go shopping. If you want to buy something then you should try the market in Manali. You will get greater choices and better prices there.
Mobile Network and Data Connectivity
There is good cell phone reception in Solang. You will remain well connected irrespective of which network you were on. I was using Airtel and got good 4G Data connectivity. If you however went on any of the nearby treks, then you may lose reception. In remote places, BSNL has the best service in Himachal.
Bank / ATMs
There is a PNB ATM in Solang where you can withdraw money. If that wasn't working than just drive towards Manali and you will come across several ATMs about a kilometer after Palchan.
Petrol Pumps & Mechanics
There is no petrol pump in Solang Valley. The nearest one is located about 2 kilometers before Palchan. There are no mechanics here as well.
Hospital / Medical Assistance
There is a medical center in Solang and a Primary Health Center in Palchan. A dispensary is also located near Palchan. For something serious, however, you will have to come down to Manali.
Also Read: How to Plan a Trip to Bir Billing
Altitude of Solang Valley
The average elevation of Solang Valley is 2,560 meters (8,400 feet).
Time Needed for the Trip
How much time you need will depend on where you were coming from but 4-5 days is what I will recommend at least for a trip to Solang Valley. If you were coming from a place like Delhi or Chandigarh, you will need at least 2 days to reach the valley and then going back home. An additional 2-3 days must be kept for staying here and exploring the place if you truly want an enjoyable trip. Any less than this and the trip will feel very rushed.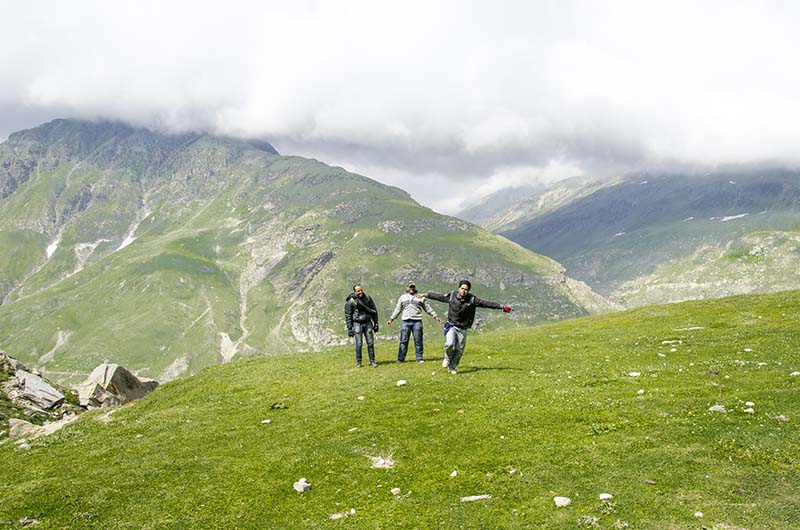 Solang Valley Itinerary
Below is an example of Solang Valley Manali itinerary. For the sake of the itinerary, I will assume Delhi as your starting point.
Delhi to Solang Valley – Day 1
Start early from Delhi
About 550 kilometers of drive
Total 14-15 hours of journey
Reach Solang by evening and relax.
Solang Valley – Day 2
Just walk around in the village
Relax and have fun. Try any of the adventure sports I mentioned above.
Trek to Anjani Mahadev either in the first half or the latter half of the day
Also Read: How to Plan a Trip to Shimla
Solang Valley to Manali – Day 3
Try Gondola Ride and enjoy paragliding
Drive down to Manali towards evening
Take a walk at Mall road. Do some shopping and eat out
Rohtang Pass – Day 4
Start early in the day and enjoy a day trip to Rohtang Pass
You can also switch this with Day 2 if you want to go to the pass from Solang itself.
Return to Manali by late afternoon and enjoy a pleasant evening
Manali to Delhi – Day 5
Return to Delhi on Day 5
Another 14-15 hours of a journey so start early from Manali.
Also Read: When is the Best time to Visit Manali?
Other Tips
1. Is Solang valley on the way to Rohtang Pass?
Yes, Solang Valley falls on the way to Rohtang Pass but you will have to leave the Rohtang road and turn left from Palchan to enter Solang Valley.
2. Can we see snow in Solang Valley?
Yes, you can see snow in here if you were visiting in January or February. For other months, you will have to drive towards Gulaba or Rohtang Pass if you want to see snow.
3. Is permit required to visit Solang Valley?
There is no permit required to visit Solang Valley.
4. Is there snow in Solang Valley in July?
There is no snow in July. You will have to go towards Rohtang Pass to see snow at this time.
5. How far is Solang Valley from Manali?
Solang Valley is located 13 kilometers away from Manali towards Rohtang Pass.
6. Is Solang Valley Open?
Solang Valley remains open throughout the year for tourists.
7. Is there snow in Solang Valley in May?
There will be no snow in May but you will definitely find some towards Rohtang Pass.
8. Is there snow in Solang Valley in April?
You will most likely not find snow in April. You will have to go towards Rohtang Pass for snow.
9. Is there snowfall in Solang Valley?
Snowfall occurs in the Valley in January and February months.
10. Is there snow in Solang Valley in June?
There will be no snow at all in in June. If you want to see some snow, you will have to drive all the way up to Rohtang Top in June.
Temperature in Solang Valley
Below is an average monthly breakdown of how the temperature trends in Solang Valley.
| | | |
| --- | --- | --- |
| | Maximum | Minimum |
| Solang Valley in January | 2 °C | -5 °C |
| Solang Valley in February | 2 °C | -5 °C |
| Solang Valley in March | 8 °C | -2 °C |
| Solang Valley in April | 17 °C | 4 °C |
| Solang Valley in May | 18 °C | 6 °C |
| Solang Valley in June | 22 °C | 10°C |
| Solang Valley in July | 22 °C | 12°C |
| Solang Valley in August | 22 °C | 12°C |
| Solang Valley in September | 17 °C | 9 °C |
| Solang Valley in October | 13 °C | 3 °C |
| Solang Valley in November | 5 °C | -3 °C |
| Solang Valley in December | 5 °C | -3 °C |
Conclusion
I hope the details above on visiting Solang Valley were of help. If you have a question or need any other information, please feel free to ask in the comments section below; or at our Community Forum and I will be glad to answer. If you have been to Solang Valley and have a few other tips that can be of help to others, please do comment and mention.