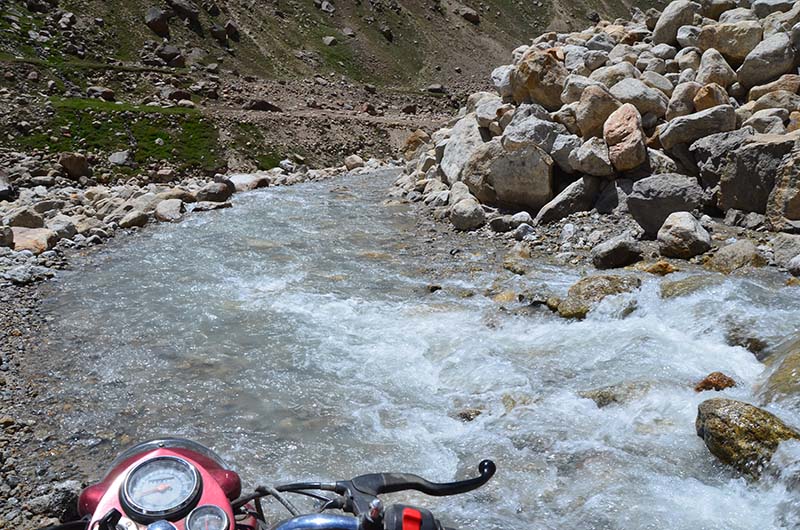 Crossing water on a motorcycle is fun but only if you knew what you were doing and your bike was capable enough. It adds an off-roading experience to the journey even if you weren't planning on it. But to ensure that it does not lead to an injury or an accident, below are 10 tips for motorcycle water crossing that you should take note of.
Motorcycle Water Crossings
If I talk about India, the rivulet crossing is one of the fun activities that people look forward to when they plan their bike trips to places like Ladakh and Spiti.
I have been doing bike trips for over a decade now and speaking from my own experience, the best way to handle a water crossing is to go around it if you can.
Getting your motorcycle unnecessarily in the water can cause bike damage, injury, and waste of time. If the bike was submerged for too long, the water can enter the engine or the exhaust pipe which will pretty much ruin the day for you.
So yes, avoid it if you can but if you cannot, then mentioned below are a few tips on how to do it.
For first-timers, it is going to be a scary experience. The crossing can be a small stream of water, a creek, nallah, or sometimes even a river. If it was somewhere in the hills on a narrow road, it is bound to get your heart pumping.
But at the end of it all, it is definitely a fun and adventurous experience.
Also Read: Tips for Cold Weather Motorcycle Riding
Prepare for the Journey
The first rule for crossing a water stream on a bike is to be prepared for the journey ahead. I know you cannot predict where a water crossing would be and of what kind but you can always check the weather.
If you are heading into an area where you may have to tackle a rivulet as well as a small river then traveling in the monsoon season is just foolishness. At this time, you will only find swollen water streams everywhere.
The second thing is the safety of your luggage. If you were also worried about getting your stuff wet then it is just an additional hassle and will make things even more difficult.
If you know that you will be crossing water then you must pack your luggage in a way that it stays dry and you will not have the need to remove it from the bike.
A first aid kit for a ride like this is extremely important. You may get hurt or bruised on the way and should have some adhesive bandages and antiseptic ointments to clean and take care of it immediately.
Shoes
The next thing is your shoes. You are not going to be riding the bike across the stream of water barefoot because then you will risk a serious injury.
Get a pair of shoes that are either waterproof or can dry fast. Rubber Sandals that can cover your entire foot are another great option to put on while crossing water, something like in the picture below.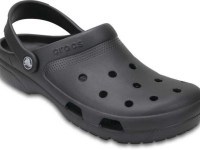 Just put these on while crossing and then change back into your shoes. These will come really handy when you already know that there will be multiple water crossings on your route.
You can try to get waterproof shoes or boots but in my opinion, they won't help much. If the water stream is more than ankle deep and there is no way that you will be able to keep the water out entirely.
You can try to also wrap plastic sheets around your shoes and ankle but in the end, you are bound to get wet so be prepared for it.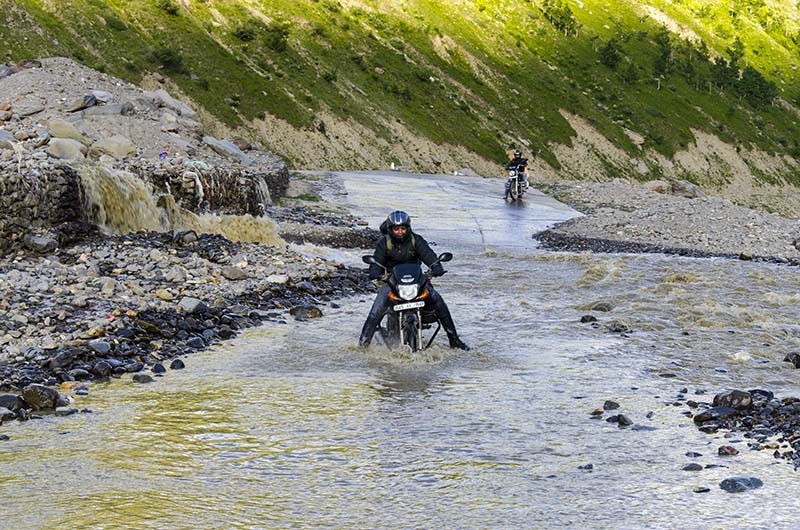 Have Patience
When you approach a water stream, the first thing to do is to keep your cool. Stay calm, do not panic, and assess the situation. Do not also try to rush through the stream before you have at least inspected it.
There is no point in playing hurry and getting hurt. If there were people at the crossing who arrived before you and were trying to find a way out, let them go first. Do not rush.
Inspect the Water Crossing
If the crossing was just a tiny stream of water flowing through the road, then, by all means, splash your way through it.
For anymore more than that, a wise thing to do would be to get off your motorcycle and analyze the situation. See how deep the water runs and how fast, and then decide whether it was safe enough to cross.
Take a stick and first try to walk through the water carefully. Water always looks shallower than it really is. If you find it getting deeper with every step and has already reached up to your knees, then it is time for you to decide whether to attempt it or not.
If the water was flowing, you will also have to check the strength of the current as well. Decide whether you would be able to keep the bike upright against that force or not.
The next thing to do would be to check the bottom of the crossing and find a safe line to cross. If you were not able to determine then wait for someone else to cross first. It may cost you some time but will at least remove the risk.
If you have done this crossing before, do not assume that it will be the same as the last time. The level of water could have changed, there could be more slime, the position of the rocks is bound to be different and there are a million other things that may have changed over time. Take a look at everything carefully.
Air Intake
You must know the point of the Air intake of your motorcycle. This is where your engine breathes from and where there is an air filter fitted.
Submerging your bike in water up to that point will not be a good idea because then the water will get in the engine. If it looks risky, better just to push the bike through quickly with the engine turned off.
Also Read: How to Carry Spare Fuel on a Motorcycle Safely
Luggage
If you were on a long ride and there was too much luggage on the motorcycle, you may want to think about removing it before you cross over. A lighter bike is much easier to control than a heavier one.
Carry your luggage on the foot across the stream one by one. This way, even if you fell, the motorcycle will be much easier to lift back up and you will not risk getting your stuff wet as well.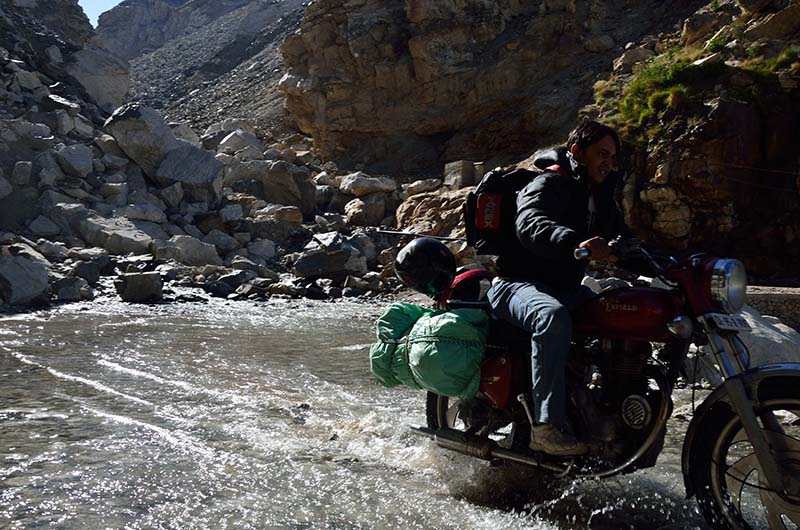 Let the Bike Cool Down
Another wise move would be to wait for a while and let your motorcycle engine and brakes cool down a little before you enter the extremely cold water.
If you hurried into a glacier-fed water crossing after riding continuously for the last few hours, you will risk some serious damage to the engine and the disk brakes.
Just stop for a while and let your bike cool down while you go inspect the water crossing.
Keep Help Ready
If you were traveling in a group or with a pillion then the first thing to do is to keep your partner ready to help. Do not ask him to go sit on a rock and shoot a video as you attempt the dare.
If you were traveling all alone then wait for someone else to arrive. Someone who can help not only in crossing but also to lift the bike back up if you fell.
A heavy motorcycle with all the luggage on it will be much heavier to lift when you are trying to find a firm footing in freezing cold water.
Also Read: Packing for Long Distance Motorcycle Trip – What & How
Visualize the Path
After you have inspected the crossing and have your partner standing by to help, be sure to keep in mind the route you are going to follow and stick to it. If there was a defined route made by other bikers then use that and do not deviate.
If there was no clear visible way and you weren't sure how to cross then do not go first. Wait for someone else to cross and follow their lead.
Cross Carefully
Now let us get to the tricky part, crossing the water stream. Keep your bike in the first gear, go slowly, and maintain the momentum.
Your speed should neither be too fast nor too slow. In both scenarios, you are risking losing control. Maintain a moderate speed in the low gear and keep going.
The important thing here is to keep your path as straight as possible. Keep your hands firm on the handlebar and continue straight ahead. This is something you will need to keep in mind while you are trying to find the best way to cross.
If you tried to go left and right too much, chances are that your wheel will get stuck somewhere and you will stall or fall. Or you may just slip with the flow of the water and fall. Keep your route as straight as possible.
Do Not Stand
Some people believe that standing on the bike while crossing the water stream is a better way to do it. They think it provides them with a better view of the obstacles ahead and better control of the bike.
I tend to disagree. Think about it, when was the last time you felt riding a bike standing up was more comfortable? You cannot do it even on a smooth road properly, forget about it in a stream of water filled with mud, and loose stones.
More than that, if you lost your balance midway or wobble, there is absolutely no way you can avoid falling. By the time you sit back and bring your feet down, it will be too late.
The best way to cross is to sit back with your hands firmly on the handlebar and feet on the footpegs, ready to use if you slip.
Do not also keep your feet in the water all the time trying to balance. Keep them on the footpeg and only bring them down when necessary.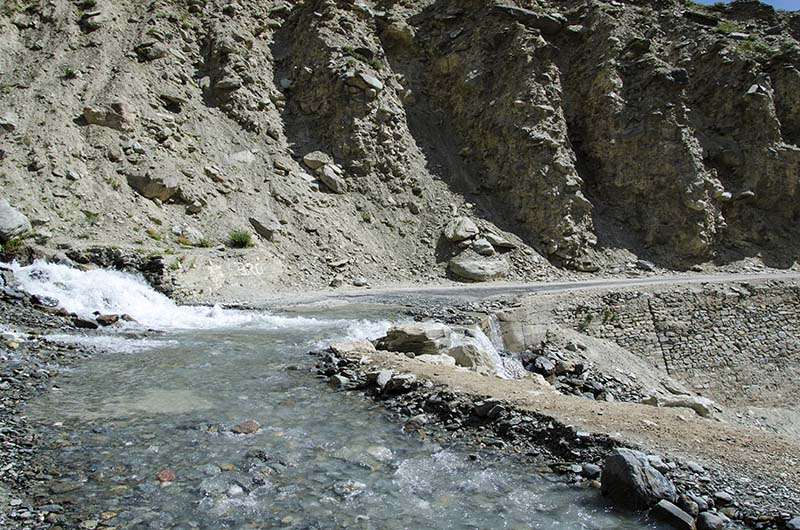 Walk the Bike
If you do not feel confident about crossing the stream on the bike, then walk with it. Turn the engine on, engage first gear, work the clutch slowly, and throttle the bike slowly through the stream while holding the bike and walking next to it.
If you do decide to walk, ask your partner to walk with you holding the bike on the other side. You stay on the left and have the other person walk on the right side.
If you were just holding it from the left and throttle; the rear tire may slip with the water and the bike will fall. Or the flow of the water just may prove a little too strong for one person to manage the bike alone.
If you were riding solo then wait for someone else to arrive and seek their help. But you should have someone else walk with you.
If you started to lose control of the bike while walking through the water, let it go. I mean try to balance first but if you felt that you cannot anymore then let the bike fall and brace yourself.
There is no point in you too falling down with the bike and getting hurt. Better the machine than you.
Also Read: Long Distance Motorcycle Riding Tips for a Safe Trip
Check Everything
Once you are on the other side of the stream, pause for a minute, and ensure that everything is in place. Take a look at your bike and check your luggage to see if you dropped anything in the water. Check the ropes and the bungee cords and secure the luggage again.
If you had to put your feet down while crossing, then take off your shoes and remove the water. Change into another pair if you have it or at least change your socks. As you ride, shoes will dry off rather quickly but wet socks will prove to be a great discomfort.
Tool Kit
Every motorcycle has its own set of tools and you should remember to bring them along. If yours were lost then buy a new set.
If you ended up drowning your motorcycle somewhere, and it remained in the water for a while before you pulled it out, you will also have to do some drying work to get it to work again.
You will need some rags to clean and dry the spark plug and engine vent. A spare air filter, tools to remove spark plugs, and the air filter will definitely come in handy.
All this however will only be needed if you are crossing streams where the water is at least knee-deep and can actually drown the bike.
Always go Slow
Remember this as the first rule of motorcycle water crossings. If you see water on the road ahead, irrespective of how deep it was, you need to cross it slowly.
You cannot just keep going through it at a high speed because the splashing water can get into your engine and can get you wet. But most of all, there could be slime on the road causing you to skid and fall.
Water crossings like in the picture below have a high chance of slime so cross carefully.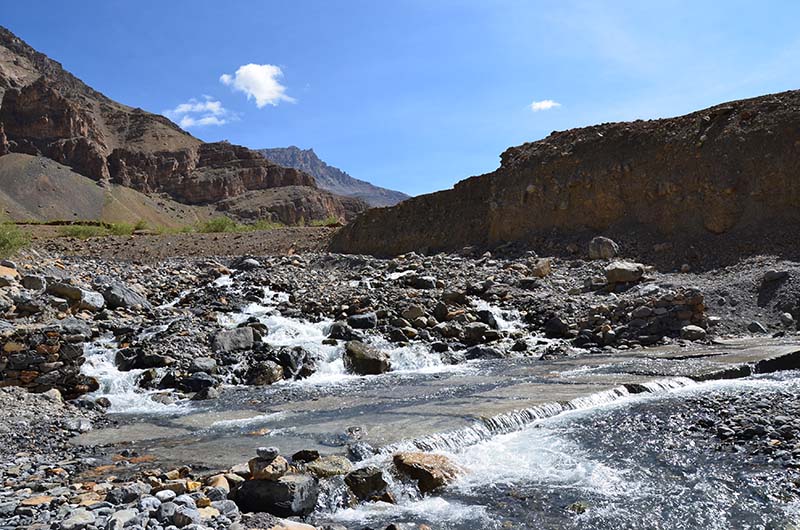 Check the Brakes
Once you are out of the water and ready to start again, check and make sure that your brakes are still working perfectly. You must make sure that proper pressure is still applicable through your hand and foot levers.
Water crossings in Spiti
Let me know briefly talk about motorcycle water crossings in the two most popular motorcycle destinations of India, Leh Ladakh, and Spiti Valley.
If you were going to Spiti, then most of these crossings are on the Manali Kaza route, between Gramphoo and Batal. I once counted 42 water crossings on this stretch of 60 kilometers.
Other than this, there is one major crossing between Kaza and Losar and a few others around Kunzum Pass.
Between Shimla and Kaza, there is one near Nako called Malling Nallah and that is pretty much it. There are no other major water crossings in Kinnaur Valley.
The ones that will get your heart in your mouth are between Kunzum Pass and Chandratal. That 14-kilometer-long road is completely a dirt trail.
It is barely wide enough for one car, is badly broken, and has several steep inclines and declines. On such a stretch, a water crossing becomes way more difficult to handle.
For Spiti, do not travel in July and August because it is monsoon time. The flow of the water will be high and there is also a danger of incessant rains and landslides at this time. For more details, please read How to Plan a Trip to Spiti Valley.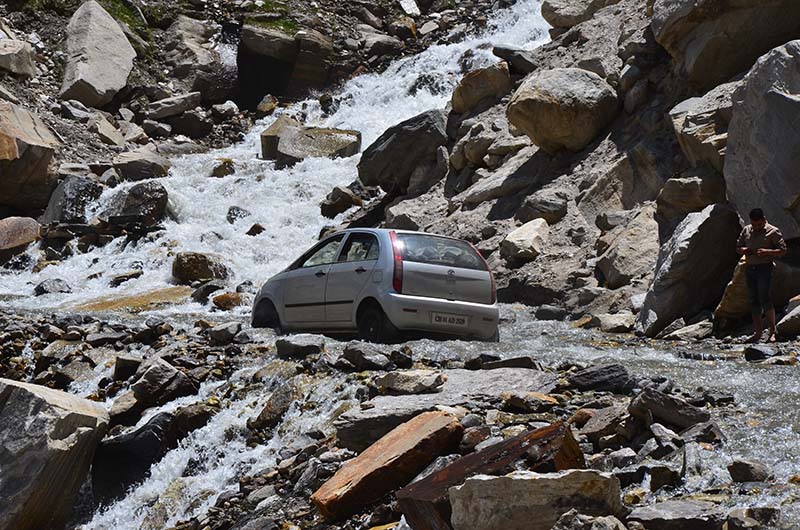 Ladakh Water Crossing
In Ladakh, there are water crossings pretty much everywhere and on all routes. Manali Leh Highway is full of them and there are a few on the Srinagar Leh route as well (depending on the weather).
Routes towards Nubra, Pangong, and Zanskar have a few water crossings. Every high-altitude pass will have water flowing down on the roads near the top due to melting snow. For more details, please read How to Plan a Trip to Leh Ladakh.
Sach Pass Water Crossings
If you want to go on an adventure and an off-roading experience, then you should target Sach Pass. The water streams here will get you thinking twice about whether to cross or to return and go back home.
The pass opens in early June and then is closed again by Mid September. In this short window, the melting snow and the monsoon wreak havoc on the roads.
If you really want a motorcycle water-crossing adventure, this is where you should go. For more details, please read How to Plan a Trip to Sach Pass.
Conclusion
I hope the information and tips above on motorcycle water crossings were of help. If you have any questions, you can contact me on Instagram and I will be happy to answer. You can also consider subscribing to my YouTube channel and asking a question there.
This error message is only visible to WordPress admins
Error: No feed found.
Please go to the Instagram Feed settings page to create a feed.