Triund Trek is often considered as the crown jewel of Mcleodganj and is truly so in so many ways. This 7 kilometers long trail is the reason for the majority of the people visiting Mcleodganj. I am not saying that this is the only place worth visiting in Mcleodganj but is definitely the top one in the list.
This easy to moderately challenging walk will take you across 7 kilometers of lush green forests offering mesmerizing vistas. At the end of the trail, you will be standing at the top of a mountain with breathtaking views of the Dhauladhar Mountains on one side and Kangra valley on the other.
If you planned an overnight stay then you will be camping under a clear sky with countless stars over your head. Thousands of tourists complete this trek each year and go home to tell tales of their adventure for a long time.
In this article, I will talk about how you can plan Triund Trek while visiting Mcleodganj. Please note that this article assumes that you have already reached Mcleodganj and will provide details on Triund Trek only; like how long the trek is, where it starts from, what are some of the things you must carry and how you should plan it all.
If you also want to know how you can get to Mcleodganj and where to stay, please read the previous part of this article, How to Plan a Trip to Mcleodganj. To know about what the other tourist attractions in Mcleodganj, please read Tourist Places in Mcleodganj and Things to Do. Once you have arrived at Mcleodganj and are comfortably settled in, below is how you can head towards the Triund Trek and have an experience of a lifetime.
Image: By Rickard Tornblad – Creative Commons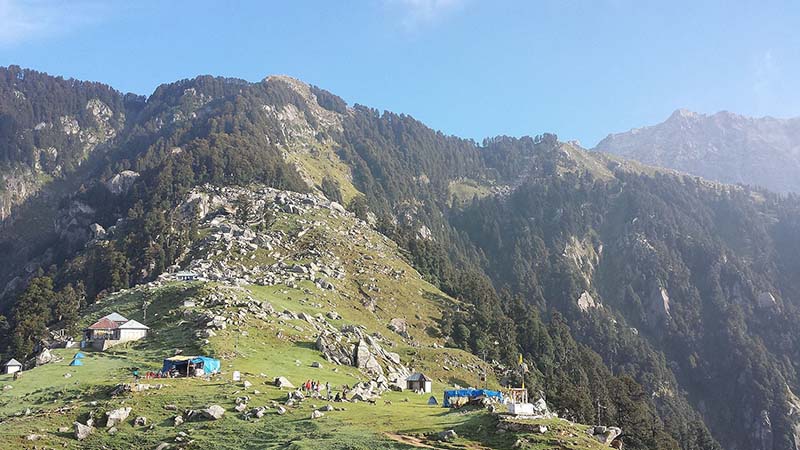 Triund Trek
For a brief introduction, Triund is a trekking destination located about 18 kilometers from Dharamshala and about 11 kilometers from Mcleodganj. Of this entire distance, only 7 kilometers is the actual trek, rest all can be covered by a motorable road. The trek starts at Galu Devi Temple near Dharamkot and takes about 3 hours to complete.
The first 4 kilometers of the walk is a gradual incline and it is only the final 2 kilometers after Snowline cafe that involves a steep climb all the way till Triund. The total gain in altitude is about 800 meters from Mcleodganj to Triund top.
So what is Triund really? Triund is a large land of green grass which is the endpoint of this 7 kilometers long walk. The place in the image above is what is known as Triund, a point from where you start trekking back to Mcleodganj. It is also the base camp and acclimatization point for the trek to Indrahar Pass trek.
The spot sits at top of the mountain and provides a 360 degrees view of the valley around. There are a few campsites, dhabas, tea stalls and even an HPPWD rest house built here. So you can either walk back on the same day (if time allows) or you could stay at Triund for the night and trek back the next morning.
Triund Altitude
The ridge elevation at Triund is between 2,810 and 2,875 meters. You start from Mcleodganj at a height of 2,082 meters and reach Triund top, thus gaining about 700 – 800 meters in height at the end of the trek.
How to reach Triund Trek
Mcleodganj is the nearest town to Triund and serves as the base for people wanting to undertake the trek. That is where you will need to get first and reaching Mcleodganj is not difficult at all. The place is very well connected by road and you can reach here by either your own vehicle or public transport. This small town is, in fact, the residence of the 14th Dalai Lama and hence an important place for Tibetan Buddhists. Irrespective of your month and season of travel, you will Mcleodganj accessible and open for tourists.
I have covered the details on reaching Mcleodganj in details in a different article, How to Plan a Trip to Mcleodganj. For a detailed description, I will recommend that you also take a look at the other article. But for a brief overview, if you were traveling by your own vehicle and starting from Delhi, route to Mcleodganj  will be as mentioned below.
Delhi – Panipat – Karnal – Chandigarh – Rupnagar – Anandpur Sahib – Una – Amb – Kangra – Dharamshala – Mcleodganj
There can, of course, be several alternate routes but this will be the best and the fastest way to travel. Total journey will be of about 480 to 500 kilometers depending on where you started from in Delhi. Travel time will be anywhere between 10 to 12 hours. Road condition for the entire journey will be a mix of good and average. I will highly recommend taking an early start from Delhi though so that you are able to reach Mcleodganj well within time.
How to reach Triund from Delhi by Bus
Mcleodganj and its nearby town of Dharamshala are very well connected by public transport. There are regular bus services to both these places from almost every major town nearby. The main Bus terminal is actually in Dharamshala where most of the buses stop but a few from Delhi and Pathankot go all the way to Mcleodganj as well.
If however, your bus dropped you at Dharamshala Bus stand, you will easily be able to find another mode of commute for your final stretch of the journey. There is a regular Bus service between both the places that costs about Rs. 20 per person and will drop you at Mcleodganj from Dharamshala in 15 to 20 minutes. If you weren't able to find a Bus then the second option will be a shared cab which too is available in plenty and costs about the same.
By Flight
Gaggal Airport, also known as Dharamshala- Kangra Airport or Kangra Airport, is the nearest airport to Mcleodganj located about 20 kilometers away. Once you land at the airport, you can easily board a taxi from right outside which will drop you at Mcleodganj in about 30 minutes. There are several flights operated by Air India and SpiceJet Airlines between Delhi and Kangra. But please note that the due to the location of the airport, the weather is a very big reason here for flight cancellations; especially during winter and monsoon.
By Train
Pathankot is the nearest major railways station located about 100 kilometers from Mcleodganj. There is however another narrow gauge railway station at Kangra and is only about 30 kilometers away. The train that brings you at Kangra is actually a Toy Train (like the Kalka Shimla one) so unless you were hoping in to enjoy this train ride, better would be to board a train for Pathankot only. There are direct Buses from Pathankot for Mcleodganj throughout the day and it takes 3 to 4 hours to complete the journey. These are all operated by HRTC and fare per person is about Rs. 150.
This is just a short overview on reaching Mcleodganj. Please read How to Plan a Trip to Mcleodganj for a much more descriptive version of this information.
Triund Trek Overvview
Difficulty Level: Easy
Duration: 1 – 2 Days
Trek Type: 1 Way. You start and end at Mcleodganj.
Trail: Forest trail with steep ascents
Altitude: Max Altitude of 9,278 ft at Triund
Starting Point: Dharamkot
Best time to visit: March to June; September to December
Once you have reached Mcleodganj and comfortably checked into a hotel, you can plan your trek to Triund on the very next day or maybe a day after, whichever seems convenient based on the time you have in hand. From Mcleodganj, the first place to reach would be the Gallu Devi Temple after Dharamkot. This is where the motorable road ends and the trek starts.
Mcleodganj to Gallu Devi Temple
The total distance from Mcleodganj to Gallu Devi Temple is about 8 kilometers, depending on where you were starting from in Mcleodganj. There are 3 ways that you can cover this distance. You can either rent a private taxi to drop you at the start point of the trek which will cost you about Rs. 400 to Rs. 500 depending on the season and how well you could negotiate.
The second way is to hire an auto-rickshaw but it will not take you all the way to the temple. The auto rickshaw will drop you at Dharamkot because the condition of the road after that until Gallu Devi Temple is very bad. So you can pay Rs. 50 for an auto rickshaw to Dharamkot and then walk the last 2 kilometers to the temple. So in a way, your trek will actually start from Dharamkot itself.
The third way is to start walking all the way from Mcleodganj itself. This is how I did the trek. So I actually walked 15 kilometers to Triund and returned the same day; a total trek of 30 kilometers from Mcleodganj in floater sandals. Why? It is actually kind of a long story that you can read at my Triund Travelogue.
There are a few guesthouses in the Gallu Devi Temple area. So if you wanted, you can even check into a hotel here and stay close to the trek starting point.
Gallu Devi Temple to Triund
The trek after Gallu Devi Temple is a mix of a dirt trail and rocky terrain. The entire length of the trail is about 7 kilometers; of which, the first 5 is a gradual ascent. For the final 2 kilometers, however, it climbs rapidly and may seem a little difficult to some people. Depending on how fit you were, your walking pace and breaks, the average time taken to complete the trek is about 3 to 4 hours.
The road after Dharamkot is a scenic one and you will enjoy the walk if you started the trek from here only. Walk for about half an hour on this trail till you come across the temple of Gallu Devi. After the temple, the motorable road ends and the dirt trail to Triund continues straight. Around halfway through the trail is a paradise for anyone with interest in bird watching. The densely forested trail will then start to get steeper with each step.
You will come across a few tea stalls or dhabas on the way where you can take a small break and eat something. Keep in mind though that on the trail, everything will cost you 3 or 4 times. So you will actually pay Rs. 30 or 40 for a Parle G Biscuit packet, buy a Maggie for Rs. 80 or more; Rs. 50 for a water bottle and Rs. 150 for a small plate of Rajma Chawal. Hence I will strongly advise that you bring items to munch on from Mcleodganj itself.
Triund Trek Duration
Triund is ideally a 2 days trek. You reach the top on Day 1, stay there for the night and return the next day. If you were however short on time, you can easily do it in one day as well; as long as you started early from Mcleodganj. The first time I trekked to Triund, I left my hotel in Mcleodganj at 7 AM, reached Triund and was back before it got dark. And I actually walked the entire 30 kilometers from the hotel itself. So if you took a taxi or auto rickshaw to drop you at Gallu Devi Temple, it will take even less time.
Time Required for Triund trek
How long it takes for you to complete the trek will entirely depend on your speed and breaks you take. But on an average basis, from Gallu Devi Temple, it takes about 3 hours to reach the top and 2 hours to walk down. If you walked from Mcleodganj itself, time taken for Triund trek will easily be 6 to 7 hours to reach the top and12 hours for a return trip on the same day.
Is Triund Trek Difficult?
The difficulty level of Triund trek is considered as intermediate. The trail is moderately challenging with the initial 5 kilometers being fairly easy to traverse. The final 2.5 kilometers of the walk is a little steep, and famously known as the, "22 curves."  The trek is suited for all age groups as long as there is no medical condition involved and you are fit enough to walk 10 kilometers with breaks in between.
Food at Triund
There are plenty of cafes en route that you can eat at such as Magic View, Scenic View, and Snowline Cafe. Apart from these, there are a lot of tea stalls as well that offer basic refreshments. At Triund top too, there are a few dhabas that you can have your dinner and breakfast at. Please note though that at this height, food is bound to cost you more and will be very simple. Do not expect something too delicious or mouth watering.
Best time for Triund Trek
Triund remains open for the most part of the year except for the months of  January and February when the trail gets blocked by heavy snowfall. The months of April, May, and June in the first half of the year; and the months of September, and October in the second half are considered to be the best time to trek to Triund. Weather in these months is very pleasant and favorable for trekking and camping.
July and August are the months of monsoon and trekking 7 kilometers with the rain beating down on you is definitely not the best idea.  Though it is not advised to go trekking at this time, the scenery, however, is at its best in these months. The meadow gets lush green and covered with flowers of all kinds and colors; presenting an out of this world vista for you to capture if you are ready to risk the rain.
The month of November is generally a bad time because the vistas at this time are very dull and dry and the weather will be extremely cold.  It starts to snow here in December after which, the trek becomes a bit dangerous to be attempted without proper trekking equipment and guides. You must remember that people have in fact died on Triund trek so you must not take it for granted and attempt in winter season or during bad weather.
The trekking season mostly starts in April after winter has passed. You can trek in the month of April as well but plan it towards the end of the month to be sure that all the campsites will get operational and you can even plan a night stay.
Weather at Triund
Due to its altitude, weather at Triund remains cold throughout the year. During the winter season, it is freezing cold with temperature dropping below 0 degrees and a thick sheet of snow all around. But during summer, it is more of a pleasant cold that you would really enjoy. Let me give a month by month breakdown of how the weather trends here.
Triund Trek in January
The weather at this time is freezing and it can snow here anytime. The trek is considered dangerous in this month and you will need professional assistance to tackle it. It may even be closed in winter depending on the weather and snow on the ground.
Triund Trek in February
The situation and weather at this time pretty much remain the same as January. There will be no camping options to stay at unless you arranged one for yourself. The forest guest house too is closed at this time.
Triund Trek in March
Snow starts to melt in March and weather starts to warm up. However, it is still a great time for someone who wants to find some snow on the trail. The mesmerizing snow-capped landscape makes it a great time to visit but please check the weather before you start.
Triund Trek in April
Snow will mostly be all gone from the ground, at least from the trail. April is the month that marks the beginning of tourist season in Mcleodganj and Triund as well. It is one of the best times to plan the trek.
Triund Trek in May
May is the best month to trek for anyone who has never been on a trek before. This is the time when numerous amateur and first-time trekkers visit here.
Triund Trek in June
Most of June is a good time to visit but it starts to rain here towards the end of the month. If wanting to stay overnight, you should book a room in the Forest Guesthouse rather than camping.
Triund Trek in July
Monsoon season is in full swing and it is not usually advised to trek in this month. If you do, then please prepare in a way that you are ready to handle the rain.
Triund Trek in August
Though monsoon brings its own hassles, it also has its own rewards as well. View at this time are at the best and the entire Kangra valley comes to life under a lush green carpet of grass. Though you may find the trail to be slippery and muddy, the magnificent views all around will make it worth your time and effort.
Triund Trek in September
This, in my opinion, is the best month to trek to Triund. Monsoon will be all gone but would still have left plenty of greenery behind for you to enjoy.
Triund Trek in October
Autumn arrives in October and all that was green now turns Orange giving a golden and magical touch to the valley. October too is one of the best months to visit Triund. Weather, however, starts to turn cold towards the end of the month.
Triund Trek in November
Vistas and scenery in November are a bit dull and dry but at least the first half of the month is considered to be a good time to go. The temperature starts to dip sharply in the second half of the month and it may even snow lightly at the top.
Triund Trek in December
The trail remains open and is mostly snow free for the first half of the month. The weather would be freezing cold with temperature starting to drop below 0 at nights. By the end of December, chances of snowfall increase significantly, even on the trail.
Accommodation at Triund
Accommodation at Triund is available in the form of a Forest rest house and campsites but only in tourist season. During winter, both of these options become unavailable after it starts to snow and weather turns extremely cold. Where to stay will depend entirely on your personal choice but the majority of the people chose to camp here. You do not have to book in advance and will easily find a camp site on arrival.
Triund Guest House
The forest rest house, on the other hand, is recommended for pre-booking. They have limited rooms and there is a strong possibility that you may not find a place to stay if you did not book. A lot of people decide to stay here because it is far more comfortable than getting stuffed in a sleeping bag inside a small tent. Booking for the rest house can be done through the DFO office in Dharamshala. Please make sure to bring the booking permit with you otherwise the caretaker won't let you in even if you have it booked. If you reached Triund without booking, it still never hurts to ask upon arrival as well. If they had a room available, you may get it.
For booking, you can contact Divisional Forest Officer's office at  01892-224887 or email at [email protected]. The office is located near Police Station Dharamshala; behind BSNL Telephone Exchange store and opposite to General Post Office (GPO) Dharamshala. You can also book it online by following THIS LINK.
Self Camping at Triund
If you want to try self-camping then you would either have to bring in your own gear or rent one from any sports shop in Mcleodganj. Problem with self camping is to carry all that gear to the top, then the hassle of setting and wrapping it up and you may not even get a good spot to camp because they are all mostly occupied already by campsite owners. I will rather suggest that you stay at a campsite only. It is not that costly and will save you a lot of trouble.
Triund Camping Cost
The camp sites will charge between Rs. 500 to Rs. 700 per person.  A tent big enough to accommodate 4 people will cost Rs. 1500 with sleeping bags. This does not include any meal charges and you will have to pay for the food separately.
Mobile Network at Triund
Mobile connectivity at Triund is not that great. You may get reception at times and spots but it will really be bad and will continue to come and go. Just assume that you will be off the network for as long as you are at Triund.
FAQs
Mentioned below are some other frequently asked questions about Triund.
Is Triund Trek Dangerous
Is the trek dangerous? I would not really call it so but at the same time, cannot even deny the fact that people have died while trekking to Triund or further. So please do take precautions and walk carefully. Do not take unnecessary risks or try to click selfies at tricky spots. The trek never gets too steep or too narrow to be termed as "dangerous" but it still is mountain region where one miscalculated or careless step can send you tumbling down the hill.
Why you should Visit Triund
There are plenty of reasons why you should visit Triund. The trek is perfect for someone who has not done a lot of trekking but would like to try their hand at it. The trail never gets too challenging to dishearten but is also not too easy to be called boring. The views you will get en route; and then at the top will take your breath away. If you have even slightest of interest in either bird watching, star gazing or photography then Triund is where you should be headed. If natural beauty, mountains, lush green vistas are what interests you then you would fall in love with Triund.
Electricity at Triund
There is no electricity available at Triund, either at the campsites or the forest rest house. Hence it is of utmost importance that you bring along a torch that can last the night. If you have a power bank, charge it to the fullest and bring it along. For photography enthusiasts, make sure your camera battery has enough juice to last the trip.
Itinerary for Triund
Your itinerary will entirely depend on the time you have in hand but 4 to 5 days is what I recommend for visiting Triund and the nearby areas of Mcleodganj and Dharamshala. This will ensure that you travel at a relaxed pace, cover Triund and visit all the other places that are worth visiting in this area. There are plenty of other tourist attractions in Mcleodganj and Dharamshala and I will recommend reading How to Plan a Trip to Mcleodganj for a detailed description of the journey.
For the sake of suggesting an itinerary, I will assume that you were coming from Delhi. However, even if you were coming from some other place, only the journey for the first and last day will be different. Rest of the details will still apply.
Delhi to Mcleodganj – Day 1
Start early from Delhi
Night stay at Dharamshala, Mcleodganj or Dharamkot
About 500 kilometers long drive
11 to 12 hours of journey depending on your speed and breaks
Mcleodganj to Triund – Day 2
Take a cab to Gallu Devi Temple or a rickshaw for Dharamkot
Trek to Triund and stay there for the night
Do not check out of the hotel. Leave rest of your luggage there and trek light
Triund to Mcleodganj – Day 3
Enjoy a beautiful sunrise at Triund
Walk back down to Mcleodganj
Spend rest of the day sightseeing in the Mcleodganj
Sightseeing in Mcleodganj / Dharamshala – Day 4
Spend another day exploring the natural beauty of the area
You can either spend the day in Mcleodganj itself and visit places like Bhagsu Nag Waterfall and the monasteries.
Or you can drive down to Dharamshala and stay there
A drive to nearby Kangra Fort and Masrur Temple is recommended
Mcleodganj to Delhi – Day 5
Start early from Mcleodganj
Reach Delhi by evening
About 500 kilometers long drive
11 to 12 hours of journey depending on your speed and breaks
The itinerary above is easily doable by your own vehicle and public transport both. There are regular buses from almost every major nearby town to Mcleodganj that you can board for your journey on Day 1 and 5.
Triund Trek closing Time
Triund trek closes sometime towards late December or early January after heavy snowfall.
Triund Trek Starting Point
Gallu Devi Temple after Dharamkot is considered to be the starting point of the trek but you can also choose to start it from Dharamkot itself.
Things to carry for Triund Trek
I completed the entire Triund trek in a single day in knee length shorts, a T-Shirt, floater sandals and with only a camera in my hand. Am I saying that you should do the same? No. I did that because of some confusion that happened that morning but the point I am trying to make here is that you do not need to carry something special to complete the Triund trek.
What to carry for Triund Trek will depend on how long you were planning it for but for a 2 days trip, all that you need is a good pair of shoes, some comfortable clothing, a water bottle, something to eat on the way and plenty of stamina. Do not carry an entire backpack unless you were planning to go further towards Indrahar Pass from Triund. You should travel light to really enjoy the trek.
If you have a pair of good trekking shoes then it is an added advantage. Otherwise, a pair of sports shoes with firm grip will do equally well. You should wear comfortable trek pants and must avoid jeans or other body-hugging clothes. It is also a leech prone area so shorts too are a big No. Carry a light bag to put something to munch on along the trail and some night clothes if you were planning to camp for the day and return the next morning.
Clothes 
This will entirely depend on the time of your trek. But for trekking in the tourist season from April to October, a jacket with some regular cotton clothes will do. You are going to be walking 7 kilometers up a hill and your body would warm up. So you will not need all woolens while trekking because that would become uncomfortable. At night, however, it is bound to get cold irrespective of the time of your trip so a jacket is a must to bring along item. Also, pack a pair of gloves and a cap to protect your hands and head.
If you were going in March, November or December, then please make sure you are packing a pair of thermals. You would need it definitely to survive the cold night up there.  If planning in January, February or early March, you would have to be in an entirely professional trekking gear that can survive all the snow.
Other Items to Pack
Depending on your own comfort and preference, below is a list of some items that I will recommend you to bring.
Trekking shoes. If not then sports shoes with a good grip.
A comfortable and light bag that you can keep on your shoulders for hours without it becoming inconvenient. Ensure that your bag is either waterproof or has a rain cover.
Clothes as I explained above
Please bring two track pants. Wear one during the trek and carry one to wear at night while sleeping.
Pack two collared t-shirts, and preferably full-sleeve ones to help protect against the sun.
Sunglasses
Cap
Pair of Gloves preferably something that won't get wet easily
Socks. Wear one and carry a pair in case it got cold at night.
Torch
Toothbrush and Paste. If you are OK not brushing your teeth one morning and do it after you have reached back Mcleodganj then skip it. LOL.
Sunscreen with highest SPF you can find
Soap / Facewash
Lip Balm
Toilet paper (Very Important)
Light towel
A water bottle that you can refill
A plastic bag that you can put your wallet, documents, and electronics in, in case it started to rain.
Documents such as valid ID proofs and their xeroxes
Some basic medicines like for upset stomach, body-ache and pain relief spray or balm
Small Knife (Multipurpose)
Conclusion
That will cover most, if not all, of the information you need to know in order to trek to Triund. If you have any questions; or need any other details; please feel free to ask in the comments section below; or at our Community Forum; and I will be glad to answer. If you have been to Triund and have tips to share that can be of help to others, I welcome you to please suggest.