I was once asked by a friend to suggest him some of the best places to visit in Uttarakhand. I was not really able to answer this question then and I do not think I have an answer to it still. Why? Because the entire state is a tourist destination in itself. You can start driving in any direction and every town or village you come across can be termed as a tourist spot. What is more? All of these places are equally scenic and picking one over another is really tough. Some of these are very well known like Mussorie, Rishikesh, Nainital, Dehradun, and Gangotri, etc. However, there are numerous other tiny hamlets that may be smaller in size but are a giant in natural beauty. One such offbeat and lesser known town of Uttarakhand that I will talk about in this post is Munsiyari.
Located about 100 kilometers from India Nepal border, Munsiyari is one of those places that is bound to leave you charmed and wanting to come back for more. Nestled in the snow-capped peaks at an altitude 2,298 meters, it is a paradise for nature lovers and adventurous souls; offering splendid vistas and mesmerizing views all around. The name Munsiyari literally translates as "Place with snow" due to which, it is often termed as "Little Kashmir". It also serves as a base for trekking to Milam and Ralam Glaciers and Nanda Devi peak; and a center for skiing and other winter sports.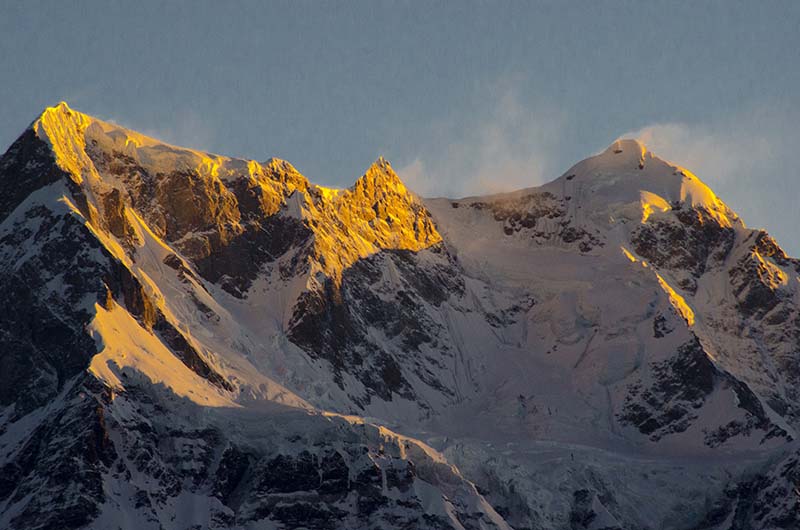 Below is a quick navigation menu of details on Munsiyari that we will be covering in this article.
Know Munsiyari
---
Where is Munsiyari Located?
Munsiyari is located at a distance of 135 kilometers from Pithoragarh, 200 kilometers from Almora and about 600 kilometers from Delhi. It is considered as the gateway to the Johar valley of inner Himalayas and sits at an ancient trade route between India and Tibet.
Why visit Munsiyari
Munsiyari is not really for everyone. There are no shopping malls here, no fancy restaurants to eat at and no large markets to go shopping in. If your idea of a vacation is places like Shimla and Manali then Munsiyari will definitely disappoint you. But if you are someone who likes to visit offbeat destinations and not so crowded places then Munsiyari will suit you just fine. It is a perfect destination for anyone interested in photography, trekking, enjoying snow, skiing or just relaxing in a serene and tranquil place. Surrounded with mighty snow-capped peaks and dense forest, Munsiyari offers natural beauty at its best without asking its visitors to go too remote.
Also Read: 12 Scenic and Offbeat Places in Uttarakhand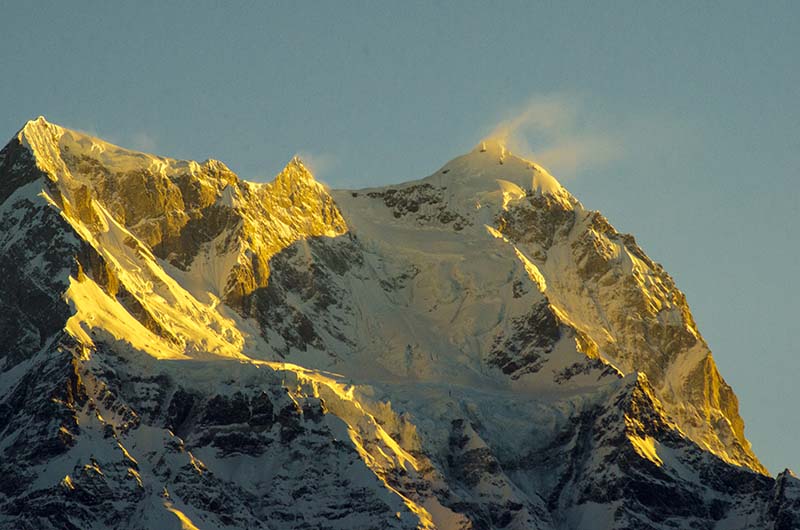 How to reach Munsiyari
Until some time ago, Munsiyari was a restricted area due to its close proximity with the border. But now it is emerging as a popular offbeat destination and connectivity also has improved tremendously. Depending on your preference, you can reach here either by your own vehicle or public transport.
How to reach Munsiyari from Delhi by Road
I will begin by first explaining the journey for someone traveling by their own vehicle. For the sake of the route, I will assume Delhi as your starting point. However, even if you were coming from a different city, the information below should still be able to help you understand the best way to reach Munsiyari.
Starting from Delhi, the route to Munsiyari will be as mentioned below.
Delhi – Ghaziabad – Amroha – Bazpur – Nainital – Almora – Binsar – Kapkot – Munsiyari
There can be several different variations of this route but the one I suggested above is the quickest one. Traveling this way, total distance covered will be about 580 kilometers and it will easily take you 15-16 hours to cover. If you were coming from a place around Chandigarh (or from that direction); you will have to take the route via Paonta Sahib, Dehradun, Srinagar, and Bageshwar. From Chandigarh, Munsiyari is about 630 kilometers and 19-20 hours journey. From Dehradun, it is 450 kilometers and around 15-16 hours of travel time.
How to reach Munsiyari by Bus
There are regular buses to Munsiyari from nearby towns of Pithoragarh, Almora, and Haldwani but the frequency is very less. In most cases, it is just one bus a day and if you missed that, shared cabs will be the next choice. These are easily available, are more regular but charge way more than a Bus. Also, the shared cab will not move unless it is has been stuffed breathless, no matter how long that takes.
If you were coming from Delhi, you can first board an overnight bus for any of these three towns and then catch a bus to Munsiyari from here. Another option would be to board a shared taxi which too is easily available and even more frequent than a Bus. It will cost about Rs. 200 from Pithoragarh, Rs. 400 from Haldwani and Almora for a shared cab to Munsiyari.
As far as I know, due to the distance and long journey, there are no direct buses from cities like Delhi, Chandigarh, Dehradun, etc. to Munsiyari. Your journey must be broken into parts and you will have to change buses. There is a daily morning Bus from Munsiyari for Haldwani.
Also Read: Best Hill Stations for Honeymoon in India
How to reach Munsiyari by Train
Nearest railway station to Munsiyari is located at Kathgodam at a distance of about 270 kilometers. The next closest train station is at Tankapur at a distance of about 290 kilometers. From both these places, you can get buses and taxis for your final leg of the journey.
Nearest airport to Munsiyari
The nearest airport to Munsiyari is at Pantnagar at a distance of 250 kilometers. You can get private taxis for Munsiyari from the airport itself. For budget travel, you can take a cab from the airport to Almora and then board a Bus for Munsiyari from there. The nearest international airport, however, is in Delhi, 580 kilometers away.
Best way to reach Munsiyari
The best way to reach Munsiyari would definitely be by your own vehicle and breaking the journey in 2 days. If traveling by Bus, best would be to board an overnight bus for Pithoragarh and then travel to Munsiyari from there. For moving locally in the region from one town to another, shared cabs are the best option.
Best Vehicle
I have been to Munsiyari in a Maruti Swift so there is really no vehicle required as such. I have seen local here riding around on automatic scooters like Activa as well. All that is needed is that your vehicle is well maintained and serviced.
Local Transport
Munsiyari is just a small town best covered on foot. You do not really need a mode of transport to move within the town here.
Also Read: Chakrata Travel Guide – How to Plan your Trip & Explore?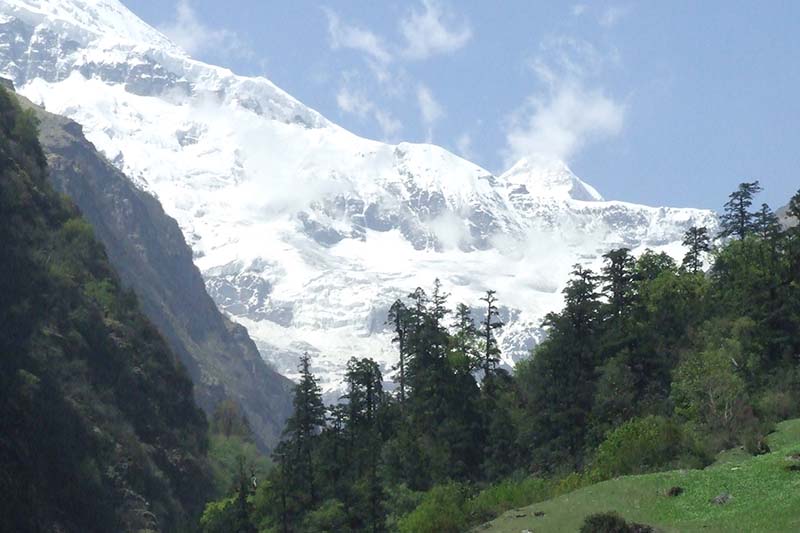 What to see in Munsiyari
Munsiyari maybe just a tiny hamlet but there are plenty of places for sightseeing here. If you were visiting here for 2-3 days, then rest assured that your schedule will remain full and you will hop from one place to another all day long. Mentioned below is a list of a few must-visit places in Munsiyari. I will recommend all of them but how many you are able to cover will entirely depend on your mode of travel and time in hand.
Panchchuli Peaks
It is a series of five snow-capped high mountains that is visible from everywhere in Munsiyari. The altitude of the peaks ranges from 6,334 meters (20,781 ft) to 6,904 meters (22,651 ft). The word 'Chuli' here means Chulha, a cooking hearth. So Panchchuli literally translates as 'Panch Chulha'. It is said that this is where the Pandavas cooked their last meal before reaching heaven and hence the name. The imposing peaks are a sight to behold and the greatest attraction of Munsiyari. The best view is at the time of sunrise when the sun comes up from behind the peaks.
Birthi Falls
It is a huge waterfall located about 35 kilometers from Munsiyari on Munsiyari – Thal road. To reach the waterfall, you will have to leave your vehicle near KMVN Tourist lodge before the village of Birthi and walk a short and easy trek. The waterfall is surrounded with thick forest and is a popular tourist spot.
Balanti Potato Farm
Also simply known as Balanti Farm, it is more of a viewpoint for tourists. It is actually both potato and apple farm and you will have to trek for about 2 kilometers from Munsiyari bus stand to get here. This is the best spot in all of Munsiyari to get the best and a spectacular view of Panchachuli peaks.
Maheshwari Kund
It is a small lake located on Munsiyari – Madkot road. To get here, you will have to walk an easy trek of about 30 minutes from the main road. It is said that in ancient times, this lake was home to a Yaksha who fell in love with the daughter of the sarpanch of the village. The sarpanch, however, denied him his daughter's hand in marriage and got the lake dried up. The Yaksha then cursed the village and a drought fell upon the region for many years to come. The villages later apologized to the Yaksha after which the drought ended.
Also Read: Dhanaulti – A Complete Travel Guide, Road Map & Itinerary
ThamrI Kund
Thamri Kund, also known as Thamri Tal, is another small lake located about a 3 kilometers long trail from Munsiyari. It is not much of a lake to be honest but more of a small pond. The trek, however, is a very scenic one and is worth trying if you had the time. The small lake and the nearby areas are also famous as a natural habitat of Musk deer which can be of interest to wildlife enthusiasts.
Khaliya Top
Khaliya Top is a mix of many things in Munsiyari. It is an easy trek, viewpoint, a camping ground, a beautiful meadow, and a sunrise point. The meadow is surrounded by snowy peaks and provides a stunning view of the majestic Panchachuli, Rajrambha, Hardeol and Nanda Kot peaks. It is a 6 kilometers long trail that starts from Balanti Farm and climbs gradually. You can attempt the trek on your own as well but the forest at some places quite dense and the path is not well laid out. It would be better to hire a local as a guide for a few hundred bucks for this trek.
Nanda Devi Temple
This is a temple dedicated to Goddess Nanda or Parvati and can be reached after an easy trek of 3 kilometers. Apart from a sacred and important Hindu religious site, it also provides a great view of the peaks around. It is a very small temple built on the edge of a cliff, offering a great view of the slopes and surrounding mountains. This is one of the most important temples in Munsiyari and the trek starts from the main town itself. Just ask any of the locals and they will point you in its direction.
Kalamuni Temple
This is a temple dedicated to Goddess Kali and is located about 16 kilometers from Munsiyari. There is no trekking involved to get here and a motorable road leads all the way to the entrance of the temple.
Betulidhar
If you were visiting Munsiyari in winter, then a trip to Betulidhar cannot be missed. It is a large garden full of Rhododendrons that serves as an ideal skiing slope in winters. It is also an ideal spot for viewing both sunrise and sunsets, showcasing beautiful hues of nature.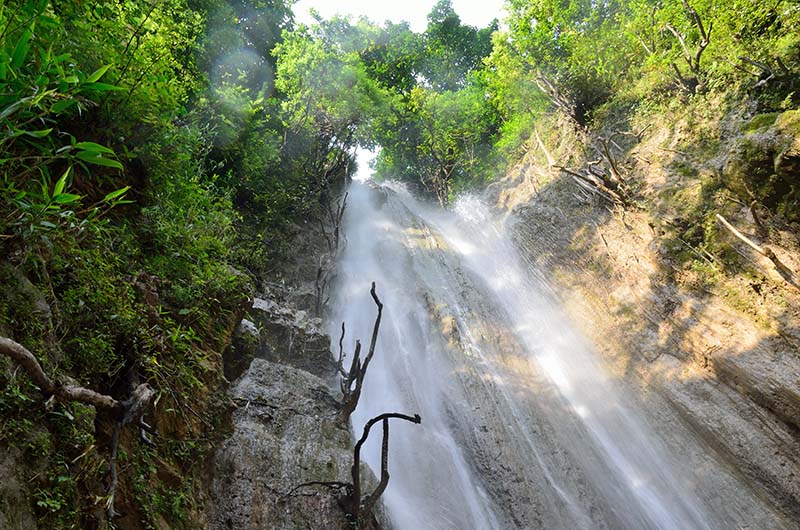 What to do in Munsiyari
Apart from the sightseeing at all of the above-mentioned places, listed below are some other activities that you can indulge in while visiting Munsiyari.
Trekking

As you can guess from the details above, Munsiyari is a heaven for trekkers. There are all sorts of treks starting from this small town, including short ones that can be covered in a matter of hours to long and serious ones that can last for a few days. Khaliya Top and Nanda Devi Treks are the two most popular easy ones. If you are into trekking and needs a bit more of a challenge, then you can try the treks leading to Milam and Ralam Glaciers. Another 10 days long but tough and least explored trek is the one leading to Nandadevi East Base Camp.
Camping

This is another great activity that people look forward to while visiting Munsiyari. The best place to get camping here is Khaliya Top.
Photography
I think this one goes without saying. It does not matter what kind of a photographer you were, you will have ample of opportunities to click thousands of pictures including natural landscape and wildlife both. The pollution-free clear skies of Munsiyari provide great opportunity to click some stunning night skies and star trails.
Also Read: Best Honeymoon Destinations in Uttarakhand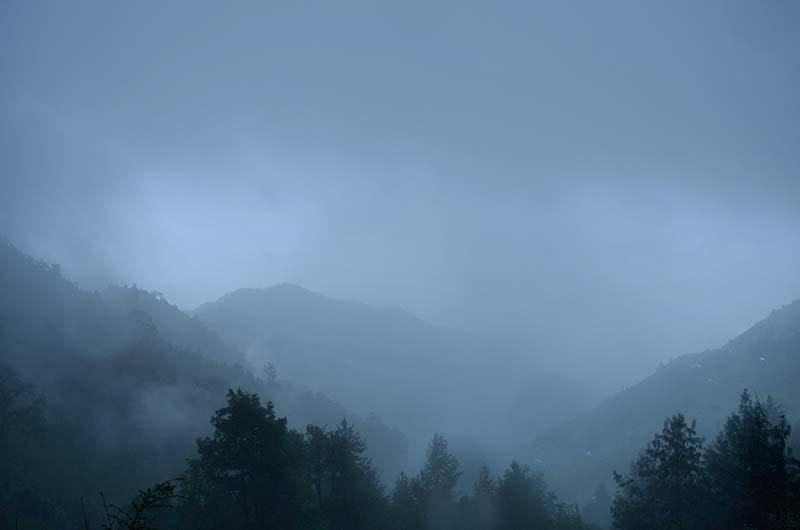 Where to Stay in Munsiyari
Munsiyari may not be one of the crowded ones but still is a well-known tourist destination. There are numerous hotels here and you will easily find one suiting your need. There are numerous hotels near the Bus stand itself as a matter of fact. During the tourist season, expect the price to be around Rs. 1500 (could be higher depending upon the hotel). During the off-season, you can easily get a room anywhere between Rs. 500 to Rs. 1000, depending on your negotiation skills.
Camping in Munsiyari
Khaliya Top is again the best camping spot if you were carrying your own gear. Surprisingly I did not notice any campsites here but I visited in the off-season so that could be the reason. There may be operational campsites in the tourist season but I cannot really confirm that.
What & Where to Eat
Like shopping, options to eat at Munsiyari too are limited. There are no fancy restaurants here and the food you can get will be quite basic. You can either eat at your hotel or in any of the small restaurants. Some of the local items that you can try are rice and mutton curry, runny gravy, Bhang Ki Chutney, Kukla and Bhuta Aalu. Other than this, almost every simple north Indian dish can be made on order.
Also Read: Mana Village – How to Plan your Trip & Explore
What to Buy in Munsiyari
Shopping in Munsiyari is not really a choice because it is not much of a shopping destination. It is just a small town with shops selling some day to day commodities and groceries. If you do want to buy something as a souvenir for your trip, you can buy some handicraft items like shawls and caps, hand-woven carpets and woolen items.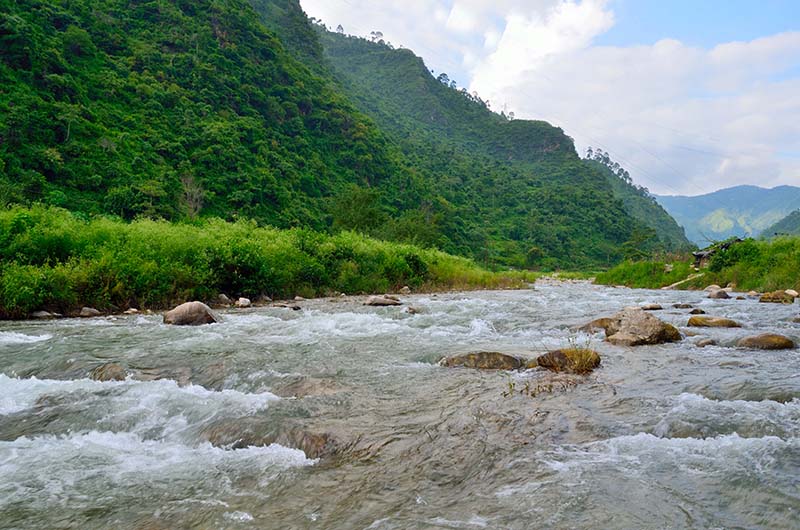 Weather
Due to its high altitude, the weather of Munsiyari ranges from being pleasant to very cold. It snows here in the month of January and February and at such times, the temperature drops close to 0 degrees at night. Spring arrives towards the end of March and officially marks the beginning of tourist season in Munsiyari. The following months of April, May, and June are considered to be the best time for a trip because the weather in these months is very pleasant. Days will remain moderately warm and nights will be pleasantly cool.
July and August is the time of monsoon and it rains here a lot in these months. Sometimes the rain continues for days altogether causing landslides and can force you to remain indoors throughout the duration of your trip. The rain gods depart in the month of September but leave plenty of greenery behind to enjoy.
October is when the Autumn season begins and all that was green in September now turns orange. This is another good month to visit but the weather starts to get cold again by the end of the month. The months of November and December is the driest time of the year during which the temperature again drops below 5 Degrees Celsius. Snowfall starts towards the end of December and lasts until early February.
Temperature
Below is how the temperature in Munsiyari ranges. Please note though that these are just average numbers and the temperature can vary during noon and at night. The months of May and June are the warmest time of the year and January is the coldest.
Munsiyari in Winters: The average temperature in the months of November, December, January, and February ranges between -5 Degrees Celsius at night; and 15 Degrees Celsius in the day.
Munsiyari in Summer: In the months of May and June, the average temperature ranges between 20 to 30 Degrees Celsius. It gets a little warm here at this time and you may not even need a jacket during the day.
Munsiyari in Monsoon: The average temperature in July and August ranges between 15 to 25 Degrees Celsius.
Munsiyari in Spring Season: This is the most pleasant time of the year with temperature fluctuating between 10 to 20 Degrees Celsius in March and April. Weather remains clear with sunny skies and clear views of the peaks around.
Munsiyar in Autumn Season: The temperature in September and October too ranges between 10 to 20 Degrees Celsius.
Best time to visit Munsiyari
Now considering the information above, I think it is safe to say that the months of April, May, September, and October are the best times to visit Munsiyari. But it also will depend on your reason to visit. For example, if you wanted to see snow and possibly catch a live snowfall as well; then you should plan in January and February. For a family trip, April and May are the best time to go. For photography, September will be a good time but if you are ready to risk the rain, July and August will be the best months.
November is generally considered a bad month to go because the vistas at this time are very dry and dull; and there won't even be any snow around. For a budget trip, plan in July, August, November or December. If you do not like the cold weather; do not go between October to March. If you are not too fond of the rainy season; then avoid the period between late June to early September. If you want to visit when there aren't many people around, then you should not plan in April, May or June.
Also Read: Nainital – How to Plan your Trip & Explore
Clothes to Pack
What clothes you should be packing on the time of your travel. For a trip from April to September, just carry your regular cotton clothes with some light woolens or a jacket; and that will suffice. For July and August, pack clothes that can dry faster, like Polyester. For a trip in winter, from October to March, you must bring heavy woolens, windproof jacket, cap and gloves. Also pack other items like some basic medicines, lip balm and cold cream etc.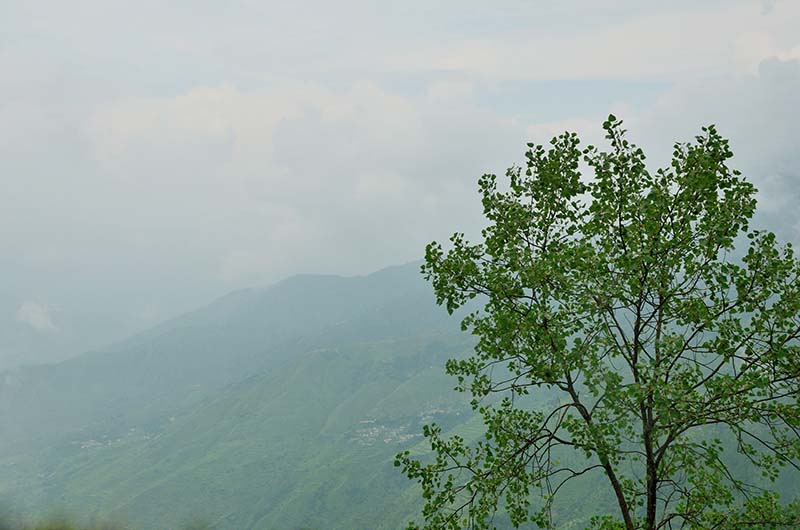 Munsiyari Tour Itinerary
Let me also suggest an example of an itinerary that you can follow for visiting Munsiyari. For the sake of the itinerary, I will assume Delhi as your starting point. However, if you were coming from a different place, only the journey on 1st and last day will be different. Rest of the details will still apply.
Delhi to Nainital / Almora / Binsar / Haldwani – Day 1
Delhi to Munsiyari by road is about 16-18 hours of drive, depending on your speed and breaks. So unless you started from your home in Delhi by midnight and are ready to drive non-stop, getting to Munsiyari in a day will be very difficult. Hence, you will have to break your journey at either of the 4 places I mentioned above. I personally will recommend that you stay for the first night at Binsar which is about 11 hours' drive from Delhi. If you were traveling by Bus, then the best way is to catch an overnight Bus for Haldwani. This starts from ISBT Delhi by evening and drops you at Haldwani early in the morning the next day.
Nainital / Almora / Binsar / Haldwani to Munsiyari – Day 2
Start early in the morning and drive to reach Munsiyari by evening. If you were traveling by Bus, then on this day, you will catch the morning 6.30 bus from Haldwani. This Bus will drop you at Munsiyari sometime in the evening. If you missed the Bus, then the next best thing is to board a shared cab from the Bus stand itself. The roads will be a mix of good, bad and ugly. Arrive at Munsiyari, check into a hotel and relax. You can step out to have dinner outside and just walk leisurely in the place.
Sightseeing in Munsiyari – Day 3 & 4
Spend 2 days in Munsiyari and visit places that I listed above. On Day 3, you can trek to Khaliya Top and return by noon. Have lunch and then you can explore places like Balanti Farm and drive to Kalamuni Temple. Or if you were up for some more trekking, you can visit Birthi Falls. On Day 4, trek to Nanda Devi temple in the morning. Later in the day, you can go to Maheshwari Kund.
Munsiyari to Nainital / Haldwani – Day 5
If you were traveling in your own car, I will recommend driving down to Nainital and spend the evening there. If you were traveling by Bus, then catch the early morning Bus from Munsiyari to Haldwani. It will drop you at Haldwani Bus stand by late evening and from there you can then immediately board another overnight bus for Delhi.
Nainital to Delhi – Day 6
Spend some time in Nainital. Visit the lake and the local market and drive back to Delhi.
Also Read: Mussoorie – A Complete Travel Guide and Itinerary
Time Needed
A minimum of 2 days of stay is what I will recommend to explore Munsiyari and nearby areas. 3 days will be an ideal and even better time. And then you will have to add days that you will spend in reaching Munsiyari and then going back home. So for example, if a person was coming from Delhi, he would have to keep at least 5 days in hand for visiting here. Any less than this and most of the time will be spent on the road only and you will barely touch Munsiyari before heading back.
Also Read: Uttarakhand Roadways Bus Time Table
Places Near Munsiyari
If you had additional time in hand, then you can extend your trip to cover a few other nearby places as listed below.
Binsar: Binsar will be on your way to Munsiyari and I will highly recommend spending a day here either while on your way to Munsiyari or while returning. It is a very peaceful and scenic town known best for Binsar Wildlife Sanctuary and a temple dedicated to Lord Shiva.
Bageshwar: This is another town located close to Munsiyari which is religiously very important. It is known for the Bagnath Temple and attracts a lot of devotees all year long.
Kausani: About 165 kilometers and 6 hours' drive from Munsiyari is the scenic town of Kausani which is an awesome offbeat tourist destination. It offers a majestic view of various snow-capped mountains and is a great place to spend a few days in peace and serenity. Mahatma Gandhi visited here in 1929 and is said to have been very impressed and fascinated by the scenic beauty of Kausani.
Pithoragarh: Pithoragarh is also known as "Little Kashmir" and is a greatly scenic small town located with Nepal to its east and Tibet to the north. It is located about 135 kilometers from Munsiyari and is perfect for extending your trip for a couple of days more.
A couple of other nearby places are the village of Darkot, known for its weavers; and Mudkot, famous for a hot water spring with healing properties.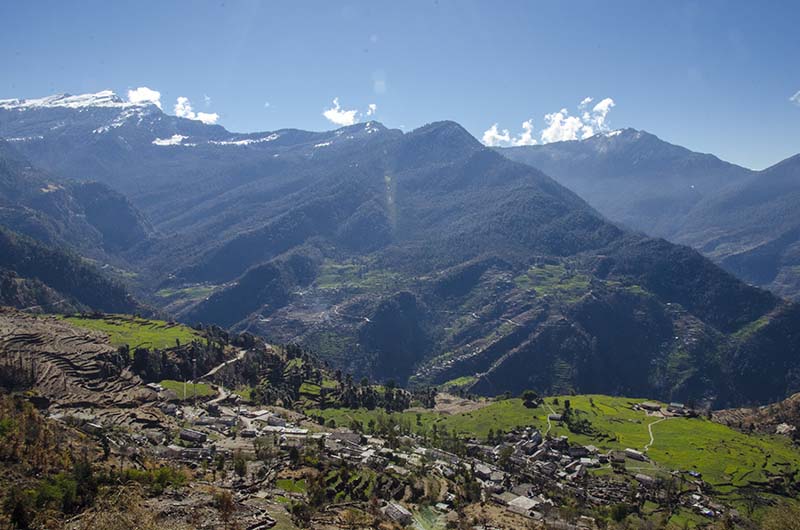 Other Tips
Below is some other useful information above visiting Munsiyari.
Banks and ATM
There are Banks and ATMs located in Munsiyari. I noticed ATMs of SBI and PNB when I was there and both were functional. However, I will still recommend that you completely rely on the ATM here and carry sufficient cash.
Mobile Network in Munsiyari
BSNL provides the best coverage here including the main town and nearby areas. However, other networks like Airtel and Vodafone too work fine, both prepaid and postpaid. Internet and Data connectivity was a little slow though.
Hospital in Munsiyari
There is a community Health center (Samudayik Swastha Kendra) in Munsiyari where you can seek medical assistance if required.
Petrol Pump / Mechanics
There is an HP petrol pump located in Munsiyari. You can find mechanics as well but only for some small fixes.
Also Read: Gaumukh Trek from Gangotri – A Complete Travel Guide
FAQs about Munsiyari
Below are some of the most commonly asked questions about Munsiyari.
1. Is Munsiyari worth Visiting?
Yes, Munsiyari is definitely worth visiting. The distance may sound a little too much but it is worth it.
2. Is Munsiyari safe?
Yes, Munsiyari is a very safe place to visit as long as you act responsibly and do not take any unnecessary risks or put yourself in harm's way. It is a popular tourist destination that gets a lot of visitors including families and couples. The locals are very simple-minded and humble people.
3. When does it snow in Munsiyari?
It snows in Munsiyari between last week of December to early February.
4. Is there a taxi for local sightseeing available?
Yes, you can book a local cab in Munsiyari to show you around. It is greatly beneficial for people who arrived in Munsiyari by Bus. How much the cab will cost will entirely depend on how many places you wish to cover.
Also Read: Gangotri – A Complete Travel Guide and Itinerary
Conclusion
I hope the information above on visiting Munsiyari, what to see there and the best way to plan your journey was of help. If you have any questions; or need any other details; please feel free to ask in the comments section below; or at our Community Forum; and I will be glad to answer.