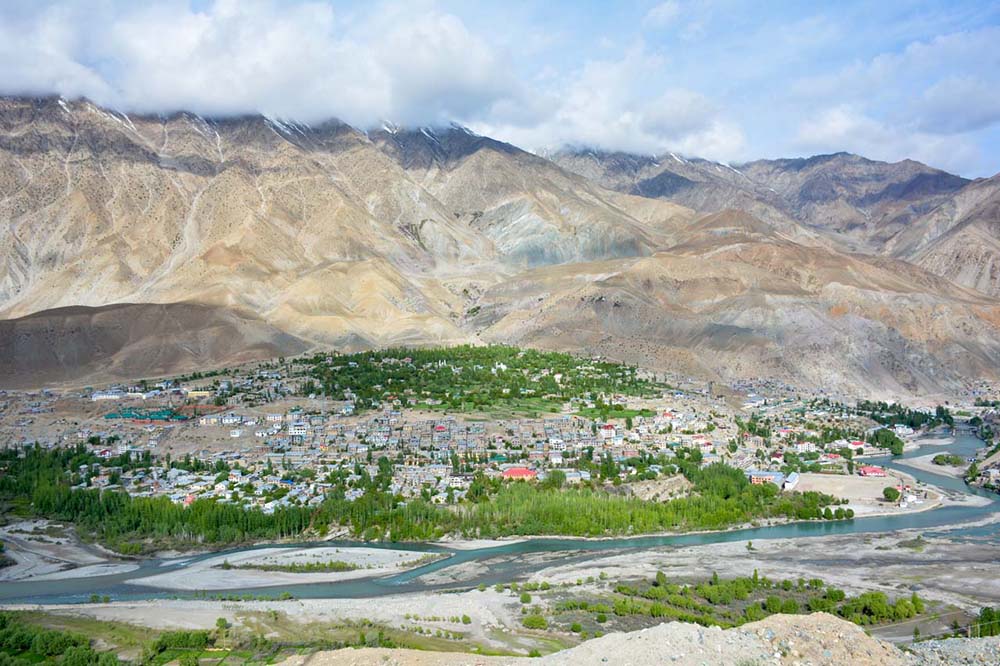 A trip to Ladakh is incomplete unless you have included the Srinagar to Leh Ladakh highway in it. You must dedicate at least a couple of days from your travel plan to explore and experience the charm of one of the most beautiful roads in our country. The journey from the lush green valleys of Kashmir to the majestic brown of Ladakh is nothing less than awe-inspiring.
The entire length of the highway is a beauty in itself as it runs through mesmerizing Kashmir and the scenic towns of Sonamarg and Drass. The road is usually considered easier in comparison to the Manali Leh highway because of better connectivity and availability of basic facilities.
It also remains longer for a longer duration than Manali Leh road and you never really get too far from civilization. You will continue to come across several small towns and villages after regular intervals and chances of getting stranded are lesser here. Amenities like a fuel station and accommodation choices too are better on Srinagar to Leh road.
In the post below, I will provide a complete travel guide on how you can plan a trip on the Srinagar to Leh Ladakh highway this year. The post below includes information on any latest updates, different routes, a road map, sightseeing, accommodation choices, safety tips, and itinerary planning.
For more information on visiting Ladakh, please take a look at How to Plan a Trip to Leh Ladakh – A Complete Travel Guide.
About Srinagar Leh Highway
For a brief overview, the Srinagar Leh highway is a 420 kilometers long road between the towns of Srinagar in Kashmir and Leh in Ladakh. It is actually a part of National Highway 1 that runs from Uri to Leh covering a total distance of 534 kilometers. The road was first declared as a National Highway in 2006 as NH 1D and was renamed National Highway 1 in 2010.
In older times, it just used to be a track, impassable even with ponies. Official construction of this road began in 1962, after the Sino-Indian war. The road was declared open for civilian traffic in 1974.
It usually remains closed for traffic from November to late April or early May due to heavy snowfall at the high altitude passes. The highest elevation point of the road is at Fotu La, at the height of 4,108 meters (13,478 ft).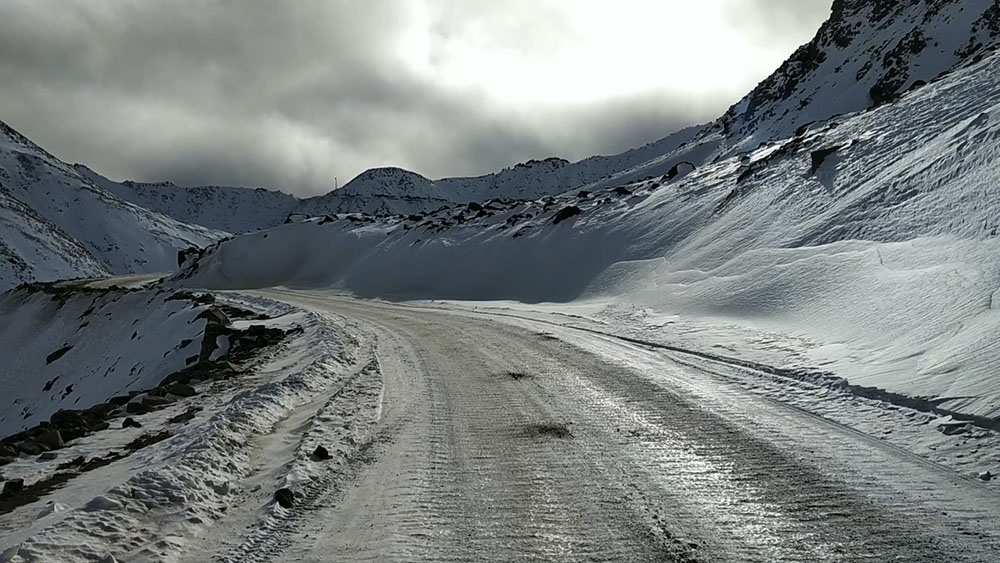 How to Plan a Journey on Srinagar Leh Highway
The most common way of a journey on this road is via Sonamarg, Drass, Kargil, Mulbekh, and Lamayuru in 2 days. There is however an alternate route as well.
From Kargil, rather than continuing towards Mulbekh, one can also take the road towards Batalik and reach the village of Dah. From Dah, you can once again exit on Srinagar to Leh road either at Saraks (a little after Mulbekh) via Chiktan; or exit at Khalsi (after Lamayuru) via Skurbuchan and Damkhar.
Regular bus service remains available on the road between June and September and can be boarded from both Srinagar and Leh. A minimum time of 2 days is recommended to complete the journey with a night halt at Kargil but it can be done in a single day as well.
There are a total of 3 passes en route of which, Zojila Pass remains completely blocked during the winter season. Between the months of November to early April, the road is open only till Gagangir from the Srinagar side. From the Leh side though, the route remains open until Kargil for all 12 months.
Srinagar to Leh Route
There are two different routes that you can take to complete the journey.
For traveling from Srinagar to Leh via Kargil & Lamayuru, the route will be as mentioned below.
Srinagar – Sonamarg
Sonamarg – Zoji La – Drass
Drass – Kargil
Kargil- Mulbek – Namika La – Fotu La – Lamayuru
Lamayuru – Hangro Loops – Khaltse – Nimmu – Leh
If you are however considering taking the route via Batalik, then the journey will change after you have reached Kargil.
Srinagar – Sonamarg
Sonamarg – Zoji La – Drass
Drass – Kargil
Kargil – Batalik – Dha – Skurbuchan – Khaltse OR Kargil – Batalik – Dha – Chitkan – Fotu La – Lamayuru – Khaltse
Khaltse – Nimmu – Leh
Srinagar to Leh Route Map
In order to explain the routes better, let me first post a road map of Srinagar to Leh Highway. Feel free to save the map to your phone if you would like to keep it handy while traveling.
For a complete road map of the entire Ladakh region, including Zanskar and Manali Leh route as well, please take a look at A Detailed Road Map of Leh Ladakh & Zanskar Valley.
Since the map below is a bit large in size, I am posting a thumbnail of it here. But you can click on the map to view it in full size.

Let us now take a look at both of the routes I mentioned above in detail.
Srinagar to Leh via Kargil & Lamayuru
This is the most common way of traveling between Srinagar and Leh. The majority of the tourists prefer to travel this way and only a handful will pick the Batalik route, which we will talk about later. The bus and shared cabs services also travel on this route only.
Srinagar to Sonamarg = 79 km
Get ready to be awed by the beauty of Kashmir as soon as you start on this journey. The first destination will be Sonamarg, literally meaning meadows of gold, and it will only take you a couple of hours to reach there from Srinagar.
Beautiful in every way, Sonamarg is a place that will take your breath away. The presence of the Army is so heavy in this area that it will make you feel that you are in an Army base. There are soldiers posted every few hundred meters, on every road, every hill, and every bridge.
Don't forget to take a break and eat at Sonamarg. This place has the most delicious food to offer and if you are a non-vegetarian, you are in for a treat.
If you were planning to stay in Sonamarg, a visit to the Thajiwas Glacier comes highly recommended. Hotels are a little expensive in Sonamarg, though, and finding a budget one could be a problem.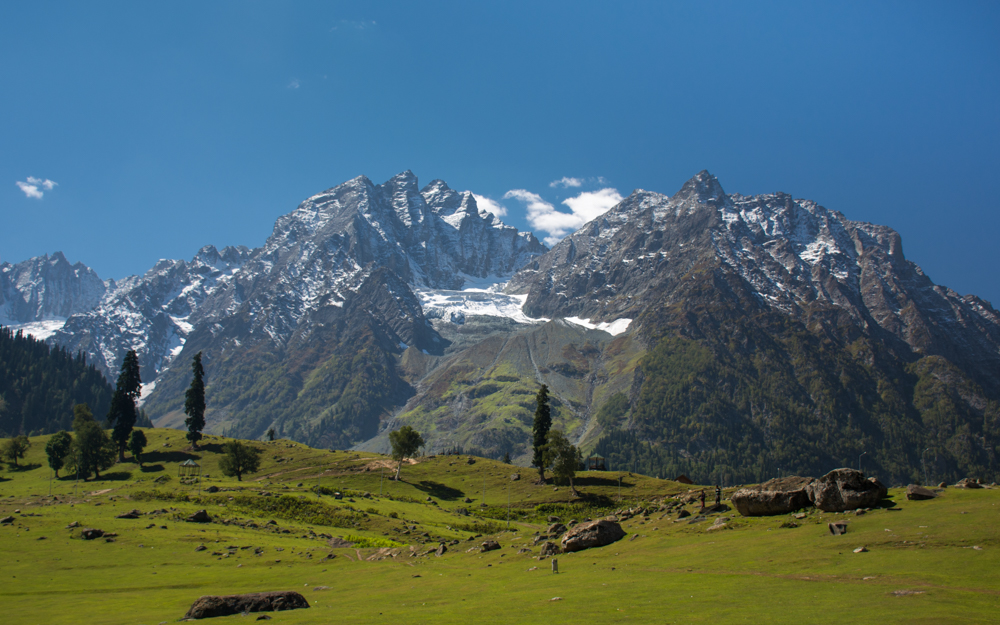 Sonamarg to Dras = 62 km
After crossing Sonamarg, you will be driving up the first high altitude pass on this road, Zoji La located at 11,640 ft. Visitors are required to register themselves before crossing the pass. If you are traveling early in the month, you may find the traffic to be controlled and one-sided.
It means that the vehicles from one side of the pass are allowed in the first half of the day and the remaining in the second half. Or the timings could also change to a few hours. It is different each year.
At Zojila, you will also encounter the roughest patch on this entire route. There is in fact no road at some places and it turns more into a dirt track. So if you are crossing the pass during monsoon or while it's raining, extra caution is advised. There is also a war memorial at Zojila that is worth a visit.
Except for a bad section near the top, the rest of the road is in better condition and it won't take you long to reach the beautiful town of Dras. You can either break your journey here or continue to Kargil and halt there for the night.
Hotels in Dras are pretty cheap and you can find a room for as low as Rs. 500 for the night. Kargil however is a little costlier and you may find it difficult to find a hotel if you are on a budget. If you don't mind shedding a few hundreds more, then staying at Kargil would work just fine.
If you were planning for a road trip to Zanskar Valley, you can stay at Dras and take the Umba La road to reach Sankoo, rather than driving through Kargil.
Dras To Kargil = 64 km
A little after Dras is the Kargil War Memorial, also known as Dras War Memorial, built in the memory of soldiers killed in the 1999 war. You must take a break here and pay a visit.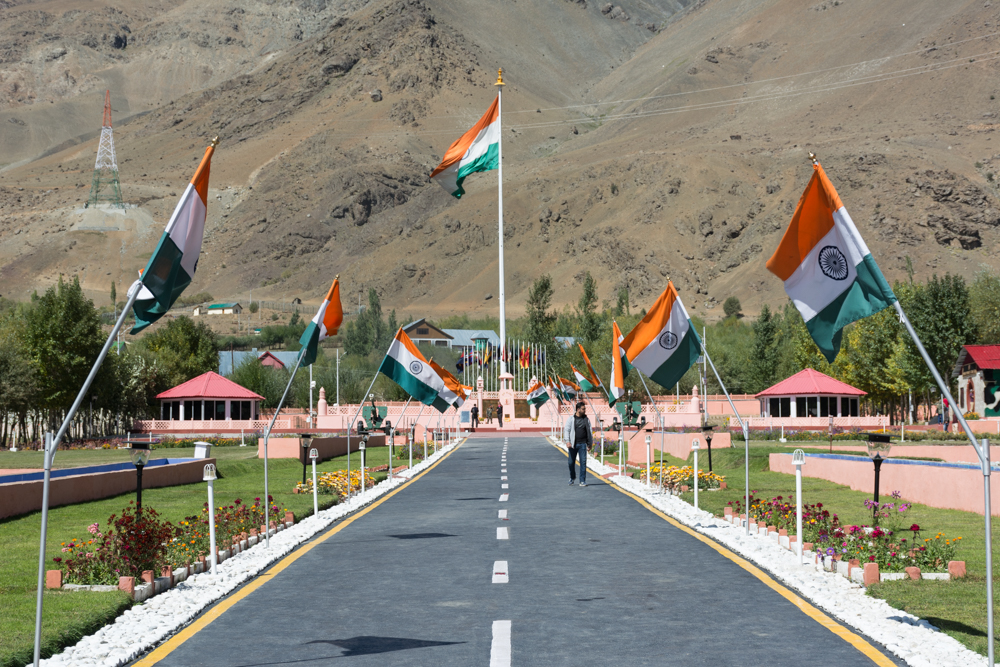 Tiger Hill can also be viewed from Dras. This is the mountain that Pakistan Army captures during the war. It is actually visible from the highway itself which tells you how close to the road and deep inside the Indian territory they reached.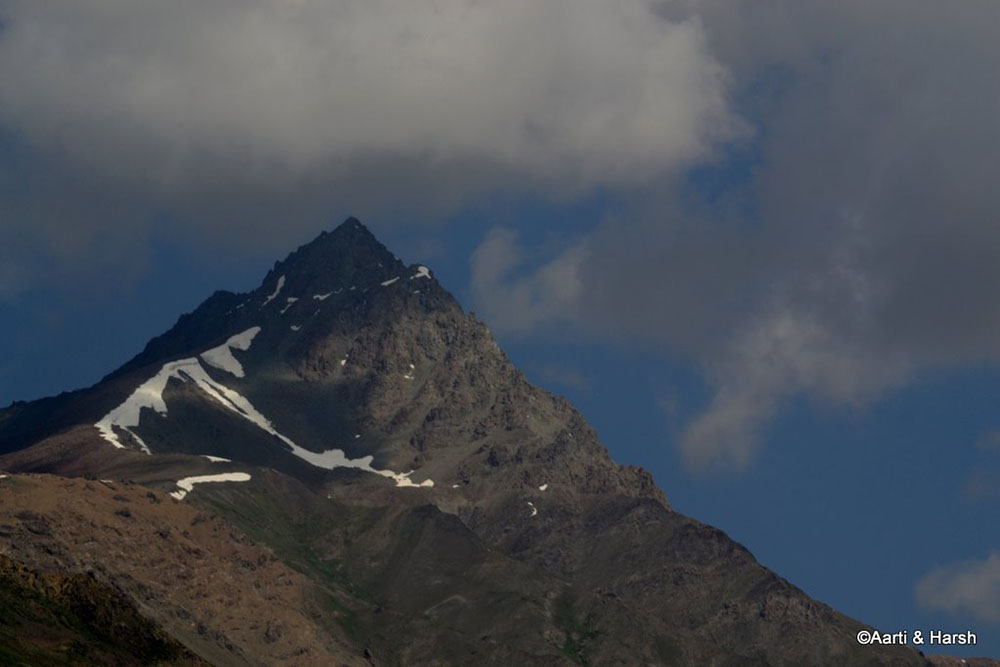 The roads here are in excellent condition and won't take you much time to reach Kargil from Drass. After hearing and reading so many stories related to this town and the war here, you will be surprised as to how ordinary it looks. It is just like any other Indian city or village with people going on about their day-to-day life, amidst heavy security.
I love the setting of this beautiful mosque en route.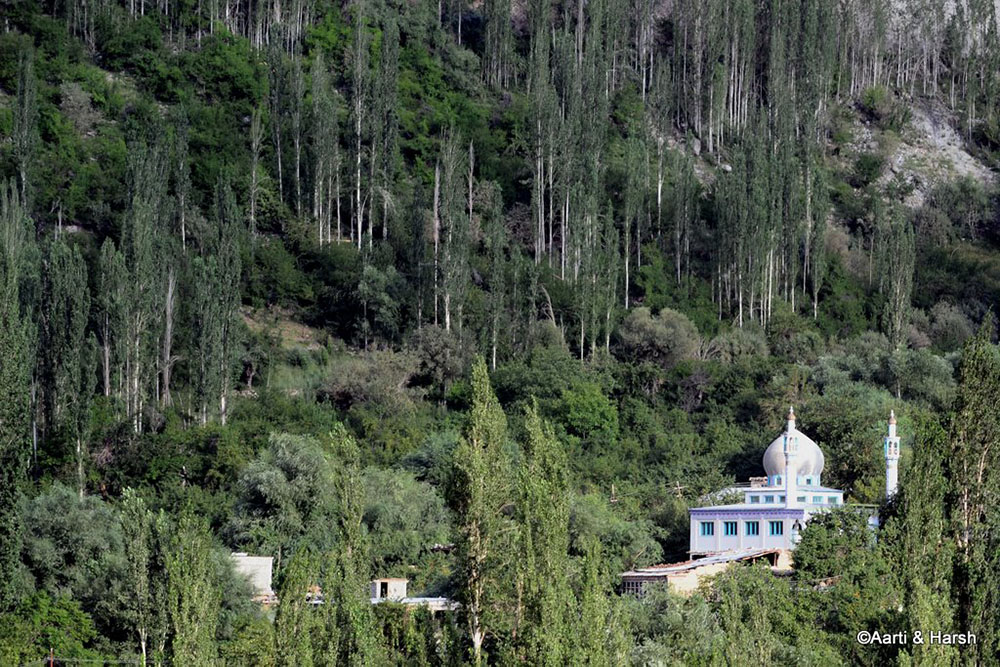 A little before Kargil is the Harka Bahadur Memorial. This is probably the closest that the Srinagar-Leh highway gets to the LoC. Here, the mountain across the river IS the LoC. The Suru river meets the Dras river here to form the Shingo river which then flows into Pakistan.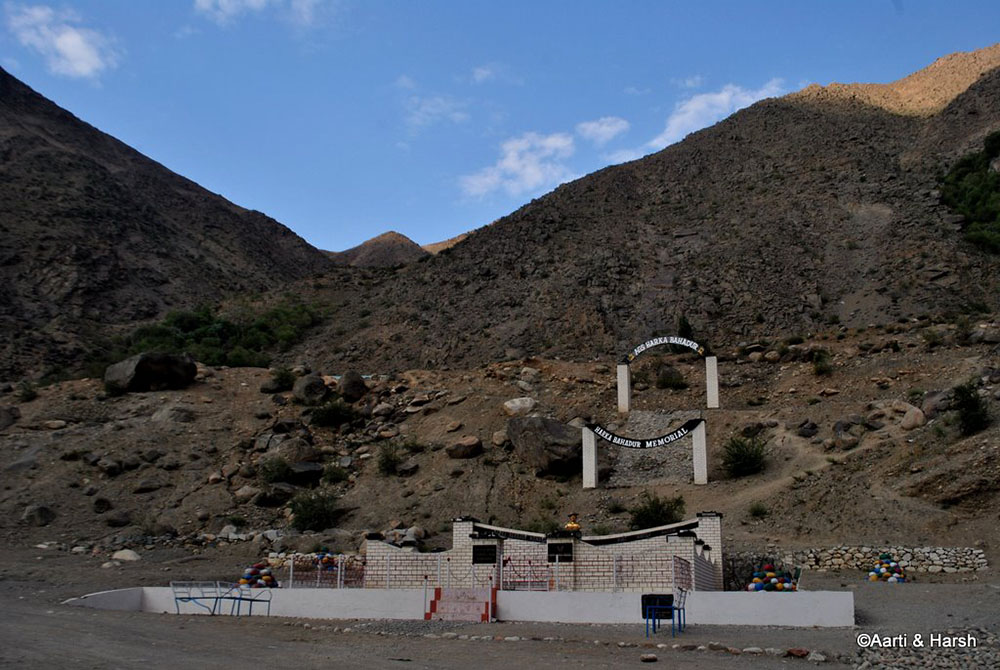 Kargil is where most people traveling on this road halt for the night so finding a hotel wouldn't be a problem, but finding one on a budget could be quite a task.
If you were traveling by Srinagar to Leh bus, you will be staying in Kargil for the night. The bus halts here on Day 1 and resumes the journey on the morning of Day 2.
Kargil to Lamayuru
Around 40 kms from Kargil is the small village of Mulbekh. The prime attraction of this village is the 9 meters tall statue of Maitreya, the future Buddha, carved out of solid rock.
It is believed that this statue dates back to the 7th or 8th century when Buddhist missionaries came traveling east of the Himalayas. It is quite a marvel of art and you don't want to miss seeing it while crossing the village.
Next is the 2nd high altitude pass on this route, Namika La, located at a height of 12,198 ft.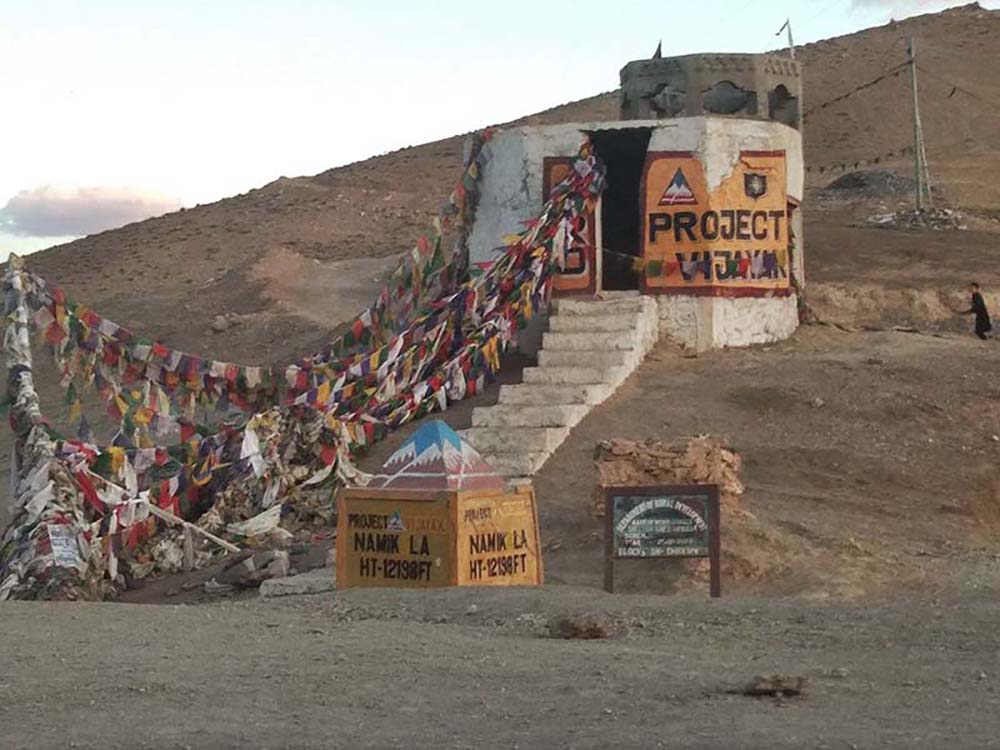 Another 40 odd kms from Namika La is the 3rd high altitude pass, Fotu La, located at 13,479 ft. It is also the highest point of Srinagar Leh highway. I crossed this pass once in the dead of the night. It was a crazy experience.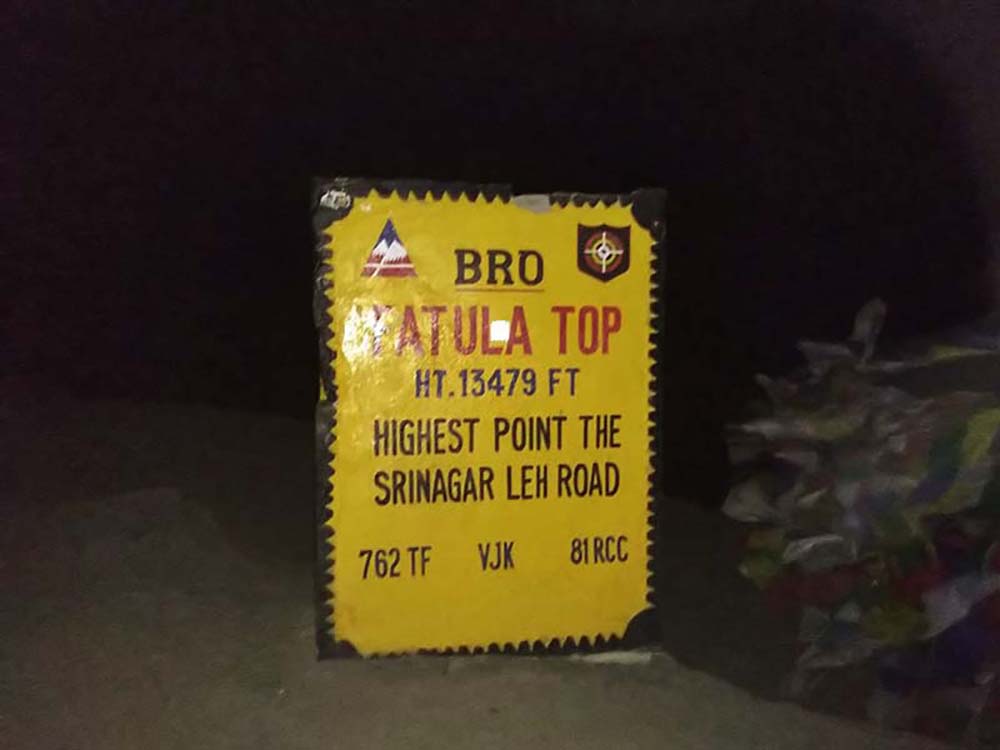 Descent from Fotu La will take you to the village of Lamayuru, which is famous for being the site of one of the oldest Gompas and the lunar landscape, also known as Lamayuru Moonland. Take a break here for a visit to the Gompa and click some photos.
Also read: How to Plan a Solo Trip to Ladakh
Lamayuru to Leh = 115 km
In the morning at Lamayuru, you should visit the monastery here and the lunar landscape.
Have breakfast and start your journey to Leh. If you can, start as early as possible because there are a few other places to visit on the way.
After Lamayuru, first comes the ascent of Hangro Loops, a series of 18 hairpin bends.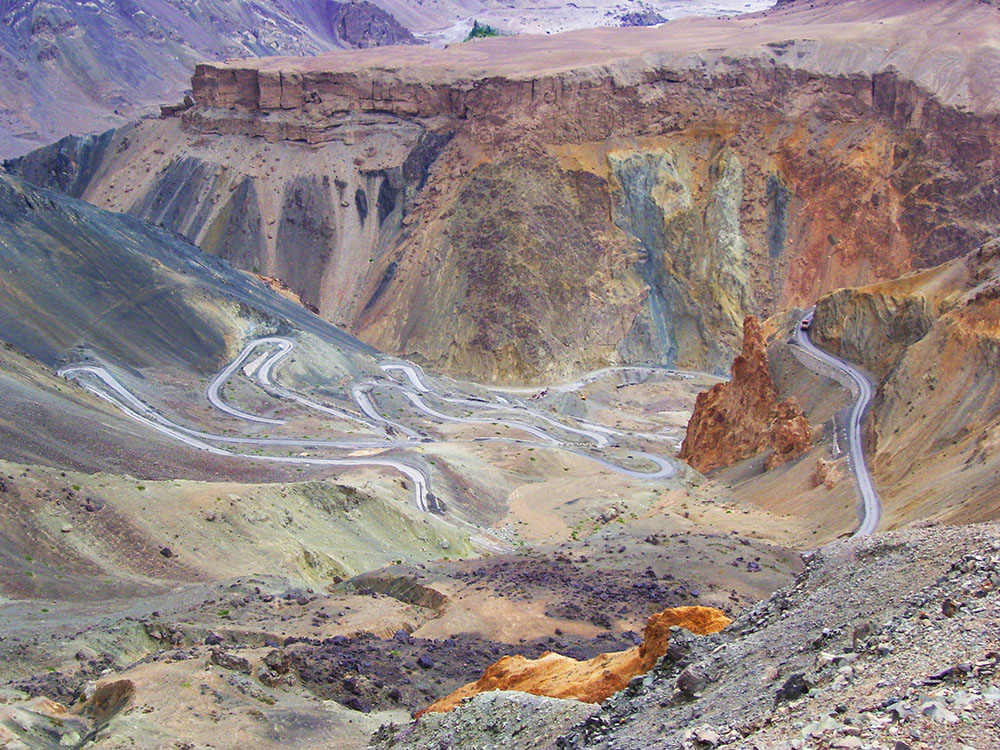 After this, it is a straight run to Leh. The places you can visit on the way are the famous Gurudwara Patthar Sahib, the Magnetic Hill of Ladakh, and the confluence of the Indus and Zanskar rivers. All these places are located right on the highway and you will not need to take a detour to get to them.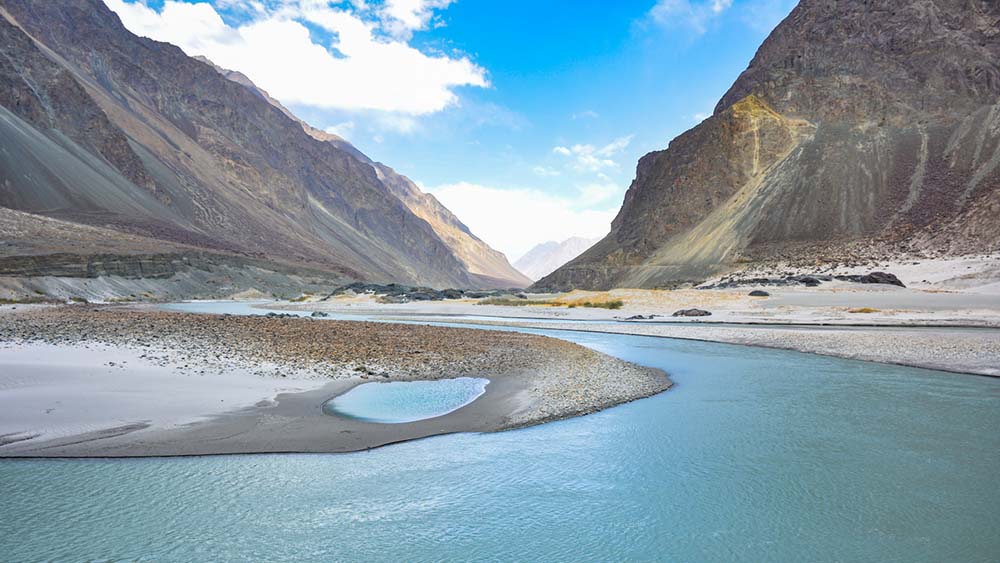 Srinagar to Leh via Batalik
The second route as shown on the map runs through the villages of Batalik and Dah (Dha). If you do wish to travel to Batalik then the journey after Kargil will change. You will no longer be crossing Namika La and Fotu La and will exit at Khaltse.
Srinagar to Kargil
The journey from Srinagar to Kargil will remain the same as I explained above. There is no change in that itinerary. On Day 1, you will arrive in Kargil and stay there for the night. On Day 2, you will take the road that goes towards Batalik.
Once your reach Batalik, continue towards the village of Dha. After you cross the village, a few kilometers later, you will have two choices. Either take the diversion towards the village of Chitkan and exit once again on Srinagar Leh highway a little after Namika La. Or from Dha, you can continue towards the village of Skurbuchan and then exit on the highway near Khaltse.
Kargil to Batalik = 54 km
The first destination will be the small village of Batalik. Before you go there though, I will recommend paying a visit to the Hunderman village. It is about 12 km from Kargil and will take you approximately 30 minutes to reach the village.
Hunderman can actually be visited even if you were going via Lamayuru and not Batalik. It is mostly in ruins now but you can see the Pakistani village and outpost from here. You can actually see a village across the border on the way as well.
The village is beautiful, small, not developed and the population is 21 only. The road is very narrow but in good condition.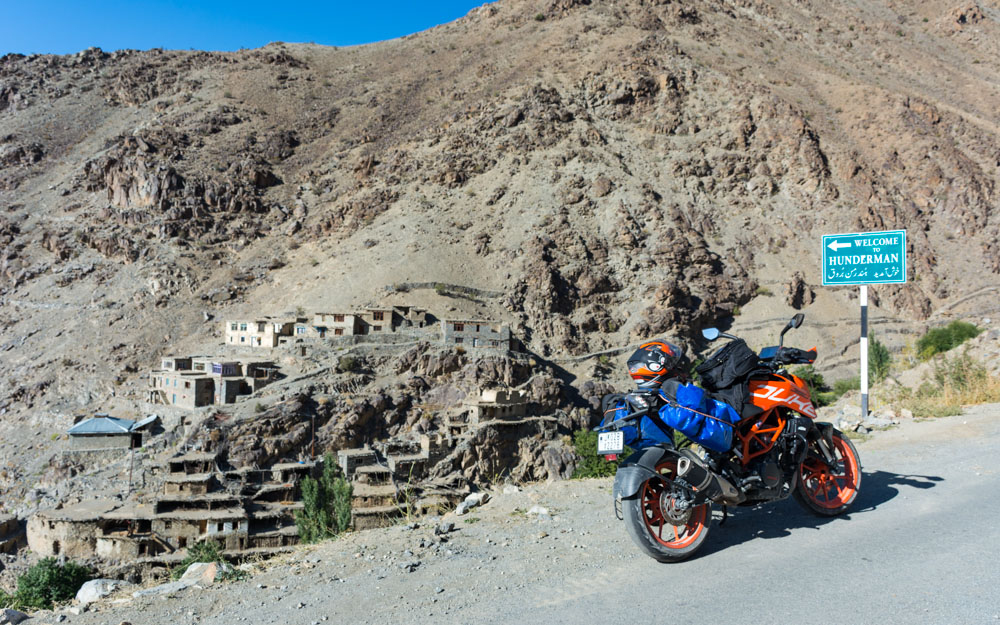 The road was mined during the 1999 war and some may still be there along the road.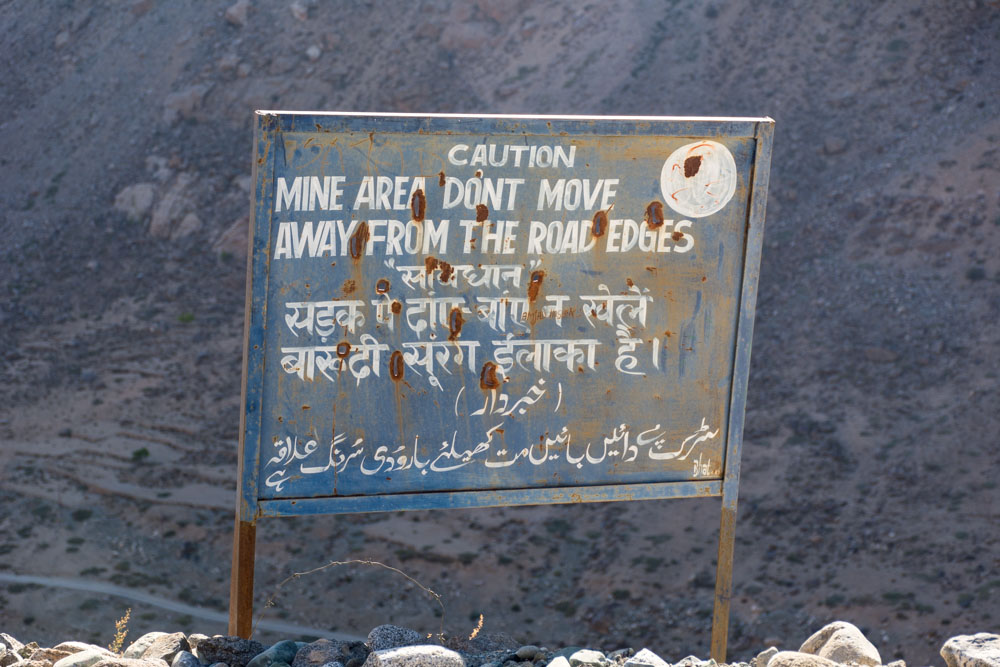 After coming back from Hunderman, start on your way to Batalik. After an hour's drive covering 30 km from Kargil, you will reach Hamboting La, also spelled as Hambuting La. It is a high altitude pass at 4024 meters and is the only pass on this route.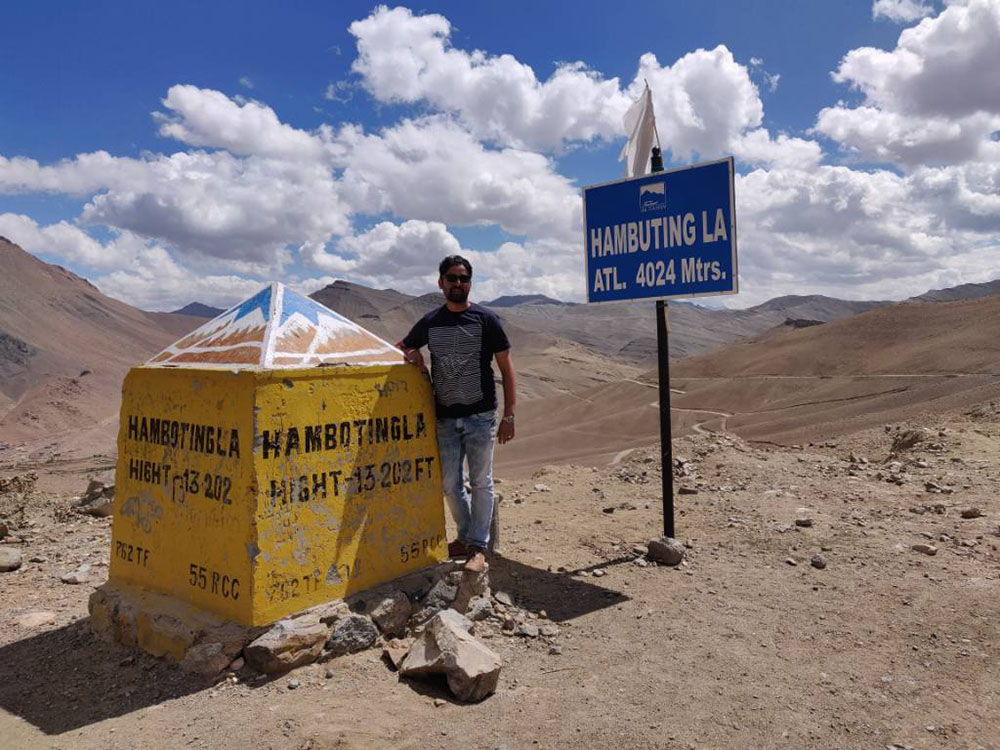 It is a beautiful route with no traffic at all. Spend a few minutes at the Pass and move on towards your next destination, Batalik, which is about 24 km ahead of the Hamboting La.
Also read: When is the Best time to visit Ladakh?
Batalik to Leh = 177 km
You will not be allowed to take any pictures at Batalik. Stop here for some time and speak with Army jawans posted here. They can give you some insights into the region.
The road after Batalik towards Khaltse runs along with the Indus River. It is another wonderful route to drive on.
Your next stop will be Garkon Village which is about 30 km ahead of Batalik. It is an Aryan village and one of the four main villages in this region. The other three are Dah, Hanu, and Darchik. All these four villages are situated at the banks of the Indus River.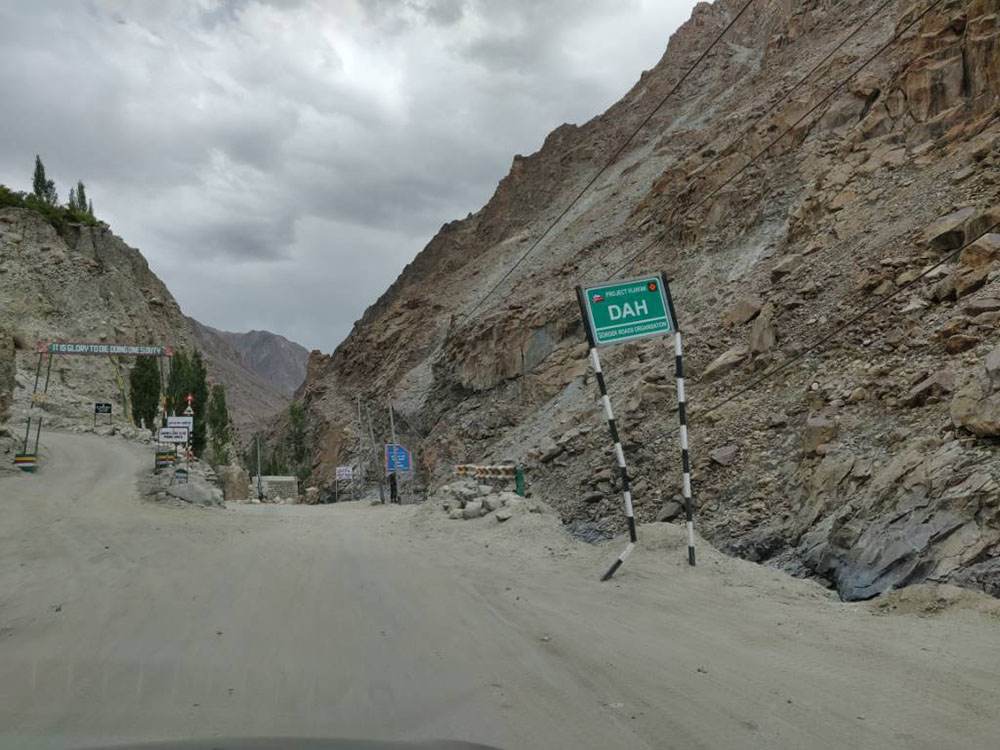 Darchik and Garkon villages are in Kargil district. The inhabitants of these villages are known as 'Dards'. Locals also call them 'Brokpas' which in the Tibetan language means the highlanders. People here wear a different traditional costume occasionally and their headgear is very attractive.
The last time I was in this village, I was lucky enough to attend a festival. The locals were performing fully dressed up in their traditional attire.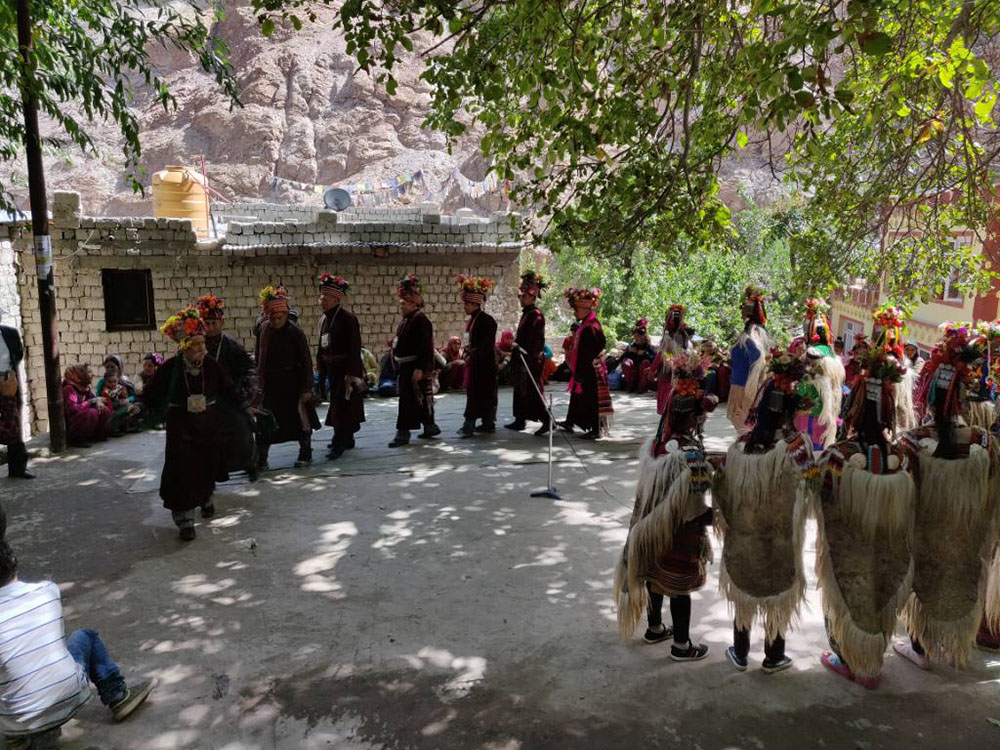 After Garkon, you will exit on Srinagar Leh highway near Khaltse and continue to Leh The drive covering Batalik route will be a very long one and you must take an early start from Kargil.
If you wish to, you can turn right from Khaltse and go back to Lamayuru to stay for the night. The next day, you can reach Leh, covering the entire highway in 3 days.
Also read: Is Srinagar Leh Highway Safe for Tourists?
Accommodation on Srinagar Leh highway
Srinagar to Leh road runs through a very well-connected region. Almost every town or village on this route has accommodation choices in form of hotels or guesthouses.
Sonamarg, Drass, and Kargil are the preferred choices to stay but accommodation is available at other places like Mulbekh and Lamayuru as well.
There are a lot of hotels in Kargil and Sonamarg but finding one within budget could be a task. For a budget traveler, staying at either Dras or Lamayuru will be a better choice. I stayed in Greenland Guesthouse in Lamayuru a couple of times. It is a good place to stay with good facilities, including Airtel 4G network.
For a detailed version of the information below, I will request you to please take a look at Hotels and Guest Houses on Srinagar-Leh Highway. I have provided the names and numbers of some recommended hotels in this post.
Best Time to Travel from Srinagar to Leh by Road
The best time to travel on Srinagar Leh Highway is in the months of May, June, and September. The highway opens by late April and closes sometime in the month of November. These three months are when the road conditions will be at their best and the weather will be enjoyable.
Monsoon arrives in the region by late June and heavy rains can create a lot of havoc in July and August. A lot of people travel at this time as well but I will recommend avoiding it if you can. Landslides can sometimes block the road between Srinagar and Dras and you may not be allowed to travel further.
For more details on this, please take a look at When is the Best Time to Travel on Srinagar-Leh Highway.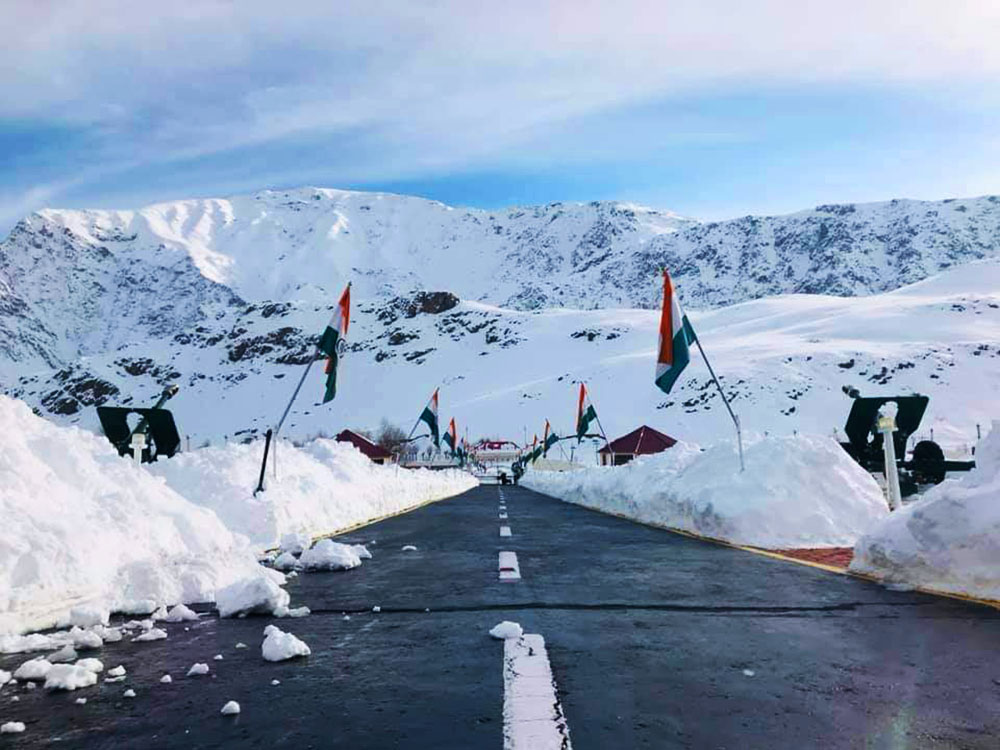 Places to Visit
The entire highway is a beauty in itself, full of eye-catching vistas. Lush green hills, enchanting valleys, and then the barren desert of Ladakh after you cross Kargil – put this all together and you are in for a journey to cherish.
There are however several places that can be considered as highlights of the journey. I have covered this topic at great length in another post actually. Below is a list of the places but if you want to read about them in detail, I will request you to take a look at Tourist Attractions on Srinagar Leh Highway.
Putting all of this information here would have rendered this one page way too long. That is why I put it all in another post.
High Altitude Passes
Zoji La
Namika La
Fotu La
Hambuting La
Natural Wonders
Lamayuru Lunar Landscape
Indus Zanskar River Confluence
Magnetic Hill
Tiger Hill
Thajiwas Glacier
Man-Made Wonders
Hangro Loops
Good Food
Kargil War Memorial
Several other war memorials on the way like Harka Bahadur Memorial, Zojila Memorial
Religious Places
Lamayuru Monastery
Redzong / Rizong Monastery
Likir Monastery
Alchi Monastery
Phyang Monastery
Spituk Monastery
Gurudwara Patthar Sahib
Mulbekh Monastery / Maitreya Buddha
Basgo Monastery / Basgo Palace
Towns on Srinagar Leh Highway
Srinagar
Sonamarg
Dras
Kargil
Mulbekh
Lamayuru
Nimmu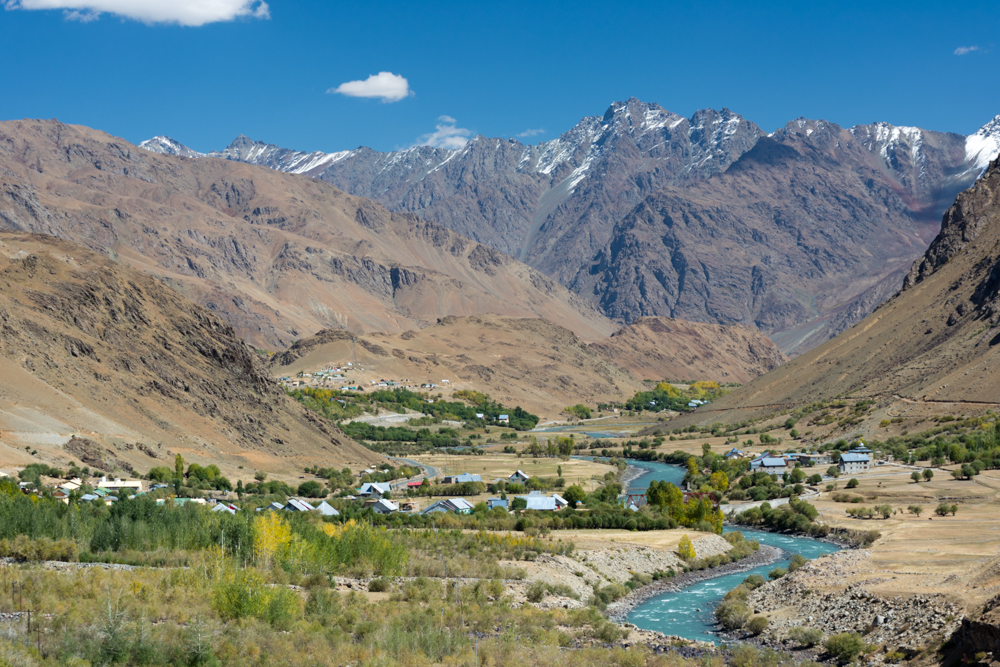 Mobile Network & Data Connectivity on Srinagar Leh Highway
The most important thing to remember here is that only postpaid cell phones work in Kashmir and Ladakh. BSNL has the widest connectivity here and works in the remotest of the locations. The voice clarity however can be really bad at some places. BSNL, Airtel, and Jio phones work well in Srinagar, Kargil, and Leh.
Starting from Srinagar, if you were on a postpaid connection, you will have some connectivity until Sonamarg. After Sonamarg, irrespective of which network you were on, your phone will not work again until you reach Kargil.
In Kargil, BSNL, Airtel, and Jio will provide an excellent network with good voice clarity and 4G data.
On the stretch from Kargil to Leh, Airtel will continue to keep come and go at regular intervals. You will not get reception with any other network.
On the Batalik stretch, you may get some reception with Airtel around Kargil but will lose network a few kilometers later.
Srinagar to Leh Itinerary
It is best to dedicate at least two days to travel from Srinagar to Leh. If you want to cover the Batalik route, then I will recommend spending 3 days on the road. Below are a few examples of itineraries that you can follow.
Most Common Itinerary
Srinagar to Kargil – Day 1
Kargil to Leh – Day 2
Covering Batalik Route
Srinagar to Kargil – Day 1
Kargil to Batalik to Lamayuru – Day 2
Lamayuru to Leh – Day 3
This can however be done in 2 days as well. It is just that the travel time from Kargil to Leh via Batalik will be a little long.
4 Day Itinerary
Srinagar to Sonamarg – Day 1
Srinagar to Kargil – Day 2
Kargil to Lamayuru either via Batalik or Mulbekh – Day 3
Lamayuru to Leh – Day 4
Petrol Pumps on Srinagar Leh highway
Until Kargil, there are several fuel stations on the way. After Kargil however, the next one is in Leh itself, and no petrol pump in between except for the one near Khaltse.
Banks / ATM
Below is a list of places where you can find an ATM on the Srinagar Leh route. For a more detailed version of this information, please read ATMs, Mechanics & Petrol Pumps on Srinagar Leh Highway.
Srinagar
Ganderbal
Manigam
Wussan
Kangan
Hari Ganiwan
Gund
Sonamarg
Dras
Kargil
Shargole
Saspol
Leh
Medical Assistance
You can find a Doctor and dispensary at Sonamarg, Drass, Lamayuru but this will be just a physician. For any serious concerns, you will have to rush back to Leh, Kargil, or Srinagar.
In case of a medical emergency, you can also seek help from any of the nearby Army establishments en route.
Also read: How to Plan a Trip to Ladakh by Public Transport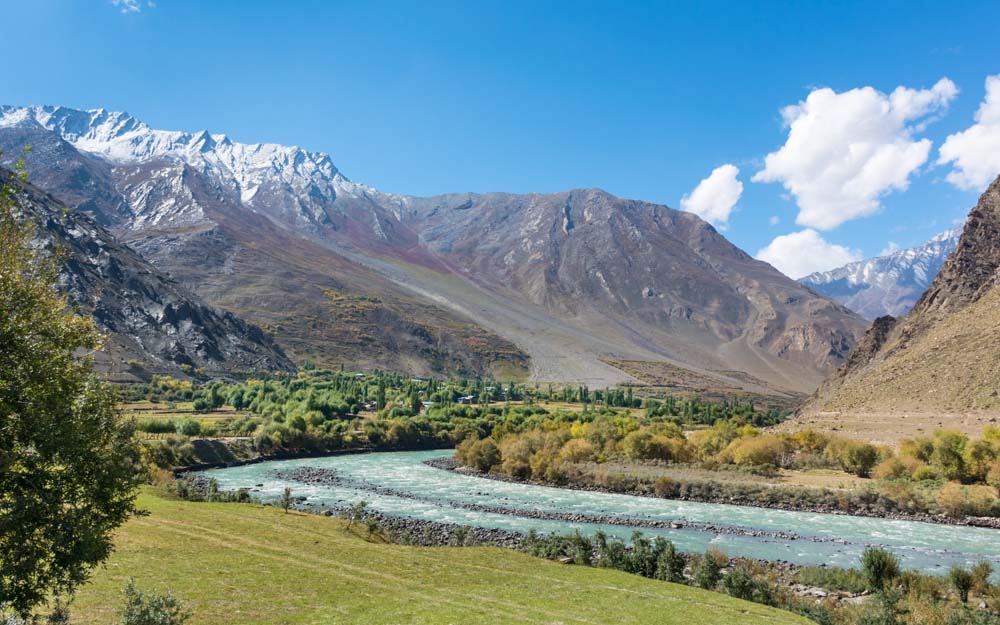 Altitude Sickness on Srinagar Leh Highway
It is rare for anyone to suffer from AMS while traveling from Srinagar to Leh. Chances of altitude sickness are more on the Manali Leh route but a few people may suffer from it on the Srinagar Leh highway as well.
The key factor here will be to give plenty of time to your body to acclimatize. The gain in altitude while reaching Leh via Srinagar is gradual. If you completed the journey from Jammu to Leh in 3 days, your body will adjust to high altitude before reaching Ladakh.
A lot of people however try to complete the journey in a single day and that is when they get prone to AMS. To know more about the causes and symptoms of altitude sickness and tips on how to avoid it, please take a look at How to Handle Acute Mountain Sickness in Ladakh.
Srinagar to Leh bus
There is a daily bus available from Srinagar to Leh that completes the journey in 2 days with a night halt at Kargil. It starts at 8 AM from the Tourist reception center near Dal Lake. It travels via Sonamarg, Drass, Kargil and covers a total distance of 425 kilometers.
The fare per person is about Rs. 1000. For more details, please take a look at Srinagar – Leh Bus Service – Fare, Schedule, and How to Book.
Permits for Srinagar to Leh
There is no permit required for traveling from Srinagar to Leh. You only need to obtain an Inner line permit upon your arrival in Leh; in order to visit the areas like Nubra Valley and Pangong Tso. But you do not need to get a permit to reach Leh from either Srinagar or Manali. For more details, please take a look at How to obtain an Inner Line Permit for Ladakh.
Srinagar to Leh Cab
If you are in for a non-stop journey spread over a period of 18-20 hours, then a private taxi will cost you about Rs. 15,000. For a 2 day journey, it will cost you about Rs. 17000. A trip for more than 2 and up to 6 days will cost about Rs. 30,000.
Srinagar to Leh Shared taxi
If you are a solo traveler, then a shared taxi would be your best bet. This again is a one-day non-stop journey and charges per person will be Rs. 2200. This is a great choice if you are on a budget trip but do not want to travel by bus.
For more details on private and shared cabs, please take a look at Srinagar Taxi Rates for Private & Shared Taxis.
How safe is the Srinagar Leh highway
Now coming to one of the most common questions that I get asked in terms of Srinagar to Leh road. All the unrest and violence in the region tends to scare people from coming this way.
The route is perfectly safe for tourists to travel upon and nothing should stop you from experiencing the beauty of it. The fact however can not be denied that you do not want to end up at the wrong place at the wrong time.
Before you go, just keep a close watch on the news. If there is a lot of violence and high tension, then best to wait it out. Things change in Kashmir by day and a little unrest is an everyday story here.
For more recent updates, you can take a look at Is Kashmir Safe to Visit for Tourists Now.
Other Tips
Below are some other tips that can be of help in planning a journey from Srinagar to Leh.
Srinagar Leh highway Opening Time
The Srinagar Leh highway usually gets declared open by Mid to Late April, unless there has been a heavy snowfall which may delay and push the opening time to early May.
Srinagar Leh highway Closing Time
November is the month when the highway gets closed. The exact time can vary from mid to late November. It can sometimes get delayed as well like in 2016 when the road was open until December.
Passes on Srinagar Leh highway
There are three passes on Srinagar to Leh road. Starting from Srinagar, the first one is Zoji La, just after Sonamarg, at an elevation of 3,528 meters. This pass is usually considered the toughest on this route.
The second one is Namika La, a little after Mulbekh, at a height of 3,700 meters.
The last one, a little before Lamayuru, is Fotu La which is the highest elevation point of the highway, at a height of 4,108 meters.
If you were traveling from the Batalik side to Leh, you will also cross Hamboting La at an altitude of 4024 meters.
Srinagar to Leh Best Route
The best route to travel from Srinagar to Leh is via Kargil, Lamayuru and Mulbekh. If this was your first visit to Ladakh, I will recommend sticking to this route. It is easier, more scenic, and has places that are definitely worth a visit.
If you have already covered the Lamayuru route once or had 3 days in hand for Srinagar to Leh, I will recommend covering the Batalik route as well.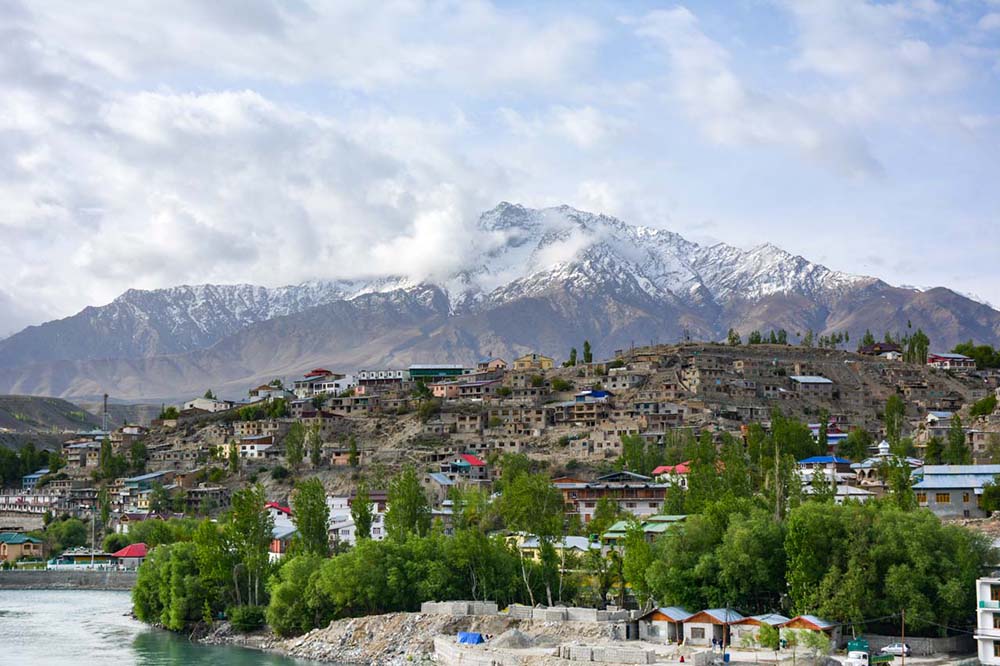 Conclusion
I do hope that the information above on Srinagar to Leh highway was of help. If you have any questions, please feel free to ask in the comments section below and I will be happy to answer. You can also follow me on Instagram and chat with me live there or subscribe to my YouTube channel and ask a question there.