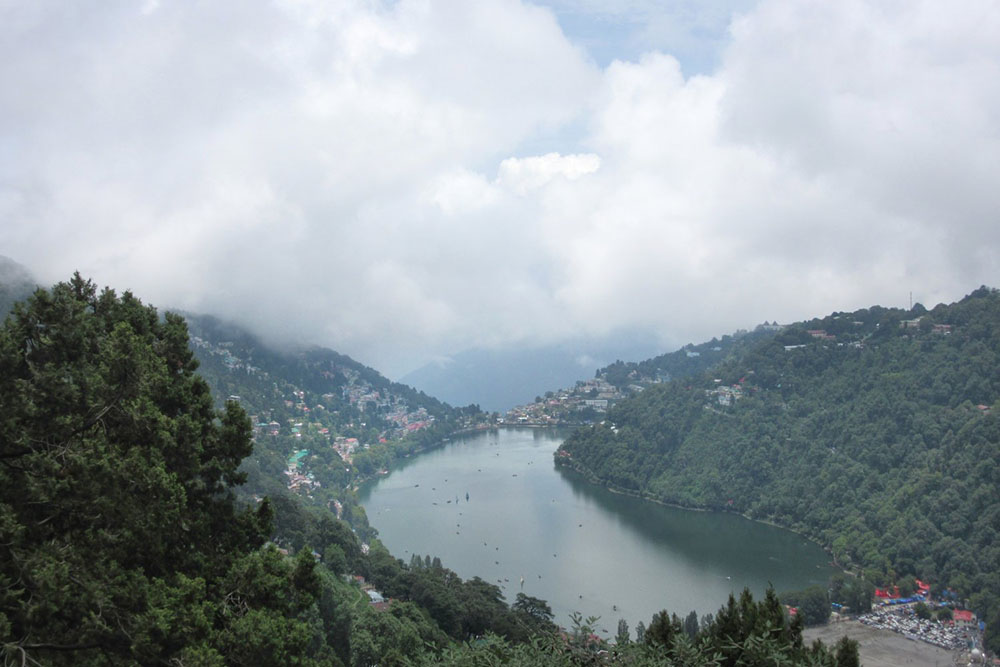 India's very own "Lake District", Nainital is one of the most picturesque and serene hill stations in India. Located at the foothills of the Himalayas in Uttarakhand state, the town owes its name to the pristine Naini Lake. The town is spread out in a valley nearly 7000 feet above sea level and is surrounded by gigantic peaks on all sides.
In particular, seven hills, known as the "Saptashring" stand out – Alma, Ayarpatta, Handi Bandi, Deopata, Lariya Kanta, Naina, and Sher ka Danda. Taken together, the lake and the mountains bestow incredible beauty and charm to Nainital.
About Nainital
The resort town of Nainital was and still is famous for its lakes, and at one time there were as many as sixty lakes in the surrounding area. The unique thing about Nainital is that it lies at the exact midpoint of the plains and mountains. From several viewpoints, you will notice sprawling plains on one side and the majestic Himalayas on the other.
The hills and valleys around Nainital are thick with forests of pine, oak, and deodar and the sleepy, mysterious woods are fragrant with breezes. The town proper was established in the British Era and vestiges of that time remain – churches, cemeteries, bungalows, and public schools will transport you to a bygone era.
In the article, I will provide a complete travel guide on Nainital, covering topics like how to reach, the best time to visit, where to stay, what to see, and things to do.
Where is Nainital Located?
Nainital is located in the Kumaon region of Uttarakhand state in north India. This immensely popular hill station sits in a valley at the foothills of the outer Himalayas. At the heart of the Nainital is the mango-shaped, jewel-bright Naini Lake which boasts a circumference of nearly 3 kilometers!
Situated at a height of nearly 7000 feet above sea level, Nainital is surrounded by steep mountains on all sides of which Naina, Deopatha, and Ayarpatha are the highest. Around Nainital, there is an incredible number of viewpoints that offer gorgeous panoramic vistas of the snowy ranges, tangled ridges, and vast plains stretching as far as the eye can see.
Also Read: How to Plan a Trip to Mussoorie
Why Visit Nainital
If you were thinking about visiting Nainital but not able to decide whether you should or not, then mentioned below are a few points that can help decide. To keep it brief, you should visit Nainital if:
You want to visit a colonial hill station of a bygone era
You want to relax in a soothing, calm; and above all cool temperature
You want peace and quiet from the din and drama of city life
Want to add a sense of adventure to the trip, and want to go on a Jungle Safari
You want to explore the upper Indian Himalayas
Traveling with family, and want to make sure your kids have a good time.
You want to visit a place that is easy to reach and very well connected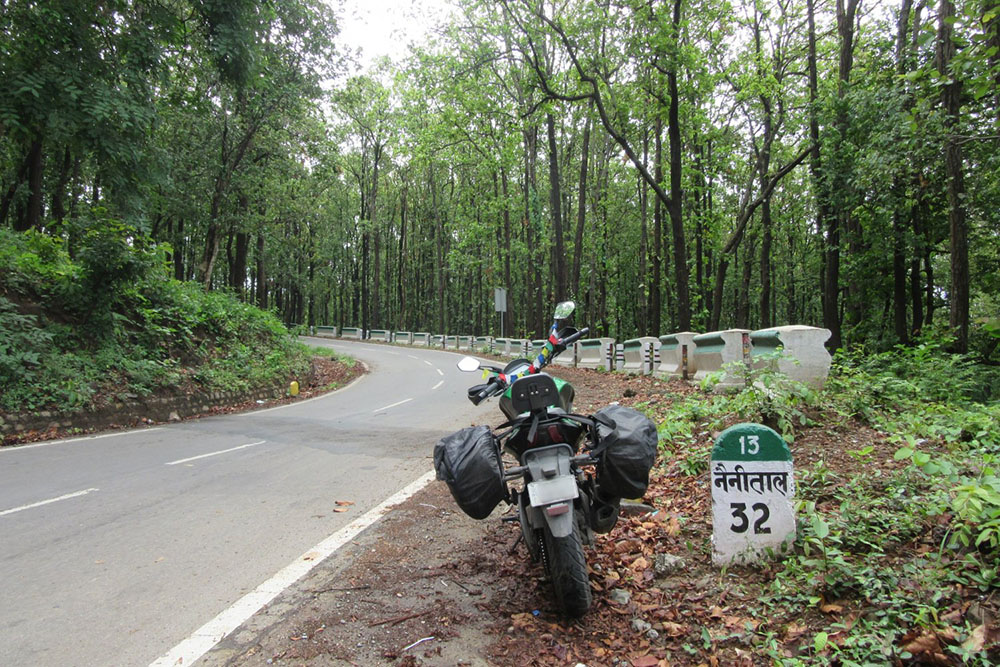 How to reach Nainital
Nainital is a very well connected town and getting there will not be a problem at all. Depending on your own preference, you can either chose to drive by your own vehicle or use public transport to get here.
However, due to its location in the hills, there will definitely be some amount of road journey involved so if you were coming by flight or train, you will have to find the nearest airport or train station that is of convenience to you. More details on this are provided further in the article.
How to reach Nainital by Car / Motorcycle

There are two most common routes that you can take to travel from Delhi to Nainital. Up to Moradabad, it is actually the same road but after Moradabad, you can either take the road via Rampur and Haldwani; or you can travel via Kaladhungi. I will explain both.
Delhi to Nainital via Rampur
Delhi – Ghaziabad – Hapur – Garh Mukteshwar – Gajraula – Moradabad – Rampur – Haldwani – Kathgodam – Nainital
This route is more commercial and hence also the more crowded one. Until Moradabad, the journey is a smooth one but then it turns into a problematic one the moment you cross Moradabad and remains so until Nainital.
You will have to cross the busy market of Bilaspur and Rampur to get to Haldwani, which is even more crowded. You will have to encounter all kinds of traffic here including light to heavy vehicles as well as bullock carts. The condition of this road is kind of a little bad and I will advise you to not take this one.
Delhi to Nainital via Kaladhungi
Delhi – Ghaziabad – Hapur – Garmukteshwar – Gajraula – Moradabad – Tanda – Bazpur – Kaladungi – Nainital
As compared to the one via Haldwani, this route is much more scenic and a lot better. Heavy vehicles are not allowed on this road so there won't be any buses or trucks to bother you. The condition of the road is absolutely amazing and the total distance is only 265 kilometers. By this road, you can easily make it to Nainital from Delhi in about 6 – 7 hours.
Nainital Road Condition
Road conditions in Nainital and while getting there will be a mix of good, average and bad but it will mostly be good all the way. If you are driving by yourself, make sure you are confident about tackling the mountain roads, which are steep and full of hairpin bends.
Best Vehicle for Nainital
There is no best vehicle as such needed for the Nainital trip. Though the place is at some height, I have seen the locals here drive around in a Maruti Alto as well.
So as long as your car or motorcycle is well maintained, you will be able to visit Nainital irrespective of its engine size. Especially for motorcycles though, if yours was a 100CC or 125CC one, it would be better to plan the trip solo and travel as light as possible.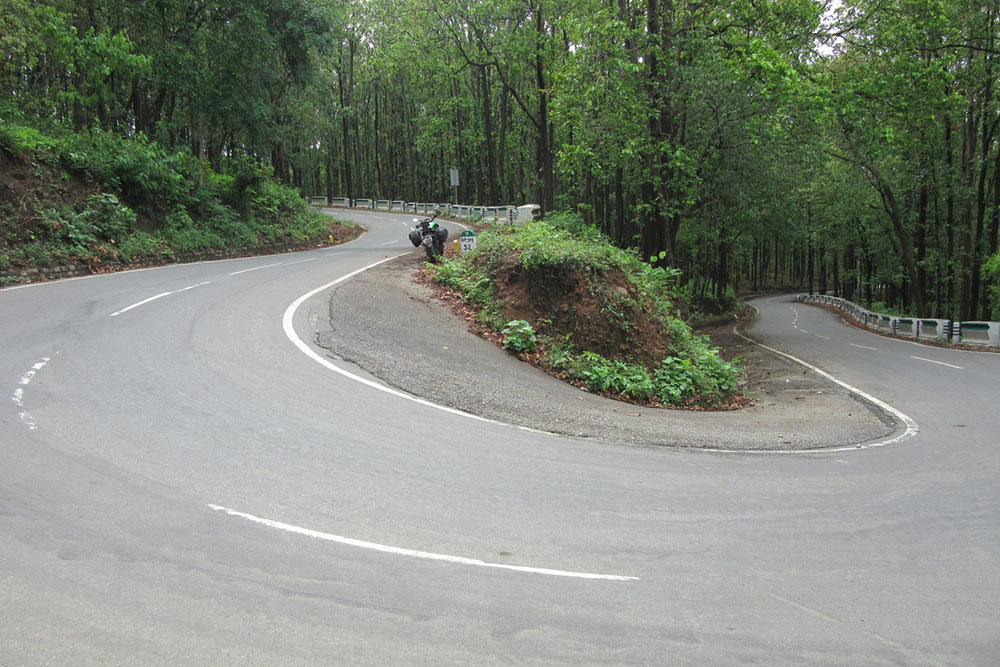 How to reach Nainital by Bus
There is a regular Bus service to Nainital from almost every major city nearby. These buses are operated by the local state transport as well as private operators.
You can get to Nainital by either UP Roadways, Uttarakhand Roadways, or other state-run buses depending on where you were coming from. Many private bus operators offer daily travel options from New Delhi as well as other cities and towns. You can choose from non AC, AC, Volvo, or sleeper buses.
In terms of booking a Bus seat, If you were coming by private Bus, you would have to work directly with the tour operator. For Uttarakhand state-run buses, you can do the booking at their official government's website.
How to reach Nainital from Delhi
There are daily bus services from Delhi to Nainital. The buses leave from ISBT Anand Vihar Delhi and are run by Uttarakhand Roadways.
Bus Fare to Nainital
This will entirely depend on the type of Bus and whether it was a state-run or by a private tour operator. But on average, a Delux Bus to Nainital will cost you about Rs. 600 from places like Delhi and Dehradun. An ordinary Bus ticket will cost close to Rs. 300-400.
Buses from Nainital
For your return journey, most Buses leave Nainital from Tallital bus stand. If you weren't able to find a Bus to your hometown directly from Nainital, you will have to first get to either Haldwani and Bhowali. Haldwani is a major Bus as well as Train Terminus and there are regular Buses from here to almost every major city nearby.
Below is a schedule of some buses plying directly from Nainital
Nainital to Delhi Bus: Departures at 9 am, 9.30 am, 7.30 pm 8.30 pm, 9 pm. Fare Rs. 600 for AC Bus and Rs. 390 for non AC
Nainital to Haridwar Bus: Daily departure at 6.30 pm. The fare is Rs. 355 and it is an ordinary Bus.
Nainital to Dehradun Bus: Departures at 5.30 am, 7.30 am, 6 pm, 8 pm. Fare is Rs. 425 per person.
Nainital to Almora Bus: Departures at 7 am and 10 am. Fare per person is Rs.100
Nainital to Haldwani Bus: A Bus at every half an hour from 5.30 am to 9 pm. Fare is Rs. 65 per person.
Also Read: How to Plan a Trip to Gangotri
How to reach Nainital by Taxi
You can also book a private taxi to drop you at Nainital but it may turn out to be a costly affair. From Delhi or a city at the same distance, a private taxi to Nainital will cost about Rs. 4000 for a drop and Rs. 6000 for a return journey. If you opted for an SUV like Innova, this rent will be around Rs. 6000 for a drop and Rs. 9000 for a return journey.
How to reach Nainital by Train
The nearest railway station to Nainital is at Kathgodam, located about 35 kilometers away. It has robust connectivity to major Indian cities such as New Delhi, Kolkata, and Lucknow.
There are many daily trains to nearby states. Some of the frequent trains are Ranikhet Express, Bagh Express, Kranti Express, and Uttar Sampark Express. The best train by far is the New Delhi Kathgodam Shatabdi Express which operates daily. Travel time on this train is approximately 5.5 hours one way. From Kathgodam, you can book a private taxi or share a cab to reach Nainital.
How to reach Nainital from Kathgodam
From Kathgodam, private taxis charge about Rs 650-900 for a drop to Nainital. The price will be different between the types of car you chose. If you wanted to opt for a more budget option, you can also board shared taxis which would cost 150-300 per person.
Most hotels can also arrange a pick up for you from the train station if you were staying with them. The cost will be the same as I mentioned above, Rs 600-900 for a drop.
The most cost-effective method would be to walk to the bus stand which is about 1.5 kilometers away from the railway station and take a bus to Nainital which will only cost Rs. 60-65 per person.
How to reach Nainital by Flight
The nearest airport to Nainital is Pantnagar Airport, located about 65 kilometers and 2 hours away. It is served by Air India and is one of the least busy airports in the country, handling only 6-7 scheduled flights a week.
There are also private chartered flights to Pantnagar and it also provides helicopter landing pads. Direct flights to Pantnagar are available only from New Delhi and a private taxi from Pantnagar to Nainital will cost Rs. 4000-4500 in peak season.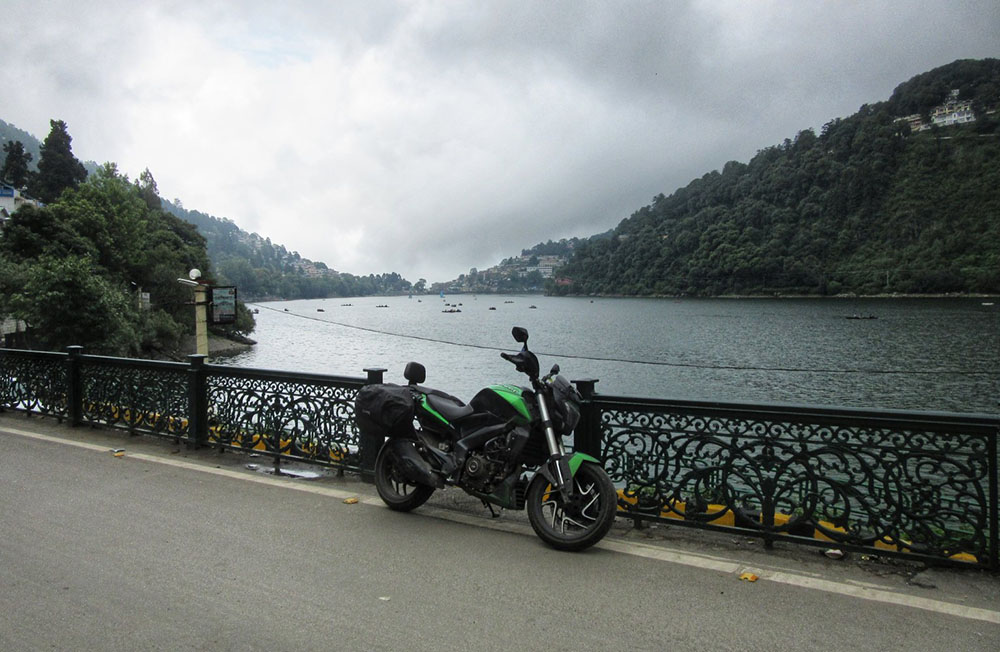 Local Transport in Nainital
Once you have reached Nainital, below is how you can move around locally in the town and to nearby areas for sightseeing.
Private taxis
These typically charge Rs. 1000 per person for the Kathgodam-Nainital journey and Rs. 2000 for the Pantnagar-Nainital journey. A share taxi would reduce the cost to Rs. 300-600 per person.
Taxi rides within town cost Rs. 50 to Rs. 250.
Self-driving
Drive into Nainital from New Delhi via Ghaziabad and Hapur. Continue on NH 24 till you pass Moradabad and then transfer to NH 121. You will reach Nainital after passing through Kashipur, Tanda, Nandpur, Ramnagar, and Kalidhungi.  Try to begin your drive as early in the morning as possible to avoid getting stuck in traffic on the national highways.
Also Read: Uttarakhand Roadways Bus Time Table
Cycle Rickshaw
Some flat stretches in Nainital such as on the route between Malli Tal and Talli Tal offer cycle rickshaws. These are very popular with tourists these days. A prepaid cycle rickshaw will cost you about Rs. 10 per kilometer, which is dirt cheap. However, avoid these if possible.
They are time-consuming and impossible to navigate through thick crowds. Also, certain areas of Nainital such as the Mall Road are closed entirely to vehicles. It is also pretty costly.
Cycle-rickshaws charge Rs. 30 along the Mall.
Rented Motorcycles
Another way to move around in Nainital would be to rent a motorcycle or an automatic bike like Activa. You can rent one from either Nainital itself or from Kathgodam or Haldwani (near bus stop and railway station)
Private Car
For a full day of sightseeing, it is wise to book a private car. The cost will be approximately Rs. 1800. At the day end, they will drop you where you wish.
Horse Riding
While prohibited inside the town proper, you can hire a horse to scale the surrounding hills. Bara Pathar is the best place to hire a horse.
Boats
Nowadays, Naini Lake resembles the Dal Lake in Srinagar due to the sheer number of crafts sailing on its waters. On any given day, you can choose to hire paddle boats, rowing boats, or even a yacht.
Since the Naini Lake has a circumference of more than 3 kilometers, you can moor your boat at some far-off jetty and have a picnic on the Lakeshore, far away from the tourist crowd!
Walk
Nainital is best explored on foot. Take your time and enjoy the picturesque beauty of this hill station on long walks.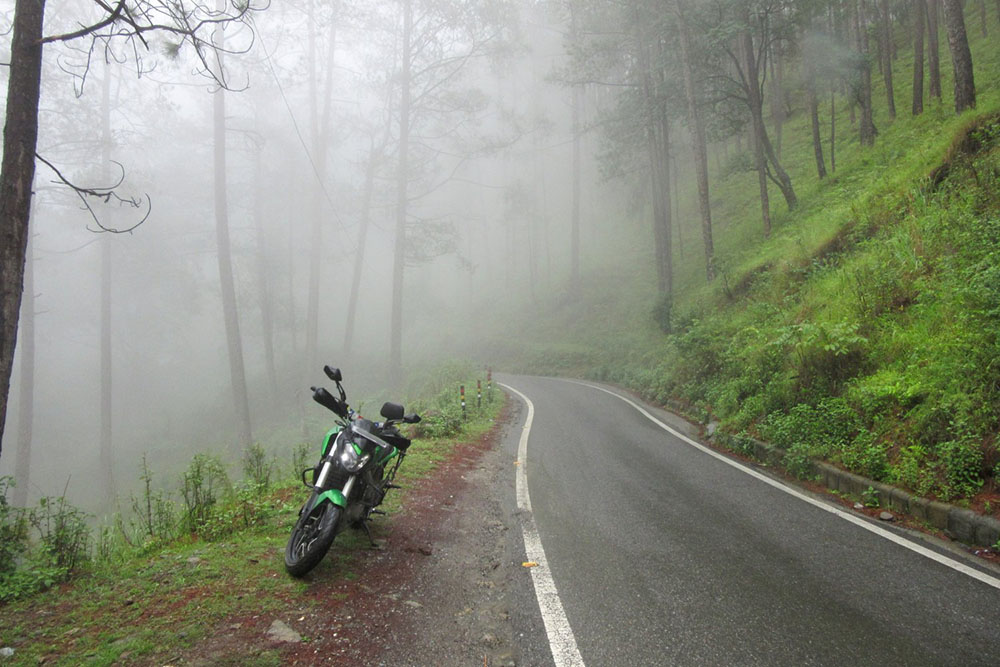 Weather of Nainital
Nainital retains a cool and pleasant climate throughout the year with misty mornings and evenings, bright sun, and a clear sky. During monsoon, the sky is cloudy and it may rain for days on end. In the months of January and February, the region receives moderate snowfall and the temperatures can dip down to zero.
Also Read: How to Plan a Trip to Chopta
Temperature in Nainital
Here is a month-wise average temperature break up:
January – 2 to 10 degree Celsius; heavy woolen and warm clothes needed
February – 3 to12 degree Celsius; heavy woolen and warm clothes needed
March – 5 to 16 degree Celsius; snow begins to melt and the weather turns warmer
April – 12 to 21 degree Celsius; pleasant weather, light woolens needed
May – 14 to 24 degree Celsius; pleasant weather, plenty of cottons with jacket
June – 16 to 23 degree Celsius; pleasant weather, plenty of cottons with jacket
July – 16 to 21 degree Celsius; monsoon season, waterproof everything and carry umbrellas and raincoats
August – 16 to 21 degree Celsius; monsoon season, waterproof everything and carry umbrellas and raincoats
September – 14 to 20 degree Celsius; this is the best time to visit Nainital
October – 10 to 19 degree Celsius; winter starts to settle in towards the end of the month
November – 5 to 14 degree Celsius; snowfall so heavy woolen and warm clothes needed
December – 3 to 12 degree Celsius; snowfall so heavy woolen and warm clothes needed
Travel possibilities During different Seasons
During peak tourist seasons, all forms of transport will be highly expensive. To get to Nainital you must plan at least 2-3 months in advance and pre-book travel tickets.
Otherwise, not only will you find prices sky-high, you may not be able to book a ticket at all. During monsoon, prices drop, but traveling through the mountain roads is tricky as landslides are frequent and devastating.
Best time to visit Nainital
Its location high in the Kumaon Hills means Nainital enjoys pleasant temperatures and weather year-round. One of the strange facts is that Nainital's climate is affected by Naini Lake, which causes mild rain showers nearly every day!
In the winter months there is abundant snowfall, so temperatures take a nosedive. With the right clothing and equipment, you can explore Nainital anytime you wish!
Spring-summer (March through May): This is the best time to visit Nainital. All the tourist hot spots, sightseeing places, and adventure activities are open for business. The temperature ranges from 10 degrees Celsius to 27 degrees Celsius.
Monsoon (July through mid-September): This is the off-season time, and the areas become prone to landslides. If you like solitude, this is the time to visit. Also brilliant for a romantic getaway. Be aware that most activities, scenic spots, and adventure sports will be closed during this time.
Winters (October through February): Fresh snowfall and sub-zero temperatures. Incredible time for honeymooners. Great for winter sports.
To sum up, here are the best times to visit Nainital:
With family – March, April, May, and June
In winter – February, and March
For photography – April, July, August, September, and October
On Budget – July, and August
For honeymoon – January, February, and March
For snow – January and February
To see snowfall – January
For a more detailed version of the information above, please read When is the Best time to visit Nainital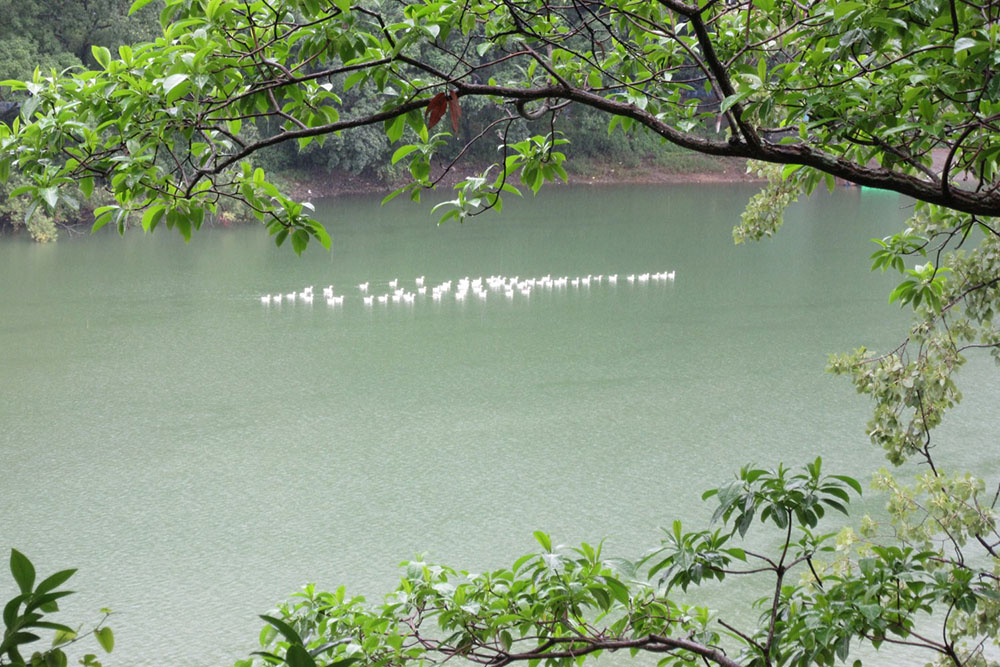 Things to Pack for Nainital Trip
Now let us take a look at how your packing should look like for visiting Nainital.
Clothes to Pack for Nainital



Carry warm clothes no matter what time of year you are traveling. Also, dress in layers so that you can put on or take off a layer when the temperature changes suddenly. In winter especially, thermal wear and heavy jackets are a must.
Carry extra pairs of clean socks at all times. All mountain areas can experience sudden or continuous downpours at all times of the year, so carry an umbrella, poncho, or windcheater. Nainital is best explored on foot, so sturdy, all-terrain, all-weather shoes are a basic requirement.
Remember, respect the sentiments of the local tribal people and do not wear clothes that are revealing, especially when visiting a holy place such as a Monastery.
Documents
Carry at least 10 copies of your Identification proof and Address proofs along with the original documentation. Passport and Aadhar Card are the accepted ones. Also, carry several passport size photographs. It is also advised to carry a list of emergency contact numbers on your person at all times.
Hygiene and personal care
A basic first aid kit should be carried on a priority basis which includes not just bandages and gauze but also medication for fever, diarrhea, indigestion, cold, etc. If you take prescription drugs, carry the adequate dosage of the same to cover the duration of your trip.
Many areas are very sparsely populated such that finding a medical store or a doctor is a miracle. If you plan to visit high-altitude areas carry a small oxygen cylinder and medicine for altitude sickness. Carry your own toilet paper and tissues. Also, for women, carry sanitary products.
Also Read: Himalayas in Monsoon : Top Tips for a Safe Trip
Electronics
Carry at least two fully charged power banks at all times for your mobile phone or laptop along with extra batteries for torches. Photography enthusiasts should carry extra memory cards.
Food and medicines
Carry all the toiletries you usually require since you might not find them in the local markets. Hand sanitizer, mosquito repellent cream, and detergent soap sachets are essential.
Carry a sunscreen of at least 30+ SPF and a good pair of sunglasses. Carry extra garbage bags to store laundry. Most of the trip will be covered by road and it can take more time than estimated to reach the destination.
Also, for vegetarians, in particular, some areas may not offer much in the way of food. So, carry dry fruits and snacks for emergency food requirements.
Cash
ATMs are few and far between outside Nainital, and the ones which exist may not have adequate cash at all times. So, it is wise to carry a decent sum of cash. Don't rely on payment through card as most hotels and nearly all shopkeepers only accept cash. Distribute cash through all your belongings for safety.
Other Items:



Warm Caps
Pair of warm, waterproof gloves
Sunglasses
Sunblock lotion with the highest SPF that you can find (if visiting in Summer)
Toilet paper
Prescribed medicines if you are on medication
Head Phones/Earphones
Power Bank
Chargers for your electronic items
Umbrella or a Rain Poncho (if visiting during monsoon)
Torch
Snow boots if visiting in winter
Comfortable pants if planning to go on a trek as a pair of jeans is not advisable for this purpose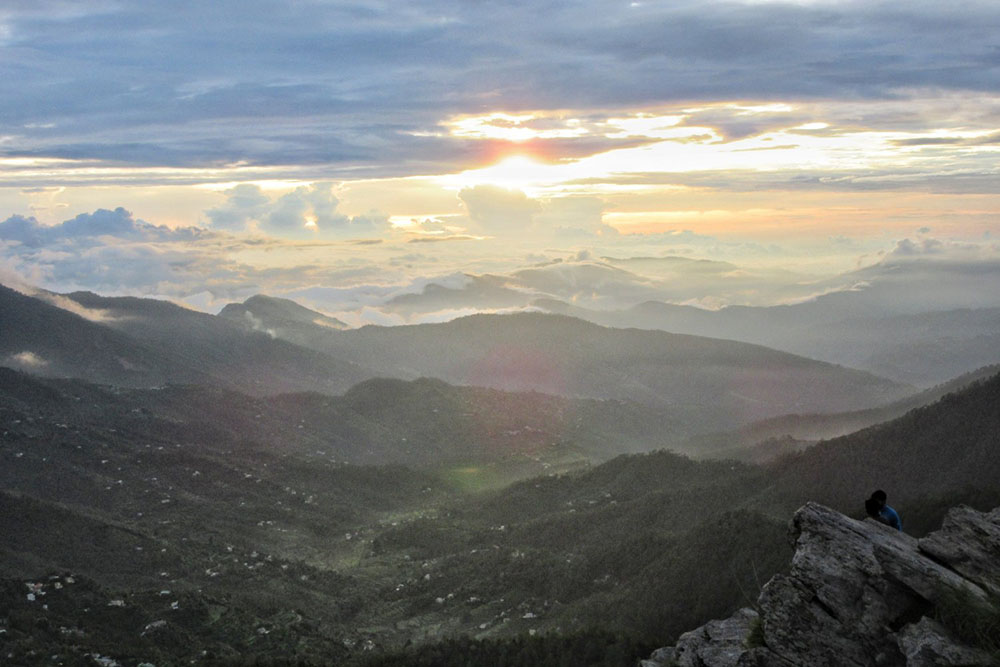 What to See in Nainital
I have actually covered this topic in detail in another article, Places to visit in Nainital and Things to do. But for a brief overview, below is a list of places that you can visit in Nainital.
Naini Lake
Snow view
China Peak
Naina Devi Temple
Observatory
Zoo Gardens
St. John's Church
Bhowali
Ghorakhal
Sat Tal
Kilbury
Bhim Tal
Naukuchiya Tal
Mukteshwar
What to do in Nainital
Below is a list of tourist activities that you can enjoy and be a part of in Nainital to make your trip a truly memorable experience. I have mentioned the name of the place and the different types of activities you can do there.
Bhimtal: Activities – Nature walks, forest exploration, boating, bird watching, and rock climbing
Naukuchiya Tal: Activities – Hiking, herbology, fishing, bird watching, horseback riding
Jim Corbett National Park: Activities – Jungle safari, tiger spotting, camping, bird watching, and animal watching at the Ramganga reservoir
Naini Lake: Activities – Rowing, yachting, paddling
Tiffin Top: Activities – Picnic, hiking, photography
Nainital Mountaineering Club: Activities – Rock climbing
Hanuman Garhi: Activities – View the sunset
Nainital Ropeway: Activities – Ropeway ride to Snow View
Pangot and Kilbury Bird Sanctuary: Activities – Spot endangered birds such as Owls, Thrushes, Grosbeaks, and Forktails along with Bears, Deer, Leopards, Goral, and Civet to name a few in their natural habitat.
Cave Gardens: Activities – Explore a series of interconnected caves which educate about Himalayan flora and fauna. A must-visit for kids and adults alike.
Water zorbing in Bhimtal lake
Paragliding in Naukuchiatal
Camping in Sattal
Short drive to Khurpatal and Sariatal falls
Also Read: Kedarnath – The Holy Adobe of Mahadev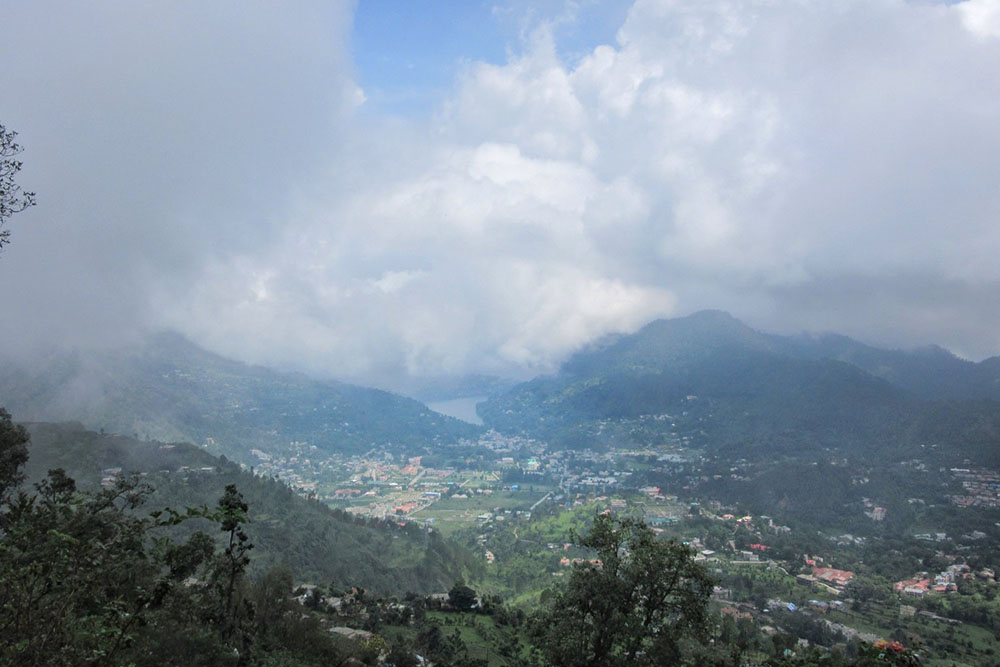 Accommodation and Other Facilities
Hotels in Nainital
Nainital being a much in a demand tourist hotspot, you will find hotels of all sizes, amenities, and price ranges in this town. Again, it is wiser to pre-book accommodations to get a good deal.
Here's a tip – the state tourism body Kumaon Mandal Vikas Nigam operates a chain of hotels throughout the region. They are located at prime spots, sometimes a stone's throw away from the best attractions. They are also clean and spacious with courteous and helpful staff.
Mobile Network in Nainital
All major mobile networks in India offer connectivity within and near Nainital. However, the farther you venture into remote areas, the lesser the chances of mobile connectivity, except the BSNL network.
Since 2016, Nainital has free Wi-Fi. In fact, it was the first town in Uttarakhand to have this facility. At present, the Kathgodam Railway Station, Mall Road, and Tibetan Market have free Wi-fi along with certain public sector areas.
Hospitals / Medical Assistance in Nainital
There are several hospitals and clinics in Nainital and you will have no problem getting medical assistance here. Listed below are some of the most well-known hospitals here.
S.G. Foundation: Opposite Bhawali post office, Malli Bazaar, +91 97612 09915/95577 26236
G.B. Pant Hospital: Ramsay Hospital Road, Talli Tal, 05942 235388
D. Pandey Hospital: Nainital HO, 05942 235012
Ashok Hospital: Chaudhri Chauraha, Nainital HO,+91 95574 75754
Banks / ATMs in Nainital
All the commercial banks of India have branches and ATMs in various parts of Nainital. Here are the major banks and their locations:
ICICI Bank – Prem Restaurant, Malli Tal
State Bank of India – Bara Bazaar, Malli Tal
HDFC Bank – Mall Road
Yes Bank – Kosi Road, Ramnagar
Axis Bank – Prabhu Kund, Bara Bazaar, Malli Tal
Punjab National Bank – Bara Bazaar, Malli Tal
Punjab National Bank – Mall Road
Allahabad Bank – Bara Bazaar, Malli Tal
Bank of Baroda – Bara Bazaar, Malli Tal
UCO Bank – Grain Villa Compound, Talli Tal
Petrol Pumps / Mechanics in Nainital
Here are some petrol pumps and repair stops in and around Nainital:
Indian Oil Petrol Pump, Thandi Road, Talli Tal
HP Petrol Pump, Haldwani Road, Talli Tal
Indian Oil Petrol Pump, Ayarpatta
Petrol Station, Sukha Tal
IOC Petrol Station, Talli Tal
Mechanics too are available in Nainital and if you had a breakdown, you will be able to get it fixed easily. However, if it was something major, you may have to drive down to Haldwani.
Electricity and other facilities
Nainital does not experience frequent power cuts. However, you should carry a high-power torch and extra batteries if you plan on traveling to remote areas. In the hotels, you will be provided with all the basic facilities that you need as a tourist.
Also Read: How to Plan a Trip to Lansdowne
Permits and visa
Sightseeing in and around Nainital does not require any permits or a visa. However, if you want to visit the Observatory or camp at the Jim Corbett National Park, you will have to apply well in advance.
Events and Festivals
Nainital celebrates several festivals, as mentioned below, with happiness and fanfare:
January: Kale Kaua or Uttarani – Celebrates the beginning of winter's end
February: Basant Panchami and Samvastar Pareva – Saraswati Puja
March: Phooldeyi – The homes are decorated with the first flowers of spring
April: Bikhauti –  A festival that celebrates Navratri, prayers for abundant future harvests, and sibling love all in one!
July: Hariyala – A celebration for the wedding of Goddess Parvati and Lord Shiva
August: Olgia or Gheeya Sankranti – A festival to celebrate the ripening of the harvest and the full abundant treasures from nature
September: Nanda Devi Fair – An unbroken tradition since the 16th century, the Nanda Devi fair brings together Kumaoni people from all walks of life
October: Sharadotsav and Dussehra – This is the year's busiest and most spectacular festival and draws both domestic and foreign tourists. Lasting for nine days, these festivals involve pujas, melas, processions, and street food galore!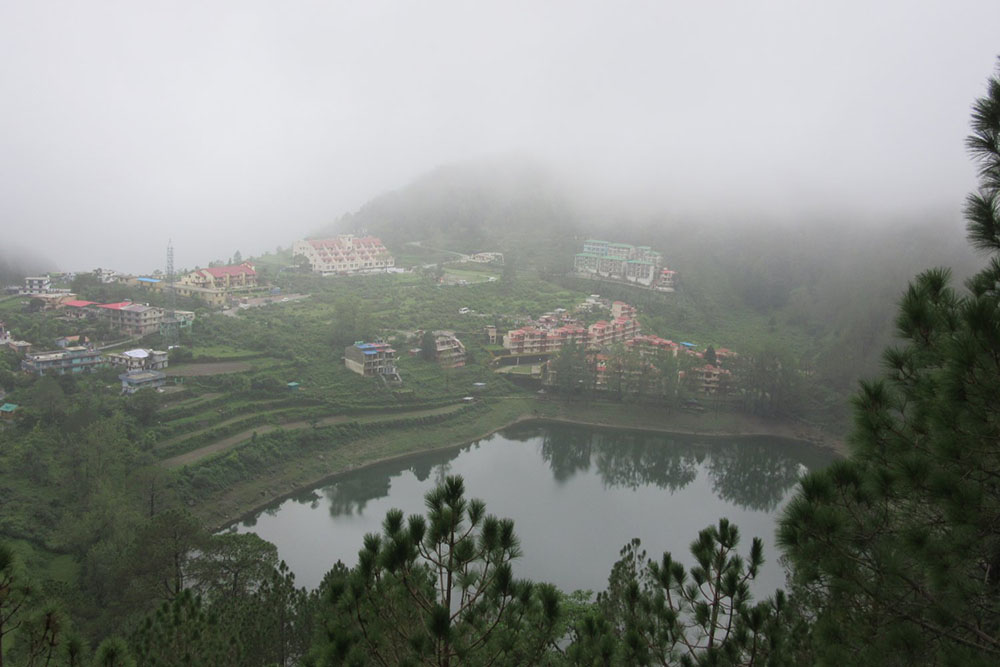 What to Eat & Where
Kumaoni cuisine has a rustic character, being simple, homely, nutritious, and inexpensive. Much of the food is grown and consumed locally. In fact, if you ask for local dishes, it is likely that the rice, wheat, vegetables, or fruits are freshly harvested from some local garden.
The organic produce tastes more flavorful than anything you would find in a city grocery. Food imports are mostly made to satisfy tourist tastes.
Local dishes emphasize pulses and wheat. For special occasions, meat dishes are served, which are delicately spiced and cooked, in stark contrast to other north Indian meat-based dishes. Meals are cooked with 4-5 ingredients and the combinations allow flavors to emerge perfectly.
Also Read: 12 Scenic and Offbeat Places in Uttarakhand
Cuisine and dishes
Here are some typical dishes you will find here:
Parathas – Slathered with fresh, unsalted butter and served with a tangy, sour apricot chutney
Chicken curry – Mildly seasoned and served on the bone
Fish – Caught from freshwater streams they are coated in millet past and fried to perfection. Served with apricot chutney
Mutton Kachmoli – An entire sheep rotated over the fire and seasoned sparsely to get an authentic, hunted-barbecue taste
Kachi – Locally prepared citrus liquor with a dash of lemon juice
Momos – A Tibetan gift and much loved. Served with Shezwan chutney
Maggie – Cooked with vegetables, each shop and stall offers its own version
Egg dishes – Hot omelets and eggrolls on chilly evenings, how can you resist?
Bhaang Ki Khatai – A chutney of bhang seeds, cumin seeds, and red chilies cooked in buttermilk and served with parathas
Thechwani – A snack of crushed radish roots and boiled potatoes seasoned with ginger, garlic, and coriander
Sisunak Saag – Made with nettle leaves boiled in water, combined with butter, tomatoes, and salt. A very nutritious side dish for rice
Kafuli – Gravy of mashed vegetables and Spanish leaves cooked in ghee or mustard oil. Served with kulcha or roti
Sani Hui Mooli – A paste of radish, bhang seeds, and lemon juice
Bhutta – Fresh sweet corn is boiled or roasted
Ras – A number of dals are cooked together and served with bhang ki chutney and steamed rice
Bhatt ki churkani – This is a dish only served on special occasions and is prepared with black bhatt and rice paste
Aloo ke gutke – A popular snack, this spicy dish has boiled potatoes seasoned with red chilies and coriander leaves
Arsa – This dessert is much looked forward to at every wedding, festival, and family occasion. It consists of rice, mustard oil, and jaggery for sweetness

Where to eat
Nainital offers innumerable options to eat out – large restaurants on the Mall road, tiny hole-in-the-wall shops, street stalls, roadside dhabas, and Maggie points. You can eat a different dish every day at every meal! However, if you have the opportunity to befriend a local, try authentic homemade Kumaoni fare. Beats the market offerings any day!
Shopping in Nainital



Don't leave Nainital without shopping to your heart's content. Here are Nainital's most famous shopping choices:
Handcrafted woolens – Dresses, caps, pullovers, socks, scarves, shawls, and mufflers. Special shout-out to Pashmina goodies
Brass and wooden knickknacks – Statues, walking sticks, boxes of various sizes, and home decor pieces
Accessories – In the Tibetan section, you can find some very trendy, quirky, and unique footwear, bags, and jewelry
Souvenirs – Lampshades, prayer wheels, prayer flags, books, and porcelain
Exotic candles – Nainital offers these unique candles, which quite literally come in every shape, size, and aroma. They are incredibly beautiful works of art, and you will end up displaying them in your home rather than ever-burning them! They make the perfect souvenirs for loved ones back home.
Fruits and fruit products – Nainital is somewhat of a hub for the local fruits industry. All year-round, you can find a variety of fruits fresh from the orchards: strawberries, apricots, cherries, apples, lemons (Pahari nimbu), and plums. Fruits products such as red chilly pickles, chutneys, juices, jams, squashes sell out as soon as they are put on sale!
Plant fabric clothes – These garments are made from bamboo or papaya fibers. They are exclusively available only in Nainital. They are similar to Khadi, as in they keep the body cool in summer and warm in winter, and also smell fresh and odor-free.
Bells – At the Ghorakhal Golu Temple, you will find thousands of brass bells, of all shapes and sizes. These are offered to the local deity, Lord Gholu. They make unique souvenirs.
Places to Shop in Nainital



Below are some of the places that are popular among the tourist lot for shopping.
Mall Road
As its name suggests, the Mall Road is a relic of the British Era. Constructed parallel to the lake, it is the heart of Nainital town. This area has not only a bustling market, but also cafes, restaurants, banks, and administrative offices.
Timings – 9:00 AM to 7:00 PM
Come here for – Traditional woolen garments, shawls and cardigans, textiles, handicrafts, wooden carvings and sculptures, souvenir items, and candles in amusing shapes like fairies or fruits
Also Read: 7 Short & Easy Winter Treks in Uttarakhand
Bara Bazaar
This market is located in the Malli Tal area and is a must-visit for any food enthusiast. You can purchase fresh fruits, organic produce sourced from the surrounding hills. Some of the most popular fruits available here are strawberries, apples, cherries, and blueberries. In fact, it is common to find tourists carting away these fruits by the crate loads, so delicious, are they!
Timings – 10:00 AM to 7:00 PM
Come here for – fresh fruits, jams, preserves, juices, marmalades, and a host of other fruit-based products, cane sticks, wooden carvings, and candles.
Tibetan Market
Located next to the Naini Lake, this market is operated by the Tibetan refugees who fled the Chinese occupation. What began as a small outpost to cater to the community's needs has now grown to an astonishing size.
Explore this market and you'll be fascinated by the variety of items on offer. Colorful, affordable, and unique, this is a must-visit for a shopaholic. You will need all your bargaining skills here!
Timings – 10:00 AM to 7:00 PM
Come here for – Mufflers, watches, ethnic costumes and dresses, scarves, exquisite shawls, and handmade bags
Bhutia Bazaar
This market is the best place to find items of ethnic Kumaoni origin, in particular woolens made by local women.
Timings – 9:00 AM to 7:00 PM
Come here for – Colorful and patterned scarves, mittens, shawls, sweaters, jackets, gloves, and caps all handcrafted and made of pure wool.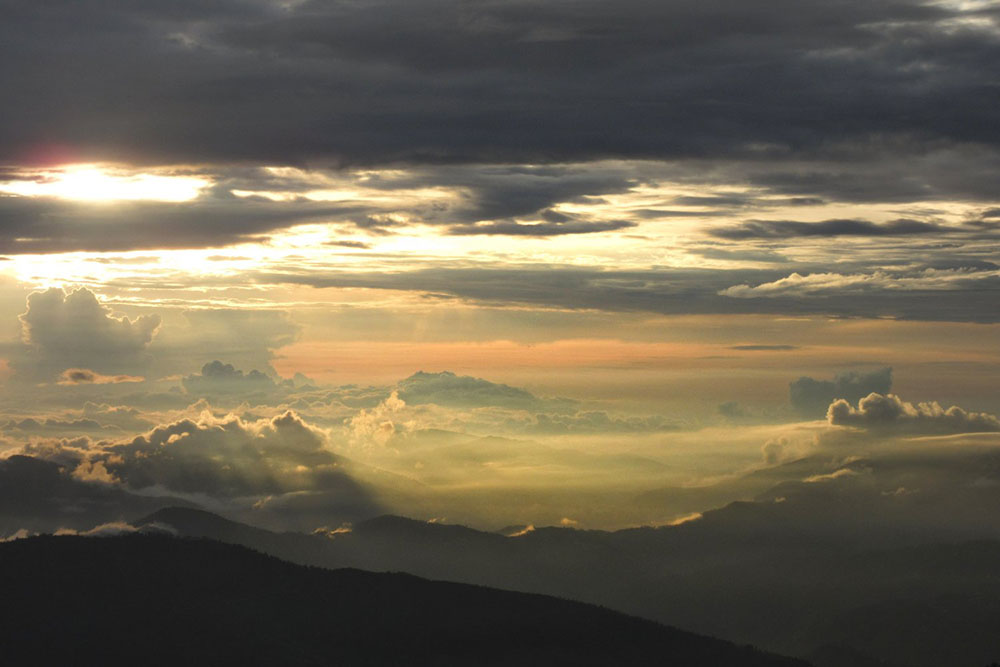 Itinerary for Nainital
Nainital as a tourist destination has plenty of places to keep you occupied for days, weeks even. But assuming that you do not have that kind of time in hand, I will say that a period of 4 to 5 days is sufficient enough for planning a trip here.
This will ensure that you are able to cover all of the must-visit places without rushing through in any part of your journey.
Also Read: Gaumukh Trek from Gangotri – A Complete Travel Guide
Below is a sample itinerary for the Nainital trip. For the sake of explaining the route and travel plan, I will assume Delhi as your starting point. However, even if you were coming from a different city, only the journey on the first and last day will be different. The rest of the details will still apply.
Covers: Naini Lake, Snow View, Cheena Peak, Naina Devi Temple, Zoo Gardens, Mall Road, Hanuman Garhi, Ropeway, and Cave Gardens
Day 1: Depart from New Delhi to Nainital, preferably very early in the morning. If you are driving, you can have lunch at the various roadside dhabas. Reach Nainital in 6-7 hours and check in to the hotel. Relax for a bit. In the evening, explore Mall Road.
Day 2: Sightseeing around Nainital – begin at the Naina Devi Temple and explore the lake and boating. Next, visit the zoo. For lunch, head up to Tiffin Top for a picnic. In the evening, take the ropeway to Snow point for the sunset.
Day 3: Excursion to Bhim Tal and Sat Tal. Alternatively, you can also visit and camp overnight at the Jim Corbett National Park.
Day 4: Shopping at the Bhutia Market, Tibetan Market, and Bara Bazaar
Day 5: Breakfast followed by departure to New Delhi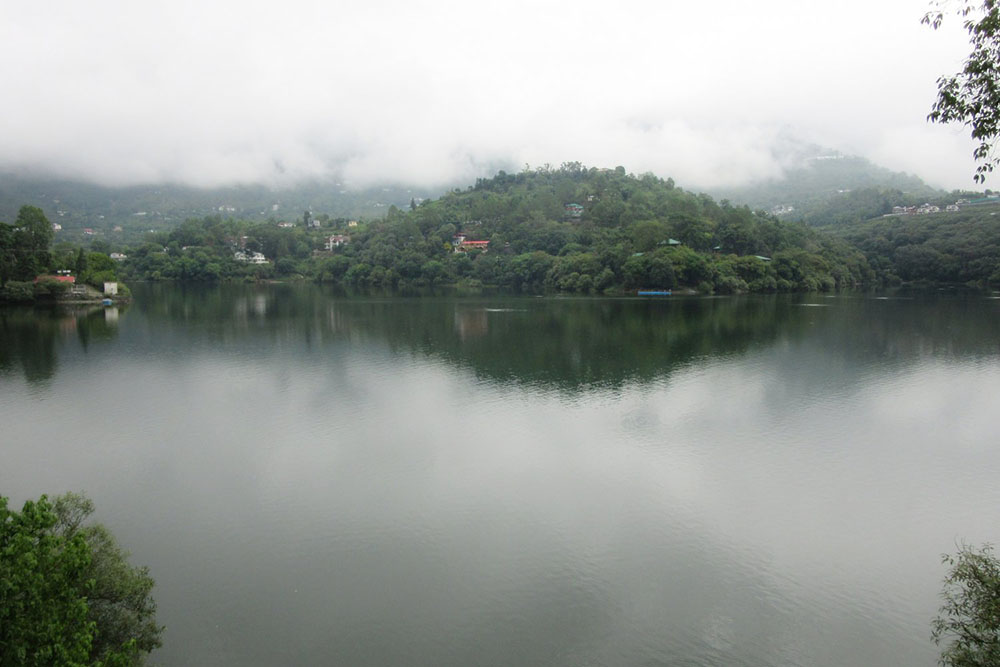 Other Tips & FAQs

Below are some other tips that can be of help in planning your trip.
Is Nainital Safe to Visit?
It is very safe to be in Nainital throughout the year. However, visitors are advised to stay cautious during monsoon season. The only thing visitors have to consider is to stay indoors as it may rain continuously during the rainy season.
The standard rules of safety like being alert with strangers and not hanging out in strange places will apply to everyone. If you are traveling alone then it is advisable to stay in a hotel in Nainital itself and not in a remote area.
Also Read: Rishikesh Taxi Rates – Taxi Fare in Rishikesh
Can you travel to Nainital with your family?
Nainital is a child-friendly place and there are plenty of attractions to keep the young ones occupied and happy. However, since they will be unfamiliar with the terrain, it is important to keep an eye on them at all times, especially in the wilderness areas like forests, viewpoints, and picnic spots.
Travel with partner
Nainital is perfect for a romantic getaway, whether for a week or even just a weekend!
Traffic Rules
The entry of heavy vehicles is not allowed during the months of May, June, and October from 8 AM to 10.30 AM; and 2.30 PM to 10.30 PM, light vehicles from 6.00 PM to 10.00 PM and cycle rickshaw from 6.00 PM to 9.00 PM. There is no parking allowed on the Mall road except for designated parking places as mentioned below.
Parking Spots
Near Nagar Palika Nainital
Opposite SBI Nainital
At Tallital Haldwani Road.
Parking at Sukhatal, Opposite Petrol Pump Mallital.
Movement of vehicles is not allowed on Mall Road between 6 – 9 p.m during tourist season. Tallital to Mallital is converted into a one-way route for LMV from 6 to 9 pm. During Off-Season the Mall Road is closed between 6 – 8 p.m
Trip to Nainital – Conclusion
That covers most, if not all, of the information you need to know in terms of visiting Nainital. I hope the article above was of help. If you have any questions; or need any other details; please feel free to ask in the comments section below, or at our Community Forum, and I will be glad to answer. If you have been to Nainital and have a few tips to share to help others, I welcome you to comment and suggest.