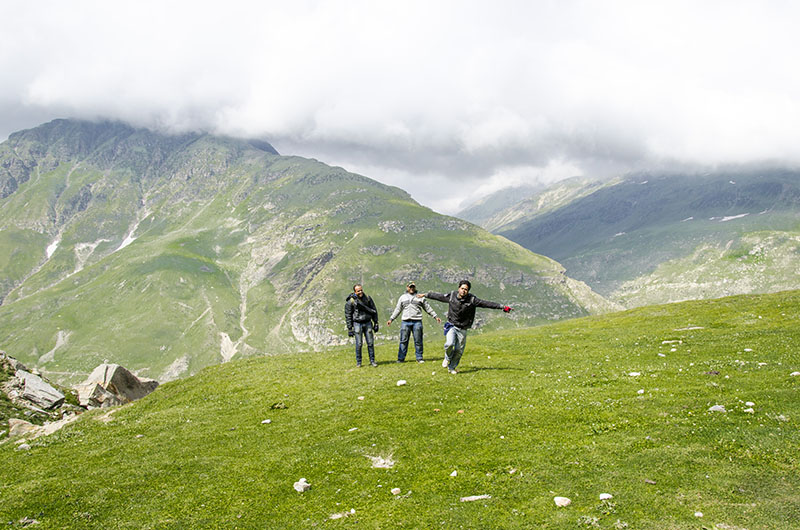 Rohtang Pass is definitely the most known and the most visited high altitude pass in our country. A trip to Manali is incomplete unless you have taken the beautiful 50 kilometers long drive to the top of the mighty pass and have gazed upon the breathtaking views it offers, both from on the way and the summit.
A drive from Manali to Rohtang Pass will take you some of the most beautiful landscapes and vistas you have ever seen. Lush green hills, picturesque waterfalls, steep and adventurous drive, awe-inspiring views, snow even in the months of June and July; you will find it all in plenty at Rohtang. It is really no wonder that almost everyone traveling to Manali will plan to include Rohtang in their trip, irrespective of the month they are traveling in.
Also Read: How to Plan a Trip to Manali
In this post, I will cover some important details on planning a trip to Rohtang Pass.  I will share details like the best way to reach, what to see, where to stay, how much will it cost, and some other helpful tips.
About Rohtang Pass
The literal meaning of the word Rohtang is 'a pile of corpses'. Surprised? I was as well when I first found out about it. It really seemed rude and inappropriate to name a thing of such beauty as a symbol of death. But when I read more about it, it kind of made sense.
The pass has always been on an important trade route so it was always busy. Its name attributes to the fact that a lot of people used to die trying to cross it older times. This was before a motorable road was built over it and an opening and closing date were decided. Even now, there are instances when tourists get stranded at the pass due to unpredictable nature and tough roads. You can only imagine how it must have been about 50 years ago.
Surprisingly, the pass has never been considered that difficult to cross on foot as compared to some other passes in the Himalayas. However, it earned a reputation of being dangerous due to unpredictable weather; leading to frequent snowstorms and blizzards; causing a life-threatening risk to people trying to cross over. This is the reason why it got named as Rohtang.
Where is Rohtang Pass?
The Pass is about 51 kilometers from Manali at a height of 3,978 m (13,050 ft). It connects the Kullu valley to that of Lahaul and Spiti in Himachal Pradesh.
How to Plan a Trip to Rohtang Pass
Before traveling to Rohtang Pass, there are a few things that you must know. The most important thing is that Rohtang Pass remains closed for tourists on Tuesdays so you will have to plan your trip accordingly. Second is that in order to reach Rohtang, you must obtain a permit. This rule was implemented a few years ago in order to limit the number of vehicles traveling to Rohtang Pass and keep the pollution levels under check. The permit needs to be acquired irrespective of whether you are traveling by your own car, motorcycle, or renting a taxi from Manali.
Also read: Rohtang Electric Bus : Fare, Schedule & How to Book?
Even if you were a local from Himachal or driving a Himachal registered vehicle, you will still need to obtain the permit. The only way you can bypass this is to travel to Rohtang by HPTDC or HRTC Bus. This is because the permit is issued on per vehicle basis and not per person.
How to Reach Rohtang Pass
In order to get to Rohtang Pass, you will first have to reach Manali. The way this trip can be planned is that you reach Manali from your hometown on Day 1, go to Rohtang Pass on Day 2 and return back to Manali by evening.
How to reach Rohtang Pass from Delhi
For the sake of this article and explaining the route, I will assume that you are starting your journey from Delhi. Even if you were coming from a different city though, only the part about reaching Manali will change. The rest of the details will still apply.
The route you will follow will be as mentioned below.
Delhi – Panipat – Karnal – Ambala – Chandigarh – Bilaspur – Sundar Nagar – Mandi – Bhuntar – Manali
This entire distance is about 540 kilometers in total, depending on where you starting from in Delhi. The travel time can easily be between 12-14 hours in total; hence I will highly recommend taking an early start so you can at least avoid the Delhi traffic.
Until Chandigarh, it is pretty much a straight drive on NH1 and the easy part of the journey. After Chandigarh, you will start encountering heavy traffic. The mountain region will start after Kiratpur Sahib and for the next 125 kilometers; you will be driving through a long line of trucks.
The journey will get a little better and more scenic once you cross Mandi. If you started by 4 AM from Delhi, you can hope to reach Manali by 6 PM the next day which will give you enough time to look for a hotel and check-in.
By Bus
If you are traveling by your own vehicle, you can easily make it a day trip after obtaining a permit from the SDM office in Manali or online.
If you are however traveling by public transport, then you should have no trouble finding a bus going towards Manali from your hometown; considering that it is one of the most visited hill stations of our country. There are buses to Manali, both the ordinary and luxury ones, from almost every city nearby. These buses are operated by both private tour operators and state transport.
From Manali, you can either book a taxi to go to Rohtang Pass or travel by Bus. Details on permits and public transport are provided further in the article.
Also Read: Manali Bus Schedule and Timings
How to reach Rohtang Pass from Manali
Now that you have arrived in Manali, let us discuss how you can plan a trip to Rohtang Pass from Manali. The first thing I will recommend is to not plan your trip the very next day. If you arrived in Manali on Day 1, Rohtang should be on your itinerary for Day 3 or later.
There are two reasons behind this.
The first one is that it will give you some time to acclimatize. Manali is at an altitude of 2050 meters whereas Rohtang top is at 3978 meters. So, in a short distance of 51 kilometers, the altitude will double and you will be highly prone to suffer from altitude sickness. In order to avoid this, spend a day in Manali, let your body get used to the high altitude, and then go to Rohtang.
The second reason is that it will also give you time to arrange for a permit if you were traveling on your own; or hire a taxi or inquire about the bus if you were traveling by public transport.
Rohtang Pass Vehicle Permit
This brings us to the next topic, the permits. In order to visit Rohtang Pass, a permit has to be acquired, either in person from SDM office Manali or online. This permit limits the number of vehicles traveling to the pass on each day basis. This was done in order to keep the pollution under check and maintain the delicate ecological system of Rohtang.
Without the permit, you will be turned back from Gulaba check post and will not be allowed to go any further. It is mandatory for both Car and motorcycles and a certain amount has to be paid in order to get it.
I have covered all the details related to the permits and how to obtain it in detail in a different article at Rohtang Permits : Details, Charges & How to Apply and How to Get Rohtang Permit Online.
In the tourist season, getting this permit can really be a cumbersome task. If Rohtang was your primary reason for the trip, I will strongly suggest that you do not finalize the plans until you have the permit confirmed.
Rohtang Pass Fees
There are two different charges that are applicable when you visit Rohtang Pass. First will be the charges of Rohtang Permits which I have detailed in articles linked above. Second is the green tax that is payable at the time when you enter Manali. For two-wheelers, this fee is Rs. 100. For LMVs, the amount is Rs. 200, for passenger vehicles it is Rs. 300 and Rs. 500 for good vehicles.
Rohtang Pass by Private Vehicle
This is probably the best and most cost-effective way of traveling to Rohtang Pass. Taxi charges in Manali are way too high during peak tourist season and going by Bus is not really much of convenience or fun.
It can be either by your own car or a motorcycle but leaving early from Manali is highly advised. If you truly want to enjoy the journey, leave by the first light of the day or even before that. The permits for the pass are checked at the Gulaba check post. In the tourist season, you will find cabs lined up at the check post as early as 5 AM. Sometimes, it can take up to 2-3 hours to even get past this check post. See the picture below for an example.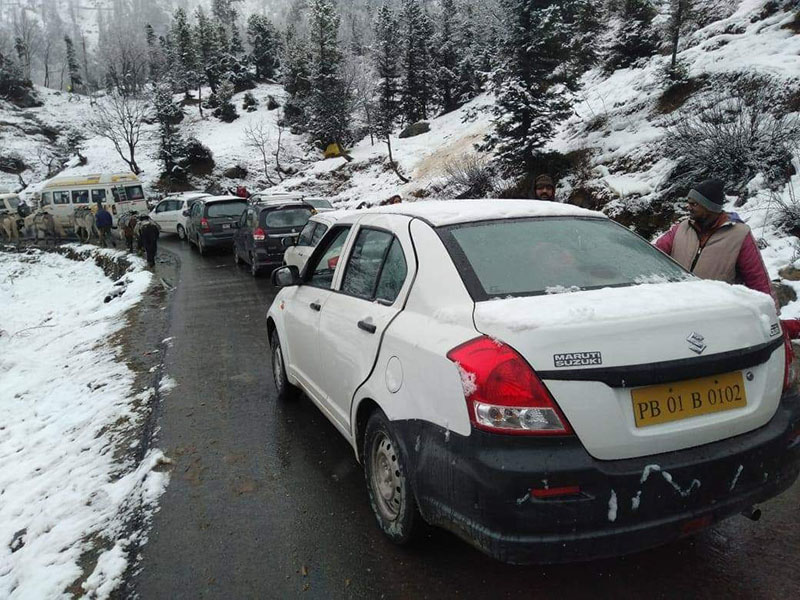 Another benefit of leaving early is the views. As the sun rises, it presents some really magnificent vistas. If you are into photography, you would already know there is no other light like morning light for some good captures.
Depending on when you started, traffic, speed, and breaks, you will be able to reach Rohtang Top in about 3-5 hours. Spend some time at the summit, play around in the snow, enjoy some snow sports, gaze at the amazing scenery, click numerous pictures, and return to Manali the same way. The return journey is all downhill and you won't even have to produce the permit as well.
But you will encounter traffic on the way back as well. Add to it the fact that you are driving down a tricky road so the speed will have to be kept in check. As a result, it will take you at least 2 hours to reach back to Manali so please plan accordingly.
How to reach Rohtang Pass from Manali by Bus
There are three different buses that you can board to reach Rohtang Pass. All three are government-run, two by HRTC, and the third one by HPTDC.
The HPTDC bus is more of a luxury tourist bus. It will cost about Rs. 500 per seat and is more of a day-long sightseeing package including Manali, Kothi, Rahla Falls, Marhi, Rohtang Pass, and back. The bus will take you to Rohtang top and will also stop at the tourist place en route.
The one provided by HRTC is an ordinary bus that travels from Manali to Keylong. You will board this bus and get down at Rohtang top The only catch is that you will then have to find another mode of commute for your return journey to Manali.
The third is the newly introduced Electric Bus. All of these buses start in the morning from Manali. These are ordinary buses as well but a little better than the HRTC Manali to Keylong Bus. You will buy a return ticket and return to Manali on the same bus.
For further details like timings, schedule, and fare of these buses, please read Manali to Rohtang Bus Service and Electric Bus Service to Rohtang.
Weather at Rohtang Pass
Rohtang is a high altitude pass and it remains covered in snow for all 12 months. So one thing is for certain; irrespective of when you arrive, it is always going to be cold here. Let me give a month by month breakdown of how to weather at Rohtang trends in the year.
November to March
Rohtang Pass is declared closed towards the end of October or early November. For the next 5 months, until March, the farthest you can go is the Gulaba check post. You will not be allowed to travel beyond that.
Rohtang Pass receives as much as 50 ft of snow in the winter season. The road gets buried under the snow and vanishes until it is cleared in April next year. The picture below should give you an idea. A trip to Rohtang in either of these months is not possible.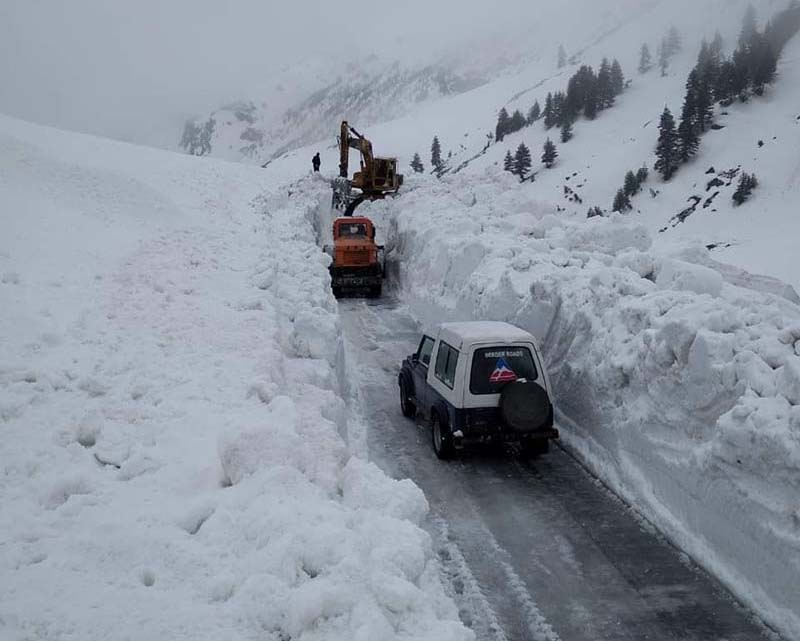 April to June
BRO starts the snow clearing operation usually towards the end of February or early March. It still continues to snow at the top of Rohtang but the intensity and the frequency are much less in the lower areas. The snow is all cleared usually by the mid of April and Rohtang Pass is declared open for tourists towards the end of the month. After that, the work continues towards Lahaul Valley to clear Manali Leh Highway and Kunzum Pass to clear Manali Kaza Highway.
The months of May and June are the peak tourist season in Manali. This is when Rohtang receives the highest number of tourists each day. With summer vacations on in the school, a lot of families plan their vacations in Manali and visit Rohtang.
These two months are the best time to go in terms of weather. Days will be moderately warm and nights pleasantly cool. You will get amazing views with clear skies all around. But this is also when the trip will cost you the most and it will also be a little crowded.
July and August
Monsoon arrives in the region by the end of June and the next two months of July and August belong to the rain gods. This entire region receives a lot of rain each year, enough to cause landslides and wash away entire roads. In 2019, the entire Manali Chandigarh highway remained closed for weeks after it got washed away due to incessant rains.
A trip in these months is not a safe deal. You must inquire about the weather conditions and the roads before you leave home. Sometimes it can rain non-stop and keep you trapped in the hotel, ruining any plans for sightseeing. Due to safety concerns, even Rohtang Pass maybe be closed temporarily for a few days if the roads became unstable.
Plan a trip to Rohtang in these months only if you must and ready to take the risk.
September and October
September is my favorite month to visit Rohtang Pass. Monsoon will be all gone but would have left plenty of greenery to enjoy. Everything would seem as if it has been washed clean. There will be waterfalls, lush green mountains, flowers of all kinds and colors and clouds floating low over the valley. In short, it is a perfect time to be in the mountains.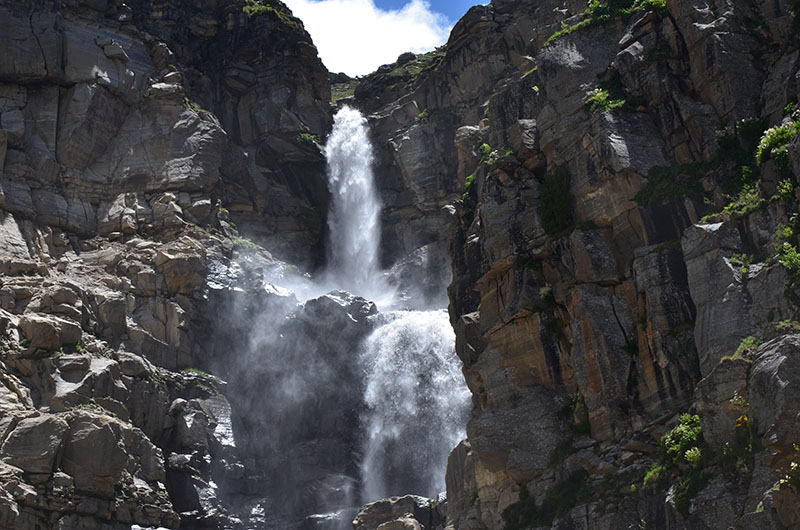 Come October and all that was green in September will now turn golden orange, marking the arrival of the autumn season. This is another good month to visit but only in the first half. During the latter part of October, the top of the pass starts to receive snow and can be closed anytime if the weather turned extreme.
Rohtang Pass Temperature
Cold winds at Rohtang Top always keep the temperature on the lower side. While you can comfortably walk around in Manali in regular cotton clothes during summer, you really need a heavy windproof jacket while visiting Rohtang.
The presence of snow at the top is throughout the year; even in the months of June and July. So the temperature here hardly goes above single digits in Celsius. During the months of May to August, expect the temperature to be around 10° Celsius at an average. In September and October, it will be a couple of degrees below that.
Also Read: Motorcycle Water Crossing Technique & Tips
Clothes for Rohtang Pass
I do not really think you need any special kind of clothing for Rohtang Pass. Just carry a thick windproof jacket and that should do it. Manali is pleasant during the day and you can easily walk around in cottons during summers. It is just the cold winds near Rohtang top that you need to protect yourself from.
I have seen several people also rent those special dresses with huge snow boots that are available at both Manali and on the road towards Rohtang. Quite honestly, I do not believe you do not need those. Just carry a jacket, a warm cap and you are OK.
When is the Best Time to Visit Rohtang Pass
Now based on the information above, I think it is safe to say that the months of May, June, and September are the best time to go to Rohtang Pass. But it would also depend on a few other factors.
If it is snow that you are after, then traveling early in the season would be best. Go in late April or May and you will find plenty of snow at Rohtang.  The famed snow walls of Rohtang are best viewed in May or early June.
If snow is not your motive, then the best time to visit would either be in May, June, early July, or September. But you may want to avoid May and June if you do not like the crowd. This is when Manali receives the maximum number of its tourists. Hiring a taxi for Rohtang at this time will cost you about Rs. 15000. Getting a permit too will be a hassle.
Monsoon again is not an ideal time to go because the rain just will make things way too difficult with a high chance of landslides. But if you were on a shoestring budget, this time will be perfect for you. With only a handful of tourists around, you will have a better chance of finding good deals on accommodation and commute.
For photography, late August and September will be a perfect time. With family, you should plan a trip in May or June. For a bike trip, May, June, and September will be the best time. For more details on the topic, please take a look at When is the Best time to Visit Rohtang Pass.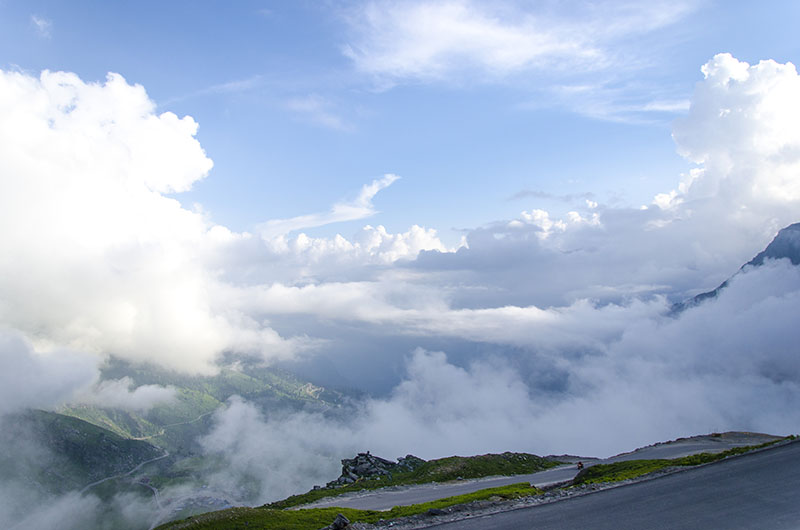 Places to visit at Rohtang Pass
Rohtang Pass in itself is a tourist attraction, a place that you visit while you are in Manali. The drive on a narrow road which can get quite adventurous as well will take you through some stammeringly beautiful vistas. Lush green hills, snow-capped peaks around, several waterfalls, deep blue skies, plenty of snow to play around in; this is what Rohtang Pass has to offer you.
Some noted places however that you can see en route are Nehru Kund, Rahla Falls, and Rani Nallah. I have actually covered this topic in great detail that I will urge you to read Places to visit in and around Manali. But for a brief overview, listed below are a few places that you should keep in eye out for during your day trip to Rohtang.
Nehru Kund
This cold water natural spring is named after Pandit Jawaharlal Nehru who used to drink water from this spring while visiting Manali. It is located about 5 kilometers from Manali towards Rohtang. This spring is fed by the water from Bhrigu Lake.
Kothi Village
Kothi is another peaceful village located about 15 kilometers away from Manali on the foothills of Rohtang Pass. The place is best known for the great views it offers. It can also be a good accommodation choice if you want to stay a little out of the main and crowded Manali town.
Also Read: Trekking in Parvati Valley – A COMPLETE Travel Guide
Gulaba
A little ahead of Kothi and about 20 kilometers from Manali is the scenic village of Gulaba. It is famous for several activities like hiking, camping, trekking, and paragliding that are held here. It is the last point till where tourists can go in the winter season.
Rahala Waterfall
Rahala Falls lies on the way to Rohtang Pass, about 29 km from Manali. It is a pristine natural locale featuring cascading waterfalls, hiking trails & picnic areas. Offering great views and a perfect place to get some great pictures, it is a well-known picnic spot for locals and tourists on their way to Rohtang Pass.
Rozy Waterfall
It is another waterfall that is located on the way to Rohtang and worth a visit.
Rani Nallah
It is a water crossing on the way to Rohtang top and possibly the worst section of the road. There is always a lot of slush here due to all the water and getting across the water stream on a narrow road will surely get your heart pumping.
Natural Beauty
This by far is the greatest that Rohtang has to offer. Both the top of the pass and the drive to get there is one amazing experience. Once you are at the summit, you will get a panoramic view of the valley and the surrounding peaks; a view that you will never forget.
Solang Valley
As you drive from Manali to Rohtang Top, you will reach the town of Palchan. From Palchan, a road will bifurcate to your left and take you to the beautiful Solang Valley. It is one of the most beautiful valleys near Manali and a must-visit place. The same road after Solang continues to the Rohtang Tunnel.
Snow, Snow, and Snow
Last but not least, snow is definitely what most people come looking for to Rohtang. In the months of June and July, it is the only place that is easily accessible and remains covered with several ft of snow.
These are just a few places that I mentioned here but there is a huge list of several other places that you can enjoy. For a complete list, please read What to see in Manali.
Places to visit beyond Rohtang Pass
Lahaul Valley and Spiti Valley are the two places that you can explore beyond Rohtang Pass. If you had the time, then I will highly recommend driving down on the other side and stay for a night at either Keylong or Jispa. You can also choose a different path and reach Chandratal lake while covering Kunzum Pass on the way.
What to do at Rohtang Pass
Skiing and Paragliding are the two most fun activities at Rohtang Pass. You can also indulge in a ride on a snow scooter. While most of the snow-related activities happen at snow point (where there is plenty of snow), you will find the option of paragliding at several places during the drive. You can either book your ride on the spot after you reach there or you can also do that after speaking with any tourist agency in Manali.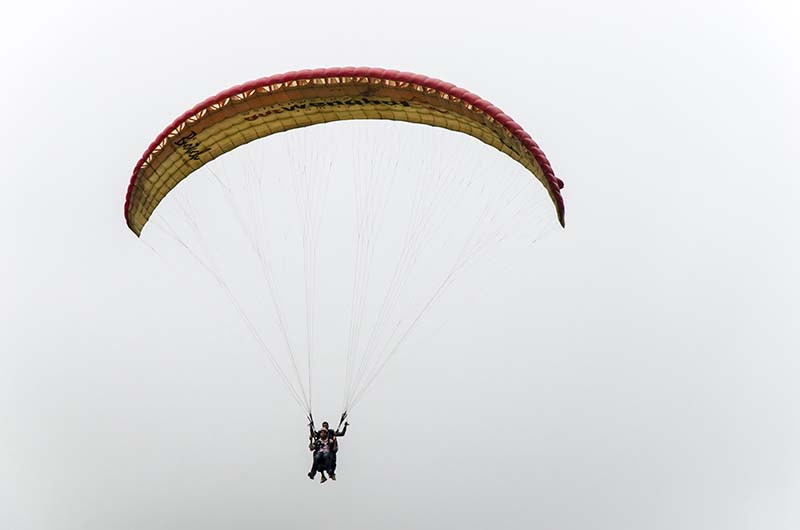 Mobile Network at Rohtang Pass
No matter which network you are on, your phone will remain within the network and will work fine all the way until Rohtang top. If you however descend on the other side towards Lahaul or Spiti, your phone will be off-network unless you are on a postpaid MTNL / BSNL connection which may work till Keylong.
Rohtang Pass Road Condition
All thanks to BRO, Manali to Rohtang Pass road condition is mostly good. It is a pleasant drive except for the last few kilometers around Rohtang Top and Rani Nallah where the road usually remains badly damaged. There are a few bad stretches at several other areas as well but the road is mostly good.
Best Vehicle
I have seen people visiting Rohtang in Maruti 800 as well so you do not really need a higher CC engine or 4×4 SUV. A vehicle with higher ground clearance is better but not absolutely necessary. In fact, most of the local cab drivers actually own a Maruti Alto that they use to drive to Rohtang every day. All that you need to know is how to manage your car at steep ascents, sharp turns, and most importantly, how to take it across mud and slush.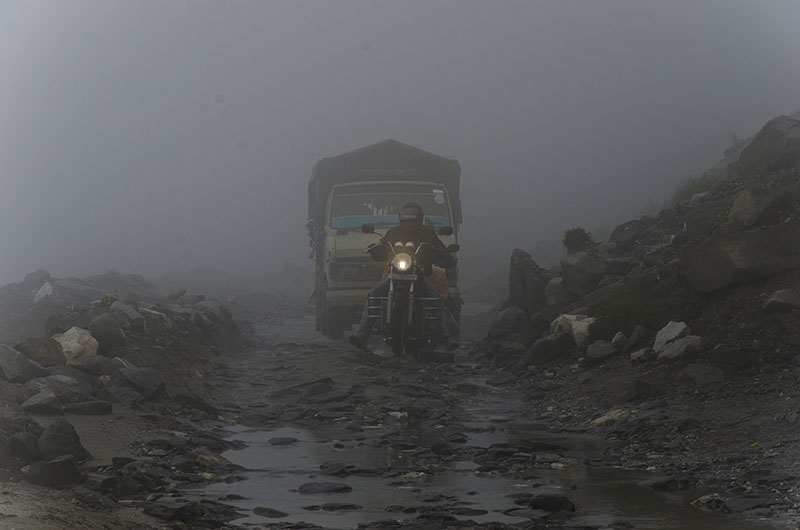 Altitude Sickness at Rohtang
As I mentioned previously as well in this article, Manali is at a height of around 2000 meters whereas Rohtang top is almost 4000. The increase in altitude happens within a matter of hours which means there is a high chance that you may start to feel symptoms of acute mountain sickness.
There is really no cure for AMS and the only way around is to get down again to a lower altitude at Manali. If your condition starts to worsen, then do not take the risk and come back. If however, the symptoms are light, then you may as well continue all the way to the top, but do not spend a lot of time there.
To be honest, I know of only one person who suffered from AMS at Rohtang. Most of the people do not feel any symptoms at all. You may feel a slight sensation in your ears but that will pretty much be it.
Also Read: Chandratal Lake – A COMPLETE Travel Guide & Itinerary
Bike Trip to Rohtang Pass
A bike ride to Rohtang Pass is in fact better than going in a car. If you were on a bike, you can get through traffic jams if encountered. However, ensure that you are properly covered with a thick windproof jacket and a good pair of gloves.
You should also have a decent enough riding experience. If you have none that it's better to be a pillion rider. Manali has several motorcycles rental shops so in case you are visiting there by bus or other means of transport, you can easily rent a bike from Manali.
I have seen a lot of couples opt for this. They arrive in Manali in their car or taxi and then rent a bike for sightseeing in and around Manali. A bike trip from Manali to Rohtang Pass surely adds a little adventure to the trip.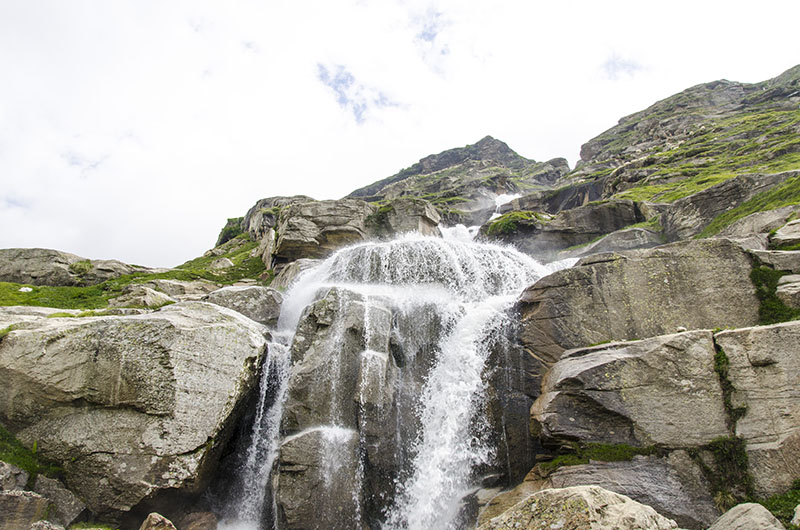 Other Tips
Mentioned below are some other useful tips for visiting Rohtang Pass.
Distance Chart
Mentioned below are distances of Rohtang Pass from some of the major towns nearby.
Rohtang Pass Distance from Shimla
The best way to reach Rohtang Pass from Shimla would be via Sundernagar and Manali. To get to Sundernagar, you can either travel via Namoli and Barmana; or via Tattapani. No matter which route you chose, the distance would approximately be around 300 kilometers. It will take you about 6-8 hours to reach Manali from Shimla.
Rohtang Pass Distance from Chandigarh
The total distance between Chandigarh and Rohtang Top via Kullu and Manali is approximately 360 kilometers. Journey time will be about 6-8 hours from Chandigarh to Manali and then 4-5 hours from Manali to Rohtang top.
Rohtang Pass to Keylong Distance
Towards Lahaul Valley, Keylong is at a distance of about 65 kilometers from Rohtang Pass top. Travel time will be about 2-3 hours depending upon your speed and breaks.
Rohtang Pass to Kaza Distance
In Spiti Valley, Kaza is about 151 kilometers from Rohtang top. However, this can take an entire day to travel due to extremely bad road conditions, especially between Gramphu and Batal.
Rohtang pass Distance from Manali
The total distance between Manali and Rohtang Pass top via Vashisht, Palchhan, and Marhi is 51 kilometers. If you started early in the morning before traffic hits, this distance can easily be covered in about 2-3 hours depending upon your speed and breaks. If you however started around 10-11 AM or by afternoon, this distance can very well take 4-5 hours to complete.
Rohtang Pass Distance from Delhi
The total distance between Delhi and Rohtang Pass top is a total of 588 kilometers via Chandigarh, Mandi, Kullu, and Manali. It will take you about 12-14 hours to reach Manali from Delhi.
Rohtang Pass Route from Manali
Route from Manali to Rohtang Pass would be as below.
Manali – Chadiyari – Vashisht – Bahang – Palchhan – Kothi – Gulaba – Marhi – Rani Nallah – Rohtang Pass
Rohtang Pass Route from Delhi
The route from Delhi to Rohtang Pass will be as below.
Delhi – Sonipat – Panipat – Karnal – Kurukshetra – Ambala – Chandigarh – Rupnagar – Kiratpur Sahib – Bilaspur – Sundernagar – Mandi – Kullu – Manali – Rohtang Pass
Rohtang Pass Route from Shimla
If you are however traveling from Shimla, the route can be either of the two mentioned below.
Shimla – Gyana – Namoli – Barmana – Sundernagar – Mandi – Kullu – Manali – Rohtang Pass
Or
Shimla – Mashobra – Naldehra – Tattapani – Pangna – Kamru Nag – Sundernagar – Mandi – Kullu – Manali – Rohtang Pass
Minimum Time Needed
3 days is the minimum time you need to plan a trip to Rohtang Pass. However, this time frame is keeping in mind that you will take one day to reach Manali and another to reach back home. If you are however staying at a place farther than that, it will entirely depend on how much time it took for you to reach Manali. A trip to Rohtang Pass however can easily be done from Manali in a single day.
Rohtang Pass Snow Point
This is not really a specific location but more of a stretch of snow where most of the tourist activity happens. In summer, snow point shifts closer to Rohtang top while in winter, when Rohtang gets closed, this spot shifts closer to Manali.
Hotels at Rohtang Pass
There are no hotels or camping sites at Rohtang Pass. It is neither allowed nor advised to spend a night at Rohtang because of extreme cold weather and strong winds. Nearest hotels are either at Manali or you may find a few guest houses en route; near Gulaba and Kothi.
Rohtang Pass Altitude
Rohtang Pass is at an altitude of 3,978 meters (13,050 ft) above sea level. Manali is at an altitude of 2,050 meters so a trip to Rohtang top means what within 4-5 hours and 50 kilometers of the journey, you will reach almost double the altitude that you were at in Manali.
Also Read: Tourist Places in Narkanda – What to See in Narkanda
Rohtang Pass Online Bus Booking
There is no online booking system available for this Bus. However, you must book your ticket a day in advance at the Himachal Tourism office on Mall Road. It is located near Hotel HPTDC Kunzum.
Rohtang Pass Opening Date
The opening and closing date of the pass are not set. It completely depends on the weather, snow at the pass; and how fast BRO can clear it. However, usually, the Pass is declared open by sometime around late April or Mid May. Closing time can be sometime in October or early November at most.
Snow at Rohtang Pass
Is there snow at Rohtang Pass? Yes, for all 12 months. If you are eager to see snow then you will find plenty of it at Rohtang. As the pass opens, in late April or May, there may even be huge walls of snow on both sides of the roads. This is the best time to go to Rohtang Pass if you want to catch some snow.
After June, it starts to reduce and limit itself only towards the top of the Pass. As the time progresses, snow gets even lesser and by August, there may not even be any snow at all except for some left at Rohtang Top.
After September, as the weather starts to get cold again, the amount of snow again increases.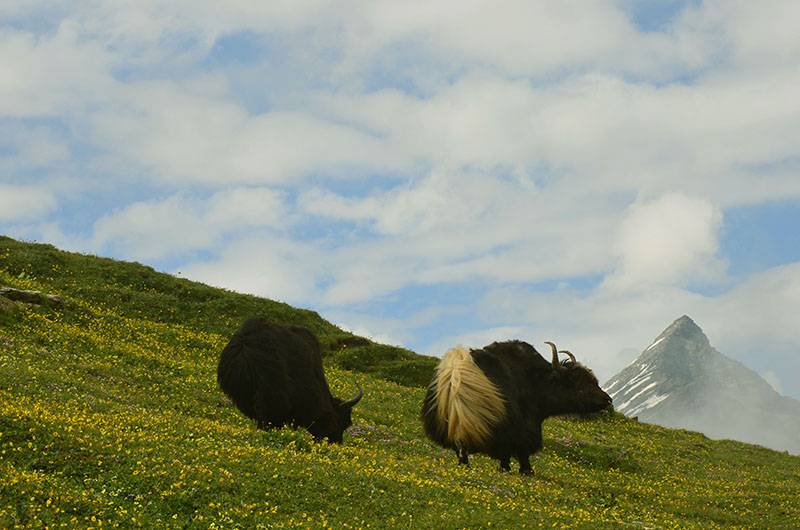 FAQs
Is it better to rent a taxi for Rohtang or go by Bus?
It depends really. If the budget is not a problem, then of course; renting a taxi to visit the Pass will be the best choice. It will be more fun and comfortable.
As per the taxi union rates, no taxi driver can charge you more than around Rs. 3k – 5k per day; depending on which car you chose for a taxi. The reality however is different. This year, their daily rates went up to Rs. 15000 for a Maruti Alto. This is how crazy it can get. So unless you are OK spending this amount, your best bet would be to catch the morning HPTDC bus from Manali to Rohtang.
Another option is to board the daily Manali to Keylong bus from Manali which is even cheaper. Your fare would hardly be Rs. 100 per person. The only problem with this bus is that it will drop you at Rohtang Top and continue to Keylong. You will have to either wait for a bus or a shared taxi or hitch-hike from Rohtang to Manali. Finding a vehicle to hitchhike isn't that tough in tourist season though.
Also Read: Places to Visit in Sangla Valley and Things to Do
Do you need to Book a Hotel in Manali?
It again depends. If you are traveling with family, want to avoid the hassle of hotel hunting, are looking for a good classy hotel then yes, you can book it. However, hotels in Manali are in plenty, way too many, and finding one isn't a big deal at all.
If you book, you will just end up paying more. Better would be to reach there, find a hotel per your taste and budget, negotiate a deal, and check-in. I once reached Manali at 3 in the night and still, I found a hotel for Rs. 400 per day, imagine that.
Conclusion
I think this pretty much covers every aspect of planning a trip to Rohtang Pass. If you however have any further questions, please feel free to ask in the comments section below or at our Community Forum and I will be glad to answer.