Manali Leh Highway, the very name ignites a feeling of adventure in everyone's heart. For motorcyclists, it is a dream, for photography enthusiasts, it is heaven; for travel junkies, it is a habit. The ever changing landscape consisting of deep verdant valleys, snow capped mountain peaks, rugged barren desolated wasteland, high mountain passes, tiny hamlets, nomad shepherds; travel on this road and you will see it all. Memories will last a lifetime and you will tell tales of your trip for months to come.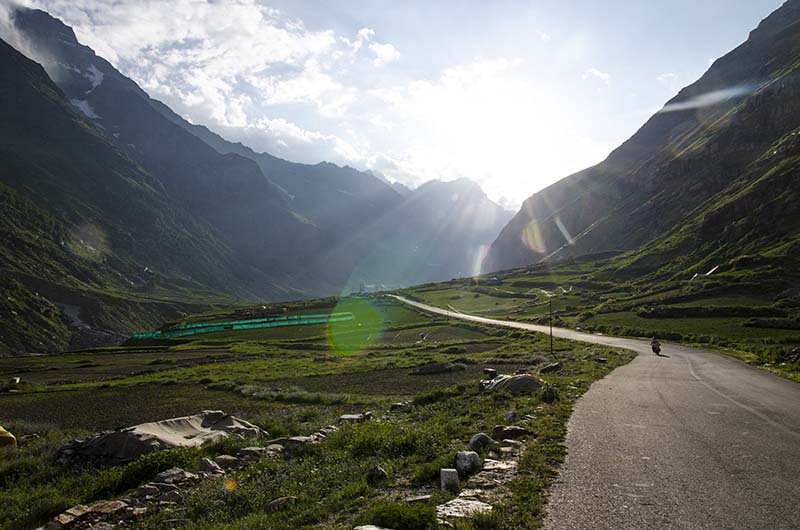 As long as I can remember, Manali Leh highway has always been given preference over the second route to Leh, the Srinagar Leh highway. Though both the roads are equally beautiful and challenging, almost everyone prefers to reach Leh via Manali and take the Srinagar road for journey back home.
I think the primary reason behind that is the challenging nature of the road. When someone plans a trip to Leh, the feeling is of adventure and Srinagar to Leh route is considered easier. So for adventure seekers and people who want the adventure to begin early, Manali Leh highway becomes the obvious choice.
Also read: How to Plan a Trip to Leh Ladakh?
For a brief introduction, Manali Leh Highway is a 490 kilometers long highway; connecting the town of Leh in Ladakh to that of Manali in Himachal Pradesh. The road is open for roughly around four and a half months in a year, from June till mid October when snowfall again blocks the high altitude passes en route.The average elevation of Leh-Manali highway is more than 4,000 meters (13,000 feet); its highest elevation is 5,328 m (17,480 ft) at Tanglang La mountain pass.
Sukhdev Singh Gill — assistant executive engineer of Central Engineering Services (Class 1) — can rightly be called as Father of Manali Leh highway. Gill was posted at the high altitude areas between Manali and Leh in August-September 1955 and conducted surveys for a road connecting the two cities. He also can be given credit for several other roads in Ladakh. Gill died at a young age of 27 years after he volunteered for a posting in Tibet. He stayed there for a year before he was scheduled to come back for his marriage but fell ill and died in Tibet itself.
Manali Leh Highway Distance
Manali to Leh road runs a total of 490 kilometers; 230 kilometers is in Himachal Pradesh and the remaining 260 kilometers in the state of J&K. Sarchu acts as the border between two states. The road from Manali to Sarchu is Himachal and Sarchu to Leh is J&K. In total, you will be crossing 5 high altitude passes and the journey is better planned to be completed in at least 2 days.
Also read: List of Things you must Carry for Ladakh Trip
If you are planning a journey on Manali Leh highway; mentioned below in this article is a detailed description of the entire route. I have mentioned a list of towns that you will be crossing; with distances in between and some other information on how you can plan your trip better.
Route of this journey on Manali Leh highway is as below.
Manali – Marhi – Rohtang Pass [52 Kms]
Rohtang Pass – Gramphu – Kokhsar [19 Kms]
Kokhsar- Sissu – Tandi [38 Kms]
Tandi – Keylong [9 Kms]
Keylong – Jispa [22 Kms]
Jispa – Darcha [6 Kms]
Darcha – Sumdo – Patsio – Zingzingbar – Baralacha La – Bharatpur – Sarchu [84 Kms]
Sarchu – Gata Loops – Nakeela La – Lachulung La – Pang [80 Kms]
Pang – More Plains – Tanglang La – Gya – Upshi [125 Kms]
Upshi – Karu – Leh [55 Kms]
Manali Leh Highway Map
Below is a map of Manali Leh Highway followed by more detailed information. Click on the map below to view it in full size.
Manali Leh Highway Route
Below is a detailed description of the route that you will be taking from Manali to Leh.
Manali – Marhi – Rohtang Pass

Your first day of the journey from Manali will have you cross the mighty Rohtang Pass. The biggest concern when it comes to crossing Rohtang is that of a permit without which you will not be allowed to travel towards the pass. This can be obtained from either Manali SDM office or online. Please read through the articles below in order to get more information on what the Rohtang Pass restrictions are and how you can get a permit to cross over.
Rohtang Pass Current Restrictions
How to get a permit for Rohtang Pass online
It is always better to leave from Manali in early hours as there can be a huge traffic on this road through out the day. Taxi Drivers, tourists wanting to visit Rohtang and a huge amount of trucks will start on the ascent with the break of dawn.
It is also interesting to know that the word Rohtang actually means a "pile of corpses" and the name derived from a lot of people dying in bad weather, trying to cross the pass in old times. But do not let that scare you. The 52 kms ascent to Rohtang is a feast for eyes because of the beautiful vistas all around you. If you started early from Manali, you can either have breakfast at Marhi, 19 kms from Manali, or at Rohtang Pass itself . There are a lot of dhabas open at Rohtang Top through out the day so you can take a quick stop here to eat and to click photographs.
Road to Rohtang is a mix of super smooth and super rough patches. The bad section of the road is mostly towards the top and on the descent towards Kokhsar.
Rohtang – Gramphu – Kokhsar
Kokhsar is a small village, 19kms downhill from Rohtang. The only significance this village will have in this journey is that you will need to get yourself registered at the check post here before continuing any further. This village also has an accommodation option available in form of a guest house in case you want to spend the night here. It is also the first village in Lahaul Valley and road bifurcates towards Spiti at Gramphoo, little before Kokhsar.
Kokhsar – Sissu – Tandi



The last gas station on this route is at Tandi. After this, there is no other petrol pump for another 380 kms, until Leh. While you can still get fuel at local dhabas on this route at a higher than regular price, it is strongly advised to tank up at Tandi and carry extra fuel (in case your motorcycle's petrol tank isn't large enough to carry enough fuel to complete the journey).
A road towards Udaipur and Sach Pass bifurcates at Tandi.
Tandi – Keylong
Keylong is the district headquarters of Lahaul and Spiti and is the last town on this route where a mechanic is available. It is a good idea to get a final check done on your motorcycle here. This is also the last place where you will see network signals in your cellphone.
Also Read: Mobile Phone Connectivity in Ladakh and en route
Keylong has a few decent hotels and in case you have started late from Manali, you can opt to break the first day of your journey here. Kardhang Monastery is located in Keylong, across the Bhaga River.
Keylong – Jispa
Jispa is a small village on this route. It has a hotel and tenting accommodations are also available here. In case it is still your first day of the journey, it is strongly recommended to halt here for the night as there wont be any accommodation available after Jispa, until Sarchu. It is a very scenic village and I have always preferred to stay here as opposed to the busy town of Keylong. You may find accommodation in form of Chadar tents after Jispa as well but not a decent enough camp site or hotel. There is also a mechanic shop at Jispa, just at the end of the village.
Jispa – Darcha



Roads here are in good condition. You will need to get yourself registered at the check post here.
Darcha – Sumdo – Patsio – Zingzingbar – Baralacha La – Bharatpur – Sarchu



Roads here are somewhat better than so far on this route. You will come across beautiful Deepak taal after Darcha, don't forget to take a quick break at the Dhaba near the lake and click photographs. There is a small Dhaba near the lake that also has arrangements to stay for the night. In case you are planning to camp on your own, Deepak Taal is a good enough spot to do so.
Also read: Best time to Visit Ladakh – Explained in Detail
Right after Deepak Taal, the ascent towards Baralacha La starts.
Baralacha La is where you will encounter snow again, after Rohtang La; unless you are out of luck and the snow is all melted, it remains covered with snow through out the year.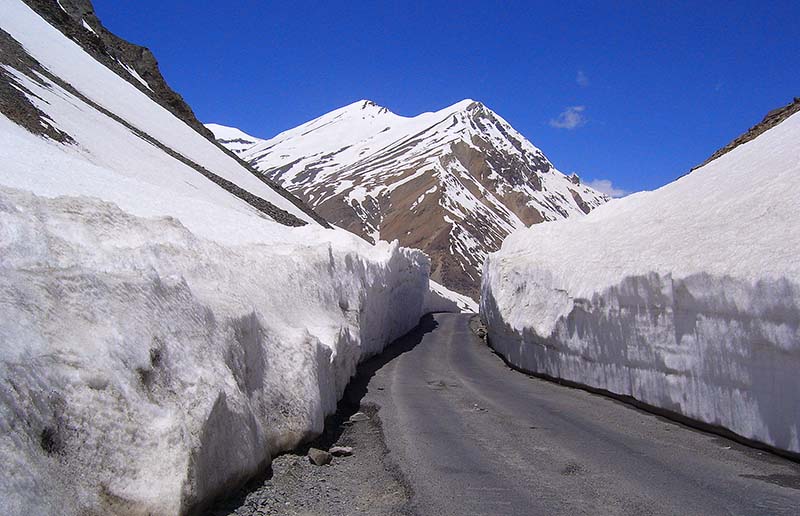 There is also an interesting story around this pass. Folklore states that there were two lovers, Chandra being the daughter of the Moon and Bhaga the son of the Sun god. To perform their eternal marriage, they decided to climb to the Baralacha la and from there they ran in opposite directions. Chandra being active and smart easily, found her way and reached Tandi after covering the distance of 115 km. Soon Bhaga was found coming with great struggle through the narrow gorges to Tandi, where consequently both met and the celestial marriage was performed.
Sarchu is a military base and a major halt point on this route. It has tented accommodations available and is a good spot to spend the night.
Chances are that you will experience Acute Mountain Sickness for the first time in this region. Road conditions will keep changing from bad to good to bad again in this area.
Sarchu – Gata Loops – Nakeela – Lachulung La – Pang



Right after Sarchu, the ascent of Gata Loops start. Gata Loops is a series of 21 hairpin bends that takes you to the top of Nakeela La, your 3rd high mountain pass on this route. Interestingly enough, these loops are said to be haunted by the ghost of a dead trucker. No one stops at Gata Loops unnecessarily and there is a story behind it.  Please read the article below for the haunting story of the loops
Also read: The Ghost of Gata Loops
But don't worry, it is not the ghost of the dead trucker who will make this ascent difficult. It will be the live ones in a long line of slow moving trucks and a cloud of thick smoke and dust that will test you to the bone while you climb up to Nakeela Top.
Right after Nakeela, after descending down for a few kilometers, you will again start climbing up the 4th high mountain pass of this route, Lachulung La, one of the easier passes.
Descent from Lachulung La will take you to Pang, another tented accommodation where you can spend the night. If you have not faced Acute Mountain sickness on this route so far, Pang is the place where you will definitely suffer from it.
Pang – Moore Plains – Tanglang La – Gya – Upshi



About 4 kms from Pang, you will be greeted with the spectacular sight of Moore Plains, A plateau sitting in the lap of Himalayas. It is a flat piece of land for about 30-35 kilometers inviting you to accelerate but do not make that mistake. The road is bumpy and can test your vehicle's suspensions and your stomach.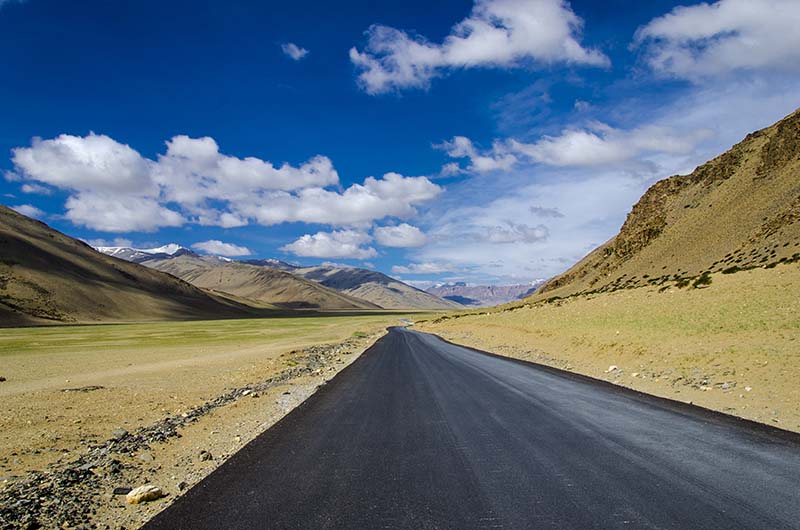 After the more plains starts the tough climb towards Tanglang La; the fifth and last high mountain pass on this route. Though Tanglang La claims to be the world's second highest motor-able pass, it has been proven incorrect as there are several higher motor-able passes in India itself and Tibet.
But it is the severely deteriorated roads on this ascent and descent that makes crossing this pass difficult, not the height.
Apart from the roads, second factor that will test your nerves at Tanglang La is Acute Mountain Sickness. Be ready to feel like you have just been hit by a train while you are crossing this pass. You will feel feverish and will have severe headache. Things will get better once you start descending down. Click at the link below to know more about acute mountain sickness and how to deal with it.
Also Read: Dealing with Acute Mountain Sickness In Ladakh
Road gets much better as you get closer to Upshi. As a matter of fact, you will find it even better than most city roads, thanks to BRO.
Upshi – Karu – Leh



By now AMS will subside and you will start feeling much better. Take a quick tea break at Upshi and off you are on your way to Leh, which is hardly an hour's drive from here.
Manali Leh Highway Road Conditions
Contrary to common belief, Manali Leh Highway usually remains in a good condition except for the time when it has just been declared open. There are of course several bad patches in between; water crossings you will need to cross; and several badly broken dirt trails; but overall condition of the road is not as bad as everyone perceives it to be. Extremely bad sections of the road will mostly be around Rohtang Top and near Tanglang La. For rest of the journey, it will be a mix of smooth, good, Ok and Bad.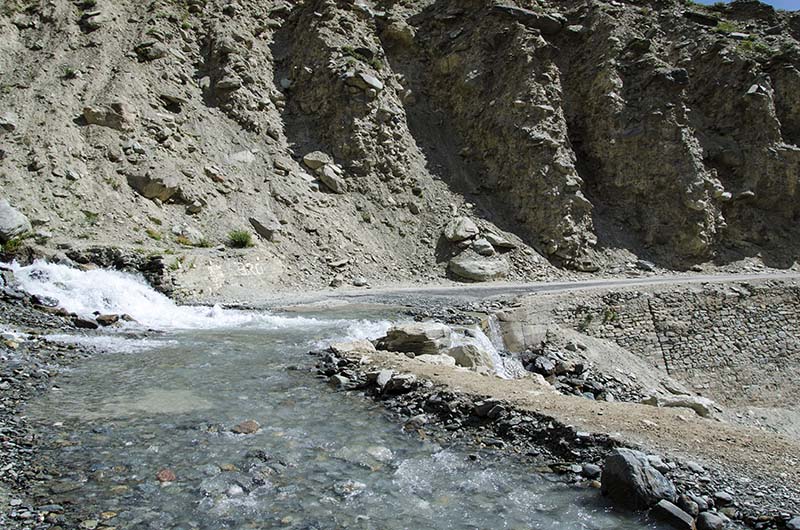 Manali to Leh By Bus
If you are however planning to travel by Bus, then there are two options available. You can either board the HPTDC luxury bus or the ordinary HRTC Bus. Both of these however cover the journey in two days with a night halt at Keylong. If you are coming from Delhi, then you can board a Bus from Delhi itself. Please read through the following two posts for more information on the bus service.
Also read: Manali to Leh Bus: Frequency, Fare and How to Book
Also read: Delhi to Leh Bus Service
Manali to Leh by Shared or Private Taxi
Another way to travel from Manali to Leh apart from the bus service to either rent a private taxi; or board a shared taxi. Both these options are available in Manali; and depending on your budget you can chose either. While a private taxi will complete the journey as per your convenience, a Shared taxi completes the journey in a non-stop manner; often referred to as Canon Ball run. For details like how much it would cost you to travel via taxi, please take a look at the article below.
Also read: Private and Shared taxis on Manali to Leh Highway
Manali Leh Highway Travel Time
While this journey can be done in 18 hours approximately; if you traveled non stop like shared taxis; recommended time to reach Leh from Manali is a minimum of 2 days.  On Day 1 you can either reach Keylong, Jispa or Sarchu from Manali and continue to Leh on Day 2. This way, you will ensure that you do not stress yourself and give sufficient time to enjoy the journey. If you can add another day and make it a 3 day trip, then it will be even better. On Day 1 you can reach Keylong or Jispa, Sarchu on Day 3 and finally Leh on Day 3. For more details and a sample itinerary, please take a look at the article below.
Also read: Manali to Leh Travel Time and Sample Itinerary
Best time to travel on Manali Leh highway
The road is declared open sometime by late May or early June and remains open by early October. Best time to travel on Manali Leh highway in my opinion would be in September. The road is in a terrible state with a lot of water crossings caused by melting snow in the month of June. Monsoon arrives by Mid to Late July and remains until August, causing a high chance of landslides in hilly areas. By September however, BRO would have restored the road completely and road conditions are also considerably better. Monsoon would have gone by late August but the valleys are at full blossom. If you want to travel on a near perfect road, through lush green valleys starting to show signs of arriving autumn, while experiencing the thrill of the challenging terrain, then September is the perfect time to do so.
Also read: List of Must Visit Places in Ladakh
Manali Leh Highway Permit
There is really no pass or permit required to travel from Manali to Leh. The only permit needed is to cross over Rohtang Pass that I provided details of above. However, if you reached Leh by Srinagar and returning via Manali, then even this permit is not needed. Carrying a valid identify proof like Aadhar card, Driver's license, Voter's ID, Passport etc is a must though as you will have to register yourself at several check posts in between and maybe asked to produce an identity proof.
Manali to Leh Highway Hotels
Accommodation on Manali Leh highway is not really that big a problem. Almost every big or small town en route has some sort of accommodation choice available. If you want to stay at a hotel however, the last one available is in Jispa. After Jispa, it is mostly camping sites or Chadar tents that you will come across. Read the article below for a complete list of hotels and camp sites available en route Manali to Leh.
Also Read: Hotels, Guest Houses and Camp Sites on Manali to Leh Highway
Manali Leh Highway Weather
Weather on Manali Leh highway during day is pleasant enough during summer. It can be moderately warm however winds will be high and cold. During night, this temperature can go down to around 2-5 degrees celsius. In winters however; when you cannot even travel here by road; temperature can go down several degrees below zero. June, July and August see a moderate weather, September will see the start of cold settling in and it can snow anytime after October first week.
Manali Leh Highway Recommended Clothes
It really depends on how you are traveling; if it is by motorcycle, car or by Bus; but to be on a safer side, pack your clothes in layers. Do not carry all heavy woolens. Carry plenty of cottons, a few light woolens and a heavy windproof jacket; along with woolen socks and gloves. The idea is that if you start feeling cold, you can put clothes on top of one another; in layers, and if feeling warm, you can remove layers per your comfort. For more details on what kind of clothes you should be packing for Ladakh trip, take a look at the article below.
Also read: Clothes for Ladakh Trip: What to Pack
I think this pretty much covers most of the aspects related to traveling on Manali Leh highway. If you have any further questions, please feel free to ask in the comments section below or at our Community Forum; and I will be glad to answer.