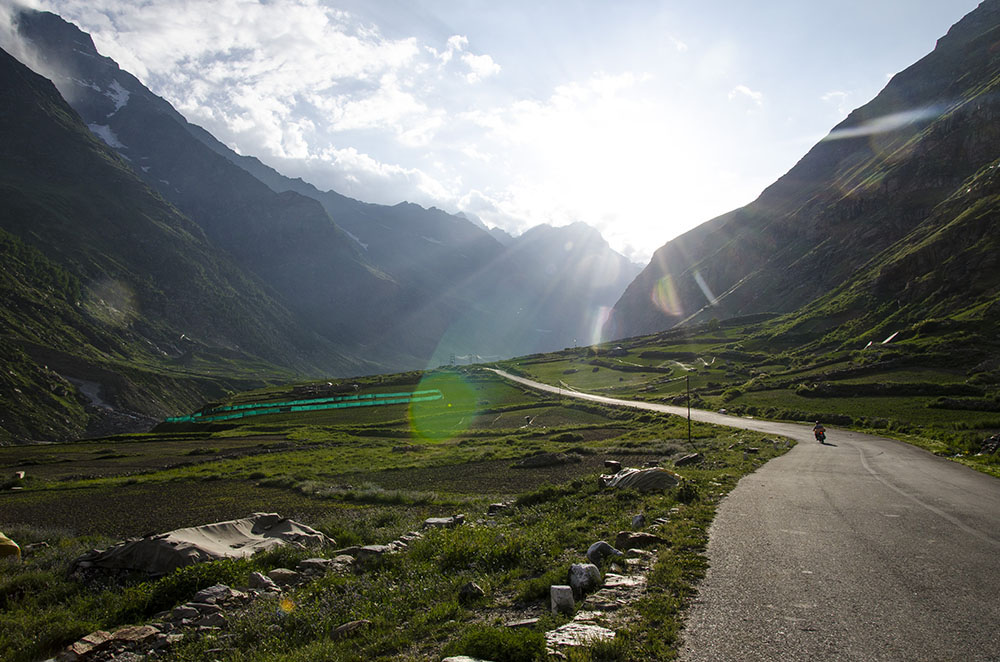 Traveling on Manali to Leh Ladakh highway is truly an experience in itself. The lush green valleys of Manali and Lahaul Valley and the majestic barren desert of Ladakh are sure to charm all kinds of travelers. For motorcyclists, it is a dream destination. For photography enthusiasts, it is a place where they can shoot to their heart's content. But for adventure junkies, it is nothing less than a habit
A journey on Manali Leh highway will take you through an ever-changing landscape consisting of deep verdant valleys, snow-capped mountain peaks, rugged barren desolated wasteland, high mountain passes, tiny hamlets, and nomad shepherds. Memories will last a lifetime and you will tell tales of your trip for years to come.
With that being said, the road also passes through a region where the roads are challenging, the terrain is rough and the weather is unpredictable. Before you leave home, you need to ensure that you are fully prepared for what is to come.
About Manali Leh Highway
Manali to Leh Ladakh is a 490 kilometers long highway. It connects the town of Leh in Ladakh to that of Manali in Himachal Pradesh. The road is open for roughly around 5 months in a year, from late May or early June to mid-October when snowfall again blocks the high altitude passes en route.
The average elevation of the highway is more than 4,000 meters (13,000 feet). Its highest elevation point is 5,328 m (17,480 ft) at Tanglang La mountain pass.
The road was built and is maintained by the Border Roads Organisation (BRO) of the Indian army. It is one of the two roads connecting Ladakh to the rest of the country (the other being the Srinagar Leh route) and acts as a lifeline for the Army.
Please note that in this post, I will only talk about the Manali Leh Highway in detail. For other information on visiting Ladakh, please take a look at How to Plan a Trip to Leh Ladakh – A Complete Travel Guide.
Manali to Leh Distance
Manali to Leh road runs a total of 490 kilometers. Of this, 230 kilometers is in Himachal Pradesh, and the remaining 260 kilometers is in Ladakh.
Sarchu acts as the border between two regions. The road from Manali to Sarchu is in Himachal and Sarchu to Leh is in Ladakh. In total, you will be crossing 5 high-altitude passes and the journey is better planned to be completed in at least 2 days.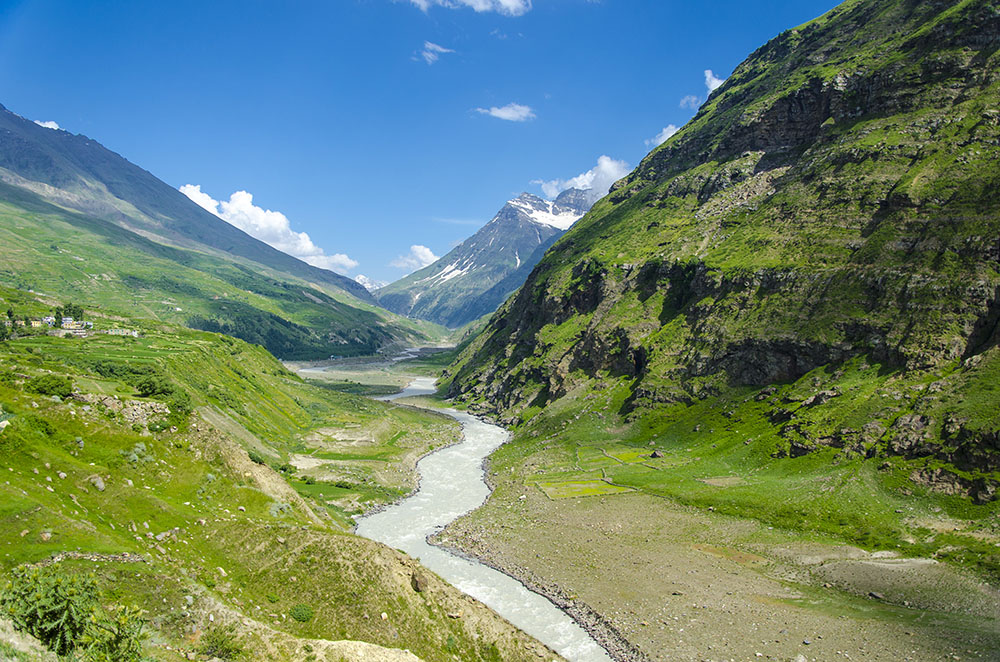 Manali to Leh Ladakh Route
If you are planning a journey on the Manali Leh highway, mentioned below in this article is a detailed description of the entire route. I have mentioned a list of towns that you will be crossing, with distances in between and some other information on how you can plan your trip better.
The route of the journey is as mentioned below.
Manali – Marhi – Rohtang Pass
Rohtang Pass – Gramphu – Kokhsar
Kokhsar- Sissu – Tandi
Tandi – Keylong
Keylong – Jispa
Jispa – Darcha
Darcha – Sumdo – Patsio – Zingzingbar – Baralacha La – Bharatpur – Sarchu
Sarchu – Gata Loops – Nakeela La – Lachulung La – Pang
Pang – More Plains – Tanglang La – Gya – Upshi
Upshi – Karu – Leh
Below is a detailed description of the route that you will be taking from Manali to Leh. Later in the article, I have also posted a route map that you can refer to.
Manali – Rohtang Pass = 52 Km

Your first day of the journey from Manali will have you cross the mighty Rohtang Pass, your first high-altitude pass of the journey.
The biggest concern when it comes to crossing Rohtang is that of a permit without which you will not be allowed to travel across. This can be obtained from either the Manali SDM office or online. Please read How to get a Permit for Rohtang Pass for more details on this.
In the peak tourist season, getting a permit sometimes can prove to be a difficult task. If for some reason you were unable to get it in time, you can skip Rohtang and travel through the Rohtang Tunnel.
It is always better to leave Manali in the early hours as there can be huge traffic on this road throughout the day. Taxi Drivers, tourists wanting to visit Rohtang and a huge amount of trucks will start on the ascent with the break of dawn.
The 52 km ascent to Rohtang is a feast for the eyes because of the beautiful vistas all around you. If you started early from Manali, you can either have breakfast at Marhi, 19 km from Manali, or at Rohtang Pass itself. There are a lot of dhabas open at Rohtang Top throughout the day so you can take a quick stop here to eat and to click photographs.
It is also interesting to know that the word Rohtang actually means a "pile of corpses". The name is derived from a lot of people dying in bad weather, trying to cross Rohtang Pass in old times.
Road to Rohtang is a mix of super smooth and super rough patches. The bad section of the road is mostly towards the top and on the descent towards Kokhsar.
Solang Valley
Solang Valley is located at a distance of about 15 km from Manali, towards Rohtang. It is at an altitude of about 2590 meters. To get here, you will have to reach Palchan from Manali, take a left turn, cross the Solang Bridge and drive for about 5 km to reach Solang town.
It is a less crowded area and is a little more scenic than the main town. Due to this, a lot of people prefer to break their journey in Solang Valley instead rather than staying in Manali.
The entry point of Rohtang Tunnel is also a little ahead of Solang town. So if you were planning to skip Rohtang entirely and travel through the tunnel, you can also stay in Solang Valley.
But if you were traveling by a Bus, you must stay at Manali only, closer to the bus stand. You will have to board the bus early in the morning and get tickets from Manali. You cannot do it from Solang.
Gulaba
Gulaba is a small village about 20 km from Manali This is where the permits for Rohtang Pass are verified at the check post. During the winter season, when Rohtang is blocked due to snow, Gulaba is the farthest you can travel on the route. It gets buried under snow completely in the winter season and is known as a lower winter snow point in Manali.
Marhi
Marhi is located quite close to the Rohtang top. There are a few dhabas located here where you can get something to eat. It is also a good spot for self-camping. People who are cycling from Manali to Leh break their journey here on Day 1 and pitch their tent for the night.
Rani Nallah
Rani Nallah is actually a glacier point and a water crossing. The snow melts and a water stream runs right through the road before falling in the valley below. The road near this water crossing is always bad due to the mud and slush caused by the water. Usually, there is also a lot of traffic jam as vehicles try to get through the water and the mud.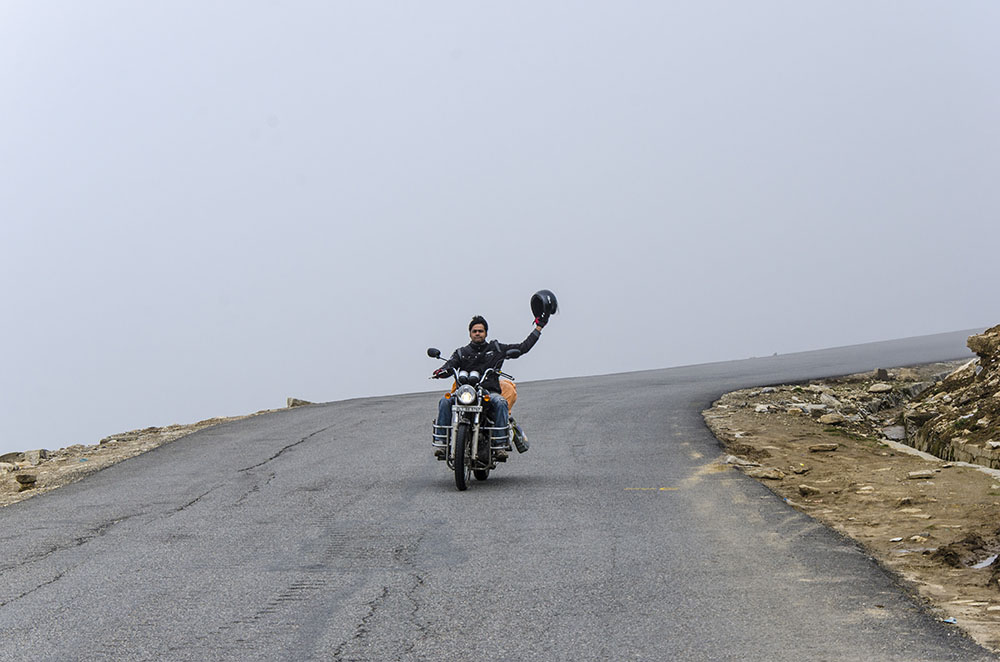 Rohtang Pass – Gramphu – Kokhsar = 19 Km
As you start driving down on the other side of Rohtang, Gramphu is the first place that you will reach. There is nothing here really except for a small dhaba. The Manali Kaza Road bifurcates towards Spiti at Gramphoo. It is also the same road that goes towards Chandratal Lake. So if that was a part of your itinerary, you will need to turn right or else continue straight.
Kokhsar is a small village, 19 km downhill from Rohtang. The only significance this village will have in this journey is that you will need to get yourself registered at the check post here before continuing any further.
Kokhsar is the first village in Lahaul Valley also has accommodation options available in the form of a couple of guesthouses, a PWD rest house, and a few dhabas.  There are also a couple of mechanic shops in Kokhsar.
Kokhsar – Sissu – Tandi = 38 Km



Sissu is a small village situated right next to the Chandra River. The northern side of the Rohtang tunnel opens near Sissu. If you skipped Rohtang Pass, this is where you will exit on Manali to Leh route.
There is a waterfall in Sissu on the opposite side of the town. The water from the fall then forms a small body of water known as Sissu Lake. If you had some time, you can take a short detour and visit the waterfall.
There is also a PWD Rest House and a few other hotels/guesthouses here if you want to break the journey here. The village also has a Primary Health Care center in Sissu where you can get medical assistance if you were not feeling well.
The last gas station on this route is at Tandi. After this, there is no other petrol pump for another 380 km, until Leh. While you can still get fuel at local dhabas on this route at a higher than the regular price, it is strongly advised to tank up at Tandi and carry extra fuel.
This is in case your vehicle's petrol tank isn't large enough to carry enough fuel to complete the journey. If it was, then you should get enough fuel from Manali itself.
A road towards Udaipur and Sach Pass bifurcates at Tandi.
Other than the last petrol pump, Tandi is also known for the confluence of Chandra and Bhaga Rivers. The Chandra River originates from Chandra Tal / Samudri Tapu in Spiti Valley, and the Bhaga River originates from Suraj Tal in Lahaul Valley.
Both the rivers meet near Tandi to form the Chandrabhaga River that flows into Kashmir and Pakistan and gets known as the Chenab river.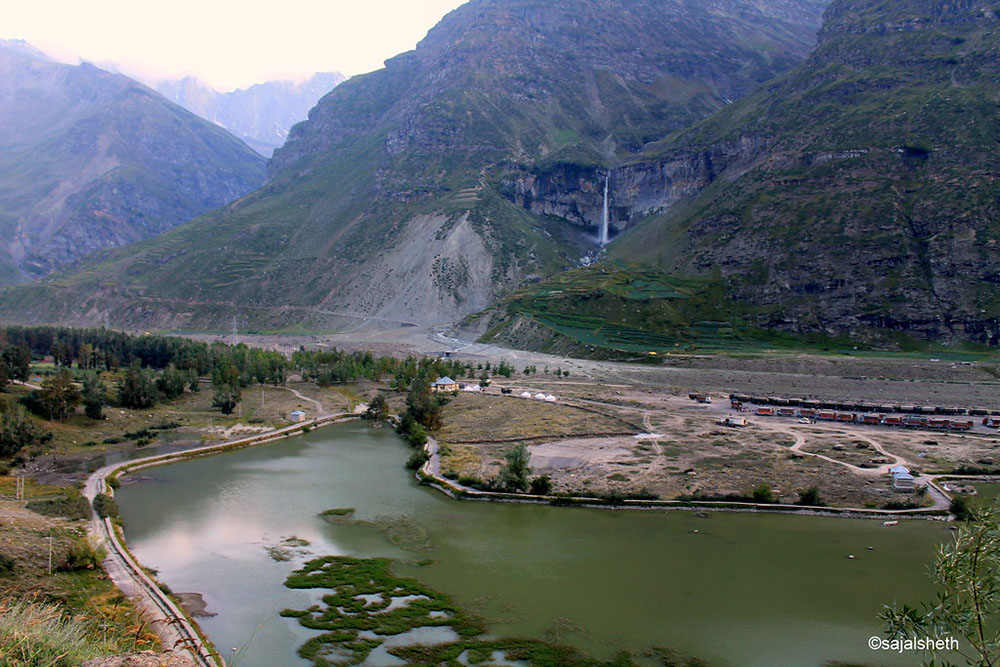 Tandi – Keylong = 9 Km
Short after Tandi, you will arrive in Keylong which is the district headquarters of Lahaul Valley and the last big town on the route. If you were traveling by Bus, Keylong is where you will stay for the night on Day 1 in HPTDC Hotel Chandrabhaga.
It is the last town on this route where a reliable mechanic is available. It is a good idea to get a final check done on your motorcycle here. This is also the last place where you will see network signals on your cellphone. After Keylong, you will remain off the network until Upshi near Leh.
Also Read: Mobile Network in Ladakh and Data Connectivity
Keylong has a few decent hotels and guesthouses along the main highway itself. If you were traveling by your own vehicle, you can opt to break the first day of your journey here. You can also find a hospital, banks, and an ATM in Keylong.
Kardhang Monastery is located in Keylong, across the Bhaga River that is worth a visit.
Keylong – Jispa = 22Km
Jispa is a small village on this route. It has a hotel, a couple of guesthouses and a few campsites. In case it is still your first day of the journey, it is strongly recommended to halt here for the night. There won't be any accommodation available after Jispa, until Sarchu.
It is a very scenic village and I have always preferred to stay here as opposed to the busy town of Keylong. You may find accommodation in form of Chadar tents after Jispa as well but not a decent enough campsite or hotel. There is also a mechanic shop at Jispa, just at the end of the village.
For sightseeing, Jispa has a small monastery and a small museum along. The best part however is the village itself on the banks of the Bhaga river. It is a great spot for a bonfire at night if you were staying at a campsite.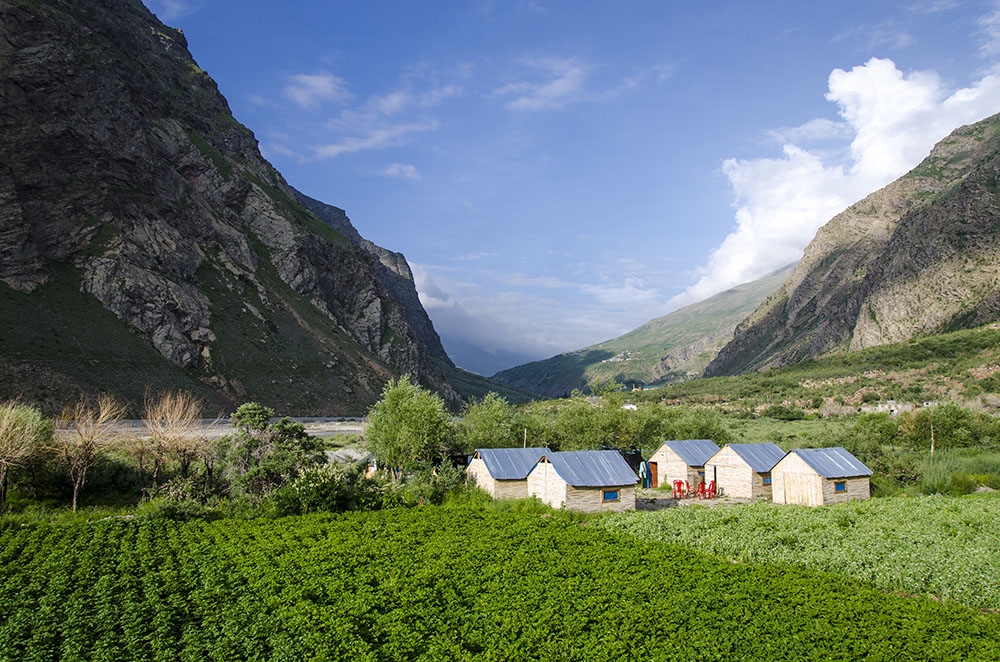 Jispa – Darcha = 6 Km



The roads here are in good condition. You will need to get yourself registered at a check post here. As you get closer to Darcha, you will notice that the greenery will start to disappear and the landscape will slowly start turning barren.
The newly built road that connects the valleys of Lahaul and Zanskar bifurcates from Darcha. Known as the Darcha to Padum road, it runs across the Shinku La Pass and ends at Padum in Zanskar Valley.  It is also the starting point of the trek from Lahaul Valley to Zanskar.
There are a few dhabas here where you can get something to eat. These dhabas also act as Chadar tents and can offer a bed for a small amount of money if you wish to stay overnight.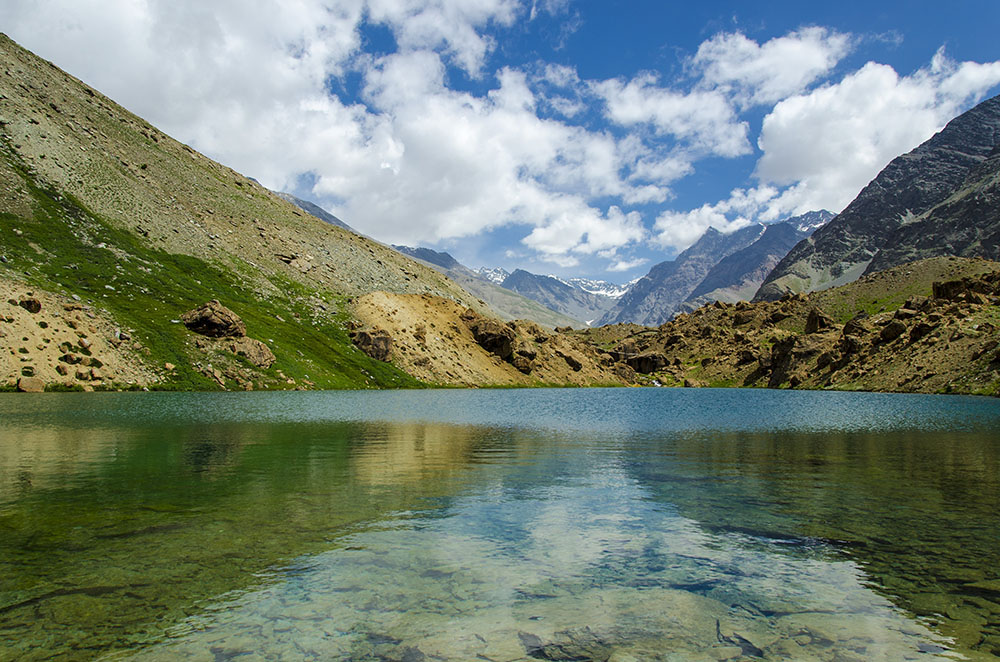 Darcha – Baralacha La – Sarchu = 84 Kms



The road after Darcha gets even better and is mostly smooth until Sarchu. There are a lot of sightseeing places on this stretch and it is recommended that you take the journey slow with plenty of photography breaks.
Deepak Tal
Shortly after Darcha, you will come across beautiful Deepak Tal. It is a very small lake but has its own charm. The water of the lake surprisingly remains still even after the sun is up. It offers some very nice reflections of the surrounding mountains and is a photography spot.
There is a small Dhaba near the lake that also has arrangements to stay for the night. In case you are planning to camp on your own, Deepak Taal is a good enough spot to do so.
Patseo
Right after Deepak Taal, the ascent towards Baralacha La starts. On the ascent, you will arrive at Patseo which is an Army establishment. The weather here will start getting even colder and you will feel a certain chill in the wind.
Zingzing Bar
I love the name of this place. I am not sure who came up with it but it sure sounds awesome. It is a halt point before Baralacha Pass and has a few dhabas. You can get something to eat here and even a bed to stay in for the night if you were cycling from Manali to Leh. These Dhabas also sell Petrol/Diesel at an increased price to anyone who is in need.
They also buy fuel from travelers actually. The last time I was traveling from Leh to Manali, I was carrying some spare fuel that we did not get the need to use. One of the Dhaba owners asked me to sell it to him which I did, at an increased price of course.
Suraj Tal
Just before the top of the Baralacha La pass, you will reach the second lake on Manali Leh Highway. It is known as Suraj Tal and is the source of the Bhaga River. In all my trips to Ladakh, I have found it to be either completely or partially frozen even during the summer months.
What fascinates me even more though that how a small body of water like this gives birth to an entire river.
Baralacha La Pass
A little after Suraj Tal, you will reach the top of the Baralacha La Pass. It is the second of the five high mountain passes between Manali and Leh and is also the source of the Bhaga River. The water from the melting snow at the pass feeds the Suraj Tal Lake and forms the Bhaga River.
Another river originates from Baralacha La Pass and flows to the Sarchu side of the pass.
Baralacha La remains buried under snow for all 12 months. It is the first pass that gets closed in the winter season and the last one to open. if you were traveling early in the season, you will surely come across the high snow walls on both sides of the road.
Killing Sarai
The reason why this place is called Killing Sarai is because of a water crossing. About more than a decade ago, when tourists on Manali to Leh route were not that common, the road ran right through a massive rivulet. Vehicles would often get stuck in the water, including trucks. It was one of the most dreaded water crossings on the route and hence the place got named Killing Sarai.
BRO has now built bridges in the region and now you do not have the need to go through the water stream. There is no Sarai here as well now. Maybe there were a few dhabas earlier but not anymore. Now it is just a barren piece of land.
Bharatpur City
A little after Killing Sarai, you will reach Bharatpur City. I have no idea who named it as a city because it is definitely not one. It is a temporary tenting accommodation that gets set up in June and wrapped up in late September or early October.
There are a few dhabas here that provide refreshments and beds for a night's stay. The accommodation here is considerably cheaper than what you will get at Sarchu. So if you were on a limited budget trip, you may look to break your journey for the day at Bharatpur.
Keep in mind though that this place is at an even higher altitude than Sarchu. So be prepared to feel the symptoms of AMS and to have a very uncomfortable night. If you were already suffering from altitude sickness, do not stop here and move on.
Another point to note is about speeding. Out here, the road runs straight for a few kilometers but please do not step down on the gas pedal. The road, though good and straight, is very bumpy and can damage your vehicle's suspension.
There is also wildlife in this area and marmots can sometimes dig holes right underneath the road, causing a risk of a cave-in. The last time I was on this stretch, one of my friends ended up killing a pigeon because he decided to accelerate his bike a little bit.
Also Read: Keylong or Jispa or Sarchu – Which is the Best Place to Stay
Sarchu
Sarchu is a military base and also the border between Himachal and Ladakh. You will have to register yourself at a check post here before entering Ladakh.
It is a major halt point on the Manali Leh route because it is more or less the center point of the highway. People who are covering the route in 2 days stay here for the night on Day 1 and move on to Leh on Day 2.
Accommodation in Sarchu is available in the form of Swiss luxury tents and Chandar tents. The luxury campsites will charge you anywhere between Rs. 2000 to Rs. 3000 for a night's stay. The Dhabas/Chadar tents on the other hand can offer a bed for a few hundred Rupees. It is also a good spot to pitch your own tent if you were planning on self-camping.
Before deciding to stay at Sarchu, you should know that the chances of Acute Mountain Sickness are very high here. This is where you will for the first time get hit by AMS. The night in Sarchu can turn out to be a very uncomfortable one.
Road conditions will keep changing from bad to good to bad again in this area. You can also get fuel at an increased price at the Dhabas and campsites here.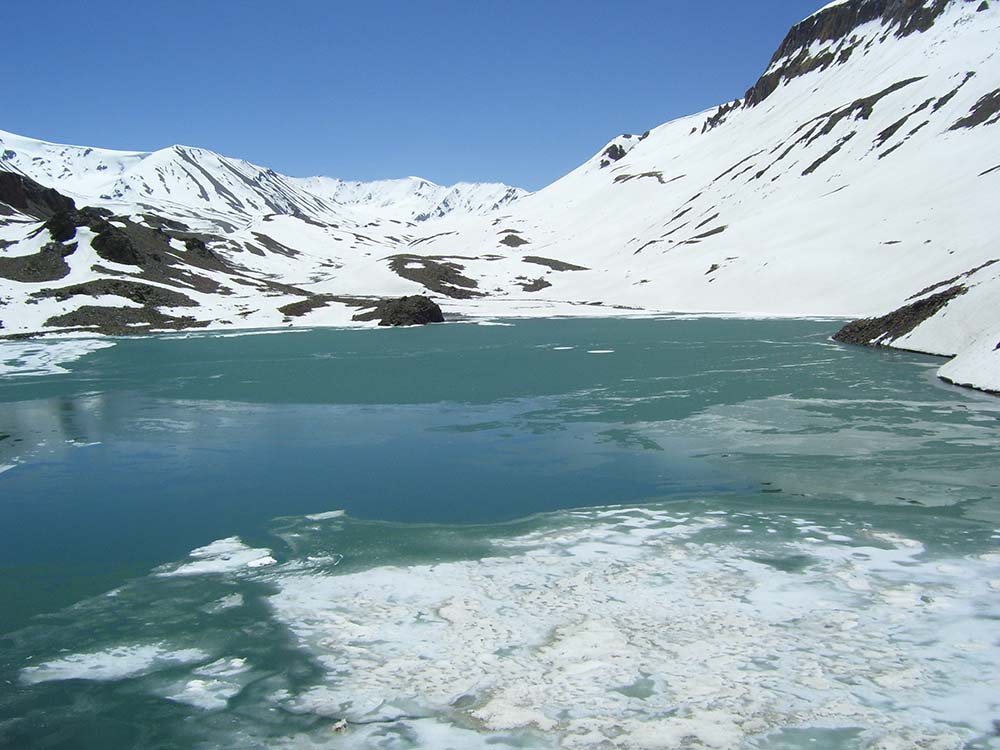 Sarchu to Pang = 80 Kms



Right after Sarchu, the ascent of Gata Loops starts. Gata Loops is a series of 21 hairpin bends that takes you to the top of Nakee La, your 3rd high mountain pass on this route.
Gata Loops
Interestingly enough, these loops are said to be haunted by the ghost of a dead trucker. No one is supposed to stop at Gata Loops unnecessarily and there is a story behind it.  Please read The Ghost of Gata Loops for the haunting story related to these loops.
A direct result of this ghost story is people offering water bottles to the ghost, at a small brick temple. I will request you to please not do it and pollute the environment.
But it is not the ghost of the dead trucker who will make this ascent difficult. It will be the live ones in a long line of slow-moving trucks and a cloud of thick smoke and dust that will test you to the bone while you climb up to Nakeela Top.
Another thing of note about Gatal Loops is the shortcuts. There are a lot of dirt tracks that act as a shortcut between the loops. A lot of adventure junkies who want to go offroading try taking these loops but I will strongly advise against it. The last time I was here, I witnessed a car tumbling down and ending up on its side.
The driver was trying to take the shortcut but the car stalled at a point and he lost control. Thankfully, no one was hurt in the incident.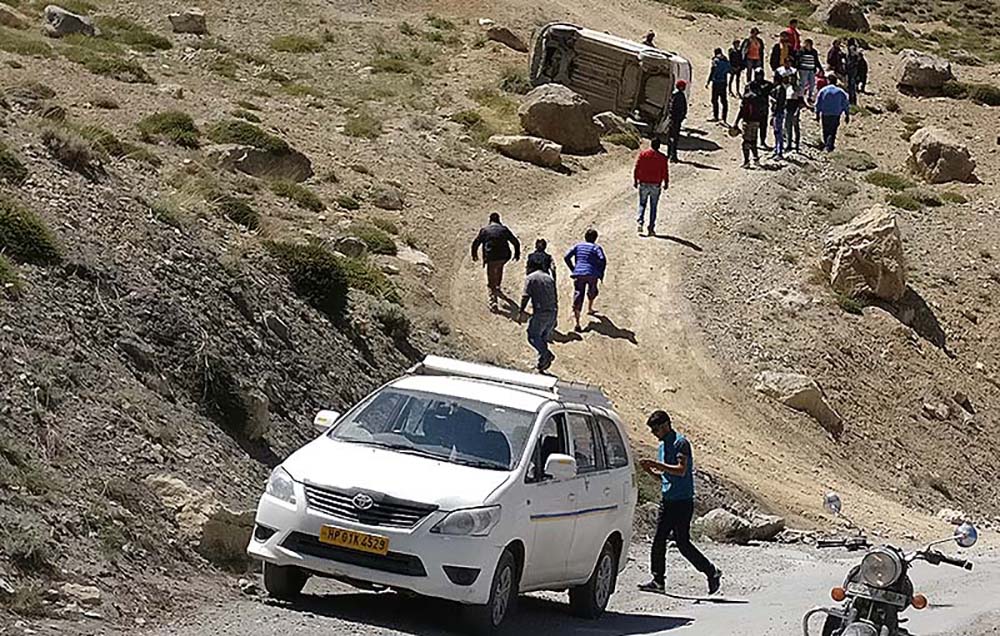 Nakeela Pass
The last loop of Gata Loops will see you arriving at Nakee La, the third high-altitude pass on the route. Take a break, click some pictures and be on your way. If you were lucky enough, you may even get to see some wildlife around in this region.
Lachulung La Pass
Right after Nakeela, after descending down for a few kilometers, you will again start climbing up the 4th high mountain pass of this route, Lachulung La. It is one of the easier passes in Ladakh and you will hardly notice the climb.
Pang
The descent from Lachulung La will take you to Pang. It is an Army establishment and a transit camp. There are a lot of Dhabas / Chadar tents in Pang where you can spend the night in a dormitory-type tented accommodation. This place also serves as a major stop point on the Manali to Leh Highway.
As you get closer to Pang, you will start noticing unique soil formations in the mountains and funny BRO signs along the road. The entire region is deprived of any vegetation at all and you will truly feel that you are crossing a barren desert.
In my earlier days of traveling to Ladakh, I got stuck badly in a water crossing here. Thankfully though, BRO has now constructed bridges. Though you will be traveling next to the river, you will never actually have to cross it.
If you have not faced Acute Mountain sickness on this route so far, Pang is the place where you will definitely suffer from it. It is at an even higher altitude than Pang and you should stop here only if you were running out of daylight. If you arrived here at around 2 pm, continue straight to Leh.
A little ahead of the tents is the Army establishment. In case your condition worsened due to altitude sickness, you can seek medical assistance from the Army personnel.
Dhabas out here have solar panels and there is electricity available at night.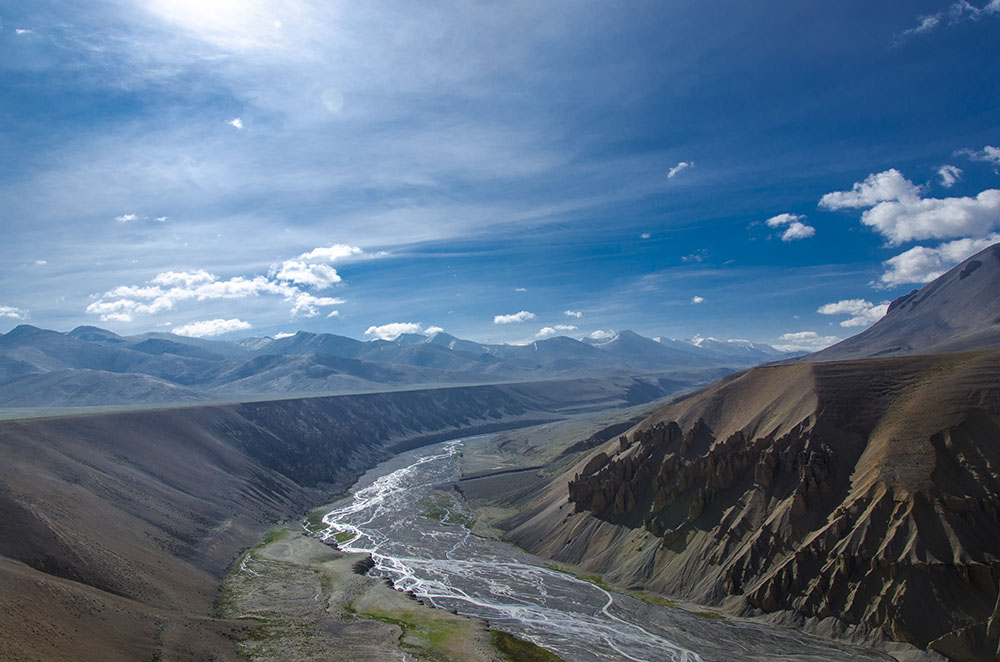 Pang – Moore Plains – Tanglang La – Gya – Upshi = 125 Kms



After Pang begins the final lap of your journey to Leh. From here, it will not take you more than 4-5 hours at most to reach Leh, with plenty of sightseeing breaks in between.
Moore Plains
About 4 km from Pang, you will be greeted with the spectacular sight of Moore Plains, a plateau sitting high up in the lap of the Himalayas.
Also spelled as More Plains, Moreh, or Morey plains, it is a flat piece of land for about 30-35 kilometers inviting you to accelerate but please do not make that mistake. The road is bumpy and can test your vehicle's suspensions and your stomach.
If you were traveling in a group, this is where you must stop and get pictures of your entire group together. Some of my best pictures of Ladakh trips are from More plains.
Also Read: Ladakh Driving Tips for a Self Drive Trip to Leh Ladakh
Debring
At the end of the More plains is a place called Debring. It is an establishment of the BRO division of the Indian army. There are a few dhabas where you can get something to eat at Debring.
The road to Tso Kar lake also bifurcates from the Manali Leh route at Debring. From here, Tso Kar Lake is about 20 odd kilometers and will take you a couple of hours for a round trip.
This is the same road that goes further to Tso Moriri lake near Karzok as well. Though it is not advised to do so at all, if you wanted to visit Tso Moriri from Manali, this is the road that you will need to take.
The reason why I said it is not advised is because you will need to first get the permits from Leh to visit Tso Moriri. Without the permits, you cannot go all the way and will be sent back by ITBP. Secondly, Karzok is at an even higher altitude. So if you went there directly, your symptoms of AMS may get worse.
Tanglang La Pass
After the more plains, the tough climb to Tanglang La pass starts. It is the fifth and last high mountain pass on this route. Though Tanglang La claims to be the world's second-highest motor-able pass, it has been proven incorrect as there are several higher motor-able passes in India itself and Tibet.
But it is the severely deteriorated roads on this ascent and descent that make crossing this pass difficult, not the height.
Apart from the roads, the second factor that will test your nerves between Pang and Tanglang La is Acute Mountain Sickness. Be ready to feel like you have just been hit by a train. You will feel feverish and will have a severe headache. Things will get better once you start descending down.
Rumste
On the other side of the Tanglang La, you will reach the small settlement of Rumste. It is also an Army establishment accompanied by a few dhabas. If you were suffering from AMS at Tanglang La, your condition will get much better by the time you reach Rumste.
Upshi
A little after Rumste is the village of Upshi. This is where you will start getting the feeling that you have arrived in Ladakh. There is a check post in Upshi where you will need to register yourself again.
Upshi acts as a halting point for people cycling from Manali to Leh or the other way around. There are a few dhabas and guest houses here.
To the right, a road bifurcates from Upshi that takes you to Tso Moriri via Chumathang. But as I mentioned earlier, going there is not a good idea and you are better off heading straight to Leh.
Road gets much better as you get closer to Upshi. As a matter of fact, you will find it even better than most city roads, thanks to BRO.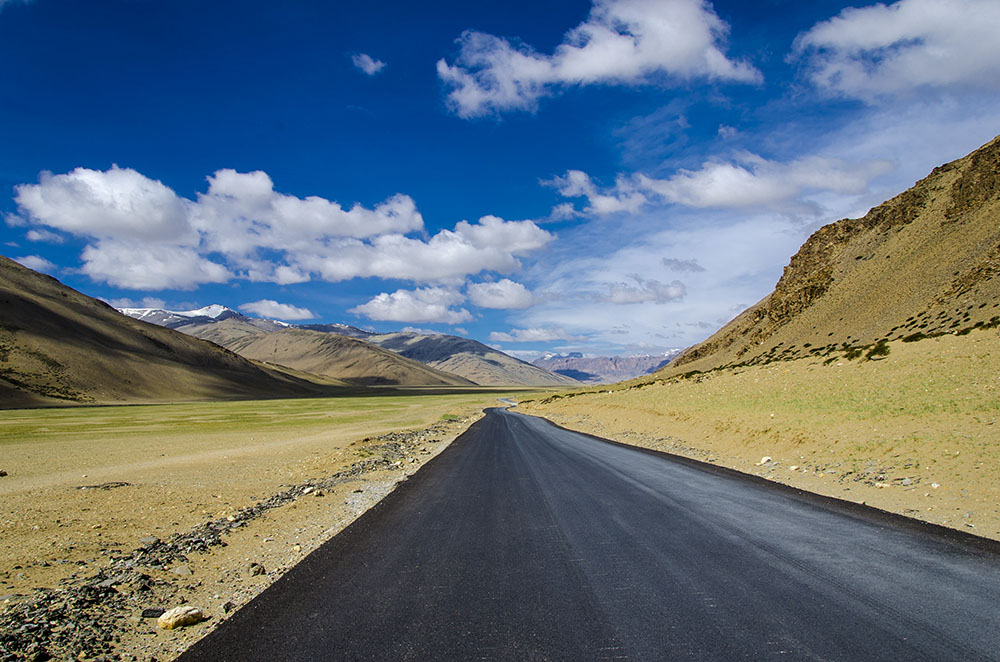 Upshi to Leh = 55 Km



By now AMS will subside and you will start feeling much better. Take a quick tea break at Upshi and off you are on your way to Leh, which is hardly an hour's drive from here.
The landscape between these places can only be termed as beautiful. This is where you will notice how colorful and pretty can the mountains be, even the barren and rocky ones.
The road between Upshi and Leh runs through a populated region at several places and is also a bit narrow. Please drive very carefully and do not speed up because you were wanting to end the journey as soon as possible. Because of the traffic and the fact that there are houses on both sides of the road, this is termed as an accident-prone area.
In between, you will also cross the village of Karu. There is a petrol pump here in case you were running low on gas. A road bifurcates on the right side in Karu that goes to Chang La Pass and Pangong Tso Lake. But once again, you will need permits to go that way that you will need to get from Leh.
Manali Leh Highway Road Conditions
Contrary to common belief, Manali Leh Highway usually remains in a good condition except for the time when it has just been declared open. There are of course several bad patches in between, water crossings you will need to cross, and several badly broken dirt trails.
But the overall condition of the road is not as bad as everyone perceives it to be. Maybe it once was more than a decade ago but not anymore.
Extremely bad sections of the road will mostly be around Rohtang Top and near Tanglang La. For the rest of the journey, it will be a mix of smooth, good, Ok, and Bad.
Also Read: Hanle in Ladakh – Travel Guide, Sightseeing & Itinerary
Manali to Leh By Bus
If you are however planning to travel by Bus, then there are three options available. You can either board the HPTDC luxury bus from Manali or the ordinary HRTC Bus from either Manali or Delhi.
From Manali, both the HPTDC and HRTC buses cover the journey in two days with a night halt at Keylong. The HPTDC one is a luxury bus that is introduced for tourism purposes only. It is a single bus that takes you all the way to Leh from Manali.
The HRTC bus on the other hand is an ordinary bus that the locals use as well. You will first board the morning bus from Manali and it will drop you at Keylong. You will stay for the night in Keylong and then early in the morning, board a second bus from Keylong to Leh.
The Delhi to Leh bus is also operated by HRTC and is an extension of the Manali Keylong bus. You will first board an HRTC bus at 2 PM from Delhi ISBT and arrive in Manali in the morning of the next day. From Manali, you will board a second bus that will drop you at Keylong. The next morning, you will board the third bus for Leh.
For more detail on Manali to Leh Bus, please take a look at Manali to Leh Bus: Frequency, Fare, and How to Book. If you were thinking about traveling straight from Delhi itself, please read Delhi to Leh Bus Service: How to Plan your Journey.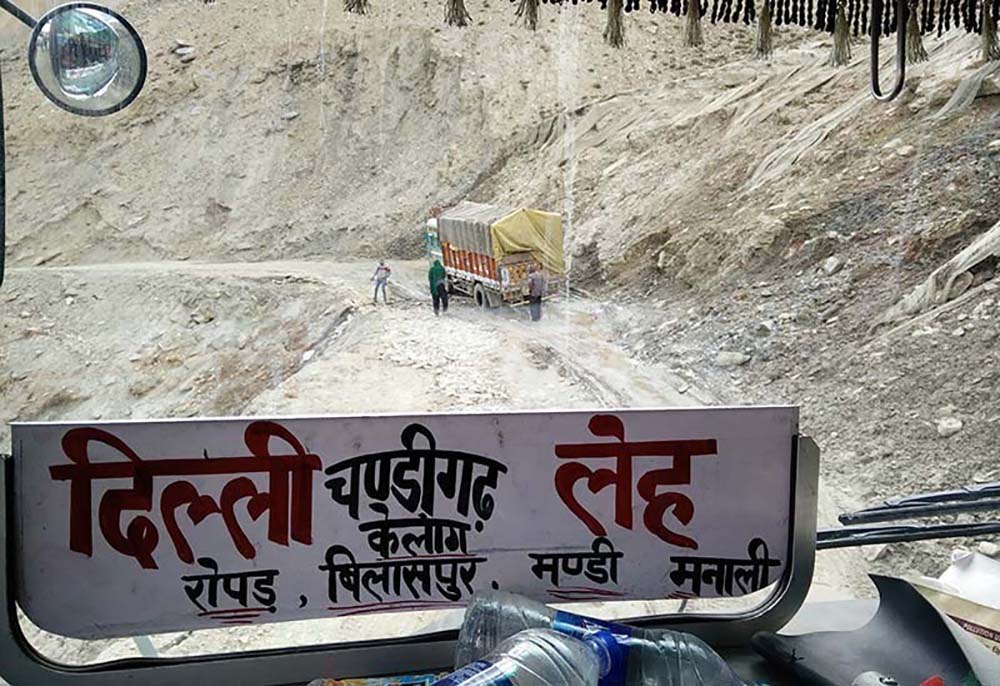 Manali to Leh by Shared or Private Taxi
Another way to travel from Manali to Leh apart from the bus service is to either rent a private taxi or board a shared taxi. Both these options are available in Manali, and depending on your budget you can choose either.
While a private taxi will complete the journey at your convenience, a shared taxi completes the journey in a non-stop manner; often referred to as Cannon Ball run.
A private taxi will cost you anywhere between Rs. 10,000 to Rs. 15,000 for a drop to Leh. The fare per person in a shared taxi is about Rs. 2000 to Rs. 25000. For more details, please take a look at Private and Shared taxis on Manali to Leh Highway.
Manali Leh Highway Travel Time
This journey can be done in 18 hours approximately if you traveled non-stop as the shared taxis do. Recommended time however is a minimum of 2 days to travel from Manali to Leh.
On Day 1 you can either reach Keylong, Jispa, or Sarchu from Manali and continue to Leh on Day 2. This way, you will ensure that you do not stress yourself and give sufficient time to enjoy the journey.
If you can add another day and make it a 3-days trip, then it will be even better. On Day 1 you can reach Keylong or Jispa, Sarchu on Day 2, and finally Leh on Day 3.
For more details and a sample itinerary, please take a look at Manali to Leh Travel Time and an Ideal Itinerary.
Best Time to Travel from Manali to Leh
The road is declared open sometime by late May or early June and remains open by early October. The best time to travel on the Manali Leh highway in my opinion would be in late June, early July, and September.
The road is mostly in a terrible state with a lot of water crossings caused by melting snow in the months of May and early June. Monsoon arrives by Mid to Late July and remains until August, causing a high chance of landslides in hilly areas.
By September however, BRO would have restored the road completely and road conditions are also considerably better. Monsoon would have gone by late August but the valleys are at full blossom.
If you want to travel on a near-perfect road, through lush green valleys starting to show signs of arriving autumn, while experiencing the thrill of the challenging terrain, then September is the perfect time to do so.
Also read: List of Must Visit Places in Ladakh
Manali Leh Highway Permit
There is really no pass or permit required to travel from Manali to Leh. The only permit needed is to cross over Rohtang Pass that I provided details of above. However, if you reached Leh from Srinagar and returning via Manali, then even this permit is not needed.
Carrying valid identity proof like Aadhar card, Driver's license, Voter's ID, Passport, etc is a must. You will have to register yourself at several check posts in between and may be asked to produce identity proof.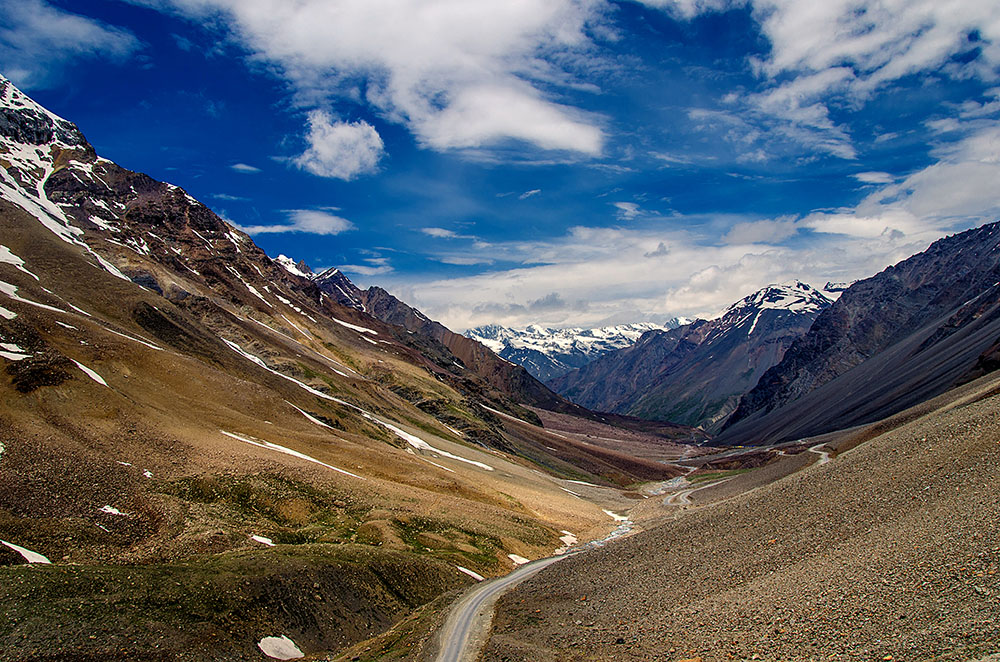 Where to Stay between Manali and Leh
Accommodation on the Manali Leh highway is not really that big a problem. Almost every big or small town en route has some sort of accommodation choice available.
It will entirely depend on your mode of travel and the way you have planned your itinerary. If you are traveling by bus, then you have no other choice but to stay at a hotel in Keylong. This is where you will have to board a bus the next day for Leh.
But if you are traveling in your own vehicle, then you can stay at Keylong, Jispa, Sarchu, and Pang. If you want to in a cemented hotel, you should opt for Keylong or Jispa. If you want to stay at a campsite, Jispa, Sarchu, and Pang are the places where you can find a campsite.
Please read Hotels, Guest Houses, and Camp Sites on Manali to Leh Highway for a complete list of hotels and campsites available en route Manali to Leh.
Manali Leh Highway Weather
The weather on the Manali Leh highway in the summer season is pleasantly warm in the day and very cold around mornings and evenings. Once the sun goes, the temperature falls close to 0 degrees celsius or even a few degrees below.
It will also depend on where you exactly were. The top of the passes is always windy and much colder even in the noon. Towns like Kokhsar and Keylong on the other hand can get pretty warm in the day.
In winters, however; when you cannot even travel here by road, the temperature can go down several degrees below zero.
The months of June, July, and August see moderate weather. September will see the start of cold settling in and it can snow anytime after October first week.
Clothes to Pack
It really depends on how you are traveling, but to be on the safer side, pack your clothes in layers. Do not carry all heavy woolens but also do not just pack your regular cotton clothes. It will have to be a mix of both.
Carry plenty of cotton clothes, a few light woolens, and a heavy windproof jacket. Also, bring along a few pairs of woolen socks and gloves.
The idea is that if you start feeling cold, you can put clothes on top of one another, in layers. If you were feeling warm, you can remove layers per your comfort.
For more details on what kind of clothes you should be packing for the Ladakh trip, please take a look at Clothes for Ladakh Trip: What to Pack.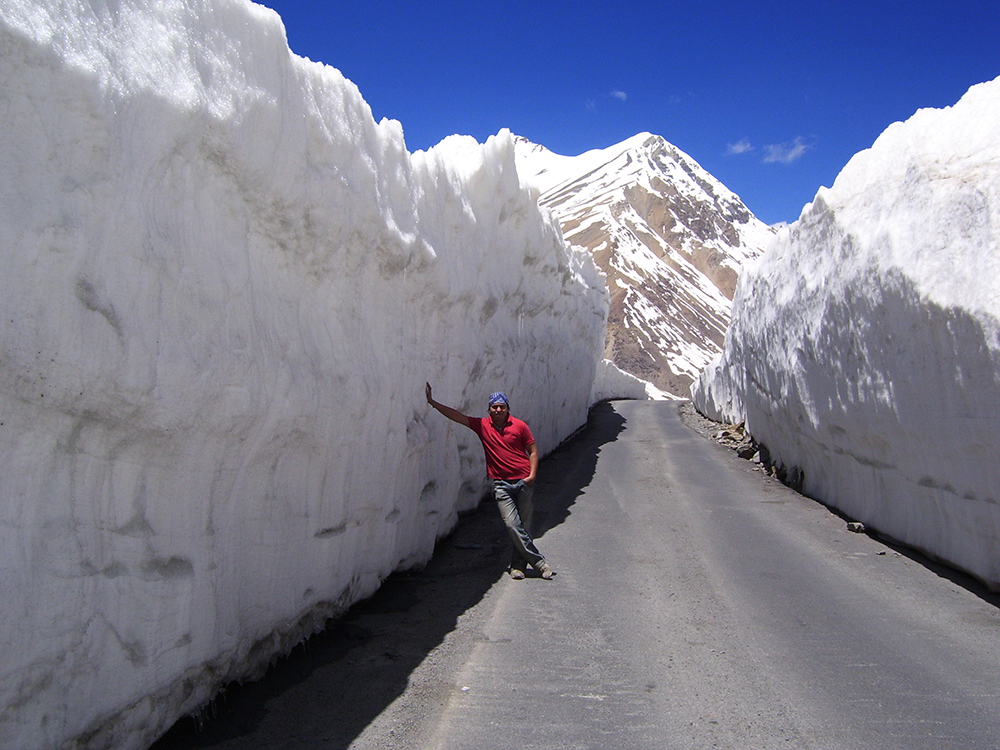 Places to Visit from Manali to Leh
I have actually covered this topic in great detail in another post. But for a brief overview, below is complete of places that can be called tourist attractions between Manali and Leh. For a detailed description of these places, I will request you to please read, Tourist Places on Manali Leh Highway. Adding this information here again would have just rendered this one post endless.
Manali
Rohtang La
Jispa
Sissu Waterfall
The confluence of Chandra and Bhaga Rivers at Tandi
Deepak Taal
Baralacha La
Suraj Taal
Gata Loops
Nakeela Pass
Lachulung La
Moore Plains
Tso Kar
Tanglang La
You will cover all these places as you continue your journey on the highway. You do not have to take a diversion or spend another couple of hours in addition to the day's journey.
High Altitude Passes on Manali Leh Highway
There are a total of 5 high-altitude passes between Manali and Leh. Rohtang La will be the first pass that you will cross and Tanglang La will be the last one.
Rohtang Pass – 3,978 meters (13,051 ft)
Baralacha La – 4,890 meters (16,043 ft)
Nakee La – 4,739 meters (15,547 ft)
Lachulung La – 5,059 m (16,598 ft)
Tanglang La – 5,328 meters (17,480 ft)
Of these 5, Tanglang La is at the highest altitude. But it is in fact Baralacha La that is considered to be the most difficult and receives the highest amount of now each year. It is the last pass to be declared open and the first one to close.
High-Altitude Sickness
High altitude sickness (also known as Acute Mountain Sickness or AMS) is a direct result of exposure to a lower percentage of oxygen at high altitudes. As altitude increases, the level of Oxygen present in the air starts to get lower. In order to accommodate for low oxygen per breath, our body increases the breathing rate and this is the reason why we start to huff and puff so easily in mountains.
The process of a human body getting accustomed to low oxygen and adapting to the new environment is called acclimatization. When there is ample time for this process and our body is not undergoing stress, there will not be any symptoms at all.
However, as it happens in the case of a trip to Ladakh, the gain in altitude continues to happen over a period of 3-4 days and at a faster rate than our bodies can adapt to. This is what leads to acute mountain sickness on Manali to Leh route or in Ladakh.
The common symptoms of altitude sickness are different for everyone. But for most people, they are mostly the same as a high fever. Your temperature will shoot up, you will have a headache, body ache, won't feel like eating anything, and would just want to lie down and rest.
Places that you are most likely to suffer from AMS are between Sarchu and Tanglang La Pass. This is why a night stay at either Sarchu or Pang is never recommended. If you are traveling with your family, it is best to break the journey at either Keylong or Jispa and then go straight to Leh from there.
For more information on altitude sickness and tips about how you can avoid it, please read How to Handle Acute Mountain Sickness in Ladakh.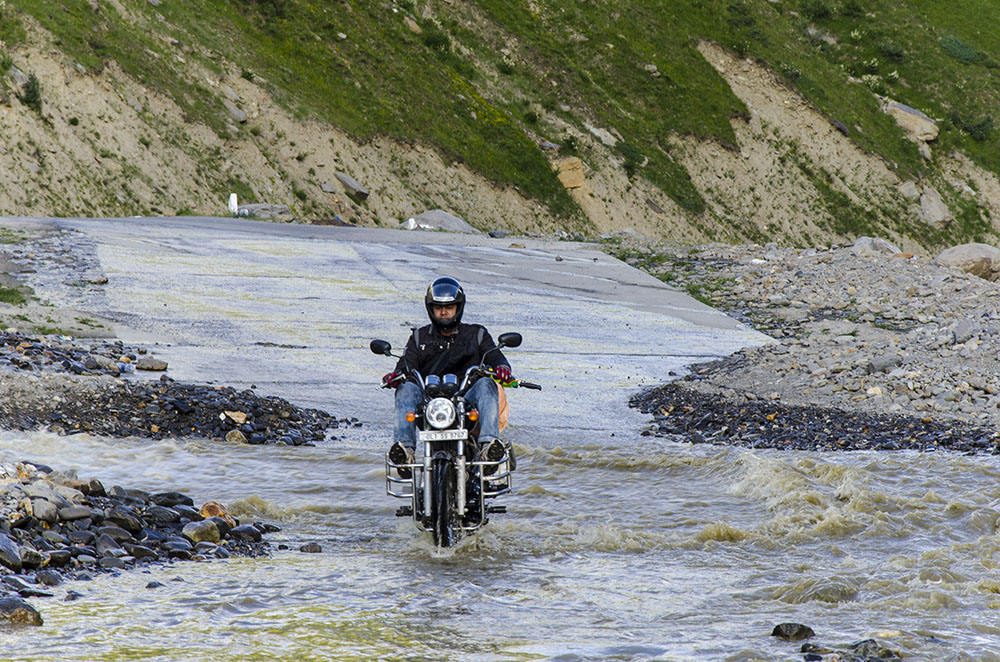 Lakes on Manali Leh Route
There are three lakes that you will see while traveling from Manali to Leh. The first one is the Sissu Lake which actually is a man-made lake. It is located right next to the Sissu Waterfall.
The second lake is just before the ascent of Baralacha La starts. It is called Deepak Tal and is also a great spot for self-camping on Manali Leh highway.
The third lake is located at the top of the Baralacha La Pass. It is known as Suraj Tal.
There is also a 4th lake right after you climb down from Baralacha La. It is just a small body of water and I do not believe anyone has bothered naming it yet. I have always seen a lot of ducks floating around in it though.
Petrol Pump on Manali Leh Highway
Petrol pumps on the Manali Leh highway are located in Manali, Keylong, Tandi, Karu, and Leh. Between Tandi and Karu is the 350+ kilometers long stretch where there is no fuel station in between. The Dhabas en route however sell both petrol and Diesel in black.
ATM on Manali Leh Highway
ATM is available in Manali, Keylong, and Leh only. Other than these places, there are no ATMs on Manali Leh highway. I noticed one in Karu as well but found it to be non-functional.
Places on Manali Leh Highway & Their Altitude
Below is a list of all the places that you will cover while traveling from Manali to Leh along with their respective altitudes.
Manali – 1950 Mtrs
Marhi – 3300 Mtrs
Rohtang Pass – 3980 Mtrs
Gramphu – 3200 Mtrs
Khokhsar – 3140 Mtrs
Sissu – 3170 Mtrs
Tandi – 2573 Mtrs
Keylong – 3080 Mtrs
Jispa – 3320 Mtrs
Darcha – 3360 Mtrs
Deepak Tal – 3810 Mtrs
Patseo – 3811 Mtrs
Zingzing Bar – 4270 Mtrs
Suraj Tal – 4883 Mtrs
Baralacha La – 4890 Mtrs
Bharatpur – 4600 Mtrs
Sarchu – 4290 Mtrs
Gata Loops – 4190 Mtrs
Nakee La – 4740 Mtrs
Lachalung La – 5079 Mtrs
Pang – 4600 Mtrs
Moore Plains – 4730 Mtrs
Debring – 4835 Mtrs
Tanglang La – 5328 Mtrs
Rumste – 4260 Mtrs
Upshi – 3480 Mtrs
Leh – 3500 Mtrs
The only place where you will have to leave the highway to visit is Tso Kar Lake. A road bifurcates from the Manali Leh road to the lake just after More Plains, near Debring. You will turn right and travel for about 20 km to arrive at the lake. The condition of the road is good though and at most, it will take just 90 minutes to 2 hours to cover Tso Kar.
All the other places are either a part of the highway itself or are located right along the road.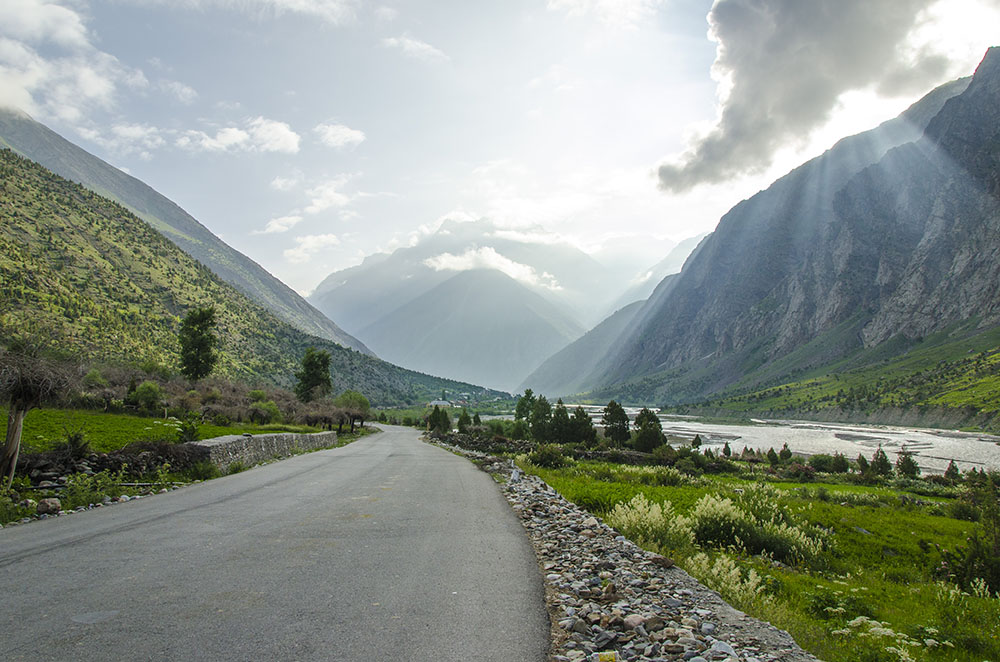 Manali to Leh Ladakh Highway – Conclusion
For as long as I can remember, the Manali Leh highway has always been given preference over the second route to Leh, the Srinagar Leh highway. Though both the roads are equally beautiful and challenging, almost everyone prefers to reach Leh via Manali and take the Srinagar road for the journey back home.
I think the primary reason behind that is the challenging nature of the road. When someone plans a trip to Leh, the feeling is of adventure, and Srinagar to Leh route is considered easier. So for adventure seekers and people who want the adventure to begin early, the Manali Leh highway becomes the obvious choice.
I hope the information on traveling from Manali to Leh Ladakh was of help. If you have any questions, please feel free to ask in the comments section below and I will be happy to answer. You can also follow me on Instagram and chat with me live there or subscribe to my YouTube channel and ask a question there.