What to pack on a bike trip will be different for everyone. It will heavily depend on your destination, the weather, and the individual needs of the travelers. With that being said, there are certain items that will remain applicable for all. Below is a motorcycle trip checklist of such items that you should consider packing on your next ride.
The list below is quite an exhaustive one. I am not saying that you need to pack for all of them. Just take a look, remove items that you do not need, finalize the list for you, and keep it handy as you start preparing for your motorcycle trip.
Motorcycle Trip Checklist
If you think there are some items that can be added to the list below, please feel free to suggest them in the comments section towards the bottom of this page.
Clothing
Trousers – Quick dry, hard-wearing, and lightweight

Shirts (or T-Shirts) – No need to go fancy. Just pack your regular cotton clothes

Jacket – Preferably both water and windproof and heavy enough to keep you warm

Base Layers – Synthetic or natural wool base layers (thermals/warmers) for severe cold weather riding

Undergarments

Light Woolens – Depending on your Destination

Socks – Bring long ones that can roll up inside the trousers. Do not bring the ankle-length socks

Gloves – Preferably Waterproof

Flip Flops or Sandals – For an evening stroll after you have arrived at your destination
Safety & Medical
Doctor's Approval – Consult a Doctor if you have a medical history or heading to a high-altitude area

Emergency Contact Info – You should have it in your wallet, tank bag, or somewhere accessible to people. Write it on an actual piece of paper, do not save it on your phone

First Aid Kit – Should have some basic medicines for pain altitude sickness, upset stomach, Flu and Fever, Adhesive bandages, anti-septic lotion, and pain relief balm or spray. Do not forget to buy and carry enough of your prescription medicines to last the trip.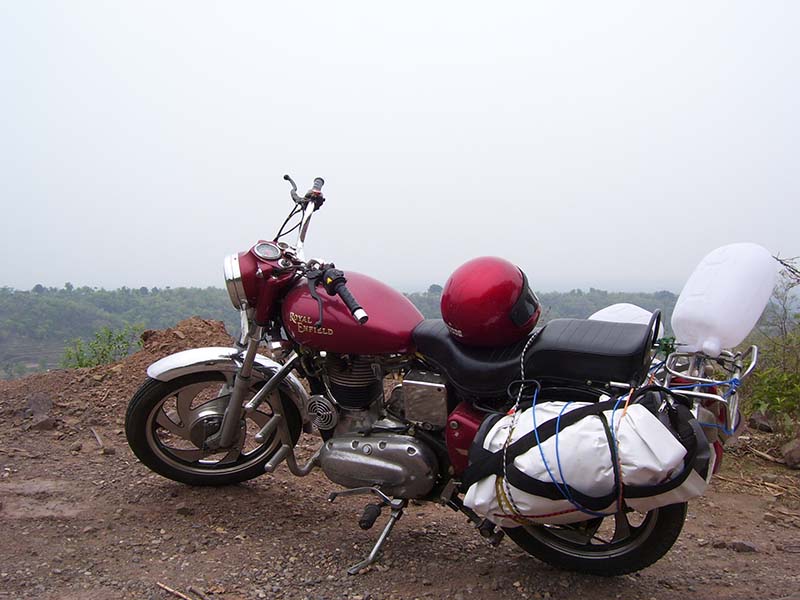 Documents
Please carry both the original and photocopies of the below-mentioned documents.
Driver's License
Motorcycle Documents & Insurance
Identity Proof
Address Proof
Maps – Obtain paper maps if you are heading into an area where your phone will lose network or GPS will not work.
Medical insurance Plan documents
Tracing and Communication
Cell Phone
Power Bank
Apps like Google offline maps
International universal plug.
Electrical Chargers & Charging cables – Make your own list for all you're bringing. Try to use devices with similar charging cables
Keep your energy up:
Water Bottle
Energy Drinks
Dry Fruits
Snacks
Chocolates
Photography
Regular Camera with Charger and memory cards
Helmet Camera – With the fittings, chargers, and additional batteries. Can be great to record the ride
Additional Memory Stick, Cards
Riding Gear
Helmet – It would be best to bring a helmet with a white visor, not a dark one. You may have to ride at night and a dark glass helmet will make it extremely difficult.
Sunglasses – Find one that can comfortably fit within your helmet.
Riding Jacket – You should find one that is both waterproof and windproof
Riding Pants – Must be comfortable and have good knee protection. If not, then you should wear knee braces.
Motorcycle Boots – Better to bring ankle-length boots
Rain Gear – If you were riding in the monsoon season or to an area where it may rain, you should bring proper rain gear
Necessary Accessories
These are items that will come in handy and you should pack these with the rest of your luggage.
Headlamp / Torch – If possible, carry a hands-free headlamp, especially if you were planning to go trekking. If not, you must carry a normal torch.
Sunblock Lotion – There is a high chance that you may get sunburn.
Insect repellent
Wet Wipes – They work great for cleaning your hands and even your face.
Hand Sanitizer – For occasions when there is no water available to clean hands.
Toilet Paper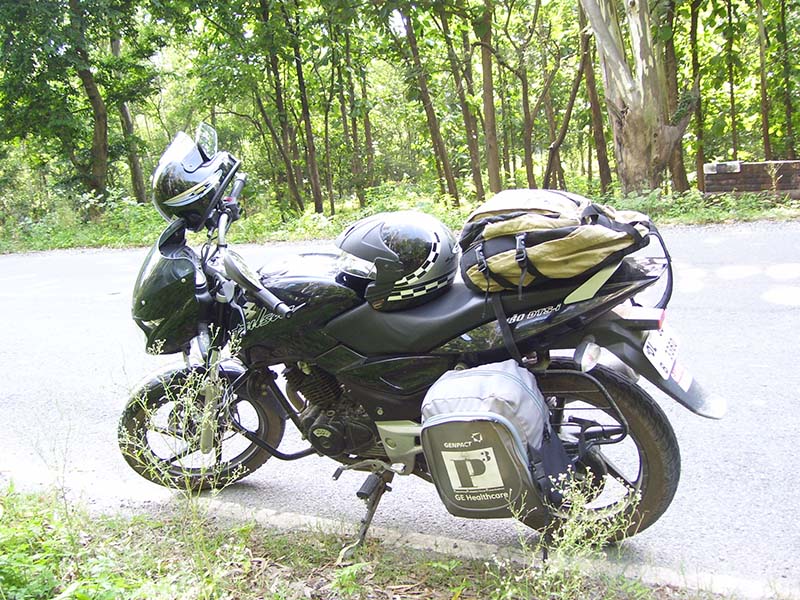 Motorcycle Spares
Know your Bike: Any spare parts you carry are useless unless you know a little bit of repair yourself; some minor stuff like changing bulbs, fuse, fine-tuning, changing wheels, fixing punctures, etc.
Spare Ignition Key
Bicycle Combination Cable Lock – This can serve as extra security for attaching bags to the motorcycle, or the motorcycle to a fence, pole, etc.
Disc Brake Lock  & Spare Key
Fuel Transfer Hose – A small diameter, a 2-meter section of rubber hose can be a huge help in pulling fuel from other sources.
Engine Oil – 500 ml
Chain Lube
Spare Spark Plugs
Oil Filter
Air Filter
Electrical Insulation Tape.
Duct Tape
Motorcycle-specific tool Kit
Spare Fuses
Spare Clutch, Throttle & Brake Cable
Foot Pump – A must-have accessory on bike trips
Wheel Removal Tools
Tyre Repair Kit
This will depend on whether you were riding a Tube or Tubeless bike. In both cases, you should know how to fix a puncture and must carry a puncture repair kit.
For Tube bikes, I will recommend carrying spare tubes and the necessary tools to change them. In case of a flat tire, just take the wheel out, replace the tube with a new one, and put the wheel back in.
At the next repair shop, you can get the punctured tube fixed and carry it as a spare. This will be much easier than trying to fix the puncture on your own.
In the case of a Tubeless tire, just keep pumping enough air in to take you to the next repair shop.
Toiletries
Toothbrush and toothpaste
Razor
Hairbrush
Shampoo
Deodorant
Packing Your Luggage
Luggage Carrier: This is really a personal choice if you want to get it. I have never used a luggage carrier on any of my rides but it can be of great convenience.
Jerry Cans for Spare Fuel: If you are heading into a region where there could be no petrol pump for hundreds of miles, it would be wise to make arrangements to carry spare fuel. Buy metal jerry cans and not plastic ones. You can even find them online on Amazon if not in a local store. For more details, please read How to Carry Spare Fuel on Motorcycle.
Nylon Rope
Bungee Cords
Plastic Covers to wrap your bags in. This will help protect them from rain, mud, and dust.
Also, use both Bungee Cords and a Nylon rope. Do not only rely on the cords. This way, you will have double protection. Trust me; you do not want your bags coming loose while riding on the highway.
You can skip bungee cords if you want to but Nylon ropes are a must.
Motorcycle Trip Checklist – Conclusion
I hope the above motorcycle trip checklist was of help. If you have any questions, you can contact me on Instagram and I will be happy to answer. You can also consider subscribing to my YouTube channel and asking a question there.
This error message is only visible to WordPress admins
Error: No feed found.
Please go to the Instagram Feed settings page to create a feed.