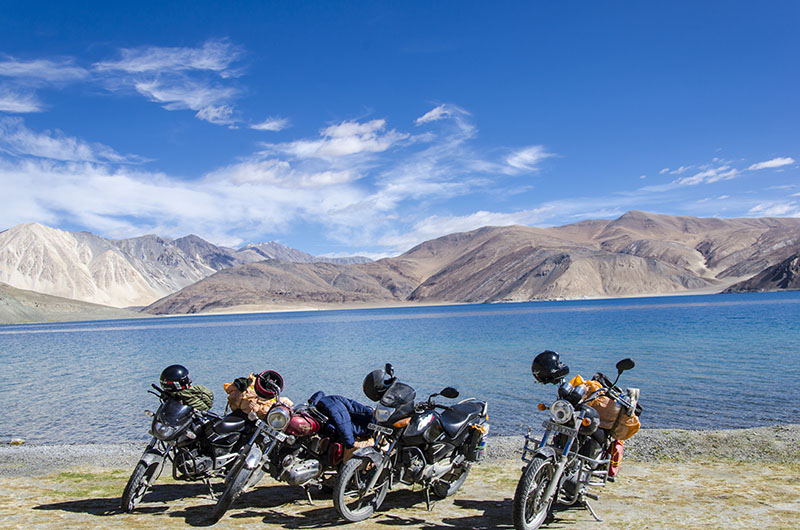 Which is the best bike for Leh Ladakh? This question may seem a little complicated but the answer to it one is a very simple one really. The best motorcycle for the Ladakh trip is the one that you have. Yes, there will be a few factors that you will have to consider but in the end, it is all about you and the bike that you own. Confused? Let me explain.
Not so long ago, if anyone mentioned a motorcycle trip to Ladakh, only a Royal Enfield would come to mind. The discussions would go on to topics like would a 350CC Royal Enfield do or do you need a 500 CC Enfield for the trip.
People who did not own an Enfield but had some other motorcycle would either borrow or rent one. But Enfield was pretty much tagged as the only bike that was suitable for Ladakh.
Also Read: How to Plan a Trip o Leh Ladakh – A Complete Travel Guide
Not much has changed to be honest still. Even now, most of the pictures of a bike ride to Ladakh that you see will feature a Royal Enfield. But is it really true? Do you really need an Enfield for Ladakh? Will some other bike do?
Can you take a Pulsar to Ladakh? Or can you take a 125 CC or a 100 CC motorcycle to Ladakh? How about a Splendor or a Scooter maybe? Can it be done? Let us take a look.
Best Motorcycle for Ladakh Trip
I will stand by my statement that there is no best motorcycle as such for Ladakh. The answer depends on a lot of factors like how much luggage are you carrying, do you have a pillion, how old your motorcycle is, and how well have you maintained it?
You need to know that it is not your motorcycle that will take you to Ladakh but it is you who is going to ride the motorcycle to Ladakh.
I have personally known people who have been to Ladakh on 100 CC bikes, an old Hero Honda Splendor to be exact. Do a simple Google search and you will come across numerous articles and travelogues by people who have been to Ladakh on a 100cc bike and even a Scooty.
Take a look at Leh Ladakh Trip on a Scooter to read about the journey of a 69-year-old scientist who rode a TVS Jupiter to Ladakh from Srinagar and returned via Manali.
The fact cannot be denied that having a more powerful motorcycle with a heavy engine of course gives an edge. If you have it then you will surely have an advance. I am of course referring to an Enfield here.
A bigger engine means more power which further means that the ride would be smooth, especially at steep ascents and you can dump all the luggage you want on your motorcycle.
But at the same time, it doesn't mean that a lighter motorcycle cannot get the job done. If your motorcycle is in a good condition, isn't as old as my grandfather, and you know how to ride it well then you can take it anywhere you want.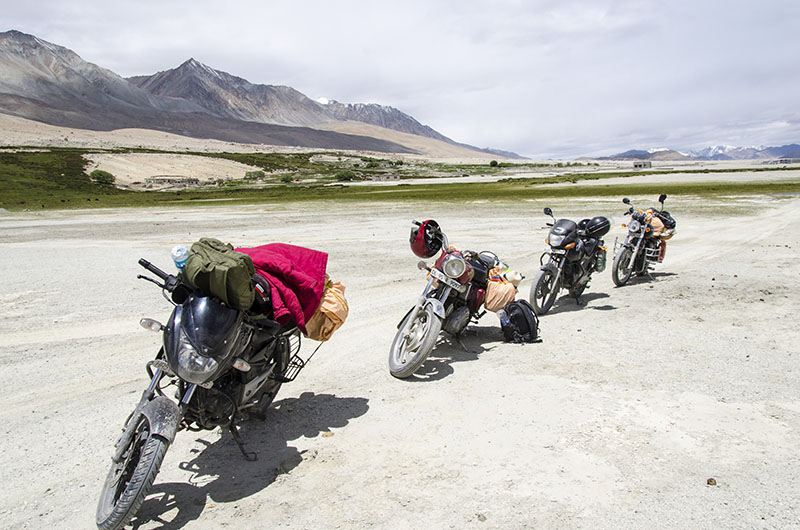 Is your Bike good Enough for Ladakh?
Whichever motorcycle you own, mentioned below are a few factors (most of which are applicable to smaller engine motorcycles) that you need to pay close attention to before deciding on whether to take it up the hills or not.
Age
No, I am not talking about your age but your motorcycle's actually. I do not intend to get into the whole "Old bullet is better and more powerful" argument.
But the fact remains that the older the machine is, the higher the chance is of it breaking down or giving trouble at several places. If you have a 15-year-old 100 CC motorcycle sitting in your garage, do not even think about taking it to Ladakh.
If your bike is a few years old, you need to make sure there are no worn-out parts in it. Check for anything that can break or fall apart which will be the case with old bikes. Whatever seems dicey, replace it before going to Ladakh.
Also Read: Bike Trip to Leh Ladakh – TOP Tips for a Safe Ride
Odometer
Your motorcycle may be only 3-4 years old but if you have already abused it to over 1 lakh kilometers, best not to ride it to Leh.
Pillion
If you have a friend or a family member riding with you as Pillion, do not take a smaller engine motorcycle as it will start to huff & puff at steep ascents. It won't just be 2 people but their luggage as well on the motorcycle.
If you are riding a 500cc motorcycle, luggage isn't really a big concern. But if it is a 125cc bike, two riders with enough luggage to last 10-14 days will prove to be a bit much for the machine. More luggage on your motorcycle would mean a very uncomfortable and difficult ride, both for you and your bike.
Performance
This is the most important of all. If your bike had a history of performance issues in the past few months, it is best to not bring it to Ladakh.
If you have regularly been spending money on it for one thing or another, it is not suitable for such a long ride. It will just give you trouble in Ladakh as well and will be an even greater nuisance there.
Also Read: A Complete Road Map of Leh Ladakh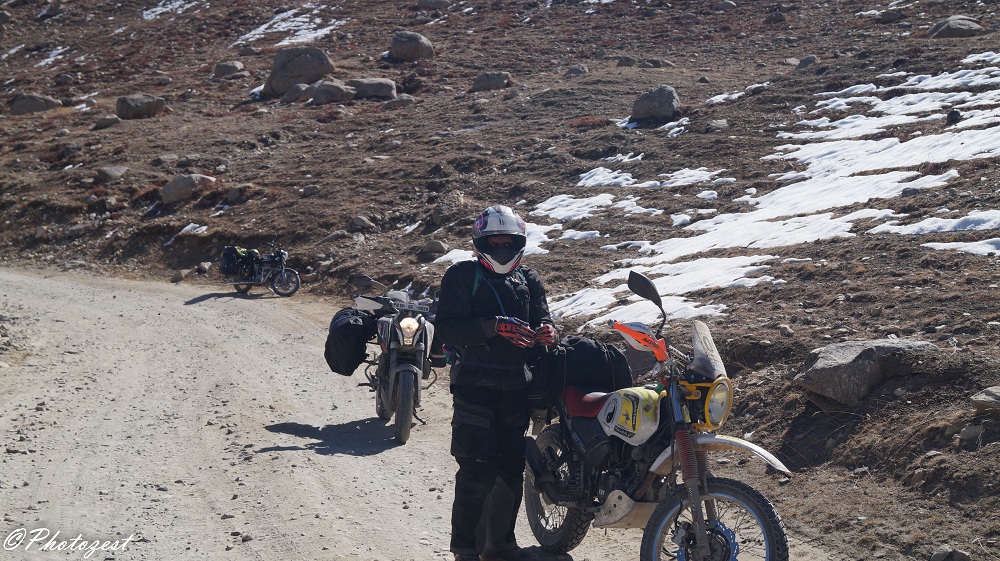 Best Bike for Leh Ladakh Trip
Now keeping all of the above points in mind, if you have a bike that is:
Not too old
Is not nearing the end of engine life
Has no performance issues
Is well maintained
Then it does not matter which bike you have. Even a 100cc motorcycle will be fine for the trip. All that you need to do is to make sure that you get your motorcycled serviced at least 1 week before the trip. Check all the cables, wires, clutch plates, chainset, tires, and wheels. After servicing, ride it for a week regularly to ensure that it is performing up to expectations.
You really need to know your motorcycle inside out. You should know how it performs at ascents or at great speeds. No matter which motorcycle you have, you need to be 100% confident of no performance issues. If you have even the slightest of doubt, then get it fixed first.
If you are on a smaller engine bike, then it would be best to ride without a pillion and as light as possible. And that is pretty much it. You do not need to think about it too much or go buy a new bike. Just prepare the one that you have and ride it to your dream destination.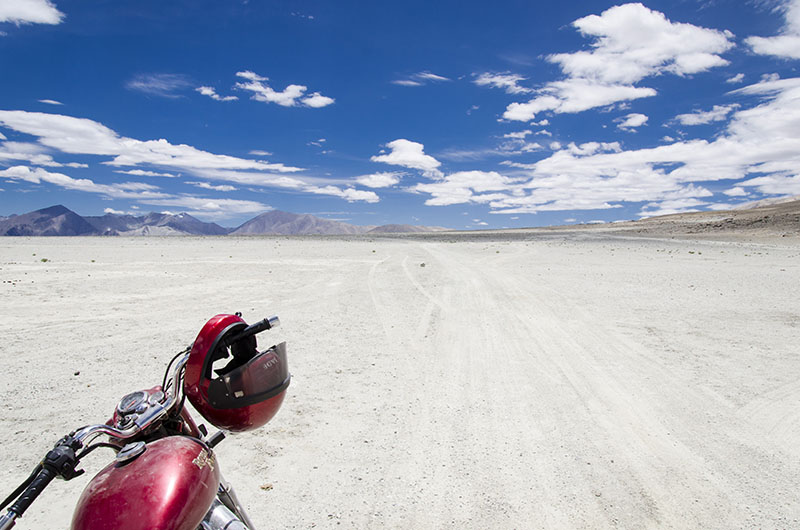 Bikes Suitable for Ladakh Trip
With all of the above being said, there are of course a few motorcycles that will suit the journey better as compared to others. Let us take a look at which ones those are.
Royal Enfield
There is nothing like an Enfield to take to Ladakh. By Royal Enfield, I mean all of its models including Classic, Bullet, Himalayan, Thunderbird, Continental, Interceptor, and all engine sizes.
Despite all the criticism that these bikes face, they are still the most preferred motorcycles for a bike trip to Ladakh. The big engine, whether 350 CC or 500 CC gives it an edge over all other motorcycles.
The heavier size of the motorcycle makes it easier to tie luggage around. Good suspension and seating position make it comfortable for both the rider and the pillion making it suitable for the long journey.
Enfield was an acquired taste earlier due to a heavy kick that required decompressing, no electric start, and the left side brake system. But after all these changes in the newer models, it has now become everybody's motorcycle. The company now has a variety of bikes that you can choose from.
The only drawback however with Classic, Standard, and Electra is the smaller tank which makes it a mandate to carry fuel while riding Enfield in Ladakh.
This drawback however is not with Thunderbird which has a larger fuel tank. If you own a Royal Enfield, you already know that you do not need to think twice before taking it to Leh.
Bajaj Pulsar
Pulsar has maintained its spot among the most popular and best-selling motorcycles in the Indian market ever since its launch. With a Pulsar, you can rest assured that you can rely on it and it won't really ditch you anywhere. Be it a 220CC, 200CC, or 150CC pulsar, you can confidently plan your adventure ride on it.
The huge fuel tank makes it ideal for long journeys and you won't have to worry about fuel so much. It does have its drawbacks though.
The first and the foremost one is the seating position and on bad roads, it is bound to get your shoulders to start aching so make sure that you are not seated in a leaning position. Sit straight to get the pressure off your shoulders.
The second drawback is its seat which is not comfortable at all and will kill your butt during long rides. So a good comfortable seat cover is highly recommended.
Also Read: How to pack your Luggage for a Long Distance Motorcycle Ride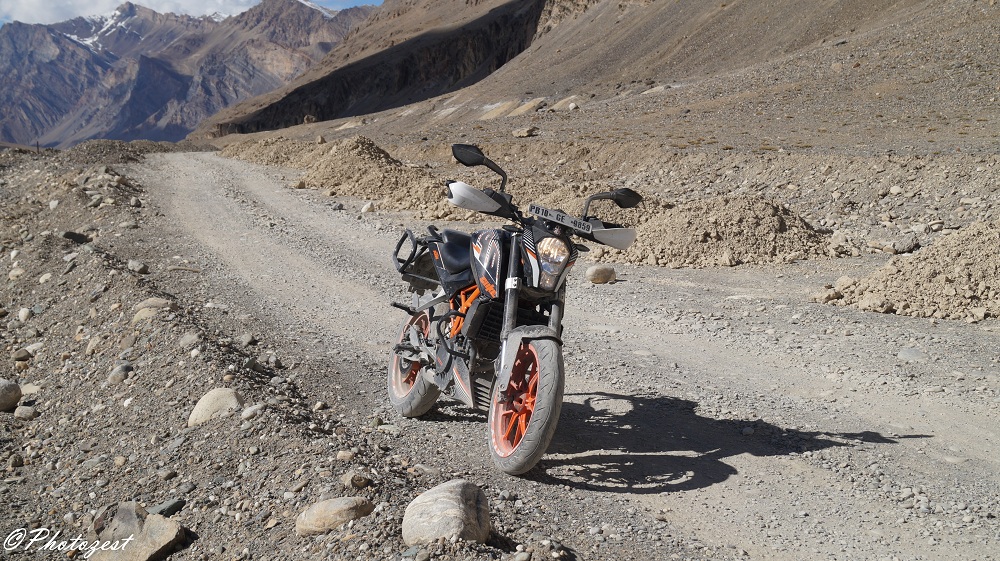 KTM Duke for Ladakh
This is one motorcycle that would be fun to ride on bad and challenging roads that Ladakh is so famous for. In recent years, it has been counted as the best motorcycle for Ladakh.
Dual sport tires and long-travel shocks make it fun to ride on dirt tracks. The engine is adequately powered to handle the steep inclines, mountain passes, bad roads, and come what may. Other than Duke, the RC version of KTM is also a good bike for Ladakh.
The biggest drawback is the fuel tank size, 25 – 35 km per liter. This fuel efficiency will get reduced further on the hilly roads.
To some extent, it is a good bike for Ladakh only if you are going without a pillion. I am making this statement because of the inclined rear seat and its small size. Sitting on that for long every day for several days will really be a task in itself. Carrying luggage for 2 people will also become challenging.
I am not saying that it cannot be done but you will have to make some changes; get a carrier installed, add cushioning to the rear seat to make the ride more comfortable, and hassle-free.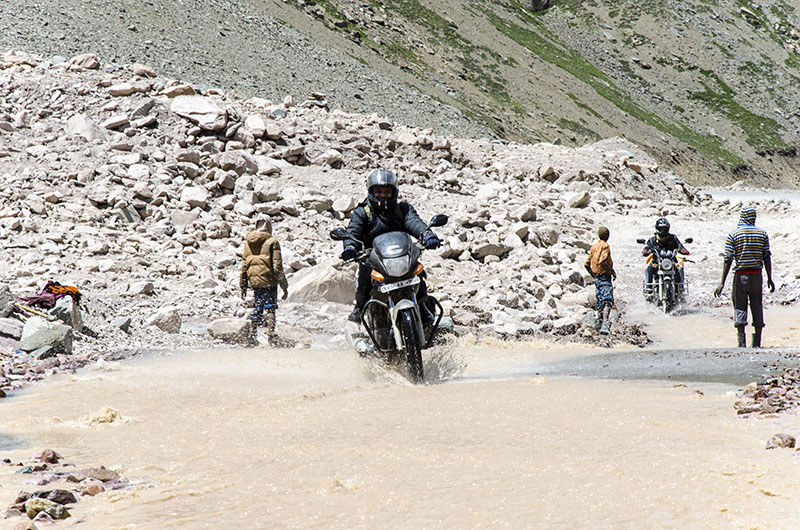 Yamaha FZ and Fazer 
These would be my next most preferred motorcycles for Ladakh. These bikes have pretty much the same advantages and disadvantages as Pulsar. The bike will perform well in Ladakh but you cannot just take it there the way it stands in your parking. Some amendments will have to be made.
Royal Enfield Himalayan
This motorcycle is perfect for riding in Himalayan terrains and it has often been tagged as the best bike for Leh Ladakh trip overall. As the name suggests, it is specifically designed for those. The 400 CC engine is capable enough to carry it through any trail or any ascent. Long-travel shocks make it fun to ride on dirt tracks.
The sitting position is straight and very comfortable, both for the rider and pillion. There is plenty of space to put all that luggage, including the Jerry cans for extra fuel. So yes, Royal Enfield will definitely be a fun bike to ride to Ladakh.
Also Read: How to Carry Spare Fuel on a Motorcycle Safely
Leh Ladakh on Avenger
Let us also talk about what has been tagged as India's most comfortable bike for a long ride. Both variants, Street and Cruiser, have long-established their place among the top-selling bikes in India.
The engine is sufficiently powered to handle the bad and steep roads. The seating position is in fact very comfortable and helps during long hours of riding. The bike has 13 liters of fuel carrying capacity and can give a fuel efficiency of 35 km per liter in the hills.
During one of my Ladakh rides, a friend of mine was riding his Avenger and it did not really pose any challenge anywhere. He did take a fall at a couple of places though and I will tell you why.
It has a large turning radius making it a little troublesome in the hilly region, especially at sharp turns. The front disk and the entire seating position are that if you applied sudden brakes at a sharp turn, you are bound to fall. You will be on the ground before you get your feet down.
The small height and low seating can also become tiresome for someone tall. The rear seat is not really wide enough for a pillion rider. The height of the bike also makes it problematic to mount luggage and take it across water crossings without getting wet.
Do not get me wrong. A lot of people have been to Ladakh on Avenger and you can do so as well. The bike can surely manage and survive the trip. What I mentioned above are a few points that you will have to keep in mind before and during the ride.
Bajaj Dominar
The next entry in the list is also from Bajaj. On a lighter note, Dominar is like Bajaj Pulsar on juice. It has a 373 CC engine which gives you all the power that you need to handle Ladakh. It also makes it possible to bring a pillion along. The seating position is comfortable enough and the bike can easily manage the dirt trails as well.
The biggest problem is the fuel tank. Its fuel efficiency in Ladakh will only be around 20 – 22 km per liter so you will have to make arrangements for fuel. Finding a mechanic for Dominar can become a little challenging sometimes.
A friend of mine struggled with it in Ladakh. They were ready to fix a Bajaj Pulsar but not a Dominar. The DIY on Dominar is also strictly limited and there isn't much that you can fix on your own.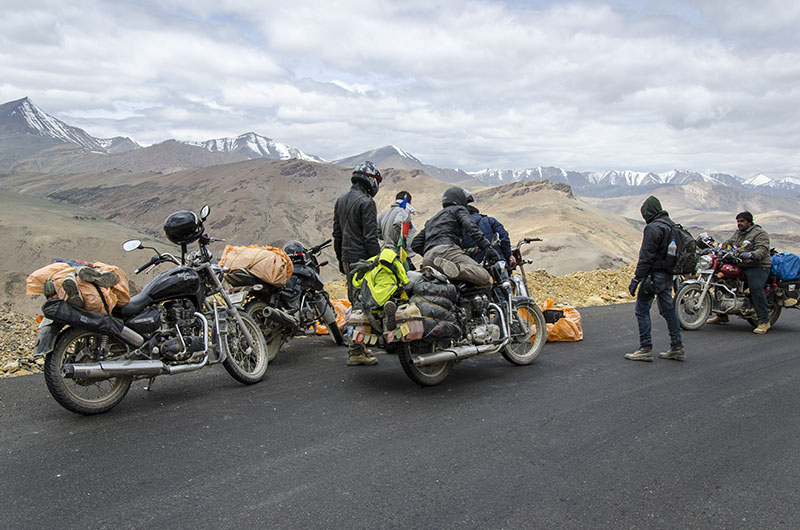 Other Bikes
These were some of the popular bikes that are often recommended and considered as the best bike for Leh Ladakh. Let us also quickly take a look at some of the other bikes that people wonder if it can go to Ladakh or not.
Leh ladakh on Honda CBR 250r
The stock Contigo tires can be a problem in the slush/ice/rain/gravel. If you can afford to replace it with better tires, this motorcycle can be a bliss to ride with its amazing torque and Fi advantage at higher reaches. You should also remove the lower fairing because that can get damaged in water crossings.
Hero XPulse
I earlier had Hero Impulse added to the list of the best bike for Leh Ladakh when I first wrote this article a few years ago. It was a good dirt bike but was discounted due to low demand and poor sales. Hero replaced it with an upgraded version, Xpulse, which is more like a juiced version of Impulse.
The best thing about this bike is the amazing 20mm ground clearance which makes it possible to pretty much take it anywhere. It has a long front suspension to handle the bad roads. It is also very lightweight and easy to manage off-road.
The problem however is that it underperforms on highway cruising speeds and feels very stressed. The build quality of the bike is also very poor.
Also Read: How to Handle Acute Mountain Sickness in Ladakh
Pulsar 220 for Ladakh
I know I already talked about Pulsar previously but this variant will be best suited for a Ladakh trip. Pulsar 220 has often been included in the list of the best bike for Leh Ladakh.
The large engine size will ensure that you do not have to get off your bike or push it anywhere. It is not suitable with a pillion though and the ground clearance can be a problem at water crossings.
Ladakh on Pulsar 150
This is another good bike for Ladakh. A lot of people have easily managed their trips without facing any problem anywhere. 150cc engine may sound like a little less but it is surprisingly strong enough to pull the bike anywhere.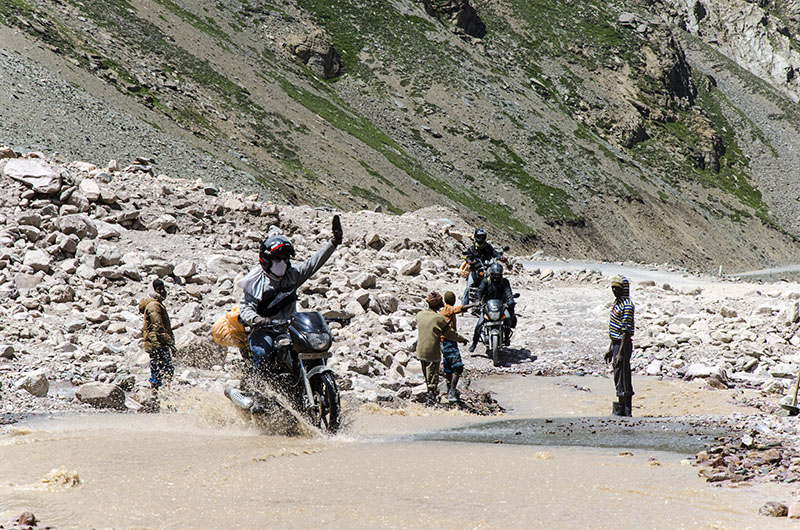 Leh Ladakh on Splendor
Now let us move on to some smaller engine bikes. Can any of these be considered as the best bike for Leh Ladakh? I mentioned Splendor in the name but it applies to any other 100 or 125cc bike like Glamour. Can you bring it to Ladakh? Yes, you can but there are three things you should take care of.
Get it completely serviced
Do not bring a pillion
Travel as light as possible
On the positive side, the lightweight of these bikes and the great fuel efficiency will surely count as an added benefit. The small engine size may struggle to climb steep ascents. You may have to get down at a couple of places and walk with the bike.
Scooter like Activa, Jupiter, Vespa, Aprilia
I have covered the topic of scooters in a different article How to ride to Ladakh on a small engine bike or a Scooter that I will urge you to take a look at.
Best Bike for Ladakh trip with Pillion
Without any doubt, a Royal Enfield is the best bike for Ladakh trip with a pillion. It is not only the engine power but the overall riding posture, ability to mount a lot of luggage, ease of installing a carrier make it a perfect bike for a ride to Ladakh.
I know this is open for a lot of debate but think about it, where you go, the one bike you will always see available for rent for Ladakh trip is a Royal Enfield. The bike can easily pull the weight of two people all their luggage. You can ride it for long hours without putting stress on your shoulders, back, or legs. It is also comfortable for your pillion to ride.
No matter where you are in Ladakh, it will easily handle the difficult roads and will not ditch you anywhere as long as it is well maintained and not too badly beaten.
FAQs
Which is the best bike for Ladakh?
There is really no best motorcycle for Leh Ladakh as such. Any bike that you own is good enough for Ladakh as long as it is well maintained and serviced before the trip. For more details, please take a look at Which is the Best Bike for Ladakh Trip?
Can I rent a bike in Leh Ladakh?
Yes, you definitely can. You can either rent a bike for the Ladakh trip in Manali, Srinagar, or even Leh. For details, please take a look at How to rent a bike in Leh Ladakh.
Which is the best month to visit Ladakh by Bike?
June to September can be considered as the best time to ride to Ladakh. This is when the highways from Manali and Srinagar will be open at this time and you can complete the entire circuit. For more details, please take a look at When is the best time to visit Ladakh.
How can I transport my bike to Ladakh by train?
I have covered this topic in great detail in another post How to transport motorcycle by Train in India that I will urge you to read. This explains the procedure and best tips on how it can be done.
Can I bring a bike that belongs to my brother/friend/cousin or any other relative?
No, you cannot. The bike that you are riding to Ladakh on must be registered in your own name. If it is registered to someone else, then you can use it to only ride to Leh city. After you get there, you will have to rent another bike for local sightseeing.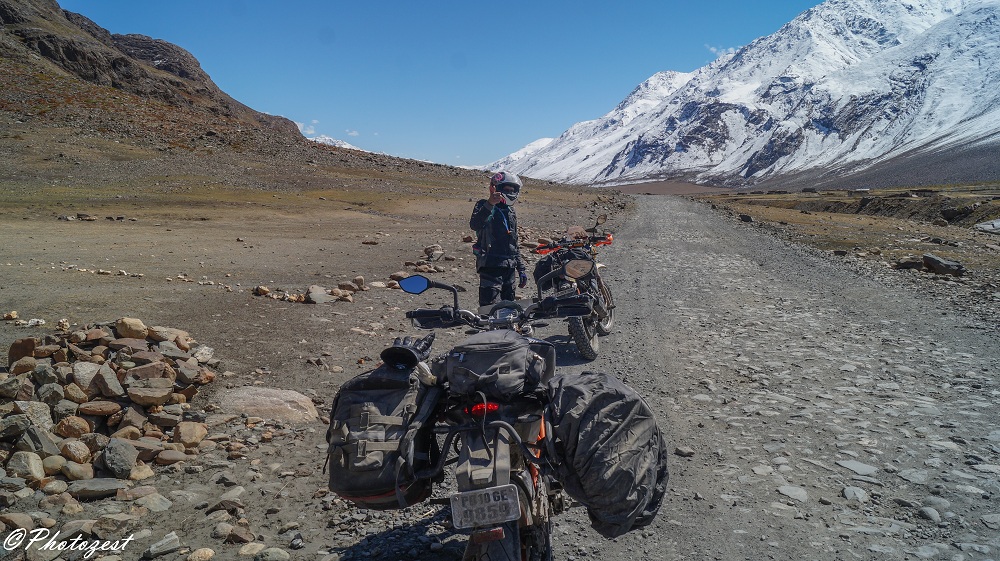 Best Bike for Leh Ladakh – Conclusion
To sum it all, these were some of the bikes that were more suitable for terrain like Ladakh. But you will of course not buy a new bike from this list for a trip to Ladakh. In the end, every bike can survive this trip and the testimony of hundreds of people is proof of that. Your own bike can be the best bike for Leh Ladakh as long as you have it maintained.
If a Scooty can do this trip then any other bike can. Your focus should be more on getting the bike that you own ready for the trip ahead. Take a look at How to Prepare your Bike for Ladakh for tips on how to do that.
I hope the information I provided above on the best motorcycle for Ladakh was of help. If you have any questions, please feel free to ask in the comments section below and I will be happy to answer. You can also follow me on Instagram and chat with me live there or subscribe to my YouTube channel and ask a question there.