Chanshal Pass is a high altitude pass in Shimla District of Himachal Pradesh. At an elevation of 4,520 meters, it remains open from May till October and connects the small town of Rohru to the villages of Dodra and Kwar. Chanshal Pass is the highest peak in Shimla district and from the top; it offers enthralling view of the valley around. Even the drive to the Chanshal top is quite scenic and a trip here is highly recommended for anyone with interest in travel, off-roading or photography. In this article, I will provide information on how you can plan a trip to Chanshal Pass; including details like the routes to take, accommodation, road conditions; time you would require and a suggested itinerary.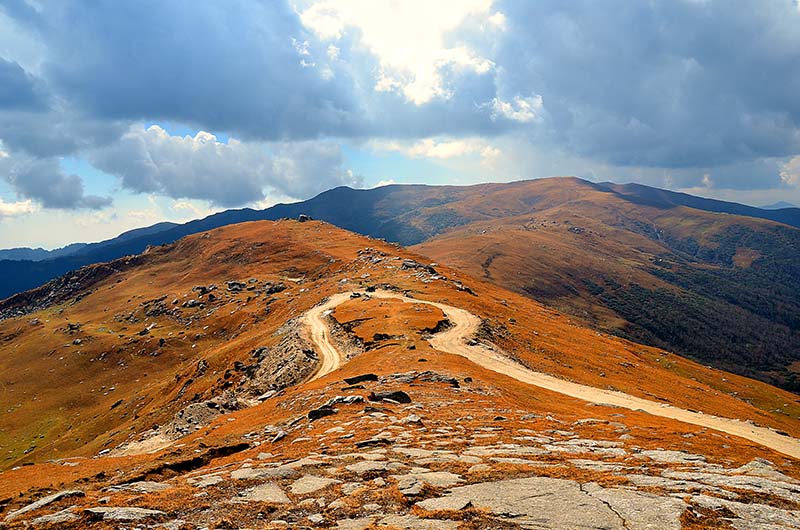 Chanshal is in fact an entire mountain range cutting the Dodra Kwar Valley from Rohru. A 90 kilometers long road from Rohru runs to the small villages of Dodra and Kwar and Chanshal Peak is the highest elevation point of this stretch; approximately 48 kilometers from Rohru. Even though Rohru is a major town, the area around Chanshal Pass and beyond is quite remote. Not a lot of people travel this way and the ones who do are either adventure junkies or travel enthusiasts. A trip to Chanshal Pass would mean that you will be driving on some of the narrowest roads you have ever on, barely wide enough for one car at some stretches. The ascent is quite steep and for most part, the road is a completely broken dirt trail; with a lot of slush and lose rocks.
Chanshal Pass Weather
Weather around Chanshal Pass remains cold and windy throughout the year. From October till April, the pass remains buried deep under snow; cutting off the Dodra Kwar valley completely as this is the only connecting motorable road. Weather from May till July when you can travel to it will be cold but dry with still some snow left at the top of the peak in May. In July and August, monsoon arrives and rain plays havoc in the entire region here. In September, cold starts to settle in again and by October, the pass experiences its first snowfall of the season. Winds are extremely cold and fierce at the top of the pass; so cold that without anything blocking the wind, you won't be able to stand out in the open for long.
Chanshal Pass Height
Chanshal Peak, at an elevation of 4,520 meters is the highest peak in the entire Shimla district.
Chanshal Pass Temperature
Between May and October; temperature will be moderate until you start getting close to top of the pass. Around Rohru, Chirgaon and Larot, it will be cold but not way too much. At top of the pass however, cold winds keep the temperature low at all times. Nights in the entire region are cold and temperature at Chanshal Pass top can dip to zero degrees at nights; even during summer.
Best time to visit Chanshal Pass
Best time to visit Chanshal Pass would be later part of June, early July, September or October. It is best to avoid traveling early in the season or during Monsoon. In May, melting snow would create a lot of water streams and resulting slush which will only make the drive harder. From Mid-June until Mid-July, it will remain dry mostly. Come monsoon and once again it will be slush and mud all around. When I say slush here, I am not just referencing to the road towards Chanshal but also the roads around Rohru. September and early October however will again be dry and perfect for a trip to Chanshal Pass.
Chanshal Pass Distances
Mentioned below are distances between Chanshal Pass and some of the known nearby towns that you will be crossing during your journey.
Delhi to Chanshal Pass Distance: Chanshal Pass is at approximate distance of 500 kilometers from Delhi. There are multiple routes that you can take to reach but the difference in distance will not be that great. No matter where you travel from, it will more or less be around 500 kilometers.
Rohru to Chanshal Pass Distance: Total distance between Rohru and Chanshal Pass is 48 Kilometers via Chirgaon and Larot.
Shimla to Chanshal Pass Distance: Shimla is at a distance of 160 Kilometers from Chanshal Pass via Kharapatthar, Hatkoti, Rohru and 175 kilometers via Narkanda, Tikkar, Rohru.
Chanshal Pass to Dodra Distance: The small village of Dodra is about 20 kilometers from Chanshal Pass top.
Chanshal Pass to Kwar Distance: Kwar is about 41 kilometers from Chanshal Pass top.
Shimla to Chanshal Pass: 158 kilometers
Narkanda to Chanshal pass: 110 kilometers
Chakrata to Rohru: 120 kilometers
Chakrata to Chanshal Pass Distance: Chakrata is approximately 170 kilometers from Chanshal Pass top and about 120 kilometers from Rohru.
How to reach Chanshal Pass
There are several routes that you can take to approach Chanshal Pass; but the most important thing to remember here is that you cannot do a Chanshal Pass trip in form of a circuit. What it means is that you cannot start from one point, cross the pass and exit on the other side. This is usually the case with all other passes but not with Chanshal.
A visit to Chanshal is more or less a one way ticket. No by this I do not mean by this that you will go there and die; but that the road is actually just a single stretch that ends about 40 kilometers after you descend on the other side of the pass. It starts from Rohru, passes through the small villages of Chirgaon and Larot, ascends up to Chanshal top, descends to the village of Dodra, then to the village of Kwar and ends there. So from Rohru, you can either make it a day's journey to Chanshal and return by evening; or you can cross Chanshal, stay for the night at Dodra or Kwar and come back to Rohru the next day.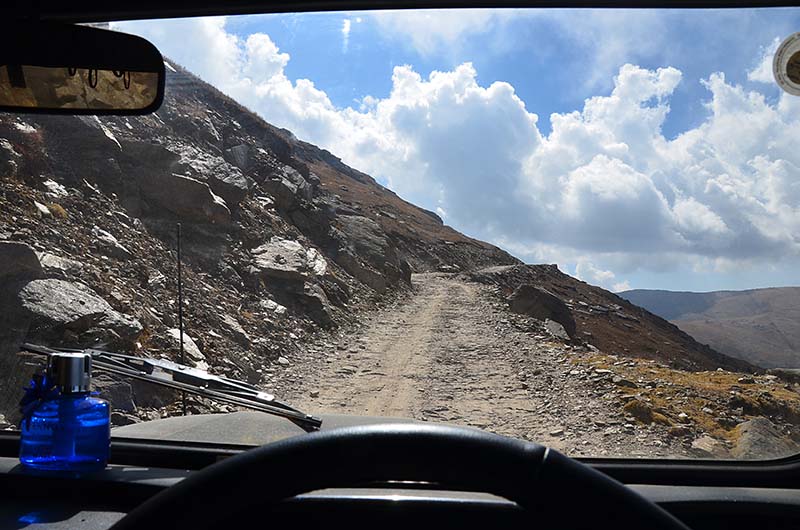 So the question in the end comes down to how do you reach Rohru and which is the better way. There are two common approaches; one from Shimla and another from Chakrata and both of these are again divided in two further approaches. Let me explain one by one.
If you want to do the journey in form of a circuit, then you can reach via Shimla to Rohru, make a day long trip to Chanshal top and exit via Chakrata. Or start from Chakrata and exit at Shimla.
Shimla to Rohru
The most important this to know about Rohru is that roads will be bad and ugly; no matter where you reach from. To make it worst, the entire town of Rohru feels like a dirt pit. There is digging all around and dust in the air all the time. When I was there, I seriously wondered about how these people survive and live here. Story goes that a few years ago, a Chinese company was awarded the contract to build roads around here. They arrived with their machines and dug it all around but the contract was then cancelled. Without rebuilding the roads, the Chinese left and it has been the same way every since. A dug up town with dirt in the air everywhere; now imagine how it would become in monsoon.
From Shimla, you can take two roads to reach Rohru. You will have people telling you that this route is better or the other road is better but trust me, it doesn't matter. No matter which one you chose, ride will be bumpy. The first and shorter route is as mentioned below.
Shimla – Fagu – Theog – Kharapatthar – Hatkoti – Rohru
Traveling this way, you will reach Theog from Shimla and roads will be good until here. After Theog, as you start approaching Kharapatthar, roads will continue to deteriorate all the way till Hatkoti and then Rohru. Total distance is merely 110 kilometers but travel time will easily be about 5-6 hours.
The second and a bit longer route runs via Narkanda and is the one that I prefer taking even though it is longer by about 15 kilometers.
Shimla – Fagu – Theog – Narkanda – Tikkar – Rohru
From Shimla, head straight to Narkanda and then take the road that goes towards Hatu Peak. Do not of course turn on the Hatu peak diversion, rather continue a little ahead and you will notice a badly broken road climbing up to your right. This is the one you need to take.  Following this road, you will reach Tikkar and from there will continue to Rohru.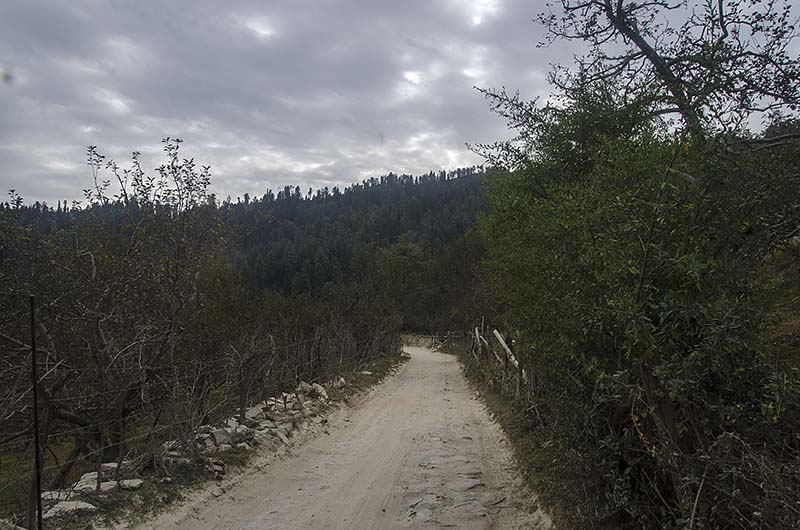 So what is the main difference on these two routes? Well you will have to reach Theog following both but if you go via Kharapatthar, then you will have to suffer about 80 kilometers of bad road. Via Narkanda, you will be suffering for about 60 kilometers. Traveling by the second option will at least see you on good road till Narkanda.
Chakrata to Rohru
Second approach to Rohru is a little better than Shimla side. You will first reach the small but beautiful town of Chakrata and then reach Rohru from there via Hatkoti. Route will be as mentioned below. Here you will also be jumping borders as Chakrata falls in Uttarakhand and Rohru in Himachal.
Chakrata – Deoban – Tiuni – Arakot – Hatkoti – Rohru
Total distance between Chakrata and Rohru is about 120 kilometers out of which; the road until Hatkoti is a mix of good and bad. The stretch between Chakrata – Deoban and Hatkoti – Rohru is badly damaged though. This journey too will easily take you about 6-7 hours to finish.
Adding a little to information here, there are also two approaches that you can take to reach Chakrata.
Delhi – Sonipat – Panipat – Kurukhsetra – Yamuna Nagar – Paonta Sahib – Chakrata – 313 kilometers
Delhi – Muzaffarnagar – Dehradun – Vikasnagar – Chakrata – 358 kilometers
Of these two, the road via Kurkukshetra and Yamuna Nagar is shorter in distance and roads on this are a bit better too. As I mentioned earlier in the article, if you want to do the journey in form of a circuit, you can take NH1 via Kurukshetra all the way till Chandigarh, then reach Shimla, then to Rohru, visit Chanshal, come back to Chakrata and return to Delhi via Muzaffarnagar.
Chanshal Pass Route
So in the end, mentioned below are the routes that you can take to approach Chanshal Pass.
Delhi – Shimla – Fagu – Theog – Kharapatthar – Hatkoti – Rohru – Chirgaon – Larot – Chanshal Pass
Delhi – Shimla – Fagu – Theog – Narkanda – Tikkar – Rohru – Chirgaon – Larot – Chanshal Pass
Delhi – Sonipat – Panipat – Kurukhsetra – Yamuna Nagar – Paonta Sahib – Chakrata – Rohru – Chanshal Pass
Delhi – Muzaffarnagar – Dehradun – Vikasnagar – Chakrata – Rohru – Chanshal Pass
Chanshal Pass Road Conditions
In order to summarize the road conditions;
Between Rohru and Chanshal Pass is a mix of  bad and ugly.
From Shimla to Theog is mostly good.
Between Theog – Kharapatthar – Hatkoti – Rohru is mostly bad and ugly.
Shimla to Narkanda is mostly good.
Narkanda – Tikkar – Rohru is mostly badly broken dirt trail.
Delhi to Shimla via NH1 Chandigarh is a smooth sailing all the way.
Chakrata to Deoban is really bad, Deoban to Hatkoti is good and Hatkoti to Rohru is bad again.
From Dehradun to Chakrata is mix of good and bad.
Delhi to Muzaffarnagar is mostly smooth sailing, may encounter traffic if you started late in the morning.
Kurukshetra to Chakrata is again a mix of good and bad.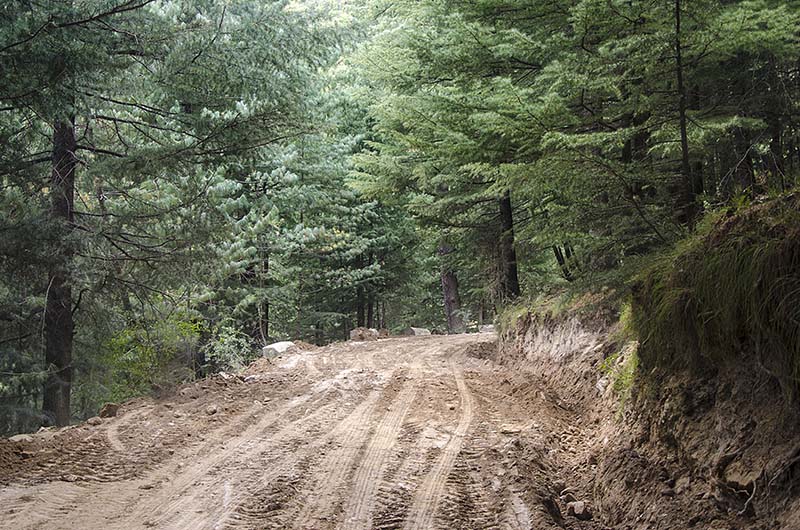 Preferred Vehicle for Chanshal Pass Trip
With all that I said above about disappointing roads, good part however is that you can travel to Chanshal Pass in any car that you have. You definitely do not need a 4×4. I went there in my Mahindra Thar and not even once I had to engage 4×4. If you have an SUV, it will be better but even if you own a hatchback or Sedan, you can by all means bring it to Chanshal. Important thing to remember however is that while with an SUV you can go to Chanshal in any month when the pass is open; with a hatchback or Sedan, avoid going there in the month of May, late July or August. Melting snow in May; and Monsoon in late July & August will result in a mess of a slush where your hatchback or Sedan will definitely struggle.
If you are going by a motorcycle, you can go anytime between June and September, or even early October. You do not need a 350 or 500 CC Enfield, can even go on a 100 CC motorcycle but just ensure that it is well serviced. Replace or repair any part that seems dicey. As long as you have decent enough riding experience, you will easily be able to manage your motorcycles towards Chanshal.
Best Time to Visit Chanshal Pass
The pass opens by late April or early May and at this time, there is a lot of slush and road conditions are in terrible state. Monsoon arrives in second half of the July till august which again makes it a horrible time to be in this area. So the best time to plan a trip to Chanshal Pass will be either in June, early July, September or early October.
Chanshal Pass Hotels & Guest Houses
All the places en route; Shimla, Narkanda, Chakrata are major towns and have several hotels available. In Rohru however it can be a bit tricky to find a hotel. The best is Hotel Chanshal but it is government run and you will be denied a room if you reached there without booking in advance. The number for this hotel is 098053 88001. Call and book before you go. If this doesn't work out, then a cheaper option will be hotel Park View which is located right at the beginning of the town, before the market. The number for this hotel is 01781 240145. This however is a budget accommodation and rooms are clean but not that great. It can however be a good place to stay if you do not find accommodation elsewhere or are looking for a room for Rs. 400 – Rs. 500
Near Hotel Chanshal, there is also a HPPWD rest house and a circuit house. A little on the outskirts, there is a hotel called Harta Cottage and another called Ali Niwas but I do not really have numbers for these. Try Hotel Chanshal or the rest/circuit houses. If that doesn't work, then stay at Hotel Park View.
I do not know of any hotels in Chirgaon but there is one in Larot that I noticed; goes by the name of Woods Hostel. Number for this hotel is 083830 17248.
Hotels in Dodra Kwar
If you are planning a night stay at Dodra, then you best bet is the HPPWD guest house. Here too you would need to call and book your stay in advance. Read HPPWD Guest Houses and How to Book. If this doesn't work out, then right near the rest house is an eatery called Negi Dhaba. Number for them is 09418576696. Talk to the Dhaba owner and they can make arrangements for your stay as paying guest.
As far as I know, there is no place to stay at Kwar. You can try your luck by talking to the villagers and see if they are willing to let you in for a night in their home as paying guest.
Clothes to pack for Chanshal Pass trip
You do not really need to carry heavy woolens. As a matter of fact, it can get pretty warm during day around Rohru. Nights will however still be cold. Just carry enough cottons; a few light woolens, a heavy windproof jacket with hood, gloves, a monkey cap to protect ears and head and you will be Ok. No need to pack all your winter clothes. If you are traveling in a car, most of the time you will remain in cottons. Other places on the way like Shimla, Chakrata, Narkanda, Hatkoti, Kharapatthar too remain moderately warm during the day in summer. It is only at night time that you will need to put something to protect yourself from cold.
Mobile Connectivity at and around Chanshal Pass
No matter which network you are on, you will have full connectivity throughout the trip except for the time when you will be traveling around Chanshal Pass. Somewhere around Chirgaon or Larot, networks for most service providers except for MTNL will go away. From here, until Dodra and Kwar, only BSNL / MTNL will work but the connection will be inconsistent and voice quality bad. Until Rohru, you will have full reception on all networks.
Petrol Station and ATMs around Chanshal Pass
You will have no trouble finding an ARM or Petrol Station anywhere until Rohru. All the noted towns and villages on the route have this facility.
Minimum Time Needed for Chanshal Pass Trip
From Delhi, if you started early in the morning by 4 AM, you can  make it to Rohru on the same day; though the journey will be long because of bad roads. Keeping this in mind, a minimum of 3 days is required to make a trip to Chanshal from Delhi. This however is a bare minimum requirement in which you will not be able to enjoy the journey much. Keep at least 4-5 days i hand while visiting Chanshal Pass.
Chanshal Pass Itinerary
In the next part of this article, I will lay down a few sample itineraries that you can follow depending on the number of days you have in hand.
Conclusion
I think this pretty much covers everything in regards to planning a trip to Chanshal Pass. If you have any further questions, please feel free to ask in the comments section below or at our Community Forum and I will be glad to answer.