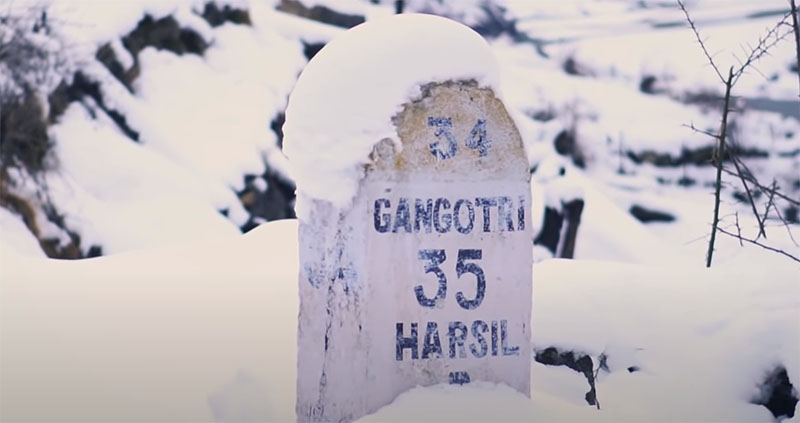 The entire 270 kilometers long route from Rishikesh to Gangotri has high importance, both in terms of tourism and religion. The road is marked with some of the most scenic and beautiful towns of Uttarakhand that are also significant as pilgrimage sites. Harsil is one such little sleepy town.
Located on the banks of the Bhagirathi River, Harsil is a largely unexplored and hidden jewel of Uttarakhand. It is in fact ironic to call it hidden because it is located on a road that receives thousands of tourists and pilgrims each year. But everyone seems to be in a rush to get to Gangotri and Harsil remains goes unnoticed.
Remember Raj Kapoor's superhit film Ram Teri Ganga Maili? That movie was extensively shot in Bagori and Harsil. It is said that Raj Kapoor was so mesmerized by the beauty of Harsil during an earlier visit that he decided to shoot his next movie here; which happened to be Ram Teri Ganga Maili. Another story claims that it is because Raj Kapoor wanted to shoot a movie in Harsil is why the story developed as such and named after River Ganga that flows through the valley.
If you were thinking about visiting Harsil in the future, the travel guide below can help you with details on how you can best plan your trip for a hassle-free experience.
About Harsil
Harsil is a small village, located on the banks of the Bhagirathi River, in the state of Uttarakhand. It is situated at an altitude of 9,005 ft (2,745 meters) and on the way to the Hindu pilgrimage site of Gangotri.
Harsil is both a village and a cantonment area. Surrounded by a dense forest of Deodar, Pine, and Oak trees, it is located right next to the Gangotri National Park. Sitting quietly at the foot of a mountain and next to a river, this place is perfect for someone wanting to get away from the crowd and spend a little time in peace. It offers great views and is among the top offbeat destinations of Uttarakhand.
Other than the natural beauty, the hill station is also well-known for its apple production, considered to be among the best ones produced in the country. It is also often termed as the Mini Switzerland of India, owing to the scenery around the village.
Until a few years ago, a permit was required to be obtained from Uttarkashi in order to visit Harsil. Foreigners were not allowed to spend the night in the valley and could only make a day trip. The rules were applied after the India-China war of 1962 but now removed a few years ago. Now tourists can travel to Harsil freely without needing to get a permit.
Mythology
There is also interesting folklore around how the village was named as such. It is commonly referred to as Harsil but the actual name of the valley is Hari Shila; Hari being another name of Lord Vishnu and Shila meaning a stone.
It is said that an argument once broke out between rivers Bhagirathi and Jalandhari about who was more significant. After their argument could not reach a conclusion, they asked Lord Vishnu to intervene and help decide.
Avoiding taking sides, Lord Vishnu turned himself into a large boulder and placed himself on the path of the two rivers. In doing so, he absorbed their anger and the argument finally ended.
This is how the place was named as Hari-Shila, after Lord Vishnu himself. Even today, after these rivers, pass through Harsil valley, their waters become a little less turbulent.
Another legend says that Lord Vishnu turned himself into a rock because of a curse by the wife of an asura (demon) called Jalandhar. It is said that Jalandhar was the Asura Creation of Lord Shiva. He defeated Devas and remained the emperor of the three worlds (heaven, earth, and hell) until he was tricked by Lord Vishnu and thus defeated in a battle.
His wife Vrinda cursed Lord Vishnu that he will turn into a rock. Harsil is where it happened and thus the place was named Hari Shil or Hari Shila. You can read a complete version of the mythology at the Wikipedia Page on Jalandhar.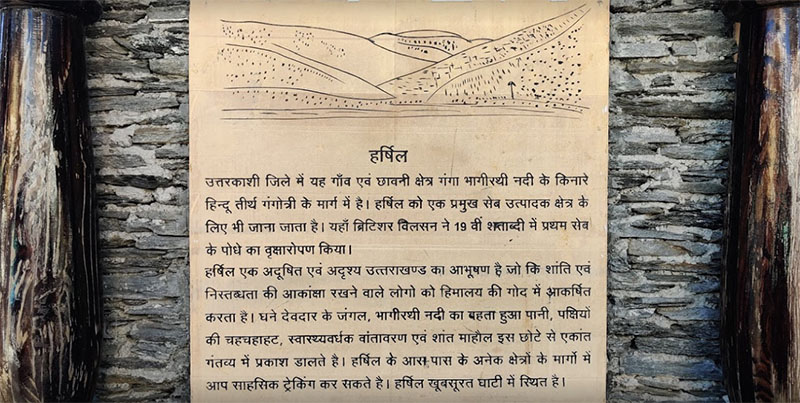 How to reach Harsil
Due to its high altitude location, the only way to get to Harsil is by road. The good part however is that it is not a difficult task at all. The small town is well connected with the rest of the country by a good motorable road and regular public transport. Depending on your preference, you can either drive by your own vehicle or catch a bus to Harsil.
Also Read: Gangotri and Gaumukh – How to Best Plan your Journey
By Road
There are two things that add to the importance of Harsil. The first is its significance as a pilgrimage site and close proximity to Gangotri. The second reason is that it is also an Army cantonment. Due to both of these factors, the road to Harsil remains open for all 12 months, except for rare occasions when either too much rain or too much snow may block it temporarily.
Even if that happened though, authorities immediately jump into action and restore connectivity as soon as they are able to.
For the sake of explaining the route to reach Harsil by road, I will assume that you are starting your journey from Delhi. Even if you were coming from a different city though, the information below should still be able to help you plan your journey. The route after Rishikesh will still remain the same irrespective of where you were coming from.
How to reach Harsil from Delhi
Starting from Delhi, the route of the journey will be as mentioned below.
Delhi – Ghaziabad – Meerut – Khatauli – Muzaffarnagar – Haridwar – Rishikesh – Narendra Nagar – Chamba – Uttarkashi – Gangnani – Harsil
Traveling this way, the total journey will be close to 500 kilometers and will take you at least 14-16 hours to complete. Ideally, it should be completed in two days with a night halt at Rishikesh.
Another way to travel is to go via Dehradun. After Muzaffarnagar, you can take the internal road to Saharanpur via Deoband, continue to Dehradun, and then go to Uttarkashi from there. I will not recommend this route though because even though it will be the same in distance, the travel time will increase.
How to reach Harsil from Dehradun
But in case you decided to go to Dehradun first or were starting from there, the route to Harsil will be as mentioned below.
Dehradun – Mussoorie – Suwakholi – Narkuchi – Dharasu – Uttarkashi – Harsil
This will be a journey of about 220 kilometers but will easily take you 8-10 hours to complete. Another version could be that from Suwakholi, you can go to Dhanaulti, exit near Chamba, and then go to Harsil. But that will increase the distance by around 70 kilometers.
By Bus
There is a daily bus available from both Dehradun and Rishikesh for Gangotri. It starts early in the morning at 7 AM and reaches Harsil by evening. The Rishikesh bus actually starts from Haridwar at 6 AM so you can in fact board it from there as well.
If not a bus for Gangotri, you will easily find one for Uttarkashi. From Uttarkashi, you can opt for a shared cab to drop you to Harsil.
Please note that there are no luxury buses available on this route. The state-run buses are the ordinary ones and can be a little inconvenient as well for some people. The only deluxe buses you will find on the route are operated by private operators for pilgrimage.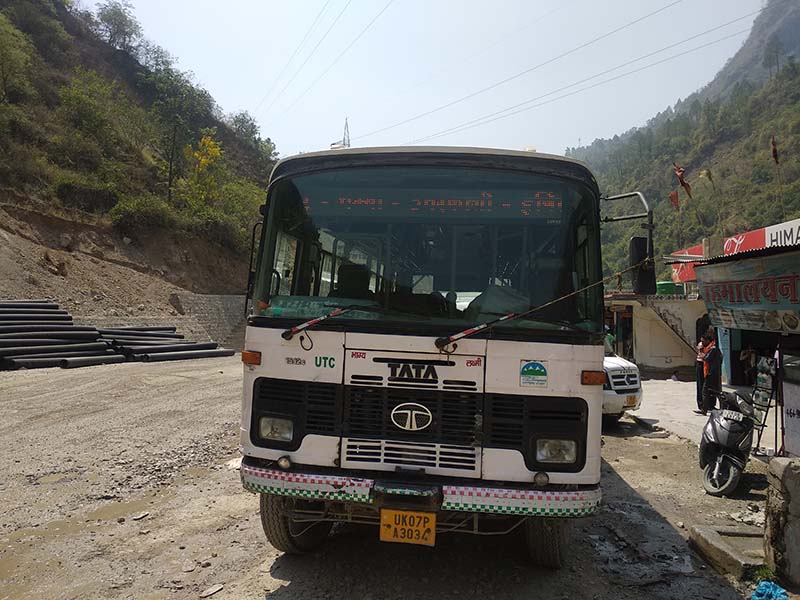 How to reach Harsil from Delhi by Bus
As far as I know, there is no direct bus from Delhi to Gangotri. There is one that goes till Uttarkashi I cannot really confirm its availability. If coming from Delhi, my best advice would be to board a deluxe / luxury bus until Haridwar or Rishikesh. From either of these places, you can board the ordinary Uttarakhand Roadways Bus.
By Taxi
From Rishikesh, a taxi for Harsil will cost you about Rs. 5500. From Haridwar as well, it will cost you about the same or may go up to Rs. 6000. From Dehradun though, this price will be around Rs. 7000.
Please note that these are just approximate numbers because it will also depend on which taxi you chose. If you hired a hatchback, it may cost a little less. For an SUV, it may even cost a bit more.
Shared Taxi
A cheaper option is shared cabs. This will either be a Bolero or a Sumo but their availability is far better than a Bus. You may not find a shared cab for all the way to Harsil though and may have to break the journey into two parts; Rishikesh to Uttarkashi and Uttarkashi to Harsil.
However, given that it is a small village – the likelihood of a lot of travelers will be limited. Your best bet for a shared cab will be to arrange your travels for people heading to Gangotri.
Also Read: Places to Visit in Gangotri – What to See in Gangotri
By Air
The nearest airport to Harsil is the Jolly Grant Airport in Dehradun. It is located at a distance of 232 kilometers from Harsil. You can get a cab for Harsil from the airport itself.
By Rail
The nearest railway station to Harsil is in Rishikesh, at a distance of 215 kilometers. The next and better choice will be the Dehradun Railway Station. From both Rishikesh and Dehradun, you can either hire a cab for Harsil or opt for a Bus.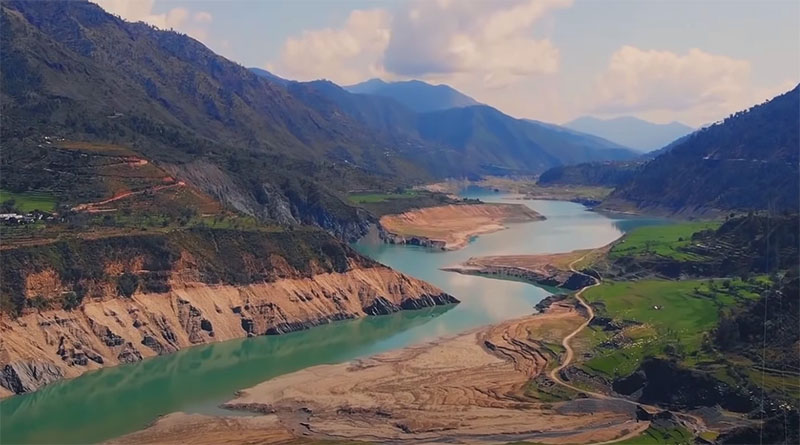 Places to visit in Harsil Valley – Tourist Attractions
Let us now talk about What to see in Harsil after you have arrived here. To be honest, Harshil is just a small village and its natural beauty is its prime attraction. You do not come to a place like this hoping to go through an endless list of places to visit. Rather, you come to Harsil to just sit back and relax for a few days.
Wilson Cottage
This is probably the most talked about in all of the tourist places in Harsil. It is a Forest rest house now maintained by the Uttarakhand Government but once upon a time, it was the residence of a certain Frederik E Wilson. He was a soldier of East India Company who quit and settled in Harsil Valley.
Wilson is credited for many things and changes that he brought to Harsil Valley. He introduced apple farming in the region as well as other vegetables like apples and beans and helped build a 350 ft long suspension bridge over the river. He also started local trade of Deodar Tree wood, fur and skin of wild animals, and several other things that helped the village prosper.
Wilson married a local girl and lived his entire life in Harshil. He is fondly known as Raja Wilson or Pahadi Wilson by the villagers. His mansion in Harsil remained to be a tourist attraction until it was damaged in a fire. Later, the mansion was restored and turned into a Forest rest house.
Also Read: Best Time to Visit Gangotri and Gaumukh, Uttarakhand
Mandakini Falls
For the life of me, I could not find this waterfall and no one could even tell me its exact location. Remember that scene from Ram Teri Ganga Maili where Mandakini is bathing under a waterfall? From what I heard or read, it is a waterfall in Harsil that was named such because of two reasons.
The first is that River Ganga is also known as Mandakini and secondly actress Mandakini bathed under it. I was pointed to a waterfall by the villagers but it was much smaller in size. Maybe it has shrunk since the movie was shot but I could not really locate this waterfall. Try, maybe you will have better luck than me.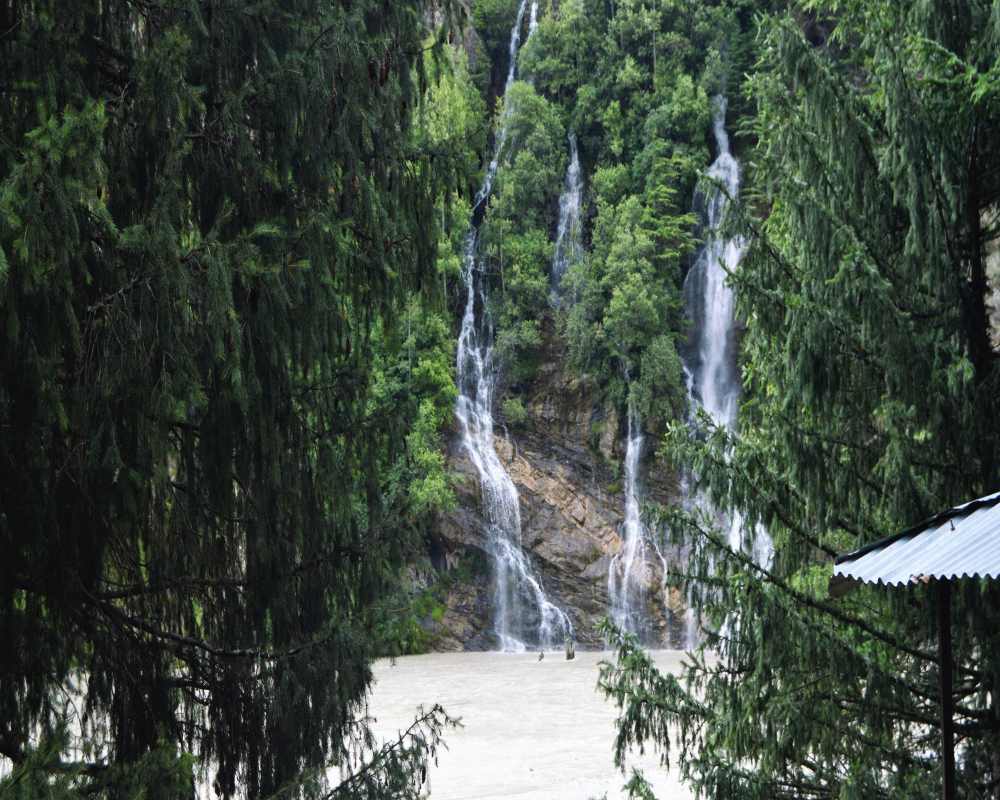 Village Post Office
It is actually just the post office of the village which also got famous because of the movie. Mandakini keeps coming back to the post office asking if there was a letter for her. The interesting thing about the post office is that not much has changed about it since the movie. It still looks the same after all these years.
Natural Beauty
Harsil is really all about its natural beauty and a different color in every season. In winters, it is white and covered completely with snow. In Spring and Monsoon, it turns lush green and then to an orange in the autumn season. With a river flowing right next to it and apple trees all around, it really looks like a village that you see in paintings.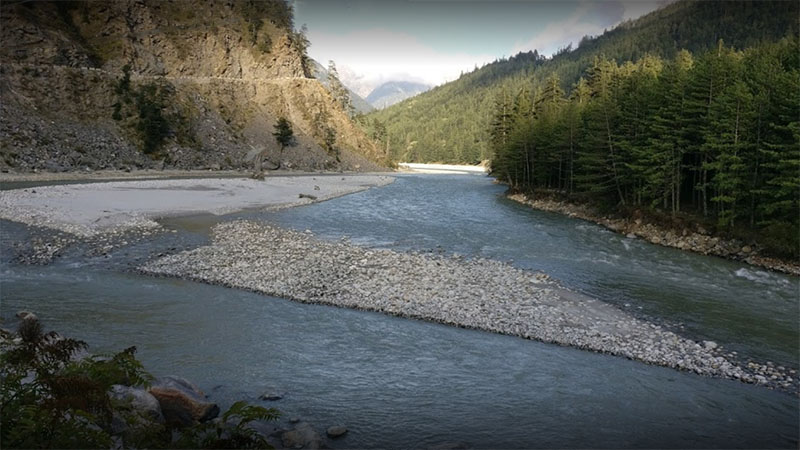 Places to Visit Near Harsil
While the sightseeing in Harsil village is limited to the above mentioned, the village can also be used as a base for all excursions around. You can stay for a few days in the valley and look at some other places to visit around Harsil.
Gangotri
Gangotri really needs no introduction. It is among the top-visited destinations in Uttarakhand, both in terms of pilgrimage and tourism. It is located at a distance of 25 kilometers from Harsil and can be reached in about 90 minutes.
If you want to, you can also spend a night in Gangotri and return to Harsil the next day. For a complete list of places that you can visit here, please read Sightseeing in Gangotri.
The only time you may not be able to reach Gangotri is during the peak winter season when the road gets blocked due to all the snow.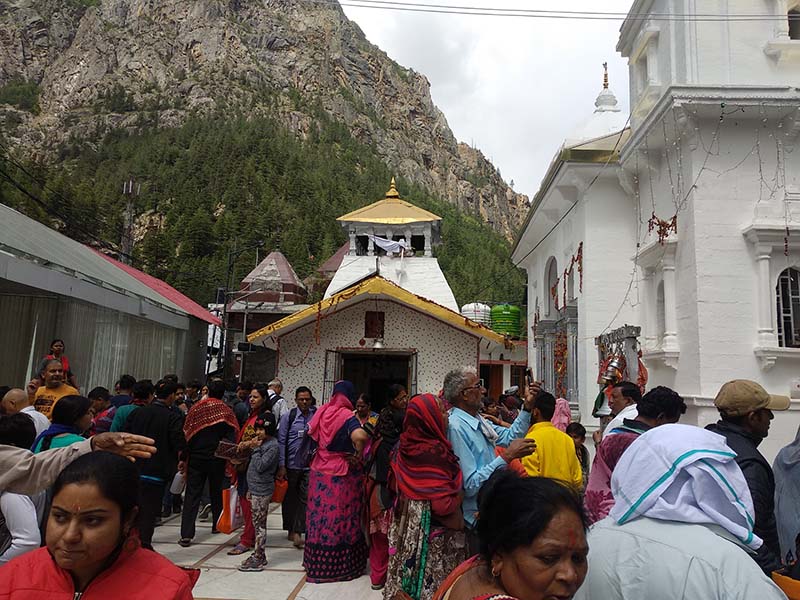 Dharali
Dharali is about 2 kilometers away from Harsil and is famous for two things. The first is that this is the place where King Bhagirath is said to have meditated to bring Ganga from heaven to earth. The second is the apple orchards that add to the overall beauty of the village.
Mukhba
Also known as Mukhwas and Mukhwa, this is another village, located about a kilometer from Harsil. After the temple in Gangotri is closed in the winter, the idols are shifted down to the Ganges temple in Mukhba for a few months. You can just take an evening stroll and walk from Harsil to Mukhaba to visit the temple.
Gangnani
Gangnani is located about 47 kilometers after Uttarkashi and 31 kilometers before Harsil. It is best known for its hot water springs. It is a good place to take a break either while you were going to Harsil or on your way back. The water of the springs is said to have medicinal properties and capable of curing several ailments.
Also Read: Darma Valley Trek – How to BEST Plan your Trip
Nelong Valley
The next entry in the list of tourist places near Harsil is of the beautiful Nelong Valley, located 30 kilometers from Hasil towards Tibbet Border. Please note that you will need to get a permit from Uttarkashi to visit this valley. It is a restricted area due to its close proximity to the border.
Trekking in Harsil
Trekking is among the top tourist activities in Harsil. There are several trails leading out of the village that even an absolute beginner can attempt. Listed below are some of the most popular treks in Harsil.
Sattaal Trek
Also known as Sat Tal, Sat Taal, or Saat Taal trek, this one from Dharali village. During this trek, you explore a chain of seven unexplored lakes only about five kilometers from Dharali. This is where it gets its name, Sat meaning seven, and Taal meaning lake.
It will take you through some amazingly beautiful landscape with plenty of flora and fauna. The best part however is that the trek can easily be completed in a single day. You start early in the morning, visit the lakes and return by evening to Harsil.
The altitude will range from 9600 ft at Mridunga Taal to 10,034 ft at Bakria Taal. Three other lakes that are located in between are Dabria Taal, Chadkia Taal, and Rikh Taal. On a single day, these are the 5 lakes that you will cover as the remaining two are located at a much higher altitude and will require trek for more than a day.
Kyarkoti Lake
This is the 6th of the seven lakes that we discussed above. This one is located about 15 kilometers from Dharali and is a 2 days trek. You will reach the lake on Day 1, camp there for the night, and return to Harsil on Day 2.
Chitkul Trek
Yes, you read it right. We are talking about Chitkul in the Kinnaur Valley of Himachal Pradesh. After Kyarkoti Lake, you will further climb up to Lamkhaga Pass 5,282 meters at 17,320 ft while covering the 7th of the seven lakes on the way. After Lamkhaga Pass, you will walk down to Rani Kanda meadow and reach Chitkul. This will take you about 7-10 days in total.
Gaumukh
Last but not least, the most popular of all these treks is the famous Gaumukh trek from Gangotri. This is a 2 days trek and will see you walking about 36 kilometers in total, reaching the maximum altitude of 13,200 ft (4,023 meters) at Gaumukh. If you had additional time, you can in fact extend your trek to Tapovan as well. For more details, please read How to Plan Gaumukh Trek from Gangotri.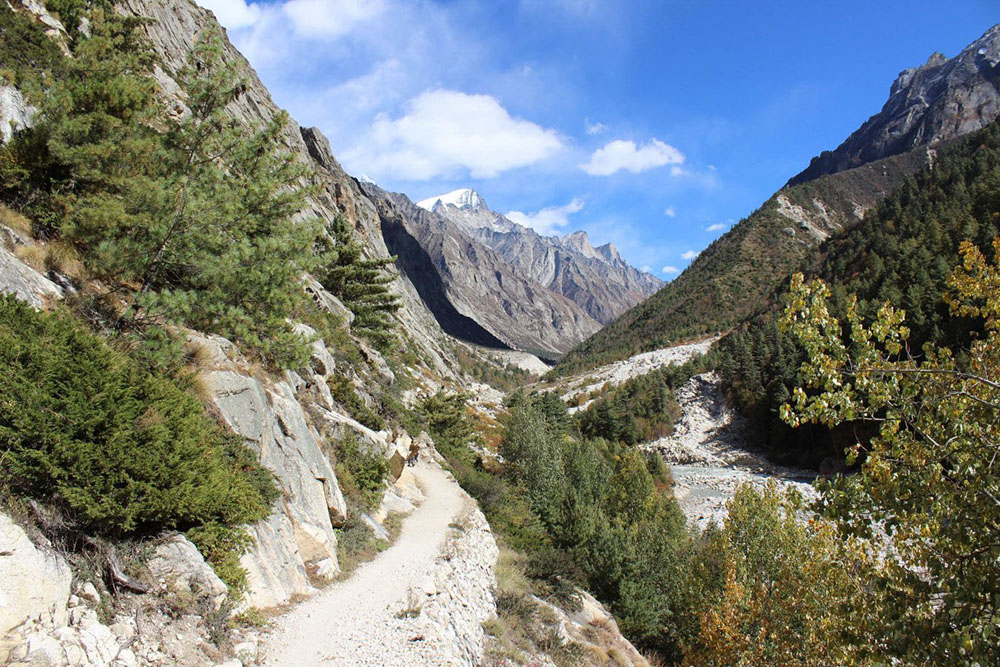 Things to do in Harsil
Other than sightseeing at the places, I mentioned above and the treks, listed below are a few other things that you can do in the village.
Photography: This one I think goes without saying. You will find it hard to keep your hands off your camera. The scenery at Harsil is really worth capturing and you will end up clicking at hundreds of pictures.
Enjoy the Night Skies: The pollution-free skies of Harsil light up each night with thousands of stars. If you were carrying a capable enough camera and knew what you were doing, you will have fun getting some long exposure shots and capturing star trails.
Nature Walks: Step out and just take a leisurely walk through the village and along the river.
Learn about the Local Life: The locals in Harsil are really very friendly people. They will love to share their stories with you and tell you all the folklore associated with the place. Talk to them, learn about their life and their beliefs, and come back wiser.
Other than this, there isn't much else to do. If you were visiting during the harvest season, you can enjoy picking apples as well. Otherwise, just relax, do some soul searching, and rejuvenate yourself.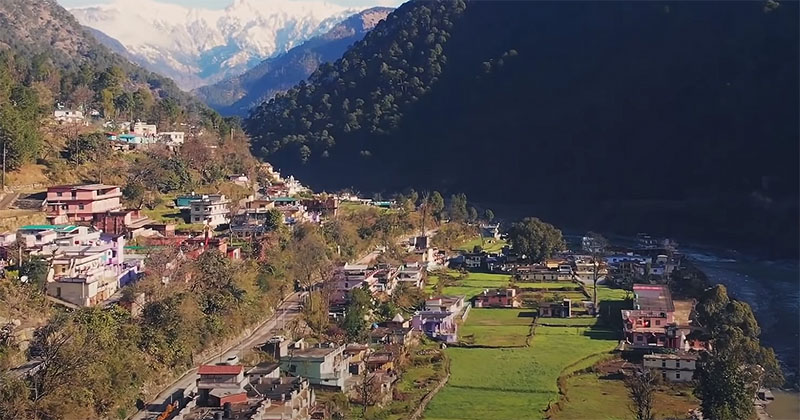 Weather of Harsil
Owing to its high altitude, the weather of Harsil remains cold throughout the year. It is almost never hot here. Even in June and July, you will need light woolens. During the winter season, it turns terribly cold when even some of the locals leave the area and move to a lower altitude.
This entire region is prone to landslides. During the monsoon season, rains cause a significant amount of damage each year.
Below is a brief breakdown of how the weather trends in Harsil Valley.
Harsil Valley in Winter
November marks the beginning of the winter season and is usually a very dry month. December is when it starts to snow in Harsil. The temperature starts dipping down to 0 at night and will hover around 10 degrees Celsius during the day.
January and February are when it snows here the most and even the roads sometimes can get blocked. The chances and intensity of the snowfall in February are more towards the initial part of the month. Snow starts to melt in March and is mostly all gone by the end of the month.
Below is a video of a winter trip to Harsil by a friend of mine, Vishwajeet Singh. In the view, you can see how beautiful the place looks in white.
Harsil in Summer
April marks the beginning of the spring season and is a very pleasant time to be in Harsil. Water from the melting snow will feed the hill slopes and there will be plenty of greenery around. May and June are the peak tourist season when the valley receives most of its visitors in the year. The average temperature at this time will be around 10 degrees Celsius at night and 20 degrees Celsius during the day.
Harsil in Monsoon
The monsoon season is not really a good time to be traveling towards Harsil. It rains here a lot and sometimes entire sections of roads and even villages get washed away. It mostly starts raining in July but there could be some pre-monsoon showers towards the end of June as well.
The temperature will remain around 10 on the lower side and 20 degrees on the higher. On the plus side, all the rains would wash the valley clean and give everything a fresh look. Hills will come alive with flora and fauna and the landscape will turn heavenly.
Also Read: Bike Trip to Auli – An Amazing Road Trip to Auli, Uttarakhand
Best Time to Visit Harsil
April, May, and September are the best time to visit Harsil but it will also depend on what you seek from the trip. If snow is what you were after, you will have to visit in January or February. For a family trip, you should visit in April or May. For Photography, September is the best month.
November is overall a bad month because the scenery at this time is very dull and dry. It will be terribly cold and there won't even be any snow around. But if you were on a shoestring budget, November and December could be a good time to visit.
For a bike trip, June and September are among the best months. If you were interested in Trekking, May, June, and October will be the best.
I have covered the information related to the weather and the best time to visit in another article When is the Best time to Visit Harsil that I will urge you to read.
Harsil Valley Itinerary
I will share a few examples of itineraries that you can follow, depending on the time you have in hand.
3 Days Itinerary
Delhi to Harshil – Day 1
Harshil – Gangotri – Mukhba – Harshil – Day 2
Harshil to Delhi – Day 3
This will however be a very rushed trip and most of your time will get spent on the road.
4 Days Itinerary
Delhi to Harshil – Day 1
Sightseeing in Harshil – Dharali, Mukhba, Sattal Trek – Day 2
Harshil – Gangotri – Harshil – Day 3
Harshil to Delhi – Day 4
Adding one day will see you covering more places but this too will be a long and tiring journey. A more relaxed plan can be like below.
6 Days Itinerary
Delhi to Uttarkashi – Day 1
Uttarkashi to Harshil – Sightseeing in the Village – Day 2
Sattal Trek and move on to Gangotri – Day 3
Gangotri to Gaumukh and back to Harshil – Day 4 & 5
Harshil to Delhi – Day 6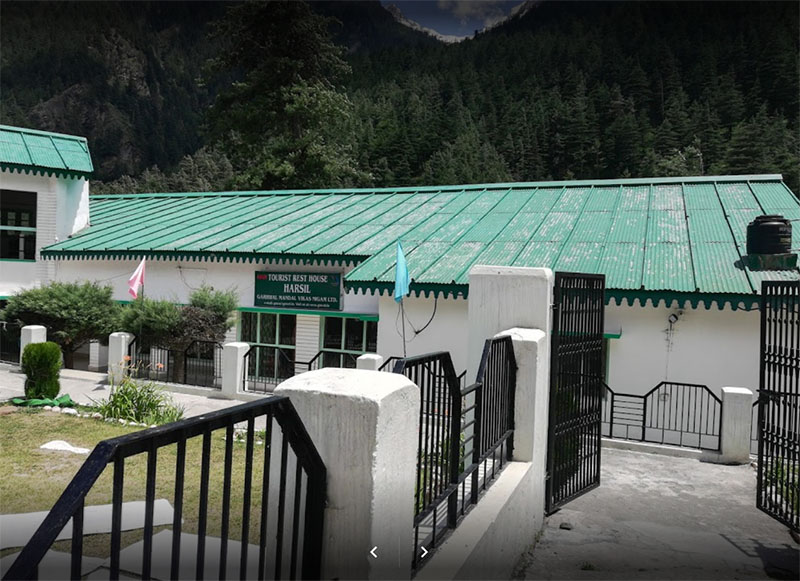 Where to stay in Harsil
Harsil has a few basic budget guesthouses that you can stay at.  It is more of an offbeat destination so there are no luxury hotels here. But the guest houses available will be very comfortable even with limited facilities.
There is also a GMVN guesthouse set up by the government.
In terms of cost, it will depend on your time of arrival and negotiation skills. But you should be able to get a room here for about Rs. 700 – Rs. 1000.
Also Read: Less Crowded Hill Stations in Uttarakhand
Where to Eat
There are a few small dhabas in the village that you can eat at. Nothing fancy though, just basic north Indian food and some Garhwali dishes. The food will be simple but delicious enough.
Mobile Network in Harsil
BSNL has the widest coverage in the area but until Harsil, all networks will work fine. The data connectivity however is not that great.
Other Details
Below are some other details about Harsil that can be of help.
Camping in Harsil
There are no campsites readily available here and self camping is the only option. You can talk to the villagers and pay them a little to give you a spot to camp.
Medical Facilities
There is a government hospital in Harshil but only basic medical help is available. For anything serious, you will have to rush to the hospital in Uttarkashi 78 kilometers away.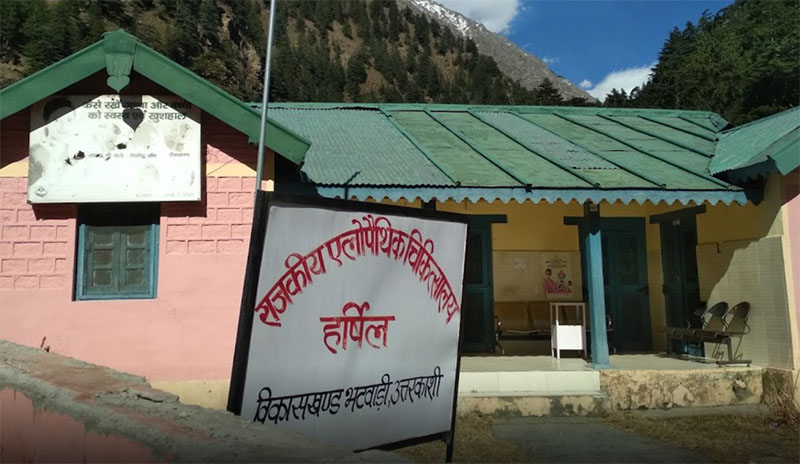 Road Conditions
The road is a mix of good bad and ugly. There are some broken patches in between but nothing too bad. The bad parts are mostly between Chamba and Harsil. From Delhi to Chamba, it is mostly a smooth drive.
Best Vehicle for Harsil
There is really no best vehicle required as such. You will be surprised to see people here driving around in Maruti Alto and old Maruti 800. The only thing required is that your vehicle is well maintained and capable of handling the steep climbs.
Petrol Pumps / Mechanics
The nearest petrol pump is in Uttarkashi. There are mechanics in Harshil but in case of something major, you will have to go to Uttarkashi.
Temperature in Harsil
Below is a month-by-month breakdown of how the temperature in Harsil trends.
| | | | |
| --- | --- | --- | --- |
| Month | Min. Temp | Max. Temp | Weather |
| Harsil in January | -3°C | 8°C | Very cold, chances of snowfall |
| Harsil in February | 2° C | 12° C | Very cold, chances of snowfall |
| Harsil in March | 5°C | 15°C | Pleasant, Sunny, and Clear |
| Harsil in April | 10°C | 20°C | Pleasant, Sunny, and Clear |
| Harsil in May | 12°C | 22°C | Pleasant, Sunny, and Clear |
| Harsil in June | 15°C | 22°C | Pleasant, Sunny, and Clear |
| Harsil in July | 15°C | 25°C | Heavy Rains |
| Harsil in August | 12°C | 22°C | Heavy Rains |
| Harsil in September | 10°C | 20°C | Pleasant and cloudy with chances of rain |
| Harsil in October | 8°C | 18°C | Pleasant, Sunny, and Clear |
| Harsil in November | 5°C | 15°C | Cold, Sunny, and Clear |
| Harsil in December | 0°C | 10°C | Cold with chances of snowfall |
Distance Chart
Last but not least, here is a chart showing distances from Harsil to other cities.
Bareilly to Harsil: 530 km
Chandigarh to Harsil: 380 km
Delhi to Harsil: 480 km
Gurgaon to Harsil: 500 km
Jaipur to Harsil: 740 km
Kanpur to Harsil: 800 km
Lucknow to Harsil: 780 km
Meerut to Harsil: 420 km
Modinagar to Harsil: 425 km
Moradabad to Harsil: 420 km
Shimla to Harsil: 370 km
Noida to Harsil: 470 km
Conclusion
I hope the information above on planning a trip to Harsil was of help. If you have any questions or need any other details, please feel free to ask in the comments section below, or at our Community Forum, and I will be glad to answer.