Prashar Lake, also known as Parashar Lake, is a small lake located about 50 kilometers from Mandi in Himachal Pradesh. It is a popular destination among both travel enthusiasts and locals as well. With a three stories pagoda-like temple, dedicated to sage Prashar, on its banks, it is considered a holy lake, and locals from nearby areas continue to visit here all year long. It is located at a height of 2,730 meters and as per the legend, the true depth of the lake is still unknown.
This place is open for visitors throughout the year, including the winter months. While the majority of the tourism here happens in summer, a lot of people also come to the lake while it is covered completely under a thick sheet of snow. How a trip can be planned to this beautiful lake is what I will discuss in this article.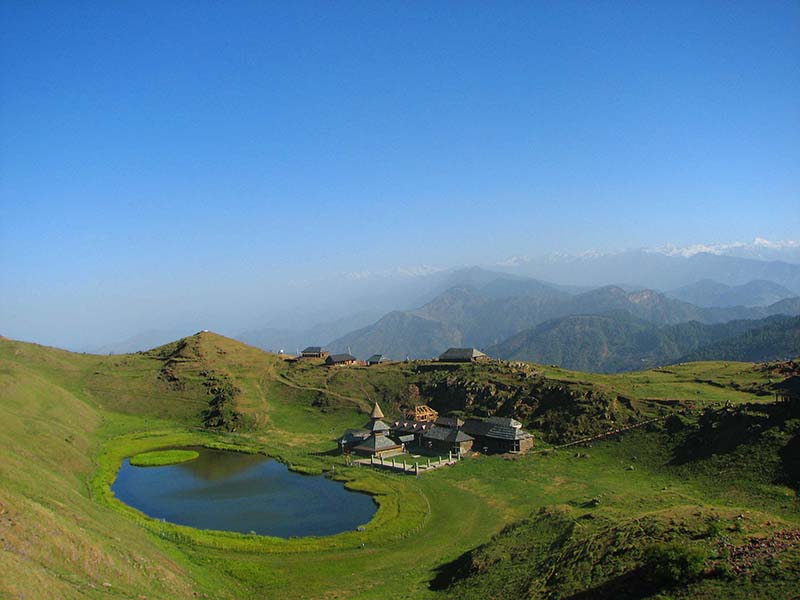 Image: Wiki
This deep blue and enchanting lake likes in a saucer-shaped valley, at an astounding height of 8,960 ft, and is surrounded by thick forests and snow-capped peaks. During the monsoon, the lake and its nearby areas are all lush green. Come winters and it all gets buried under a thick sheet of white in months of January and February. The primary source of inflow for this sweet water lake is rainwater and glacier runoff/melt-water, but there is no outflow of water from the lake.
Prashar Lake
There is also a tiny Phumdi island in the lake. I am talking about the small green patch inside the lake in the pic above. Take a look at THIS link to know more about what a Phumdi island is. This floating mass of vegetation keeps changing its location but at a very slow pace.
During summer, it touches one part of the lake and then slowly floats away towards the other by winter. The temple next to the lake was built by Raja Ban Sen of Mandi in the 14th century. It is a very beautiful temple capped with a roof of slate tiles and beautiful wood carvings.
Also read: Delhi to Prashar Lake – A Journey Memorable
The tiny lake, dense forests, beautiful temple, cold weather, chirping of birds, snow-capped mountains at a distance offer great scenic natural beauty. It is a perfect place if you want to get away or a few days from the rushed city life; and spend some time in the serenity and tranquility of the hills.
This entire area is an awesome place to relax and connect with nature. You get an amazing panoramic view of snowy mountain ranges from this location and is quite a view. Pollution-free, clean, calm, less populated, untouched by the modern amenities are some of the key features of this entire region. In nutshell, it is a must-visit place for anyone with even the slightest interest in traveling.
How to Plan a Trip to Prashar Lake
There is a road that goes all the way to the lake; until right next to it. So you will easily be able to get here either by car or motorcycle. If you were living in a place like Chandigarh or Delhi, you can even make this trip over a weekend. If you are looking for a bit of trekking fun, then you can leave your vehicle at any of the villages en route and trek to the lake.
Also read: How to Plan a Trip to Chandratal Lake
I will start by first explaining the route to the lake and then will mention other details like accommodation, safety tips, and availability of basic amenities. For the sake of this article, while suggesting an itinerary, I will assume that you are starting your journey from Delhi.
How to reach Prashar Lake

The most common way to reach Prashar Lake is to first get to the small town of Mandi, which is located at a distance of about 415 kilometers from Delhi and 170 kilometers from Chandigarh. Once you reach Mandi, you will take the narrow 50 kilometers long road which will take you all the way to the top of the hill that the lake is located on. A detailed explanation of the route is as below.
Delhi to Chandigarh
Not much to mention about this part of the journey except that it will be a long and monotonous one. An early start from Delhi is highly recommended as the total journey until Prashar can even take up to 10-11 hours. The only good part about this journey will be that the road is super smooth all the way to Chandigarh.
Chandigarh to Mandi
From Chandigarh, the route is Roopnagar – Ghanauli – Kiratpur Sahib – Bilaspur – Barmana – Sundernagar – Mandi. The journey till Chandigarh would have remained on a fast track but this is where it starts to get slow. The first hurdle is Chandigarh. It doesn't matter if you took a bypass or entered the city; you are bound to waste some time in the traffic here.
After Chandigarh, the road will get smooth again until Kiratpur Sahib after which you will get your first sight of the hills. From here on, initially, the roads will be terrible and then will remain a mix of bad and average until Mandi. This part of the journey will easily take about 4—5 hours.
Mandi to Prashar Lake
Prashar Lake is located at a distance of about 55 kilometers from Mandi. The route will be Mandi – Bijani – Kamand – Baggi – Prashar Lake. The condition of this road will heavily depend on your time of travel but it will be just about average at its best.
If you were visiting here during monsoon, then even this stretch will have several bad sections full of slush. It is a narrow winding road and the entire drive is really steep climb all the way to the top. I will strongly advise going slow and carefully as the traffic here is two ways.
Since not many vehicles travel on this route often, locals tend to speed up especially while going downhill. Even though the distance is only 50 odd kilometers, getting to Prashar Lake from Mandi will easily take you about 2.5 to 3 hours.
Kullu to Prashar Lake via Bajaura
70-80% of the people coming to the lake follow the above-mentioned route via Mandi. There is however another road from Kullu which also can be used to reach Prashar Lake if you were coming from the Manali side.
The route then will be as below.
Kullu – Bhuntar – Bajaura – Shayari – Bagi – Prashar Lake
In terms of distance, this route is slightly longer than Mandi, about 65 kilometers in total. Total travel time from Kullu to Prashar Lake will be about 3 hours; of which, about an hour will be spent on Kullu to Bajaura stretch and then another 1.5 to 2 hours to get from Bajaura to Prashar Lake.
Also read: Lakes of Ladakh
This is in fact the best way to include Prashar Lake in your trip to Manali. You can take the diversion from Mandi and reach Prashar Lake to spend the night there. The next day, you can take the other road via Bajaura to reach Kullu and then continue to Manali.
Where to Stay at Prashar Lake
Accommodation at Prashar Lake is available in form of two government-run guest houses, a temple-run Dharamshala and a couple of campsites. Details on all three choices are as mentioned below.
Guest House at Prashar Lake
The best place to stay at Prashar Lake would be either of the HPPWD or Forest Department Guesthouse. The only problem is that you need to book your stay here in advance or will not be allowed in.
The caretakers here are a little fussy and no matter how much you try to talk them into letting you stay, they just won't budge. The biggest advantage with the guesthouses is of washrooms which becomes a challenge with the other two options.
Of the two guest houses available one belongs to Himachal Pradesh Public Works Department and another one to Forest Department. Both of them are within walking distance of about 10 minutes from the lake. They are the best deal in terms of location and views as well.
To book the PWD guest house, contact 01905-222151 or email at [email protected]
To book the forest guest house, contact DFO office Mandi at 01905 – 235360 or RFO Kataula at Tel: 01905 – 269469. Or you can also contact the caretaker, Mr. Roop Singh at 94184 11746. There is no cell phone reception at the lake so you may not actually get him on the phone at all.
If either of the two options did not work, then take a look at the article below where I have explained an alternate way of booking PWD guest houses in Himachal.
The above two guest houses are equipped with cooking facilities but it is very rare that the caretaker will cook for you. A better option to eat however would be at the small dhabas / shops near the lake.
Dharamshala

Dharamshala is the cheapest form of accommodation at the lake. These are dormitory-type rooms offered by the temple at a very nominal price. You can talk to the people at the temple about it and for a few hundred, they will give you a couple of blankets and open one room.
What is the catch? The room is dirty. You do not know the last time the blankets were washed and you also do not get the room all to yourself. So if more people came looking for accommodation, there is a high chance that you will be sleeping with two more strangers in the same room.
Washrooms are a problem here as well. The locals at the temple won't let you use their toilets and you will be walking around in the nearby jungle looking for a suitable spot.
Camping at Prashar Lake
Camp Sites are a great choice and a lot of people come to Prashar looking to camp. The entire location too is perfect for camping. There are a couple of campsites here that charge about Rs. 1000 per person for one day, including meals.
They are not super comfortable but will keep you warm and you will be able to sleep through the night, a little uncomfortably though. Washrooms with campsites too are a problem and you will have to do your business in the jungle.
There is one campsite however that has its own washroom set up, two cabin-sized ones. The only problem is that this particular campsite is about 2 kilometers walk from the lake. The name and number of this site are in the picture below.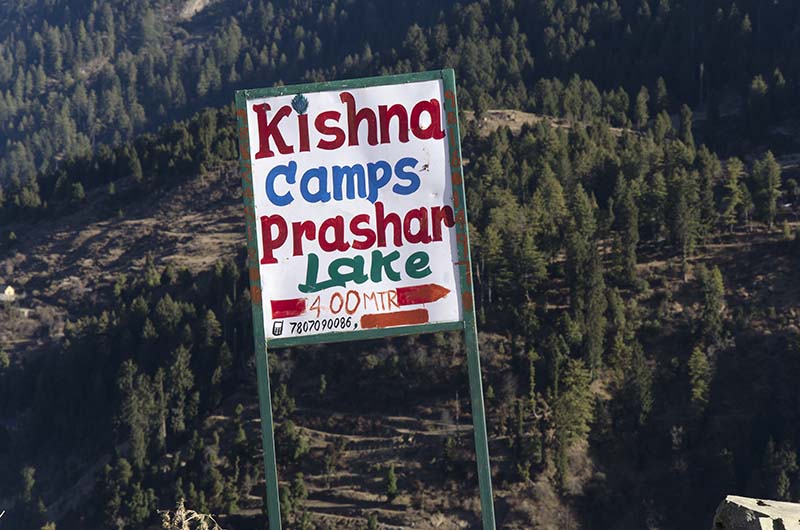 Hotels at Prashar Lake
There are a few hotels as well on the way as you climb up from Mandi to Prashar Lake, but none however near the lake. All of these are at least 1 hour of drive away. Mentioned below are details of three hotels just before the Baggi Village, about 28 kilometers away from Prashar Lake.
Prashar Guest House: 9816669256
Sri Prashar Home Stay: 9805371061
Hill View Home Stay: 9418044003, 9816244003
These are all very basic guesthouses that belong to the local villagers.
Food Arrangement

There are a few shops near the temple premises that offer tea, snacks, and lunch (mostly rice, daal, rajma, kadi combination) at very reasonable rates. This is the place where you will have to eat at even if you were staying at the guest house; because the caretaker will refuse to cook and ask you to eat here. Apart from this, the campsites also serve their own food which is included in their per person charge for the day.
Also read: How to go to Chandratal Lake from Delhi
Trekking to Prashar Lake
One of the most popular parts of a trip to Prashar Lake is to trek your way on the final ascent. The full length of the trek is about 5-8 kilometers; which makes it perfect for people who do not have much experience in trekking. It is a trek meant for beginners and even for family outings (not with kids and elders though).
Trek actually starts from different points; of which nearest and recommended one is the Baggi Village, about 7 -8 kilometers. The trek route is well defined through the dense forest and you can actually just walk through on your own.
I will however recommend that you ask a local to accompany you from the village; a guide who of course you will pay to navigate you through. The forest around the trek is quite dense and there is a chance of getting lost.
It is strongly recommended that you start early from the Baggi village for the trek. It will take you approximately 5 hours to reach the top; depending on earlier trekking experience, climate, and if there is any snow on the way.
Prashar Lake Trek Route
Baggi – Prashar :
8 KmsTrek Time: 5 Hours
Level: Beginner, Intermediate
Things To Carry for the Trek
ID Proof
Comfortable trekking shoes
Sunscreen
Sunglasses
Warm clothes, Jacket, and Gloves if trekking in winter
Water Bottle (Preferably not disposable)
Some snacks
Juice
Instead of trekking wearing Denim Jeans, wear trek pants
Do not dispose of plastic water bottles, biscuits/chocolate wrappers/chips packets irresponsibly. Respect the greenery, Eco-system, and cleanliness of the area. Keep all these things with you and dispose of off them when you come across a dustbin.
Prashar Lake in Winters
A trip to Prashar is definitely doable and is actually gaining popularity these days. Details will pretty much remain the same as I mentioned above. The only thing that will differ is the amount of snow. The road in all probability remains open until the Baggi village even if it has snowed heavily.
Image: Wiki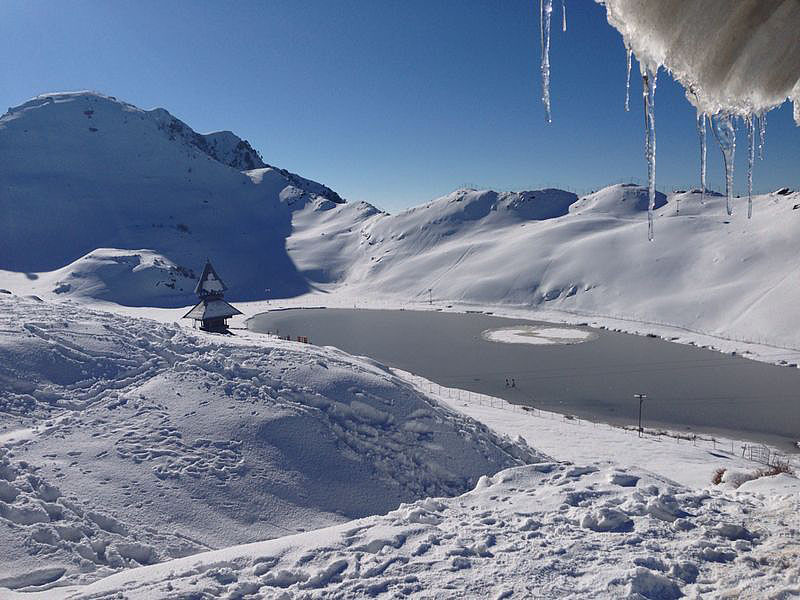 After Baggi, you now have two options. You can drive or ride on the road as far as possible, then leave your vehicle parked on the road, and walk the rest of the distance to the lake. This is how I went. I drove my car about 3 kilometers before the lake after which the road was covered in snow. I left my car parked right there and walked the rest of the distance. The next morning we walked back to where my car was and drove home.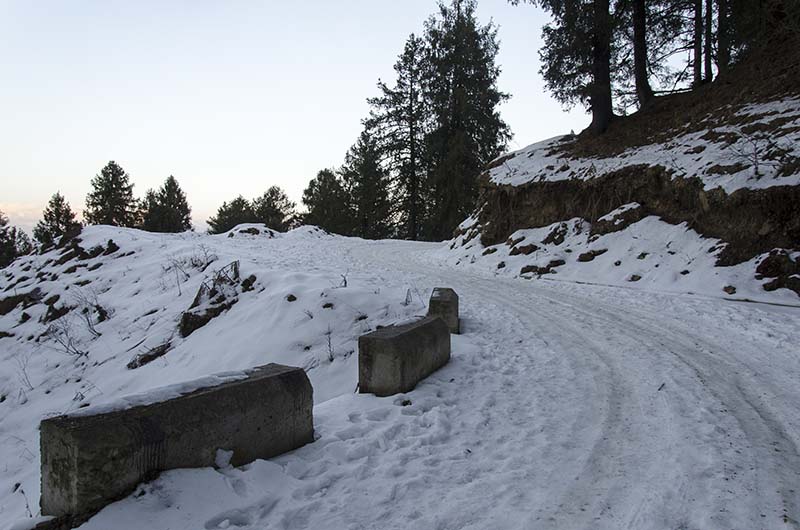 A lot of people do this. As a matter of fact, the majority of the people traveling in winter do it. Just make sure your car is well locked and it will be safe parked in the jungle. No one is going to steal it there.
Prashar Lake Trek in Winter
This is another good way to travel actually if you are into trekking. You can drive to the Baggi village and walk through the trek for the rest of the way. In winters, however, I will strongly recommend that you do not attempt it without a local guide. If there is snow all around, the trek is bound to get slippery and it is also steep at a few points.
How to reach Prashar Lake by Bus

Every bus going towards Manali passes through Mandi so getting to Mandi will not be a problem. Once you reach Mandi, you will have two choices. One is to catch a bus or to rent a taxi. A taxi will be a better choice here but that is just my opinion.
Mandi to Prashar Lake Bus
An HRTC bus starts from Mandi at 7 AM every day and reaches Prashar Lake at about 11 AM. The same bus then starts on its way back from the lake at 1 PM and reaches Mandi at approximately 5 PM.
There is however no bus in the months of winter. So if there is snow on the road, then the bus from Mandi will only ply till the Baggi Village; after which you will have to trek to the lake.
Mandi to Prashar Lake Taxi
Another great way for this journey is to rent a private taxi from Mandi. It will cost you between Rs. 600 – Rs. 800 till Baggi Village and Rs. 1,000 to Rs. 1,200 till Prashar Lake (depending upon your negotiation skills).
Shared taxis are also available on the route which locals use. Some locals also drive their Tempo Travelers to the lake. Depending on the amount of snow, these shared taxis are available all the way to the lake even in winters.
If the snow is too much, then they will provide a pick and drop to the last point where a car can go. Ask around about these local taxis in Baggi Village. If you reached here by Bus in winters and do not want to go trekking; then catching a shared taxi for the last lapse of the journey will be a great choice.
Prashar Lake Weather
Prashar has its own charm in every season of the year. The temperature varies from -5 degrees C to 23 degrees C in the year. The weather here is unpredictable, rain and snow may wet you any time due to the dense forest area.
In Summer, days are pleasantly warm but nights do get cold. It snows at the lake and night temperature drops below zero during the winter season. In January and February, due to heavy snowfall, the lake freezes and is a delight to watch. If things turn extreme then this area gets completely cut off until the weather subsides.
Prashar Lake Itinerary

It will depend on how you are traveling actually but if traveling by road, you can reach Prashar Lake via Mandi and return via Kullu, covering both routes. if you are trekking then you can reach Mandi first and then Baggi. From Baggi you can trek up to the lake and stay here for the night. The next day you can climb down to Baggi again, then drive back home via Mandi.
If you are traveling by your own vehicle then the trip can be easily done over a weekend. If however trekking is on your mind then you will need at least 3 days for the journey.
Things to do at Prashar Lake
Absolutely nothing and this is why you should come here. Spend some time just walking around leisurely in the lap of the Himalayas and absolute silence. There is only one thing to do here; enjoy the natural beauty and peace around you.
Recent Updates
Below are some recent updates provided by Biswa who recently visited Prashar Lake solo.
Mandi to Prashar Lake Bus Timing & Fare
The HRTC bus from Mandi to Prashar Lake departs from the Mandi ISBT bus stand between 7.45 and 8 am these days. The exact spot where this bus comes for boarding is in front of the public restrooms/toilets near bus bay 1 and 2.
The journey to and from Prashar took 3 hrs (total distance 49 kilometers) which includes a rest stop of 15 minutes. It goes via IIT Mandi, Bagi village, and the town of Kataula. The bus ticket is Rs.88 one way. It is not necessary to do any advance booking on this bus neither is it allowed. Safe to say you'll always get a seat. On the way back, this bus will depart from 1.15 pm sharp.
Accommodation
I stayed at the Forest Rest House which can be booked in advance. The room price is Rs.1000 plus tax. The room was decent but a little dusty. You don't expect anything better at this remote place. Link: https://himachalecotourism.org/service/frh-prashar/?checkin_d=18&checkin_m=1&checkin_y=2019&checkout_d=19&checkout_m=1&checkout_y=2019
Mandi to Prashar Lake Taxi Fare
 There are private cabs which can be taken if you miss the bus from Mandi. They are available outside the ISBT. The rate is 2500 for a roundtrip journey. Interestingly the rate is the same if you're coming from Kullu to Prashar Lake.
Other Tips
There has been an incredible surge in the popularity of this place in the last few years, which has both good and bad side effects. The waste from plastic packets and other food items is slowly but surely accumulating and the locals don't have a solution in place to dispose and clean the area.
So please make sure not to throw your waste anywhere near this sacred place – keep it with you and safely dispose of them in your home city.
Another aspect of the popularity of this place on social media platforms is this – the pictures you see on FB and IG are invariably taken from a high vantage point near the lake. There are no proper trails to the viewpoints at the top of the hills surrounding the lake.
There are tracks that have been made by thrill-seeking tourists and wild dogs/horses and cows. They are narrow and steep. So please be cautious in climbing to one of the top points to take a picture or selfie. If you see the ground is wet or slippery due to morning ice, don't climb further.
Prashar Lake Trek
Deepak Kumar Parida recently completed his trek to Prashar Lake and was kind enough to share his experience to help others. Below are some useful details.
I completed the Prashar lake trek from 26-29 October. Following is a brief — I hope it can be of help.
Delhi to Panarsa: This is a stop in between Mandi & Kullu, about 1 hour after Mandi. We reached here by Bus overnight followed by a 2-hour refreshment stop in a hotel (Sanor Valley Hotel).
Panarsa to Jwalapur trek point via Taxi
Jwalapur to Prashar Lake via trekking for 9 kilometers. It took us 4 – 5 hours to trek up and then 2 – 2.5 hours to walk back down.
Camping at Fogg Hill camp overnight
Return trek next morning
Panarsa to Delhi bus overnight
As compared to Baggi–>Prashar Lake route,
Not very steep
You follow a river along a valley, so there are mountains on both sides. As a result, there is always shade and it's way cooler.
You will find vast open plains at 2-3 places along the route which are ideal rest points.
The Baggi route is steeper but yes, U get great views of snow-capped peaks during the trek. But anyway you can see them when you reach the top. So it's a trade-off I took.
We camped at Fogg Hill camp. It's adjacent to Krishna Camps you mentioned here. It's new (just 6 months old) and relatively cheap. The guys are young and friendly. They have a toilet & use Quechua equipment which is fantastic I think.
It is a paradise for people who like astrophotography. I clicked some of the best shots of the Milkyway of my life here.
Prashar Lake Trek Cost
Panarsa–>Prashar–>Panarsa including taxi, refreshment, stay, food, guide cost me INR 1800/- per head since it was "off-season". The guy I contacted was Raj and his number is 9459402215.
It was a package @1800 per head. No extra charge for the taxi.
Conclusion
I think that pretty much covers all there is to know about going on a trip to Prashar Lake. If you have any questions, please feel free to ask in the comments section below and I will be happy to answer. You can also follow me on Instagram and chat with me live there or subscribe to my YouTube channel and ask a question there.