Short trip and weekend getaways are becoming a norm these days because not everyone can afford to stay away from their regular lives for several days. Work commitments, family and finance are some of the biggest reasons due to which a long vacation is sometimes not an option. Hence, destinations that can easily be covered in a couple of days are fast gaining popularity. If you live in a place like Delhi or Chandigarh, then there are several places in Uttarakhand and Himachal where you can easily visit over a weekend or extended weekend. Some of these places are well known, like Shimla and Manali, and others are a little less popular. One such gem of a destination that will fall in the category of lesser-visited places is the town of Chakrata.
So am I saying that Chakrata is good enough only for a short trip? Definitely not. I only said that to make a point that this place is so easily accessible that you can visit here even if you had just 2 or 3 days in hand. But if you can afford a little more time then you are in for a treat. Chakrata is a greatly scenic and an awesome destination that must be on your list of places to visit. The vistas you get from here are superb, roads are smooth and connectivity is excellent. It is in Chakrata that I have seen some of the best sunset views of my life. It also gives you easy access to some other places nearby like Narkanda, Larot, Rohru, and Chanshal Pass. How can you plan a trip to Chakrata is what I will be discussing in this article.
Below is a quick navigation menu of the details we will be covering in this post.
About Chakrata
---
Where is Chakrata?
Chakrata is a small town located in the state of Uttarakhand at a distance of 320 kilometers from Delhi, 200 kilometers from Chandigarh and 90 kilometers from Dehradun. It is a cantonment town in Dehradun district and is situated between the Tons and Yamuna rivers, at an elevation of 2118 meters. To the west of Chakrata lies Himachal Pradesh and to its east are Mussoorie (73 kilometers) and Garhwal.
Why visit Chakrata
If you want to visit a place with a huge market where you can go shopping, tons of tourist activities to do and a long list of places to see then Chakrata may not be for you. However, if you want to visit a highly scenic place, not that crowded, very clean, has good hotels and is easily accessible then Chakrata will be a perfect choice. If you asked me, I would go here just to get some stunning sunset photos and to eat the Nepali Roti at the Army cafeteria. This mystical hill station is a picturesque place, away from the crowd and blessed with enchanting natural beauty and panoramic vistas. It is a great place for photographers, nature lovers, bird watchers, wildlife enthusiasts, adventure seekers and people who prefer to visit offbeat destination more than the regular tourist spots.
Also Read: Dhanaulti – A Complete Travel Guide, Road Map & Itinerary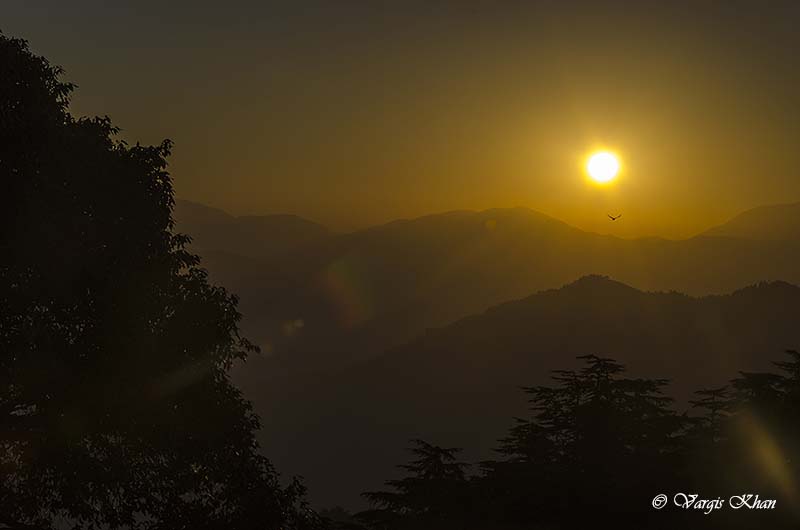 How to reach Chakrata
---
Due to its location in the hills, a journey to Chakrata is only possible by road. The good part, however, is that the place is very well connected to the nearby towns by both road and public transport. Depending on your choice, you can either drive on your own or travel by public transport.
How to reach Chakrata by Road from Delhi
Let me begin by first explaining how to reach Chakrata by road. For the sake of detailing the route, I will assume Delhi as your starting point.
There are two routes that you can take from Delhi to get to Chakrata. One goes via Dehradun and the other one via Paonta Sahib. In terms of distance, both the routes are almost the same but the one via Dehradun can take slightly longer, about an hour or two more.
There can also be a third route via Shimla and Rohru but that is necessarily a two days journey from Delhi and done by people wanting to cover Chanshal Pass which I have explained towards the end of the article, in the itinerary section.
How to reach Chakrata from Paonta Sahib
Let us first talk about how to reach Chakrata from Delhi by road via Paonta Sahib. The route, in this case, will be as mentioned below.
Delhi – Panipat – Karnal – Kurukshetra – Yamuna Nagar – Paonta Sahib – Vikasnagar – Dakpatthar – Chakrata
Traveling this way, the total journey will be of about 325 kilometers and travel time of approximately 8 hours, depending on your speed and breaks. I will suggest an early morning start to avoid Delhi traffic. Drive till Kurukshetra and then take the road towards Yamuna Nagar. The cut is easy to miss so keep an eye out and ask around if you weren't sure of it. After Yamuna Nagar, you will continue driving to Paonta Sahib via Tajewala. From Paonta Sahib, you will then cross Vikas Nagar, Dakpatthar and arrive at Chakrata. The road is mostly plains till Vikas Nagar and it is only the final stretch after Dakpatthar that it climbs up rapidly to gain height.
Also Read: Highest Motorable Road and Passes in the World
How to reach Chakrata from Dehradun
Now let us take a look at the road to Chakrata via Dehradun. In this case, the route will be as mentioned below.
Delhi – Ghaziabad – Meerut – Muzaffarnagar – Roorkee – Chhutmalpur – Dehradun – Dakpatthar – Chakrata
The distance if you went via Dehradun will increase to 345 kilometers approximately and the travel time will up by an hour. From Delhi, you will drive to Roorkee via Meerut, Khatauli, and Muzaffarnagar which is now a super smooth highway and won't take you long. From Roorkee, leave the Haridwar Highway and turn towards Dehradun. In Dehradun, you will have to find the Chakrata Road. Ask anyone around to point you towards Chakrata, or Dakpatthar or Vikasnagar. From Dakpatthar, you will then drive up to Chakrata. The road after Dehradun is a mix of good, bad and average but mostly it is average.
There can, of course, be several other way and variations to the route but the ways I mentioned above is probably the quickest and the easiest ones. Best way to reach Chakrata from Delhi would definitely be via Paonta Sahib.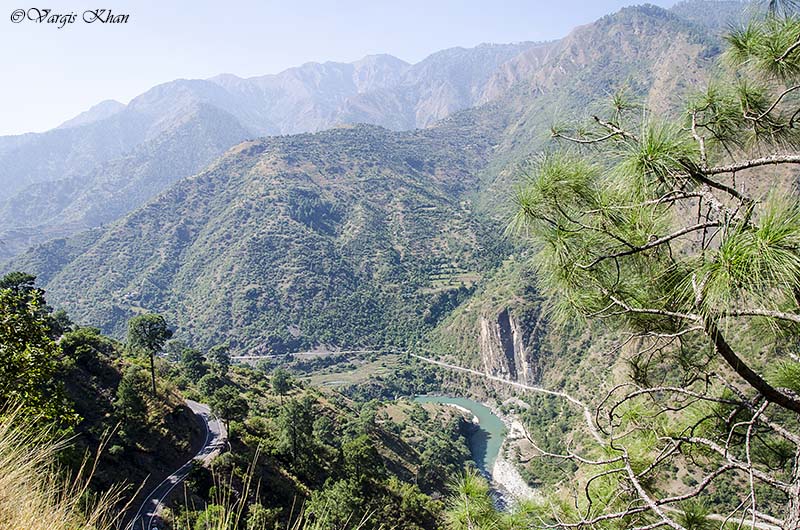 How to reach Chakrata by Bus
Traveling to Chakrata by Bus can be a bit tricky because you will have to break your journey in different parts. It is tricky in the sense that the only direct bus to Chakrata is from nearby places like Dehradun, Paonta Sahib, and Vikas Nagar. So, for example, if you were coming from Delhi, you will have to board a Bus for Dehradun which is really the easy part. There are several buses, both overnight and during the day, plying to Dehradun from ISBT Delhi. Once you reach Dehradun, you have two choices to get to Chakrata. Either you can hire a private taxi for the last leg of your journey or you will have to find a Bus.
There is a direct bus between Dehradun and Chakrata but it not that high in frequency. It is actually the bus traveling from Dehradun to Rohru that passes through Chakrata. If you missed it then the only other choices would be to look for any bus for Paonta Sahib, Vikas Nagar or Dakpatthar and then board a shared taxi for Chakrata from there. Shared cabs are actually more common on this route than a Bus and that is what even the locals rely on. So for a Bus journey, your best bet would be to board a bus from your city for Dehradun, Paonta Sahib, Mussoorie or Vikas Nagar and then find a shared cab for Chakrata.
How to reach Chakrata by Train
Nearest railway station to Chakrata is in Dehradun, at a distance of approximately 85 kilometers. It is well connected to all the major cities of India. It is advisable to take a night train that you can be in Dehradun by early morning. From the railway station, you can either hire a private taxi or travel by Bus as I explained above.
How to reach Chakrata by Flight
The nearest airport to Chakrata is the Jolly Grant Airport of Dehradun, at a distance of about 115 kilometers. It is a domestic airport well connected with other cities in India. From the airport, you can board a Taxi which will charge you about Rs. 2000 – 3000 for a drop. These taxis are available right outside the airport. Or you can first reach the Dehradun Bus stand and then travel to Chakrata by Bus.
Local Transport in Chakrata
Chakrata is just a small town and you can get from its one end to the other in less than 30 minutes on foot. You do not really need local transport to move around locally here.
Also Read: Best Honeymoon Destinations in Uttarakhand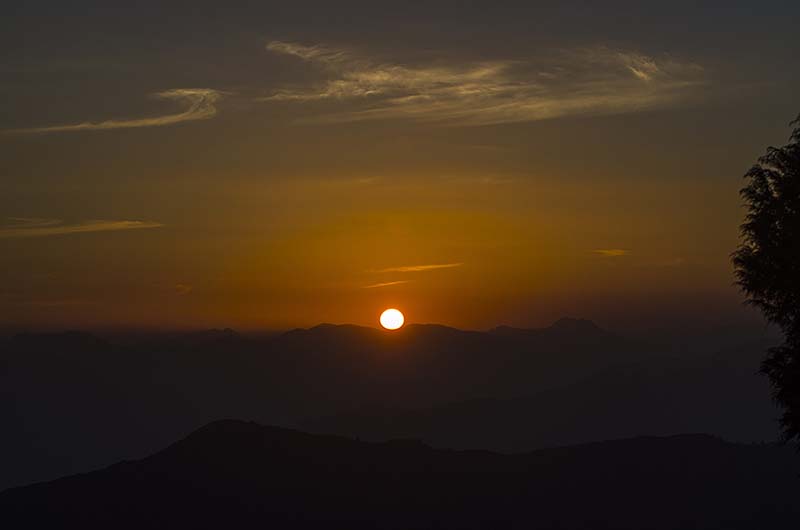 Places to Visit & Things to Do
---
What to see in Chakrata
There is really not a huge list of places to visit in Chakrata because peace and natural beauty of the place are what you visit here for. Spend some time relaxing, listening to the sounds of the birds, watching a beautiful sunrise and sunset every day; this is Chakrata for you. These are what truly can be called as the best things to do in Chakrata. With that being said, this region is a heaven for anyone with interest in photography, adventure, motorcycling, bird watching or wildlife. There are a few areas in and around this small town that can be termed as Tourist spots in Chakrata. Below is a list that will answer the question of what can we see in Chakrata for anyone planning a visit here.
List of places to visit in Chakrata
Sunrise & Sunset
Tiger Falls
Deoban / Devban
Ram Tal
Mundali
Chilmiri Neck
Thana Danda Peak
Budher Caves
Kimona Falls
Bairat Khai Pass
Kanasar
Sunrise & Sunset
I will definitely list this as the top tourist attraction in Chakrata. This town is located in a way that you catch an awesome and clear view of Sunrise towards the east and then a mindblowing sunset towards west. When you are checking into a hotel, find one where you get a clear view of the skies either from the balcony or the hotel of the room. Just make sure there are no buildings or trees obstructing your view.
Also Read: Mana Village – How to Plan your Trip & Explore
Tiger Falls
Visiting Tiger Falls will be the next entry in the list of things to do around Chakrata. This waterfall is located about 8 kilometers from the main town. It is a beautiful place with gushing water, lush green forest and a charming pond. There is a motorable road that goes all the way to the fall but please be advised that it is in very bad condition. It would be wise to not bring cars with low ground clearance on this route.
Deoban / Devban

Deoban is a dense forest located 20 kilometers from Chakrata. It is at an altitude of 2,200 meters, surrounded by tall Deodar trees all around and offers a stunning view of the Himalayan ranges. It is a favorite among photographers and picnickers alike.
Ram Tal
Ram Tal is a small lake located about 10 kilometers from Chakrata. The only catch with this place is that it sometimes dries up and usually is filled with water only after the monsoon. There was not even a single drop of water in the lake when I visited here.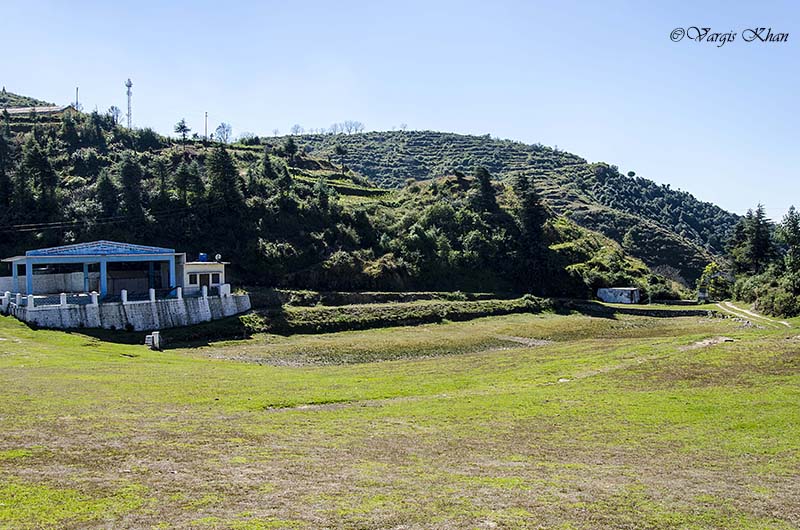 Mundali / Mundoli
Mundali is where the adventure seekers go. It is located about 36 kilometers on an unmetalled road; the condition of which is very bad. Mundali has vast ski slopes and during peak winter, it attracts a lot of people interested in winter sports like sking and snowboarding. It is also a great spot for camping but for that, you will have to carry your own gear. There is also a Forest Rest House in Mundali if you wanted to stay for a night.
Also Read: Nainital – How to Plan your Trip & Explore
Chilmiri Neck
Chilmiri Neck is where the mess and quarters of Garhwal Rifles are located. This place is considered among tourist places in Chakrata because of the view you get from here. On a clear day, Himalayan peaks like Swargarohini and the Banderpoonch can be clearly seen from here. It is also an ideal spot for watching bird and butterflies of different colors and kinds. It is located about 4 kilometers from the market and is also known as sunset point.
Thana Danda Peak
This is another viewpoint located about 16 kilometers from Chakrata. The name of the place literally means a small peak and it offers a great view of the hills around. It is also a favorite among people looking forward to doing some trekking and camping.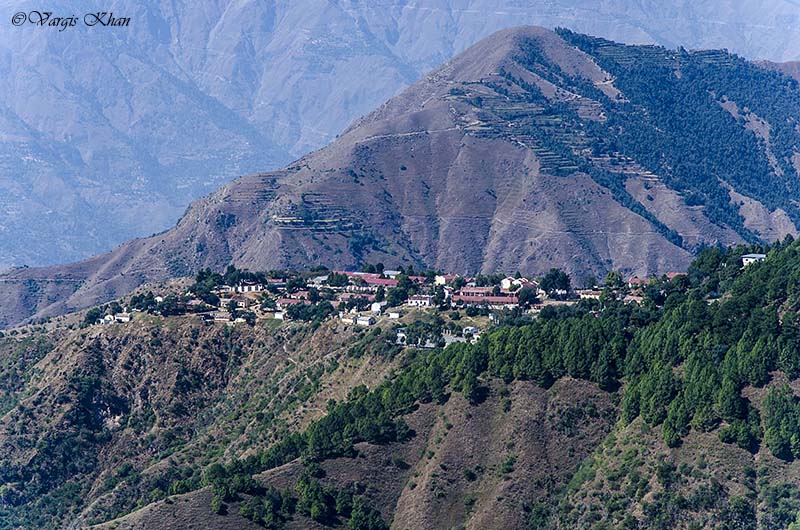 Budher Caves
Also known as Miola (or Moila) Caves, named after the German national who discovered it, it is a spot of historic caves which are believed to have been Pandavas of Mahabharat. The caves are said to run around 150 kilometers and are still mostly unexplored. You will have to trek for a distance of 3.5 kilometers which will take you about 2 hours to reach here. It is also known as Miola Top trek and starts from Budher forest rest house. You may not want to because the caves are small and narrow but the trek is definitely worth a day trop.
Kimona Falls 
This is a 115 ft high waterfall located about 2 kilometers from Chakrata. It is a mostly unknown and hardly visited by anyone spot that can only be reached by trekking.
Also Read: Mussoorie – A Complete Travel Guide and Itinerary
Bairat Khai Pass
The name Bairat Khai means 'The Princess of Hills'. It is located 25 kilometers from Chakrata towards Tiuni and at an altitude of 1990 meters, gives a 180 degree view of snow-covered Himalayas throughout the year. It is a popular spot to witness snowfall in the winters and pleasant weather in summers.
Kanasar
Kanasar is known for two things, its meadow and giant trees. By giant, I mean trees with extremely thick trunks, like in the picture below. It is located 25 kilometers from the main market on Tiuni Road. The road on this stretch is little bad and the drive is a bumpy one but still the meadow at Kanasar serves as a popular picnic spot. The entire area is surrounded by one of the best-rated Deodar forests of Asia and is greatly scenic. There is also a forest rest house in Kanasar and some tented accommodation for people wanting to spend a night here.
What to do in Chakrata
Apart from visiting all of the above-mentioned tourist places in Chakrata, below is a list of some other things that you can do here.
Things to do in Chakrata
Bird Watching
Horse Riding
Hiking & Camping
Photography
Bird Watching
For anyone interested in bird watching and wildlife, places like Deoban, Thana Danda Peak, Chiilmiri Neck and Mundali will be greatly rewarding. You will see plenty of bird and butterflies here of different colors and kinds.
Also Read: Gaumukh Trek from Gangotri – A Complete Travel Guide
Horse Riding
You can rent a horse or a pony and ride it around leisurely. I have also seen a few people rent ponies for their trek to Budher Caves.
Trekking and Camping
This is one of the best activities here for people interested in some adventure. You can trek to places like Mundali and Budher Caves and camp there for the night. Please note that for camping, you will have to make the arrangements in advance. Either bring your own camping gear and talk to some travel agency in Chakrata.
Photography
You will get ample opportunities to click as many beautiful pictures as you can. The shots of the sunrise and sunset views you will get here will truly be among your best. But that is not all. For some night photography as well, it is a great spot with clear skies. The picture below were clicked from the roof of my hotel.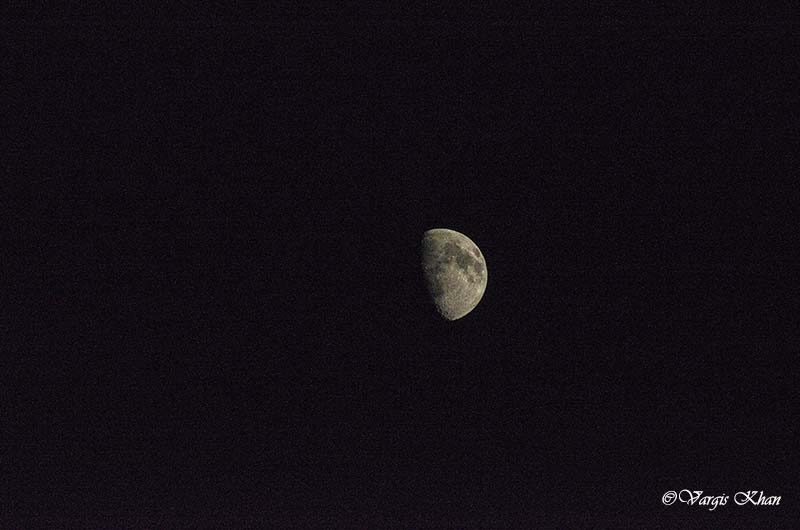 When to Go
---
Weather in Chakrata
There are 2 most important things that you must remember when it comes to the weather in Chakrata. The first is that it rains here quite a lot and second is that the winters are terribly cold. November is the month that marks the beginning of the winter season and the temperature drops drastically, sometimes even below zero degrees at night. It starts to snow here towards the end of December and snowfall can occur anytime throughout January and February. The intensity and frequency of snowfall, however, is more in the upper regions like Deoban than the main Chakrata town.
Winter departs in March and the following months of April, May, and June is considered as the best time to visit Chakrata. Weather in these months is very pleasant with sunny skies, warm days and moderately cool nights. This is the time when Chakrata and its nearby areas receive the majority of tourists. Monsoon arrives here towards the end of June and the rain gods rule throughout July and August, until early September. During this time, it rains here a lot; sometimes even enough to cause landslides and block roads. The following months of September and October are considered to be the best in terms of the scenic beauty. September has lush green vistas whereas October presents the golden orange of autumn in the trees.
Also Read: Gangotri – A Complete Travel Guide and Itinerary
Best time to visit Chakrata
Now based on the information above, I think it is safe to say that April, May, June, and September are the best months to visit Chakrata. It is an ideal time to engage in outdoor activities like camping, trekking, mountain biking, and bird watching. The overall weather at this time is very enjoyable for tourists. With summer vacation on in schools, it is also perfect for a family vacation.
For someone who wants to see snow, a trip would have to be planned between late December to Mid-February. In terms of photography, the months of July, August and September would be the best. This is the time when the valleys and hills truly are at their best scenic beauty. For a budget trip, you should plan between July to November. For someone who does not like cold weather, a trip between October to March should be avoided. If you are not too fond of rain then do not visit between late June to early September.
November is an overall bad month to go because the scenery at this time is very dull and dry. Weather will be very cold and there won't even be any snow around. October is the time to go if you want to catch those golden and orange trees and valleys you see in the photographs. September is the best month to visit Chakrata and Summer will definitely be the best season to visit Chakrata.
Clothes to Pack for Chakrata
What clothes to pack would also depend on the time of your visit. Let me break it down by the time of the year.
Chakrata in summers
The weather in the summer seasons remains pleasant and enjoyable. For a trip at this time, you will need to bring your regular cottons and light woolens. You may not even need woolens at all during the day but just pack a few or a light jacket for evenings and mornings.
Chakrata in monsoons
For a trip in the monsoon season, it would be best to pack clothes that can dry faster, like polyester. Raincoats will be extremely helpful for a trip at this time. If you are traveling by Car, please do bring an umbrella as well. For trip by motorcycle, waterproof everything.
Also Read: Rishikesh Taxi Rates – Taxi Fare in Rishikesh
Chakrata in winters
 Chakrata receives snowfall during winters and heavy woolens are required. Bring a heavy windproof jacket and ensure that your jacket also has a hood to protect your head and neck. If not, then a cap and muffler will definitely be needed. Also, bring warm gloves and woolen socks.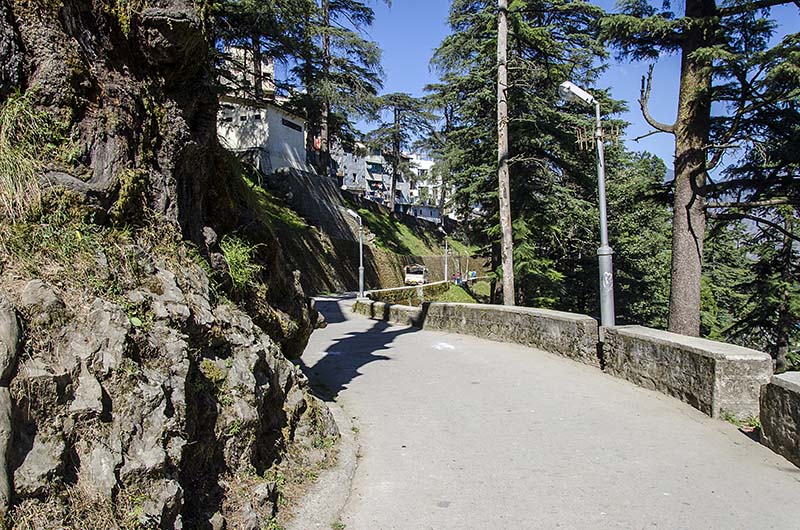 Accommodation, Food & Shopping
---
Where to Stay in Chakrata
There are plenty of hotels in Chakrata that you can stay at. These range between Rs. 1000 – Rs. 2500 or even more. Camping too is an option but only in areas around Budher Caves, Thana Danda Peak, and Mundali. Since there are not too many hotels here, I would recommend booking your stay in advance to avoid any last-minute hassle.
What to eat in Chakrata
There is no specific or special item that I would recommend trying here. It is just a small cantonment town but has a few restaurants where you can get local cuisine, North and South Indian dishes and some popular Chinese food like noodles and momos. Depending on your own choice, you can either decide to eat at your hotel or step out to eat at a local restaurant.
One thing that I would however recommend is trying Nepali Roti in Army canteen. The canteen is hard to miss; it is located inside a huge Army gate just as you climb down a whole lot of stairs from the main market. Go to the Army canteen and try one of their items called Nepali Roti with chutney. It actually looks like a south Indian Vada but is delicious to eat.
Also Read: Uttarakhand Roadways Bus Time Table
Shopping in Chakrata
 There is nothing special to buy in Chakrata. There are a few shops here but just for selling some daily commodities and groceries.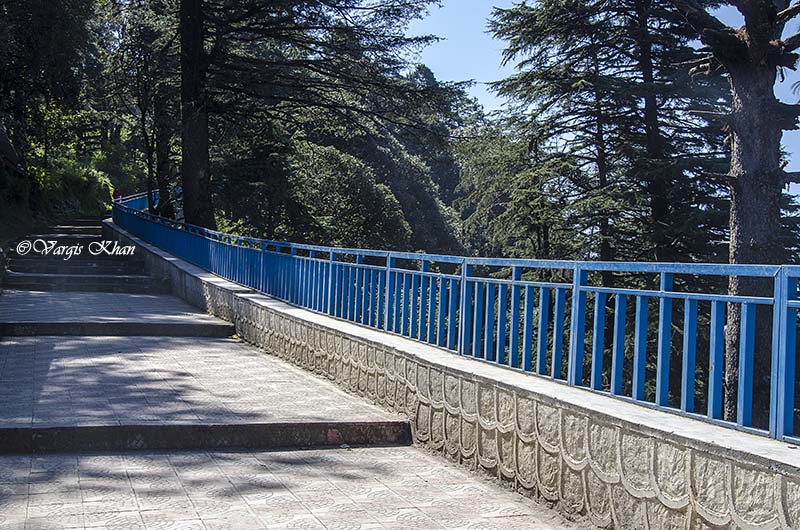 Itinerary
---
Time Needed
If you were coming from a place like Delhi or another city at the same distance, I will recommend a minimum of 4 days for visiting Chakrata. This will ensure that you are able to fully explore and enjoy the natural beauty of the region.
Also Read: Chopta – A Comprehensive Travel Guide & Itinerary
Chakrata Itinerary
Below are a few examples of different itineraries that you can follow for visiting Chakrata.
Delhi to Chakrata via Dehradun – Day 1
Visit Tiger Falls, Kanasar and Deboan – Day 2
Trek to Mundali or Buder Cages – Day 3
Return to Delhi via Kurukshetra – Day 4
This trip can also be planned like this.
Delhi to Chakrata via Dehradun – Day 1
Sightseeing – Day 2
Drive to Renuka Ji – Day 3
Sightseeing in Renuka Ji – Day 4
Renuka Ji to Delhi – Day 5
If you had a few more days, you can also plan in the following manner.
Delhi to Chakrata – Day 1
Sightseeing – Day 2
Drive to Rohru – Day 3
Rohru to Chanshal Pass to Rohru – Day 4
Rohru to Narkanda – Day 5
Narkanda to Chail / Delhi – Day 6
Chail to Delhi – Day 7
Also Read: Tungnath Chandrashila Trek – How to Plan & Prepare
Other Tips
---
Banks / ATM in Chakrata
Chakrata is an Army Cantt and several major banks have Branches here with functional ATMs. I have seen SBI, PNB and Axis Bank here. You will keep coming across Banks and ATMs in every major town on the way like Paonta Sahib and Vikas Nagar.
Mechanics / Petrol Pump in Chakrata
There is no petrol pump in Chakrata town but you will keep coming across several on the way there. Fuel will not be an item of worry while visiting here. Nearest petrol pump is in Dakpathar at a distance of about 50 kilometers so please get a tankful on your vehicle done accordingly. In terms of Mechanics, you can get some minor fixes on your vehicle done in Chakrata but for anything major, you will have to come to either Vikas Nagar or Paonta Sahib.
Mobile Network in Chakrata
No matter which network you were on, your phone will work fine in the main town but you may lose network while going towards Budher Caves. Data Connectivity was a little slow but not terribly.
Hospital in Chakrata
There is a government hospital here where you can get medical assistance. It is a cantonment so help from Indian Army can also be sought if required.
Also Read: Deoria Tal – A Complete Travel Guide & Itinerary
Permits Required for Chakrata
There is no permission required for Indian nationals to visit Chakrata. But it is restricted for foreign tourists, except nationals of Bhutan and Nepal. Foreigners are required to obtain a permit from the Commandant 22 Force c/o 56 APO.
Road Conditions
Starting from Delhi, the road is a smooth run all the way. The road between Paonta Sahib and Chakrata is bad at a few places but mostly it is a mix of good and average. The only bad sections of the road are towards places like Deoban, Kanasar and Tiger Falls.
Best Vehicle for Chakrata
There is really no best vehicle as such for a trip to Chakrata. All that you need to make sure is that your car or motorcycle is well serviced and prepared for the trip ahead. I have seen the locals here drive around in Maruti Alto and automatic scooters like Activa. The only problem could be visiting the local places like Tiger Hills where a low GC vehicle can be a bit tricky to handle.
Also Read: Lansdowne – The Most Comprehensive Travel Guide
Altitude of Chakrata
Chakrata is located at an altitude of 2,118 meters.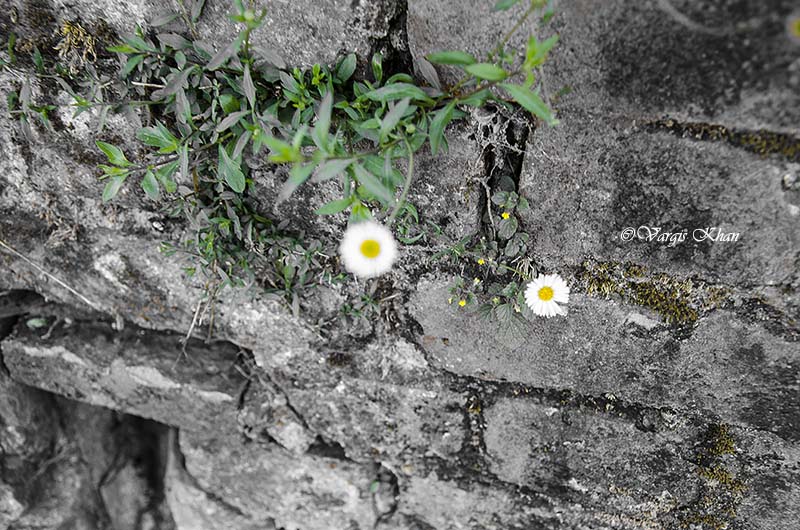 FAQs
---
Below are some most commonly asked questions about Chakrata.
Q1. Does it snow in Chakrata?
Yes, it snows around Chakrata during January and February.
Q2. How to reach Chakrata in Winter?
All the ways that I explained above in this post about reaching Chakrata will remain available in winter months as well.
Q3. How to reach Chakrata from Mussoorie?
From Mussoorie, you will first reach Kempty Falls and then take the road via Lakhwar to reach Chakrata.
Q4. How to reach Chakrata from Haridwar and Rishikesh?
From Haridwar and Rishikesh, the best way to reach Chakrata is via Dehradun and Dakpathar.
Q5. How to reach Chakrata from Chandigarh?
From Chandigarh, you will take the route via Dera Bassi, Shahzadpur, Nahan and Paonta Sahib to reach Chakrata.
Q6. How to reach Chakrata from Saharanpur?
From Saharanpur, the best way to reach Chakrata is via Herbertpur and Dakpathar.
Q7. How to reach Chakrata from Meerut?
From Meerut, the quickest way to get to Chakrata is via Muzaffarnagar, Deoband, Saharanpur, and Dakpathar.
Q8. How do I get to Tiger fall Chakrata?
There is a motorable road that goes all the way to Chakrata. Just ask any of the locals here and they will point you in the right direction.
Q9. What is the height of Chakrata?
Chakrata is located at an altitude of 2,118 meters.
Also Read: Easy Treks in Uttarakhand : The Top 5
Temperature of Chakrata
During the summer season, the average temperature sits between 20-30 degrees Celsius between March to June. The night temperature will drop slightly down to around 15 whereas the day temperature in months like May and June can go even beyond 30 Degrees. During the winter season, the average temperature ranges from 0 to 10 Degrees Celsius. In months like January and February, it can even fall below 0 Degrees at night.
Below is a month by month breakdown of the temperature in this area. Please note that these are only average figures and not absolute.
| | | |
| --- | --- | --- |
| Month | Average Minimum (°C) | Average Maximum (°C) |
| Chakrata in January | 5 | 15 |
| Chakrata in February | 5 | 20 |
| Chakrata in March | 10 | 25 |
| Chakrata in April | 15 | 30 |
| Chakrata in May | 20 | 35 |
| Chakrata in June | 20 | 35 |
| Chakrata in July | 20 | 35 |
| Chakrata in August | 20 | 30 |
| Chakrata in September | 17 | 27 |
| Chakrata in October | 10 | 25 |
| Chakrata in November | 5 | 20 |
| Chakrata in December | 5 | 15 |
Conclusion
That covers most, if not all, of the information you need to have in order to visit Chakrata. I hope the article above was of help. If you have any questions, or need any other details, please feel free to ask in the comments section below; or at our Community Forum; and I will be glad to answer.