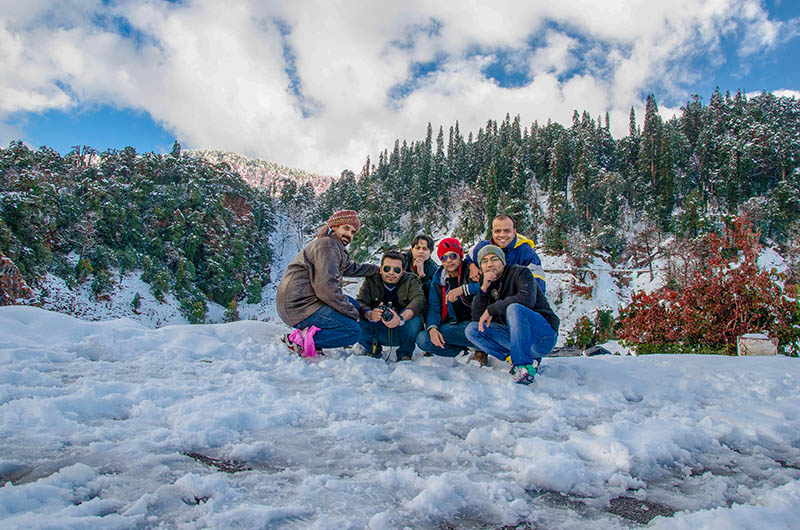 Finding snow around Delhi is not difficult at all. Its close vicinity to Himachal and Uttarakhand gives travelers access to a large number of places where you can go to experience snowfall. From a quick weekend getaway to a weeklong trip, the destinations you can cover for a winter vacation are endless. The only question that remains is how many days do you have in hand.
In my last post, I provided a list of places where you can find snow around Delhi in a 2-3 days trip. Continuing in the same series, in this post, I will name a few more places that you can visit from Delhi if you have about 4-5 days in hand. For a short weekend trip, only places from the last article will apply. With 4-5 days in, trip, the list will become inclusive of places from both of these articles.
So if you did not like any of the places listed here in this post, you can also take a look at the previous article as well.
Snow Around Delhi in 4 – 5 Days
All the places I am listing below remain accessible even during the peak winter season. They are all easy to reach and have good hotels and other facilities. You will get mobile reception and date connectivity is good as well. None of these places will take you too remote. So irrespective of whether you were traveling with your family or a group of friends or even solo, a trip to all these destinations can be comfortably planned.
Dalhousie & Khajjiar
These are among my favorite places to go to in winter. The distance between Delhi and Dalhousie or Khajjiar can actually be a bit long but the smooth roads will limit the drive to about 8-10 hours. From Delhi, it is a straight run all the way to Pathankot from where you will take the road uphill to either Dalhousie or Khajjiar.
I started from Delhi at about 5 AM and easily made it to Dalhousie by 2 PM. Khajjiar is an even better option as the meadows here are a mesmerizing sight once covered in snow. This small town is also sometimes called 'Switzerland of India'.
Go in the month of January and your chances of finding snow at both these places are even better. On Day 1, reach Dalhousie or Khajjiar from Delhi. Spend Day 2 in Dalhousie and then travel to Khajjiar on Day 3. If you had 5 days in hand then you can spend another day in Khajjiar or else drive back down on Day 4. For more details, please take a look at How to Plan a Trip to Dalhousie.
The road between Dalhousie and Khajjiar however can sometimes close if there is heavy snowfall in the region. You should call a hotel in Dalhousie or Khajjiar in advance to get the status before you leave home.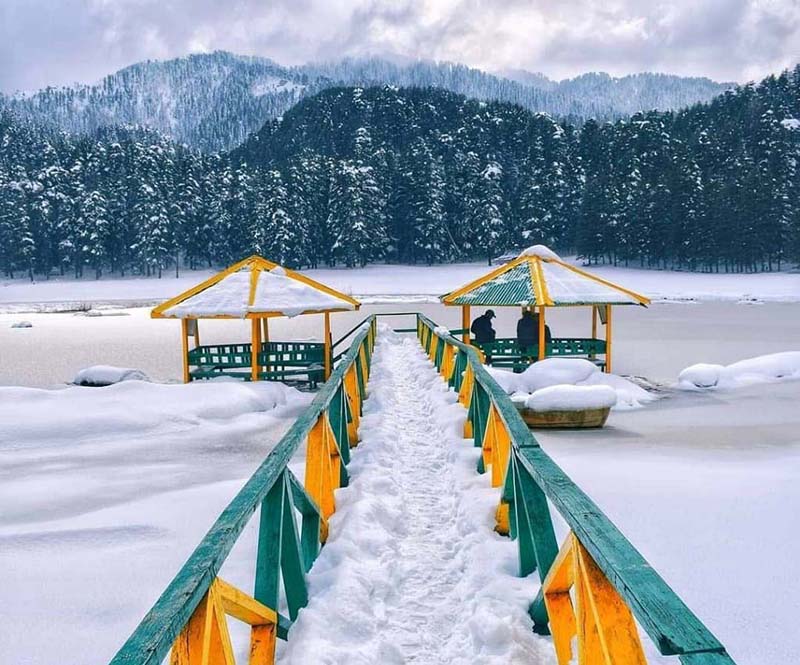 Dharamshala and Mcleodganj
The towns of Dharamshala and Mcleodganj are among the most visited destinations of Himachal. A trip here really offers a wholesome experience. There is a long list of places you can visit here and plenty of other things to do. The culture here is a mix of North Indian, Himachal, and Tibetan. The restaurants offer amazing food of different kinds. And yes, if you visited in the winter season, you will also find plenty of snow in Mcledgaonj.
Another quiet little place that you can visit is the small village of Dharamkot, a little ahead of Mcleoganj. If you were up for walking up a hill, you can try trekking to Triund. If there was no snow in either Dharamshala or Mcleodganj, you can rest assured that there surely will be some towards Triund.
The distance between Delhi and Mcleodganj is close to 500 kilometers and it is easily a 10-12 hours drive. You can arrive on Day 1 and check into a hotel at either Dharamshala or Mcleodganj. On Day 2 and 3, you can do some local sightseeing in both the towns and return to Delhi on Day 4. For more details, please take a look at How to Plan a Trip to Dharamshala and Mcleodganj.
Chopta – Deoria Taal – Tungnath
This will be my preferred choice to head to Uttarakhand in winter and the best place where you can find snow around Delhi. A trip to Chopta will offer you pretty much everything; plenty of snow, trekking, and camping right next to a frozen lake on snow.
The only catch however is that the road till Chopta gets snowed out completely in January. If planning a trip here, I would recommend going in February. There will be plenty of snow still left and you can camp at the top of Deoria Taal.
If you have 4-5 days in hand, you can cover all of it, trek to Tungnath top, camp at Deoria Taal and return home. The trek, however, even in February, will depend on how much it snowed. I traveled in February and could not reach all the way till Tungnath top. We had to return midway but were still able to camp at Deoria Taal for the night. For more details, please take a look at How to Plan a Trip to Chopta.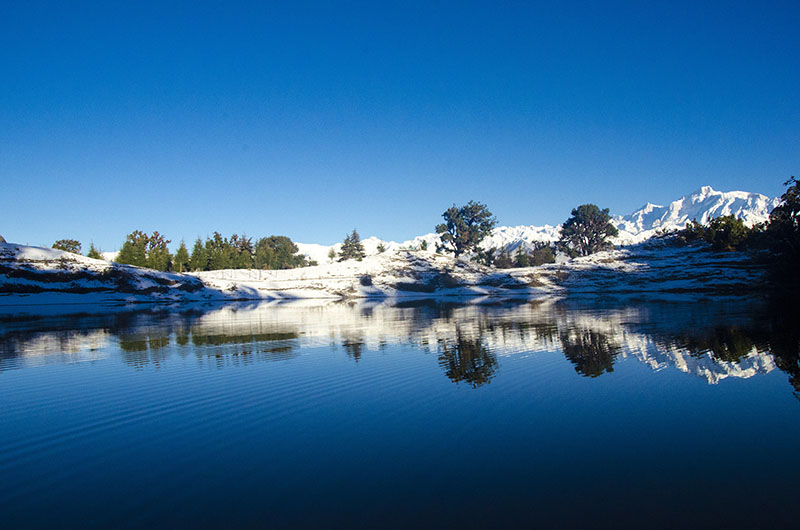 Auli
Auli is probably one of the most famous ski destinations in our country. The slopes here are great and in winter, it receives heavy snowfall. This makes it a preferred choice for anyone with an interest in Skiing. If you are new to the sport, you can register yourself for a Ski course held here in winters.  It starts to snow here sometime by late December and then the snow remains until April.
The only catch however is that the road to reach Auli gets snowed out too so you cannot drive all the way here. The only other way then is to take the cable car.  In winter, you will first reach Joshimath on Day 1 and stay there for the night. On Day 2, take the 4-kilometer long cable car to reach Auli in about 20 minutes. Spend Day 2 and 3 there and reach back to Joshimath by the evening of Day 3. On Day 4, you will return home.
For more details, please take a look at How to Plan a Trip to Auli.
Prashar Lake
This too will involve a bit of trekking in the winter season. This lake is located near Mandi at a height of 2730 meters. In summer, you can take your vehicle almost all the way to the top however after the snowfall in winter, you may have to leave it parked at Baghi village. From Baghi, depending on the snow, trek till the top of the lake can take about 4-5 hours. There is an HPPWD rest house near the lake which is a great place to stay.
If the snow was not too much, you can in fact try driving as far as you were able to. I went to Prashar Lake in February and was able to drive about 3 kilometers before the lake. We left the car parked by the roadside (which everyone else was doing as well) and walked the remaining distance to the campsite at the lake.
There is also a temple located by the lake which is worth a visit. If you have 4 days in hand, start really early from Delhi on Day 1 and you will easily make it to the lake by evening. Spend Day 2 at the lake and return home by Day 3. Or you can also take a detour towards Manali for one day, making it a 4 days trip.
You can also consider visiting Prashar Lake if you only have 3 days in hand. For more details, please take a look at How to Plan a Trip to Prashar Lake.
Tirthan Valley – Jalori Pass – Shoja
This is another great place to visit in winter if snow is what you are after. There are two ways to approach this. Either you go from Shimla and Narkanda to reach Shoja or you travel via Sundernagar to reach Tirthan Valley. Jalori Pass usually remains closed in winters so you cannot actually cross it to get on the other side.
Traveling In January, chances are that you will find snow in Tirthan Valley and Shoja itself. If not, you can trek towards the top of the pass which remains snowed out in December, January, and February. If you are planning in March, then you will still find some snow left at the top of Jalori Pass. For more details, please take a look at How to Plan a Trip to Tirthan Valley.
Chanshal Pass
Not many people visit this site due to the terrible road conditions which kind of actually makes it a great place. While the rest of the popular tourist destinations get crowded with tourists the moment it starts to snow, the area around Rohru and Chanshal Pass still remain a bit secluded.
Snow at the top of Chanshal Pass remains until April which makes it a great place to see snow around Delhi between December and April. In fact, you will find even find snow at Chanshal Pass in May.
From Delhi, you can reach Rohru on Day 1 via Shimla and make it a day trip till Chanshal Pass on Day 2. On Day 3, I will recommend driving to Chakrata, another great place to see snow near Delhi. If you had 5 days in hand, you can spend another day in Chakrata. If not, return to Delhi on Day 4 itself. For more details, please take a look at How to Plan a Trip to Chanshal Pass.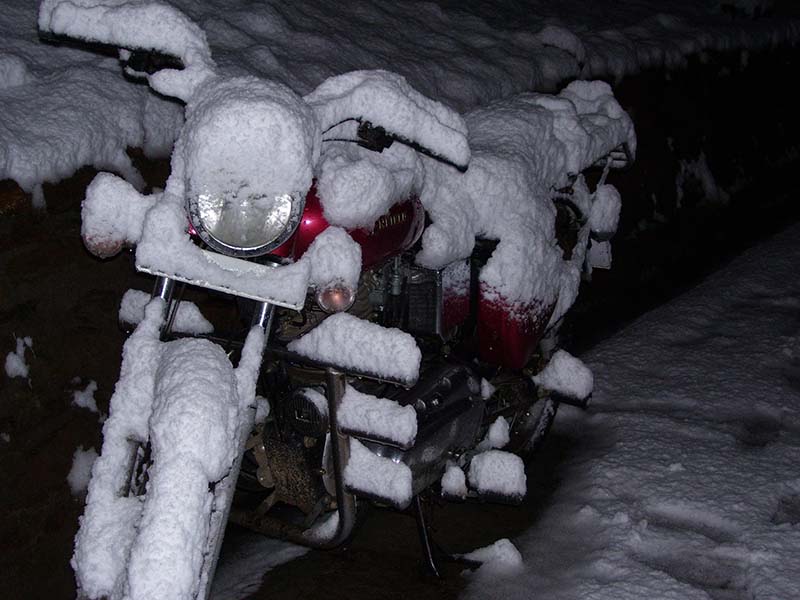 Kasol – Parvati Valley
This list could not be complete without the town of Kasol and Parvati Valley in general finding a place here. The region is easily accessible; remains connected for all 12 months and has great public transport connectivity.
Known as a 'Hippie town' and also 'Mini Israel of India', Kasol is really a haven for backpackers. If you were on a tight budget, then Kasol is where I will recommend going. In 4 to 5 days, you can also easily cover places like Malana, Chalal, and Tosh. If you were up for a bit of walking, you can also try trekking to Kheerganga.
The restaurants of Kasol are an experience in itself. In fact, it is considered as one of the best things to do in Kasol. So other than enjoying great views and snow, you also get to taste some amazingly delicious food. For more details, please take a look at How to Plan a Trip to Kasol.
Manali and Solang Valley
Last but not least, the great winter destination of our country, Manali. I know it gets a little crowded and people have started to dislike Manali for it. But you do not have to stay in Manali main town only if you do not want to. You can stay in its outskirts, in places like Kothi Village or Solang Valley.
The best part about Manali is that a trip here is a hassle-free affair. You do not need to plan or think about it much. Just board an overnight Bus and you are in Manali in the morning. Spend the next 2-3 days exploring the area and leave for home on Day 4 or 5. For more details, please take a look at How to Plan a Trip to Solang Valley.
Snow Around Delhi – Conclusion
I hope the information above on places where you can find snow around Delhi was of help. If you have any further questions or need help planning your trip, feel free to ask either at our Community Forum or in the comments section below and I will be glad to answer.