Nature has bestowed Kashmir with all its richness and beauty. There is no dearth of breathtakingly beautiful places that can blow you away with their picturesque beauty. It is difficult to pick one place in Kashmir, which is less beautiful than the other. And it would be injudicious also to pronounce one place more beautiful than the other because it is really difficult to do so as far as Kashmir is concerned. However, there are a few places which make you instantly fall in love with them not only due to their beauty but also the ambiance and some of their unique characteristics. One such place in Kashmir is Sonamarg. In this post, I will provide a list of places to visit in Sonamarg; tourist attractions that you just cannot afford to miss while visiting this little piece of heaven.
Sonamarg in Ganderbal district of Jammu and Kashmir is a place with pristine beauty. The name itself translates to "Meadow of Gold". Beautiful Himalayan peaks surround this place from all sides and give it a distinct look. Driving to Sonamarg is itself a memorable experience as you cross great Himalayan peaks and chase snow clad mountains at the same time. Located at an altitude of 9000 feet, this place is a haven for nature lovers, trekkers, adventure seekers alike. You are sure to get overawed by the scenic beauty of Sonamarg. Many green meadows, beautiful flowing rivers, streams falling from mountains and lush green deep valleys make Sonamarg what it is, an epitome of natural beauty. And add to all this, the snow-clad Himalayan peaks all around, and you have an unbeatable package of nature.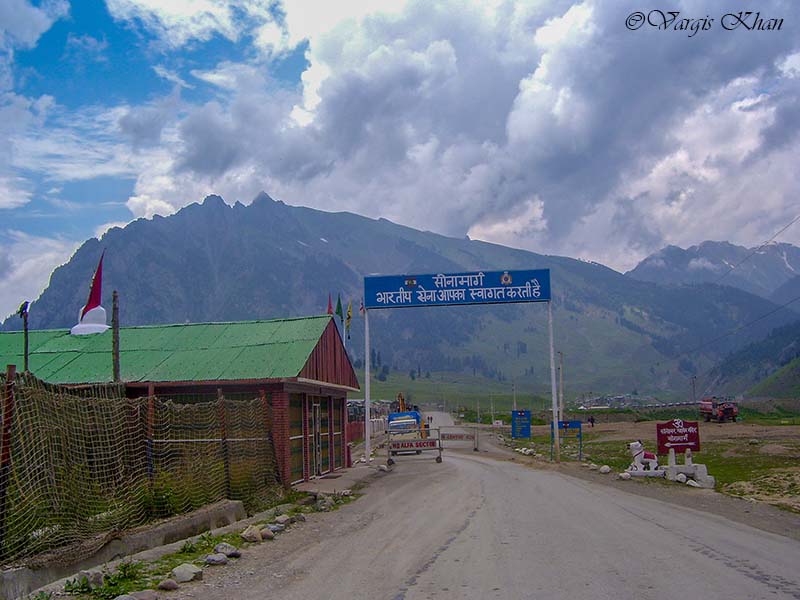 Below is a quick navigation menu of the information that I will be covering in this article.
Places to visit in Sonamarg
If you have been thinking about what is there to see in Sonamarg then you are in for a bit of a surprise and treat both. This place may sound like a small hill station but it can still keep you busy for several days. Sonamarg has so many amazing places around it that you will run short of time covering them all. One whole post can be written about the lakes of Sonamarg only. So let me bring to you some of the most beautiful and amazing spots of Sonamarg which you should not miss.
I will first provide a list of places to see in Sonamarg and then will briefly talk about them one by one. Later in the article, I will also provide some information on some other fun tourist activities in Sonamarg that you can be a part of.
What to see in Sonamarg
Zoji-La pass

Satsar Lake

Thajiwas Glacier

Gangabal Lake

Vishansar Lake

Kishansar Lake

Baltal

Nilagrad River

Gadsar Lake

Dras

Kargil War Memorial
Let's now know more about each of these places individually.
Zoji La Pass
If one is to list down all tourist attractions in Sonamarg then the name Zoji La will definitely find its place at the top. This is a place which is said to be closed to a haven on the earth. Situated at an altitude of 3528 m this is supposed to be the most dangerous yet thrilling pass in Kashmir. Being at Zoji La pass means you are closer to the Himalayas. This pass connects Kashmir to beautiful Leh and Ladakh.
But apart from connecting to beautiful places, this pass has its own beautiful landscapes. You get some really amazing and panoramic views from here. Being at a height, it has the advantage of showing you the beautiful view of deep and dense valleys. It is a part of the Srinagar-Leh highway no. 1D. Some parts of Zoji La pass are pretty risky as the road there becomes very narrow as well as muddy. It is always advisable to take an expert driver along while going to Zoji La pass who can navigate the sharp and tricky turns as well as steep climbs of the road.
The pass remains covered in snow throughout the year and is open only between May to October. So if you want to see some snow during your trip to Kashmir, Zoji La is where you should be headed.
Also Read: Highest Motorable Road and Passes in the World
Satsar Lake
This is one of the best places to visit in Sonamarg. Imagine a beautiful serene lake at an altitude of about 12000 feet. The name Satsar literally translates to seven lakes. And it actually is a confluence of seven alpine lakes. Surrounded by tall trees and beautiful flowers, this lake presents scenery which is beyond words.
Lush green meadows form all around adding to the charm. During winters, these meadows serve as home to shepherds and during summers these become camping sites for travelers. This place also serves as a base for many treks. But interestingly, you will have to undertake a short trek to reach Satsar Lake itself. The lake is flush with Trout fish but only licensed anglers are allowed to do fishing here. The permission for fishing has to be obtained from Srinagar, before starting for Sonamarg.
Thajiwas Glacier
The glacier of Thajiwas is definitely among the top tourist attractions in Sonamarg. In fact, it wouldn't be entirely wrong to call it the biggest one itself. If you are looking for a stunner of a place, this is the one. Situated at an altitude of 10000 feet, Thajiwas Glacier is just 3 km from Sonamarg, but the journey itself is so thrilling that you may not even want to reach the destination. When you encounter the silver shining frozen lake as well as the green meadows on the way, their contrast makes the surroundings all the more enchanting.
And once you reach the glacier, it is a sight to behold. Thajiwas Glacier remains covered in the snow for all 12 months, so you can go any time of the year. Its beauty is bolstered by the alpine meadows and umpteen waterfalls scattered all around the place. Go ahead and play cricket with local boys here. You can set up your camp here and have an enjoyable picnic. But once again, you have to do a bit of trekking to enjoy the scenery on the way and reach here. There is an option of hiring a pony too in case you are not comfortable with trekking.
If you are thinking of hiring a pony, make sure that that there is a clear understanding between you and the pony owner about the charges; as they tend to quote an amount and ask for more later.
Gangabal Lake
This is another star attraction in Sonamarg. Gangabal Lake is situated at an altitude of 3,575 meters (11,729 ft) and is known to be one of the sources of river Jhelum. As it is situated on Harmukh peak, so it is also known as Harmukh Ganga. The picturesque view and amazing serenity make it a must-see place. You can very well rejuvenate your body, mind, and soul here. This sparkling lake is home to brown and rainbow trout fish and is a popular fishing spot also. The water in the lake comes from natural springs and glaciers. The scenic surroundings are a treat to watch. Gangabal Lake is also a haven for trekkers.
There are two way that you can reach the lake. You can go either via a Srinagar; traveling 45 kilometers by road and then a trek of 15 kilometers. A better way, however, would be to trek 25 kilometers from Sonamarg via the Vishansar Lake crossing three mountain passes of Nichnai, Gadsar and Zajibal. A local guide is required to complete the trek successfully and you should not attempt it on your own.
Also Read: What to see in Pahalgam | Sightseeing in Pahalgam
Vishansar Lake
This lake holds a great significance and cultural heritage of Kashmir. Situated at an altitude of around 13500 feet, Vishnasar Lake is also known as Lake of Vishnu. Even at such a high altitude, it is among some of the lakes that contain a high amount of oxygen. The beauty of the lake is in the white and silver mountains around it, which are so close that you would feel like touching them.
Moreover, the lush green meadows all around the lake invite you to soak in the beauty of nature. This is a place to open your lungs. The colorful flowers in the vicinity make Vishansar lake a breathtakingly beautiful hue. It is also a paradise for fishing lovers as many species of fishes particularly masher and trout have home in this lake. The sparkling blue lake will not only reinvigorate you but will also inspire you to connect with nature.
The Vishansar Lake is situated 115 km. from Srinagar and 35 km from Shitkadi Sonamarg. The trek starts from Shitkadi for which ponies too can be hired at Shitkadi itself. Reacing lake from Sonamarg is a daylong affair which means that you will have to camp at the lake overnight.
Krishansar Lake
Located at the same height as Vishansar Lake, this is the Lake of Krishna. Another pristine beauty of Sonamarg, this lake is an ideal place to visit for fishing enthusiasts and nature lovers among you. Dense alpines, cool, calm and picturesque surroundings, and pleasant atmosphere are the things which make this lake special.
For those of you who want to spend some peaceful time, away from the city noise and want to calm your nerves, this is a perfect spot for camping. The tranquility of the place is sure to rub on you. There is ample scope here for trekking too as the strategic position of Krishansar Lake makes it a great spot for undertaking trekking expeditions. Krishansar Lake normally acts as a base for trekking to Nichinai pass.
Image Credit: By Mehrajmir13 – Own work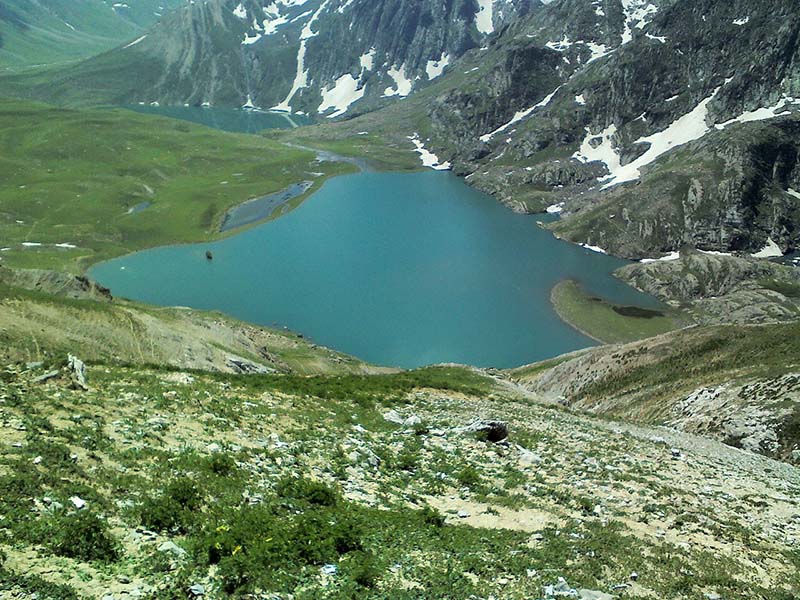 Like Vishansar, Krishansar Lake too is accessed via Shitkadi Sonamarg.
Baltal
It is a valley situated about 15 km from Sonamarg. This place holds a very special significance as it serves as a base for the annual pilgrimage of Amarnath Yatra. This is basically a place for camping. You can see hues of colorful tents pitched by or for the pilgrims all around the valley. The scenic surroundings make it all the more attractive.
Situated on the banks of the river Sindh, the whole Baltal valley radiates serenity and tranquility. A breathtaking close view of snow-covered Himalayan peaks is on offer as an added incentive. The picturesque surroundings and the vast open area make it a heavenly place. You will find yourself immersed in the tranquil ambiance and will feel inspired and motivated.
Also Read: Honeymoon Places in India – The Top 5
Nilagrad River
This is the most revered river in Kashmir. A fascinating place to visit, Nilagrad River is located around 6 km away from Sonamarg. The water of the river is believed to have medicinal properties and can cure many illnesses. The water of the river is reddish in color and gives an interesting view.
Nilagrad River meets the Indus river at Baltic Colony. People from far off places come here to take a dip in the water of this river. The spotless beauty of Nilagrad River and its surroundings will mesmerize you. The Pine trees on both sides of the river, the lush green meadows dotting its landscape and the rolling hills in the backdrop will leave you in awe. It is a great picnic spot too where you can spend as much time as you like admiring the beauty of nature.
Gadsar Lake
This is another not to be missed gem of Sonamarg. You will be surprised and thrilled to know that Gadsar Lake is situated at an altitude of 16500 feet. This is one of the highest lakes you can find. It can be reached through a trek and is also a base for further trekking. You can also use it as a camping site. For adventure seekers among you, this is an ideal place.
Perched at a high altitude and surrounded by green meadows and wildflowers, Gadsar Lake presents a stunning view. Multi-hued flowers dot the sparkling water of the lake. Though it is famous as Lake of Flowers, the name Gadsar literally translates to Lake of Fishes and brown trout fishing is a favorite activity here. Icebergs floating in the lake add to its beauty. Majestic mountains around the lake and eye-catching landscapes make you yearn for more. Just stay here for some time and feel the nature.
Gadsar Lake is situated 108 kilometers from Srinagar city and 41 km from Shitkadi Sonamarg. The trek to the lake passes via Vishansar Lake and Krishansar Lake. So if you head this way, you will actually be able to cover all three of these lakes. The best time to visit is from the month of June to September. Interestingly enough, this Lake is also named as Yemsar which means 'the lake of the demon'. Another one of its names is 'the lake of death'.It is said that a freshwater Octopus-like monster lives in its waters and drags the creatures from shores by its tentacles into the lake.
Dras
If you have some time and can spare a day, then you must take a drive towards the scenic town of Dras. It is located about 60 kilometers from Sonamarg and will take you 2-3 hours to reach. The road to Dras will actually pass through Baltal and cross Zoji La. So you can also cover both of these places while traveling to Dras. Dras is the coldest habitable place in India that experiences an average low temperature of as low as −23 °C at the height of winter. During the time it is accessible by road, it is one of the most scenic and lush green towns of Kashmir.
Kargil War Memorial
The name says Kargil War Memorial but it is actually located in Dras, hence also known as Dras War Memorial. As the name suggests, it is a memorial built in the memory of heroes who lost their lives during the Kargil War. If you are visiting Dras, you must stop near the war memorial and pay your respect.
Tourist Activities to do in Sonamarg
After our list of tourist places in Sonamarg, let us talk about some other tourist and fun things to do in Sonamarg.  There is really no dearth of activities here to quench your thirst for adventure. Some of the most popular ones that you can indulge in are as mentioned below.
Enjoying the Natural Beauty
Gazing at Countless Stars
White Water Rafting in Sonamarg
Trekking in Sonamarg
Camping in Sonamarg
Photography
Shopping
Trying Local Food
Enjoying the Snow
Also Read: Gulmarg Gondola – How to Plan your Ride?
Enjoying the Natural Beauty
Of course, enjoying the natural beauty of the place will be the first thing in your to-do list. You can either go trekking, camping, rafting or sit at your hotel ideally, Sonamarg will never stop mesmerizing you with its awe-inspiring vistas.
Gazing at Countless Stars
Your routine of enjoying natural beauty will continue at night as well. Walk to the roof of your hotel or just step outside and look above. You will see a sky that city people like us hardly ever get to see. A deep blue sky lit brightly with countless stars, shining bright. If you want to try some night photography or captures some star trails, Sonamarg is the place to do so.
White Water Rafting in Sonamarg
Go river rafting for long stretches to get your adrenaline rushing. The longest rafting expedition in Sonamarg starts from Baltal and ends at Shutkari Bridge. There are other stretches too where you can go rafting. Whether you are a newbie or an experienced campaigner, there will be a rafting expedition available suiting your needs and experience.
Trekking in Sonamarg
There are numerous trekking options available in Sonamarg. Various lake treks and other trekking trails offer multiple choices. You will experience different hues of Kashmir and its natural beauty in different treks. From alpine forests to green meadows and from picturesque lakes to snow-clad peaks, you will see them all as you explore nature. If you are looking for a pleasant enough walk with family, go to Thajiwas Glacier. If you are in the mood for some serious trekking, visit any of the lakes I mentioned above.
Camping in Sonamarg
Camping is one of the most fun activities to do for people visiting Sonamarg. There are several campsites right before the main market area and you can check into either depending on your own preference. If you were carrying your own gear then you can do self-campaign as well. But I would highly recommend not doing so in the middle of nowhere or without permission. Pitch your tent near an existing campsite and pay them a little to give you a spot.
Also Read: Aharbal Waterfall – A Complete Travel Guide
Photography
It does not matter really whether you were a serious photographer with a huge DSLR hung around your neck; or an amateur carrying a smartphone camera. Once you are in Sonamarg, you will be presented with vistas that will make it hard for you to stop clicking as many pictures as you can. Look in any direction and you will be gazing upon scenery to take your breath away. If there was ever a picture perfect hill-station, it is Sonamarg.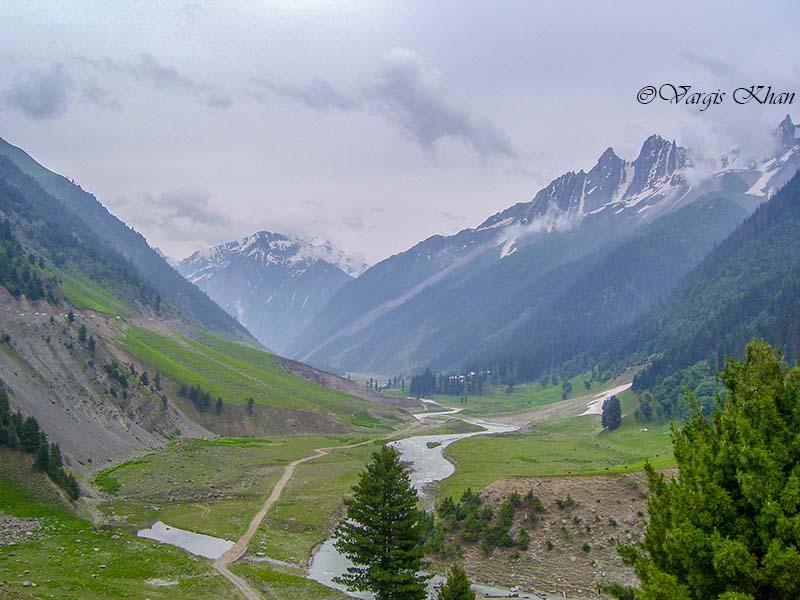 Shopping
What better way to unwind than shopping? Pamper yourself with some Kashmiri handicrafts and shawls. Bargain and get reasonable prices and collect some memorabilia.
Trying Local Food
I don't think I even need to introduce this. Kashmir is known for its delicious recipes as much as it is known for its natural beauty. Sonamarg is a great place to enjoy some mouth-watering Kashmiri food. If you are a non-vegetarian, then you are in for a treat. If not, then there is plenty of veg dishes on the menu that you can choose from. This is one of the topmost things that I will urge you to try in Sonamarg. Forget about the dishes you know or have heard of; it is the unknown ones that you have never tasted that you got to order in Sonamarg.
Also Read: Food to Try in Kashmir – What to Eat in Kashmir
Enjoying the Snow
If you reached Sonamarg towards the end of March when it has just been declared open for tourists; you will definitely find plenty of snow left for you to enjoy. The entire town at this time is buried under a thick sheet of snow and the color white dominates all around. If you were lucky, you may even catch a live snowfall.
How to reach in Sonamarg
By Air
The nearest airport to Sonamarg is Srinagar airport, which is about 70 km away. Taxis and buses are available from here to reach Sonamarg. There are regular flights to Srinagar from all the major cities of India.
By Rail
The nearest railway station to Sonamarg is Udhampur. However, it has limited connectivity. The nearest major railway station is Jammu. It is connected to all the major cities of India and has regular trains from there. Taxis are available from Jammu to reach Sonamarg.
By Road
Sonamarg is well connected by road to Srinagar which is 70 km away. Taxis and buses are available from Srinagar to reach Sonamarg. Jammu is about 400 km away and again you need to hire taxis from Jammu to reach Sonamarg.
Where to stay in Sonamarg
There are quite a few hotels and resorts available in Sonamarg. You can check out the rates and pick the one according to your budget. It is one of the most visited tourist destinations in all of Kashmir and a major stop on Srinagar Leh highway. Finding a hotel in Sonamarg will not be difficult at all but finding a budget one could be a bit of a problem. So please ensure that you call in advance, negotiate the price and book your stay before you start the journey.
Places to visit in Sonamarg in Kashmir
Now as you can see, sightseeing in Sonamarg involves a bit of trekking and walking around which is not really everyone's cup of tea. I am not saying that there is nothing to see in Sonamarg itself because the town on its own is a beauty of one of a kind. In fact, Sonamarg and the drive from Srinagar are considered among top tourist attractions of Kashmir. You can just sit down in a chair all day long gazing at the beautiful mountains and valleys and I am sure you will not get bored.
However, if you want to explore a little further, most of the sightseeing points in Sonamarg will require you to either travel by car or trek. Trekking to the unexplored and beautiful lakes will actually mean that you are in for a serious walk and spend a few days out in the wild. So what do you do if you do not want to go walking up the hills or are short on time? What are some of the best places to see in Sonamarg that you can cover in a day's time or two at most?
Also Read: Yusmarg – A Comprehensive Travel Guide
Best Places to visit in Sonamarg Kashmir in 2 Days
What you can do in this case is to arrive on in Sonamarg on Day 1 and check into a hotel. Start as early as you can from Srinagar so that you can be in Sonamarg before 10 AM. Once you have finalized on the hotel, take a drive towards Zoji La Pass. You will first arrive at Baltal which is about 15 kilometers after Sonamarg. After Baltal, you will climb roughly about 10 kilometers to reach Zoji La Pass. Spend some time at the pass, see some snow, enjoy the views, click tons of pictures and return to your hotel in Sonamarg by evening.
On Day 2, start early again and go to Thajiwas Glacier. You can either walk or hire a pony but you should be back by noon at most. Have lunch, check out of your hotel and return to Srinagar by evening.
Another way to do this journey would be to actually visit Thajiwas Glacier on Day 1 itself. Then on Day 2, check out of the hotel and drive all the way to Dras. Have lunch in Dras and then return to Srinagar by evening via Sonamarg.
Must do things in Sonamarg
It will actually depend on what your preference is but white water rafting, trekking, photography and trying local food are some of the must do things in Sonamarg.
Let me give you this breakdown month by month. Sonamarg remains closed from November to Marc so I will talk about rest of the months.
Things to do in Sonamarg in April
Sonamarg opens for tourism in early April. There is plenty of snow left for you to enjoy. Zoji La remains closed at this time but you can reach until Batal.
Things to do in Sonamarg in May
Enjoy lush green scenery and peace of the place. Trek to Thajiwas Glacier and explore Zojia La Pass.
Things to do in Sonamarg in June
Enjoy lush green scenery and peace of the place. Trek to Thajiwas Glacier and explore Zojia La Pass. You can also try camping and white water rafting.
Things to do in Sonamarg in July
Enjoy lush green scenery and peace of the place. Trek to Thajiwas Glacier and explore Zojia La Pass. It is the monsoon season so rafting may not be allowed due to increased water level.
Things to do in Sonamarg in August
Enjoy lush green scenery and peace of the place. Trek to Thajiwas Glacier and explore Zojia La Pass. It is the monsoon season so rafting may not be allowed due to increased water level.
Things to do in Sonamarg in September
This is one of the best months to visit Sonamarg. This is the best time to try capturing some stunning shots of the place.
Things to do in Sonamarg in October
This is the time of autumn and you will get to see the orange colors in the trees, making the valley look golden and magical. If lucky, you may even catch a live snowfall.
Things to do in Sonamarg in November
This is not a great time to visit. Scenery will be dull and early snowfall may even block the road.
Things to do in Sonamarg in December
Sonamarg usually remains closed in December and cannot be visited.
Places to visit in Sonamarg – Conclusion
I hope the information above on Places to Visit in Sonamarg and things to do was of help. If you have any questions; or need any other details; please feel free to ask in the comments section below; or at our Community Forum; and I will be glad to answer.