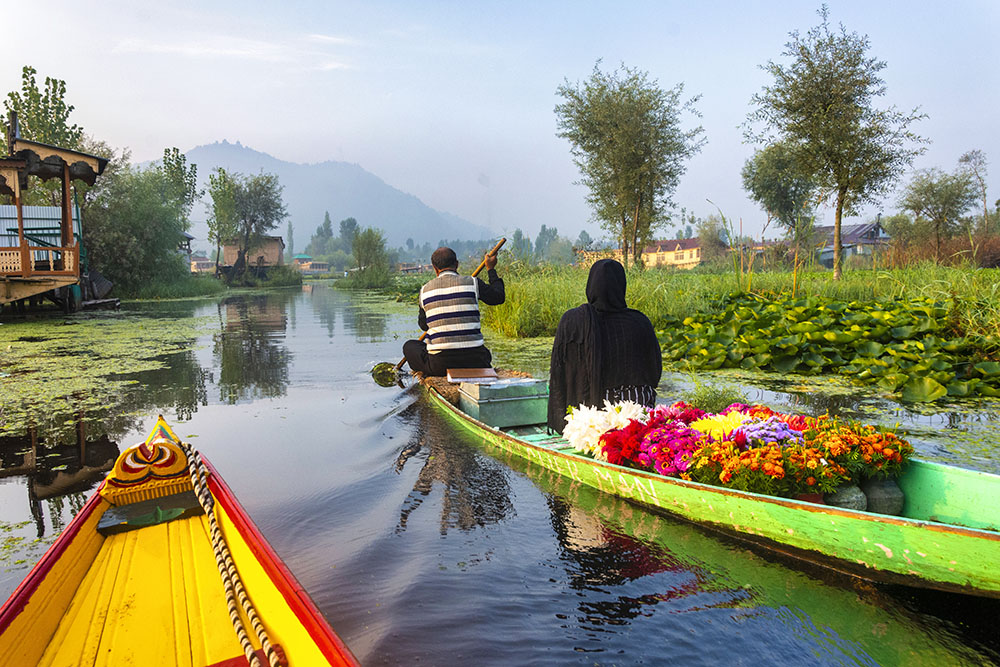 Shah Jahan a long time ago aptly called Kashmir the paradise on earth, and Srinagar is the heart of that paradise. With its serene blue lakes and magnificent gardens ringed by an Arc of Majestic Himalayas, it is a picture-perfect town that looks straight out of a painting.
There is just so much to see here and so much to do. This I believe is the very reason that despite all the unrest and tensions, Srinagar continues to remain one of the most visited tourist destinations in our country.
In this post, I will talk about how you can plan your visit to Srinagar city. For all other details on Kashmir like mobile connectivity, public transport, taxi services, and several other tips, please take a look at How to Plan a Trip to Kashmir – A Complete Travel Guide.
For getting the best hotel rates, and taxi charges, and to organize your trip to Kashmir, you can speak with Kunal @ 9910 402 252. Give him my reference and you will surely get a discounted rate.
About Srinagar
Srinagar is located on the banks of the Jhelum River, a tributary of the Indus, and the Dal and Anchar lakes. The city is known for its natural environment, gardens, waterfronts, and houseboats.
It is also known for traditional Kashmiri handicrafts and dried fruits. The name Srinagar is believed to be the local transformation of the Sanskrit name Surya – Nagar, meaning "City of the Sun".
Alternatively, it may have been drawn from two Sanskrit words: Sri (venerable), and Nagar (city), which would make it the 'City of Wealth'. (Source: Wikipedia)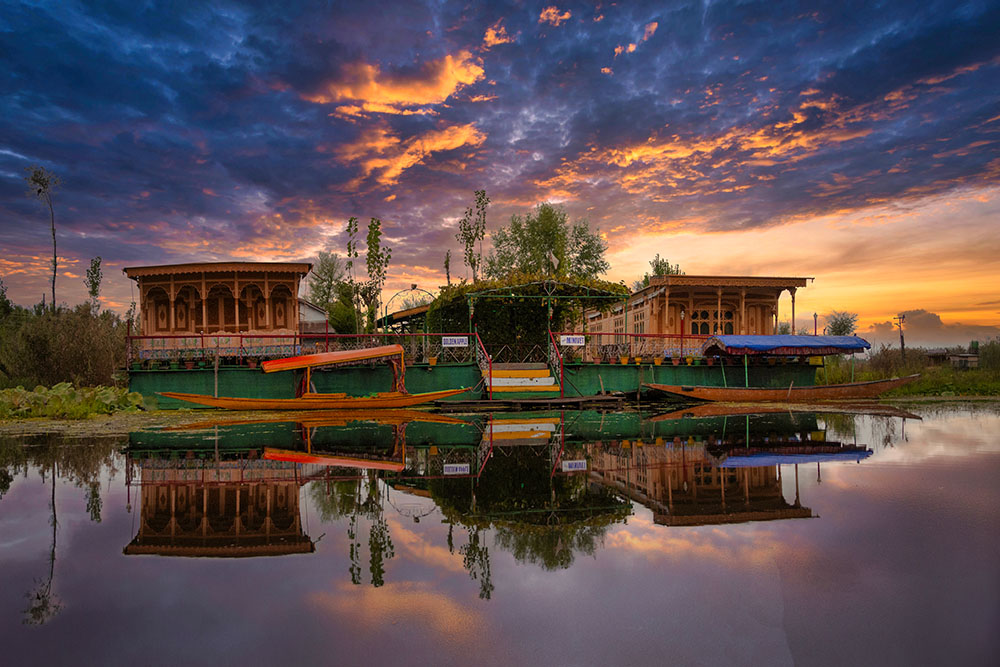 How to Reach Srinagar
Let me first talk about the different modes of travel that you can use to reach Srinagar. In a way, it also answers the question of how to reach Kashmir because you will first have to reach Srinagar to get anywhere else in the valley.
Srinagar is very well connected to the rest of the country. Depending on your own preference and time in hand, you can reach Srinagar by either road or catch a flight.
The best way, of course, would be by your own vehicle because it will also make it easier to move around to other places. However, even if you arrived by Air or public transport, you can still find a mode of commute within the city for local sightseeing.
How to reach Srinagar by Road
There are two routes that can you take to travel to Srinagar by road, either by car or a motorcycle. Irrespective of where you started from or which route you chose, Jammu will be your first destination.
From Jammu, the most commonly used and well-known route is the Jammu – Srinagar highway. The other is the lesser-known, lesser-traveled, and more scenic route of Mughal Road. I will explain both.
by Jammu Srinagar Highway



If you traveled by the Jammu Srinagar highway, also known as NH44, the route will be as mentioned below.
Delhi – Pathankot – Jammu – Udhampur – Patnitop – Ramban – Anantnag – Pampore – Srinagar
This is the road that takes you across the famous Jawahar Tunnel and towns like Udhampur, Patnitop, and Anantnag. The journey in total is about 270 kilometers and will easily take you around 10 – 11 hours to complete.
The only problem traveling by this route are the traffic jams, long lines of trucks, and the resulting delays. It is a heavily crowded road but also the one that remains open for all 12 months.
The only rare occasion when the Jammu Srinagar highway can be closed temporarily is in the winter season. If it snowed heavily anywhere on the route, the highway can be shut down until the authorities are able to clear the snow.
by Mughal Road
Now let us talk about the second route, Mughal Road.
Jammu – Akhnoor – Rajouri – Sunderbani – Bafliaz – Peer ki Gali – Shopian – Srinagar
This is really the more scenic of both the routes but is also the longest one, covering a distance of 331 kilometers in about 12 to 13 hours.
From Jammu, you will first reach Rajouri via Akhnoor. A little after Rajouri is the small town of Bafliaz where you will enter the historic Mughal road.
Right after Bafliaz is the steep but amazingly scenic drive to Peer ki Gali, the high-altitude pass on this route. After Peer ki Gali, you drive straight 40 kilometers to Shopian where the Mughal road ends.
From Shopian, it is a straight run to Srinagar. I have talked in detail about this route in another post, How to Plan a Journey on Mughal Road, that you can take a look at.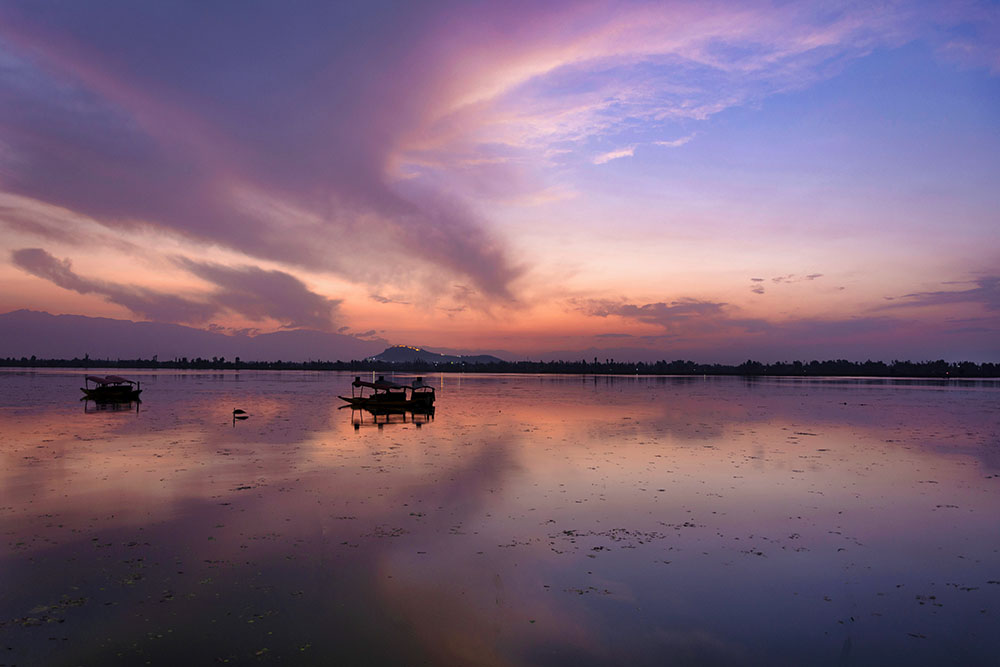 How to reach Srinagar by Flight
Reaching Srinagar by flight will be the most time-saving and easiest way of all. Srinagar has its own Airport called as Sheikh-ul-Alam Airport, located about 10 kilometers from the main city.
On a domestic level, it is well connected to various cities across the country, including Delhi, Goa, Jammu, Mumbai, Bangalore, Chandigarh, etc.
Air India, GoAir, IndiGo, Jet Airways, SpiceJet, and Vistara operate regular flights to Srinagar. The frequency is once or twice a day by each airline.
During the winter season, Srinagar Airport can get blanketed by a thick cover of fog. The city also receives heavy snowfall which leads to low visibility issues which might lead to delays in flight schedules.
After you land, you can get a taxi into town for Rs. 1000 – 1200. For visiting places like Gulmarg or Pahalgam, the cost can be Rs. 2500 to Rs. 5000 per day depending on the type of cab you chose.
Finding a bus or a shared cab from the airport to anywhere else in the city would be very difficult.
When flying out of Srinagar, make sure you allow approximately 1 hour to get from Srinagar to the airport. Security checks here cause a lot of traffic and it will be a long time before you enter the airport.
It sounds like a small airport but it takes a lot of time. Make sure you start at least allow 3 hours before the flight from your hotel.
How to reach Srinagar by Train
Srinagar has its own railway station but the problem is that it is not yet fully operational and connected. For now, you can only reach Udhampur by train.
From Udhampur, you will then have to board a bus or taxi for Ramban. After reaching Ramban, you will then board another train from Ramban to Srinagar.
An easier way thus would be to just board a bus or shared taxi directly from Udhampur to Srinagar. Alternatively, you can first reach Jammu by Train and then travel from Jammu to Srinagar by Bus.
Also Read: When is the Best Time to Visit Srinagar, Kashmir?
How to Reach Srinagar By Bus
You can try to find a direct bus to Srinagar if available from your city otherwise you will first have to reach Jammu by either train or Bus and then go to Srinagar from there.
J&K State Road Transport Corporation (JKSRTC) operates fairly comfortable buses from Jammu. This bus completes the journey in about 11 hours.
Public Transport in Srinagar
Local public transport in the city can be a little tricky. There is no regular JKSRTC bus service and you will mostly have to rely on shared taxis or mini-buses operated by the locals.
The problem is that there are no set routes or places where you can board these shared cabs from. You will just have to stand by the road, wave at any passing shared cabs, and inquire if they were headed toward your destination.
The best way, however, would be to rent a taxi for yourself which can cost about Rs. 2000 per day but will remain at your disposal. Or you can rent a motorcycle which will cost between Rs. 1000 to Rs. 1500 depending on the bike you chose.
If you do choose to rent a bike in Srinagar, then I will recommend contacting Faisal at 9596410670. I have personally used his motorcycles and they are all very well maintained.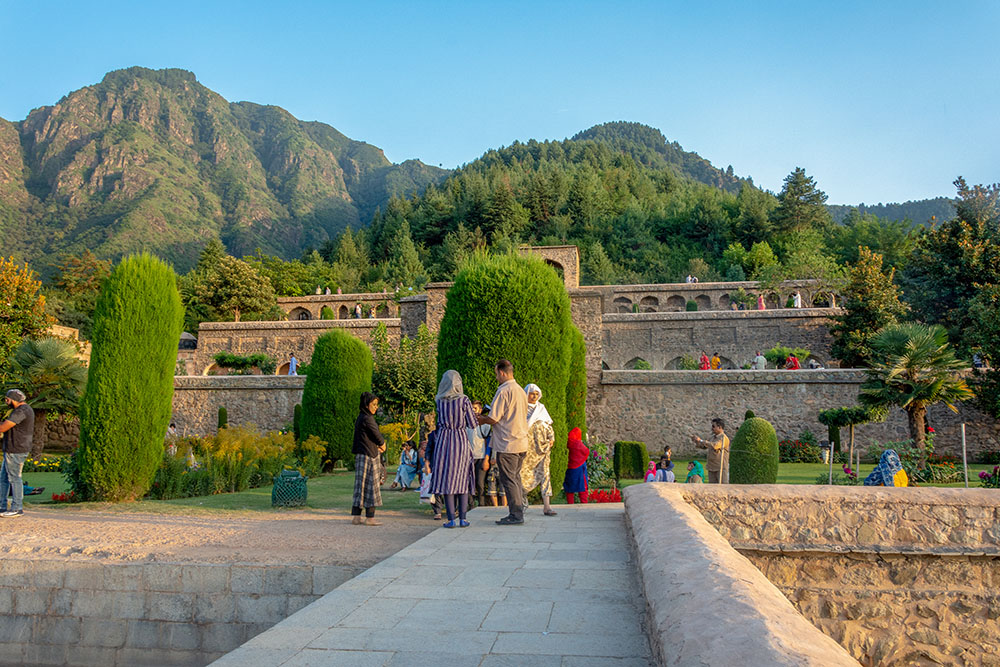 Where to Stay in Srinagar?
Being a major tourist destination, finding a place to stay in Srinagar is not going to be a problem at all. Whether or not to book in advance is really a personal choice.
I have never booked my stay in Srinagar and was always able to find a room without any problem. But still, I will recommend booking your accommodation, especially in the months of April to June.
Hotels
Hotel Grand Valley Inn is a place that I will highly recommend. It is a small hotel near Shalimar Bagh. The location of the hotel is impeccable and the owners are great hosts.
I have written a detailed review of the hotel here, Grand Valley Inn – A Great Place to stay in Srinagar. You can view this article for a few pictures of the hotel. The contact number is 9906571500 if you want to call and inquire.
If not Grand Valley Inn, there are numerous hotels in the city that you can take a look at. No matter what your budget is, you will easily find a hotel here, ranging anywhere from Rs. 800 to Rs. 5,000.
Houseboats
Houseboats are one of the most popular forms of accommodation in Srinagar. These do not float freely and remain anchored in one place. It is indeed a remarkable experience and you must experience it at least once.
The only problem is that you are not then free to move around. Once you get on the houseboat, you remain there. If you want to come to the shore, you would then have to again pay for a Shikara ride to and from the shore.
The houseboats that have land access are close to Dal Gate and very noisy. It actually doesn't even feel like staying in a houseboat at all.
There are houseboats in both Dal and Nigeen lakes. Dal Lake is actually the preferred and recommended place to stay. Houseboats on Nigeen Lake are the more expensive of the two.
Depending on the time of the year you arrive here, a stay on a houseboat can cost you anywhere between Rs. 1500 to Rs. 3500.
Camping
Srinagar is a city and there are no camping sites within the city that I know of. It is also not recommended and you are better off staying at either a hotel or a houseboat.
If you do want to go camping, Astanmarg on the outskirts of Srinagar is where you can do so. For more details, please take a look at Astanmarg – One of the Best Viewpoints of Srinagar.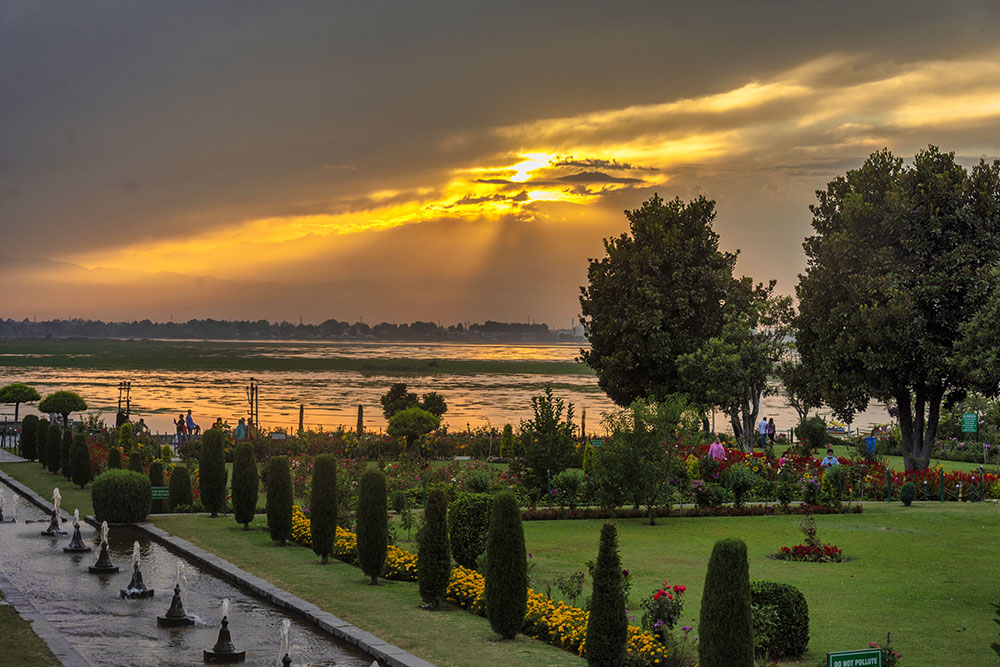 Tourist Places in Srinagar
Srinagar truly has a long list of places that you can visit. Once you reach here, you will be visiting gardens, lakes, religious sites, historical monuments, and markets and will not be done with it all for several days.
Once you have seen it all in Srinagar city, then the nearby tourist destinations like Gulmarg, Sonamarg, Pahalgam, Yusmarg, and Gurez are just a short drive away.
In brief, it is a perfect destination that you will simply fall in love with it. If you want a detailed description, then please take a look at Tourist Attractions in Srinagar City.
On this page, however, I will provide a complete list for a quick overview.
Dal Lake
Nigeen Lake
Wular Lake
Mansabal Lake
Anchar Lake
Gangabal Lake
Khushal Sar
Gil Sar
Gardens in Srinagar
Below is a list of gardens in Srinagar City.
Shalimar Bagh
Nishat Bagh
Chasm-e-Shahi
Naseem Bagh
Chinar Bagh
Achabal Gardens
Indira Gandhi Tulip Garden
Harwan Gardens
Badamwari Garden
Historical Sites in Srinagar

Below is a list of all sites of historical importance in Srinagar
Pari Mahal
Hari Parbat Fort
Sri Pratap Singh Museum
Burzahom
Parihaspore
Religious Places in Srinagar
Next in line is a list of all places of religious importance in Srinagar City.
Shankaracharya Temple
Hazratbal Mosque
Kheer Bhawani Temple
Jamia Masjid
Charar-e-Sharif
Roza Bal
Madin Sahib
Dastgeer Sahib
Pathar Masjid
Other Tourist Destinations in Srinagar City
And finally, listed below are a few other tourist destinations that did not fit into any of the categories above.
Dachigam Wildlife Sanctuary
Char Chinar
Challi Point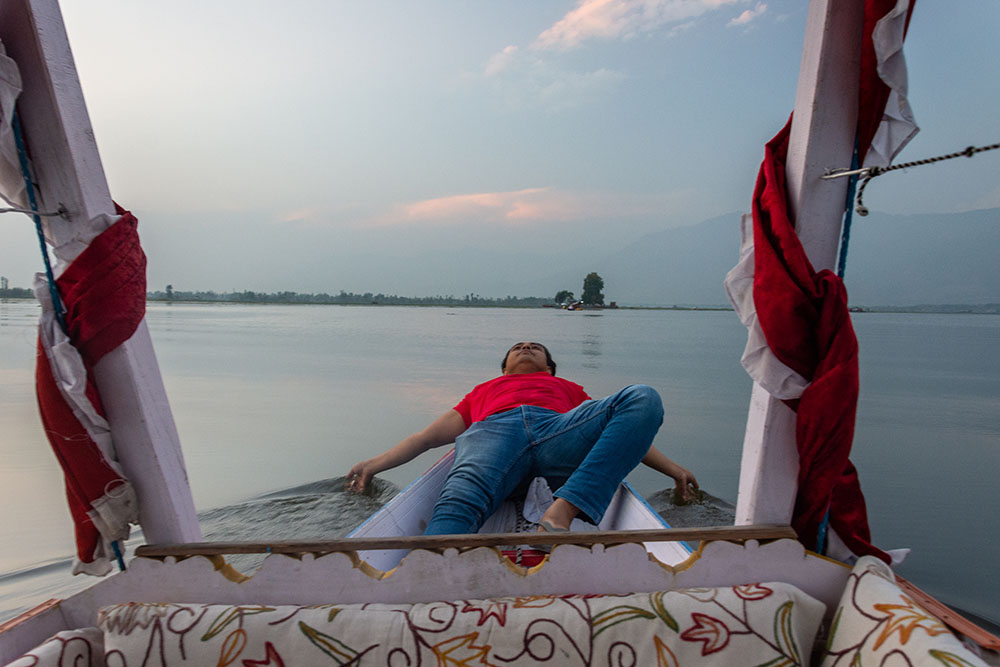 What to do in Srinagar?
Apart from visiting all the places I mentioned above, which I am sure will consume most of your time, mentioned below is a list of activities to do in Srinagar.
Shikara ride in Dale Lake
It will cost you about Rs. 700 (off-season) to Rs 1500 (peak season). The final price will depend on your negotiation skills and I will recommend that you bargain hard.
A must-see place could be the village on the lake. Ask for a ride to the side where locals live and see the floating vegetable market. The market however is usually operational only at sunrise.
Also Read: Doodhpathri – A Comprehensive Travel Guide
Paragliding in Srinagar
If you are in for it then you can try your hand at paragliding. The takeoff point for the ride is from Astanmarg, close to the Harwan Gardens at 7,400 feet. From there, you will then fly down to 5,300 feet at Chandpora Grounds in Harwan.
Trekking in Srinagar
The number of trails in Kashmir open for trekking is endless for which Srinagar serves as the base. Last I was told, the number of registered trails was in the thousands.
But it does need you to of course spend some time and arrange for a guide and porters, both of which you can easily get in Srinagar city.
Photography in Srinagar
At the least, Photography is one activity that I highly recommend you indulge yourself in. There is plenty to click and you will end up taking thousands of pictures of the gardens, lakes, and historical sites.
Be careful where to point your camera though and do not take photos of Army personnel and the base.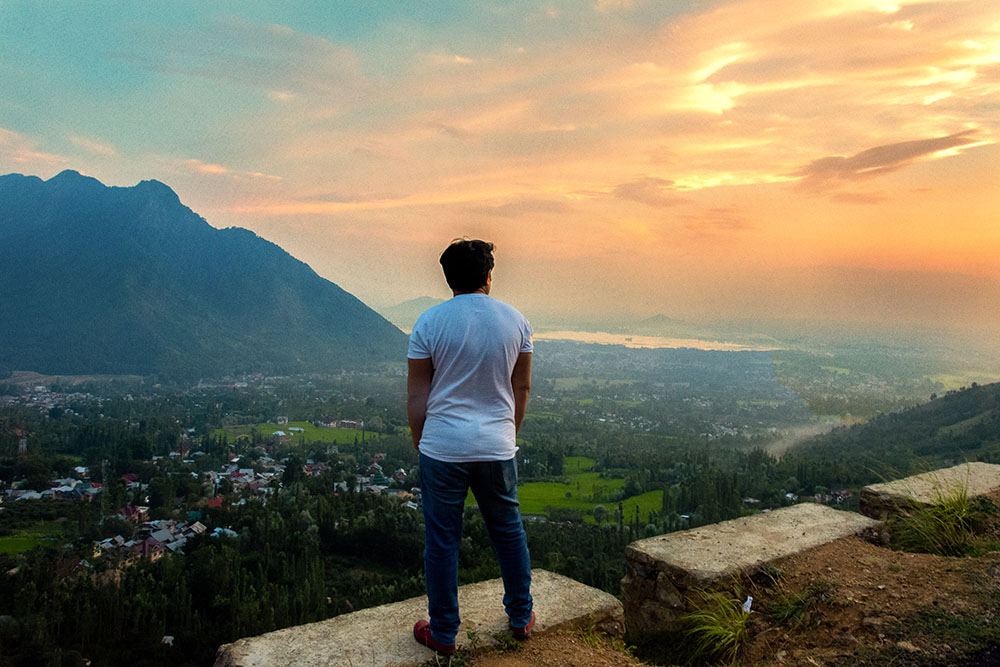 Weather of Srinagar
Due to its high altitude, Srinagar experiences a humid subtropical climate. The weather here remains pleasant during summer and gets much colder than most of the rest of India during winter.
The city and the valley are surrounded by the Himalayas on all sides. The winter season lasts from December to March and during these months, it can snow here anytime.
The temperature at this time remains about 2 Degrees Celsius on average. Nights will definitely be much colder with temperatures dropping as far as -5 Degrees. Moderate to heavy snowfall occurs in this season and even the roads may get blocked for a few days.
Spring arrives in April and it is beautiful and blooming all around. The average temperature in March rises up to about 12 to 15 Degrees Celsius.
Nights will still be colder with temperatures still ranging between 0 to 5 Degrees but days will be pleasantly warm between 20 to 30 Degrees Celsius.
Summers start in May and end in August. The days will be warm (and occasionally hot) with a daytime average of between 25 to 35 Degrees Celsius. Nights in these months will be very pleasant at around 15 Degrees.
July also is when the monsoon arrives in the valley. September will again be pleasant and by October, Autumn will arrive and it will start to get cold again.
Best time to Visit Srinagar
There is really no definitive answer to this question because it will be different for everyone.
Some people come to Kashmir looking for lush green valleys. others would like to experience snow all around. Some people can only visit during summer vacations. A lot many others would do anything to avoid being in a crowded city.
To summarize, below is a breakdown.
February is best if you want to see snow.
April, Late August, and early September if you want to see plenty of green
January, July, August, and November will be a good time if you want to avoid the crowd
Ramzan and Dates around Eid are not a good time because most of the places would remain closed.
Planning around Independence Day and Republic Day is again not a good time because of all the security.
June and July may not be best because of Amarnath Yatra and all the pilgrim rush.
July and August again won't be good due to the monsoon and if rains make you uncomfortable.
Based on the above information, you can decide which month would be best for you; depending on what exactly would you like to experience in Srinagar.
For a more detailed write-up on this topic and further information, please read When is the Best Time to Visit Srinagar and Kashmir?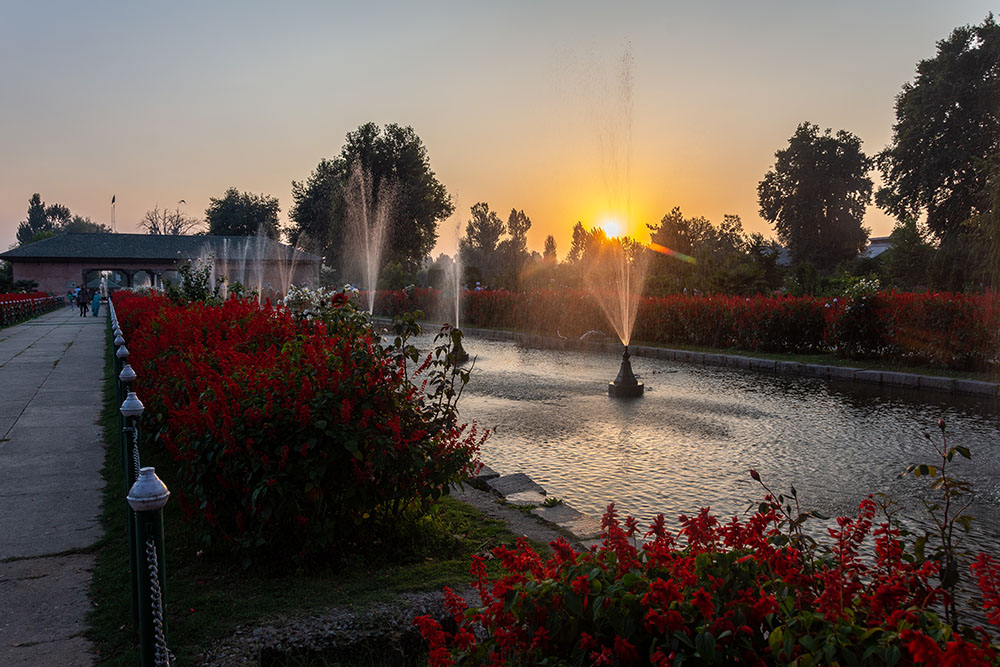 Clothes for Srinagar Trip
It will depend on which month of the year you are visiting here. In the months of winter, from December till March, you will need all heavy woolens with windproof jackets to protect you from the cold.
Do not forget to pack good-quality gloves, a muffler, and woolen socks. While opting for a jacket, make sure it has a hood to protect your head and face.
In the months of April and May, plenty of cotton clothes and light woolens would do just fine.
Clothes for Srinagar in June, July, and August however mean that you just need a light jacket to wear during the mornings and evenings. Even that may not be needed sometimes.
If you are visiting in September and October, you will again have to bring in a jacket and some light woolens. November and December will again be very cold with night temperatures getting close to zero so pack accordingly.
A few things to remember while packing will be,
You must carry heavy woolens, sweaters, and scarves, especially if traveling during winter
A light jacket is a must from April till September
A heavy jacket will be needed from October till March
Good quality shoes if you plan to indulge in adventure activities
An Umbrella can be useful during both monsoons and January and February.
For more information on this topic, you can take a look at What Clothes to Pack for a Kashmir Trip.
What to Eat & Where

If you are a non-vegetarian then you are in for a treat. No one cooks non-veg food like the Kashmiri people. But worry not, even if you are a vegetarian then there are several delicious Kashmiri dishes that you must try.
Non-Vegetarian Dishes in Srinagar
Mutton Roghan Josh
Gushtaba (soft meatballs cooked in natural yogurt, white curry)
Rishta (Soft Meat Balls in delicious Gravy, Red Curry),
Tabak Maaz (Deep fried ribs of lamb)
Kanti(small chunks of meat cooked with a lot of onions).
Seekh-Tuji – Marinated and freshly barbecued meat pieces eaten with chutney
Grilled Mutton called Tilli or Tekh
Marzunga Korma
Shami Kabab
Meeth Maaz
Vegetarian Dishes in Srinagar
Veg Dum Aaloo
Tamatar Zaman (Paneer)
Nundur Yakhin (Lotus Stem prepared in Yogurt)
Haak (Kashmiri Saag)
One thing you got to remember is that Kashmiri people are not too high on Roti / Chapati. Rice is what usually gets served here and hence the gravy of all these items is not thick.
There are plenty of vegetarian restaurants in Srinagar near Lal Chowk. I am really talking about the Shudh Vaishno dhabas. So even if you were a vegetarian, you will still be OK. Just reach Lal Chowk and ask anyone.
Krishna Shudh Vaishno Dhaba near Durganag Mandir is the most famous one and there are several other vegetarian restaurants in the same lane.
I have covered this topic in detail in Food to Try in Kashmir & Best Restaurants that you can take a look at.
Drinks to Enjoy in Srinagar
Kahwah is the most famous and traditional drink from Kashmir and something that you must try while you are here. It is made from green tea leaves with saffron strands, cinnamon bark, and cardamom pods.
Some varieties of this drink are made as a herbal infusion only, without the green tea leaves. It gets served with sugar or honey, and crushed nuts, usually almonds or walnuts.
Kashmiri Tea, also known as 'Namkeen Chai' or 'Nun Chai' is another form of tea that is quite a favorite among the locals. This tea is commonly referred to as Nune Toath among Sufis.
It is basically black tea, cardamom, various spices, salt, and bicarbonate of soda, and yes, there is no sugar in it at all. Instead of sugar, they put salt in it and that is why it is called Namkeen Chaai.
Try it out and see if you like it. I did so too and could barely get a couple of sips down my throat. I had to ask the tea stall guy to add some sugar so I could drink.
Alcohol in Srinagar
Alcohol is allowed in Srinagar but you cannot consume it openly of course. There are no restaurants where you could just order a few drinks and sit down to enjoy.
A lot of hotels however serve alcohol in rooms or may even have a small Bar set up. If you were looking to buy Alcohol here on your own, then there are 2 or 3 liquor shops on Boulevard Road and one in the Badami Bagh Cantt area.
But please make sure that you are not consuming alcohol here openly unless you do want to get frowned upon by locals or even get arrested for it.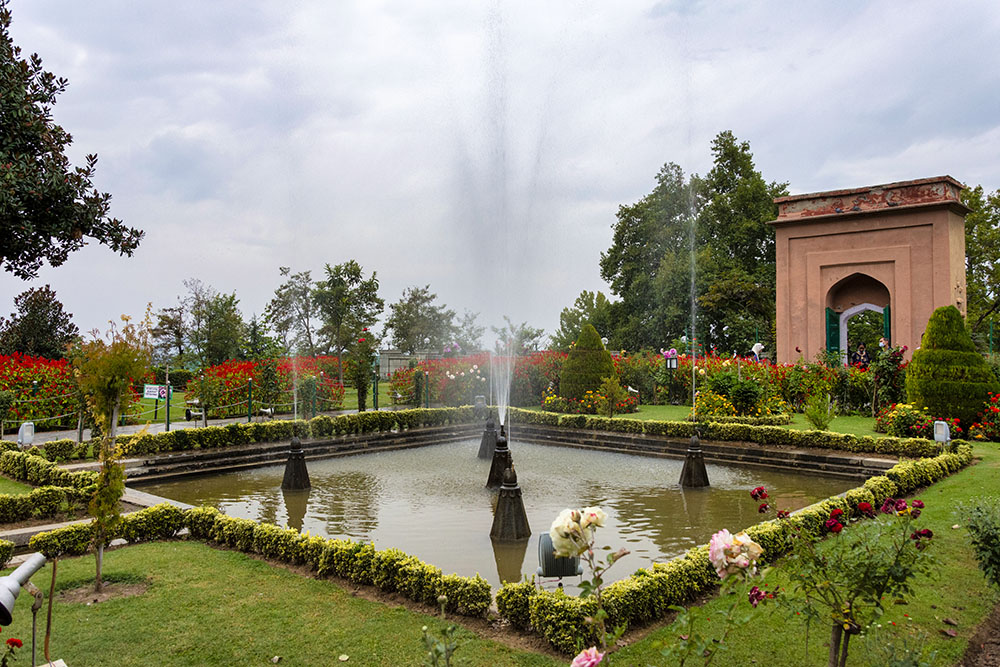 What to Buy in Srinagar?
Your shopping in Srinagar will consist mainly of handicrafts, leather products, wooden jewelry boxes, Carpets, Chain stitch rugs, Cashmere (Pashmina) shawls, and Paper Machine products.
Just go to Lal Chowk and there are plenty of shops available that you can buy from. If you were here on Sunday then you should try shopping from Sunday Market between Lal Chowk and TRC Fountain. You will get items here at a much cheaper rate.
If not Sunday then just go to Dal Gate. You will reach an end where there will be a lot of houseboats parked, and several hotels and restaurants on the other side of the road. This is also a good place to buy some cheap stuff from roadside vendors.
In terms of eatables, you can buy plenty of dry fruits from Srinagar at very reasonable rates.
Mobile Network in Srinagar
The first thing you need to remember is that only postpaid connections work in the state of J&K. Prepaid phones do not work here and will be dead the moment you enter the state.
If you had a postpaid connection, then you will have full connectivity in Srinagar city, irrespective of the network you are on.
For other areas of Kashmir though, BSNL has the widest coverage here so BSNL / MTNL users have a higher chance of getting network at places Gulmarg, Sonamarg, Doodhpathri, Yusmarg, and Gurez.
Also Read: How to Plan your Trip to Alpather Lake?
As long as you are in Srinagar city, you will have good data reception with good speed. Apart from your mobile network, most of the hotels here provide WiFi connectivity so you can access the internet that way as well.
Do note that if there is any tension in the valley, internet services get shut down immediately including your mobile data. If that happened, then you will have no way of accessing the internet until things get back to normal.
Festivals in Srinagar
There are some amazing and unique festivals that take place in Srinagar and are worth attending.
I am not really talking about festivals like Eid, Urs, Holi, and Diwali because these get celebrated all over the country. I am really referring to festivals that are unique to Srinagar.
Srinagar has the largest Tulip Garden in Asia, known as Indira Gandhi Tulip Garden. Tulip Festival, celebrated in the months of March – April when the garden is at its full blossom, is definitely worth attending.
The Navroz Festival is the new year's festival of Shia Muslims and is celebrated with great enthusiasm for nine days.
Gurez Festival is the festival of the Gurez Tribe of Kashmir and is celebrated in the month of July. The occasion is celebrated with traditional folk dance and music.
Shikara Festival is celebrated in the months of July / August.
Srinagar is one of the largest saffron producers in the world. Hence, the city organizes the Saffron Festival in the last week of October.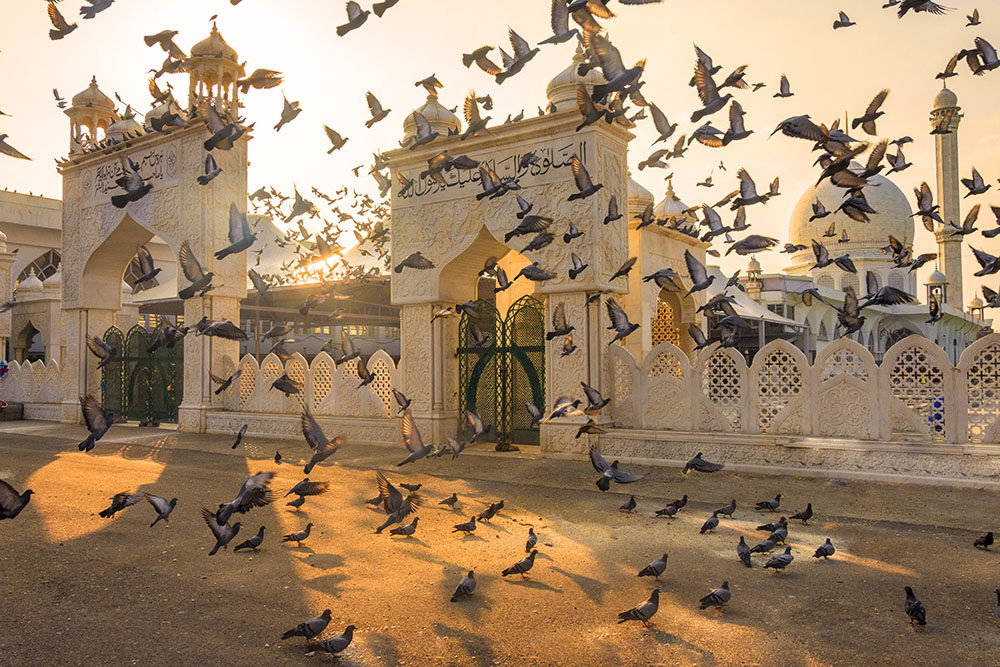 Other Tips
Mentioned below are some other tips that can be of help in planning a trip to Srinagar.
ATM / Banks

Srinagar is a well-populated and connected city. Almost every Indian Bank has a branch here and has 24-hour ATMs.
Petrol Pumps / Mechanics
There are plenty of petrol pumps as well as mechanics in Srinagar. You can get every major and minor repair work done in the city.
Also Read: Gulmarg Gondola – How to Plan your Ride?
Medical Facilities

There are plenty of hospitals, doctors, and medical stores in Srinagar. Whether it was a small ailment or something serious, you can easily get it taken care of in Srinagar.
Road Conditions
The highway from Jammu to Srinagar, NH44, is a mix of good and bad but mostly average. There are some bad and under-construction sections on this road.
The route via Rajouri, Mughal Road, and Shopian is a single-lane highway throughout but mostly remains in good condition. Traffic on this route is not that much. Roads towards Gulmarg, Pahalgam, Sonamarg, etc are all a mix of good and bad.
Permits
There is no permit needed for visiting Srinagar city. If you were however planning to go towards areas close to the border, like Gurez, Batalik route, or areas in Ladakh, then you may need to obtain a permit.
How to reach Srinagar from Jammu
If you were traveling by public transport like train or by Bus, then it is just easier to reach Jammu first and then find a mode of transport from Jammu to Srinagar.
There are JKSRTC buses from the Jammu Bus stand that take about 10 to 11 hours from Jammu to Srinagar.
You can also opt for a private taxi available at both the railway station, Taxi Stand, and Bus stand for Rs.2,500 to Rs. 3,000 for a Non A/C SUV; inclusive of all charges.
A hatchback like Toyota Etios will cost about Rs. 1,800 to Rs. 2,000 per day. Shared taxis are also available for a cost of Rs. 500 to Rs. 600 per person.
Conclusion
So why should you visit Srinagar and not some other place? After all, it is just another hill station and there are plenty of those in our county. So why visit Srinagar?
The answer to this question is the fact that Srinagar is a perfect recipe for whatever kind of tourism you have in mind. If you want to go out on an adventure with friends, then Srinagar is the place to be.
Not only you can cover Kashmir but can also venture toward the valleys of Zanskar and Ladakh. If a family vacation was on your mind then Srinagar is a great spot. There is plenty to see in the city itself, fun places to eat at, quite a few adventure activities, and great markets to shop from.
For photography enthusiasts (being one myself), I can guarantee that you won't stop clicking here. In short, this small tourist magnet has on the plate a little something for everyone.
I hope the information above on planning a trip to Srinagar was of help. If you have any questions, you can contact me on Instagram and I will be happy to answer. You can also consider subscribing to my YouTube channel and asking a question there.
This error message is only visible to WordPress admins
Error: No feed found.
Please go to the Instagram Feed settings page to create a feed.