When you talk about winter destinations in the Himalayas or places where you can enjoy snow sports, the name Auli will always be a part of the list. This small town is one of the best hiking and ski destinations not just in Uttarakhand but in the entire country. It is one of those places where a trip can never go wrong, irrespective of the time of the year. Being a small little hamlet, Auli is almost never crowded and is perfect for anyone looking to visit an offbeat and lesser crowded destination. The natural beauty of the place is like no other and is bound to have its effect on you and leave you charmed. How can you plan a trip to Auli is what we will be discussing in this article, including details like how to reach, where to stay, what to see and things to do.
For a brief overview, Auli is located in Chamoli district in the state of Uttarakhand, at an altitude of 2,505 meters (8,219 ft). It is also known as Auli Bugyal in Garhwali where the word 'Bugyal' means a meadow. Actually, the name Auli itself translates as Bugyal and hence a meadow. The whole place turns into a ski resort in the winter season. Between June to October, during and immediately after the monsoon, Auli becomes home to one of the highest number of flower species found anywhere in the world. There have been as many as 520 species of high altitude plants documented here; out of which, several are classified as endangered and about 498 are flowering plants.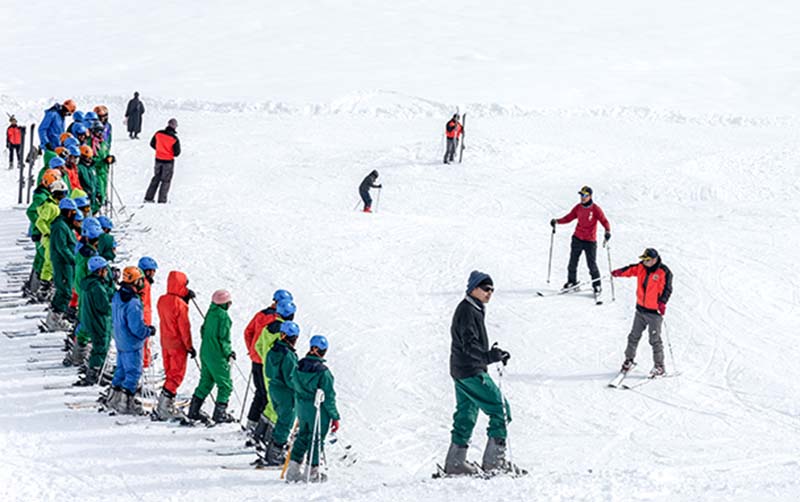 Below is a quick navigation menu of the details we will be covering in this article.
Where is Auli
Auli is located in Uttarakhand at a distance of about 16 kilometers from Joshimath, 260 kilometers from Rishikesh and 300 kilometers from Dehradun. From Delhi, there are two routes that you can take, either via Bijnor and Lansdowne or via Rishikesh.  The distance in both cases is about 500 kilometers. More information on this is covered further in the article.
Also Read: Pangot Travel Guide – How to Plan your Trip & Explore !
Why Visit Auli
Should you visit Auli or not depends on what kind of a trip you were looking for. It is a premier ski resort that is famous as a winter destination but you do not have to necessarily visit here only in winter to truly enjoy the place. Surrounded by snow-capped high mountains, apple orchards, and pine trees, Auli is one of those year-round magnet destinations that present a different color in each season and continue to attract tourists all year long. India's longest cable car is between Joshimath and Auli which is one of its main tourist attractions. So if you want to enjoy truly mesmerizing vistas, see some snow, do some skiing and spend time away from the crowd in a peaceful location than Auli is where you should be headed to.
But if your idea of a trip is to party, do a lot of shopping, eat out and enjoy different kinds of foods, spend several days going through a long list of sightseeing then Auli is not the place for you. It is a serene and calm hill station that never gets crowded and gives you the real taste of the beauty of the mighty Himalayas.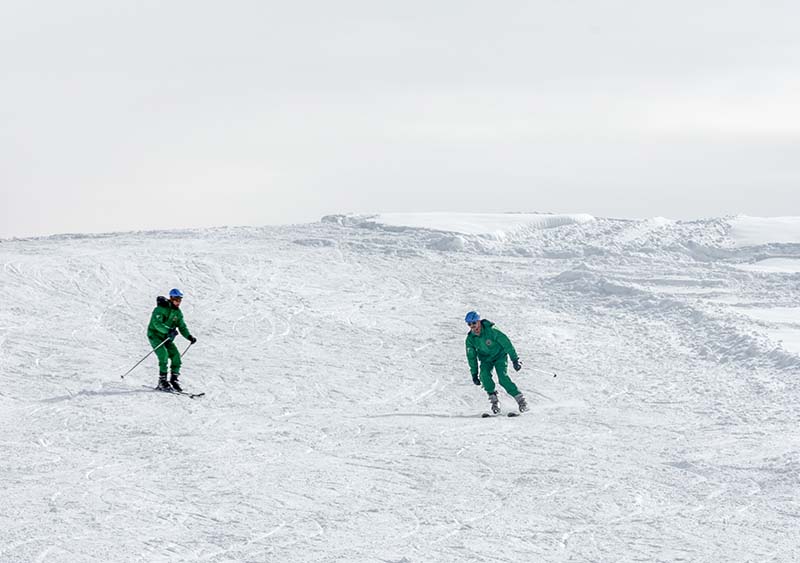 How to reach Auli
It took me about 2 years before I finally was able to plan and visit Auli. There were several reasons behind this but one of them was that it was always a little confusing for me about where Auli exactly was and how to get there (silly, I know). But do not let that confuse you too. There is a motorable road that goes all the way to Auli and there, in fact, is a bus service available as well. Joshimath is where you will be traveling to first which is easily accessible and very well connected. Auli is about 16 kilometers from Joshimath and how you travel this final distance will entirely depend on your time of arrival.
How to reach Auli by Road from Delhi by Car
I will begin by first explaining the journey if you were traveling by road and your own vehicle, either a motorcycle or a car. For the sake of explaining the route, I will assume Delhi as your starting point. Even if you were, however, coming from a different city, the information below should still be able to help you understand the different roads you can take.
One thing I will add here is that there are multiple places by the name of Auli. One is located in Haryana, another in Himachal near Tiuni and Chopta, and the third one in Uttarakhand. So if you were looking for information on Google Maps, please ensure that you are searching for the one near Joshimath.
Also Read: Gangotri and Gaumukh – How to Best Plan your Journey
Via Haridwar and Rishikesh
Starting from Delhi, the route will be as mentioned below if you went to Auli via Haridwar and Rishikesh. This is the most common way to reach Auli from Delhi.
Delhi – Meerut – Muzaffarnagar – Haridwar – Rishikesh – Devprayag – Srinagar – Rudraprayag – Karnaprayag – Chamoli – Joshimath – Auli
This entire route is about 525 kilometers long and will take you anywhere between 16-18 house depending upon your speed and breaks.  The condition of the road is a mix of good and average (mostly good) until Rishikesh but it is bad between Rishikesh and Joshimath.
Via Lansdowne
The second route that you can take is as mentioned below.
Delhi – Meerut – Khatauli – Bijnor – Najibabad – Kotdwar – Lansdowne – Khirsu – Srinagar – Rudraprayag – Karnaprayag – Chamoli – Joshimath – Auli
The distance by this road will be about 540 kilometers and it will take you 16-18 hours to complete. The road condition till Khatauli is good; Khatauli to Lansdowne is a mix of good, bad and average, Lansdowne to Srinagar is mostly good but narrow; and Srinagar to Joshimath is a mix of bad and average. This is my preferred way to travel because then you can Delhi to Lansdowne on Day 1 and Lansdowne to Auli to Day 2. Lansdowne too is a great hill station and definitely worth a visit. To know more, please How to Plan a Trip to Lansdowne.
I know there can be multiple other ways that the routes mentioned above can be modified or adjusted but either of this will be the best and my suggested way to reach Auli.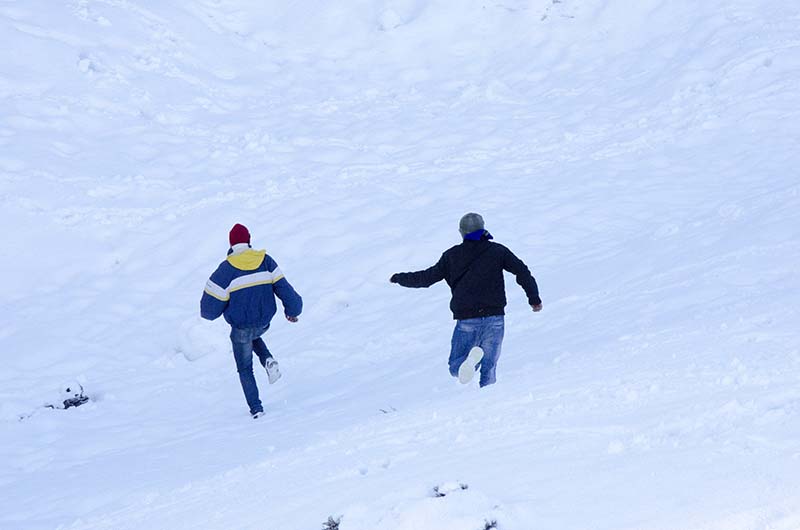 How to reach Auli by Bus
Reaching Auli by Bus will be a little tricky. There is no direct Bus to Auli; hence your journey would have to be broken down in parts, most probably three. Assuming that you started from Delhi, you will first have to board a Bus for either Dehradun or Rishikesh. From both these places, you will then have to board a Bus for Joshimath. I will recommend reaching Rishikesh than Dehradun because finding a Bus for Joshimath from here will be easier.
Rishikesh to Joshimath by Bus
There is a morning Rishikesh to Joshimath Bus that starts at 6 AM from Rishikesh which will be your best bet. It will drop you at Joshimath between 3-4 PM which will give you enough time for your final leg of the journey, Joshimath to Auli.
For your return journey, there is a direct Bus from Joshimath to Rishikesh that starts at 8 AM.
Also Read: Rishikesh Bus Time Table – Fare, Frequency & Timings
Dehradun to Joshimath Bus
If you reached Dehradun, then you can get the morning 5.30 AM Dehradun to Joshimath Bus from Mussoorie bus stand, which also goes by the names of hill bus station or Pahaadi bus stand. This Bus stand is very near to Dehradun Railway Station. The bus reaches Joshimath between 4-5 PM.
These are ordinary state transport buses (3×2 seater) and fare for both of them is about Rs. 400–500. Because of the long route, all the buses and shared cabs for Joshimath from either Dehradun or Rishikesh (and return journey as well) start early in the morning, between 4:30 AM to 8:00 AM. After 8.30, finding a mode of commute becomes a struggle. No matter where you were starting from, just be there at the bus stand by 6 AM. Otherwise, your chances of reaching Joshimath by evening become dim.
I am not aware of a direct Bus from Delhi to Chamoli or Joshimath but if you are able to find one, then it will make your life much easier.
If you missed the morning bus, you can board the Dehradun-Gopeshwar-Mandal bus which will drop you at Chamoli and from there you can find a taxi for Joshimath on a sharing basis. A third option is to take the Dehradun-Karnaprayag bus. Then find a taxi from Karnaprayag to Joshimath or Karnaprayag to Chamoli and Chamoli to Joshimath. Both of these options will take much more time. Hence it is advised to take the direct 5.30 AM bus. Keep the latter options only as a backup.
Shared Taxis
If you could not find a Bus for Joshimath direct, then look one for Chamoli. You can also go by shared taxi (Tata Sumo) from Rishikesh to Chamoli and Chamoli to Joshimath which will cost you around Rs. 500-600. The same Sumo service is available from Dehradun as well at 5 am which will cost you Rs. 600. From Dehradun, you can find shared cabs from Parade ground and Rispana taxi stand for Chamoli, Karnaprayag, and Joshimath on a sharing basis. In Rishikesh, you will get shared taxis at the taxi stand near Natraj chowk.
The problem, however, is that these taxis start really early in the morning so you will have to be there on time. My advice would be that if you reached either Dehradun or Rishikesh by evening, then find some time to reach the Taxi stand, inquire and get contact details of drivers who are going to Joshimath the next day.
Also Read: Rishikesh Taxi Rates – Taxi Fare in Rishikesh
Private Taxi
A private taxi from either Rishikesh or Dehradun will cost about Rs. 5000 per day. This will also depend on the type of cab you chose, the duration, taxi operator and how well you were able to negotiate.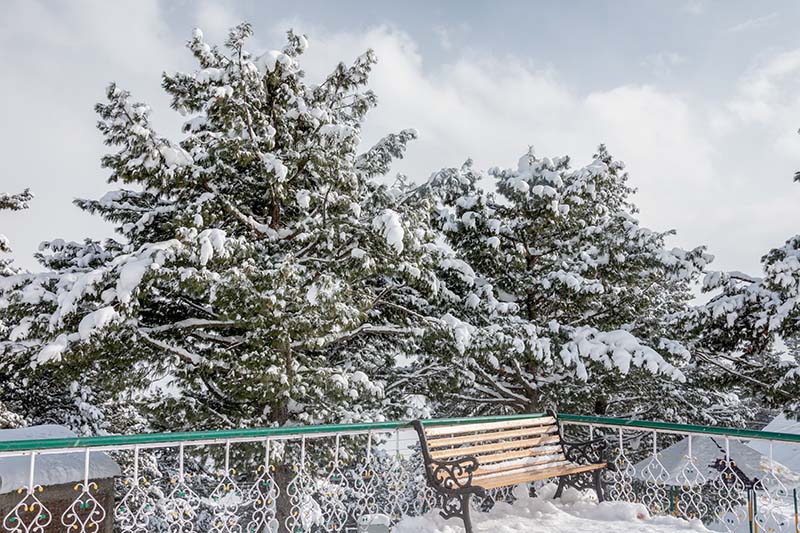 How to reach Auli by Train
Dehradun, Haridwar, and Rishikesh are the nearest railway stations to Auli. You can get a train for either of these places and then get to Joshimath from there as I explained above.
How to reach Auli by Flight
The nearest airport to Auli is located in Dehradun, the Jolly Grant airport. Once you land here, you can actually get a cab directly for Auli from the airport itself or look for a mode of public transport as I explained above.
Also Read: Khirsu – A Complete Travel Guide & Itinerary
How to reach Auli from Joshimath
Now all the choices I explained above were on reaching Joshimath which really becomes your base for traveling to Auli. But the next question is how does a person travel from Joshimath to Auli? The options are two, either by road or a cable car.
Auli is at a distance of 16 kilometers from Joshimath and a motorable road goes all the way. If you arrived by your own vehicle then you can just continue driving to get to Auli. But keep in mind that this final section of the road is a difficult and steep one. There are also local buses and taxi services available for Auli but the frequency of cabs is better than a Bus. It will cost about Rs. 800 to hire a personal cab from Joshimath for Auli.
Cable Car
The next option is of the cable car. This is by far the most popular way to reach Auli. This cable holds a record of being the longest one in Asia, running a total length of 4.15 kilometers; and takes around 15 minutes to complete the. More option is provided further in the article.
There are three ways to do this. The first one is that you reach Joshimath, check into a hotel and stay for the night. The next day, you can go for a cable car ride, reach Auli, have some fun, walk around and reach Joshimath back. The second option is that you drive all the way to Auli and stay at a hotel there only.
The third option is that you reach Joshimath in time before the last cable car. There is a parking area near the Rope Way Park at Joshimath where travelers can safely leave their vehicles. You park your car or motorcycle here and board the cable car with all your luggage to reach Auli for the night. The last cable car leaves Joshimath at 4.30 PM in winters and 5.30 PM in the summer season.
How to reach Auli in Winter
In winters, the road from Joshimath to Auli gets blocked completely due to all the snow. Only the cable car remains operational.
Also Read: Munsiyari Travel Guide – How to Plan your Trip and Explore
Best Vehicle for Auli
There is really no best vehicle as such for a trip here. You can even travel by a hatchback or a Sedan. The only thing you need to keep in mind is to get your vehicle serviced and ready to handle the steep climbs. If traveling by a light engine motorcycle, please make sure that you are traveling light and solo.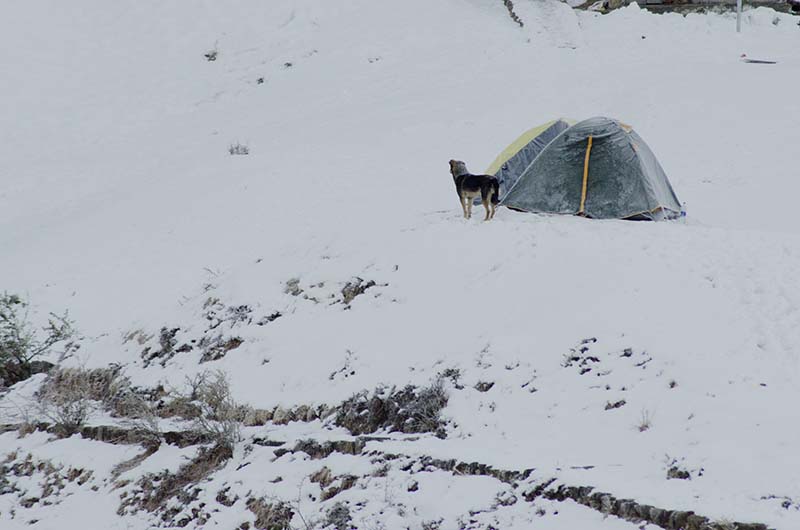 Where to stay in Auli
There are several hotels, resorts and guest houses in Auli. But the thing with them is that they are all on the costlier side. Finding accommodation here for about Rs. 2000 per day as well can be considered a cheap deal and a bit tough to find. If budget is not a problem, then staying in Auli itself for a couple of days will be an awesome experience. I will also highly recommend booking your stay here in advance.
For a budget hotel, look for accommodation in Joshimath and do not stay overnight in Auli. Joshimath has numerous hotels that will fit in every budget.
There is also a government-run hotel by GMVN (Garhwal Mandal Vikas Nigam) which can be a good choice of stay.
Also Read: Best Hill Stations for Honeymoon in India
What & Where to Eat
There are no fancy restaurants here, just a few small restaurants and dhabas. All the hotels have their own menu and kitchens so you can order room service as well if you do not want to step out.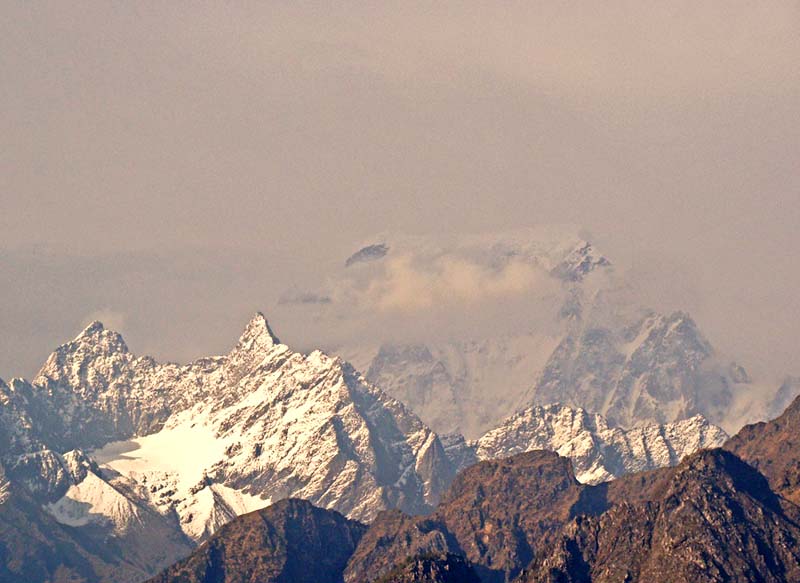 What to see in Auli
There is really no long list of tourist places in Auli. The place is best known for its wondrous natural beauty and amazing ski slopes and that is what you visit here for. Reach here, relax for a couple of days in the lap of Mother Nature, see stunning views all around and rejuvenate yourself. With that being said, there are a couple of places to visit in Auli that definitely deserve a mention.
Auli Ropeway
This is the biggest attraction in Auli offering magnificent and majestic Himalayan views. After the Gondola in Gulmarg, it is the highest and the longest ropeway in Asia, running a total length of over 4 kilometers. It is also known as 'Auli Gondola'. The entire 4.4 kilometers long ride takes about 20 minutes to complete and costs Rs. 1000 per person, for a round trip. The ropeway starts from Joshimath and ends at Auli.
Also Read: Chakrata Travel Guide – How to Plan your Trip & Explore?
Auli Chair Lift
The difference between a Gondola and Chair Lift is that the Gondola is an enclosed cabin hanging by the cable. On the other hand, the chair lift is just a bench, long enough for 4 people to sit, and hanging by the cable. It is mostly used to transport skiers but you can try this too if you want a more adventurous experience. The chair lift starts from Joshimath and drops you near Auli Lake.
Auli Lake
This is a small body of water that was made by the government to provide artificial snow on the ski slopes. The water from the lake is used to feed the snow on the ski slopes to offer a good surface for skiing and extend the ski season. There is not much to it really, just a small pond sitting at such a height but with the mighty Himalayan peaks in its backdrop, it does look stunning and provide a great view to get some good photographs. I am not sure if this is true but it is believed to be the highest man-made lake in India.
Gorson Bugyal
This is another meadow located about 2 – 3 kilometers from Auli. At an altitude of 3056 meters, it is a large land covered with grass and other low plants suitable for grazing animals. It can only be reached by trekking which can actually become impossible in winter after the route gets buried under snow.
Chattrakund Lake
This is another small lake located about a kilometer ahead of Gurson Bugyal (also known as Gorson Bugyal). Trekking from Auli, you will first reach the Bugyal and then continue walking to the lake. Unlike Auli Lake, this is actually a natural one and I found it to be much more scenic. The route, however, was not marked well and I will recommend that you take help from a local rather than attempting it on your own. Just talk to your hotel owner and they can arrange a guide for a couple of hundred bucks. It will make the trek easier and he can also click pictures for you.
Hanuman Temple
There is also a Hanuman Temple in Auli that is visited by numerous devotees. As per the legend, while Lord Hanuman was flying to get the 'Sanjivani Buti' for Laxman, he landed in Auli and rested for a while. The spot where he sat down is where the temple is built.
Also Read: Dhanaulti – A Complete Travel Guide, Road Map & Itinerary
Amazing views of Peaks
On a clear day from Auli, you can get views of peaks like Nanda Devi (India's second-highest peak at (7817 meters), Kamet (7756 meters), Mana Parvat (7273 meters) and Dunagiri (7066 meters). From Gorson Bugyal, you can also catch a glimpse of Dron Parvat and Trishul Peak.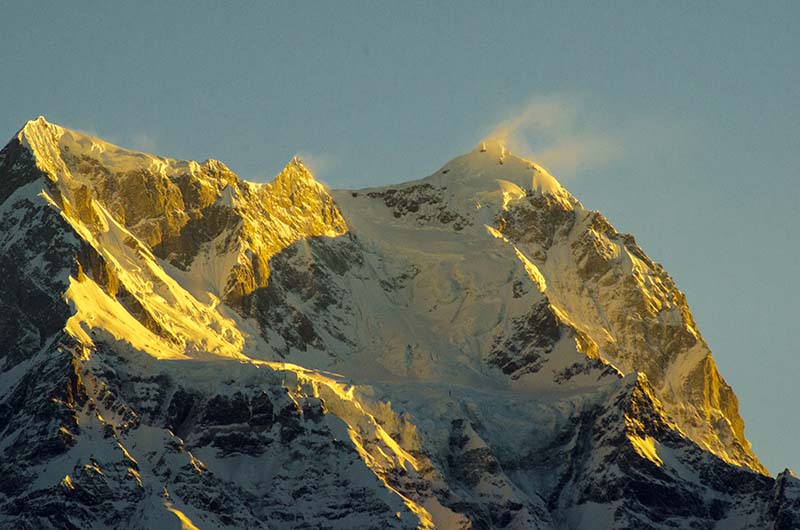 What to do in Auli
Apart from sightseeing at all of the above-mentioned tourist attractions in Auli, listed below are some other fun and exciting things to do in Auli.
Skiing in Auli
Skiing is what drives the majority of tourism in Auli. Being a premier ski resort, the slopes here invite winter sports enthusiasts from all over the country. Skiing competitions are also held by the authorities. There is a small cabin next to the chairlift station where you can rent skiing equipment. Trainers and instructors can be hired for a few hundred bucks for a crash course in training. For someone more serious, you can also enrol yourself in training modules of 7 and 14 days.
Trekking
There are several trek routes starting from Auli; Tali, Chitrakantha, Kuari Pass and Tapovan being the most known ones. There is also a trail starting from Auli leading to Badrinath. The Gorson meadow and Chattrakund Lake are more of an easy walk.
Also Read: Highest Motorable Road and Passes in the World
Photography
Irrespective of whether you were traveling with just your camera phone or were more of a serious photographer with a huge DSLR, a trip to Auli will present you with ample opportunities to click loads of pictures. The pollution-free skies at night are suitable to capture star trails.
Shopping in Auli
You can buy some small stuff as souvenirs of the trip but shopping in Auli is not much of an option. You are better off visiting the market in Joshimath for better details and greater options.
Best time to visit Auli
Since Auli is best known as a Skiing destination, the best time to visit here would be in winter. You get to see snow-covered peaks all around and the entire region gets covered under a thick sheet of snow. The only catch is that it gets terribly cold at this time and may even feel a little crowded to some people. Being the peak tourist season, accommodation as well will be a bit costlier.
But it does not mean that you cannot come here for the rest of the year. Auli is really a year-round destination and it has a different color in each season. In winters, it is white; green during spring and monsoon; and orange in autumn. If you are a photography enthusiast, plan a trip sometime in April, July, August, September or early October. For a family trip, April and May would be best. For budget travel, plan between July to November. This is the off-season time and you stand a better chance of getting cheaper accommodation.
If you did not like the monsoon season or did not want to risk the rain, then avoid a trip from late June to early September. If cold weather bothers you then avoid visiting between October to March. November is a bad month overall because the scenery at this time is very dull and dry. The weather will be very cold and there won't even be much snow around.
Weather
Due to its high altitude, the weather of Auli ranges from being very cold to pleasant. It seldom gets hot here actually. Let me break down the weather information by different times of the year.
Also Read: Best Honeymoon Destinations in Uttarakhand
Summer
The summer season in Auli starts in March and lasts till June. March and April is actually the Spring season but the weather starts to get a little warm in March itself. Snow will be all gone except for small patches at the top of distant peaks. The average temperature in these months is about 15 degrees Celsius and is a great time to beat the heat of the plains. Auli in May and June is best for a family trip. The entire region will be open at this time and you can go sightseeing and even trekking if you wished to.
Monsoon
Monsoon arrives here towards the end of June and lasts till mid-September. It is not really considered to be a safe time to visit Auli because it rains here a lot; sometimes enough to keep you indoors throughout the duration of your trip. Landslides too in Uttarakhand in monsoon are common so it would be wise to check the weather before you leave home. The upside, however, is that the vistas are best in the months of July and August. The incessant rains bring the hills and the valleys to life covering them under a green carpet. September is a great month to get amazing photographs. It doesn't rain so much in September but you will get amazing lush green vistas. The average temperature in monsoon ranges from 10 to 15 degrees Celsius.
Winters
Autumn arrives in October and all that was green now turns to orange, giving a golden touch to the hills. The weather also starts turning cold and by November, winter is all settled in. It can snow here anytime after this but the snow starts sticking to the ground only after December. So if you wanted to go skiing, better plan in January or February. Do keep in mind however that the temperature in these months can drop way below 0 at nights.
Clothes to Pack
What kind of clothes you would pack will entirely depend on your time of travel. If visiting in winter, pack heavy woolen clothes, windproof jacket and snow boots (or water-resistant shoes). Ensure that your jacket has a hood to it to protect your head and neck. If not, then please pack a cap and muffler as well. Gloves too would be required at this time. A pair of thermals can also be of help.
Also Read: Nainital – How to Plan your Trip & Explore
If visiting in summer, pack your regular cotton clothes; accompanied with few light woolens and a jacket. If visiting in monsoon, pack clothes that can dry faster, like polyester. Auli is best explored on foot so please pack a comfortable pair of shoes with good grip.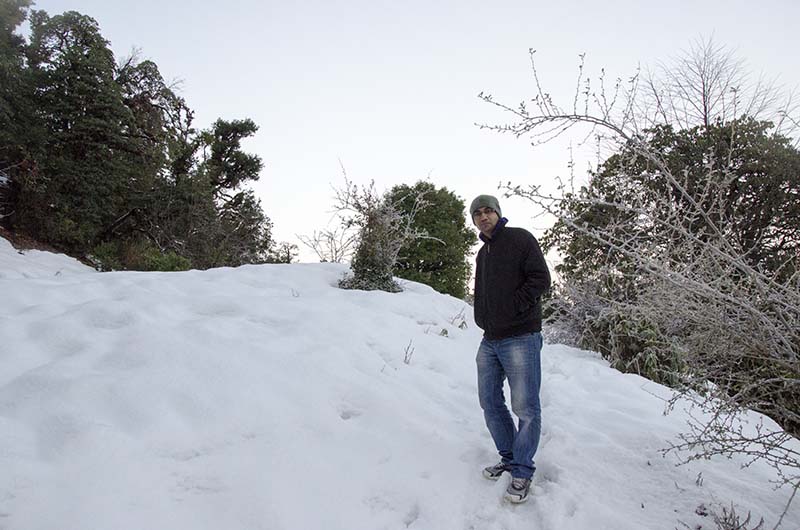 Itinerary for Auli
Below is an example of 5 days itinerary that you can follow for your trip to Auli. Once again, for the sake of explaining the journey, I will assume Delhi as your starting point.
Day 1 – Delhi to Devprayag / Rishikesh
Start early from Delhi and travel as far as either Srinagar or Devprayag. It will take you about 8 to 9 hours to reach either of the two places. Both of these towns have a lot of hotels that you can stay at for the night.
If you were traveling by public transport, then I will recommend that you first board a Bus for Rishikesh on Day 1. You can actually also take an overnight bus that can drop you in Rishikesh by 5 in the morning.
Day 2 – Devprayag / Rishikesh to Auli
Drive from Devprayag to Joshimath and leave your car here in the parking area. Board the Gondola with your luggage, reach Auli and check into a hotel. If you were traveling by Bus, then board the morning 5.30 Bus for Joshimath; and then reach Auli from there.
Also Read: Mana Village – How to Plan your Trip & Explore
Day 3 & 4 – Sightseeing in Auli
Enjoy your time in Auli. Try your hand at Skiing if visiting in winter. Trek to Gorson Bugyal and Chattrakund Lake. On Day 4, take the last Gondola back to Joshimath and stay there for the night.
Day 5 – Joshimath to Delhi
Start as early as you can from Joshimath and drive back straight to Delhi. Depending on the traffic, it will take you about 16 hours to get back home. If traveling by Bus, board the morning Bus for Rishikesh from Joshimath. After reaching Rishikesh, find the next Bus for Delhi and travel back home.
Auli Chopta Lansdowne Itinerary
Another way to do this journey can be as mentioned below.
Delhi to Lansdowne – Day 1
Lansdowne to Auli – Day 2
Auli – Day 3& 4
Auli to Chopta – Day 5
Chopta – Day 6
Chopta to Delhi – Day 7
To know more about Chopta and what you can do here, please read How to Plan a Trip to Chopta.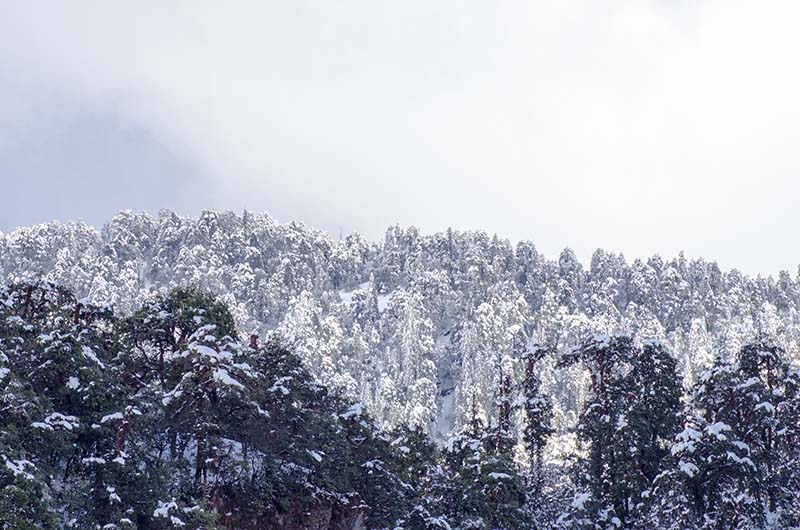 Other Tips
Mentioned below are some other tips that can be of help in planning a visit to Auli.
Is Auli safe?
Yes, Auli is a very safe place to visit provided that you do not take any unnecessary risks; act like a responsible tourist; drive carefully; and do not put yourself in harm's way. The locals here are very humble and simple people.
Also Read: Nainital – How to Plan your Trip & Explore
Bank / ATMs
There are no Banks or ATMs in Auli. The nearest ATM is in Joshimath. Please do not also depend on credit or debit cards as well and withdraw plenty of cash to last for a few days in Auli.
Petrol Pumps / Mechanics
The nearest petrol pump and mechanic is available in Joshimath only.
Hospital
Medical assistance too is available only in Joshimath. It is of utmost importance that you carry some basic medicines like for flu, headache, upset stomach, fever, etc with you.
Mobile Network in Auli
Auli has excellent mobile connectivity. BSNL, Jio, Airtel, and Vodafone had good reception. But if you go beyond the skiing area or on any of the trek routes, you may not remain connected.
When does it snow in Auli?
Most of the snowfall in Auli happens between the months of Late December to Mid-February.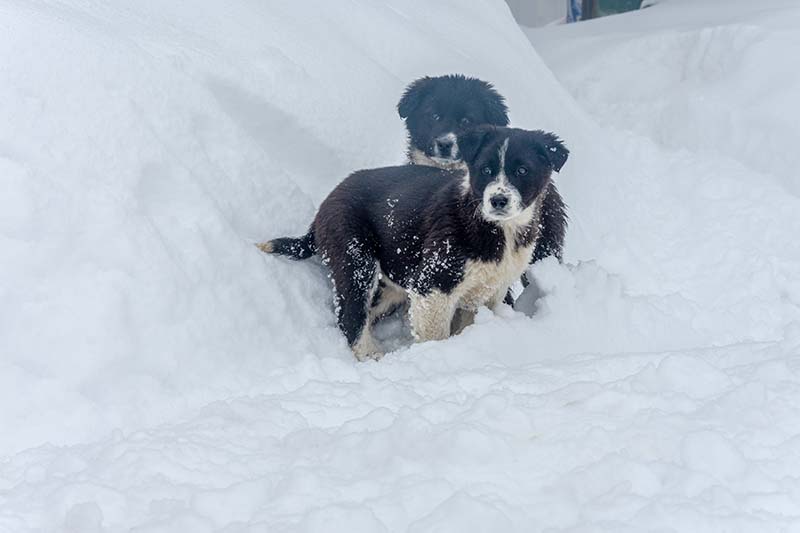 Auli at a Glance
To wrap up the article, below is a brief overview of Auli.
Location: 16 kilometers from Joshimath, in Chamoli district of Uttarakhand
Altitude: 2,500 metres (8,200 ft) to 3,050 metres (10,010 ft)
Best time to visit: Throughout the year with an exception of July and August
Suggested minimum time for a trip: 5 Days from Delhi or any other city at the same distance
Nearest Railway Station: Rishikesh
Nearest Airport: Dehradun
Famous for: Cable Car, Skiing Slopes, Amazing Views, winter destination
When is Auli Open? : Auli is open for tourist throughout the year.
Conclusion
I do hope that the information above on visiting Auli was of help. If you have any questions; or need any other details; please feel free to ask in the comments section below; or at our Community Forum; and I will be glad to answer.