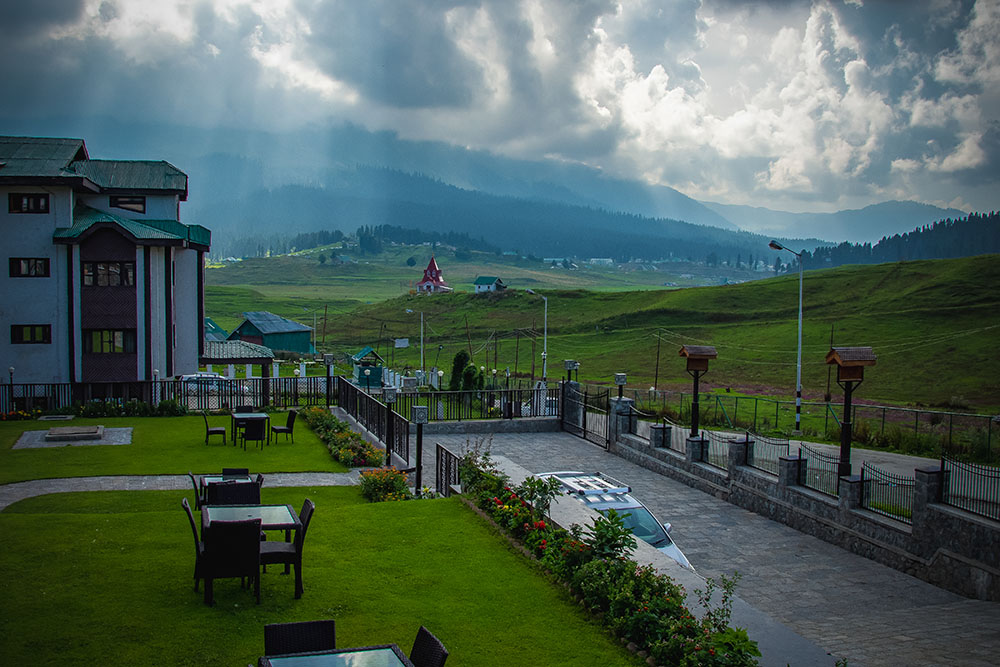 If one was to make a list of the most visited hill stations of our country, then I am sure the name Gulmarg will definitely be among the top ones. Quite rightly termed as the meadow of flowers, it is indeed a heavenly place to tread in that offers mesmerizing landscapes and an enthralling possibility of various adventure activities.
Such is the beauty of this tiny hamlet that it attracts people from all over the country throughout the year. It is possibly one of those destinations where the tourist season never ends. From families to adventure enthusiasts, Gulmarg has a lot to offer.
In the post below, I will provide complete details on how to plan a trip to Gulmarg. The information below covers topics like how to reach, where to stay, public transport, places to visit, things to do, the best time to visit, and several other helpful tips.
For all other details on Kashmir like mobile connectivity, public transport, taxi services, and several other tips, please take a look at How to Plan a Trip to Kashmir – A Complete Travel Guide.
For getting the best hotel rates, and taxi charges, and to organize your trip to Kashmir, you can speak with Kunal @ 9910 402 252. Give him my reference and you will surely get a discounted rate.
Below is a video that I shot in Gulmarg during my recent winter trip. You can also consider checking out this video for more details.
Where is Gulmarg?
For a brief introduction, Gulmarg is a hill station located in Kashmir, in the Pir Panjal Range of the western Himalayas, at an altitude of 2,650 meters (8,690 ft).
The name Gulmarg, literally translating into "meadow of flowers" was awarded by Sultan Yusuf Shah Chak who frequented the place with his wife Habba Khatoon in the 16th century.
Gulmarg was also a favorite of Mughal Emperor Jahangir who is said to have collected as many as 21 wildflowers for his garden from here.
Also Read: The Life & Legend of Habba Khatoon
During the English rule, Gulmarg served as a retreat for British civil servants looking to escape the scorching summer heat of plains in North India, much like Shimla and Mussoorie.
Golf was one of the favorite pastime activities that the English indulged in out here. They established three golf courses in Gulmarg, one exclusively for women. Of the three, one still survives and is now one of the world's highest golf courses.
Why Visit
The first question that comes to mind, and I will begin the article with it, is why visit Gulmarg? What is it that you will find here and nowhere else? After all, it is also just another hill station like numerous others in our country.
The answer to the question is that Gulmarg has a little bit to offer for everyone in every season. Its lush green meadows make it look more like a picnic spot, perfect to bring your family and kids.
The cable car ride known as Gulmarg Gondola is the second-highest Gondola in the world and is an experience of its own. Trekking to Apharwat peak and Alpather Lake is something that the adventurous kind can look forward to.
Come winter, the entire place gets buried deep under snow, making it a feast for the eyes. It is a great place for people chasing snow and wanting to experience a live snowfall for the first time. It is also one of the most famous ski resorts in India.
Road connectivity to Gulmarg is great and from Srinagar, you can get here in a matter of 2 to 3 hours at most. There are no long hours of driving involved. There are ample amount of hotels here and your cell phones will remain connected. Internet too is available at almost all the hotels.
If you are a bit on the religious side then the shrine of Baba Reshi, Maharani Temple, and St. Mary's church of Gulmarg will definitely invoke your interest.
There are plenty of other places nearby that you can visit in a day's drive if you have a few more days in hand. In short, Gulmarg is a perfect place for a family vacation as well as a road trip with a bunch of friends.
Is Gulmarg Safe?
Next, I will address the elephant in the room, the big question of whether or not it is safe to visit Gulmarg. The one-line answer is that yes it is completely safe to visit Gulmarg. It remains populated with tourists throughout the year from all corners of India.
It rarely gets affected by the unrest in the Kashmir region. But still, I will strongly advise keeping a watch on the news. If there was a word of any possible violence or unrest in Kashmir, it will be best to postpone your trip.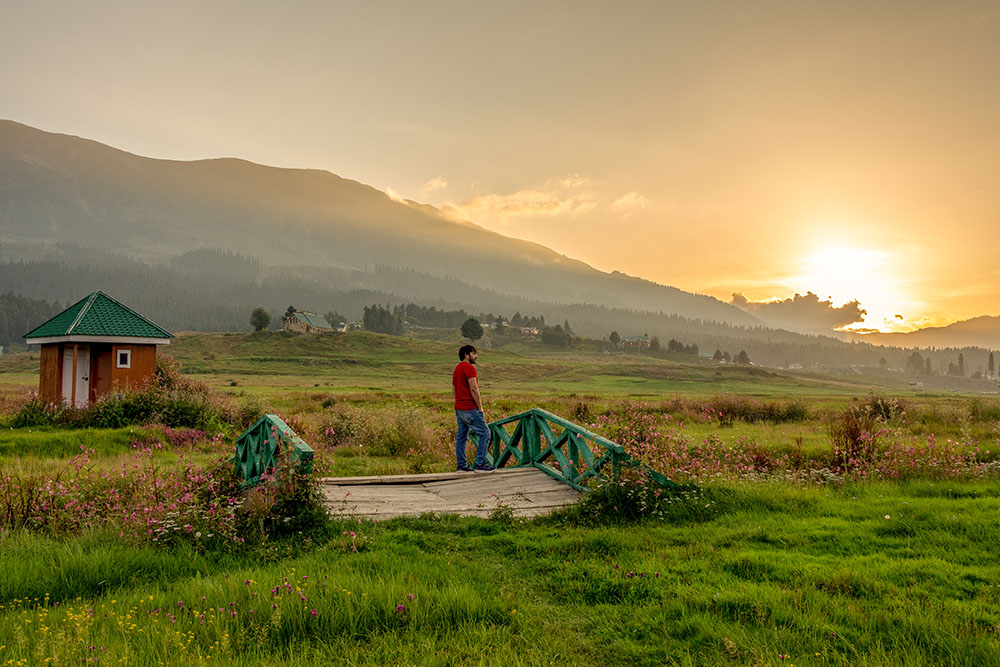 How to Reach Gulmarg?
In order to get to Gulmarg, you will first have to reach Srinagar. For people coming by their own vehicle, you can just drive to Srinagar city by either the regular Jammu – Srinagar highway or the Mughal road through Shopian.
Once you arrive in Srinagar, you can then just continue driving towards Gulmarg via Tangmarg. It will just be a 2 to 3 hours drive covering a distance of about 50-60 kilometers.
If you were however not traveling by your own vehicle, then Srinagar is well connected to the rest of the country by Air, Train, and Bus service.
No matter which part of the country you live in, you can easily reach the city by either flying or boarding a train. For more details, please take a look at How to Plan a Trip to Srinagar.
How to Reach Gulmarg from Srinagar?
If you were driving a car or riding a bike, then the route to reach Gulmarg would be as below.
Srinagar – Magam – Tangmarg – Gulmarg = 60 Kilometers
From Srinagar to Tangmarg, it is mostly a straight drive on a flat road with the very little ascent. You will not even feel like driving in a hill station actually.
It is after Tangmarg that the actual steep ascent starts and you climb up a winding road till Gulmarg. Another good part is that the road is smooth and in good condition for the entire 60 kilometers of the journey.
If you arrived at Srinagar by either flight or train, then you can choose either of the following options to visit Gulmarg.
Srinagar to Gulmarg Taxi
The best, easiest, and most convenient way would be to rent a private taxi for the trip. Depending on the type of cab you chose, the taxi fare from Srinagar to Gulmarg would come out to be between Rs. 2500 to Rs. 3000 including fuel and driver.
You can either look for a taxi at the airport itself or book one in advance and have the driver pick you up from the airport or railway station.
Srinagar to Gulmarg Shared Taxi
For budget travelers, I would still recommend a private taxi if you were traveling in a group and can share the cost among 5 to 6 people. If you were however traveling solo then you can look for a shared cab as well.
The problem however is that it is not the most convenient way to travel. You will first have to reach Dal Gate in Srinagar and look for a shared cab to Parimpora or Batmaloo.
If you found one that was going directly to Tangmarg, you can board that. Otherwise, find one for Parimpora or Batmaloo.
From Parimpora / Batmaloo, you will again have to change cabs and look for a cab going to Tangmarg. Once you arrive at Tangmarg, you will board the third cab going towards Gulmarg.
An important thing to keep in mind is that the shared cabs here are known as 'service gaadi'. If you asked anyone about shared cabs, they may just shrug their shoulders and say that they don't know. If that happens, ask about service gaadi and they will know what you mean.
Another option is to look for a cab to first go to Magam from Srinagar. From Magam, you will easily find a shared cab for Tangmarg.
Srinagar to Gulmarg Shared Taxi Fare
The total fare for a shared cab from Srinagar to Gulmarg will be around Rs. 250 per person. From Srinagar to Tangmarg, you will pay about Rs. 100 and another Rs. 50 to Rs. 70 per person for Gulmarg.
Also Read: How to Plan a Trip to Yusmarg?
How to reach Gulmarg from Srinagar by bus
There is no direct bus from Srinagar all the way to Gulmarg. It is actually a bit surprising considering the kind of major tourist spot that Gulmarg is.
Like shared cabs, your journey will have to be broken into three parts by bus as well. First, you will have to board a bus for either Parimpora or Batmaloo from Srinagar.
Then you will have to board a bus for Tangmarg, and then finally a bus from Tangmarg to Gulmarg.
During the summer season, there is a JKSRTC daily sightseeing Bus available in the morning from Tourist Reception Center. It takes tourists to Gulmarg on a day trip, returning by evening.
My advice however would be to not rely on this service. It is only available in the summer season and that too not always. There is a high chance that this service was unavailable at the time of your trip.
Srinagar to Gulmarg Bus Fare
Srinagar to Gulmarg bus fare in total would cost you about Rs. 200 per person; including the bus fare and shared cab charges from Tangmarg.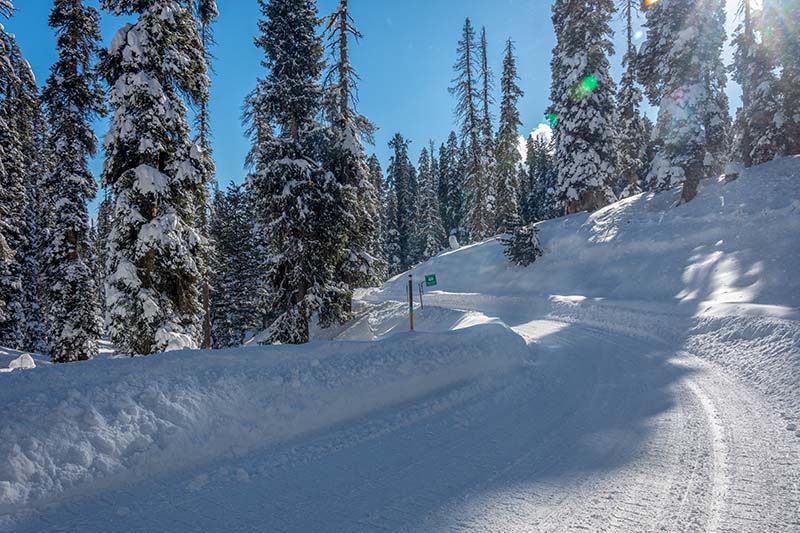 How to reach Gulmarg in Winter
Now all of the above was about reaching Gulmarg in the Summer season. In winter, however, it is an entirely different story. All of Gulmarg gets buried under several feet of snow and so does the road leading here.
It then becomes impossible for a normal car to climb up the final stretch from Tangmarg to Gulmarg. During this time, only 4×4 vehicles ply on this route, and that too with snow chains.
In winter, my advice would be that you do not bring your own vehicle. You can then just catch a cab from Srinagar to Tangmarg first and then another 4×4 cab from Tangmarg to Gulmarg.
If you brought your own car or motorcycle, it will then become a problem about where to leave it parked because you may not be able to get it all the way to Gulmarg.
A 4×4 cab with snow chains from Tangmarg will cost Rs. 1000 for a drop and Rs. 1600 for a return journey. For more details on this topic, please take a look at How to Plan a Trip to Gulmarg in Winter.
How to reach Gulmarg by Flight

Srinagar Airport is the nearest airport to Gulmarg. It is located about 60 kilometers from Gulmarg and the journey can be completed in 2 to 3 hours.
The major airlines operating regular flights to Srinagar are Air India, Jet Airways, Spice Jet, Air Asia, and IndiGo. From Srinagar, you will have to travel to Gulmarg by road.
Also Read: How to Plan your Journey on Mughal Road?
How to reach Gulmarg by Train
Srinagar railway station is the nearest railway line to Gulmarg. The problem however is that it is not yet fully operational and will take at least another 18 months to 2 years for full connectivity.
Right now, you can reach Udhampur by train. From Udhampur, you will then have to board a bus or taxi for Ramban. After reaching Ramban, you will then board another train from Ramban to Srinagar.
An easier way thus would be to just board a bus or shared taxi directly from Udhampur to Srinagar.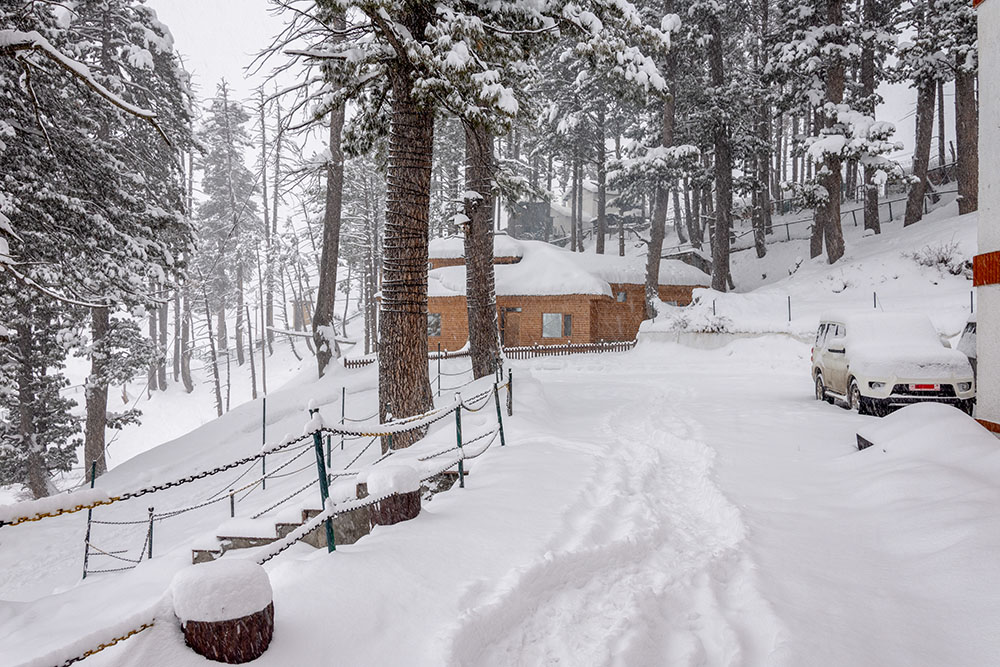 Weather of Gulmarg
Due to its elevation of 2,690 meters, the weather of Gulmarg either remains either cold or pleasant. Summer out here is short and even in months like June and July, you will still need a blanket to sleep in for the night.
Summers in Gulmarg are usually enjoyable. The average temperature however ranges between 13℃ and 29℃ making it an ideal retreat to escape the heat of the plains.
Monsoon arrives here in July turning the meadows and valleys of Gulmarg to full lush green. It doesn't rain too heavily here though and the average rainfall is very moderate.
Cold starts to settle in towards mid-September and temperature drops drastically. After mid-December, it can snow here anytime but it is usually towards mid-January that the snow starts to stick to the ground.
For most of January and February, the entire town remains buried deep under snow and turns into one of the most famous ski resorts in our country. The average temperature in these months ranges from -5 to 10 Degrees Celsius.
For a more detailed version of this information, please read A Month by Month Breakdown of Weather.
Best Time to Visit Gulmarg
I have actually covered this topic in detail in another article When is the Best time to Visit Gulmarg. But for a brief overview, the best time to visit Gulmarg will really depend on what is it that you are looking for.
Everyone's reason for coming here is not always the same. Some people come here looking for snow and to catch their first snowfall. A lot many others come seeking refuge from the scorching summer.
A Photography enthusiast will be looking forward to getting some great shots. An adventure junkie will be focused on indulging in some snow sports.
If snow is what you seek then February will be the best time to visit. Spring season starts in late March and the months of April and May are great to bring your family around. Do note though that it tends to get a bit crowded here during this time.
If you are interested in photography then February, August, and September will be best. For someone looking for green valleys all around, July, August, and early September will do.
If you are looking for some solitude and want to get away from the crowd, then August will suit you the best. You must then avoid being here between April till June.
If you want to go skiing, the trip should be planned for January and February. April and September are the best time to plan a honeymoon. For a bike trip, you should avoid the monsoon season.
Clothes for Gulmarg
What clothes you should pack for Gulmarg too will depend on what time you are visiting here. For January and February, heavy woolens, gloves, woolen socks, muffler, thermals, and a good quality heavy and windproof jacket is a must.
If you are visiting in March, some light woolens with a heavy jacket will do. From April till August, pack plenty of cotton clothes and a light jacket.
The months of September and October will much be like March needing some light woolens and a heavy jacket.
Your Gulmarg Clothing for November and December will be the same as for January and February; consisting of thermals, heavy woolens, and a windproof warm jacket.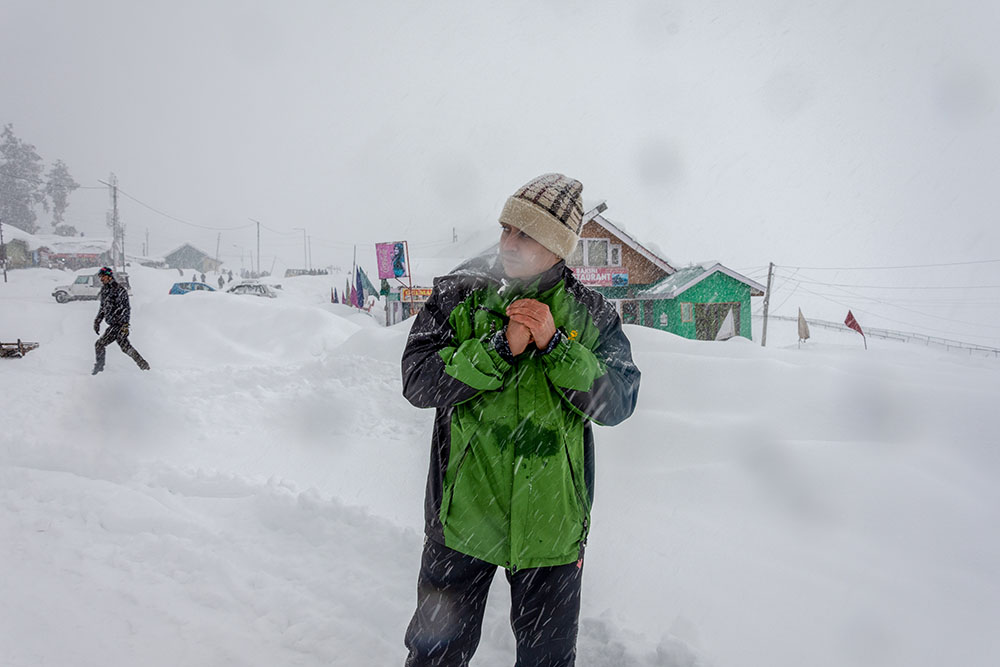 Places to Visit in Gulmarg
Gulmarg in itself is actually a tourist place. This small town tucked in beautiful green meadows is a sight in itself and everything here is worth seeing. The natural beauty and the calm all around is the biggest tourist attraction of Gulmarg.
With that being said, there are a few places that can be called cherry on top. I will those down below.
I am only providing the names of these places below in this article. A detailed explanation of these places is provided in A complete list of Tourist Attractions. I kept it on a separate article because otherwise, this page would have gone too long and heavy.
What to see in Gulmarg
The natural beauty and tranquility of Gulmarg are its prime attraction. Beautiful lush green meadows all around and peaceful calm only broken by the occasional whining of horses is what you should be visiting here for.
Some other tourist attractions are mentioned below.
Gulmarg Gondola
Alpather Lake
Apharwat Peak
Maharani Temple
Gulmarg Golf Course
St. Mary's Church
Maharaja Palace
Children's Park
Strawberry Valley
Baba Reshi
Khilanmarg
Ningle Nallah & Ferozpur Nallah
Bota Pathri
This is just a list of all the places. If you want to know more about these spots and their locations, please read A complete list of Tourist Attractions.
What to do in Gulmarg
Below is a list of tourist activities that you can enjoy in Gulmarg.
Gondola Ride
Playing Golf
Ski
Winter Sports in Gulmarg
Winter Festival'
ATV Ride
Pony Ride
Trekking
Apart from enjoying the natural beauty of the place and spending some time in peace, there are three major activities that you can indulge yourself in at Gulmarg.
The first one is the Gondola ride which is the biggest attraction of Gulmarg. The second is trekking.  A trek to Alpather lake from Gondola Phase 2 station is the shortest one.
If you are in for more adventure and are physically fit, then you can trek to the lake all the way from Gulmarg itself. There are in fact several other trek routes from Gulmarg if you had the time.
For more details on Gulmarg Gondola and Alpather Lake, please read How to Plan a Gondola ride and How to Trek to Alpather Lake.
If you arrived here in winter though, then skiing is what you should be doing in Gulmarg. Options here are available for experts as well as someone completely new.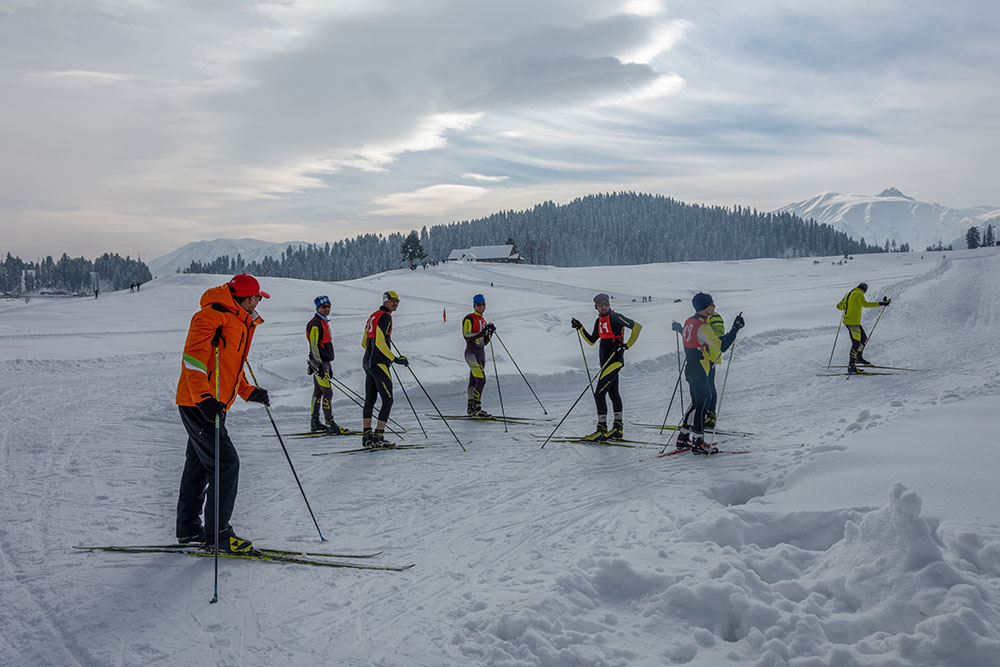 Where to stay in Gulmarg
Gulmarg is one of the major tourist attractions of our country. Come winter, this town turns into a major ski resort. In spring and during summer vacation in schools, families flock here to enjoy the famous gondola ride.
Tourists continue to arrive post-monsoon to enjoy the greenery of the place. It is in short a year-round magnet for tourists. Due to this, hotels are available here in plenty.
In fact, you will see more hotels here than houses. There is one called Hotel Affarwat that I can tell you is good. I stayed at this hotel for a couple of days and the service was good.
There is another one called Pine View Resort that I know to be good from a friend. If you were looking for budgeted accommodation, try Hotel Green Park.
Finding a budget hotel is not really an option in Gulmarg. Overall, no hotel will charge you less than Rs. 2000 – Rs. 2500 for a room during the off-season. During the peak tourist season, these prices go even higher.
You can try calling Hotel Green Park and negotiating the price though. I was able to stay here for Rs. 1200 a day.
Other than this, the only other budget hotel that I know of is Hotel Pine View where you can get a hotel for Rs. 1200 per day but it is located at Tangmarg, about 14 kilometers away from Gulmarg.
Whether or not to book in advance is completely your choice. In the off-season, you don't have to book. Just arrive at the place, find a hotel per your liking, and negotiate an on-the-spot deal.
In peak tourist season, however, in the months of January and February, April till June, and then in October, I will recommend that you book your stay.
Gulmarg Sightseeing Itinerary
A minimum of 2 days is what I will recommend for sightseeing and enjoying other activities. It takes about 2 to 3 hours to travel from Srinagar to Gulmarg.
Gulmarg 2 Nights Itinerary
If you were planning to stay in Gulmarg for 2 nights, your itinerary can be prepared in the following manner.
On Day 1, start early from Srinagar and arrive at Gulmarg at about 9 to 10 AM.
Check into a hotel and spend some time visiting local places like Maharani temple, St. Mary's church, Golf Course, Maharaja Palace, etc.
On Day 2, take a Gondola ride to the top of Apharwat peak. Trek to Alpather lake there and arrive back at Gulmarg. This will take an entire day.
If you did not want to go trekking, you can skip Alpather Lake and go on a drive to Bota Pathri and Strawberry Valley instead.
On Day 3, you can travel back to Srinagar.
One Day Trip to Gulmarg from Srinagar
If you were planning to spend just one night, below can be your itinerary for the Srinagar to Gulmarg one-day trip.
On Day 1, start early from Srinagar and arrive at Gulmarg at about 9 to 10 AM.
Check into a hotel and spend some time visiting local places like Maharani temple, St. Mary's church, Golf Course, Maharaja Palace, etc.
On Day 2, take a Gondola ride to the top of Apharwat peak.
Return by noon, have lunch, check out of the hotel, and reach back to Srinagar by evening.
Srinagar to Gulmarg Day Trip
If you were however short on time, you can cover in a single day as well. Start early from Srinagar and reach Gulmarg by 9 or 10 am. Walk around the golf course and see places like Maharani Temple and St. Mary's church.
You can actually also go for the Gondola ride if there wasn't a lot of rush. All this can easily be completed in one day and you can get back to your hotel in Srinagar by late evening.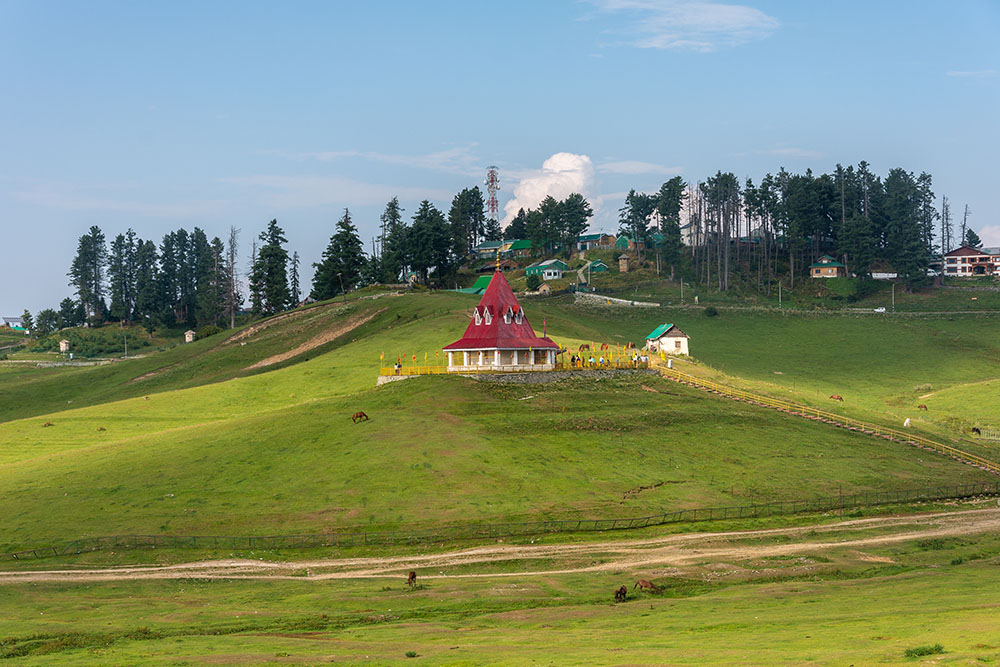 Bank / ATM in Gulmarg
J&K Bank and Baramulla Cooperative Bank have branches in Gulmarg and provide ATM services as well. Gulmarg is a famous tourist town so banks here remain open and ATMs are functional always.
Medical Assistance

There is a small hospital in Gulmarg and you can also buy medicines from the local chemist shop. But for anything serious, the patient would have to be brought back to Srinagar.
Also Read: How to Plan a Journey to Aharbal?
Mobile Network in Gulmarg
Prepaid phones do not work anywhere in the state of J&K, including Gulmarg. If you have a prepaid connection, however, your phone will be as good as a paperweight.
But as long as you have a postpaid connection, no matter which network you are on, your phone will be working fine here. Data connectivity too will be good. Most of the hotels here have free Wi-Fi available with good data speed.
For more details on this topic, please take a look at Mobile Network in Kashmir & Data Connectivity.
Shopping
Shopping in Gulmarg is all about buying Kashmiri handicrafts, decorative linens, brass, silverware, pashmina shawls, carpets, carved furniture, stone jewelry, freshly plucked tea leaves, and dry fruit.
For all of this, however, I will strongly recommend that you buy from Srinagar. There are no big shopping markets in Gulmarg and your choice of items will be a bit limited and so will your ability to negotiate.
What to Eat
Not just Gulmarg but the moment you set foot anywhere in Kashmir, you should eat only Kashmiri dishes. Below is a list of some foods that you can try.
Non Vegetarian Dishes
Mutton Roghan Josh
Gushtaba (soft meatballs cooked in natural yogurt, white curry)
Rishta (Soft Meat Balls in delicious Gravy, Red Curry)
Tabak Maaz (Deep fried ribs of a lamb)
Kanti(small chunks of meat cooked with a lot of onions)
Seekh-Tuji – Marinated and freshly barbecued meat pieces eaten with chutney
Grilled Mutton called Tilli or Tekh
Marzunga Korma
Shami Kabab
Meeth Maaz
Vegetarian Dishes
Veg Dum Aaloo
Tamatar Zaman (Paneer)
Nundur Yakhin (Lotus Stem prepared in Yogurt)
Haak (Kashmiri Saag)
One thing you got to remember is that Kashmiri people are not too high on Roti / Chapati. Rice is what usually gets served here and hence the gravy of all these items is not thick.
Also Read: How to Plan a Trip to Doodhpathri?
Where to Eat
There are plenty of restaurants in Gulmarg that you can eat at. Just walk up to the main market and you will find shops all around.  You can also order at your hotel but I found going to the market and eating there a better choice.
Other Tips
Gulmarg in general is an expensive place. Finding a hotel here for anywhere under Rs. 2000 per day is going to be a task impossible.
Even the food here is expensive. You will be paying Rs. 20 for one single small Tawa roti at a very OK type restaurant. Veg, Non-Veg, Rice everything here is expensive so keep that in mind while you plan a trip.
Guides and Pony owners are a huge nuisance in Gulmarg. You cannot walk here 100 meters without someone offering you either a pony ride or to be your guide.
Guides have absolutely nothing to offer. There is no place here that you cannot visit without a guide. They will charge you only for walking with you and nothing else. You will be just wasting money if you hired one.
Pony owners are another nuisance. There is horse dung everywhere in the meadows courtesy of these guys so watch where you step.
Gulmarg Altitude
Gulmarg is located at an altitude of 2,650 meters, 8,694 ft.
Mechanic
You can get some small fixes done and punctures repaired in Gulmarg but for any major fixes, you will have to tow your vehicle back to Tangmarg and then toward Srinagar.
Petrol Pump
There is no petrol pump in Gulmarg but there are several as you drive 60 kilometers from Srinagar to Gulmarg. The one closest is at Tangmarg. Just get a tank-full done at Srinagar and it will easily last the entire trip.
Road Condition
The entire stretch of road from Srinagar to Gulmarg is a smooth drive. It is a double-lane road but traffic flows smoothly. The road from Srinagar to Tangmarg is a mix of average and good but from Tangmarg to Gulmarg, it remains in excellent condition.
FAQs
Below are some frequently asked questions about Gulmarg. If the information you were looking for wasn't covered in this post, you may ask in the comments section below.
1. Is Gulmarg Worth Visiting?
Gulmarg is among the topmost tourist destinations of our country and is definitely worth paying a visit.
2. What is Gulmarg Famous For?
Gulmarg is famous for the Gondola ride and its golf course in summer and winter sports in the winter season.
3. Which is the Best Month to Visit Gulmarg?
January and February are the best months to visit Gulmarg in winter. April and September are the best months to visit Gulmarg in the summer season.
4. How many days are enough for Gulmarg?
A trip to Gulmarg is best planned for 2 days. This will give you sufficient time to enjoy all the tourist places and activities.
5. Which is better Gulmarg or Sonmarg?
In my opinion, Gulmarg is better than Sonamarg because it presents a wider range of tourist activities than Sonamarg.
6. Which is better Gulmarg or Pahalgam?
Gulmarg is much better than Pahalgam in terms of natural beauty and tourist activities.
Conclusion
I hope the information above on planning a trip to Gulmarg was of help. If you have any questions, you can contact me on Instagram and I will be happy to answer. You can also consider subscribing to my YouTube channel and asking a question there.
This error message is only visible to WordPress admins
Error: No feed found.
Please go to the Instagram Feed settings page to create a feed.