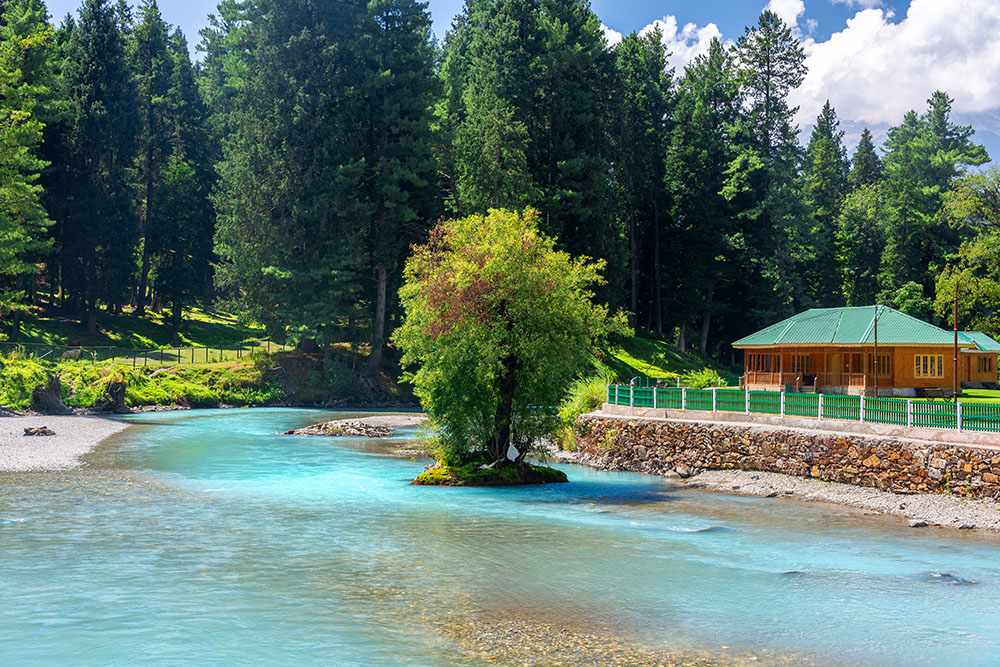 The first answer to the question of what to see in Pahalgam will definitely be the natural beauty of the place. Flanked by the beautiful Lidder River, picturesque green meadows, stunning valleys, lush pine backwoods, and snow-clad Himalayan peaks, Pahalgam presents the most eye-catching views one can ever get.
With that being said, there are several places that are worthy of note. In this post, I will list down all these tourist attractions, providing a detailed overview of places to visit in Pahalgam and things to do.
For all other details on visiting Pahalgam like how to reach, where to stay, and other safety tips, please take a look at How to Plan a Trip to Pahalgam.
Pahalgam is among the three most visited destinations in Kashmir, the other two being Gulmarg and Sonamarg. No trip to Kashmir can be completed unless you have included Pahalgam in your itinerary and spent a couple of days here.
What do you see and do in those couple of days? Read on to find out. You can also take a look at the video below that I shot during one of my trips to Pahalgam.
About Pahalgam
The meaning of name Pahalgam literally means a village of shepherds. Its pristine beauty and scenic locations present numerous options to explore nature as well as yourself.
So many movies have been shot here just because of their exotic locations. Pahalgam offers something for every kind of traveler. Whether you are traveling with family or in a group, a couple, or a solo traveler, you will find several things in Pahalgam enough to charm you and rejuvenate your body and soul.
Pahalgam has a religious significance as well. It is host to the famous Amarnath Yatra, the annual Hindu pilgrimage to the cave shrine of Lord Shiva, known as Amarnath Gufa. Every year in the month of July, millions of devotees throng this place to start their pilgrimage to the famous shrine.
Also Read: How to Plan a Trip to Kashmir – A COMPLETE Travel Guide
What to see in Pahalgam
Let me first start with a complete list of the tourist attractions and then I will detail them one by one.
List of Places to Visit in Pahalgam
The places mentioned below are the ones that should be on your sightseeing itinerary for Pahalgam. How many of these are you able to cover will entirely depend on the time you have in hand, something that I have covered later in the article.
Betaab Valley
Aru Valley
Chandanwari
Baisaran Hills
Aishmuqam
Pahalgam Golf Course
Lidder River
Amusement Park
Sheshnag Lake
Mamaleshwar Temple
Avantipur Temple
Kolahoi Glacier
Tulian Lake & Valley
Shikargarh
Tarsar Lake & Marsar Lake
Here is more about each place that I have mentioned above:
Betaab Valley
Located between Pahalgam and Chandanwari at a distance of 15 km from Pahalgam, this is a place straight out of a picture postcard. Read an article or travel guide and you will find this name in the top 5 places to visit in Pahalgam.
Betaab Valley got its name from the 80s hit Bollywood movie of the same name, which was extensively shot here. It was earlier known as Hagan Valley which is still its actual name but the name Betaab Valley is the one that gets used most often.
A spread of green pastures, surrounded by snow-capped mountains, tall Deodar trees, and Pine forests is what makes this valley picture-perfect. Add to this the river Lidder flowing through it and you have a complete package to feed your body, mind, and soul.
The breathtaking beauty spread all around is sure to mesmerize you. Not only the stunning landscape, but Betaab Valley is also well known for being a base for many treks. So those of you who are adventurously inclined will find it an ideal place to start a thrilling trek.
Besides, this is a paradise for photography lovers. If you are a photography enthusiast, this is a place for you to be in. It is a favorite of honeymooners too. The lush green meadows, winding streams, and tall trees add a romantic tinge to the whole atmosphere.
To read more about Betaab Valley, take a look at Road Trip from Pahalgam to Betaab Valley.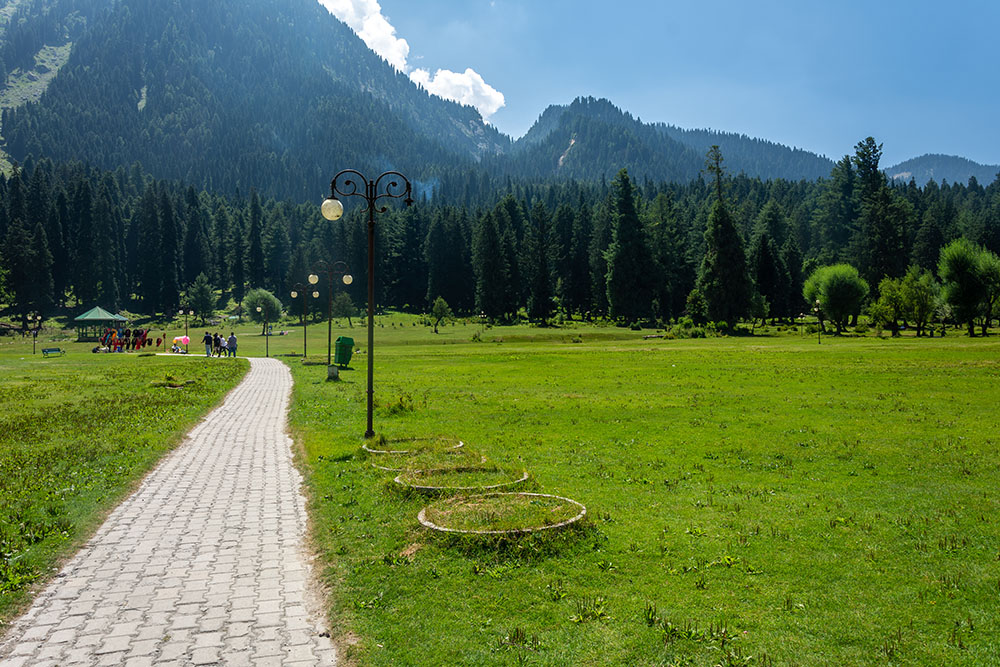 Aru Valley
Another entry in the list of must-visit places in Pahalgam would be the charming Aru Valley. It is stunningly beautiful and is located about 15 kilometers from Pahalgam.
In fact, the drive from Pahalgam to Aru Valley itself is so full of scenic spots that it would be difficult for you to put down your cameras even for a minute.
The spread of lush green meadows in the valley gives the feeling of being in an entirely different world. Spending a few quiet hours in the lap of nature is the utmost incentive for visiting Aru Valley. Besides, it is also an ideal spot for honeymooning couples.
Aru Valley serves as a base for various treks and lakes and meadows. There are quite a few resorts here that provide a variety of activities also.
Aru River, a tributary of the Lidder River flows through this place adding to its natural charm. Then there is Aru village nearby, where people will welcome you with open arms to experience their lifestyle and enjoy their hospitality.
So do not miss a visit to Aru Valley while you are in Pahalgam. For more details, please take a look at Pahalgam to Aru Valley Road Trip.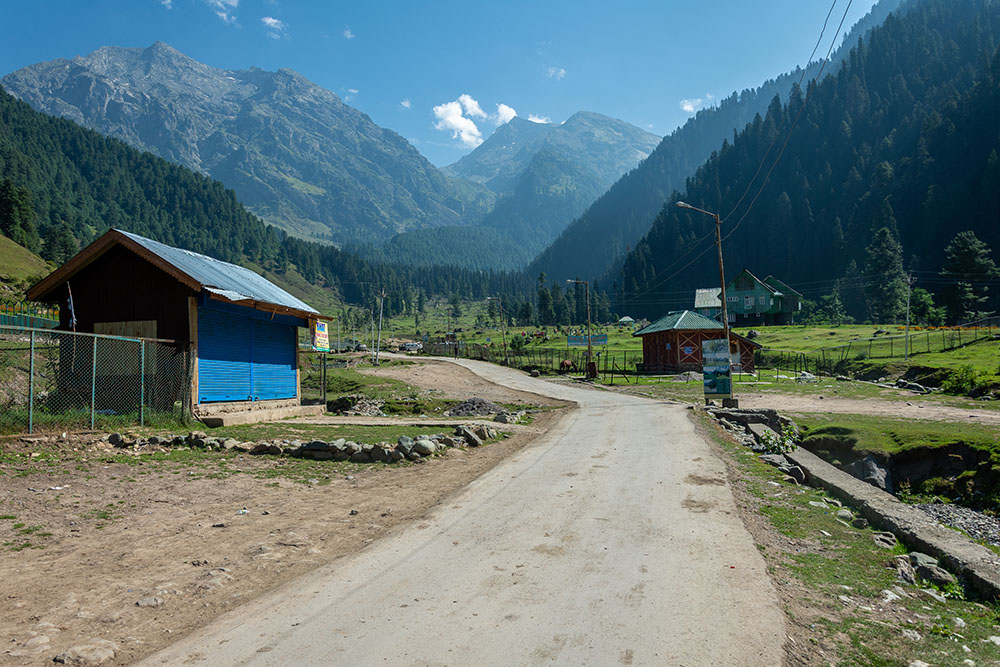 Chandanwari
Located about 15 km from Pahalgam, Chandanwari is symbolized by snow-covered vistas. It is a beautiful place that is significant from a religious point of view also. This is the point where Amarnath Yatra starts.
It is an annual pilgrimage trek for Hindus which is undertaken every year in the month of Sawan (July-August). Apart from that, this is also a place to enjoy the natural beauty. If you are fond of playing in the snow, this is the place for you.
This picturesque place boasts undulating landscapes which will warm your heart. The drive to Chandanwari itself is a thrilling experience. The road meanders along river Lidder and you get a clear view of the snow-capped mountains.
Apart from this, there are numerous waterfalls that you encounter on the way. You can stop at any of these and have a short picnic or click pictures to your heart's content.
There is a facility for hiring snow boots and jackets which means you can have fun in the snow without any hindrance. For more details, please take a look at Pahalgam to Chandanwari Road Trip.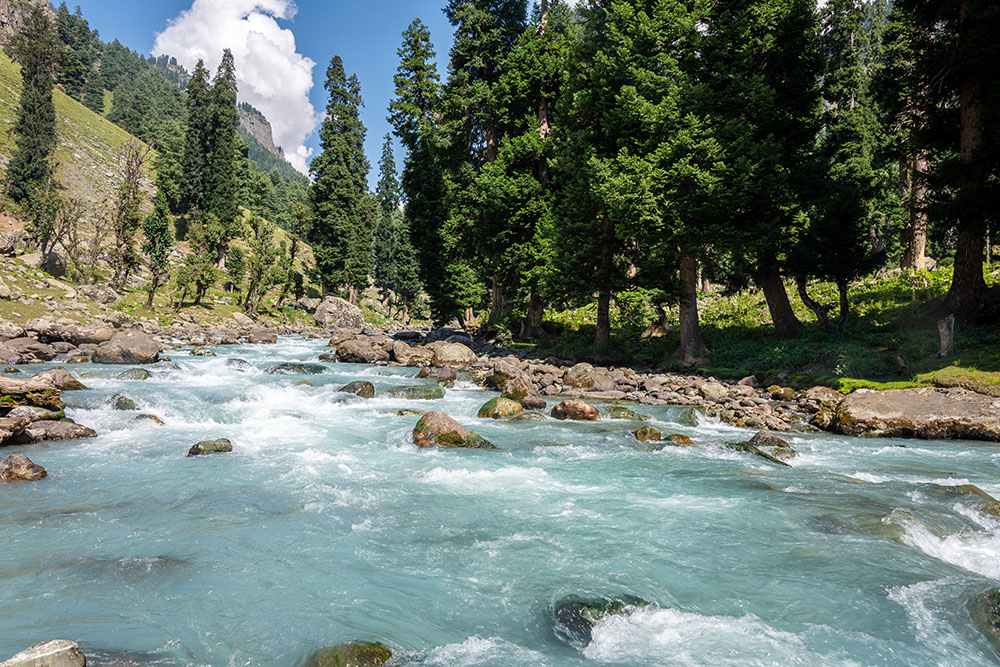 Baisaran Hills
Termed 'Mini Switzerland', this lush green meadow is a treat to the eyes. It is called so due to the meadows present here that resembles the one found in Switzerland. Located just 6 km away from Pahalgam, this beautiful place is an excellent option for a leisurely stroll or a family picnic.
The pristine beauty of the place is a must-see for everyone. The green grass surrounded by thick pine trees gives a special carpet-like look to this place contrasting with snow-white hills visible on one side of this place.
To get to Baisaran Hills, you need to use ponies. The ride is scary, thrilling as well as adventurous at the same time. Pony walking on the edge of the hill gives scary moments but the natural scenic view on the way makes you forget this and soak in the beauty all around.
You will get an amazing view of the Lidder Valley from here. You can also indulge in activities like zorbing and fun games at Baisaran Hills.
Also Read: Food to Try in Kashmir – What to Eat in Kashmir
Aishmuqam
Aishmuqam is the shrine of a Sufi saint Baba Zaina-ud-din Wali, also known as Zaino Shah Sahib. It is located about 19 kilometers from Pahalgam.
You can actually visit it while coming to Pahalgam or going back. The shrine is located on a hillock and a one-week-long festival is held here every year in April to pay respect to Shiekh Zaina-ud-din Wali.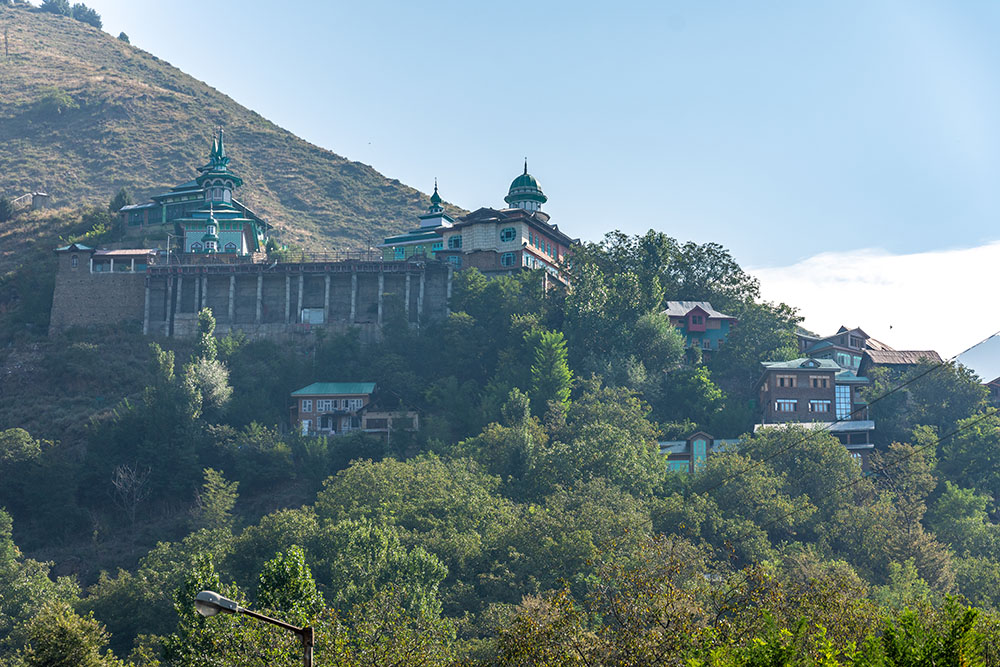 Pahalgam Golf Course
The beautiful Pahalgam golf course is one of the highest golf courses in the world. Situated at a height of around 8000 ft, this golf course is nestled in the Himalayas and has a charm of its own.
If you are a golf enthusiast, you may enjoy a couple of rounds on this 18 holes golf course. Even if you are not into golf, you may learn some basics of golfing here and enjoy the experience.
Apart from this, you can enjoy the natural beauty with high mountains on one side and river Lidder flowing on the other. You can check out some of the refreshments available on the premises to satiate your hunger. This is another beautiful spot in Pahalgam to be in for its sheer beauty.
Also Read: Srinagar – How to Plan your Trip and Explore?
Lidder River
Lidder River will actually be your companion for the most part of your trip to Pahalgam. It is a glacial river that originates from the Kolahoi glacier and flows through the valleys of Pahalgam.
Its crystal clear water is home to many different kinds of fish and is also a lifeline for the locals as it gets used for irrigation purposes as well.
Its blue waters against the backdrop of lush mountains covered with carpets of green and whitecaps are a sight to behold. Many tourist activities like white water rafting, angling, horse riding, and fishing are done in the Lidder River.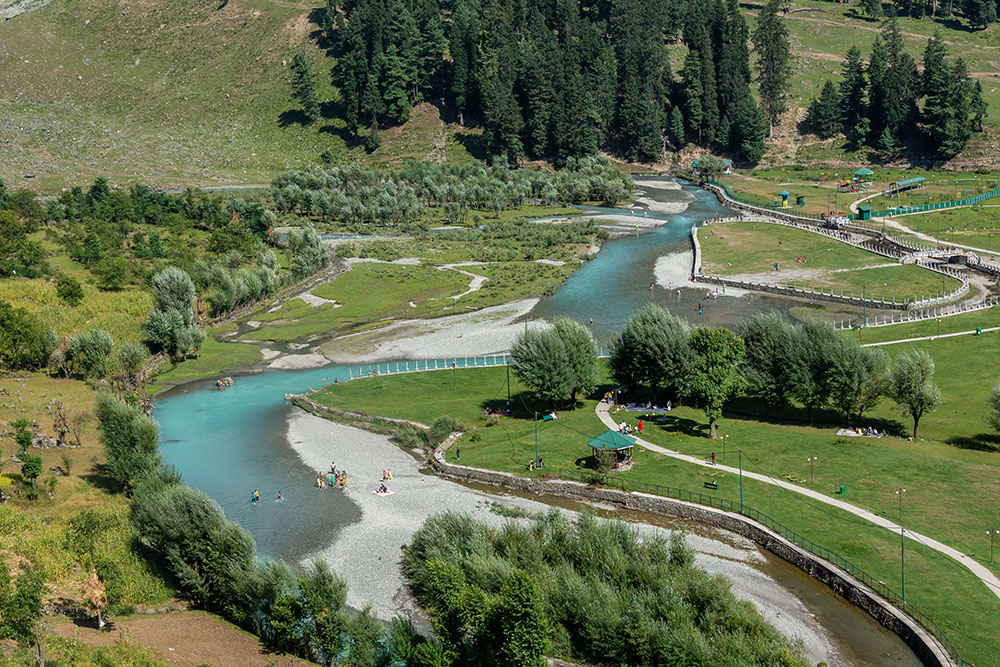 Lidder Amusement Park
If you are traveling with family and have kids in the group, Lidder Amusement Park should be among the must-visit places in Pahalgam for you. Some of the fun activities that you can enjoy here are swings, paddle boats, bumping cars, and a few other fun games.
Also Read: Yusmarg – A Comprehensive Travel Guide
Sheshnag Lake
One of the must-see places in Pahalgam, Sheshnag lake combines natural beauty with peace and serenity. It is so calm and peaceful that you can actually hear the silence until you yourself decide to disturb it.
Surrounded by green meadows and snow-covered hills, it is a glacial lake that holds a religious significance too. According to Hindu mythology, the mythical Sheshnag (the 100-headed serpent) made this lake home. Thus the lake derives its name from it. Many people believe that Sheshnag lives here even now.
The lake is situated about 20 km from Pahalgam and involves an uphill trek to reach here. Alternatively, you can use a pony ride. You can also find famous trout fish here.
Apart from this, Sheshnag Lake is also a great place for trekkers and nature lovers. If camping in Pahalgam is on your mind then you will not find a better place to do so other than on the banks of Sheshnag.
Also Read: Srinagar Taxi Rates 2019 – The Revised List
Mamaleshwar Temple
If you are in Pahalgam, you can't miss Mamaleshwar Temple in the city. Situated on the banks of river Lidder, this is a 12th-century temple made entirely of stones.
The temple, dedicated to Lord Shiva, holds special significance, and pilgrims from distant places come here to get the blessings of Lord Shiva, There are a platform and a Shiva Lingam in the temple along with a gold-adorned sanctum.
This was set up by the former ruler of the state. Mamaleshwar Temple has a pure water spring in a gorge. People throng this temple throughout the year to seek divine blessings. Usually, people walk to this temple from Pahalgam as this is hardly a kilometer away.
Also Read: Best Time to Visit Pahalgam | When to go to Pahalgam
Avantipur Temple
This beautiful temple was built by King Avantivarman who ruled from AD 855-883. Though the temple is in ruins now, it is still a must-visit site for its history and to marvel at its architectural excellence.
This amazing temple is of equal interest to history buffs, historians, religious devotees as well as photography enthusiasts. The architectural expertise of that era is still visible in the ruins of the temple and you can't help but gasp at the sheer brilliance of this.
Various deities carved on the sculptures and the pillars testify to the architectural acumen of the people during that period.
There are two main temples here. One is the Avantishwar temple which is dedicated to Lord Shiva and the other one is the Antiswami temple which is dedicated to Lord Vishnu.
Both these temples are equally beautiful and amazing. These are ideal spots for clicking pictures. Avantipur Temple is about 57 km from Pahalgam on the Srinagar-Pahalgam highway and is a treat to watch.
Also Read: Gulmarg Gondola – How to Plan your Ride?
Kolahoi Glacier
Another place to take your breath away is the Kolahoi glacier. This is a hanging glacier over the river Lidder and is a sight to behold. Imagine standing at 18,000 feet and inspecting the stunning view spread all around. Won't you feel on top of the world? Well, that is what Kolahoi glacier is all about.
But reaching the Kolahoi glacier is not an easy walk. You have to undertake a moderately difficult trek to reach this place. Along the way, you will find dense mountain vegetation.
The river Lidder flowing with a thundering sound and icy rivulets make it all the more thrilling. You must carry adequate warm clothing with you.
As everyone may not be able to undertake this not-so-easy trek, there is an alternative of riding a pony to reach the Kolahoi glacier. This glacier is located at a distance of 25 km from Pahalgam.
Tulian Lake
This sparkling blue water lake is sure to mesmerize you with its stunning beauty. Located at a distance of 8 km from Pahalgam, the way to this lake goes through Baisaran.
Situated between Pir Panjal and the Zanskar mountain range, Tulian Lake is a must-see spot. Once again, you have to undertake a trek to reach this amazing beauty.
Of course, there is always an alternative way of a pony ride. But the more adventurous kind would surely love the trekking part of it.
This alpine lake has a beautiful setting with snow-covered mountains on three sides. These snow-capped peaks are generally 1000 ft higher than the lake. The lake itself is situated at an altitude of 12000 ft.
Nestled in pine forests, it presents a perfect picturesque view with barren hills encircling it; and provides you the best way to see and admire the beauty of Pahalgam and Kashmir as a whole.
Tulian Lake is definitely one of the best places to visit in Pahalgam. One precaution though – it is advisable to take a guide along if you are trekking to Tulian lake because trekking trails beyond Baisaran are not very clear.
Shikargarh
It was once a hunting place for the royal of Kashmir but now is a renowned wildlife reserve. It is located close to the main marketplace of Pahalgam and is actually popular among tourists and locals both as a picnic spot. You can either walk to the reserve or hire a pony from the marketplace to get here.
Also Read: Doodhpathri – A Comprehensive Travel Guide
Tarsar Lake & Marsar Lake
Now to end the list, the final entry among the top places to visit in Pahalgam is the twin lakes of Tarsar and Marsar. Both of these lakes are located 5 km away from Nagberan village and can only be reached by a moderately difficult trek.
I agree that it would mean for you to stay back in Pahalgam for a few days but trust me, a trip to these lakes is worth every minute you spend in Pahalgam and every effort you make to reach here.
The entire trek gives you a perfect chance to enjoy the stunning beauty that Kashmir is. You get to experience scenic hills, aesthetic valleys, and two beautiful unspoiled lakes.
The rocky landscape of the trail and the sheer beauty of the lakes put their name among the best tourist places to visit in Pahalgam.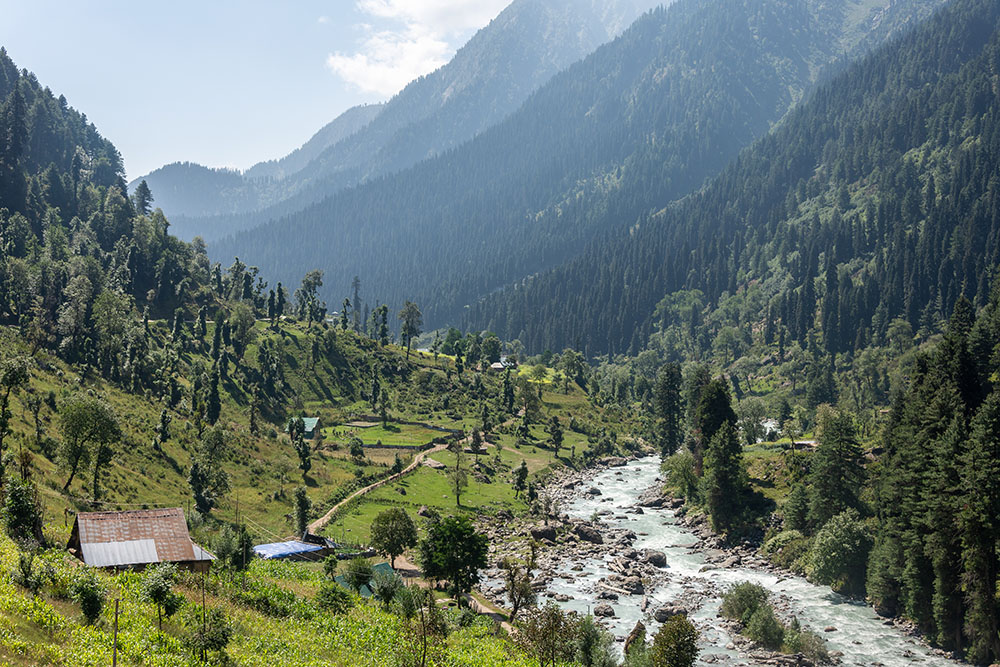 What to do in Pahalgam
Other than sightseeing at all the places I mentioned above, there are a few other tourist activities that you can enjoy during your stay in Pahalgam. Like before, I will first list down the activities and then explain them one by one.
Things to do in Pahalgam
Below is a complete list of things to do in Pahalgam apart from visiting all of the above-mentioned places.
Trekking
White Water Rafting
Skiing
Shopping
Camping
Angling
Fishing in Lidder River
Horse Riding
Photography
I will explain the activities above in a little more detail.
Trekking in Pahalgam
There are numerous trekking trails across Pahalgam where you can go trekking and explore the beauty of the place. There are trekking trails of varying degrees of difficulty or easiness. So you may choose the one that suits you the most.
The best time to trek in Pahalgam is from April to June. You can try some winter treks as well in January or February but would definitely need some professional guidance and help for that.
Also Read: Aharbal Waterfall – A Complete Travel Guide
White Water Rafting in Pahalgam
You can enjoy the beauty of the Lidder River with white water rafting on it. While passing through Aru Valley, there is a stretch of 2 km where river rafting is done.
Rafting here generally starts in the month of May and is then again shut down during monsoon season. It then again resumes towards the end of September or early October and shut down in November.
Skiing in Pahalgam
After Gulmarg, Pahalgam is the most sought-after and the best place for skiing. Once again, Aru is the epicenter of skiing in Pahalgam. Skiing in the midst of a picturesque landscape is an unforgettable experience.
The best time to enjoy skiing here would be the months of January and February. A two days snow Festival is held in Pahalgam each year during the winter season and presents an opportunity for tourists from all around the world to showcase their skills in winter sports.
Shopping in Pahalgam
You will get a lot of local things to shop for in Pahalgam. Check out Kashmiri handicrafts and carpets. Buy authentic Kashmiri shawls and kaftans and many more Kashmiri specialties from Pahalgam.
Also Read: How to Plan Your Trip to Gulmarg, Kashmir
Photography
Last but not least, photography is one thing that would come naturally to you while in Pahalgam. No matter you have a big bulky DSLR or just a Smartphone camera, you will find it hard to keep yourself from clicking and recording every minute of your trip and every sight you see.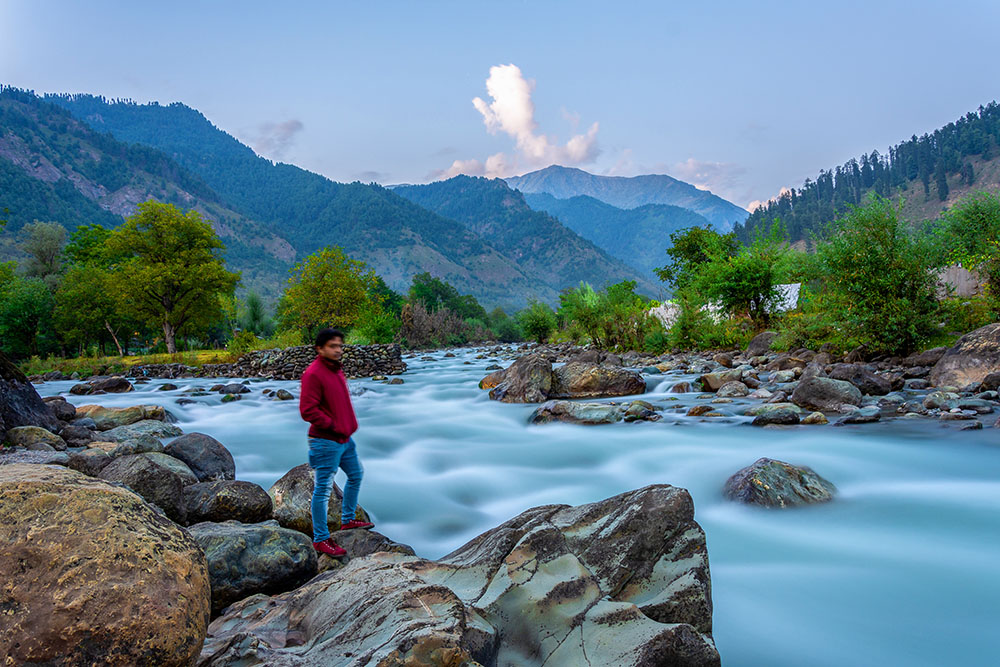 Places to visit in Pahalgam in One Day

Most people plan a trip to Pahalgam from Srinagar with 2 nights and a one-day stay. If you were thinking of doing then visiting the local market, Aru Valley, Betaab Valley, Chandanwari, and Pahalgam Golf Course would be your top places to visit in Pahalgam.
What to see in Pahalgam in 2 Days
If you can add a day more and stay in town for 2 days then you can easily cover the following places
Betaab Valley
Mamaleshwar Temple
Aru Valley
Baisaran Hills
Avantipur Temple
Chandanwari
Pahalgam Golf Course
Top 10 Places to Visit in Pahalgam
The following can be considered the top 10 places to visit in Pahalgam.
Betaab Valley
Sheshnag Lake
Mamaleshwar Temple
Aru Valley
Baisaran Hills
Avantipur Temple
Chandanwari
Kolahoi Glacier
Tulian Lake
Pahalgam Golf Course
Must Visit Places in Pahalgam
If you asked me to name a few must-visit places in Pahalgam as per me then they would definitely be Aru Valley, Betaab Valley, Chandanwari, and Baisaran Hills.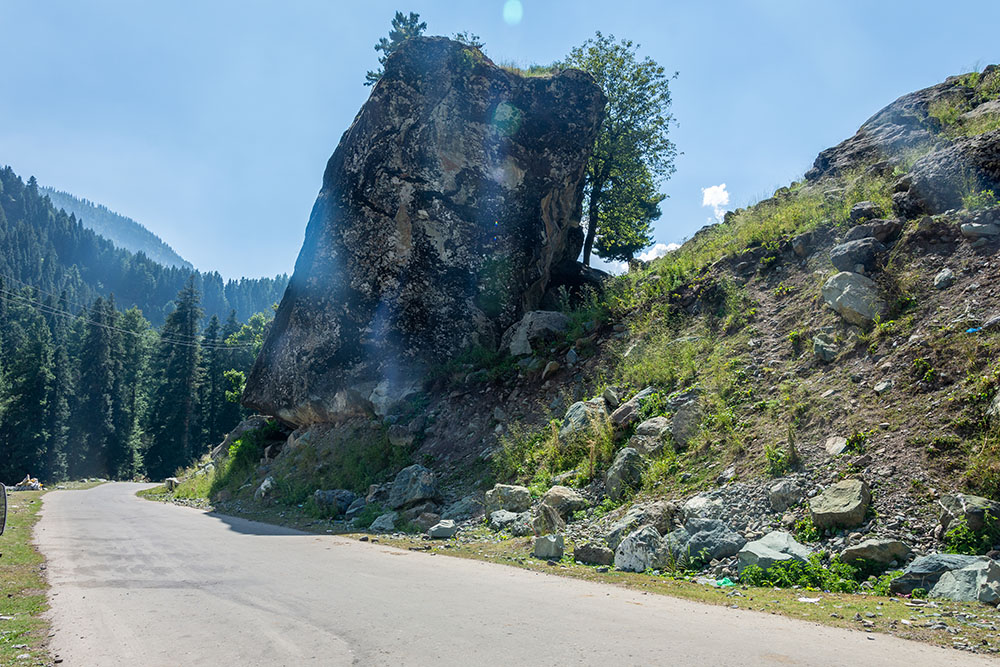 How to reach Pahalgam
Other than the information on what to see in Pahalgam, let me also briefly talk about how you can reach Pahalgam and where can you stay. For a more detailed version of this, please take a look at How to Plan a Trip to Pahalgam.
By Air
The nearest airport to Pahalgam is Srinagar which is 95 km away. From here you can hire a taxi to reach Pahalgam.
By Train
The nearest railway station is Udhampur which is 218 km away. However, there is only a limited number of trains operating up to this place. The nearest major railway station is at Jammu which is 255 km away and is well connected to all the major cities of the country.
By Road
Pahalgam has a very well-laid-out road network and can be easily reached from anywhere by road.
Where to Stay in Pahalgam
Pahalgam has many hotels suiting all budgets as well as a few resorts. There are some homestays also available for staying in Pahalgam. Apart from that, you may also opt for JKTDC cottages also.
Finding budget accommodation, however, can be a bit tricky, especially during tourist season. For budget travelers, I will recommend staying in Aru Valley and not in the main Pahalgam town.
What to See in Pahalgam – Conclusion
I hope the information above on what to see in Pahalgam was of help.  If you have any questions, you can contact me on Instagram and I will be happy to answer. You can also consider subscribing to my YouTube channel and asking a question there.
This error message is only visible to WordPress admins
Error: No feed found.
Please go to the Instagram Feed settings page to create a feed.