Kunzum Pass is a high-altitude mountain pass located in the Lahaul & Spiti District of Himachal Pradesh. The road across this pass connects the valleys of Lahaul and Spiti, climbing up to a maximum elevation of 4,551 meters (14,931 ft) at the top. It is only open for about 4 months in a year, from late May to mid of October, and remains snowed out for the rest.
Kunzum La is not usually considered a tourist attraction in itself as such but is an important part of a trip to Spiti Valley.  Whether or not you can complete the Spiti Circuit and the accessibility of Chandratal entirely depends on the opening of this pass. It stands tall, is a beast to conquer, and offers some of the most astounding views you will get in Spiti Valley.
This post will remain to be a dedicated article where I will update the most recent status of Kunzum Pass, the condition of the road, and several other tips on planning a trip here.
Due to the worsening COVID situation in the country and the rest of the world, the locals of Spiti Valley have decided to keep the valley closed to tourists and non-locals.
There are barricades set up on both the entry points of Spiti and anyone who is not a resident is being sent back. This includes people even from other parts of Himachal. This year, a trip to Spiti is not possible and you must plan for the next year.
Locals from Spiti are allowed to travel but the route is closed for rest of the world. Chandratal is also off limits this year. There is no plan to set up camp at the lake.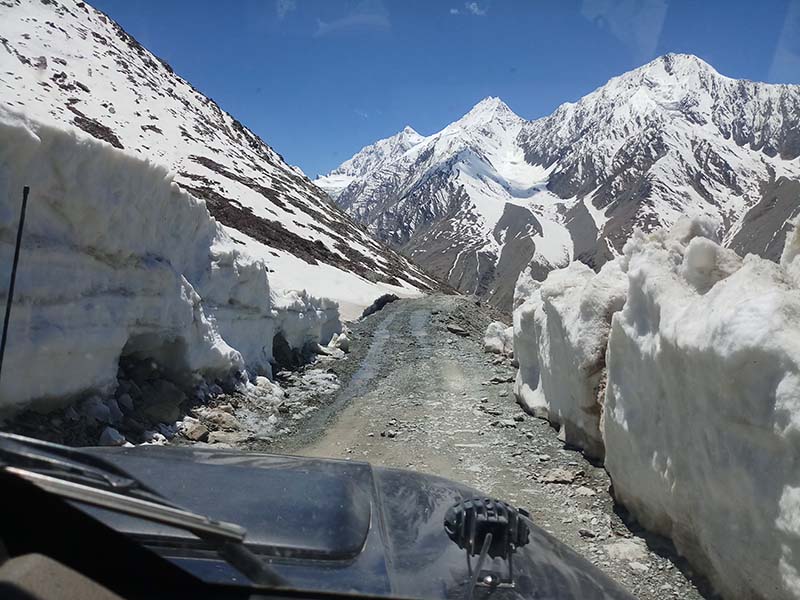 How to reach Kunzum pass
There are two ways that you can get to Kunzum Pass. The first and shortest route is from Manali. The second one is from Kaza if you were traveling from Shimla through Kinnaur Valley. Traveling via Shimla and Kaza is best for someone covering the entire Spiti Circuit. Reaching the pass via Manali is best suited to someone short on time and only intending to visit the pass and Chandratal Lake.
How to reach Kunzum pass from Manali
If you were coming from Manali, you will first have to drive across Rohtang Pass to reach Gramphu in Lahaul Valley. At Gramphu, a narrow road branches off the main highway on the right towards Batal. This is the one you will have to turn on.
After a bumpy ride on an extremely bad road of about 60 kilometers, you will reach the tent establishment of Batal. After Batal, the road climbs steeply through fifteen sharp hairpin bends. Drive on it carefully for about 13 kilometers and you will arrive at Kunzum Pass top.
How to reach Kunzum pass from Kaza
If you were coming from Kaza, your first destination will be the small village of Losar, 58 kilometers away. Until Losar, it is pretty much a straight drive but after that, the road climbs up rapidly for 19 kilometers to the top.
If you were traveling by public transport, there is a daily bus available between Kaza and Manali that you can board to get a drop at Kunzum top. Please note that except for this one daily bus, there is no other public transport available. So if you got down from the bus at Kunzum, find another way to travel may become a problem.
Also Read: How to Plan a Trip to Spiti Valley
When does Kunzum Pass Open
Kunzum Pass remains open from late May to Mid of October. But there is really no firm answer to the question of when will Kunzum Pass open. There are no set dates. The opening and closing depends on the weather and road repair work by the Border Roads Organization. There have been instances when the pass was opened in April itself because there wasn't a lot of snow. But there have also been years when it remained closed well until mid of June.
But usually, authorities are able to finish snow clearing by May 10th. After that, BRO will assess how safe the road was for the public and then let the locals travel on it for a couple of weeks. Then by May end, tourists are allowed to ply on the route.
Best Time to Visit
June is the best time to visit Kunzum Pass. It remains open for 4 months in a year and you can go in the other three months as well but it is June that is definitely the best time among all.  Why? Read on to find out.
Kunzum Pass in May and June
The month of May is when the entire region of Lahaul and Spiti prepares for the upcoming tourist season.  BRO continues with its snow-clearing operation and aims to allow civilian vehicles to cross the pass by May end.
June is when the highway has officially been declared open. The Dhaba at Batal will be up and running and campsites at Chandratal too will be operational. The daily HRTC Manali Kaza bus too becomes available in June.
One of the biggest challenges of traveling towards Kunzum La is the numerous water streams on the way, fed by glacial melt and the rains. I once counted 42 crossings on a stretch of 60 kilometers. The flow of the water in these streams is very less in May since the snow has just started melting. Both the flow and the number of rivulets continues to increase by each passing day.
So if you were traveling in June, you will not find too many nallahs to cross, not much of water in the existing ones, and the weather too will be favorable. You will easily find a place to stay and can even travel by public transport. This is what makes June the best month to travel to Kunzum Pass.
Kunzum Pass temperature in June will be between 5 to 10°C during the day and close to 0°C at night.
Also Read: How to Plan a Trip to Chandratal
Kunzum Pass in July and August
Monsoon arrives in the region by June end and can wreak havoc in the months of July and August. Landslides caused by incessant rains is not a sight too uncommon here. The water from the rains further fuels the water streams and they turn into ferocious nallahs where even a bus passes with much difficulty.
Early July is still Ok to travel but a visit after 15th July will carry a substantial amount of risk. Traveling in August is best avoided but if you must, you should plan towards the end of the month.
Kunzum Pass in September and October
It continues to rain here in September as well but the intensity and frequency both decrease by each passing day. The flow of water in the streams is very high towards the beginning of the month but reduces significantly towards the end.
October is when the pass closes once again for the public. The exact date is not set and it entirely depends on the weather. It starts to snow at the pass by end of September and early October. By the end of October, the route gets blocked completely.
The campsites at Chandratal and the Dhaba at Batal remain available until October 15th though. So if you have to travel in both these months, best would be to plan towards the end of September or early October.
Below is a picture of Batal and Chandratal in the first week of October 2018. It snowed so much that people were stuck for days before they could be rescued.
Kunzum Pass in November and December
A trip to Kunzum Pass is not possible in either of these months. In November, the road will definitely not be open from Manali but it may remain open from Kaza during the early part of the month. You can drive as far as you could go safely and return.
Visiting Kunzum Pass by road is not possible in December. You may hire a local guide to take you as far as they could on foot but you will not be able to reach the top.
Kunzum Pass in January and February
These are the months when the entire Spiti Valley gets buried deep under the snow and everything freezes. A trip to Kunzum Pass is not possible at all in these months, either by road or on foot. In fact, sometimes you may not be able to reach even Losar from Kaza. Kunzum Pass must not be attempted at this time as it can be very dangerous.
Kunzum Pass in March and April
By road, the pass remains closed in both these months but you may try to reach the top and Chandratal Lake on foot towards the end of April. It will surely remain closed in March but if there wasn't too much snow and BRO was able to clear the route fast enough, the pass can sometimes even by end of April as well, as it happened in 2018.
Also Read: Acute Mountain Sickness in Spiti Valley
Hotel at Kunzum Pass
There are no hotels at Kunzum Pass. The nearest accommodation available is ether at Chandratal, Batal or Losar.
Chandratal and Batal both have campsites only. Losar has a few small guest houses. There is also a PWD rest house at Batal but chances are that you will find it closed only and the caretaker missing. Even if the caretaker was available, he will not allow you to stay unless you were carrying proof of advance booking.
Camping at Kunzum Pass is neither available nor advised. It is the top of a mountain and it gets so cold and windy at night that you will not be able to survive it. If you want to do self camping, either do so at Chandratal or Batal.
What to see at Kunzum Pass
There are three things that the mighty pass has to offer. The first is the astounding view of the glorious snow-covered peaks all around. It will really blow your mind. The second is the tiny blue jewel called Chandratal about 15 kilometers from the top of the pass.
The third attraction is the small temple built at the top. It is dedicated to Goddess Durga, also known as Kunzum Mata, among the locals.  It is considered auspicious to do parikrama of the temple; and get blessings before going further in the journey.
The temple is actually quite a sight at the top; with beautiful and colorful Buddhist flags fluttering amidst the snow-capped peaks.
Also Read: What to See in Spiti Valley – Sightseeing in Spiti
Things to do at Kunzum Pass
The drive to the pass in itself is the greatest fun of all. But pay heed, to be able to travel on this route, you need to have some serious driving skills in the mountains.
Other than this, just take a break here, pay a visit to the temple, click plenty of pictures, and be on your way. There is nothing else you can do here. It is going to be very cold and windy even during the day so you will anyway not spend much time at the pass.
Road Conditions
No matter which side you travel to the pass from, the road to Kunzum Pass is bad and broken. It has been that way ever since I went there first about a decade ago. The road from Kaza to Kunzum Pass is bad but the one from Manali is a complete nightmare. This entire stretch is a narrow dirt trail with no tarmac anywhere. On the road, you will find huge stones, mud, water crossings and it is terribly steep at some places.
Best Vehicle
For traveling on this route, you really need to bring an SUV. It does not have to be a 4×4 but good ground clearance is a must. Do not bring your hatchback or sedan here if you have any love for your car at all. The pictures below should give you an idea.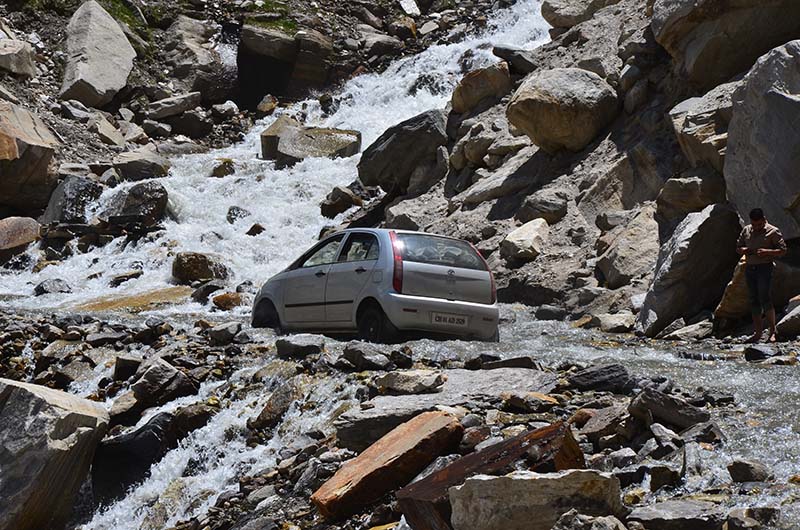 Mobile Network
There is no mobile network available at either Kunzum Pass or Chandratal. MTNL / BSNL has the widest coverage in Spiti Valley but even that does not work here. For more details, please read Mobile Network in Spiti Valley.
Delhi to Kunzum Pass
Last but not least, let me also suggest a sample itinerary for a trip to the pass. For the sake of the itinerary, I will assume Delhi as your starting point.
The first itinerary is of complete Spiti Circuit including Kunzum Pass. You will start from Shimla and end at Manali.
Delhi to Shimla – Day 1
Shimla to Sarahan – Day 2
Sarahan to Chitkul – Day 3
Chitkul to Kalpa – Day 4
Kalpa to Nako – Day 5
Nako to Kaza – Day 6
Kaza – Day 7
Kaza to Chandratal via Kunzum Pass – Day 8
Chandratal to Manali – Day 9
Manali to Delhi – Day 10
This is really a very elaborate and exhaustive itinerary covering all of the tourist attractions on the Spiti Circuit. Depending on your mode of travel and time in hand, you can add or remove days and places from it. For more details on this journey, please read Shimla to Spiti Valley Itinerary details and Road Map.
Let me also suggest another itinerary specifically for people short on time and wanting to cover Kunzum Pass only. For this, you will travel via Manali and return the same way.
Delhi to Manali – Day 1
Manali to Chandratal via Kunzum Pass – Day 2
Chandratal to Manali – Day 3
Manali to Delhi – Day 4
Distance Chart
Shimla to Kunzum Pass – 480 kilometers
Manali to Kunzum Pass – 125 kilometers
Delhi to Kunzum Pass Distance – 660 kilometers
Where is Kunzum Pass Located?
Kunzum Pass is located in Lahaul and Spiti district of Himachal Pradesh.
Conclusion
Kunzum Pass is a perfect combination of adventure and natural beauty. The landscape this route runs through is just awe-inspiring and the pass offers a feeling of a challenge when thought of, and a feeling of accomplishment once traveled on.
I hope the information provided above was of help. If you have any questions, please feel free to ask in the comments section below. You can also contact me on Instagram to chat with me live or subscribe to my YouTube channel and ask a question there.