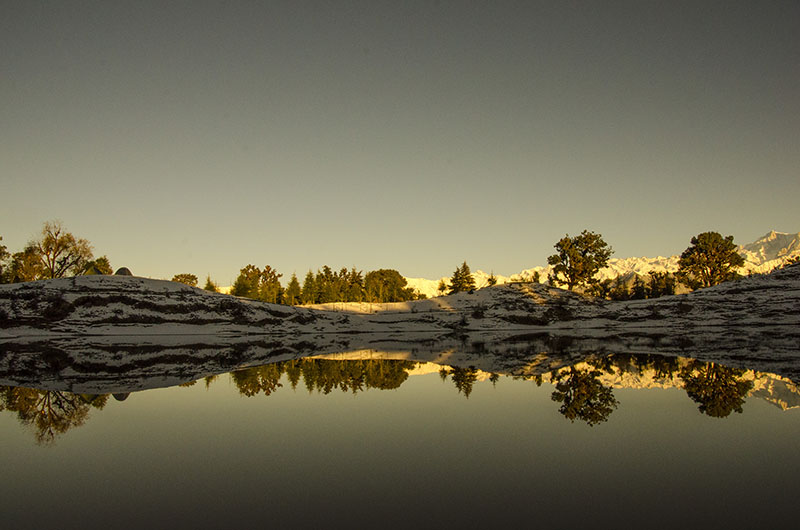 The entire Himalayan region is home to numerous lakes Some of these are small and some are quite large in size. Some are well known while others are hidden somewhere up in the hills, known only to a few. One such lake that I am going to talk about in this article is the tiny yet stunningly beautiful Deoria Tal, also known as Deoria Taal or Devariya Taal.
In recent years, Deoria Tal has come up as a favored destination for people wanting to visit an offbeat destination. It is also perfect for trekkers and campers. The lake is located close to Chopta, Tungnath, and Chandrashils so a trip to all these 4 places can in fact be planned together, depending on the season. How can you do is what I will provide details on in this post.
About Deoria Tal
For a brief introduction, Deoria Tal is a small lake located about 3 kilometers from Sari village near Chopta in Uttarakhand. It is situated at an altitude of 2,438 meters and has dense forests, lush green surroundings with snow-covered mountains in the backdrop.
Chaukhamba peak is also visible from the lake here and watching its reflections in the calm waters of the lake is a photographer's delight. This lake freezes partially in winters and continues to remain a popular trek in all 12 months.
If you are living in a place like Dehradun or Delhi then you can easily plan a trip to the lake with as few as 3 days in hand. This also makes Deoria Tal a great weekend getaway.
The Mythology
Interestingly, this lake also holds some religious significance. As per the local belief, Devas used to bath in this lake, and hence the name. The lake is also believed to be the "Indra Sarovar" referred to in the Puranas by wandering Hindu mendicants, Sadhus.
It is also believed that it was the place from where the mighty Pandavas were asked queries by Yaksha. According to the locals, it was aid that this lake was built by Bheem, who was strongest among the Pandavas, to appease his thirst; on the suggestion of Yudhishthira, who was the wisest. (Source: Wikipedia)
Where is Deoria Tal
Deoria Tal is located at a distance of about 3 kilometers from the village of Sari on the Ukhimath – Chopta road. The total distance from Delhi is about 415 kilometers while it is about 200 kilometers from Rishikesh. The distance between Ukhimath and Sari village is about 14 kilometers.
Also Read: Tungnath Chandrashila Trek – How to Plan & Prepare
Why Visit Deoria Taal
Let me begin by first writing about why you should consider Deoria Tal for your next trip. In brief, visiting Deoria Tal will provide you with a really wholesome experience. You will get to drive through the scenic hills of Uttarakhand; will trek for a few kilometers; camp near the lake for the night and if time allows, you can also include rafting at Rishikesh in your trip.
The best part is that you can do this trip in peak winters as well. This is when the entire lake is frozen and has plenty of snow around it. I myself visited here in the month of February and spent an amazing night camping in the snow. For details of my travelogue and some pictures of the lake, please read Camping at Deoria Taal – A Night to Remember.
If you are someone who likes tourist destinations like Shimla and Manali then Deoria Tal is not really for you. There is nothing out here really. It is a beautiful small lake sitting in the forest in the middle of nowhere. So visit here only if some camping, easy walk through the forest, bonfire at night, no sound other than those of the forest, and visiting an offbeat destination is your thing.
Is Deoria Tal Safe?
Yes, a trip to Deoria Tal is very safe but it also depends on that you do not take any unnecessary risk. The road here gets steep and narrow at a lot of places so you will have to be careful while driving.
Deoria Tal is in the middle of a forest reserve and there is wildlife around. Do not go wandering around in the forest on your own. Even if you want to go trekking, ask a local villager to be your guide so that you do not get lost. Prepare well for your trip and trek considering the month you are planning the trip in.
Other than this, you got nothing to worry about and the trip will be fun and completely safe. The people here are very warm and hospitable. Avoid any unnecessary altercations and you will be fine.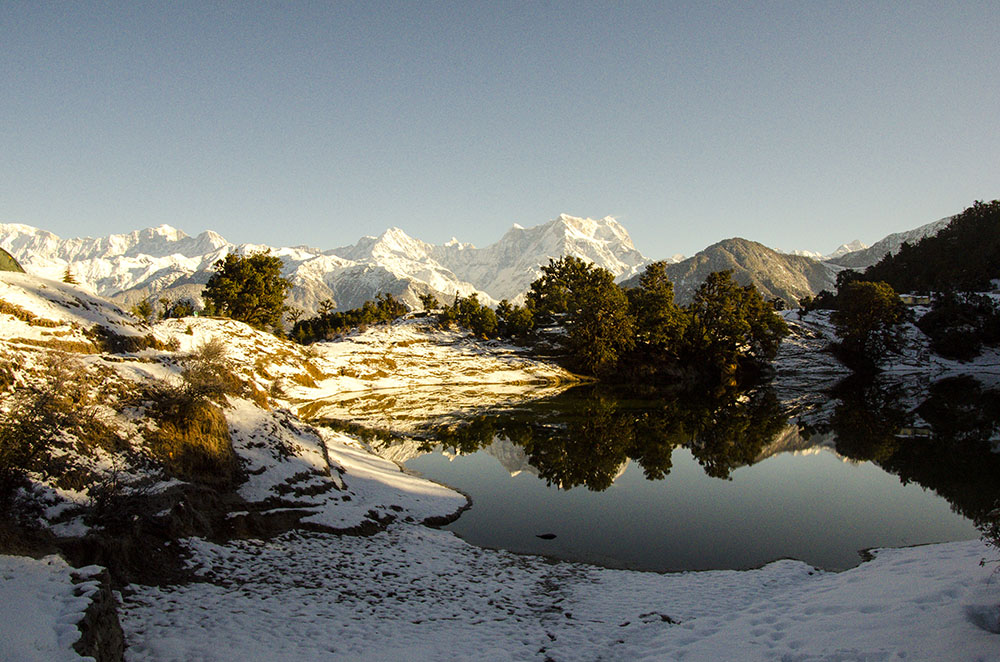 How to reach Deoria Tal
Reaching Deoria Tal is not difficult at all but it does involve a little bit of trekking. By road, you will drive through the towns of Rishikesh, Srinagar, Rudraprayag, Ukhimath to finally reach the Sari Village. From Sari, it is a 2 kilometers trek to the lake.
Do not worry though. This trek is not really that difficult. As a matter of fact, it is perfect for someone who has never done trekking before but would like to try their hand at it. The distance is not too great and it never really gets too steep for a beginner to manage.
This lake is deep inside a forest reserve which means there are no hotels here. You can either make it a day trip; start from Sari early in the morning and return by evening after visiting Deoria Tal. Or you can camp here for the night, arrangements of which can be made at Sari village itself. I have covered this topic in detail further in the article.
Sari village, which is the beginning point of the trek, is very well connected by road; though it may get blocked sometimes if it snowed too much.
Also Read: Delhi to Deoria Tal – A Memorable Trip
How to reach Deoria Tal By Road
I will explain the route from Haridwar because the journey until Haridwar will entirely depend on where you were coming from, or how you were coming. Once you get to Haridwar, the route will be as mentioned below.
Haridwar – Rishikesh – Devprayag – Srinagar – Rudraprayag – Agastmuni – Ukhimath – Sari Village – Deoria Tal
This entire journey from Haridwar is a total of 213 kilometers by road, followed by 3 kilometers trek to the lake. The total distance between Delhi and Haridwar is about 234 kilometers. Dehradun, on the other hand, is only 50 odd kilometers.
If you were coming from Delhi, you can reach Haridwar in about 6 hours and in one hour from Dehradun. After Haridwar, you will then take the 20 kilometers long road to Rishikesh. Journey until here is a mix of good and bad roads but mostly good.
After Rishikesh, you will start climbing up the hills all the way to Sari village. The road will be a mix of good, bad, and ugly. But if you were traveling in monsoon season, it can get nasty as well due to all the slush in between. Once at Sari, the road will end and the 3 kilometers long trek will start which actually is on a well-paved path.
You will not be walking through dense forest, grass, or loose sand. The entire walk is moderate except for a few places where it may get a bit steep. There are however proper shelters made by the locals on the way so if you got tired, you can definitely take a rest in between.
How to reach Deoria Tal by Bus
Reaching Deoria Tal by Bus will be a bit of a cumbersome task but is doable. Rishikesh will become your first destination for this journey, and reaching here is not difficult at all. You can look for a bus from your city to either Haridwar or Rishikesh; both will do equally well.
From Rishikesh, you will then have to find a bus for Rudraprayag from the main bus stand. Once you reach Rudraprayag, you will then have to find either a bus or shared taxi for Ukhimath. Chances of finding a bus are less as the frequency is not too great so you will rely more on a shared taxi. From Ukhimath, you will then again have to search for a shared taxi for Sari Village.
I know there are direct Uttarakhand roadways buses from ISBT Delhi for Rudraprayag, both overnight and during the day. So if you were living in Delhi, I will recommend that you catch the direct bus for Rudraprayag. I am not sure about other cities but if you are able to find a bus for Rudraprayag from your city, then catch it. Otherwise, you will have to get to Haridwar or Rishikesh first.
From Haridwar, there is also a direct bus for Ukhimath but the frequency is not too great. The bus for Rudraprayag is more frequent.
Chopta is another major tourist attraction that is quite close to Sari Village. Apart from Rudraprayag or Ukhimath, you can also board any shared taxi that is going towards Chopta and get down on the way.
Timings and Fare
Both local and Uttarakhand State Transport buses start to ply on Haridwar/Rishikesh to Rudraprayag route as early as 4 to 5 am. Please note that there are no luxury buses on this route. You will be traveling by ordinary buses but they will be comfortable enough.
Another point to note is that the journey by Bus will be slow. The bus from Rishikesh will drop you at Rudraprayag and from there you can look for a shared taxi. You can also try to hitchhike to Sari.
Traveling by public transport, Haridwar / Rishikesh to Rudraprayag will cost you about Rs. 200; then another Rs. 100 for Ukhimath and then about Rs. 50 for Sari.
Also Read: Devprayag to Chopta – The Valleys of White
Delhi to Gopeshwar Bus
If nothing works out, then your best bet would be to board the direct bus from Delhi to Gopeshwar. I am not sure what time it starts from ISBT Delhi but it starts from Rishikesh depot at 4 AM. So I am guessing it must start from Delhi at about 10 PM in the night.
It takes the Karnaprayag and Nandaprayag route to reach Gopeshwar which is about 60 kilometers from Deoria Tal via Chopta. Once you get to Gopeshwar, you can board a shared taxi or any other mode of commute to get to either Chopta or Deoria Tal.
This bus can also be used for your return journey. It starts from Gopeshwar early in the morning though and reaches Rishikesh at around 11 AM. So if you are able to make it to Gopeshwar at 5 in the morning, you can board this bus and travel directly to Delhi or get down at Rishikesh.
How to reach Deoria Tal by Taxi
The journey in a shared taxi will pretty much be the same as I explained above for the Bus. A smart way to travel would be to mix both buses and shared taxis and not rely just on one.
You can get a private taxi all the way to Sari Village from both Haridwar train station and Dehradun airport. The fare would be about Rs. 6,000 for a drop to Sari.
By Air
The nearest airport to Deoria Tal is the Jolly Grant Airport in Dehradun; which is about 250 kilometers away.
How to Reach Deoria Tal from Dehradun
Once you land at Jolly Grant, you will have to carry out the rest of the journey by road. For this journey, you can either board a local bus from Dehradun or catch a taxi from the airport itself.
If not a private taxi, then a better way would be to reach Haridwar or Rishikesh first and look for a mode of transport there. Your chance of finding a mode of transport is greater here than in Dehradun.
By Train
The nearest rail station is at Haridwar which is about 220 kilometers away from Sari. Once you reach Haridwar, you will have to look for a mode of transport as I explained above.
Also Read: Sari Village to Deoria Tal – An Awesome Trek
How to Reach Deoria Tal in Winter
All that I explained above will remain applicable for the winter season as well. The only exception will be in case the weather turned extreme and it snowed too much. Then you will not be able to reach even Sari Village and will have to turn back from Ukhimath. So if you were planning a winter trip, please call in advance and inquire about the weather and road condition.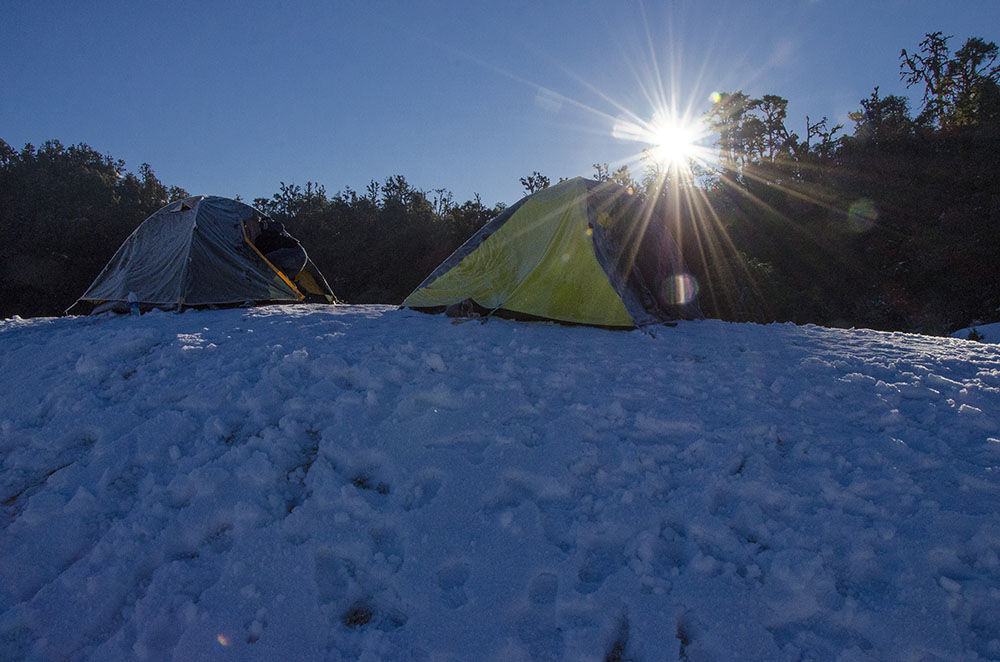 Deoria Ta Weather
Due to its high altitude location, the weather at Deoria Tal remains cold throughout the year. During summer, it is mostly pleasant and you will just need light woolens. The Hills all around are clearly visible and the cool breeze definitely adds a charm to the overall experience.
During monsoon, the entire region experiences heavy rainfall, and landslides become a common occurrence. Sometimes, it can rain non-stop for days causing even the roads to get blocked. The only upside is that the hills and the valleys seem to come alive at this time with lush green and flowers of all colors. Not just the lake but the entire drive turns into a destination in itself. The vistas at this time are a sight for sore eyes if you are ready to take the risk.
If Monsoon turns the area green, then winters bring along a carpet of white. The temperature drops below zero degrees at night and you will definitely need heavy woolens. The option of camping however still remains open at the lake but make sure you are ready to handle the cold.
For more information on the topic above, please read A Month by Month Breakdown of Weather at Deoria Tal.
Best Time to Visit Deoria Tal
When to go or the best time to visit Deoria Tal would really depend on what your preference is. For example, If you wanted to see a half-frozen lake with snow all around, then the months of January and February would be best. Snow on the ground would be more in February.
Do remember though that the temperature at this time will be really low, close to zero degrees. You will be camping in the snow and there will also be a great chance that you may catch a live snowfall. Trekking at this time to the lake will mean that you should be well prepared for walking in the snow.
From April till June can be considered a good time to visit here. There won't be any snow around but you will have fun trekking and camping. The weather at this time is pleasant with days being moderately warm. Nights will still be cold but not too much.
The months of monsoon, July, and August that will be, is not a good time to come here. This entire area is prone to landslides and rains really wreak havoc here. Chances of landslides and roadblocks remain high during the monsoon season in Uttarakhand. Trekking and camping too at this time will be very difficult.
September is among the best of the times to visit. Monsoon will be gone but the vistas and valleys would still be full of colors. Come October and things would get cold and dull again. If you want to see the Orange of the Autumn then October can be a good time. The months of November and December will really be a bad time with cold weather, no snow, and really dull and dry scenery.
Also Read: Rishikesh to Delhi – The Journey Home
Clothes to Bring
If you were planning a winter trip to Deoria Tall then you must bring woolens with a thick, heavy windproof jacket. Your jacket should also have a hood to protect your face, neck, and head. If you were visiting in April, May, or June then your regular cotton clothes will do but carry a jacket still for nights. In the months of July and August, you must carry good rain gear because you are bound to get wet.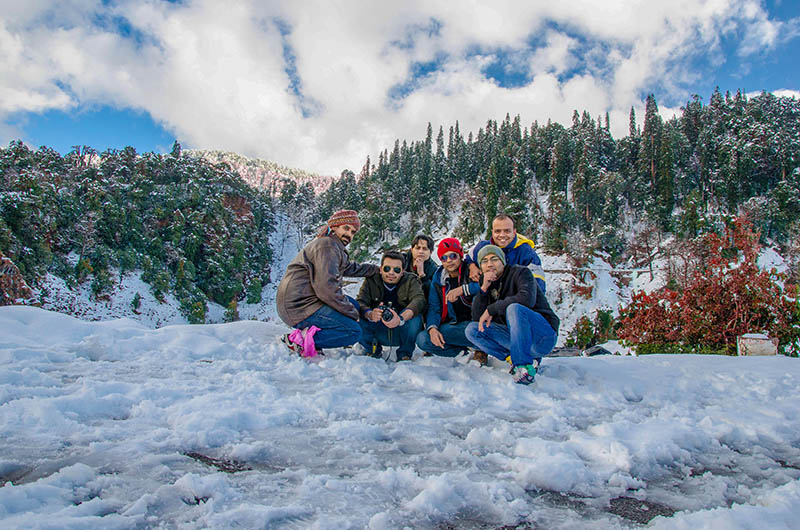 What to see at Deoria Tal
Deoria Tal is a tourist attraction in itself. The natural beauty of the place is of course what you will be coming here for. Spending a night at the lake in a tent will be an experience that you will talk about for days to come.
If you are short on time and then you can come straight to Sari village, camp at the lake, and head back. If you, however, have a few more days to spare then you can include Chopta, Tungnath Temple, and Chandrashila trek to your trip.
There are several other places near Chopta that are worth visiting but will require that you extend your trip by a few more days. For a 3 to 4 days trip, I will suggest that you cover only Deoria Tal and spend some time at Chopta. If you had more time in hand, then please read Tourist Attractions at and around Chopta for a list of places you can include in your trip.
Things to do at Deoria Tal
Deoria Tal is a small lake almost in the middle of nowhere. Trekking to the lake and camping on its banks are the two activities that you will indulge in here. Photography is another thing that you will have plenty of chances to do.
The natural beauty of the lake is truly alluring and you will find it hard to keep your hands off the camera. A trip to Deoria Tal means that you trek a little, take plenty of photos, camp here for the night, and enjoy the natural scenic beauty of the place which will definitely leave an impression on you.
Accommodation at Doria Tal
There is no hotel at Deoria Tal. The only option of staying here is to camp. The arrangement for camping can be made at Sari village itself. To be on the safer side, however, it would be better if you called in advance so that they could make all the arrangements for you.
A few contacts there at Sari village are Ashutosh Negi (8937985464 or 9410505374), Bharat Singh (8476920531 or 9458913001), and Hira Negi (09410241543) You can contact either of these people and they can make camping arrangements for you at the lake. They will also help you go up the trek from the village to the lake.
If you, however, would rather stay at a cemented hotel then you can do so at Sari village itself. There are a few basic guesthouses here that can accommodate you for the night. This is the closest that you will be to the lake. The nearby towns of Ukhimath and Chopta too have a few hotels but are at a little distance from Deoria Tal. My recommendation would be to either camp at the lake or stay at Sari village.
Where & What to Eat
You will only find the normal north Indian food like Roti, Sabzi, Daal, Chawal, etc. There are no fancy restaurants anywhere so there will also not be a large menu to chose from.
Your campsite owner will make arrangements for food. Meals served will be very basic but delicious enough.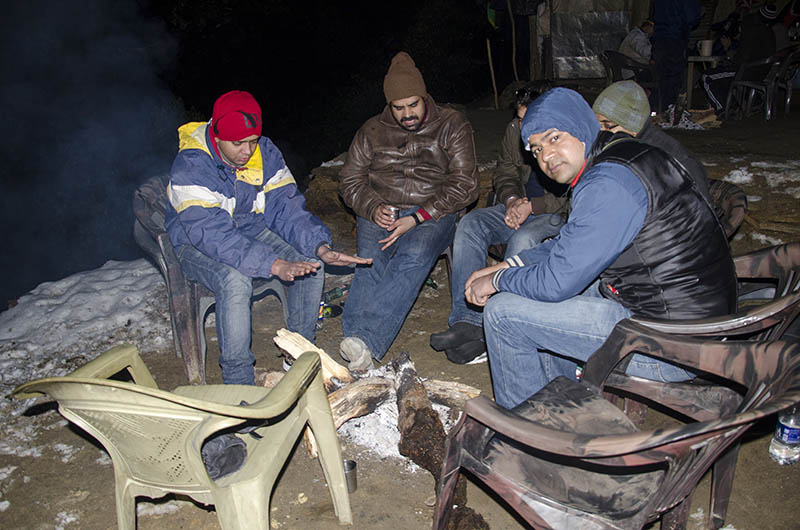 Deoria Tal Itinerary
Now last but not least, let us take a look at an itinerary for Deoria Tal. Your final travel plan will, of course, depend on how many days you had in hand but I will recommend a plan for 4 days which I think is a minimum if you do not want the trip to be rushed.
For the sake of the itinerary below, I will assume that you are traveling from Delhi.
Delhi to Rudraprayag – Day 1
Rudraprayag to Deoria Tal – Day 2
Deoria Tal to Rishikesh – Day 3
Rishikesh to Delhi – Day 4
There are several other ways that this journey can be done but the one I mentioned above will ensure that you do not rush too much anywhere. On Day 1, start a bit early from Delhi and reach all the way to Rudraprayag. Stay at Rudraprayag for the night and reach Sari Village on Day 2. From Sari, start trekking for Deoria Tal and camp there for the night. On Day 3, climb down and come back to Rishikesh for the night. On Day 4, you will then drive back to Delhi.
If you were short on time, then you can actually skip the stay at Rishikesh and come home to Delhi straight, hence wrapping up the entire trip in 3 Days. If you are planning to cover Chopta and Tungnath as well, please take a look at Chopta Tungnath Chandrashila Deoria Tal itinerary where I have shared some more examples.
Mobile Network at Deoria Tal
Only BSNL and Jio work at Deoria Tal. Airtel and Vodafone will completely remain out of network. For BSNL and Jio as well, it does not have to be postpaid; even prepaid phones will work fine.
Road Conditions
The road will be a mix of good, bad, and ugly depending on the time of your travel and the area. It is really hard to predict about the road conditions in this region as it changes each year. Up to Srinagar from Rishikesh, it is mostly average but starts to deteriorate as you climb further up. After Srinagar, it is mostly in bad condition. In the monsoon season, you can safely assume that the entire stretch will be a nightmare full of slush.
Also Read: Chopta Tungnath Chandrashila Deoria Tal Itinerary
There is really no best vehicle for this journey. Every car can reach Sari as long as it is in good condition. The locals here, in fact, drive around in a Maruti Alto mostly. We ourselves went there in a Honda Brio with 5 people in it.
In terms of motorcycles as well, you just need to make sure that your motorcycle is in good condition. Even a 150 CC bike can easily complete the journey.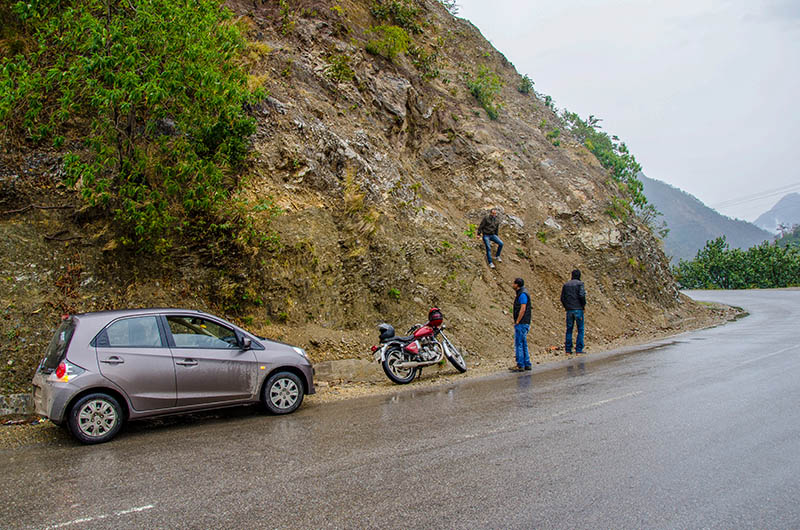 Local Transport
There is really no local transport available here to move between places. You will either have to bring your own vehicle or rent a local taxi. For example, if you wanted to go from Deoria Tal to Chopta or vice versa, renting a local taxi is your own way out. You can find these cabs at Ukhimath and even at villages like Sari. The best would be to call and book one in advance per your itinerary if you were traveling by public transport.
Deoria Tal Altitude
The altitude of Deoria Tal is 2,438 meters (7,999 feet).
Deoria Tal Temperature
The temperature at Deoria Tal remains very cold during winter and pleasant in the remaining months. In the entire year, the temperature fluctuates from -10 Degrees to 25 Degrees Celsius. During winters, the temperature ranges between -5 to 5 Degrees with a lot of snow all around. In Summer it turns rather pleasant and hovers between 20 to 30 Degrees Celsius.
For a more detailed explanation, please read Monthly Temperature at Deoria Tal.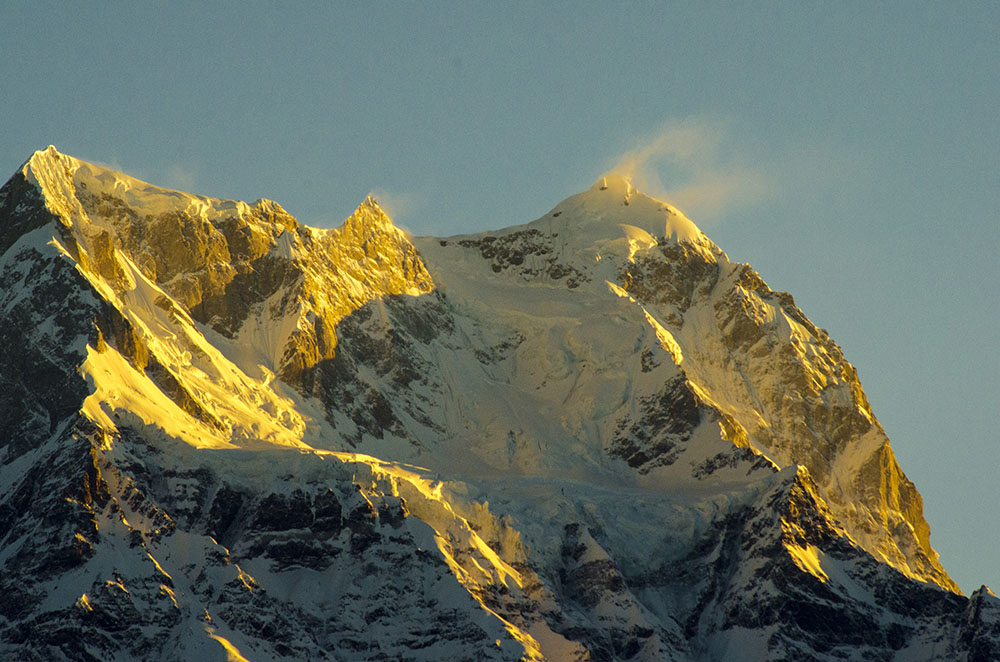 Other Tips
If you were making this journey in the winter season then please ensure that you are bringing snow boots.
If in monsoon season, carry proper rain gear. You do not want to be trekking all wet and cold.
Carry a couple of your own torches as well.
Before you think of camping, please ask yourself if you are OK comfortable sleeping in a small tent, on the ground, and wrapped up in a sleeping bag with no pillow.
There is a direct trek from Deoria Tal to Chopta that involves crossing Rohini Bugyal. It takes about 6 to 7 hours to complete the distance. This trail however is through a dense forest and is not marked. You must bring a proper guide along and not attempt this trek on your own.
The local people here speak in Kumaoni and Hindi languages, but quite a few can understand and speak in a bit of English as well.
Bank / ATMs
There are plenty of banks and ATMs throughout the route to Deoria Tal. There is however none at either Sari Village or Chopta. The last ATM is at Kund, right where you turn towards Ukhimath. Before that, there are a few ATMs at Bhiri and Chandrapuri as well. However, The last ATM with guaranteed cash available will be at Rudraprayag; and I will advise that you withdraw cash here if you weren't carrying enough already.
Petrol Pump and Mechanic
Like ATM, the nearest petrol pump also is at Kund. My advice would be that you top up at Rudraprayag only.
For minor fixes or flat tires, you can find mechanics at all small towns en route. If it was something major, then you would have to bring back your vehicle to either Rudraprayag, Srinagar, or Rishikesh.
Also Read: Himalayas in Monsoon : Top Tips for a Safe Trip
Hospital / Medical Assistance
The nearest medical assistance is available at Rudraprayag. There could be a doctor at Kund or Ukhimath as well but I am not too sure about that. I will highly recommend that you carry some basic medicines for fever, headache, stomach pain, body ache, cold, flu, etc.
Electricity and Other Facilities
As you can probably already guess, there will be no electricity at the camps. You will be provided with torches and lamps for the night. There are no washrooms available as well and you will have to do your business in the Jungle.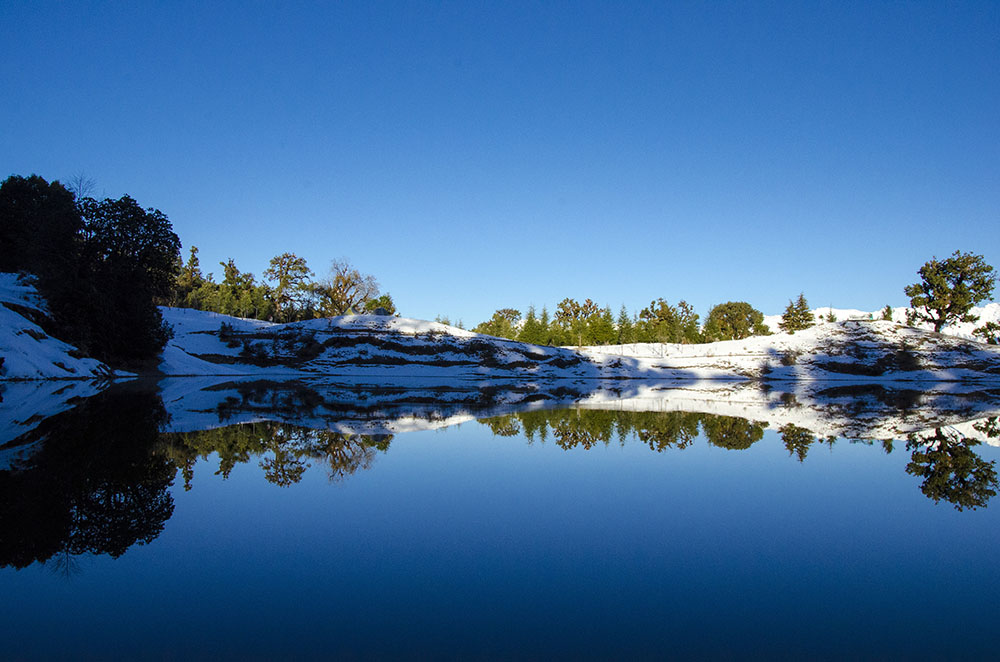 Conclusion
I hope the information above was of help. If you have any further questions; or need any further details; please feel free to ask in the comments section below, or at our Community Forum; and I will be glad to answer.