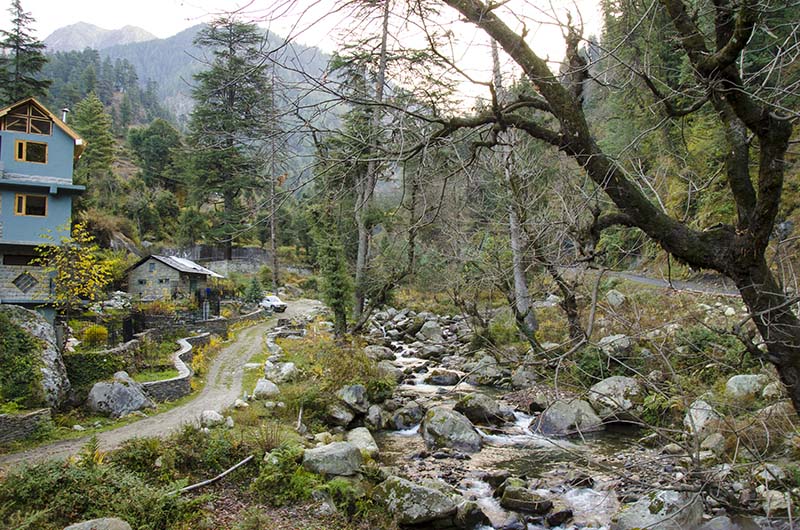 Tirthan Valley is among the last few remaining areas of Himachal that are very easy to access but largely unexplored. If you were planning a trip in the near future and wanted to go to an offbeat and less crowded place, then Tirthan Valley will be a perfect destination for you.
The entire state of Himachal is, in a way, a long list of tourist destinations. Some of these places, like Shimla, Manali, and Dalhousie, are very well known and among the top most visited tourist spots of our country. There are however numerous other places that not many people know about.
Also Read: How to Plan a Trip to Jalori Pass
I am not talking about the remote areas of Himachal that are so hard to reach that no one goes there. No, I am talking about destinations that are very well connected but not on the tourist radar yet. These are the places that are often referred to as 'offbeat destination' and people who arrive here are mostly the ones that like avoiding crowded areas. One such destination that I will talk about in this article is the beautiful Tirthan Valley.
About Tirthan Valley
For a brief introduction, Tirthan Valley is a valley located in Himachal Pradesh at a distance of 65 kilometers from Mandi and about 250 kilometers from Chandigarh. The place is named such after river 'Tirthan' that it is located on the banks of.
At an average altitude of 1600 meters, the weather of the valley remains pleasant for most of the year; making it a perfect getaway for anyone looking to spend some time in peace and away from the crowd. The valley serves as the doorway to Great Himalayan National Park making it a paradise for trekkers, birdwatchers, or anyone who has an interest in either wildlife or photography.
In this post, I will provide details on how you can plan a trip here; including information like how to reach, where to stay, what to see, and some other useful tips.
Where is Tirthan Valley
Tirthan Valley is located in the Kullu district of Himachal Pradesh, about 100 kilometers from Manali and 65 kilometers from Mandi. As you travel from Mandi to Manali, a road bifurcates towards Tirthan Valley about 38 kilometers after Mandi and just before Aut Tunnel.  Do not enter the tunnel. Rather, continue driving towards Larji and then take the road to Tirthan Valley.
Another route exists from Shimla via Jalori Pass which is also the longer of the two. I have explained both these routes in detail further in the article.
Also Read: Places to Visit in Sainj Valley and Shangarh
Why visit Tirthan Valley
Let me begin by first writing about why you would want to visit Tirthan Valley. The natural beauty of the place is alluring enough but you can surely get that at several other places in Himachal. So why Tirthan Valley? The answer to the question is in the fact that Tirthan Valley gives you a true taste of an offbeat destination without bringing you too remote.
The entire area is very well populated and connected; and you will never feel far from civilization. This can be a factor of great comfort for people traveling with families. You will find everything in Tirthan Valley that you will need as a tourist. What you will however not find here is the maddening tourist crowd like at Shimla or Manali.
Reaching Tirthan Valley too is pretty easy. There is a drive-able road that will bring you all the way to Tirthan and it remains mostly in good condition. Because of its offbeat tag and the fact that not many people visit here, Tirthan is also a perfect destination for budget travelers. A trip here will not cost you too much and since the place is easily accessible, you can even reach here by public transport spending only a small amount of money.
Mesmerizing mountain-backed vistas, charming riverside villages, peace, and tranquillity of the region is bound to leave its impression on you. Tirthan Valley is also an ideal place for activities like trout fishing, hiking, trekking, camping, bonfires, and photography.
Also Read: Shringi Vatika, Tirthan Valley – A Great Homestay
Is it safe to visit Tirthan Valley
A direct answer to this question is that yes, it is very safe to visit Tirthan Valley. I have always believed that a person's safety is in their own hands. It is driven by their own judgments, decisions, and actions. The same rule applies to Tirthan Valley as well.
The crime rate in this region is almost next to none. People here are very friendly and humble. So as long as you drive safely and do not take any unnecessary risks, then you have nothing to worry about. Tirthan Valley is a fun and very safe place to visit.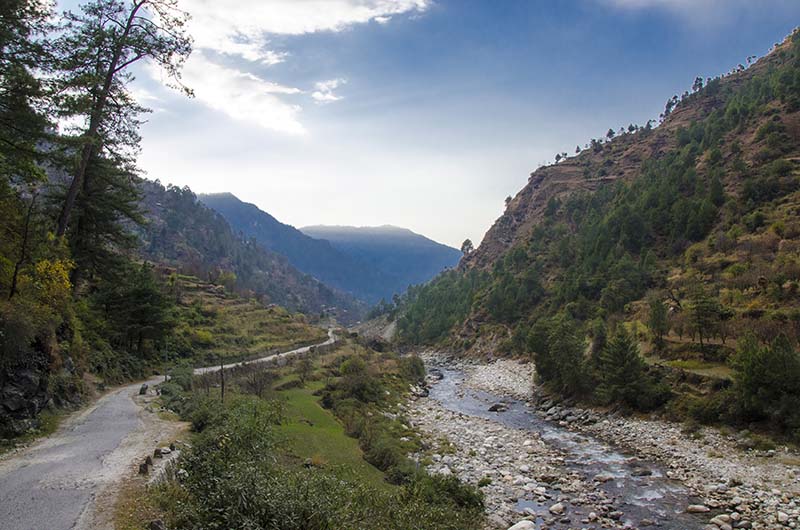 How to Reach Tirthan Valley
Due to its location in the hills, Tirthan Valley can only be reached by road, and getting here is not that difficult of a task. The road connecting it to the rest of the country remains in a good condition and will bring you right to the heart of the valley. You can either drive on your own or catch a means of public transport to get here.
The best way to reach Tirthan valley, of course, is by your vehicle; but if that wasn't a choice, then public transport services like buses, shared cabs, and private taxis are also available.
How to reach Tirthan Valley by Road
If you were traveling by your own vehicle, either a car or motorcycle, then getting to Tirthan Valley is really easy. There are two ways in and out of the valley. Both of the routes are equal in terms of scenic beauty and make it possible to plan a trip here in the form of a circuit. One of the routes is a little easier than the other and is used more commonly.
I will explain both in detail; and for the ease of explaining, I will assume Delhi as your starting point. However, even if you were coming from a different city, the information below will still give you a fair idea of how to reach Tirthan Valley.
One of the two routes will take you via Mandi on Chandigarh Manali Highway; and the other route will take you via Shimla and Chandigarh.
How to reach Tirthan Valley from Delhi
The first and the more commonly used route it as mentioned below.
Delhi – Sonipat – Panipat – Karnal – Ambala – Chandigarh – Swarghat – Bilaspur – Sundernagar – Mandi – Larji – Gushaini (Tirthan Valley)
Starting from Delhi, your first destination of the journey will be Chandigarh. Take NH1 and drive through Karnal and Ambala and then just before Chandigarh city, take the bypass that will have you exit on Chandigarh Manali highway. You will then start climbing up the hills and will arrive at Mandi traveling via Bilaspur and Sundernagar.
After Mandi, continue driving another 38 kilometers towards Manali. Just before Aut Tunnel, there is a road that goes towards the small town of Larji that you will have to turn on. You must not enter the tunnel and take the exit towards your right. Stop for a minute and ask the locals if you weren't able to locate it.
From here on, it is 30 kilometers of a pleasant drive along the river via Larji, bypassing Banjar on the way, to Gushaini in Tirthan Valley. This entire journey from Delhi is about 490 kilometers in total and will take you 12 to 14 hours to complete; depending upon your speed and breaks.
How to reach Tirthan Valley from Shimla
The second and longer of the two ways to reach Tirthan runs via Shimla and Narkanda. If you were coming from Delhi, then this is really a 2 days journey with a night halt at either Shimla or Narkanda. The route you will follow is as below.
Delhi – Sonipat – Panipat – Karnal – Ambala – Chandigarh – Kandaghat – Shimla – Narkanda – Kingal – Anni – Khanag – Jalori Pass – Shoja – Ghiyagi – Jibhi – Banjar – Gushaini (Tirthan Valley)
This second route is about 530 kilometers in total. While it may seem like there isn't much difference in terms of distance, traveling this way will take you much longer. This is necessarily a 2 days trip and cannot be done in a single day unless you are up for driving 20 – 22 hours and crossing a high altitude pass in the middle of the night.
Driving from Delhi, you will reach Chandigarh and then climb uphill to Shimla. After Shimla, you will then reach Narkanda which about another 2 hours of drive. Until here, this is a pretty straightforward drive on a smooth road. You will stay at Narkanda for the night at any of the hotels available.
Also Read: How to reach Narkanda, Himachal
Narkanda to Tirthan Valley
The journey on the second day will be a drive of about 6 hours to 7 hours at most so you will have some time for sightseeing in Narkanda as well. Hatu Peak is the primary attraction here but there are other places too. Read Places to visit in and around Narkanda for a list of tourist attractions here.
Get up early in the morning and take a drive to Hatu Peak. Return, check out of the hotel, and start driving downhill towards Kingal. From Kingal, you will then take the road towards Anni and then climb up the Jalori Pass.
Also Read: Places to See in Tirthan Valley and Things to Do
After crossing the pass, it is a straight run to Gushaini via Shoja, Jibhi, and Banjar and a few other villages en route. Shoja, Jibhi, and Banjar too are well known offbeat destinations. So if you wanted to and had time, you can break your journey here as well and continue to Tirthan Valley the next day. Jalori Pass and Seruvalsar Lake (Sirolsar lake) will become the prime attraction of taking this route to Tirthan Valley. I have explained both these places in detail further in the article.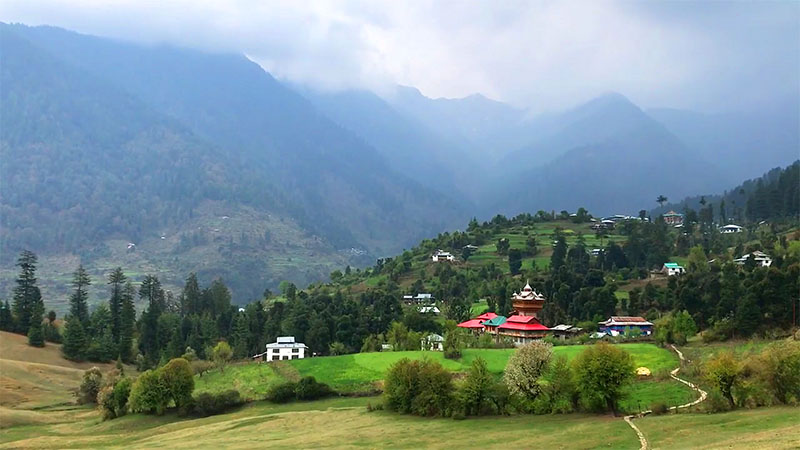 How to reach Tirthan Valley by Bus
If you were traveling by Bus, then I would recommend that you skip the Shimla route and travel only via Mandi. Or at least reach via Mandi and return via Shimla because it will be easier that way. There are regular buses from Delhi to Manali, both luxury and ordinary, that you will have to board for this journey.
Traveling by bus, you have two choices. You can either get down before Aut Tunnel and look for a mode of transport, or you can go all the way to Aut town and look for a bus there.
I will recommend the second option because buses on this route are mostly crowded. If you were waiting near the Aut tunnel, you may not get a seat and will have to travel standing all the way to the valley. So instead of getting down at the junction near the tunnel, continue to Aut town and deboard the bus there.
There are regular buses from Aut to Banjar and you will have no problem finding one. Finding one directly for Gushanini can be a bit tough so do not wait. From Banjar, you will then have to look for either a Bus or shared cab towards Gushanini. The first bus that leaves for Gushaini from Banjar is at 7 AM and the last one is around 5: 00 PM.
Shimla to Gushaini
If you wanted to travel to Tirthan Valley via Shimla by Bus, then this would get a bit cumbersome. You will first have to board a bus for Shimla from Delhi which is really the easy part. From Shimla, there is a daily bus for Banjar that you would have to board.
The frequency of this bus is not that high so you may have to, in fact, stay for the night in Shimla and board this bus the next morning. This bus will drop you at Banjar by evening from where you will have to reach Gushaini. From 7 AM to 5 PM, there are several buses that run almost hourly from Banjar to Gushaini and to Jibhi so you will have no problem covering the last leg of your journey.
Also Read: How to Plan a Trip to Shimla
Banjar to Shimla by Bus
If you reached Gushaini via Aut and wanted to return via Shimla, then you would again have to break your journey in several parts. From Gushaini, you will first board a Bus for Banjar. There is another daily bus from Banjar to Shimla which will be your next mode of commute.
If for some reason you weren't able to board this one, then there is another bus at 7 AM and then at 11 AM that travels from Banjar to Rampur via Jalori Pass. You can board this bus, get down near Kingal. Let the conductor know as well so he can tell you where to get off the Bus.
From this point, you will have to wait by the road for another bus or shared cab that can drop you to Shimla. The good news is that bus frequency on this stretch is great so you will easily find one.
Fare of the Buses
The bus from Delhi to Aut will cost about Rs. 800 to 1000 depending on which Bus you travel by. Delhi to Shimla would cost about Rs. 500 per person. The bus from Shimla to Banjar will again be around Rs. 300. The buses between Aut, Banjar, Jibhi, and Gushaini will not cost a couple of hundred Rupees in total at most.
Also Read: Sainj Valley and Shangarh – A COMPLETE Travel Guide
How to reach Tirthan Valley by Shared Taxi
There are shared taxis available on the entire route that I explained for the Buses. You can easily get a shared cab between Mandi, Aut, Banjar, and Gushaini. From Shimla side as well, you can get shared cabs for Narkanda, Anni, Shoja, Jibhi, and Banjar. Fare of these cabs will be around the same as that of the Bus.
The only difference is that from the Shimla side, you will not get a shared cab directly for Banjar and will have to break your journey in multiple parts. These shared cabs mostly are either a Sumo, Xylo, or a Bolero.
How to reach Tirthan Valley by Private Taxi
You can get a private taxi for Tirthan Valley right from the junction before Aut Tunnel. From that point, it will cost you about Rs. 700 for Gushaini. From Mandi or Aut, taxis to Gushaini or Jibhi cost Rs. 1000 to Rs. 1200. Taxis from Banjar cost Rs. 300 to Jibhi or Gushaini.
If you hired a cab from Manali for Tirthan Valley, be ready to pay anywhere between Rs. 5000 to Rs. 7000.  From Chandigarh as well, a private cab will cost about the same amount of money. If you hired a cab from Shimla, it may very well cost you Rs. 10,000 for a 2 days journey.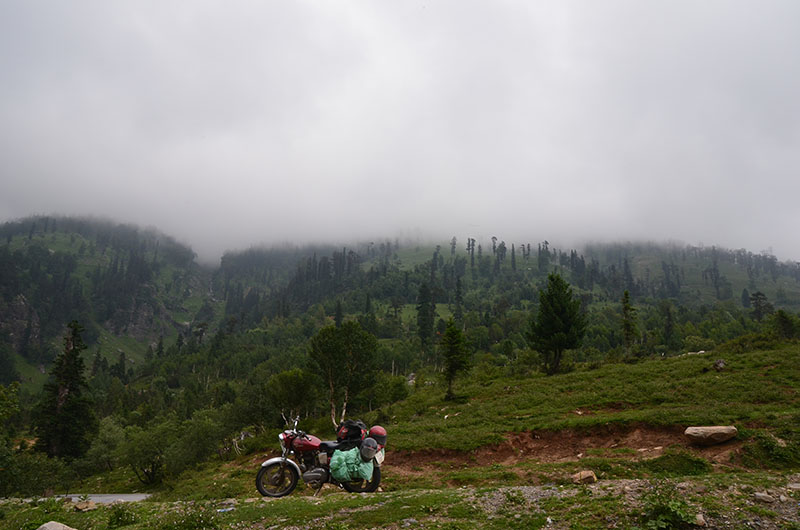 How to reach Tirthan Valley by Train
Chandigarh is the nearest railway station to Tirthan Valley and is located at a distance of about 250 kilometers. It is a major railroad and is well connected to the rest of the country. No matter where you were coming from, you will have no problem finding a train to Chandigarh.
Also Read: Best time to Visit Tirthan Valley
How to reach Tirthan Valley from Chandigarh
Once you have reached Chandigarh by train, you can either book a private taxi for Tirthan Valley or complete the journey by public transport. A Private taxi from Chandigarh to Tirthan Valley will charge close to Rs. 5000 depending on the type of cab (hatchback, sedan, or SUV) you chose.
There are several daily buses between Chandigarh and Manali so you can travel by public transport as well if you wanted to. After boarding the bus, you will then get down at either Mandi, before the tunnel, or at Aut and travel in the same manner that I explained above.
Nearest Airport to Tirthan Valley
Bhuntar Airport near Kullu / Manali is the nearest Airport to Tirthan Valley. It is located about an hour and a half from the Valley. The next and bigger Airport is located in Chandigarh city. You can catch a flight to Bhuntar and then travel from there to Tirthan Valley by either taxi or public transport.
How to reach Tirthan Valley from Manali
Coming from Manali side, after you have landed at Bhuntar, you can board a private taxi from the airport itself and it will cost you around Rs. 5000 for a drop to Gushaini. Or you can board any bus that is going towards Aut or Mandi and then travel from there to Gushaini as I explained above. The same route will follow if you want to reach Tirthan Valley from Kasol as well.
Also Read: Delhi to Jalori Pass and Tirthan Valley
How to reach Tirthan Valley in Winter
All that I explained above will remain applicable in all seasons. Tirthan Valley remains accessible throughout the year and you can travel here as per the time that is convenient for you. The only exception is the route between Shimla and Banjar via Jalori Pass. During the winter season, after the pass gets snowed out and closed, you can approach Tirthan only via Mandi or Aut. Jalori Pass route remains closed between December and March.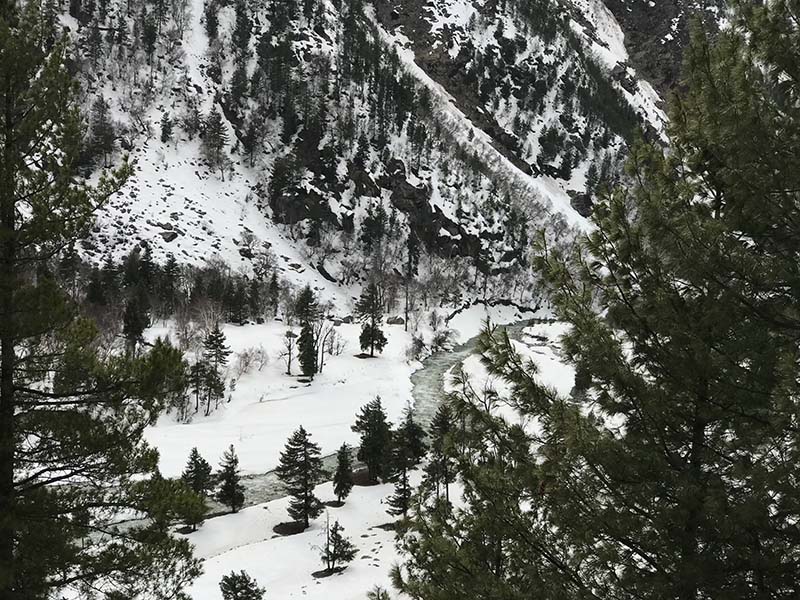 Weather of Tirthan Valley
Due to its high altitude, weather in Tirthan Valley remains pleasant for the most part of the year. Winter starts here from November and lasts well into March. The weather at this time is freezing cold with temperatures dropping below zero at night. Spring arrives in late March and marks the beginning of the tourist season here. The months of April, May, and June will have moderately warm days and pleasantly cool nights.
July and August are the months of monsoon and Tirthan Valley does receive quite a bit of rainfall each year. Sometimes it rains here so much that it can trigger landslides and cause roads to block. For people planning a trip at this time, keep in mind that incessant rains can even force you to remain indoors throughout the duration of your trip. With that being said, monsoon is also the time when the entire valley of Tirthan comes to life with flora and fauna.
Monsoon recedes towards late August and September is again a great time to be in Tirthan Valley. The weather turns pleasant again with plenty of greenery all around. By October, everything that was green starts to turn Orange with autumn stepping in. This is however also the time when things start to get cold and by November, winter would have settled in.
It snows quite a bit in Tirthan Valley, especially from Late December till Mid-February. The average temperature between April till September remains around 20 to 30 degrees during the day and around 10 degrees at night. During winter, the average day temperature is around 5 to 10 Degrees and close to 0 Degrees at night.
Best time to visit Tirthan Valley
I have covered this topic in details in another article, When is the Best time to Visit Tirthan Valley. But for a short summary, the months from April to June are considered to be the best time to plan a Tirthan Valley trip. But this will also depend on your reason for the visit.
For example, someone looking for a snow-covered valley and hoping to possibly catch a live snowfall as well should plan in either January or February. For someone looking to enjoy pleasant weather and adventure activities, the months of April, May, June would be best. If you want to witness lush green valleys with plenty of colors around than the month of September is an ideal one. October brings in Autumn and is great if you want to see that golden orange color in the trees.
The months of winter are not good for someone who doesn't like cold weather and tends to fall sick easily. This is also not a good time for a family vacation here unless snow is what your family was after. Monsoon brings in the risk of rain and landslides making it a bad time for traveling to Tirthan.
November overall is a very dull month with cold weather and dry vistas. For someone wanting to go trekking and camping, winter and monsoon would be a bad time. If you want to cover Jalori Pass as well in the trip then you would have to skip winter because the pass is closed at that time.
Clothes to Pack for Tirthan Valley
What clothes to pack for Tirthan Valley would also depend on what time of the year you were visiting. For a winter trip in January, February, or March, you will need heavy woolen clothes and a pair of snow boots. Pack a heavy windproof jacket that also has a hood to protect your head, neck, and face.
A pair of good quality gloves, snow creams, lip balm, and moisturizer will be some of the other things to pack at this time. In terms of shoes, make sure you bring one that has a good grip on snow otherwise you will just be slipping and falling around everywhere.
If you were visiting in October, November, December, or April, you will still need heavy woolens but don't need to bother about snow boots because there won't be any snow around this time. For the months of May, June, and September, your regular cotton clothes, a few light woolens, and a heavy windproof jacket will suffice. For a monsoon trip, you will have to waterproof everything. Pack clothes that tend to dry faster like Nylon and Polyester.
Other Items to Pack
Below are some of the other necessary items that you should be packing for this trip.
Items of personal use
Warm Caps
Sunglasses
Sunblock lotion with highest SPF that you can find
Toilet Paper
Pair of Waterproof Warm Gloves
Thermals
Personal Medical Kit
Prescribed medicines if you are on medication
Hard Cash as ATM's aren't really dependable
Head Phones/Earphones
Power Bank
Chargers for your electronic items
Umbrella or a Rain Poncho (if visiting during monsoon)
Torch
Trekking shoes(recommended for a trek) or Shoes with a good grip.
Snow Boots if visiting in winter
Comfortable Lower if planning to go on a trek as jeans are not advisable for this purpose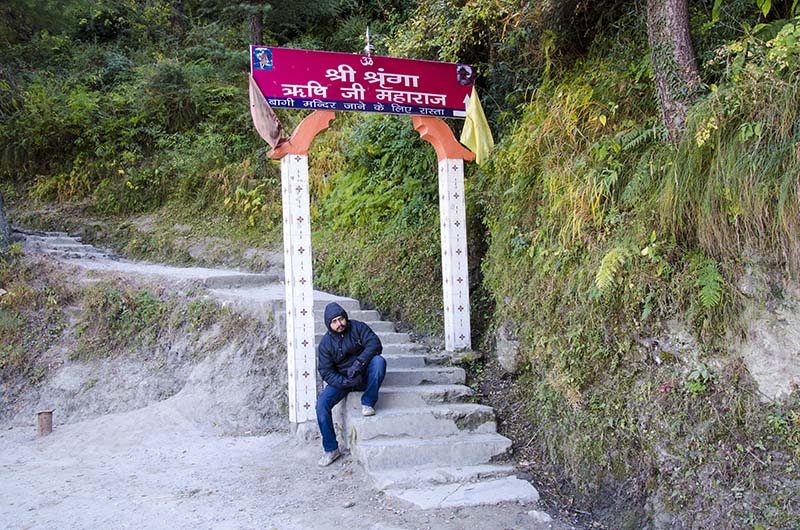 What to See in Tirthan Valley
I have covered this topic in detail in another article, Places to visit in Tirthan Valley & Things to Do. Please go through this post for a detailed description of all tourist attractions in Tirthan Valley. However, for a quick overview, I will provide a list of the places below.
Great Himalayan National Park
Jalori Pass
Seruvalsar Lake (Sirolsar lake)
Budhi Nagin Temple
Raghupur Fort
Chaini Kothi
Shringa Rishi Temple
Confluence of Tirthan and Flachan rivers
Confluence of Sainj and Tirthan rivers
Gaidhar Waterfall
Chhoie waterfall / Sai Ropa Waterfall
Unnamed Waterfalls near Jibhi
To know where these places exactly are and how can you plan a trip here, please read Please to visit in Tirthan Valley & Things to Do.
What to do in Tirthan Valley
There are really plenty of things that you can do in Tirthan Valley and the only thing that can limit is your time in hand. During the tourist season, it becomes a hub for many adventure activities. I will list down some of these activities below.
Trekking
Fishing
Camping
River Crossing
Rock Climbing
Bird Watching
For more details on these activities and to know where can you enjoy them, please read Places to visit in Tirthan Valley & Things to Do.
Where to Stay in Tirthan Valley
Find a place to stay in Tirthan will not be a big deal at all. The place is a known tourist destination and base for trekking expeditions to Great Himalayan National Park. Almost every town here has hotels and guest houses available; both budget and luxury.  Below is a list of places in Tirthan Valley where you can choose to stay.
Jibhi: Known for its Victorian style wooden cottages that a lot of tourists look forward to staying at.
Ghiyagi: There are several hotels and guest houses located here but Shringi Vatika is probably the most commonly known one.
Gushaini: There are a lot of stay options available in Gushaini of which, Raju Bharti's cottage is the most famous one. Majority of the people visiting the valley arrive here to stay.
Banjar: Banjar is the largest town of the valleys of Banjar and Tirthan. There are several hotels and guest houses here.
Sai Ropa: There is a Forest Rest House here that you can stay at but you will have to get the advance booking done.
Shoja: There are a few stay options available here of which Banjara Retreat is the most famous one.
Nagini: This is another village in the valley where a lot of tourists stay. Khem Bharti Guest House (also known as Trout Valley guest house) is a good guest house available in Nagini.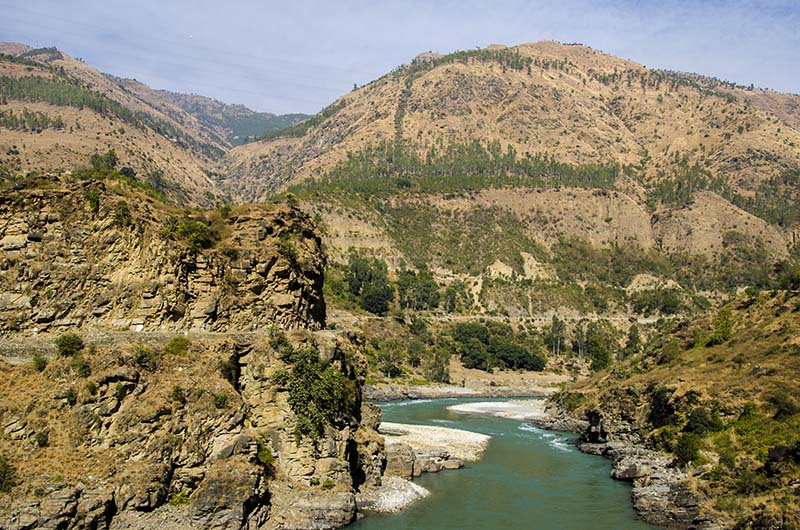 Hotel Budget
In terms of budget, to be on a safer side, keep a cost estimate of around Rs. 1500 per day on the minimum side for accommodation. Whether or not to book in advance is really a personal choice. I would prefer to negotiate an on the spot deal after I have found a hotel per my liking. But if it gives you peace of mind, you can definitely book your stay in advance. On the other hand, if you arrived without a booking, you will still be able to find a hotel without any problem.
Also Read: Tirthan Valley to Delhi
Camping in Tirthan Valley
There are several campsites in Tirthan Valley on the banks of the river. Most of them are located in Gushaini as far as I know. These are all luxury tents though and may sound a little expensive to some people. They usually charge on per person basis including both accommodation and meals. I would advise against booking a campsite in advance. Just reach Gushaini, find a camp per your liking, and negotiate an on the spot deal.
Self-Camping in Tirthan Valley
If you have your own camping gear, then you can opt for self-camping as well. There are several spots along the river where you can pitch your own tent.
Banks / ATMs in Tirthan Valley
There are banks and ATMs in almost all the towns in Tirthan Valley. You will easily be able to withdraw cash in Banjar and Gushaini. Even while driving there via Aut, you will continue to come across Banks and ATMs at regular intervals.
Petrol Pumps in Tirthan Valley
Like Banks, Petrol stations too will remain available at several places on the route. Just get a tankful done at Mandi and it will be sufficient to get you back after driving around in Tirthan.
Hospitals / Medical Assistance
There are hospitals available in Mandi, Aut, Banjar, and Gushaini as well. To be on a safer side though, carry some basic medicines like for flu, fever, stomach ache, etc.
Also Read: Tirthan Valley via Narkanda and Jalori Pass
Mobile Network in Tirthan Valley and Data Connectivity
All networks work fine in Tirthan Valley for both prepaid and postpaid connections. I have seen Airtel, Vodafone, Idea, and Jio getting used without any network problem. If you were, however, planning to trek to the remote villages, then only BSNL will work. If you went deep into the forest in the national park, then even BSNL will not work.
But as long as you are staying in towns like Gushaini and Banjar, you will have a good connection with a clear voice. In terms of Data connectivity, you will get 4G Speed if it is activated on your phone.
Road Conditions in Tirthan Valley
Conditions of the road will vary from average to excellent throughout the journey. For the most part, it will be good. The only bad stretch of the road will be around Jalori Pass if you traveled that way. For about 10 kilometers on both sides of the pass, the road really turns into a broken dirt trail. For the rest of the places, it will get average at worst, otherwise good all the way.
Best Vehicle for Tirthan Valley
You can travel to the valley in any car or motorcycle as long as it is in good condition. Locals here, in fact, drive around in Maruti Alto, even at Jalori Pass. Even a 125CC Bike can easily make the trip.
Culture
There are several Hindu temples, tree shrines, and sacred grounds located throughout the Tirthan valley. Each village here has a local god known as 'devta'. These deities have a fascinating history and play an important role in village affairs. Locals festivals and celebrations in the valley are quite an experience to attend.
Also Read: Sightseeing in Tirthan Valley and Trek to Chehni Kothi
Festivals of Tirthan Valley
Festivals in Tirthan Valley occur year-round. A 'mela' is held at the time of all these festivals marked by colorful celebrations that last for several days. During these celebrations, gods from different villages are brought together. Local songs and dances are also performed, and villagers dress in the best traditional costumes.
Phagli Festival is probably the most celebrated one in Tirthan. It lasts for 4 days and is a secular festival with masked dances and lots of merry-making. The Department of Fisheries also holds an annual fishing competing in the fall season. Dussehra is also celebrated here with much enthusiasm.
For more information on festivals in Tirthan Valley and festivities, please read Unique Festivals of Tirthan Valley
Local Transport
For moving between towns and villages in the valley, you will either have to rent a private taxi or wait for a bus or shared cab to pass by. Local transport within the valley exists but the frequency is not that great. Local buses ply from Banjar to other villages but it is mostly just one bus in the day. The best and most convenient option would be to rent a private taxi for a day that can show you around. You can get these cabs from Banjar.
What & Where to Eat
There is really no specific dish to try as such in Tirthan but you will find all north Indian dishes available throughout the valley. Depending on your preference, you can either eat at your own hotel or at any of the local restaurants. Trout fish is one item that I will recommend for you to try if you are not a strict vegetarian. For budget travelers, I will suggest that you stay in Banjar and eat out at the local dhabas. Food in the hotels can be a little costly.
Shopping in Tirthan Valley
Tirthan is just a beautiful valley hidden in the hills with small towns and villages in it. There are no choices in terms of what you can buy here. The shops here are regular grocery stores selling daily commodities. If you do want to buy something then I would recommend that you try the market in Mandi and not Tirthan Valley.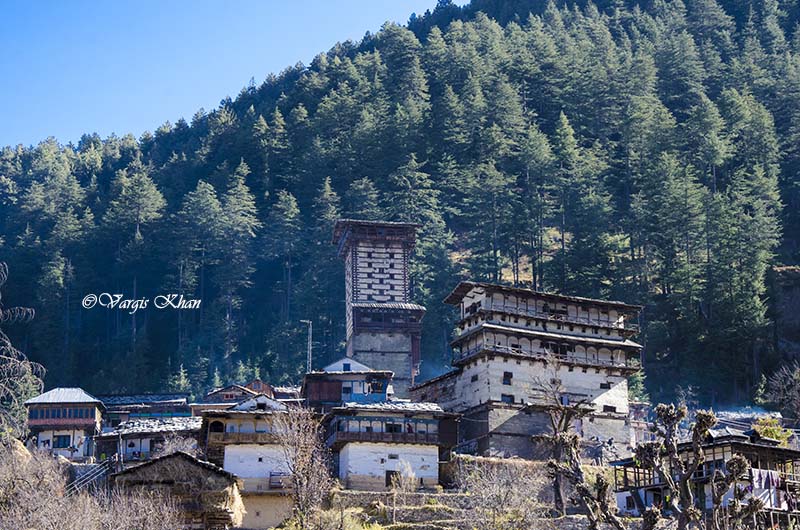 Time Needed
A minimum of 4 days is what I will recommend for a trip here. You can do with a lesser number of days as well depending on where you were coming from but 4 days is an ideal time if you do want to enjoy the trip to its fullest without rushing in any part of the journey.
Tirthan Valley Itinerary
Last but not the least, let me also suggest an example of an itinerary that you can follow for your trip here. For the sake of this itinerary, I will assume that you were coming from Delhi. If you were, however, coming from a different city, then only the journey on the 1st and last day will be different. The rest of the details will still apply.
Delhi to Narkanda – Day 1
Narkanda to Tirthan Valley via Jalori Pass – Day 2
Sightseeing in Tirthan Valley – Day 3
Tirthan Valley to Delhi via Mandi – Day 4
Another way you can do this journey is to travel the other way around. You can get to Tirthan Valley via Mandi and return via Shimla. If you were traveling during the winter season, you will have to go via Mandi and return the same way as Jalori Pass in winters will be closed.
For sightseeing in Tirthan Valley, you can either trek into the Great Himalayan National Park (GHNP) to see nearby waterfalls. Or you can just sit by the river and relax. Another simple and easy trek would be of Chaini Kothi. If you were renting a private taxi, you can travel to Jalori Pass and hike to Sirolsar lake. Another thing to do would be to plan a day trip to Kasol or Manikaran Sahib and return to Tirthan by evening.
Other Tips
The drive to Jalori Pass from either side is quite steep and on a bad road, so please be prepared for it.
Bashleo Pass is another great trek that you can embark upon. But it is usually done in 2 to 3 days with one night spent camping. If you are up for some challenge and have the time, the trek is definitely worth giving a shot.
The Bus stand in Banjar has great connectivity with the rest of the valley and other places in Himachal Pradesh.
There are regular buses, every 30 minutes, for other places in the valley with Batahad being the last stop. Buses toward Jibhi, Shoja, and across Jalori pass are a bit less in frequency. Shared taxis travel towards Jalori Pass and across to Anni Village. There is a taxi stand in Banjar from where you can rent a private cab as well.
Tirthan Valley Altitude
The average elevation of Tirthan Valley is 1600 meters, 5250 ft.
Temperature in Tirthan Valley
The average temperature between April till September remains around 20 to 30 degrees during the day and around 10 degrees at night. During winter, the average day temperature is around 5 to 10 Degrees and close to 0 Degrees at night.
Languages Spoken
Hindi is the most common language spoken in the valley but a few people that are related to the tourism industry can speak a little English as well.
Electricity and Other Facilities
Electricity is available in all towns and villages in Tirthan Valley. All the guest houses and hotels here are equipped with most of the facilities that you will need as a tourist. If you, however, decided to stay as a paying guest in the villages like Chaini Kothi, then you will be staying in a villager's home in very simple conditions.
Mechanics in Tirthan Valley
You will be able to find mechanics at almost all towns in Tirthan Valley but only for minor fixes. For anything major, you will have to bring back your vehicle to Mandi.
Is there Snow in Tirthan Valley?
Yes, it does snow in Tirthan Valley and quite a bit actually in the months of late December, January and February.
Which is better Tirthan Valley or Kasol?
This is one of the most common questions I get asked about Tirthan Valley. People wonder whether they should go to Tirthan valley or Parvati valley. To be honest, a comparison like this is not fair. Both of the places are equally beautiful and where to go depends on your own preference.
My suggestion would be that you should cover both. The question would only be of where to go first. If I was to decide, I will first visit Tirthan Valley and then go to Parvati Valley. But it is only because Parvati Valley is slightly more crowded than Tirthan. If you however want to party and eat out, then Parvati Valley will suit you better.
Conclusion
That I think covers all that you need to know about visiting Tirthan Valley. I hope the information above was of help. If you have any questions; or need any other details; please feel free to ask in the comments section below, or at our Community Forum, and I will be glad to answer. If there is any information that you think is of importance and is not covered in the article above, I welcome you to please suggest.