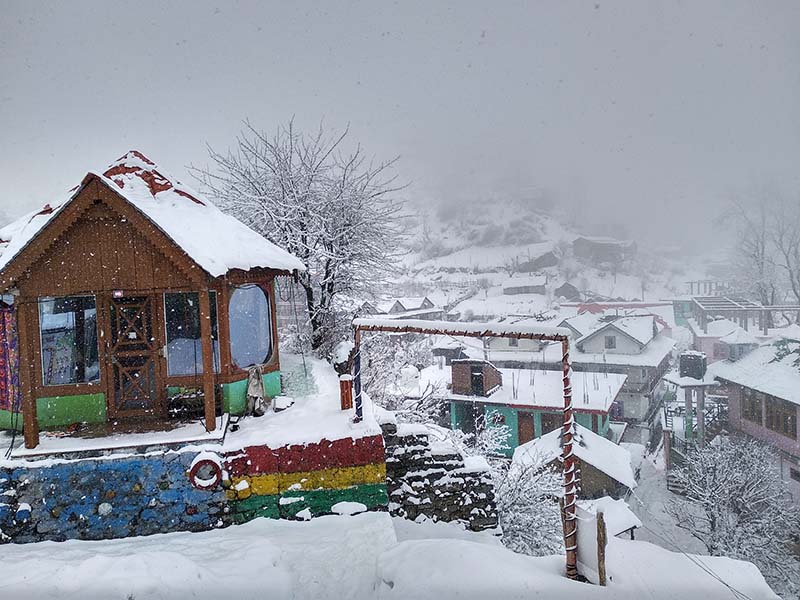 n this article, I will provide a list of places where you can find snow near Delhi over a quick weekend getaway. These are destinations where a short trip lasting 2 to 3 days can easily be planned. While the trip will definitely be a little rushed, you will still get to see some snow.
I remember the first time I caught a live snowfall. It was in Narkanda, about 70 kilometers ahead of Shimla. It was the month of April so finding some snow was not at all on our minds. However, during our last day of the visit, it rained all day long and by evening, it was snowing all around.
I remember the joy and excitement I felt to see that white powder coming down from the sky. It felt so amazing that we stood out there in freezing cold weather at night for as long as it snowed. I have seen snow numerous times after that but it never again felt like the way it did for the first time. I think the story is pretty much the same for all of us living in plain areas.
So if you too wanted to see snow this winter, below is a list of places that you can pick a suitable destination from. I will write this article in three different parts. In this first part, I will cover places that you can visit within 2-3 days. In the second and next part, I will provide details on where you can go if you have 4-5 days in hand and then give a month to month breakdown in the final part.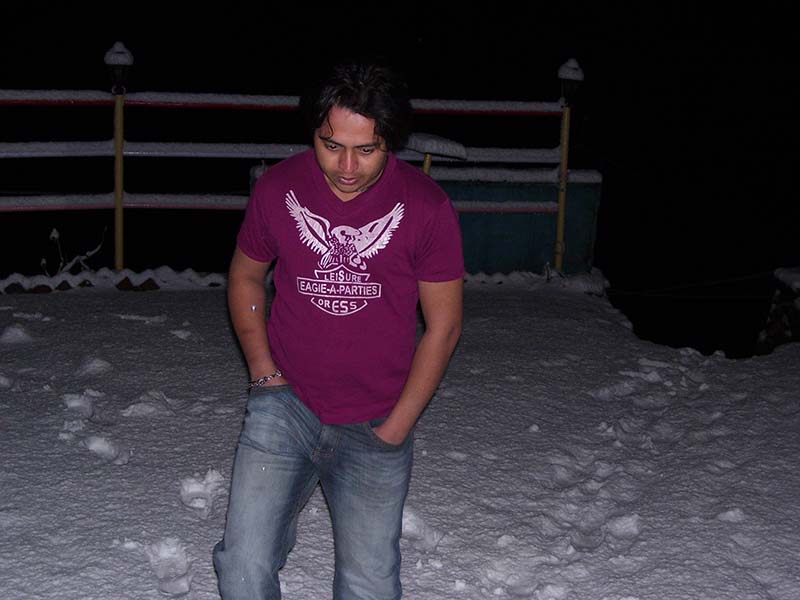 Snow Near Delhi for 2-3 Days Trip
Before we go into the list, let me first add that finding snow in these places is not always guaranteed. All these places receive snow between late December to early March. But before you finalize a name, I will recommend calling a hotel in that area to confirm whether there was any snow there or not. It all depends on the weather.
Dehradun – Mussorie – Dhanaulti – Kanatal – Chamba – Rishikesh
This is probably your best bet near Delhi for a weekend getaway with high chances of finding snow. I mentioned the entire stretch here but you will find snow near Mussorie, Dhanaulti, and Kanatal.
You can start from Delhi late night Friday or early morning on Saturday and return back on Sunday. From Delhi, you can reach Dehradun via Roorkee, climb up to Mussorie, continue driving to Dhanaulti, Kanatal, Chamba, descend down towards Rishikesh, and be on your way to Delhi via Haridwar. The same journey can also be done the other way around.
Of all these places, Kanatal is at the highest altitude of 2,590 meters. The entire village gets buried under snow in the months of January and February. Mussorie of course is one of the most popular tourist destinations and the road from Dehradun till here remains open throughout the year.
There is however a high chance that in peak winter, due to snow, the road through Dhanaulti and Kanatal may get closed temporarily. However, even if that happens, you can still drive as far as the road was open and see some snow.
Kanatal is at about 330 kilometers from Delhi and the entire drive can be easily done over a weekend. There are several hotels in Dhanaulti, Kanatal, and Mussorie. If you are on a budget, opt for Mussorie or Dhanaulti as finding budget accommodation in Kanatal can be a challenge. There are a few cottages and hotels in Kanatal too but they are all mostly high end and expensive. For more details, please read How to Plan a Trip to Dhanaulti and How to Plan a Trip to Mussoorie.
Chakrata
This is another place in close proximity to Delhi where you can find snow in winter. Even though almost equal in distance, the drive to Chakrata can actually be shorter than to Mussorie in terms of time.
There are two routes that you can take to reach here. Once is via Delhi, Meerut, Muzaffarnagar, Dehradoon, Vikasnagar which is about 350 kilometers total. This will take you longer and the road conditions are also not that good.
The other and the shorter one is via Kurukshetra, Yamunanagar, and Paonta Sahib, about 320 kilometers. Road conditions will also be better on this route. If you started early from Delhi by 4 AM, you can easily make it to Chakrata by noon. For more details, please take a look at How to Plan a Trip to Chakrata.
This journey also can be done in the form of a circuit.  You can reach Chakrata via Kurukshetra and go home via Roorkee, Muzaffarnagar route. In peak winter, Chakrata gets covered under sheets of snow and is a perfect place to spend some time in tranquility. If you have around 4 days in hand, you can spend one in Chakrata, and also cover Mussorie on your way back.
Deoban is a dense forest near Chakrata which is at a height of over 3000 meters and gets heavy snowfall every winter.  Another place you can cover while in Chakrata is Tiger Falls, but there won't be much of a fall left in Winters and the drive too is on a narrow broken road.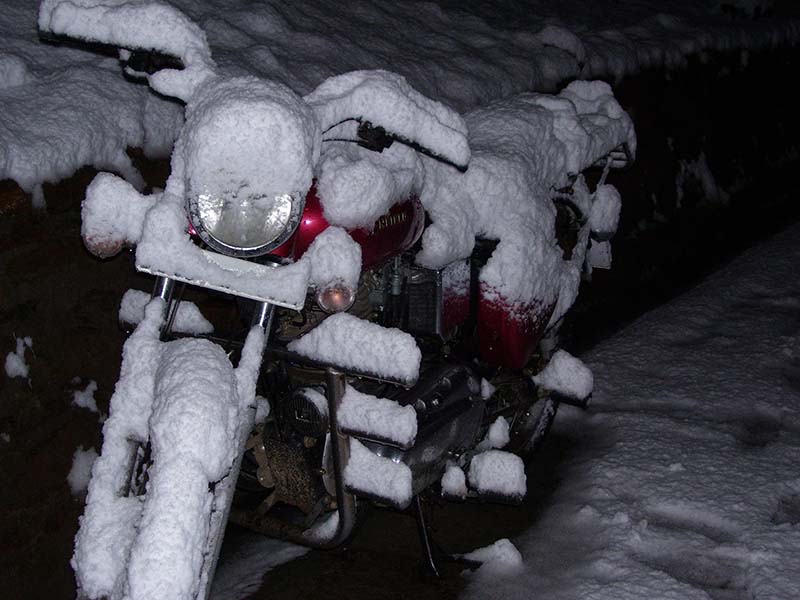 Shimla / Kufri / Narkanda
Moving on towards Himachal, if you just have 2 days in hand, Shimla would be a great place to go too and catch some snow. Starting early via NH1, Delhi to Shimla won't take any more than 6-7 hours and is a perfect place for a winter weekend getaway. If you can add a couple of more days, you can also explore nearby areas like Kufri or even go to Narkanda.
To be quite honest, I find Narkanda much better than the crowded Shimla. There are also ski slopes in Narkanda which are perfect for a visit in peak winters. Shimla is about 350 kilometers from Delhi and Narkanda is further 70 odd kilometers ahead. Road conditions however are good all the way till Narkanda with a few bad patches in between.
For more details, please read How to Plan a Trip to Shimla and How to Plan a Trip to Narkanda.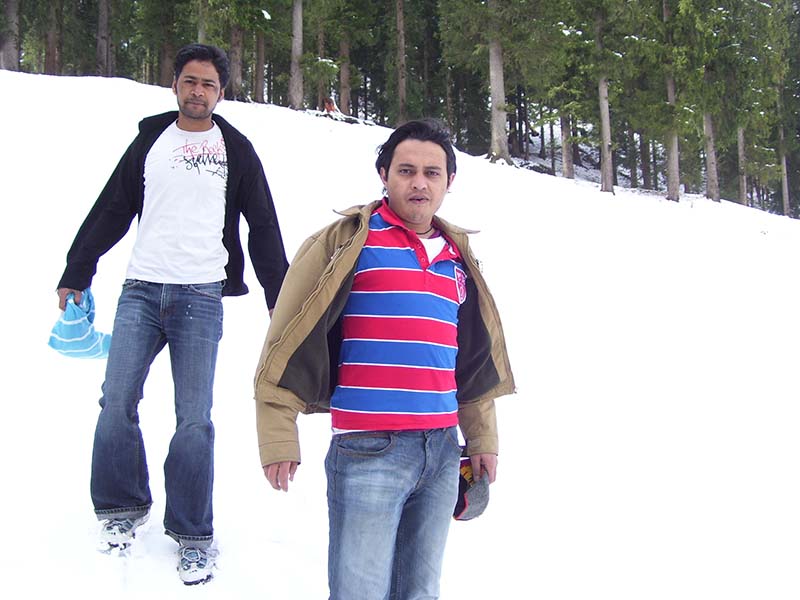 Manali
This list couldn't have been considered complete without Manali taking a spot here. The only catch is that it cannot really be termed as snow near Delhi because of the distance. But if you want to find snow late in the season, by April or May, Manali is the place to go to. You may not catch live snowfall, or even find snow in the town but a short drive towards Rohtang Pass will have you driving with plenty of snow on both sides of the roads.
The only problem with Manali is that it is way too famous.  The moment it starts to snow, the entire town gets crowded with way too many tourists. The distance also between Manali and Delhi is quite great, about 550 odd kilometers and it can take a good 12-14 hours to get here. It cannot be considered a weekend getaway of course.
But if you have 3 days in hand, it is a great place to play around in the snow. Reach there on Day 1, spend Day 2 in Manali and return on Day 3. For more details, please take a look at How to Plan a Trip to Manali.
Landour
Landour is a short distance of about 300 kilometers from Delhi via Dehradun and is a great place for a quick getaway in winters. You can easily make this a weekend trip, start early from Delhi on Saturday, reach there by noon, spend some time, start on your way back by Sunday noon and be back in Delhi by late evening. If you can add one more day to the trip; then take a walk on the famous Nag Tibba trek which starts from here.
If you visit in January, there is a high chance that you will find snow in Landour itself. But if you did not, then take a drive towards Devalsari village. The trek to Nag Tiibba starts from Devalsari and is a 13-kilometer moderate climb. Covering the entire trek in snow and reaching back to Devalsari may not be doable in one day but walk until where you can, have fun in the snow, and come back before dark.
Nainital
Nainital is a great place to see snow near Delhi. It is only about 275 kilometers away and the drive is a smooth one. Earlier it may have been a time-consuming affair but driving on Delhi – Bareilly highway will see you reaching Nainital in no time now.
The place also provides a clear view of Nanda Devi Peaks. A brisk walk along the Naina lakeside is probably the best thing to do in Nainital. The best time to come here to catch a live snowfall would be January while the entire town turns white. But I will highly recommend calling in advance and find out if there was snow or not before finalizing the plan. If you did not find any snow in Nainital, you can dry a little further up towards Pangot.
It is a perfect place to if you are traveling with family. From Delhi, take the Delhi – Bareilly highway and you will easily make it to Nainital in about 6-7 hours. Do start early from Delhi because the route until Hapur is way too much traffic on a narrow road. You should try to cross this section before 7 in the morning. For more details, please take a look at How to Plan a Trip to Nainital.
Dalhousie – Khajjiar
Before you say it, I will admit that the distance between Delhi and Dalhousie is a bit large to consider it as a place to find snow near Delhi. But the thing is that the road is so smooth that it reduces the travel time significantly. During my last trip, I started from Delhi at 5 AM and we were standing in Dalhousie by 2 PM. That is why I added it to the list.
Dalhousie of course needs no introduction. The place holds its own place in the list of favored hill stations in India. It has in fact done so since the British ruled the country. It is a highly scenic town that receives plenty of snow in the months of January and February.
Another place close to Dalhousie is the beautiful meadow of Khajjiar. See the picture above and you will get an idea of how it looks in the winter season. An ideal trip would be hat you reach Dalhousie on Day 1, reach Khajjir on Day 2, and then drive back to Delhi on Day 3.
There is a direct road from Khajjiar to Pathankot via Nurpur. It can take to get back down on NH1 a little before Pathankot. So you will not actually have to go back to Dalhousie and can make the trip in the form of a circuit. For more details, please take a look at How to Plan a trip to Dalhousie.
Ranikhet 
If you are looking for a place away from the crowded hill stations; then about 60 kilometers ahead of Nainital is the small cantonment town of Ranikhet. Neat, well maintained, and amazingly beautiful is what describes Ranikhet the best. Snowfall happens in the months of December, January, and February here. It is a great place to spend a weekend playing in the snow.
The drive till here from Nainital can however take some time making the entire journey from Delhi to Ranikhet of about 10 hours. You can make it a weekend trip but then most of the time will just be spent on the road. Add a day and make it a 3 day trip at the least. Come to Ranikhet on Day 1, stay here on Day 2, and return home on Day 3.
Lansdowne and Khirsu
I know what you are thinking. It does not snow in Lansdowne and you will actually be wrong. Lansdowne does receive snow every once in a while. But the frequency is so low that no considers it as a destination to see snow near Delhi.
But there is a place about 90 kilometers ahead of Lansdowne that is a much higher altitude and receives plenty of snow in the winter season. It is the small village of Khirsu.
Delhi to Lansdowne, if you started early, is an affair of 5 to 6 hours. Another 90 kilometers will add 3-4 hours to the journey and you can easily make it to Khirsu in a day. Spend the second day enjoying a snow-covered village and return on Day 3. For more details, please take a look at How to Plan a Trip to Khirsu.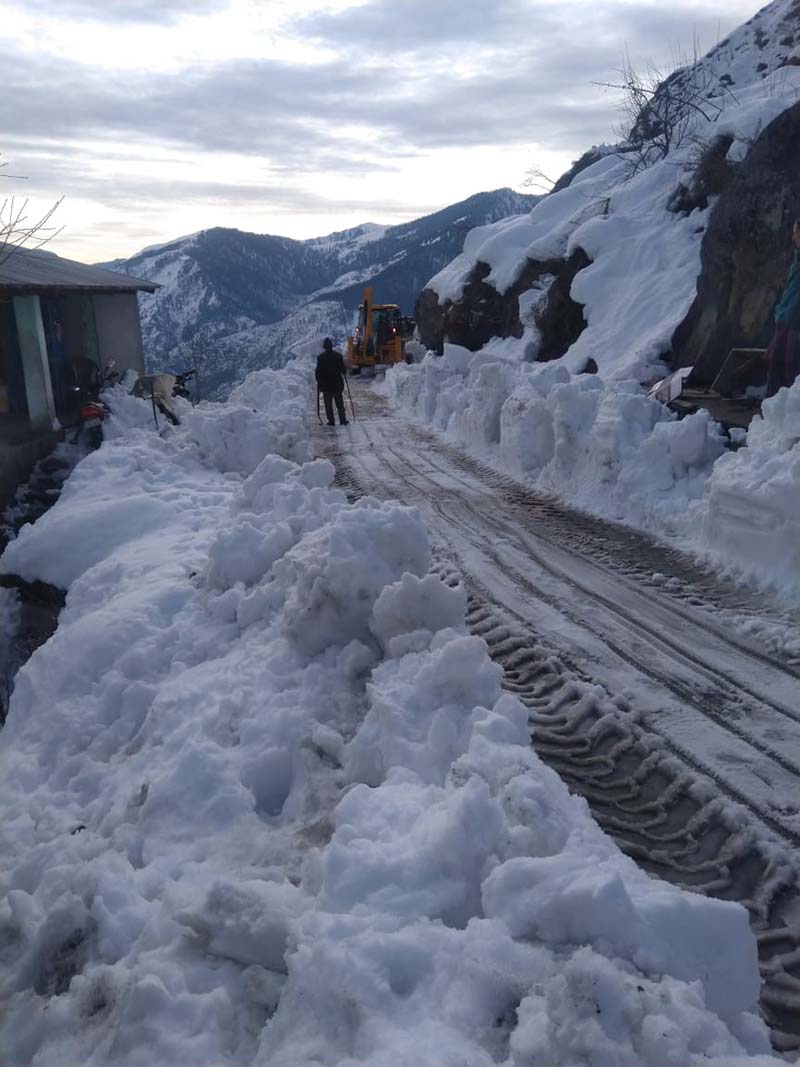 Snow Near Delhi – Conclusion
These are just a few places that I listed here but the list of course can be endless. I compiled this list keeping in mind a time frame of 2-3 days. All these places have good roads that won't make the travel time too great; more of a weekend getaway and Delhi as a base.
I hope this information on places where you can see snow near Delhi was of help. If you have any further questions, please feel free to ask in the comments section below, or at our Community Forum, and I will be glad to answer.