Are you planning to visit North Sikkim in the near future? Have you been wondering how to plan your journey and make the best out of your time and money? In this post, I will share the best itinerary for North Sikkim and hopefully, after reading this post, you will have an answer to your questions. If you have any further questions, please feel free to ask in the comments section towards the bottom of this page.
North Sikkim is nothing but the northern part of the northeastern state of Sikkim. This is often called as 'A Trip to Gurudongmar', although this is not only about Gurudongmar. Since Gurudongmar is more remarkable among all of the places in North Sikkim, probably people like to call it so. It is among the highest lakes in the world and definitely the most beautiful ones.
The start and end point for this trip will be Siliguri, a town in West Bengal. You can reach Siliguri via flight (Flight to Bagdogra airport) or Train (Train to New Jalpaiguri Jn. or Siliguri Jn) or else own vehicle (motorcycle/ car). Here are some best plans for your trip.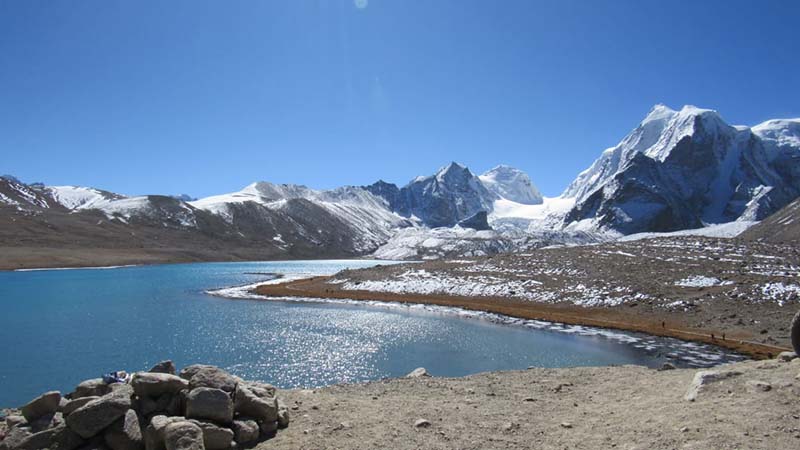 Best Itinerary for North Sikkim
I will suggest itineraries for 4, 5, and 6 days. This is the minimum time that you will need for a trip here. If you had more days in hand, you can prolong your stay at any of the mentioned places.
North Sikkim Itinerary for 6 Days
If you are not in a hurry or not worried about taking leaves from your daily hectic lives then this plan is for you. You can explore the region entirely and feel the real beauty of this harsh yet romantic part of Sikkim. A trip here can really help you rejuvenate yourself and get some calm and peace for a few days.
It is among the most serene places in all of India with nature's freshness at its best. Spending a few days in the lap of Mother Nature in North Sikkim will surely help you prepare to better deal with the stress of our day to day lives.
Also Read: Gangtok – A Complete Travel Guide and Itinerary
Day 1: Siliguri to Gangtok
One fine morning, you will start your journey towards Gangtok from Siliguri. The trip will be around 4 hours and 125 kilometers long. You will enjoy the journey from the plains of Bengal to the mountains of Sikkim once you cross the Sevoke road.
Upon reaching Gangtok, check into a hotel, freshen up, and have your lunch. There are plenty of eateries offering all kinds of food at MG marg. Enjoy a romantic walk and photo-session at MG Road in the evening. You can also buy some Sikkim special mementos or gift items here.
Day 2: Gangtok to Lachen
Congratulation. This will be your first morning in the mountains on this trip. Get ready to spend some amazing time for the next few days.
Today's destination will be Lachen, a small hamlet by Lachen Chu (Chu means Mountain River in local language). It is located at a distance of 110 kilometers from Gangtok.
10 kilometers before reaching Mangan, the treacherous road will start and this is where you will have to be a little careful. The entire journey will take around 4 hours 15 minutes. You can enjoy the continuous roar of Lachen Chu in the silence of nature.
You can also visit the beautiful Lachen Monastery on the same afternoon.
Day 3: Chopta Valley viewpoint, Gurudongmar Lake and Kalapatthar
After having a warm sleep under a comfortable blanket on a chilly cold night, you will wake up to a beautiful morning of North Sikkim. The plan for today is to spend the day sightseeing. The total distance covered will be close to 155 kilometers and will easily take you about 7 to 8 hours. So an early start is highly recommended.
Leave in the early morning and ride/ drive to Chopta valley viewpoint for a beautiful sunrise. From there, you will head to Kalapatthar; the harsh and dry black mountain full of white snow.
After crossing several check posts you will reach the 15000 cafe, the army canteen, and the last check-post prior to reaching Gurudongmar. Here, you must try Momos/ Samosa/ Sandwich and free coffee provided by the Indian Army. After filling your souls with the beauty of Gurudongmar Lake, it's time to get back to your hotel in Lachen.
Also Read: Best time to Visit Gangtok – When to Plan your Trip?
Day 4: Lachen to Katao and Return to Lachung
After a long and tiring journey of the previous day, today will be a little relaxing. You will cover about 95 kilometers in a travel time of 3 to 4 hours. Hence you can start in a leisurely manner in the late morning.
First, head towards Katao. You won't be permitted to go ahead of base-camp but can enjoy the view with a steaming hot cup of tea; provided by our beloved Indian Army. After appreciating the snow-filled mountains for some time, reach Lachung to rest for the day.
Day 5: Yumthang, Zero Point and Dzongu valley
Your travel time today will be about 5-6 hours, covering a distance of 160 kilometers. I will advise an early start on this day as well so you have enough time for sightseeing.
You will first drive to the Lachung monastery followed by Yumthang valley. A small market on the banks of Yumthang River and surrounded by mountains will mesmerize you with its serene beauty.
The next destination will be Yumesamdong, which is commonly known as the zero point. Once you have finished up with playing in the snow, head back to reach Dzongu valley. This is a mountain forest surrounded by deep silence.
Day 6: Dzongu Valley to Siliguri
The travelers may not want to get back to their daily lives with a heavy heart but this is something we all must do for our next adventure. Hence, breaking the silence of the mountain forests, your vehicle will be waiting to take you back to Siliguri. Since this is the last day of the trip you can have multiple pit stops. The distance covered will be 150 kilometers in about 5 – 6 hours, depending on your speed and breaks.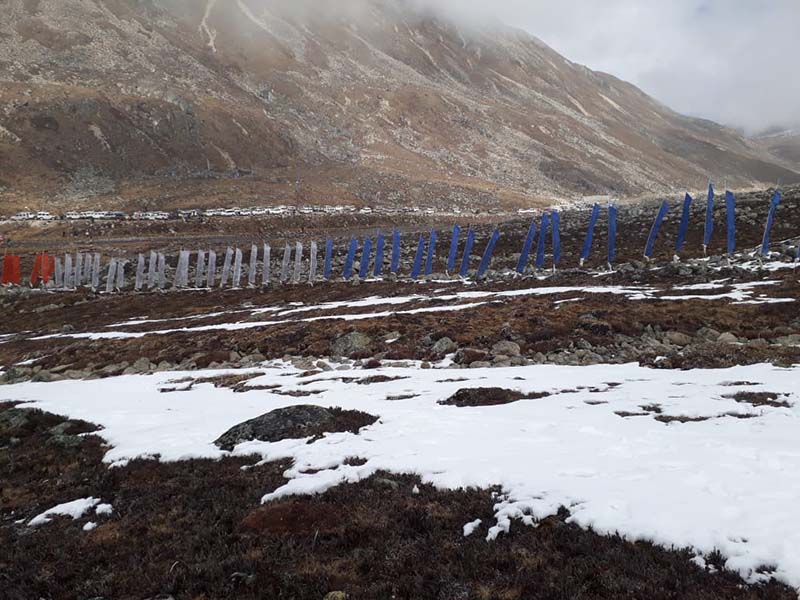 North Sikkim Itinerary for 5 Days
This itinerary will give you an idea of a compact and relatively shorter plan for North Sikkim Trip. Unlike the previous one, this is a pretty straight forward route. If you have a tight schedule but wish to cover all major tourist destinations, then this is the plan for you. The journey will maintain a good ratio of being long as well as relaxed.
Day 1: Siliguri to Gangtok/ Mangan
You will start the journey from Siliguri for Mangan in the morning. This will take around 4 hours 30 minutes, covering 145 kilometers approximately. Or you can also drive to Gangtok which is 125 kilometers from Siliguri and will take you around 3 hours 45 minutes.
The road won't be smooth but can be called good as compared to other mountain roads. It will remain so until almost 10 kilometers before Mangan. This last but treacherous 10 kilometers long stretch will take you good 40-45 minutes to cover.
Once you reach Mangan, check into a hotel and be prepared for an early morning view of Kanchenjunga, if the weather favored you. Have good food either at your hotel or outside and call it a day.
Day 2: Gangtok/ Mangan to Katao and Back to Lachung
The destination for Day 2 will be Lachung. If you stayed at Gangtok, then the journey will be 152 kilometers long. But if you stayed at Mangan, then you will travel only about 100 kilometers in total.
You will start early (7-8 am) for Yumthang and Yumesamdong (Zero Point). You will need to head towards Yumthang valley via Lachung monastery on the left of a gate where 'Welcome to Lachung' will be written.
With a cup of hot tea/coffee, you can appreciate the breathtaking view of Youmthang River surrounded by mountains.
Resuming the journey you will reach snow-covered Yumesamdong. The clock will be ticking towards the afternoon to remind you of your return journey to the hotel in Lachung.
Also Read: Sightseeing in Gangtok | Best Places to visit in Gangtok
Day 3: Lachung to Yumthang, Zero Point, and Thangu Valley
Soon after an early start go down a kilometer or more from your hotel and turn left for Katao check-post. You won't be allowed to go to the top beyond base-camp but can enjoy the view with steaming hot tea provided by our beloved Indian Army.
Once you have had your share of the amazing view, head towards Thangu valley to call it a day. Lachen river will mesmerize you during the whole journey from Lachen to Thangu. Remember the stay can be tough here due to freezing cold weather and low oxygen levels at high altitude.
The estimated time of travel will be around 6 hours 20 mins for this day, covering a total of almost 185 kilometers.
Day 4: Thangu to Chopta Valley viewpoint, Gurudongmar Lake, Singhik
You must start early on this day, probably by 5 AM, for an awesome sunrise view at Chopta valley viewpoint. After spending an hour or so, drive back on the extremely bad road to mighty Gurudongmar.
Don't forget to have breakfast at Cafe 15000 (the Indian Army canteen) before/ after submitting permits on the check-post.
With the happiness of success to reach the 2nd highest lake in the world, you will need to be prepared for the return journey to Singhik, an extreme offbeat place of this route.
The journey will be tough and tiring today as it will take around 7 hours, covering 153 kilometers. I say tiring because of the bad roads that you will travel on this day.
Day 5: Singhik to Siliguri
After a tiring journey of the previous day, this is the day to allow yourself to feel Sikkim's natural beauty as much as you can. The journey will just be 145 kilometers and 5 hours long so you have the entire day to yourself.
Start at your own convenience from the hotel in Singhik, dry at a relaxed pace, take as many breaks as you want, and reach back to Siliguri.
Also Read: How to Plan a Trip to Spiti Valley – A Complete Travel Guide
North Sikkim Itinerary for 4 Days
This is the shortest itinerary for North Sikkim where you will miss some small yet mesmerizing spots but will cover the famous and popular ones. For a trip to North Sikkim, 4 days is what you will need at the least. Any less than this, and you are merely touching the place and coming back.
If you are very short on time but would like to have an adventure to the world's 2nd highest lake and visit some of the most known tourist destinations of Sikkim, then you should go with this plan.
Please note that if you are not habituated with a long journey, bad roads, in mountains or not comfortable at high altitude, then this plan is not recommended for you.
Day 1: Siliguri to Mangan
This day will be the same as I explained in the 5 Days Itinerary. The only point I would like to add is that you must start early if you only had 4 days.
Day 2: Yumthang, Zero Point, Lachung
This day will also be the same as explained in 5 days plan. Point to add here is that if you had time while returning from Zero Point, you can visit Katao on the same day; then you can come back to the hotel in Lachung.
Day 3: Lachung to Gurudongmar Lake and back to Lachen
This day will be super tiring for you as you have to travel for almost 8 hours, covering about 180 kilometers. On top of it, you will also be at a high altitude, when you are visiting Gurudongmar Lake.
You should start by 5 am from the hotel in Lachung and reach Cafe 15000 via Lachen and Thangu valley. After stamping your permits, head towards your ultimate destination. Don't forget to carry some chocolates and dry foods which will be needed in the morning; as you would not have time for breakfast when your start and it will take you a while before you get to Cafe.
Day 4: Lachen to Siliguri
If you don't have a train or flight to catch on the same evening from Siliguri, then only you can start your return journey in a leisurely manner. The driving time to Siliguri from Lachen is around 6 hours 30 minutes, covering about 200 kilometers. But since you will be entering a town in plains, you can reach late at night as well. So drive at a relaxed pace, soak in the beauty of the mountains, and have a great time.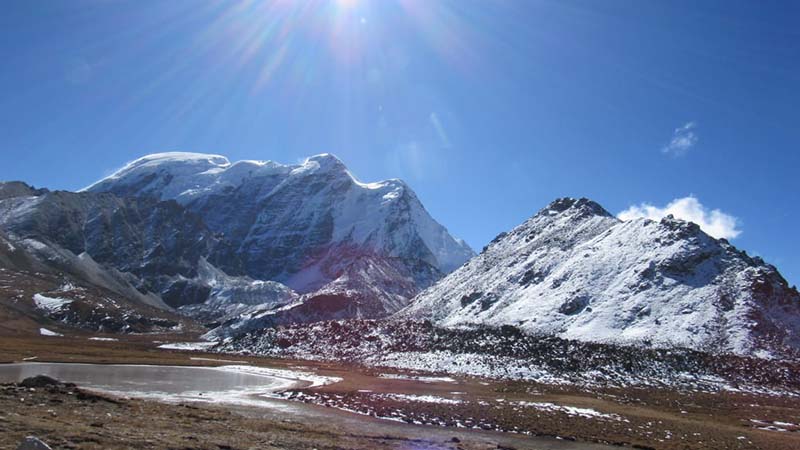 Best time to visit North Sikkim
Being a travel enthusiast, I like to explore my favorite places around the year. In different seasons mountains can make you speechless in a different manner.
North Sikkim is one of those places where a trip is restricted with travel permits. But, except for the heavy monsoon season, you can visit here any time of the year. Even the availability of permits depends on the weather.
February – March
According to me, these two months are the best time to visit North Sikkim. You will get plenty of snow with super cold weather which North Sikkim is known for. Some places will welcome you with Rhododendron. In short, the view will be superb.
Also Read: How to Plan a Trip to Leh Ladakh – A Complete Travel Guide
April – Mid June
These months are the comfortable ones if we talk in terms of the temperature. It is not going to be too cold and with the spring season on, it is a great time to plan a trip with your family.
The monsoon season here starts from June and stays well until September. In July and August, landslides caused by incessant rains become a common sight. It is not a safe time to be visiting anywhere in the hills for that matter. It can rain anytime anywhere and sometimes for days at a stretch.
Mid September-November
This is another best time to explore North Sikkim. This is the time of the autumn season and you will find a magical golden color in the valleys everywhere. The temperature will be on the moderate side. The weather mostly will stay clear and you will get perfect views of the mountain ranges all around.
In November you can witness snowfall as well if the luck favored you.
December-January
The months of December and January can be considered as the toughest months to visit North Sikkim. Still, adventurous junkies like motorcycle enthusiasts or an adventurer with a 4 WD can attempt this journey.
At this time, there is always a high chance of road blockage due to heavy snow. Permits may also be denied if the place was deemed as unsafe to visit. In these months, traveling to North Sikkim mostly depends on your luck.
The weather is going to be extremely cold so you should be prepared for that. If you want to see snowfall, then this can be a good time to visit.
Permits for North Sikkim
Being an Indo-China border state, Sikkim needs permits for Civilians to travel through most of the places within. The permits can only be issued in an offline manner from Gangtok or Mangan DC office.
Hence, readers please beware that there are no online permits North Sikkim till now. Also, the permits are different for foreigners and Indian Citizens.
Permits for Indian Citizens
Indian Citizens will be required to obtain restricted area permits beyond Singhik. It means that you should have permits in hand before you leave Mangan. You should keep the original as well as 6 – 7 photocopies.
These permits can be arranged by the hotel you are staying in at Gangtok or Mangan. If you have rented a vehicle, you can ask your driver to arrange it on a prior basis.
If you have a day in hand at Gangtok, you can arrange it by yourself as well but frankly, it would be a bit hectic. It would be a wise decision to spend 700/800 on the permit agent and save yourself the time and the hassle.
In order to get the permit, you will need to submit copies of your ID and address proofs (DL, voter cards, passports, etc) and 3 or 4 passport sized photographs. If you are coming by your own vehicle, photocopies of all updated docs of your vehicle have to be submitted. You can also be asked to show the originals in case you are obtaining the permits on your own.
Also Read: Bike Trip to Dharamshala and Mcleodganj 
Permits for Foreign Nationals
Foreigners will have to obtain ILP for Sikkim along with restricted area permits. This can be arranged by registered travel agents of Sikkim tourism.
The sad news is that even if you have the restricted area permits, you won't be allowed to visit Gurudongmar Lake; since it is very close to the Indo-China border.
Foreign nationals are only allowed till Thangu valley, Chopta valley, and zero point on the other side.  The required docs will be obviously the passport with a valid visa.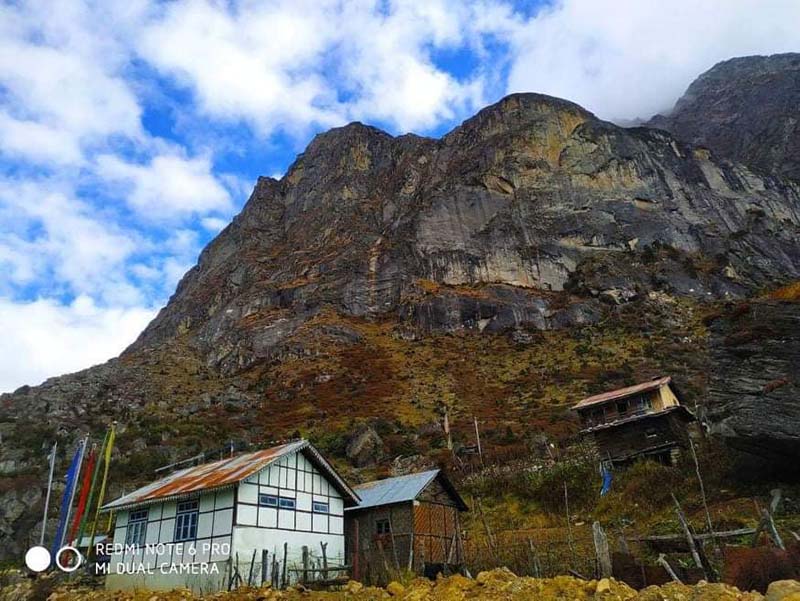 Places to stay and Eat At
You don't have to worry about your stay at all. Multiple hotels/ homestays are available all around the North Sikkim with different types of amenities, according to your choices and pocket.
Please note that in the remote and distant areas, the accommodation is basic but comfortable enough. You should also not expect a luxurious stay everywhere you go.
A few lodging options are mentioned below based on the towns or hamlets. All the hotels/ home-stays will offer you lodging with food. It's your choice which plan (AP/ MAP) you want to opt for.
Hotels in Gangtok
Being the capital of Sikkim, it can offer you plenty of lodging options. Some are super luxurious too. The best place to stay here is around MG Marg as everything you want will be available here.
If you want to stay away from the crowd and a little in silence, you can try at places like Baluwakhani or Bojoghari, etc.
If you are a foodie or alcohol lover, you have plenty of options here to satisfy your need. You can get a few pubs with a good musical environment or can try Tibetan food in 'Taste of Tibet'.
Also Read: Malana Village – A COMPLETE Travel Guide & Itinerary
Hotels in Mangan
The sub-divisional town of North Sikkim won't offer you many options for stay. A few lodges are available here with a very basic and moderate level of facilities.
You can't find any big marketplace here like Gangtok but shops selling all kinds of day to day commodities are easy to find. In terms of food as well, there aren't many options to explore and you will be best off eating at your hotel only.
Hotels in Dzongu
It is a quaint little village in Mangan outskirts, surrounded by the hills and the forest. There are only two homestays here that will give you the pure feeling of staying within nature, far away from artificiality.
Unknown birds and animal sound will accompany you the whole night and wake you up in the morning.
Hotels in Singhik
This is another small hamlet near Mangan, offering you very few homestays to spend your nights in real nature. There is nothing man-made here other than the road and a few wooden houses. The rest is all pure nature. Trying to finding a restaurant in these two places (Dzongu and Singhik) will be a waste of time. You will stay and eat at your homestay only.
Hotels in Lachen
Despite being a mountain village, this place has a significant number of hotels and homestays, offering different kinds of amenities under different price tags.
But rather than staying at a big hotel, I will recommend staying at a guest house somewhere close to Lachen River.
Hotels in Lachung
This is another beautiful small village that has a few hotels. This village's beauty can't be expressed in words. There is also a small market here where you can buy some souvenirs.
If you want to taste some local alcohol, don't forget to try Chang (locally brewed wine) in any of these hamlets. You should have a word with your caretaker or homestay owner for Chang and they can arrange it for you.
Hotels in Thangu Valley
This is the last place before reaching Gurudongmar Lake. It is also the highest place to stay on the entire route at an altitude of 13000 ft.
There are a few homestays available here but just very basic ones. Staying in Thangu Valley will give you the feeling of a place far away from modern civilization. No proper electricity, drinking water from melting snow, or a nearby waterfall is what Thangu Valley is all about.
There are no restaurants here either. You will have to eat at your homestay only. But it is a perfect place to forget all chaos and drown yourself in peace and serenity.
Hotels in Chungthang
This is the place where two roads (towards Lachung and towards Lachen) get divided from the highway. There is also a Gurudwara here known as Chungthang Gurudwara.
It is about 30 kilometers ahead of Mangan and has a few homestays that you can stay in.
Also Read: Road Trip to Kinnaur Valley – Kalpa, Chitkul, Sarahan, Theog
North Sikkim Trip Cost
Here comes the most important part of this blog. How much do we have to spend on the North Sikkim trip? Since there are multiple itineraries, the cost also will be different which I will try to simplify.
For example, we will be counting the total cost for two people. If you have a big group of 4-6 people, you will be spending a lesser amount each as the vehicle and permit cost will be shared.
The following cost is also measured with a rented vehicle. If you are coming on your own vehicle, deduct that one and add the fuel cost as per mileage and the total distance mentioned in the itinerary part.
You can also get the tour packages from various travel agents which you can compare with the following rates. Please also note that permits from Mangan will cost you significantly less than Gangtok (Rs. 200/300 instead of Rs. 600/700)
For 6 Days
Food and lodging for 5 nights: 3000*5 = 15000 rs.
Permit cost: Rs. 600
Vehicle rent (SUV car from Siliguri to Siliguri): Rs. 24,000
1st-day Breakfast and Lunch cost on the way to Gangtok/ Mangan: Rs. 600
Last day Lunch and snacks cost on the way to Siliguri: Rs. 500
Miscellaneous cost (like medicines, rent of snow boots, or gloves in case of emergency): Rs. 1000
For 5 Days
Food and lodging for 4 nights: 3000*4 = Rs. 12000
Permit cost: Rs. 600
Vehicle rent (SUV car from Siliguri to Siliguri): Rs. 21,000
1st-day Breakfast and Lunch cost on the way to Gangtok/ Mangan: Rs. 600
Last day Lunch and snacks cost on the way to Siliguri: Rs. 500
Miscellaneous cost (like medicines, rent of snow boots, or gloves in case of emergency): Rs. 1000
For 4 Days
Food and lodging for 3 nights: 3000*3 = Rs. 9000
Permit cost: Rs. 800
Vehicle rent (SUV car from Siliguri to Siliguri): Rs. 18,000
1st-day Breakfast and Lunch cost on the way to Gangtok/ Mangan: Rs. 600
Last day Lunch and snacks cost on the way to Siliguri: Rs. 500
Miscellaneous cost (like medicines, rent of snow boots, or gloves in case of emergency): Rs. 1000
Conclusion
I hope the information above on planning the best itinerary for North Sikkim was of help. If you have any questions, or need any other details, please feel free to ask in the comments section below, or at our Community Forum, and I will be glad to answer.