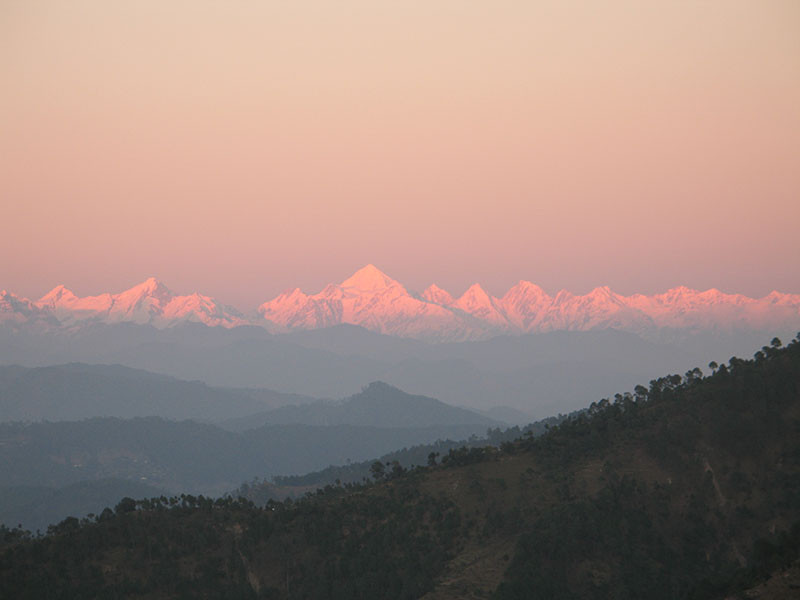 Chaukori in Uttarakhand is a name that not many would have heard. Located in the Kumaon region, it is a quiet little hill hamlet that is perfect for someone wanting to visit an offbeat destination. In this Chaukori Travel guide, I will provide details on how you can plan a trip to Chaukori in the best way possible.
The first time I heard of Chaukori, I was actually surprised that there is a place by this name. In India, we always knew Chakor or Chakori as the name of a bird. You have to agree that when you call a place that, it actually sounds catchy. A trip was immediately planned and we arrived at this hidden gem of Uttarakhand. What we realized upon reaching here is that not on the name of the place is catchy, it is also of stunning natural beauty that is sure to leave you charmed.
A trip to Chaukori is usually planned with a couple of other nearby places like Munsiyari, Ranikhet and Kausani. If you had about a week in hand, you can easily cover all of these destinations but if not, you can plan only for Chaukori and spend a couple of days here enjoying the natural beauty and tranquility.  It is definitely among the best offbeat destinations of Uttarakhand. Read on to find out more.
Chaukori Travel Guide
Chaukori is located in the Pithoragarh district of Uttarakhand. The place is best known for its quiet setting and stunning natural beauty. It offers a wide and picturesque view of the imposing and magnificent peaks of the Western Himalayan range in the Kumaon region.
Until a few years ago, it was just another of the numerous small villages of Uttarakhand but has now started to get attention as a tourist destination, thanks to all the efforts that KMVN has been putting in to develop it as such. They have built small cottages in Chaukori where tourists can stay for a few days at a reasonable rate. These pretty little cottages are located at a very scenic location and offer a great relaxing experience.
One of the best things about Chaukori is the sunrise view you get from here, something that I have discussed in detail later in the article.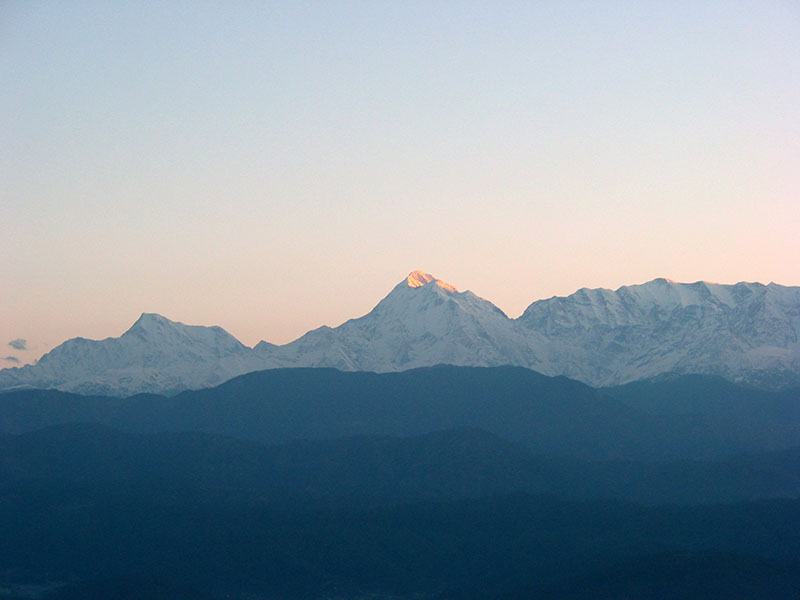 How to reach Chaukori
Let us begin by first discussing how Chaukori can be reached. Pithoragarh is one of the major towns of Uttarakhand and is located only about 80 kilometers from Chaukori. This means that a good motorable road leads up all the way to the village. Chaukori remains connected with the rest of the country for all 12 months and you can get here either by your own vehicle or public transport.
How to reach Chaukori from Delhi
If you were traveling by your own car or motorcycle, below is the route you can take you to reach Chaukori. For the sake of explaining the journey, I will assume that you were starting from Delhi. Even if you were coming from a different city though, only a small part of the route will change. The rest of it will still apply.
Delhi – Ghaziabad – Moradabad – Nainital – Almora – Berinag – Chaukori
There can of course be a few other ways that this route can be changed but this is the fastest way you can get to Chaukori. The journey will be of 460 kilometers and can easily take you 12-13 hours to complete. You must take an early start from Delhi to ensure that you reach your destination in time.
Another way to do this will be to break the journey in 2 days. You can first get to Nainital on Day 1 and then travel to Chaukori on Day 2. Or you can break the journey in Ranikhet on Day 1 which is another popular tourist destination.
If you were coming from Nainital, do not go via Kathgodam because that will be even longer. Reach Almora first and then take the road via Berinag.
Also Read: Lohaghat – A COMPLETE Travel Guide and Itinerary
By Bus
If you were traveling by bus, you will have to break the journey in 2 or 3 parts. Finding a direct bus for Chaukori from anywhere can actually be a little difficult. For the first part, you will have to find a bus from your city to places like Haldwani, Kathgodam, Pithoragarh, Almora, or even Nainital. There are regular buses for Haldwani from all major cities nearby and this will be your best bet.
From Haldwani, see if you can find a bus for Thal, Nachani, or Munsiyari. All these buses will go via Chaukori and can drop you there.
If you could not find a direct bus for Chaukori, then look for one going to Berinag or Bageshwar. From both these places, you can find a shared cab to drop you at Chaukori for about Rs. 30 per person.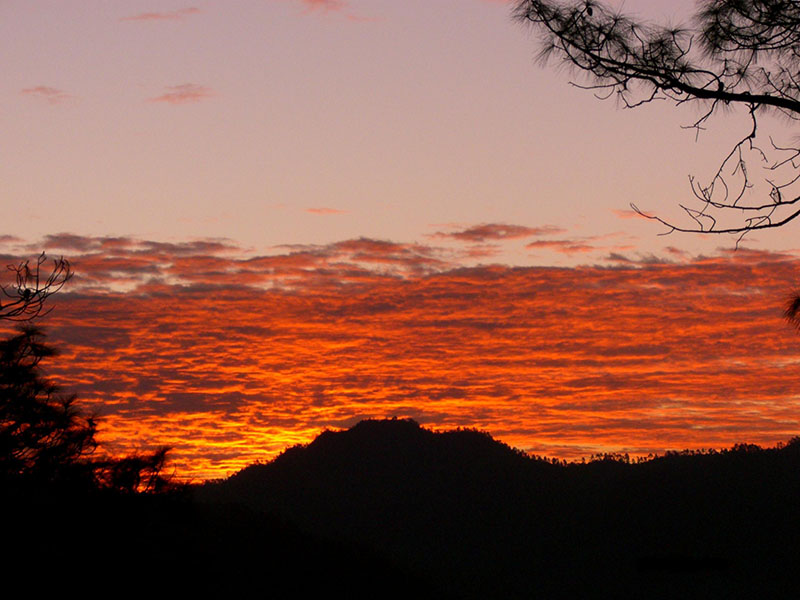 Delhi to Chaukori by Bus
There is no direct bus from Delhi to Chaukori but there is one for Dharchula that leaves ISBT Delhi at 4 PM every day. This bus will pass through Berinag from where you can easily get a shared cab for Chaukori. You can do an overnight journey and get down at Berinag the next morning.
If the timings of these buses did not match, look for a Bus for Haldwani and then go to Chaukori from there.
By Train
The nearest railway station to Chaukori is Kathgodam, at a distance of 190 km. From the railway station, you can easily find a taxi to drop you at Chaukori.
If not a taxi, the next option would be to come back to the Haldwani Bus stand and find Bus for Chaukori as I explained above. Haldwani Bus station is only about 7 kilometers from Kathodam railway station. Traveling to Chaukori by train makes sense if you were coming from a place too far away. If you are traveling from cities like Delhi or Chandigarh, boarding a Bus will be much easier.
Also Read: Harsil – A COMPLETE Travel Guide and Itinerary
By Air
The nearest Airport to Chaukori is in Pantnagar, at a distance of about 225 km from Chaukori. From the Airport, you can easily find a taxi to drop you at Chaukori.
Best way to reach Chaukori
The best way to reach Chaukori is of course by road and your own vehicle. You truly get to enjoy the beautiful vistas and travel at your own pace. If you were traveling by public transport, then the best way would be to get to Haldwani first and then first a bus or shared taxi for Chaukori from there.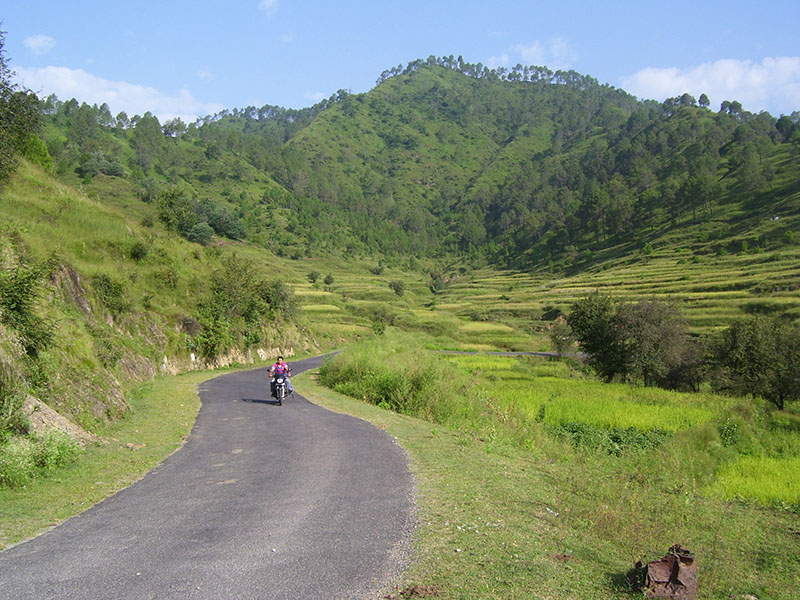 Tourist Places in Chaukori
If you do a quick google search, results from several travel companies' websites will give you an endless list of places that you can visit in Chaukori. That however is incorrect. They are just targeting a specific keyword to gain more customers. If I am to give you an honest opinion, the only thing to see in Chaukori is its natural beauty and mountain peaks.
It also makes sense as well. You do not come to a place like this hoping to see 50 different attractions and do 100 things. You are bound to get disappointed if that is what you were thinking. For that, you visit a place like Shimla and Manali. But when you want to visit an offbeat destination and spend some time away from the crowd, in total peace, Chaukori is where you should go.
The natural beauty of the region is like none other. The landscape and the views you see here are bound to inspire the awe out of you. There are also a lot of ancient temples as well in this region and are worth a visit if you had a few days in hand. If you have never seen a tea garden in your life, Chaukori is where you can see one.
What to see at Chaukori
I have actually covered this topic in great detail in another article, Places of Tourist Interest in Chaukori and Things to Do that I will urge you to read. But to give you a list, below is what you can see in Chaukori.
Amazing view of the Western Himalayan Range
Natural Beauty
Sunrise & Sunset View
Tea Gardens
Hanging Rocks
Kali Taal Waterfall / Tunkhola Waterfall
Dharamgarh
Tea Gardens in Berinag
Musk Deer Park
Patal Bhuvaneshwar
Other Ancient Temples
What to do in Chaukori
Photography
Enjoy the night Skies
Visit Berinag Market
River Rafting
Bird Watching
Village Walk
Also Read: Bike Trip to Auli – An Amazing Road Trip to Auli, Uttarakhand
Must Visit Places in Chaukori
It will entirely depend on how much time you were spending here. Most of the people I have spoken with stayed here for 2-3 days. If that was your plan, below is what you can do.
Relax on Day 1. Visit the Hanging Rocks for sunset view.
Walk around in the village on Day 2. See the Tea Gardens and take a drive to Musk Deer Park. You can also go visit the Kali Taal waterfall.
Take a detour on Day 3 while returning. See the Patal Bhuvaneshwar temple and spend some time in the Berinag market.
For more information on these places, please take a look at Places of Tourist Interest in Chaukori and Things to Do.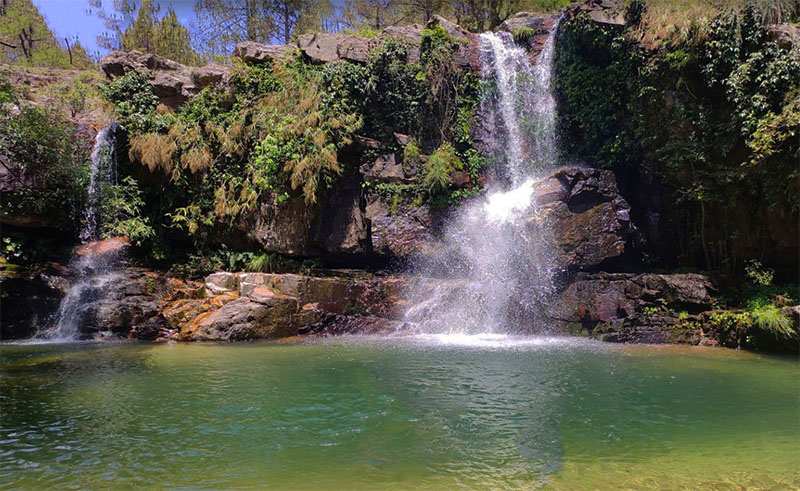 Weather of Chaukori
Due to its high altitude, the weather of Chaukori remains cold throughout the year and every season has its own color and charm. It never gets hot here and even in May and June, you will need a blanket to sleep in at night.
November marks the beginning of the winter season and it lasts well until March. The region receives snow from the end of December to early February. The night temperature in these months can drop down even below zero and even during the day, it will remain under 10 degrees celsius.
Snow starts to melt in March and is gone by the end of the month, except for the top of the surrounding peaks. April, May, and June are when Chaukori receives the majority of its tourists. The weather at this time is very pleasant. Days will be moderately warm and nights pleasantly cool. Skies will be sunny and clear making it possible to get a clear view of the surrounding peaks.
Monson arrives by the end of June and stays until early September. This entire region receives a lot of rain each year, sometimes enough to wash away entire sections of roads and cause landslides. It can even continue to rain all day long, trapping you indoors at the hotel and ruining any sightseeing plans. The average temperature in Summer and Monsoon remains between 10 to 20 degrees celsius.
Monsoon departs by early September but leaves plenty of greenery behind, washing the mountains cleans and giving them a fresh look. This is when the scenery is at its best. Autumn arrives in October and all that was green in September now turns Orange, turning the valleys to a magical golden. Winter once again starts to settle in by the end of October.
Temperature in Chaukori
Below is a monthly breakdown of the average temperature in Chaukori. Please note though that these are just average numbers and the actual temperature can be different depending on the month and time of the day.
| | | |
| --- | --- | --- |
| Month | High | Low (°C) |
| January | 8° | 0° |
| February | 10° | 0° |
| March | 15° | 3° |
| April | 18° | 7° |
| May | 21° | 10° |
| June | 25° | 15° |
| July | 25° | 15° |
| August | 23° | 12° |
| September | 21° | 12° |
| October | 18° | 9° |
| November | 16° | 7° |
| December | 10° | 1° |
Also Read: Less Crowded Hill Stations in Uttarakhand
Best time to Visit Chaukori
Now based on the information above, I believe it is safe to say that the months from April to June and September are the best time to visit Chaukori. But it will also depend on what exactly do you want to see here.
January and February: This is a good time to go if you want to watch snowfall and see the valley turned white.
March: This is a good time to go if you are interested in bird watching. The colorful spring season brings a flock of migratory birds.
April to June: This is a perfect time to go to enjoy the beautiful weather and escape the scorching summer heat of the plains.
July and August: This is not a good time to go unless you were into photography, wanted to see lush green hills and ready to risk the rain. This is when the landscape is the prettiest in the entire year and the views just turn heavenly.
September: It is a green visual delight in September. The valley and the mountains will come alive with flora and fauna. This is the best month for photography.
October: Another great month for photography visit and to see the orange color in the trees. This is also a good month for outdoor activities and to get a clear view of the mountains.
November: An overall bad month to go. The scenery will be very dull and dry. The weather will be cold and there won't even be any snow around.
December: The first half of the month is mostly dry but there is a high chance of snowfall after the 15th of December.
For more information on this topic, please take a look at When is the Best time to visit Chaukori.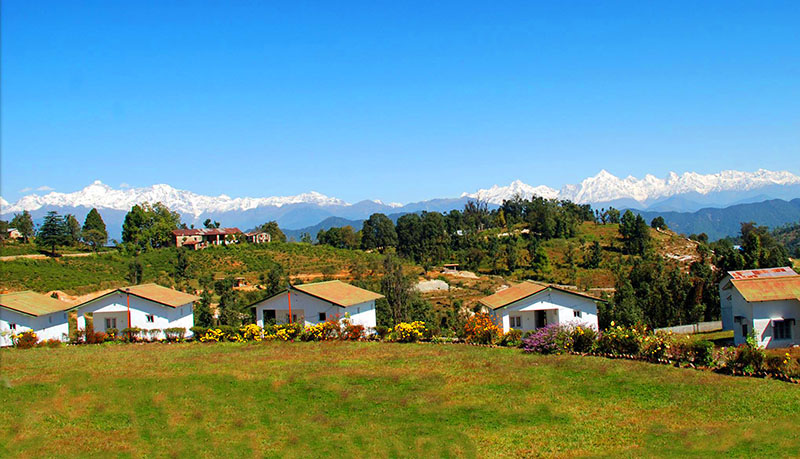 Where to stay in Chaukori
Finding accommodation in Chaukori will not be difficult at all. You can arrive here and negotiate an on the spot deal except for December and January when I will recommend that you call and book in advance.
The most preferred option of stay is the KMVN rest house. These are small cottage-like structures a little apart from each other (picture above). In my opinion, it offers the best views in the entire Chaukori. Depending on when you arrive and your negotiation skills, it can cost you anywhere between Rs. 1000 to Rs. 1500, including meals. The food provided will be simple but delicious enough. The rest house can be booked at the KMVN Online Portal.
Other than the rest house, just take a walk around the village and you will find several other hotels, resorts and homestay options. There are a couple of resorts located right inside a tea garden and are a good place to stay if the budget was not a problem.
If you were looking for a budget hotel in Chaukori, then my advice would be to look for a homestay or the KMVN rest house. The average price of the other hotels here is around Rs. 2000 – Rs. 2500 for most of the year. In the off-season, it may cost a little less.
Also Read: Pangot Travel Guide – How to Plan your Trip & Explore !
Where and What to Eat
If you were staying at the KMVN rest house, you should eat at their restaurant only. Other hotels too provide room service and have their own kitchen.
Otherwise, there are a few small dhabas in the village where you can have a simple meal for a reasonable price. If you were staying at a homestay, ask your host for a local dish. One of my friends had 'Bhaang ki Chutney' here and spoke high words about it.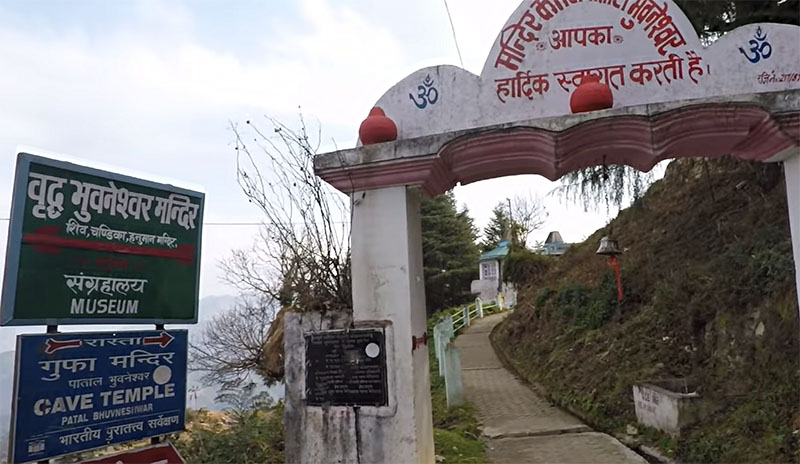 Chaukori Sightseeing Itinerary
Your final itinerary will depend on how many days you have in hand and your mode of travel. But I will suggest a couple of different ways that this journey can be planned. For the sake of the itinerary, I will assume Delhi as the starting point.
Day 1 – Delhi to Chaukori. Start from Delhi latest by 4 AM to reach Chaukori before 6 PM the next day. Plan it in a way that you will have to drive for 14-15 hours.
Day 2 – Spend the day in Chaukori. Visit the tea gardens, walk around in the village and hike to Hanging rocks in the evening. If time allows, take a drive to Kali Taal Waterfall.
Day 3 – There are a few different ways that this day can be planned. You can either drive to Musk Deer Park. Or if you were not able to visit Hanging Rocks the previous day, you can do it on Day 3. That way, you can also plan a visit to Patal Bhuvaneshwar.
Day 4 – Chaukori to Delhi. If you did not visit Patal Bhuvaneshwar on the previous days, you can take a short detour from Berinag on your way back and visit the temple.
Also Read: Khirsu – A Complete Travel Guide & Itinerary
By Public Transport
If you were traveling by public transport, below is how you can travel.
Day 0 – Board the 4 PM bus for Dharchula from ISBT Delhi and reach Berinag in the morning. If not, catch a Bus to Haldwani.
Day 1 – You will arrive at Haldwani or Berinag in the morning. Find a Bus that can drop you at Chaukori and board it. Spend the rest of the day relaxing in Chaukori. Visit Tea Gardens and walk around the village.
Day 2 – You can hire a taxi and visit Patal Bhuvaneshwar. Or you can trek to Musk Deer Park or just stay in the village and enjoy the views.
Day 3 – Find a shared cab to drop you to Berinag. The Dharchula Bus to Delhi reaches Berinag at around 11 or 12 that you can board and travel all the way back to Delhi. If not, from Berinag, find a Bus for Haldwani and then for Delhi from there.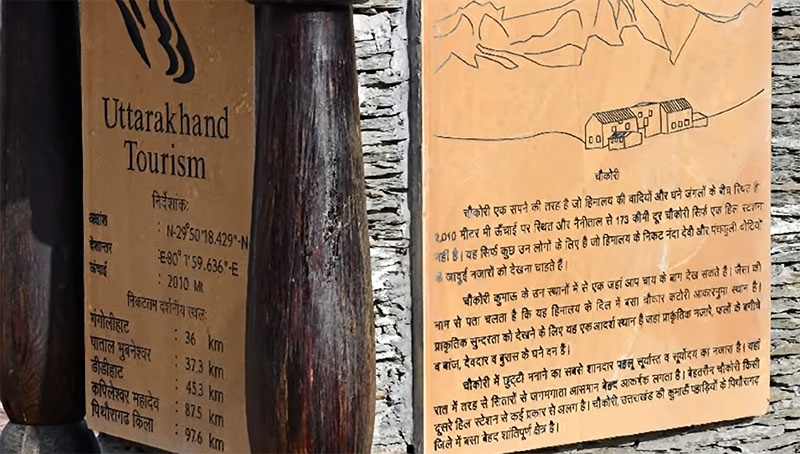 Other Tips
Mentioned below are a few other tips that can be of help in planning a trip to Chaukori.
Mobile Network in Chaukori
BSNL has the widest coverage in all of Uttarakhand but other networks also work fine in Chaukori. Irrespective of which service provider you are with, your phone will work fine and get good reception. I was carrying an Airtel network during my visit to Chaukori in August and got 3G data.
Hospitals / Medical Assistance
There is no hospital in Chaukori. If you needed medical assistance, you will have to come down to Berinag. You must carry some essential medicines like for flu, upset stomach, fever, headache, Band-Aid, and pain relief spray.
Bank / ATM
There is an SBI Bank and ATM about 7 kilometers out of Chaukori towards Sagri Khet. But this ATM remains non-functional most of the time. Other than this, the nearest ATMs are in Berinag. You should carry sufficient cash to last the entire duration of the trip.
Petrol Pump
There is no petrol pump in Chaukori but you will find several on the way at regular intervals.
Road Conditions
The condition of the road is mostly all good till Chaukori. There are a few bad patches in between but nothing too troublesome. Your drive will mostly be smooth.
Best Vehicle
There is really no best vehicle for Chaukori as such. In Haldwani and Berinag, you will find people traveling in old Maruti 800 and even scooters. All that is needed is that your vehicle is well maintained, serviced, and capable of handling the up and down roads of the mountains.
Also Read: Best Hill Stations for Honeymoon in India
Clothes to Pack for Chaukori
What clothes you should pack really depends on the time of your arrival. For a winter trip, you should bring heavy woolens, thermals and a good warm jacket. Please ensure that your jacket also has a hood to protect your head, neck, and face. If it doesn't, you should also pack a cap and a muffler.
For the rest of the year, just pack your regular cotton clothes along with a couple fo light woolens or a jacket and that will suffice. For a trip in the monsoon season, pack clothes that can dry faster, like polyester.
Chaukori to Munsiyari Road Condition
The road between Chaukori and Munsiyari is a smooth drive with a few bad patches in between. If you were planning to travel from Chaukori further ahead to Munsiyari, you will face no problem in terms of the road even on this 97 kilometers long stretch.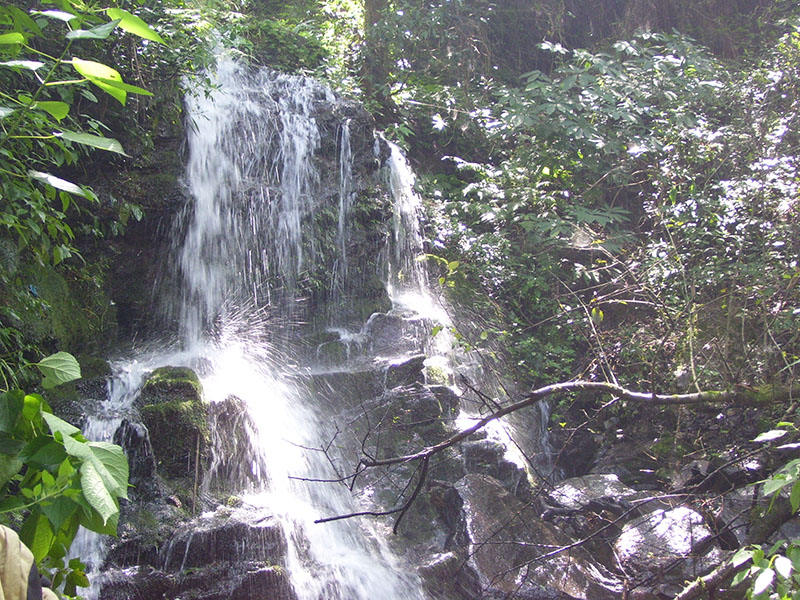 FAQs
Is Chaukori Safe
Chaukori is really a family destination and a safe place. But with that being said, it will also mean that you drive safely, act responsibly, do not get in any altercations, and do not take any unnecessary risks.
Does it snow in Chaukori?
Yes, it snows in Chaukori in the months from late December to early February.
How to travel from Delhi to Chaukori by Train?
There are two trains from Delhi to Kathgodam daily that you can board. From Kathgodam railway station, either hire a taxi for a drop to Chaukori or board a Bus.
How to reach Chaukori from Kathgodam?
Haldwani Bus station is only about 15 minutes from the railway station. Travel back to the bus stand and see if you can find a direct bus for Chaukori. If not, find one for Berinag and then travel by shared taxi to Chaukori from there.
Conclusion
I hope the information above on planning a visit to Chaukori was of help. If you have any questions or need any other details, please feel free to ask in the comments section below, or at our Community Forum, and I will be glad to answer.