"Cheap whey protein", I guess this a term that is bound to immediately catch everyone's attention. And why not, if you are seriously into bodybuilding and have an average income, the very cost of some of the basic supplements like protein, pre-workout , post workout, recovery, vitamins etc is enough to burn a hole in your pocket. The list of supplements that you can consume is endless but the most basic one remains to be Protein without which you cannot even dream of gaining an ounce of muscle in your body. And this is where cheap protein brands like Davisco Whey Protein come into the picture.
There are several natural resources from where you can intake the required amount of protein like milk and eggs but to intake that much protein would mean that you would have to eat so much. I am not even talking about the calorie and fat intake part but just the eating side of it. I mean how many egg whites can a person consume, how many liters of milk, how much chicken day after day without eventually reaching a point where you cannot even the bear the sight of it, let alone the idea of consuming it. This is what I believe makes the protein shakes so popular. One scoop of protein powder with milk or water and you are done with consuming 20 to 25 grams of protein.
Davisco Whey Protein
Problem however occurs when you have to buy these supplements in a country like India where there is no domestic big brand in supplement area and almost everything gets imported from the western countries. Dollar to Rupee conversion and adding the taxes & import duties will result in a customer paying more than twice the original value of the product. If you are someone with ample amount of money, this shouldn't bother you but for a middle class person, someone with an average income, this means a lot so when we see a product on the shelf that claims to be equally good as any other big brand but for a lower price, we will immediately be tempted to try it.
Years ago, when I first started in gym, the first such product that I tried was Saputo for which I have posted a complete review here. I soon realized my mistake and moved on to some other brand that can actually give me the value for my money. Years later now, I decided to try Davisco whey protein and the primary reason for doing so was because a lot of people who read my review on Saputo asked for my opinion on Davisco. And the reason why people were considering using it so much because this too, like Saputo, comes at a lower price than other big brands like ON or Universal.
Whey Protein Concentrate
A whey protein concentrate is raw whey without digestive enzymes or any sort of flavor at all. It is like the raw material that other supplement brands add flavor and some other nutritious values and sell at a higher price. Absence of flavor, enzymes and any other supplements attribute to its low price. I am not really 100% sure about this but I believe since it gets imported to India as a raw product and not as a complete health supplement like other whey protein products, the import duties are also comparatively less, another reason why it is sold at a lesser price. I am not a medical or fitness expert and do not intend to get into a debate over concentrate vs Isolate, whether enzymes are needed or not etc. What I am writing here is my own personal experience of the product.
Davisco Seller
I will start with the seller first because this is where my nightmare started. Let me also clarify though that this only happened when I placed my first order. I bought it from Nutrimed, which from what I gathered is one of the top sellers of Davisco. I placed my order and after 2 days got a confirmation that the product has been shipped. After another 2 days, I got a call in the morning from the courier guy inquiring about my address. I wasn't at home at that time so I gave him the directions and asked that he come in the evening. He did not come in the evening as instructed and surprisingly did not show even the day after.
On the 3rd day of this however, I got a message on my cell that my package has been delivered. Now this was shocking because my credit card was already charged; I did not have the product in my hands; and still they were telling me that it was delivered. I called back the courier guy and kept calling until the next day; but he just did not answer my phone. I went back to the Nutrimed website, clicked on the contact link and dropped an inquiry there but till date haven't received a response.
The Delivery Guy
Luckily, after numerous calls over a period of two days, that courier guy finally decided to answer my call. When I asked, he lied to me that it was him who was trying to contact me endlessly, visited my house several times but could not get in touch with me. I knew it was futile arguing with him over this; so I simply asked about my package which he said was in their office. I asked him to come over in the evening again. This time he did but nightmare still wasn't over. I kept giving him directions to my place that evening and god only knows what all place he kept landing up at every time.
After what seemed like a lifetime of giving directions, I just asked him to come near a shopping complex which was about a kilometer from my home. I walked over there and thankfully he too was waiting for me. Till date I cannot forget the look in his eyes when he handed me over the packet. It was like he wanted to kill me for living where I lived and as if it was my fault that his job was to deliver a courier.
Packaging
For the above amount of money, you would at least expect the product to be decently packed; but quality of Davisco packaging is just pathetic. I will post a picture of the packet below. There is no company seal, no stamp of any kind assuring the buyer that the product is genuine; and not even convincing looking batch number. Buy this and in the end you will just continue wondering if this is indeed whey protein you are consuming; or just something else, a fake product. People would believe that since it is cheap so that is why they are not spending on packaging but this is just lame. Product really isn't that cheap that they cannot even have a decent looking packet.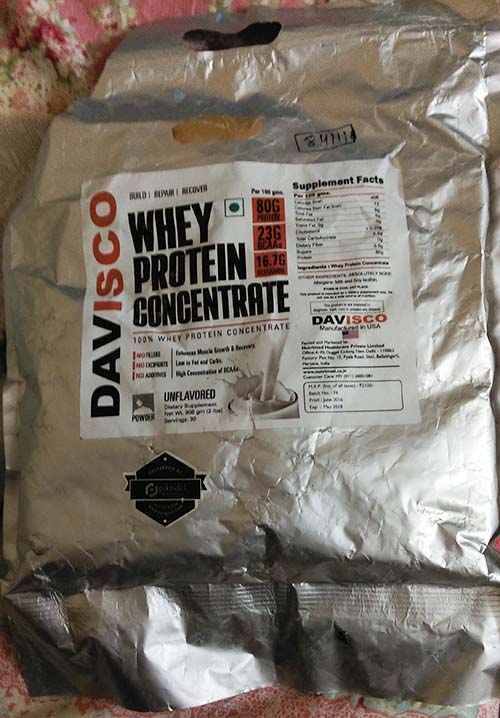 Davisco Whey Protein Price
Let us move on to the price part. I am surprised that people actually even consider it as a cheap whey protein. A 2 lbs packet of unflavored Davisco would cost you about Rs. 1370 which as per the price listed is after a 35% off. If you buy flavored one, the price would be about Rs. 1500 for 2 lbs. Now compare it with other big and trust worthy brands. If you multiply this price, a flavored 5 lbs Davisco would cost you about Rs. 3750.
I have bought a Universal Whey Protein 10 lbs pack for Rs. 8000 which is Rs. 4000 for 5 lbs but by just paying Rs. 250 extra, I was getting a genuine well reputed product. Throw in Rs. 500 more and you can get a 5 lbs ON Whey protein in Delhi so Davisco is not really that cheap as everyone believes it to be if you buy small. It would only give you value of money if you bought a 50 lbs pack for Rs. 25000.
Servings
The 2 lbs packet has a total of 30 servings which is pretty standard.
Taste
When I bought the product, only the unflavored one was available. Now they have other flavors listed as well but I haven't tried those. Unflavored one however does have a weird taste, or I may say that no taste at all. Hard to find something that I can compare it with; but a little like those dry milk powders which I believe attributes to the fact that it is a milk product indeed.
Mixing Ability
Not really much to complain about this. You would however have to shake it really hard or else there would be lumps left in the shaker.
Davisco Nutrition
Each serving contains approximately 26 grams of protein, 2.6 grams fat, and 135 calories overall. I will just post a picture of other nutrition values as mentioned on the package.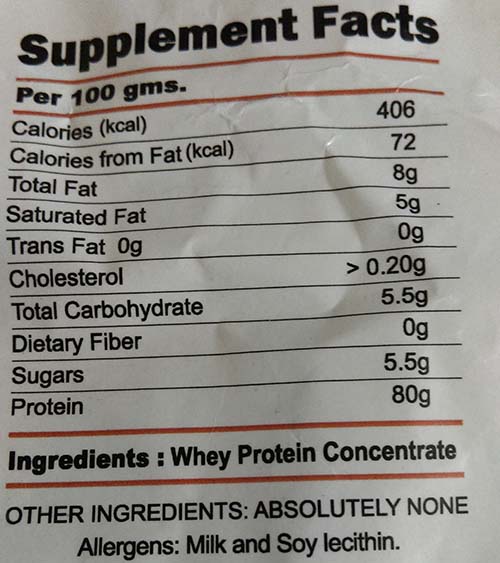 Performance and Gains
For this, let me tell you how I was consuming this product. I had just joined back the gym after a long gap of 10 months when I started using Davisco. This long gap of almost a year had had also seen a significant muscle loss in my body due to several reasons which I won't bore you with here. I started the gym and for 3 months, Davisco was my main source of protein. I was taking 4 scoops each day that totals about 100 grams of protein. Along with this, I was also consuming eggs, skimmed milk and some chicken each day; so that I can meet my daily requirement of 1 gram of protein for per 1 pound of body weight.
Other supplements that I used during this time were pre-workout, post workout recovery, multi vitamins and fish oil capsules. I was working out for 6 days a week and after a period of 3 months; only change I could see was that my body tightened; and that was pretty much about it. There may have been a little muscle gain but it was negligible. I kept my calorie intake under check, was consuming approximately 500 calories in excess to my body requirement but the gain just wasn't there. In the end, it was just my 3 months and money wasted.
If you want results and serious gains, look elsewhere for some other brand. I had been buying supplements from both Flipkart and Amazon; where I get a pretty good price and so far have not faced any issue at all of receiving a fake product.
CLICK HERE to review several better whey proteins available on Flipkart at good prices.
Conclusion
My final verdict would be that Davisco Whey Protein isn't just worth it. You may save a little buying Davisco but results will not really be that great. My advice would be to go for some other brand; try Universal Whey Protein and it would give you better results for almost the same amount of money. If you can shed a couple thousands more, the option of choosing from better products is vast.