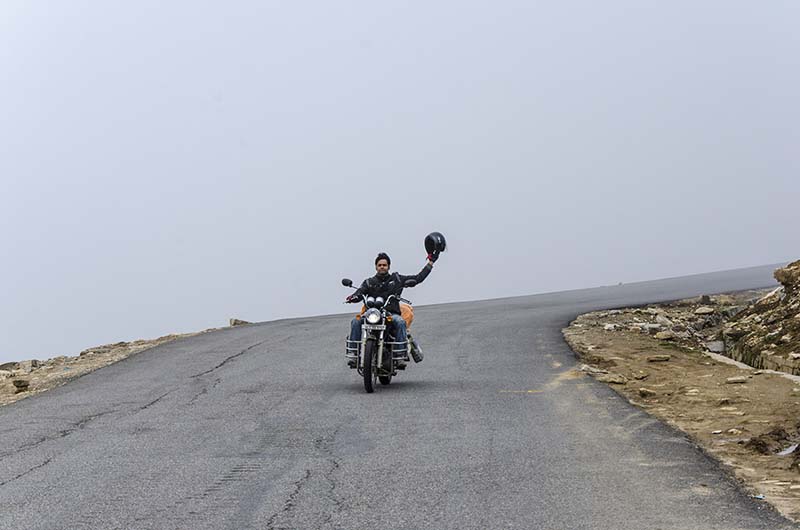 When it comes to a bike trip, there is also a lot of preparation to be done and precautions to be observed to ensure a safe and fun trip. Based on my own experiences, in this article, I will share some long distance motorcycle riding tips that can be of help to anyone planning a bike ride anytime soon
I have been blogging about traveling for several years now and a major part of it has been documenting my bike trips to several parts of India. It has been over a decade now since my first long-distance bike ride and it is still my favorite mode of travel when it comes to road trips.
Is it everyone's cup of tea? Definitely not but once you get the hang of it, a bike trip really is an experience in itself.
If I talk about India, the trend of long-distance motorcycle trips has settled in really fast. Places like Ladakh and Spiti have become the dream destination for everyone who owns a motorcycle.
Riding through the mountains with wind in your hair and stunning vistas to greet you is truly a dream come true. I am just talking about Ladakh as an example but it pretty much applies to all tourist destinations.
But only a motorcycle is not all that it takes. You will have to be prepared both mentally and physically in order to accomplish this dream.
Long Distance Motorcycle Riding Tips
This post will be the first in a series of articles covering different important aspects of planning a bike trip. I will begin with things that you should know before you decide whether or not to make the trip.
After that, in the coming article, I will discuss how and what to pack for the trip, what clothes to bring, manage fuel, and how to ride safely.
Know your Limits
It is quite simple really. You got to decide whether or not you are capable of doing it. And I am not saying that you give up entirely. No, but the idea is to know to what extent can you do it.
If you have only ridden your bike in the city for a few kilometers daily then there is no way that you can go on riding 500 kilometers every day for a week.
You simply won't be able to and even if you did, you will simply exhaust yourself and probably even fall ill. There is no fun there.
Also Read: Tips for Cold Weather Motorcycle Riding
If long-distance biking is new to you then it would be better to make a couple of short trips first. Go out on weekends and ride the bike for a couple of hundred kilometers first.
See how that goes and then decide. If you have never been to the hills on a bike then first pick a destination that is not too difficult to ride to.
Do not also plan a 10-12 hour ride covering long distances every day. You can do it for a couple of days maybe with breaks in between but not for numerous days.
Plan it in a way that allows you to ride at a comfortable pace with enough breaks in between and reach your destination without exhausting yourself.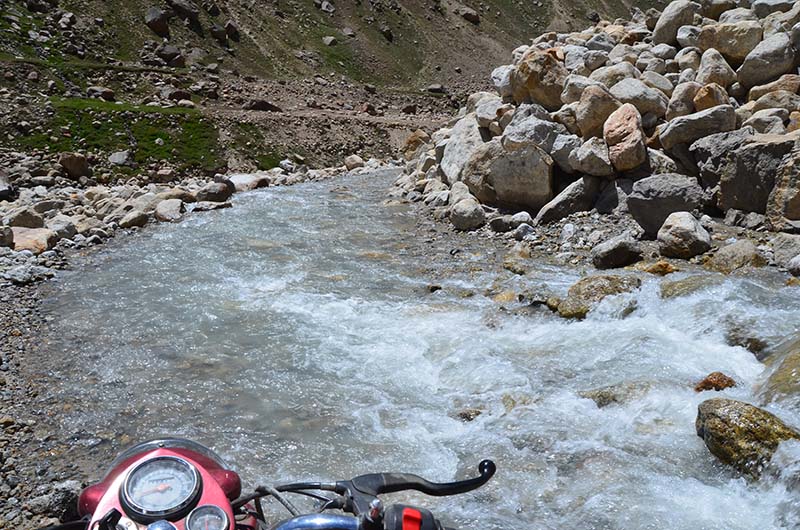 Know your Machine
This will be the next in line. After knowing your own limits, you got to know your motorcycle.
If you have a bike that is over a decade old and has already been used and abused completely, then taking it out on a long-distance bike trip will not be wise. If you have a small engine 100 CC motorcycle with a pillion rider, then riding to the hills is not a great plan.
Prepare Yourself
The most crucial part of any ride is to be prepared for it. There are certain things that you will have to take care of before you hit the road in order to ensure a hassle-free ride. Let us take a look at some of the most important ones.
Get your bike serviced and ready. Ideally, this should be done at least 7-10 days in advance. Go to a mechanic, have him check your motorcycle thoroughly, and repair or replace whatever seems dicey.
Along with the mechanical repairs, also take a look at how comfortable the seat is for a long ride. If required, get a seat cover with added cushion.
Check the tread left on the tires. Do the COIN TEST and if needed, get a new set.
After getting your bike serviced/checked, ride it around in the city for a few days to ensure that everything is working as per expectations.
A luggage carrier may not be a must but is a highly beneficial accessory when you are going on a long ride. It can help carry all your luggage and spare fuel safely and securely.
You must carry some essential spares like a headlamp bulb, fuse, and clutch/accelerator/brake cables. While on the road, you may be able to find a mechanic but they may not have the spare part needed.
Get a good quality full-face helmet that fits you comfortably and has a clear shield to look through. My recommendation would be to get one with white glass with no shade. You may have to ride at night and a helmet with a dark shield will become problematic after sunset.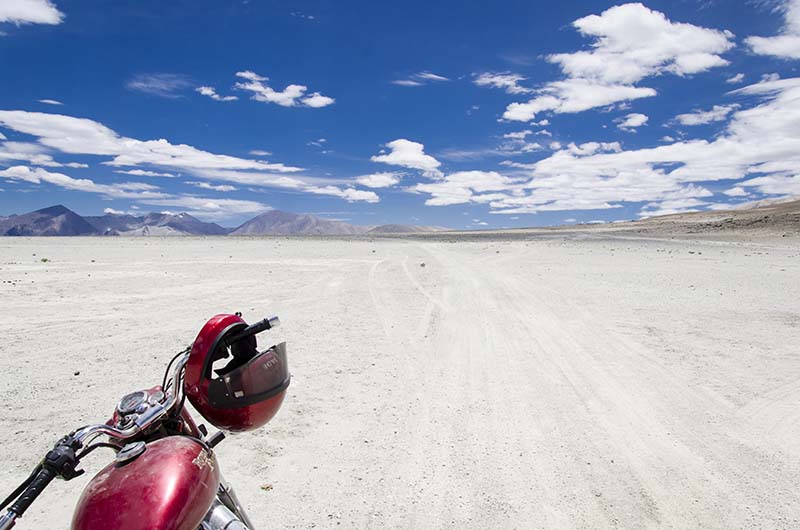 No Speeding
A long-distance bike ride is a marathon, not a sprint. I have been on numerous rides with all kinds of people. One kind that I really fail to understand is the ones who ride as if there is a race going on.
I understand that on some days, you may be required to cover long distances but you cannot compromise on safety because of it. You need to remember that you are out on a trip and to enjoy, not to win a race.
So ride at a comfortable pace while keeping your safety as a priority.
Plan your itinerary in a way that does not require you to ride for long hours every day. Ideal ride time will be no more than 6-7 hours which will ensure that you started at a convenient time in the day and arrived at your destination before dark.
If you feel exhausted on any day or are feeling sleepy, the best would be to not continue and stop at the next available hotel. Follow traffic rules at all times and do not take any unnecessary risks. And of course, do not drink and drive.
Also Read: How to Carry Spare Fuel on a Motorcycle Safely
Riding Gear and Other Essentials
Now let us talk about some of the items that you need to bring in with you. This one is a little tricky actually. You are going to be riding a motorcycle so you cannot bring in just about anything.
Riding light is way more comfortable but at the same time, you need to ensure that you do not miss the essential items.
If you can, buy some riding gear. I know it is not everyone's cup of tea but can really make a difference in case you took a fall somewhere. Knee Caps and Elbow Caps can come in very handy in times of need.
If you are riding in the monsoon months, I will strongly recommend waterproofing everything. Buy waterproof bags and then wrap your luggage in a plastic cover for added protection before mounting it on the bike.
Also, get rain gear for yourself. Riding with rain pouring down on you will be difficult but an even more challenging task will be changing clothes every time you got wet because of the rain.
You must prepare to keep yourself dry. If you continue riding in wet clothes, it is not going to be any fun, and chances are that you may even fall sick. If it looks like it is going to rain, stop and put on the rain gear. Do not wait for it to rain before you decide to stop.
Please ensure that you are also carrying a toolbox with the necessary tools to remove/replace parts. Every motorcycle has its own set of tools but if yours doesn't have one anymore, it would be wise to buy one before you start.
A first aid kit will be next. Keep an anti-septic lotion, some basic medicines, adhesive bandages, etc.
Flat Tire Repair Kit
Nothing frustrates more than a flat tire during a bike ride. Sometimes you may get help and sometimes you may not. In order to be better prepared for it, there are two things that you should take care of in this aspect.
The first is that you should carry a flat tire repair kit. And the second thing is that you should know how to fix a flat tire. This will involve removing the wheel, fixing the flat, and then putting it back on.
If your motorcycle wheels were running on tubes then a wise choice would be to carry 2-3 spare tubes. This way, you will not have to worry about fixing the puncture.
Just take the wheel out, change the tube, and put the wheel back on. In the next town, you can just get the punctured tube fixed and keep it in your luggage as a spare.
The most important item would then be a foot pump. You must carry one while on a long ride. If you were riding a bike with tubeless tires and encountered a flat, then just keep pumping enough air back in to make it to the next repair shop.
In order to learn how to fix flats, just visit a mechanic and have him show you how to do it along with some other minor repairs.
Also Read: Packing for Long Distance Motorcycle Trip – What & How
Take Plenty of Breaks
The most important thing to remember during your trip is that it is a leisure ride, a vacation. The ride is supposed to be fun and not a reason to exhaust yourself.
If you are feeling tired and your back/butt/legs hurt then it is time for you to take a break. Stop for a while, get something to eat or drink, stretch your legs, click some pictures, and start riding again.
When I am out on a trip, I follow a rule to stop for 10 minutes every 50 kilometers or an hour, whichever comes first. I often fall behind my fellow riders but this gives me ample opportunity to see the views, take pictures, stay safe, and enjoy the ride.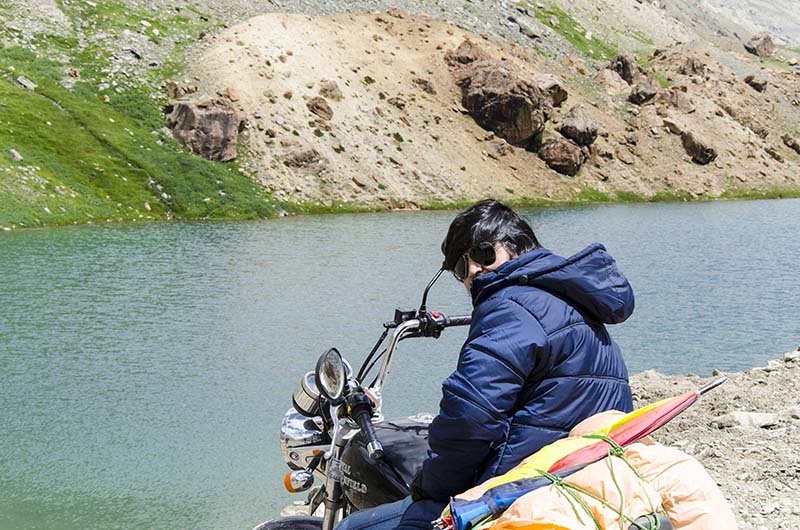 Good Posture
I know, it is hard to maintain when you are going to be riding for long hours but there are still a few things that you can do to keep your body stress free.
While riding, keep your back, waist, and shoulders free and light. Mount everything on the motorcycle and do not keep any shoulder bags, pouches, and camera bags resting on your body.
Another thing to do would be to not lean too much on the handlebar. Sit straight and do not put any force on the shoulders. If you leaned on the handlebar, every jerk of the front wheel will get transferred to your shoulders and make them sore pretty soon.
Wearing gloves will be advised as well. If you were not riding in a cold region, then wear light gloves. This will protect your palms from getting sore or swollen.
If you are new to riding, then no matter what, your first day will be the worst. By evening, you will be completely spent and may even feel like you are running a fever. This is completely normal. It is just exhaustion settling in and by Day 2 or 3; you will get a little used to it.
Take a look at the seat of your motorcycle. If you can, buy a new seat cover with an extra cushion. It can be very helpful when you have to ride for several hours day after day.
Also Read: Which is the Best Bike for Ladakh
Remain Alert
This will strongly apply in a country like ours where the condition of the roads and the status of the traffic can change within minutes.
You have to remain alert and be aware of your surroundings at all times. There was this traffic sign by BRO that I once saw that read ' Always Alert Avoid Accident' and this really holds true.
Be aware of the condition of the road and the oncoming traffic. When traveling in rural areas, traffic rules do not always get followed. You will find oncoming traffic even on a one-way road.
When riding through villages and cities, do not rush and go slow. If you find someone driving rashly, get to the side and let them pass. Do not get into any arguments with anyone. Maintain a cool head and focus on your ride.
When riding in the hills, be aware of the steep climbs, bends, and how your machine was performing. Do not speed up, go slow, stay in your lane, and always honk your horn at bends.
When going downhill, use engine braking for better control of the bike. Do not ride in neutral or with your engine turned off.
When you take a break, wash your face and get some water in your eyes. All the continuous riding and the dust will tire your eyes which in turn can sometimes make you lose focus or feel sleepy.
Stay Healthy
Eating habits and food choices often go for a toss when on a ride. There are a few simple rules that I will recommend for this. Always have a light breakfast before you start your day.
Do not take heavy meals anywhere because it will just make the ride more difficult. Rather, continue eating small meals in between.
Also, do not eat just about anywhere. Check the hygiene of the place before you order something. You do not want to get your stomach upset or fall ill. That will ruin the trip and make it impossible for you to continue riding.
Hydration is essential and you should drink plenty of water every day. If you are thirsty, do not wait. Stop and have some water.
Altitude sickness is real and can be a very serious concern. If you are riding to the hills, it is advisable to take the ride slow and spread the gain in altitude over a few days.
If you start to suffer from mountain sickness, do not go any further up. Ride back down to the nearest town, take a rest, and allow your body some time to acclimatize.
Most important of all, if you have a medical condition, you must ask your doctor before you on the ride. Take their advice, follow their tips, and carry all your prescribed medicines.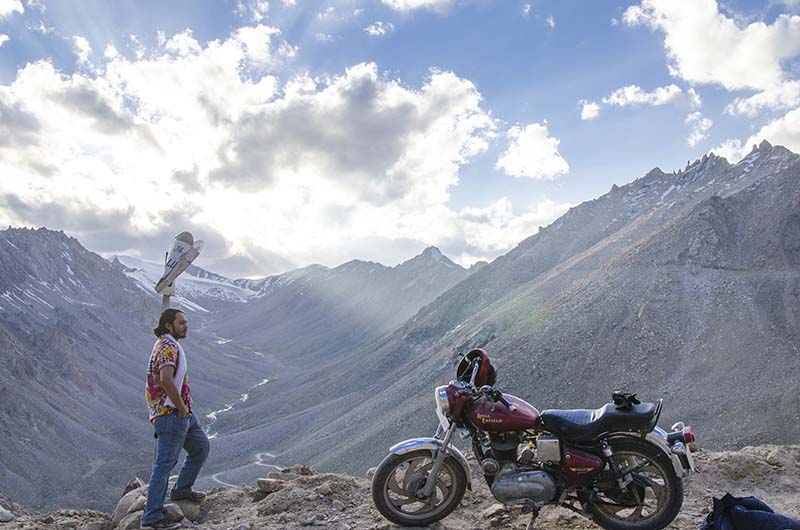 Shoes
You do not necessarily have to buy a new pair of shoes just for the sake of the ride. Your normal sports shoes will do just fine. Just ensure that you are carrying two pairs of them and plenty of socks.
In some places, you will end up getting water in the shoes but that is OK. Just remove the socks and ride without them for a while.
If you were wearing sports shoes, they will dry up pretty fast with all the wind blowing into them. If you are however buying a new pair, then opt for ankle-length boots.
Also Read: Which is the Best Bike for Spiti Valley
Fuel
Do a calculation about your ride, destination, and the total kilometers you will be covering. Then do some research and find out the availability of gas stations en route.
If required, please make arrangements to carry spare fuel. I will recommend carrying 5 or 10 liters jerry cans and installing a luggage carrier that has a slot to put those cans in.
Also, do not let your tank go empty completely before you decide to refill. If the needle is pointing towards running low on fuel, stop at the next gas station that you come across and buy gas.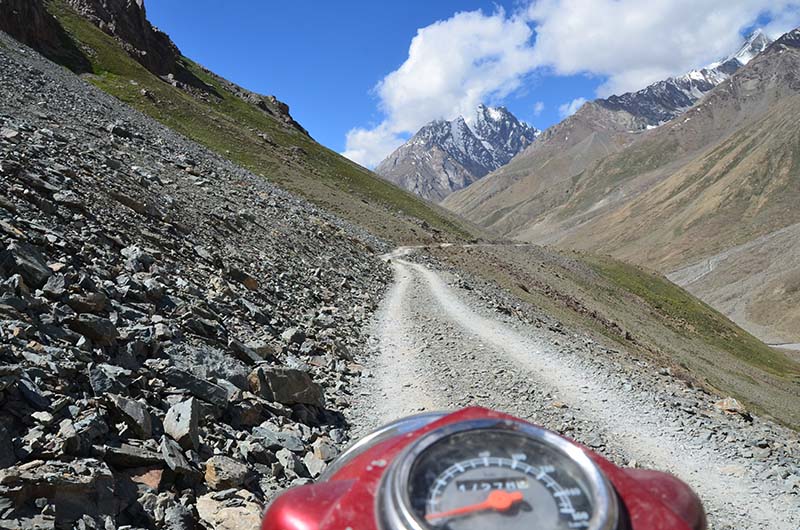 Dress Appropriately
It would be better to wear loose riding pants, a comfortable t-shirt, a light or heavy jacket depending on the weather, and a full-face helmet.
Do not wear tight clothes as they will only become uncomfortable after a while but do not also put on clothes that are too loose. Wear the ones that fit you perfectly and that you are most comfortable in.
Do not also carry a lot of change of clothes. Keep one or two pairs for the purpose of riding every day because they will anyway end up getting dirty. There is no point in putting on a new pair every day in the morning and then getting it dirty by evening.
Check your Bike
Keep checking your motorcycle at regular intervals. Every morning, before you start, do a thorough check. Take a look at the tires, air pressure, nuts, and bolts, chain lubing, and indicators.
Spare Key & Documents
Do not go out on a ride with just one key on the bike. Always carry your spare one as well to be on the safer side.
Before you leave home, make sure that you have all the required documents like your driving license, motorcycle Registration certificate, insurance papers, and pollution under control certificate.
Keep Your Spirits High
The idea of doing all that I stated above is to ensure you remain energetic, and motivated, and continue enjoying the ride. Avoid getting tired or frustrated and that is when you will truly make the most out of your trip.
Take time to stop and enjoy what you're doing. Don't let your ride be something that you just need to do.
Long Distance Motorcycle Riding – Conclusion
I hope the above-mentioned long distance motorcycle riding tips were of help. If you have any questions, you can contact me on Instagram and I will be happy to answer. You can also consider subscribing to my YouTube channel and asking a question there.
This error message is only visible to WordPress admins
Error: No feed found.
Please go to the Instagram Feed settings page to create a feed.