In my last few articles, I talked in detail about a trip to Dharamshala and Mcleodganj separately; covering details like how to reach, where to stay, and tourist attractions that a person should visit. I also wrote a couple of other articles providing information on monasteries in the area, trekking destinations like Triund and Snowline, and other nearby villages like Dharamkot. In this particular post, I will put all of this information together and talk about how you can plan your Dharamshala Mcleodganj Trip over a period of 4 – 5 days covering all of these places.
I will draft a sample itinerary and then run it down providing a day by day breakup of sightseeing and other activities. Hopefully, after reading this article, you will have a fair enough idea of how you can plan your trip in the best possible manner.
I said 4 to 5 days because in my opinion that is a minimum period of time a person should dedicate to visiting Dharamshala and Mcleodganj. There are is a lot of things to do in this area and with at least 5 days in hand, you will be able to explore and enjoy your trip. Any less than this and it will just be a 'Touch & Go' kind of a deal. With that being said, if you were living in close vicinity like Pathankot or Chandigarh, you can also do a trip in 3 days as well.
Mcleodganj Trip Itinerary
For the sake of the itinerary, I will assume Delhi as your starting point. However, even if you were coming from a different place, only the journey on the first and the last day will be different. The rest of the details will still apply. I will begin with an itinerary for 5 days but will also share a few other versions of the same.
Delhi to Mcleodganj – Day 1
Depending on where you started from in Delhi, the total distance till Dharamshala and Mcleodganj can be slightly over 500 kilometers hence an early start is highly recommended. The good news, however, is that the road is mostly smooth all the way so the entire journey can easily be completed in 10-11 hours. The only thing that can cause a further delay is if you got stuck in traffic around Dharamshala or Mcleodganj.
Find a hotel per your liking and check-in if you did not book one in advance. You can stay at either Dharamshala or Mcleodganj as both of the places are equally good. My advice would be to stay at Mcleodganj because it gives you better sightseeing access. Whether or not to book a hotel in advance is entirely your preference.
My recommendation would be to book your stay. Sometimes both Dharamshala and Mcleodganj can get a bit crowded, especially over long weekends; which means that you may have to run around a bit finding a hotel with a vacancy. Hence better would be to search a bit online and book a hotel per your preference and budget.
Also Read: How to Plan Your Trip to Prashar Lake?
Sightseeing in Mcleodganj – Day 2
You will be spending the entire day today in Mcleodganj, visiting some of the popular tourist destinations and the local market. You will be doing a lot of walking today as well so make sure your feet and shoes are ready. Get up early if possible and your first destination will be the Bhagsu Waterfall. Why I am saying early is because it is one of the most visited tourist destinations in all of Mcleodganj and can get a bit crowded as the day progresses.
You will have to walk a couple of kilometers to get to the waterfall so be prepared for it before you leave the hotel. Reach the waterfall and spend some time. There are a few tea shops near the waterfall and also on the way so you can also have your morning tea and breakfast here. I would suggest that you have tea on the way but for breakfast, trek a little further than the waterfall and eat at the famous Shiva Cafe there.
On your way back to the hotel, visit the famous Bhagsu Nag Temple which is located at the starting point of the path that goes towards the waterfall. Return to the hotel and relax for a little.
Towards noon, pay a visit to Saint John in the Wilderness Church and then go to Dal Lake. Return to the hotel in time and then reach Sunset point to enjoy an amazing view of the Sunset from Mcleodganj. The sunset point is located near Naddi Village, about 4 kilometers from Mcleodganj town; but you will easily find a rickshaw to take you there. After sunset, have dinner at any of the numerous restaurants of Mcleodganj and return to the hotel.
Mcleodganj to Triund – Day 3
Today you will embark upon one of the most known trekking destinations of India, the Triund Top. This trail attracts more than half of the tourist population coming towards Dharamshala and Mcleodganj. The reason why it is so well known is because of its difficulty level and stunning location. Anyone can do this trek, even an absolute beginner with plenty of breaks in between. This was in many ways my first trek even and I did it wearing floater sandals.
For trekking to Triund, first either board a rickshaw or taxi from Mcleodganj till Gallu Devi Temple. This is the starting point of the trek where the road ends and the dirt trail starts.  The entire length of the trail is about 7 kilometers; of which, the first 5 is a gradual ascent. For the final 2 kilometers, however, it climbs rapidly and may seem a little difficult for some people.
Depending on how physically fit you were, your walking pace, and breaks, the average time taken to complete the trek is about 3 to 4 hours. But since you have plenty of time, I wouldn't recommend rushing at all. Take as many breaks as required and reach Triund Top. You will be camping at top of Triund under countless stars and stunning views all around you. There are numerous campsites here. Find one as per your liking, negotiate a deal and make arrangements for your night stay.
Also Read: Ghosts of Shimla and the Haunting Stories
Triund to Mcleodganj – Day 4
You will trek down to Mcleodganj today the same way that you came but will be covering two more places before reaching back to your hotel. A little ahead of Triund Top is the snowline cafe which gives stunning views of Dhauladhar Range and Indrahar Pass. This is where you will be headed before trekking back down to Mcleodganj. I highly recommend visiting this spot along with Triund Top.
Get up early and ensure that you are on your way to Snowline Cafe by 7 AM. It will take you about two hours to get there. Reach the cafe, have something to eat, enjoy the view, click tons of pictures, and head back to Triund Top. Depending on the pace you were walking at, you should be able to get back to Triund from snowline before 12 noon.
Now it is time to head back to Mcleodganj. Get something to eat first at any of the dhabas at Triund Top and start trekking down. It will take you no more than 2 hours to reach back Gallu Devi Temple because walking back down is easier than climbing up. Right at the spot where the Triund trail starts, there is another trail that goes towards Gallu Waterfall and you will be covering that too before reaching back at your hotel.
Gallu Waterfall
The broader trail on your right leads to Triund, while a narrower trail to your left leads to the Waterfall. There is also a pipeline here that you can follow as your guide. After a walk of about 2 kilometers, this trail will take you to the amazing Gallu Waterfall which unlike Bhagsu Waterfall is not at all crowded. There is hardly anyone around and it is a good spot to take a dip in the waterfall. There is also a cafe near the waterfall where you can get something to eat.
Relax at the waterfall but keep a track of the time. Return to Gallu Devi Temple again; find a ride to take you back to Mcleodganj at your hotel. Freshen up and step out to have dinner and spend your last evening in Mcleodganj.
Also Read: Top 10 Offbeat Places in Himachal Pradesh
Mcleodganj to Delhi – Day 5
The journey today will be of returning home the same way that you came. It is going to be a long and monotonous drive back home in about 11-12 hours. But before you go home, stop for a while at the monasteries in Mcleodganj and Dharamshala.
Tsuglagkhang Complex and Namgyal Monastery (Mcleodganj) and Dalai Lama Temple are definitely worth a visit. Spend some time at the monastery, spin some prayer wheels, talk to the monks, relax and head back home. If you had time, you can actually visit these monasteries on either of your previous days in Mcleodganj as well.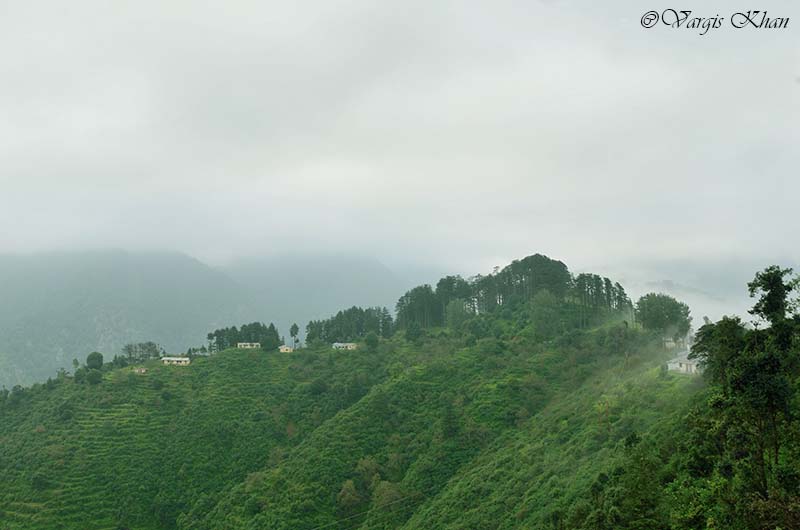 Dharamshala Mcleodganj Trip Itinerary
Now the above itinerary was perfect for someone wanting to focus more on Mcleodganj and including a bit of trekking in their trip as well. But not everyone would have Triund and Snowline as part of their itineraries. For planning a trip with your family, you would, of course, want to stay in the town and have a great time there rather than walking around in the jungle. For a trip like that, below is the itinerary you can follow.
Delhi to Dharamshala – Day 1
As per this itinerary, you will be dividing your time between Dharamshala and Mcleodganj. Your stay too will be at both of these places.
Get an early start from Delhi and reach Dharamshala. Break your journey here for Day 1.
Travel time of 10-12 Hours
Booking accommodation in advance is advised.
Sightseeing in Dharamshala – Day 2
Your day will be spent in Dharamshala itself visiting the local places.
Visit the Dalai Lama Temple.
Visit the HPCA Stadium, also known as Dharamshala Cricket Stadium. It is one of the highest cricket stadiums in the world.
Visit the Dharamshala War Memorial, built in the memory of war heroes and their efforts to protect their motherland.
Spend the rest of the day exploring the local market, always bustling with colors and energy all around. Do some shopping if you would like to and pick a few souvenirs.
Return to the hotel and step out to have dinner at any of the numerous and magnificent restaurants in the town.
Overnight stay in Dharamshala.
Also Read: List of Necessary Items to Carry for Trekking
Dharamshala to Mcleodganj – Day 3
I will recommend moving to Mcleodganj on Day 3 and stay at a hotel there so please make your bookings accordingly.
Check out early and start driving towards Mcleodganj. It will not take you more than half an hour to get there. Starting really early in the morning will also give you the benefit of avoiding a traffic jam that can be maddening sometimes.
Check into a hotel and step out for sightseeing.
Your first destination will be Bhagsu Nag Temple and Waterfall.
Take a drive to Saint John in the Wilderness Church.
Enjoy a boat ride in Dal Lake.
Have something Tibetan, Israeli or even Indian at any a local restaurant in the evening.
Night stay at Mcleodganj.
Sightseeing around Mcleodganj – Day 4
Your Day 4 of the trip will be spent exploring the beautiful Kangra Valley.
Do not check out of the hotel as you will be returning back by evening.
Take a drive to the beautiful Kangra fort, located about 30 kilometers from Mcleodganj. It is known to be the largest and probably the oldest fort in Himachal Pradesh.
After spending some time at Kangra Fort, continue driving further towards beautiful Masrur Temples. You will have to take the road via Ranital and Lunj. The temples are cut into stones and are known for their beautiful architecture and stunning location. Distance between the fort and the temple is another 30 kilometers and will take you slightly over an hour to reach.
After visiting the temple, take the road via Lunj, Parai, and Chetru to return to Mcleodganj. The total distance will be about 50 kilometers and will take you a couple of hours to get back to Mcleoganj.
Freshen up and step out to enjoy the local market and spend your last evening in Mcleodganj.
Mcleodganj to Delhi – Day 5
Not much to say about this day except that it will be a long and monotonous drive back home.
Itinerary # 3
You can also plan this trip in the following manner.
Day 1: Drive up from New Delhi, begin preferably very early in the morning. Reach Dharamshala in about 10 hours and check in to the hotel.
Day 2: Sightseeing around Dharamshala – Dal Lake, Dalai Lama Temple Complex and the War Memorial. In the evening, go shopping at the Tibetan markets.
Day 3: Sightseeing in McLeodganj – Visit Bhagsu Nag Temple and waterfall, St. John's Church in the wilderness and Lord Shiva's Temple. Take in the sunset at Talho Sunset Point. You can also trek up to Naddi Village in the Kangra Valley.
Day 4: Day trip to Palampur – Chamunda Devi Temple, Gopalpur Zoo; and Palampur Tea Gardens.
Day 5: Breakfast followed by departure to New Delhi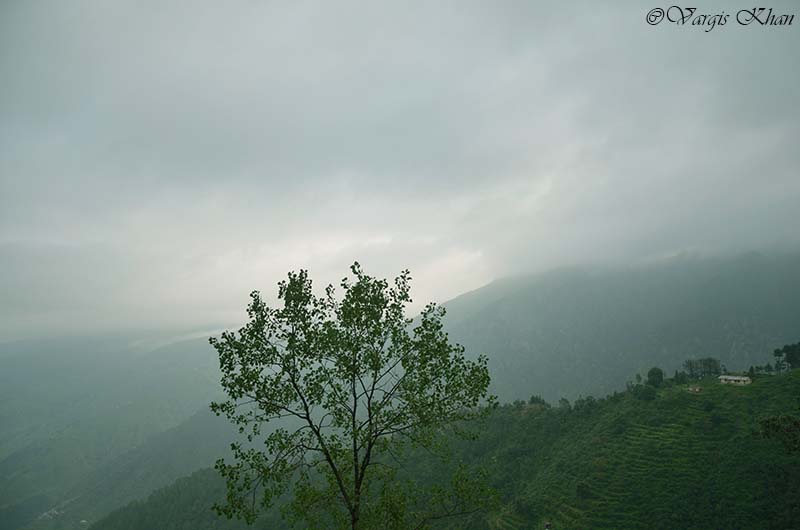 Dharamshala Mcleodganj Dharamkot Itinerary
Dharamkot is a small but beautiful village located 3 kilometers uphill from Mcleodganj. It actually falls on the way to Gallu Devi Temple. A lot of people chose to stay at Dharamkot rather than Mcleodganj because it is way more peaceful and a lot less crowded. If Dharamkot is on your plans then you can plan the trip like mentioned below. For more details on Dharamkot, please read Dharamkot Travel Guide.
Delhi to Dharamkot – Day 1
Relax in the village. Trek to Gallu Waterfall, enjoy the sunset at Naddi, and taste delicious food in the restaurants – Day 2
Trek to Triund and return by evening – Day 3
Travel down to Mcleodganj and stay here for a day. Visit Bhagsu Nag Temple and Waterfall. Walk in the local market, do some shopping and spend time relaxing in the town – Day 4
Mcleodganj to Delhi – Day 5
More Itinerary Examples
A few other ways to do make this trip are as mentioned below.
Dharamshala Mcleodganj 6 Days Itinerary
Delhi to Mcleodganj. Start early from Delhi and visit Kangra Fort on the way – Day 1
Sightseeing in Mcleodganj. Visit Tsuglagkhang Complex, Namgyal Monastery, Dal Lake, and Sunset Point – Day 2
Visit Bhagsu Nag Temple and Waterfall. Trek to Triund and camp there for the night – Day 3
Trek down to Mcleodganj from Triund. Visit the local market, do some shopping and spend time relaxing in the town – Day 4
This is an optional day but fun if you can add. On this day, you can either drive to Masrur temples and stay another day in Mcleodganj. Or you can drive from Mcleodganj to Bir Billing and enjoy Paragliding there – Day 5
Return to Delhi – Day 6
Dharamshala Mcleodganj 5 Days Itinerary
Delhi to Mcleodganj – Day 1
Bhagsu Waterfall, Bhagsu Nag Temple & Shiva Cafe. See the market in the evening – Day 2
Triund Trek. Camp for the night – Day 3
Trek down to Mcleodganj and drive to Dharamshala. Stay for the night in Dharamshala – Day 4
Dharamshala to Delhi – Day 5
Also Read: Thanedar, Himachal – How to Plan your Trip & Explore
Dharamshala Mcleodganj 4 Days Itinerary
If you were traveling by Public transport and thinking of making a short trip especially for Triund Trek then you can travel in the following manner.
Leave for Mcleodganj from Delhi ISBT by evening – Day 1
Arrive early morning at Mcleodganj. Rest for a bit, eat something and leave for Triund. Reaching Triund should take about 5 hrs and you will be there by evening. camp for the night – Day 2
Leave from Triund and come down to Mcleodganj. Explore Mcleodganj till evening and catch the 6 pm bus to Delhi – Day 3
Reach Delhi early in the morning – Day 4
So in a way, you are actually just spending 2 days on the trip.
Dharamshala Mcleodganj 5 Days Itinerary
Another way the journey can be made is as below. This is for people who have no interest in trekking to Triund.
Delhi to Mcleodganj & Night stay at Mcleodganj – Day 1
Mcleodganj Sightseeing. Visit Namgyal Monastery, Adishakti Temple Naddi, St. John In The Wilderness – Day 2
Visit Bhagsu Waterfall and come down from Mcleodganj to Dharamshala – Day 3
Dharamshala Sightseeing – Day 4
Dharamshala to Delhi – Day 5
Also Read: Shimla – A Complete Travel Guide & Itinerary
Weather of Dharamshala & Mcleodganj
The weather in Dharamshala and Mcleodganj remains cool and pleasant throughout the year. Owing to the high altitude, this entire region is considerably cooler than the surrounding plains. The monsoon months, however, tend to be incredibly wet and humid. The skies remain cloudy and it may rain for days on end. The Winter season here starts in the month of November and lasts till early March, and is extremely cold. In the upper reaches of Dharamshala, near the areas of Mcleodganj and Dharamkot, the night temperature can get close to 0 in these months. Spring arrives in the month of April and the weather remains to be on the pleasant side until June.
July and August is the peak monsoon time and Dhauldhars happens to be one of the wettest Himalayan regions. So until early September, it can rain anytime and anywhere. October is the month of autumn and this is when the valleys all around turn golden. By the end of October, winter starts to settle again. The weather continues to get colder throughout November and it starts to snow in the upper areas by Mid December.
Also Read: Himalayas in Monsoon : Top Tips for a Safe Trip
Best time to visit Dharamshala Mcleodganj
The months of April, May, and June are considered to be the best to plan a trip to Dharamshala and Mcleodganj. It is so because the weather at this time is at its best with clear sunny skies. Days are moderately warm and nights pleasantly cold. This is the best time to plan a trip here with family but if you do not like crowded places, you should avoid a trip at this time. The majority of the people visit here in these months and it may feel like too many people around.
In terms of photography, the months of July, August, and September will be the best. The scenery in these months is at its greatest with lush green hills all around. But it is also the time when the monsoon season can wreak havoc in the area. It can sometimes rain non-stop for days causing landslides and blocking roads. If you do not want to risk it, then avoid traveling in the monsoon season.
For a budget trip as well, July to September and November will be best because it is off-season and you can get a good deal at hotels. For the purpose of trekking, March to May and then October and November are the best months to visit.
Also Read: HP Forest Rest House – How to Book Online & Offline?
How to reach Dharamshala and Mcleodganj
---
Due to its location in the hills, arriving at Dharamshala and Mcleodganj is only possible by road. You can drive by your own vehicle, board a Bus, catch a train or fly to the nearest airport. All these options are available and it is entirely your own choice to decide how to travel. I will explain all these modes of travel in detail further.
How to reach by Road
Let me begin by first explaining the journey if you decided to travel by your own vehicle, either a car or a motorcycle. For the sake of explaining the route, I will assume Delhi as the starting point. Even if you were coming from a different city, the information below can still help to understand how you can plan your trip.
Starting from Delhi, the route will be as mentioned below.
Delhi – Panipat – Karnal – Chandigarh – Rupnagar – Anandpur Sahib – Una – Amb – Kangra – Dharamshala – Mcleodganj
It is the fastest and the best way to travel but there are a few other alternate routes as well. The total journey will be of about 500 kilometers depending and can be completed in 10 to 12 hours approximately, depending on your speed and breaks. Road conditions for the entire journey will be a mix of good and average but mostly good.
By Bus
There is a regular Bus service to both Dharamshala and Mcleodganj from almost every nearby city. HRTC operates both Ordinary and Luxury buses out of Dharamshala to places like Delhi, Chandigarh, Pathankot, Shimla, Manali, etc. If you were coming from Delhi, you can board a bus from Ramakrishna Ashram Marg, Majnu ka Tila, and ISBT.
Apart from the state-run buses, Private travel agencies and tour operators also have luxury buses plying on the route. You can search and book these at sites like RedBus. Booking for HRTC can be done at their online Portal Himachal Roadways Bus Booking.
The entire journey takes about 10 to 13 hours and the fare per person will be around Rs. 600-700 for ordinary and between Rs. 1200 to 1500 for luxury buses. The best way to travel would be to board an overnight bus so that you can sleep throughout the journey and reach Dharamshala or Mcleodganj by morning.
How to reach Dharamshala by Flight
The nearest airport is Gaggal Airport, 15 kilometers away from Dharamshala. It is also known as Dharamshala airport actually. The airport code is DHM. A flight from Delhi to Dharamshala takes slightly over an hour to reach.
This airport operates commercial flights, private chartered flights to cities like Mumbai, Pune, and Jaipur; and also provides helicopter landing pads. A private taxi from Gaggal to Mcleodganj will cost Rs. 800-900 in peak season.
There is no international flight to this airport and foreign travelers have to travel via Delhi. If there was no flight to Dharamshala from your city, then you the next major airports are located at Chandigarh, Amritsar, or Jammu.
All these three cities are about 200-250 kilometers from Dharamshala and you can either board a Bus or a taxi from these airports to reach Dharamshala.
How to reach Dharamshala by Train
Pathankot Railway Station is the closest one to Dharamshala, located at a distance of about 80 kilometers. From the train station, you can easily get a Taxi or a Bus to reach Dharamshala. Buses by both private operators and state transport are available on this route.
Travel time will be of 3 hours approximately and fare per person is about Rs. 150. If you were coming from Delhi, then an overnight train journey will be the best option. There are several trains available between Delhi and Pathankot.
Another great option to travel from Pathankot to Dharamshala would be Kangra Valley Railway, a scenic six-hour journey. This is a narrow-gauge railway station at Kangra and is only about 30 kilometers away from Dharamshala. The train that brings you to Kangra is a Toy Train (like the Kalka Shimla one) so unless you were hoping in to enjoy this train ride, better would be to board a train for Pathankot only.
There are 6 toy trains available in the day that travel from Pathankot to Joginder Nagar that stop at Kangra. From Kangra, you can book a private taxi or share a cab to reach Mcleodganj.
Also Read: How to Plan a Trip to Chail – Himachal Pradesh?
Local Transport in Dharamshala and Mcleodganj
Below are details on how you can commute locally between Dharamshala and Mcleodganj.
Local Buses
There is a local Bus service in Dharamshala and Mcleodganj and it travels to almost all major spots in and around Dharamshala. Fare per person will be between Rs. 10 to Rs. 30. In terms of cost, yes it is a good option but it will take up a lot of your time. The frequency of these buses is one in every hour so a lot of your time will be wasted waiting around. The movement of these buses too is very slow as they continue to stop to pick and drop passengers.
Private taxis
These typically charge Rs. 2500 per person for the Pathankot-Mcleodganj journey and Rs. 800-900 for the Mcleodganj-Dharamshala journey. A share taxi would reduce the cost to Rs. 300-600 per person. The government approved Dharamshala Taxi Union stand is near Kotwali Bazaar in Dharamshala and they have fixed rates for sightseeing in and around the city. Apart from the taxi stand, you can also find a taxi near the Mcleodganj market or in Dharamshala.
Auto Rickshaws
Auto Rickshaws are probably the best and most favorite mode of commute available here. They too have fixed rates (decided by the union) for moving from one place to another and sightseeing. Depending on the distance you want to cover, it will cost you between Rs. 100 to Rs. 500 making it a great choice in terms of both time and money.
Motorcycle Rentals
There are also several motorcycle rental agencies available as well. A lot of people hire automatic bikes like Activa to move around in the town. The usual charge is Rs. 1000 to Rs. 1500 per day for Enfield and Rs. 800 for scooters.
Walk
Last but not least, Dharamshala and Mcleodganj are best explored on foot. Take your time and enjoy the picturesque beauty of this hill station on long walks.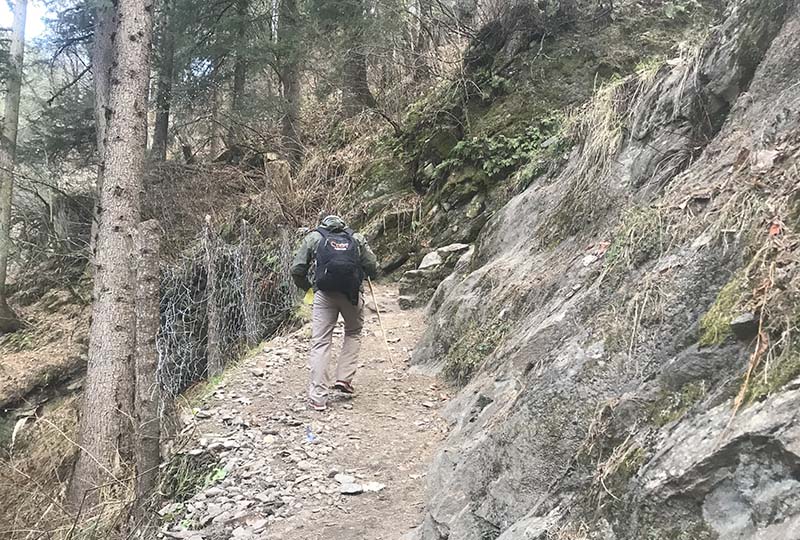 Also Read: Narkanda: How to Plan a Trip & What to See?
Where to Stay in Dharamshala and Mcleodganj
Mentioned below are details on accommodation during your trip to Dharamshala and Mcleodganj.
Hotels
Mcleodganj is a major tourist destination and hence, hotels here are in ample; and they are spread throughout the town. No matter what your budget or preference is, you will easily be able to find a place here to stay. Whether or not to book in advance is really a personal choice.
I find it better to first reach the destination and negotiate an on the spot deal. But if it gives you peace of mind, then you can book your stay prior to your arrival as well. Most of the hotels and guest houses are located close to the main bus stop.
If the budget is not a problem then you have a wide range of hotels to choose from. If you are on a strict budget, then try looking for accommodation in Dharamkot. Bhagsu and Dharamkot are 2 smaller villages where a lot of people chose to stay because they are less crowded and quieter. Both of these places are within walking distance.
If you want a quieter place within Mcleodganj itself then try finding a hotel on Jogiwara Road. If you want to stay for a longer duration, there are a few cheap places near Yongling School on Jogiwara Road. Just head down the steep set of stairs near the school and ask around.
Every year around March, the Dalai Lama holds a teaching session that lasts for about 10 days or so. At this time, the entire town gets very crowded and the prices of hotels get inflated. In this case, you should look around Dharamkot and Upper Bhagsu for cheaper accommodation.
Hostels
For someone traveling on a tight budget, staying at a hostel is a great choice. There are a couple of hostels in Dharamkot with dormitory-style accommodation and shared lounges which is a great choice for anyone traveling on a budget. Flugler in upper Dharamkot is one such hostel that can be a good place to stay.  The Bunker Hostel is another one where it will cost you about Rs. 700-800 per day.
Homestays
Dharamkot again is the place where some of the best homestays are located. There are a few in McLeodganj and lower Dharamshala as well but Dharamkot would be much better.
Also Read: How to Plan a Trip to Sarahan – Himachal?
What to see & Things to Do
Below is a list of all tourist places in Mcleodganj & Dharamshala and other nearby areas.
Bhagsu Falls
Bhagsu Nag Temple
Shiva Cafe
Triund
Sunset Point
Saint John in the Wilderness Church
Namgyal Monastery
Kangra Fort
Masroor Rock-Cut Temples
Tibet Museum
Norbulingka Institute
Dal Lake
Gunna Devi Temple
Kareri Lake
Indrahaar Pass and Minkiani Pass
Dharamkot
I have actually covered this topic in greater detail in different posts that I will recommend you to read because covering this information here would have resulted in this page getting way too heavy and long. For a detailed explanation of all the places I listed above, please read Tourist Attractions and Activities in Mcleodganj.
For a detailed explanation of the monasteries located here, please read Monasteries in Mcleodganj and Dharamshala.
If you had plans to stay at Dharamkot, then please take a look at Dharamkot Travel Guide.
For a detailed explanation of the trek route from Mcleodganj to Triund, please read Triund Trek – How to Plan Your Adventure.
Things to Do



Below is a list of tourist activities in Dharamshala that you can indulge yourself in. I am only listing below things that you can do in Dharamshala apart from visiting all of the above-mentioned places.
Paragliding
Where: Several places around Dharamshala and McLeodganj
When: Summer
Cost: Depending on the duration of the flight, anywhere between Rs. 2000-8000 per person
Triund Trek
Where: Begin from Galu or alternatively from Bhagsu Nag
When: Summer
Cost: Begins from Rs. 3000 per person, depends on the number of days and nights in trek itinerary
Camping
Where: Between Dharamshala and McLeodganj
When: Summer
Cost: Begins from Rs. 12,000 per person
Kareri Lake Trek
Where: Take a bus from Dharamshala to Ghera to begin the trek
When: Summer
Cost: Begins from Rs. 6000 per person
Also Read: Places to visit in Mcleodganj and Things to Do

What & Where to Eat

Let us also talk about one of the best things about Mcleodganj, it's food.
Food to Try in Dharamshala and Mcleodganj
Some of the items that I would recommend you to try will be the Wood fried Pizza at Trek & Dine. In Tibetan, try Gyuma which is mostly served with Beer. Mutton Momos at Sheila Chowk in Dharamshala and Bun Chhole will be great street food to taste.
In Beverages, try the juice of locally grown Keenu. I really liked the Pasta at Morgan's Cafe. Trek & Dine and Moonlight Cafe are known for their amazing coffee.
Eat at any of the cafes here and you can have near-perfect Pizza, pasta, lasagnas, pancake, and Israeli Shakshuka. Bhagsu Cake is one item that I will recommend for you to try as a sweet dish or even breakfast. It comes in white and black colors and you should try both. Both white and Black versions of the cake taste quite different.
What's more? Every restaurant has its own way of making it and it actually tastes different at each of them. The common thing however is that would be delicious no matter where you eat it.
For a quick bite, try the Yak cheese sandwich. In terms of beverages, try the herbal teas available at almost every cafe. And by Herbal tea, I mean Honey, lemon, ginger, and mint tea. Common Tibetan food like soup, noodles, momos are available pretty much everywhere. For alcoholic drinks, try Himalayan fruit wines and Apple cedar available at almost every grocery shop in the village.
Where to Eat
World on a plate is what I really call the cuisine of Dharamshala and Mcleodganj. There are a lot of foreign nationals living in this area including the permanent Tibetan residents due to which, the food here is an amalgamation of Tibetan, Israeli and Italian dishes as well as Indian dishes like Himachali, Punjabi food.
Indian food sadly is not that great but the rest is amazingly mouth-watering. In areas around Dharamshala, you will find mostly Indian and Tibetan food but in Mcleodganj and Dharamkot, it is all European, American, Japanese, Vegan, Israeli, and Italian food joints.
Also Read: How to Plan a Trip to Sangla Valley – Himachal?
Israeli Food
There are a lot of Israelis living in this region and for several months actually. Some of them have opened their own food restaurants in places like Dharamkot (along with Italians). Dharamkot is the area where most of these continental restaurants are located. Trek & Dine and Morgan's cafe are the two most famous ones.
Most of the Israeli dishes like Falafel, Ziva, and Pita are available here. Some of the other great places to try some Israeli food are Four Season Cafe, Hummingbird, Snow Lion Restaurant Moon peak cafe, and Woeser bakery.
Italian Food
Jimmy's Italian Kitchen is the most famous Italian restaurant in all of Dharamsala and Mcleodganj. If you move to Dharamkot, Trek & Dine will again be the best place to try Italian food. They serve a wood fried Pizza which is simply awesome. Morgan's Place in Dharamkot and Namgyal cafe in McLeodganj are two other good restaurants to eat Italian cuisine.
Tibetan Food
Mcleodganj is also fondly known as Little Tibet. The Dalai Lama lives here and the place is dominated by Refugee Tibetans so yes, there is authentic Tibetan Food available all over the town. Kailash Restaurant is probably the most famous one in all of Mcleodganj.
Ask at your hotel and they will all advise you to go there. Jimmy's Tibetan Cuisine and Tibet Kitchen are two other good restaurants. If you are in Dharamkot, try Tibetan at Trek & Dine only. Their momos are one of the best I have ever had.
Japanese Food
Lung Ta Japanese Restaurant is the most known place to try some authentic Japanese food. Other restaurants like Nick's Italian Kitchen and Sakura Hotel too serve Japanese dishes.
Indian Cuisine
Unfortunately, I found the Indian food in this area to be just about average. There was nothing too great about it. Punjabi food was very bland. I would recommend trying something Himachali though. If you know of a good Indian restaurant here, please do comment and suggest the name.
Also Read: Chitkul – How to Plan your Trip and Explore?
Shopping

Listed below are some interesting items you can buy in Mcleodganj.
Singing Bowls: These Bowls produce a beautiful melody when rubbed with a wooden stick.
Buddha statues
Different types of tea like Kangra Tea, Tibetan Tea, and Green Tea
Prayer wheels
Prayer flags
Local Tibetan handicrafts
Decorative knickknacks
Bead necklaces
Metalwork jewelry
Silk and satin wall hangings
Fabric paintings
Woolen items like Sweaters, scarves, and socks
Tablemats
Clothes and bedspreads with ethnic designs
Colorful Bags and Purses
Handcrafted diaries
Handmade paper
Books on Tibetan culture and Buddhism
Rugs and carpets
Mandala paintings
Thangkas
Where to go shopping in Mcleodganj & Dharamshala

Jogibara Road, Kotwali Bazaar, Tibetan Mini Market, and craft shops near the Dalai Lama temple are some great places to go shopping.  There is a shop at the Norbulingka Institute that sells some beautiful wall hangings and decorative pieces. 'Nowrojis' is known to be the oldest shop in Mcleodganj.
It was opened in 1860 and they have a beautiful collection of metal crafts, wooden masks. The Green Shop is an outlet that sells handcrafted diaries and paper and other 'green' Items.
Dharamshala Tea Company is where you can buy different kinds of tea. TCV Handicrafts is a non-profit organization selling some great handicraft items like woolen garments, carpets, silverware, etc. Profit from their sales goes towards the education and welfare of Tibetan refugee children.
Also Read: Mcleodganj to Delhi – The Return Journey Home
Facilities Available
Last but not least, below is the information on some basic facilities in Dharamshala & Mcleodganj.
ATM in Dharamshala & Mcleodganj
Almost every major Bank has its branch in Dharamshala & Mcleodganj and they all provide ATM services. The villages of Dharamkot, Gallu, and Bhagsu, however, have not ATM. Most of the ATMs are located in the main market area of both Mcleodganj and Dharamshala. My advice would be that you carry sufficient cash from home or somewhere in plains only, especially during peak tourist season.
Mobile Network in Dharamshala & Mcleodganj
No matter which network you were on, your phone will work fine in both Mcleodganj and Dharamshala. Data connectivity also will be fast and reliable. The only time you will lose network is when you go towards Triund.
Medical Assistance
There are several hospitals and clinics in both Dharamshala and Mcleodganj and they are all well-equipped ones. So getting medical help here will not be a problem at all. The villages of Dharamkot, Naddi, Gallu, and Bhagsu, however, have no hospitals and you will have to come down to Mcleodganj.
Also Read: 11 Tips On Making New Friends While Traveling
Petrol Pumps and Mechanics in Mcleodganj and Dharamshala
There is no petrol pump in Mcleodganj but there are several in Dharamshala and on the route. Mechanics too are available in Dharamshala but you may find a few in Mcleodganj as well for minor fixes like punctured tire etc.
Electricity and other facilities
There is electricity in the town and all the hotels. High-speed internet and Wi-Fi is available at restaurants, guest houses, and hotels. Mobile phones will get 4G data. As a tourist, you will get every facility that you may need.
Language
Tibetan, Hindi, and English are the main languages spoken and well understood in Mcleodganj. Locals also communicate Himachali languages like in Pahari or Kangri.
Conclusion
That covers most, if not all, of the information that you need to know before planning your Dharamshala Mcleodganj Trip. I hope the details above were of help. If you have any other questions; or need any other details; please feel free to ask in the comments section below, or at our Community Forum; and I will be glad to answer.