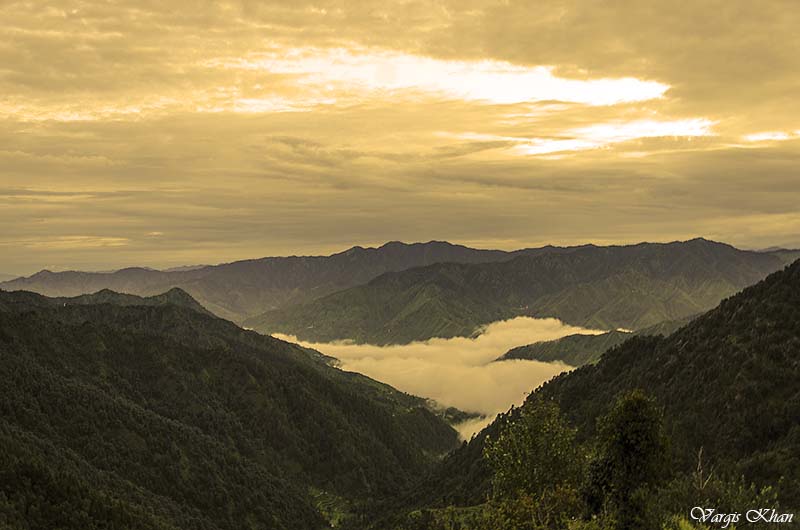 The definition of an 'offbeat destination' is different for everyone. Some people would like to go completely off the road to visit a place that only a few have ever been to. But a vast majority of people would prefer a place that doesn't get too crowded but is still known as a tourist destination. A place where they can easily reach, can find accommodation and spend some time in peace without going too remote. Chopta is one of the few spots that can actually serve the purpose and appeal to both of these sets of people.
Often referred to as 'Mini Switzerland', Chopta is a small region of meadows and evergreen forest located about 210 kilometers from Rishikesh and 465 kilometers from Delhi. At an altitude of 2,680 meters, this place is surrounded by forests of pine, deodar, and rhododendron and in fact, is a part of Kedarnath Wildlife Sanctuary.
It is popular and serves as the base for Tungnath and Chandrashila treks but is also visited by tourists who actually have no interest in trekking; people who just want to visit a scenic and peaceful location for a few days. It is what you will really call a tourist spot in the middle of nowhere.
The natural beauty of the place is truly mesmerizing and is bound to leave you wanting to come back here again. How can you plan a trip to Chopta is what I will be talking about in this article.
Where is Chopta Located
Chopta is located in the state of Uttarakhand on the Rudraprayag – Ukhimath – Chamoli – Gopeshwar road; at a distance of about 28 kilometers from Ukhimath and 70 kilometers from Rudraprayag. The place is easily accessible by a motorable road.
Why Visit Chopta
Let me begin by first talking about why to visit Chopta in the first place. The natural beauty of the place is alluring definitely but you can get that at several other places in Uttarakhand. So why Chopta?
The first reason is that this place gives you a perfect chance of an offbeat tour without needing to go completely offbeat. You will never get too far from civilization which can be a comforting fact for people visiting with families. You will find all the basic facilities here that as a tourist you will need. One thing that you will not find in Chopta though is the tourist crowd like some other popular destinations.
Reaching Chopta too is quite easy. The road actually brings you all the way to this tiny hamlet and is not too bad in condition. Because of its offbeat tag and the fact that not many people visit here, Chopta is also a perfect destination for budget travelers.
A trip here will not cost you too much and since the place is easily accessible, you can even reach here by public transport spending only a small amount of money. How can you do that is something that we will be discussing further in the article.
Also Read: Tungnath Chandrashila Trek – How to Plan & Prepare
Is it safe to visit Chopta?
A person's own common sense, in my opinion, is actually what determines whether or not a place is safe for them. But assuming that you do not do anything to get yourself in trouble, Chopta is indeed a very safe place. Crime here is next to none and locals are very humble people who will do anything to ensure the safety of tourists.
As long as you drive safely and sensibly, do not get in any unnecessary altercations, and do not go wandering around in the forest on your own, you got nothing to worry about.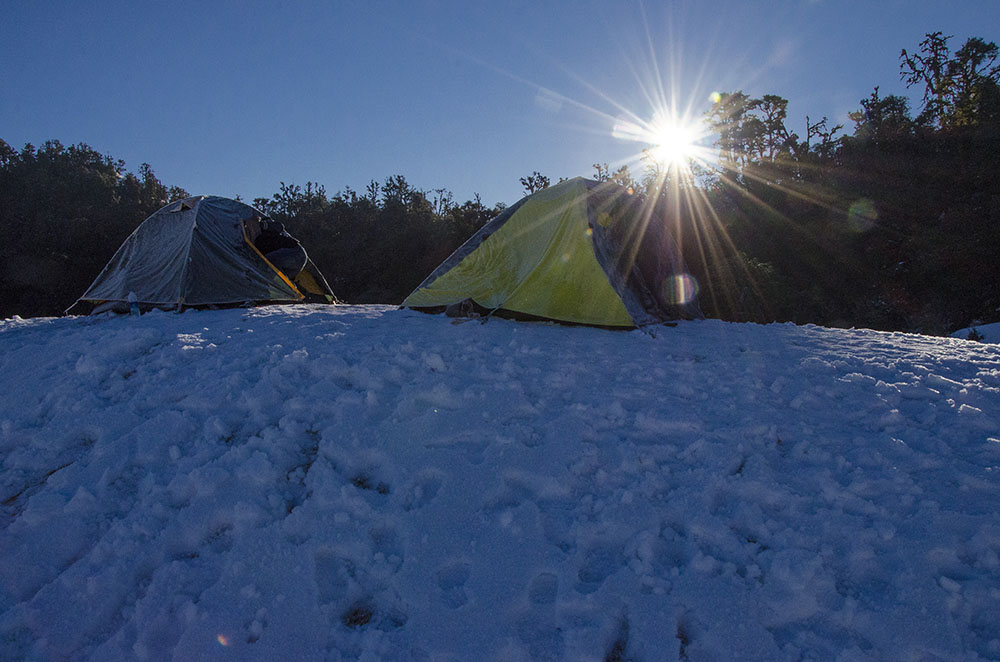 How to reach Chopta
Next, I will provide some details on how a person can reach Chopta. I will explain this breaking the topic down into several parts; like how can you drive here on your own, or board a Bus or rent a taxi; and how much will it cost you. For the sake of explaining the route, I will assume Delhi as your starting point.
However, even if you were coming from a different place, only the journey till Rishikesh may be a little different but the rest of the route will still apply.
How to Reach Chopta by Road
If you were traveling by your own vehicle, either a car or motorcycle, then getting to Chopta is really easy. There can be a few routes taken to arrive here but I will explain the two most commonly used.
Delhi – Meerut – Khatauli – Muzaffarnagar – Roorkee – Haridwar – Rishikesh – Devprayag – Srinagar – Rudraprayag – Agastamuni – Ukhimath – Duggalbitta – Chopta
This one is the most commonly used route to reach Chopta. Starting from Delhi, you will travel for about 250 kilometers until Rishikesh, depending on where you started from in Delhi. For this journey, you can either stick to the main highway or take the upper Ganga Canal road from Muradnagar.
After reaching Rishikesh, you will start climbing up the hills towards Rudraprayag via Devprayag and Srinagar. About 35 kilometers after Rudraprayag, a road bifurcates towards Ukhmath from Kund which you will turn on. You will continue traveling on this road for another 35 kilometers to arrive at Chopta via Ukhimath, Makku Bend, and Dugalbitta.
Also Read: How to Plan a Trip to Deoria Tal
Second Route
The second route for the trip and a less preferred one runs via the town of Lansdowne. The journey will be as mentioned below.
Delhi – Meerut – Khatauli – Bijnaur – Najibabad – Kotdwar – Lansdowne – Srinagar – Rudraprayag – Agastamuni – Ukhimath – Duggalbitta – Chopta
Following the second route, your journey to Khatauli from Delhi will remain the same. But after Khatauli, you will turn towards Bijnaur rather than continuing to Muzaffarnagar. You will continue driving in plains till Kotdwar and then climb up to Lansdowne after that. After Lansdowne, you will drive for another 125 kilometers to exit at Srinagar and then follow the same route to Chopta that I explained above.
Also Read: Deoria Tal – A Complete Travel Guide & Itinerary
Shortest Route to Chopta
Both of these roads are actually almost the same in length and time took. It doesn't matter which road you take, your travel time will still be about 12 to 13 hours. What you can rather do is to go by the first route and come back by the second; or vice versa.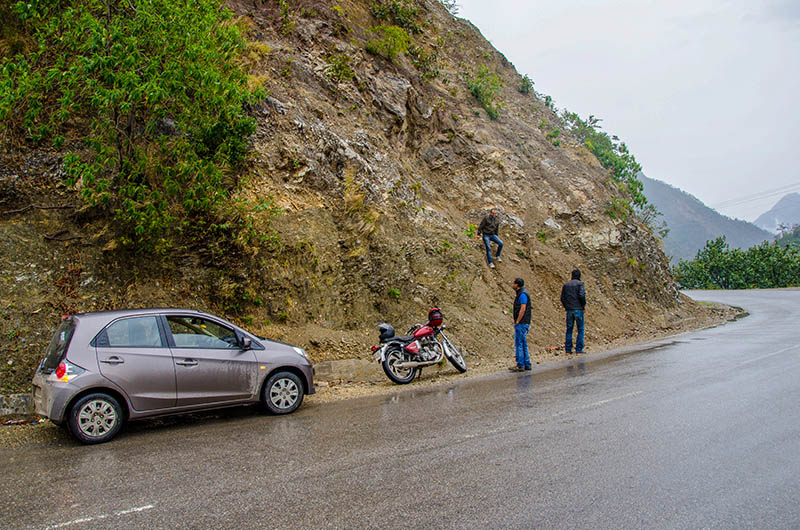 How to reach Chopta by Bus
Unfortunately, there is no direct bus for Chopta from any of the cities. Hence, the journey must be broken down into several parts and you will have to shuffle between buses and taxis. Your first stop will be the towns of either Haridwar or Rishikesh.
Getting a bus to both of these places is not difficult at all and you will easily be able to reach here without any problem. The journey from hereon to Chopta, however, becomes tricky and slightly troublesome. Let me break it down step by step assuming that you have now arrived in Haridwar.
How to reach Chopta from Haridwar
At Haridwar, you will have to go to GMOU bus stand, which stands for Garhwal Mandal (Bus) Operators' Association, and is on the opposite side of the Railway Godown. Or about a kilometer away from the main Haridwar bus stand on the left side once you exit the gates. Here, you will look for a bus that is going in the direction of Rudraprayag and can drop you there.
How to reach Chopta from Rudraprayag
The journey from Haridwar to Rudraprayag will take about 7 to 8 hours. Most of the buses on this route are available in the morning so please make sure you reach well in time. From Rudraprayag, there are no buses available towards Chopta so you will have to look for a shared cab which is mostly either a Sumo or Bolero.
You can get the cab from the bus stand itself but ask the locals around if you are not sure. If you are able to find a cab that can take you all the way to Chopta then it will be the best thing. The chances of this happening are a bit slim and you would have to look for a cab for Ukhimath.
I know there are direct buses from ISBT Delhi for Rudraprayag, both overnight and during the day. So if you were living in Delhi, I will recommend that you catch the direct bus for Rudraprayag without having to go to Haridwar or Rishikesh first.
Also Read: Delhi to Deoria Tal – A Memorable Trip
How to reach Chopta from Ukhimath
From Chopta, you can easily get a shared cab for Chopta irrespective of the time you arrived here at. Chopta is about 30 kilometers from Ukhimath and the journey will take about 60 to 90 minutes.
During summers, there is a bus service from Ukhimath to Gopeshwar that goes via Chopta. This bus runs twice a day but I would not recommend relying on it. A better option would be to just travel by shared cabs that run between Ukhimath and Chopta all day long; until late evening.
Timings and Fare of the Bus
Considering the 7 to 8 hours it takes to reach Rudraprayag, most of the buses start in the first half of the day. There could be a bus in the later part but I am not too sure about it. Also, it won't be of use to you if you were boarding a bus at 2 or 3 PM because then you would reach Rudraprayag by 9 or 10 PM in the night with nowhere to go.
So please plan your journey in a way that you are boarding the bus from Haridwar at around 6 or 7 PM to reach Chopta in time. If you are getting late then better spend the night in Haridwar itself and travel the next day.
The total bus fare for Chopta from Haridwar will be around Rs. 400. It will include Rs. 300 for Haridwar to Rudraprayag and about Rs. 100 for shared taxis to Chopta.
Please note that there are no luxury buses on this route. You will be traveling by ordinary buses but they will be comfortable enough. Another point to note is that the journey by Bus will be slow.
Delhi to Gopeshwar Bus
If nothing works out, then your best bet would be to board the direct bus from Delhi to Gopeshwar. I am not sure what time it starts from ISBT Delhi but it starts from Rishikesh depot at 4 AM. So I am guessing it must start from Delhi at about 10 PM in the night.
This bus does not cross Chopta though. It takes the Karnaprayag and Nandaprayag route to reach Gopeshwar which is about 40 kilometers from Chopta. Once you get to Gopeshwar, you can board a shared taxi or any other mode of commute to get to Chopta.
Gopeshwar to Delhi Bus
This bus can also be used for your return journey. It starts from Gopeshwar early in the morning though and reaches Rishikesh at around 11 AM. So if you are able to make it to Gopeshwar at 5 in the morning, you can board this bus and travel directly to Delhi or get down at Rishikesh.
How to reach Chopta from Rishikesh
Even if you were starting from Rishikesh and not Haridwar, the journey will still remain the same. Look for a bus that is going towards Rudraprayag and hop on.
Chopta to Ukhimath Bus
For your way back, there is one bus every day from Gopeshwar to Ukhimath that passes through Chopta between 1 to 2 PM. So for your return journey, you can actually board this bus until Ukhimath if the timing matches. A shared taxi will still be a better option for the return journey as well.
Also Read: Devprayag to Sari Village – The Valleys of White
Ukhimath to Haridwar Bus
From Ukhimath, the first bus in the morning is at 6 AM for Haridwar that will drop you at its destination by 1 PM. It will cross Rishikesh at around 12 noon so you can get down there as well if you wanted to.
The strange part is that there is a bus from Ukhimat to Haridwar but I could not find one for Haridwar to Ukhimath. Most of the buses from Ukhimath for Rishikesh or Haridwar leave in the early morning hours. There could be one bus at noon as well but I am not too sure about it.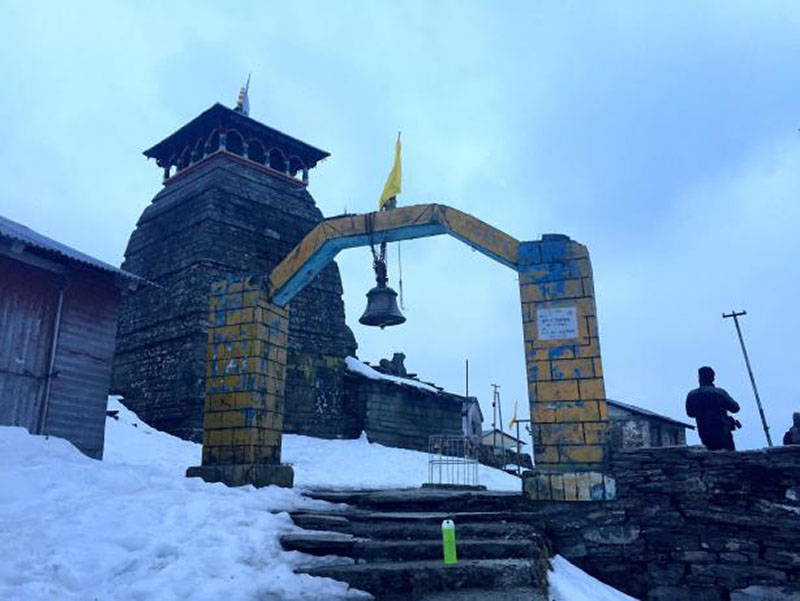 How to reach Chopta by a Shared Taxi
The journey by a shared will pretty much be the same as I explained above for the Bus. There are shared cabs available from Haridwar and Rishikesh for Rudraprayag as well but I would advise against it. For a journey of 7 to 8 hours, a Bus will be the better and spacious option.
The drivers tend to stuff their taxis with as many people as possible which will get very inconvenient for you. A smart way to travel would be to mix both buses and shared taxis and not rely just on one.
How to reach Chopta by a Private Taxi
Private taxis are available from both Rishikesh and Haridwar for Chopta and Sari Village; both AC and Non AC. For larger groups, tempo travelers can be hired as well. Depending on which car you chose, the total fare would be between Rs. 5,550 to Rs. 7,500 for a drop. If you were a group of 6 or more people, I would recommend that you rent a tempo traveler which will cost about Rs. 9,000.
By Train
The nearest rail station is at Haridwar which is about 240 kilometers away from Chopta. Once you reach Haridwar, you will have to look for a mode of transport as I explained above.
Also Read: Sari Village to Deoria Tal – An Awesome Trek
By Air
The nearest airport to Chopta is the Jolly Grant Airport in Dehradun; which is about 250 kilometers away.
How to Reach Chopta from Dehradun
Once you land at Jolly Grant, you will have to carry out the rest of the journey by road. For this journey, you can either board a local bus from Dehradun or catch a taxi from the airport itself.
A private taxi will charge you about Rs. 6000 – Rs. 7000 for a drop to Chopta. If not a private taxi, then a better way would be to reach Haridwar first and look for a mode of transport there. Your chance of finding a mode of public transport is greater here than in Dehradun.
Also Read: Deoria Tal to Rishikesh – Camping on White Sands
How to Reach Chopta in Winter
All that I explained above about reaching Chopta will remain applicable for both the summer and winter seasons. The only exception will be in case the weather turned extreme and it snowed too much. Then you will not be able to reach Chopta by car and will have to turn back from Makku Bend.
If you were up for trekking then you will have to leave your vehicle at Makku Bend or Dugalbitta and trek as far as you can. So if you were planning a winter trip, please call in advance and inquire about the weather and road condition.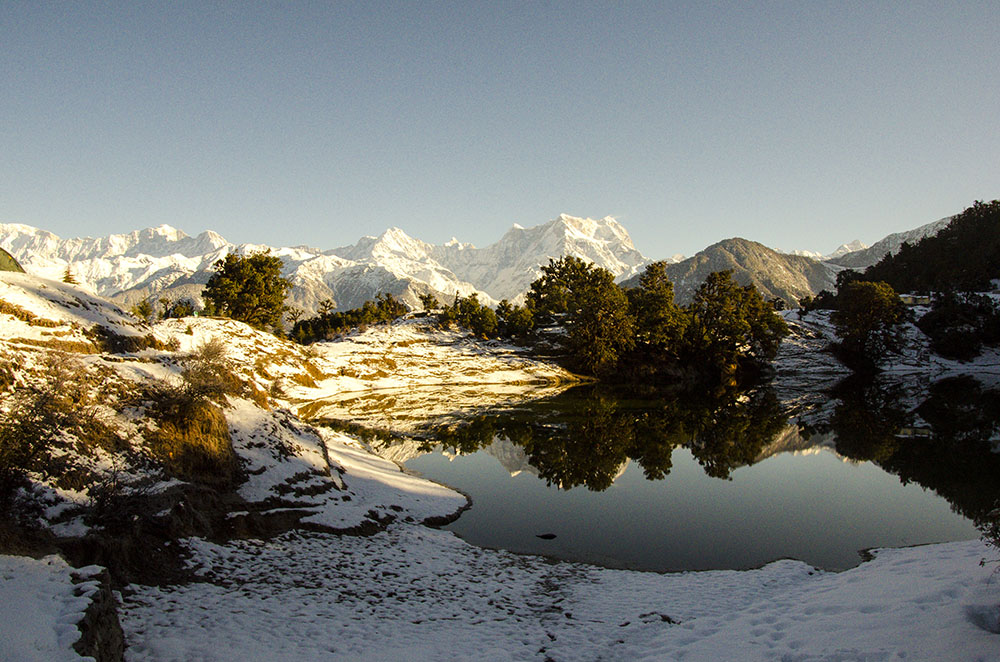 Weather of Chopta
Due to its high altitude, the weather of Chopta remains pleasant during summers and freezing cold during winter. The months of January and February is the time when this entire region remains buried deep under snow. Even the road to Chopta can get closed at this time due to heavy snowfall. The month of March is a little less cold but with plenty of snow around still.
Spring arrives in April and the snow starts to melt. The months of April till June are considered among the best time to visit Chopta because the weather mostly remains pleasant at an average temperature of 20 to 30 degrees Celsius. Days at this time are sunny with the Hills all around clearly visible.
July and August are the monsoon months and this area gets a lot of rainfall each year. Landslides at this time are common and can cause roads to block sometimes for days altogether. It is not considered to be a good time to visit Chopta but if you are ready to take the risk, you will be presented with lush green hills and magical sights all around you. The hills and the valleys seem to come alive at this time and the vistas become a sight for sore eyes.
The month of September is again considered a good time for visiting Chopta. Monsoon will be all gone but there will still plenty of greenery left behind. October is the time for autumn and everything that was green turns orange at this time. This is also when winter starts to settle again.
November and December are not among the best of times to be here because the weather will be terribly cold, vistas will be dull and dry and there won't even be any snow around.
Best time to visit Chopta
I have actually covered this topic in a different post, Weather and the Best time to Visit, but for a short summary, the months of April, May, and September are considered to be the best time to visit Chopta. But when to go really depends on your reason to visit. For example, if snow is on your mind then the month of February will be the best.
If spending time in pleasant weather is what you desire then April and May would suit you. If lush green scenery with flowers of numerous kinds and clouds looming over the hills interests you, then you should travel in the months of July and August.
However, if you want to avoid rain then skip the monsoon season and go in early September. If you want to see the golden valleys then visiting in the Autumn season in October will be a good idea. If you are traveling with family then you may want to avoid January, February, July, and August; as this is the time when the weather is a bit extreme. If you were planning a motorcycle ride then Monsoon will again be a bad time.
Clothes to pack for Chopta
What clothes to pack will depend entirely on the month of your travel. For a winter trip in January, February or March, you will need heavy woolen clothes and a pair of snow boots. Pack a heavy windproof jacket that also has a hood to protect your head, neck, and face. A pair of good quality gloves, snow creams, lip balm, and moisturizer will be some of the other things to pack at this time. In terms of shoes, make sure you bring one that has a good grip on snow otherwise you will just be slipping and falling around everywhere.
If you were visiting in October, November, December,or April, you will still need heavy woolens but don't need to bother about snow boots because there won't be any snow around this time (unless you were planning to trek to Tungnath and Chandrashila in early April).
For the months of May, June, and September, your regular cotton clothes, a few light woolens, and a heavy jacket will suffice. For a monsoon trip, you will have to waterproof everything. Pack clothes that tend to dry faster like Nylon and Polyester.
Other Items to Pack
Below are some of the other necessary items that you should be packing for this trip.
Items of personal use
Warm Caps
Sunglasses
Sunblock lotion with the highest SPF that you can find
Toilet Paper
Pair of Waterproof Warm Gloves
Thermals
Personal Medical Kit
Prescribed medicines if you are on medication
Hard Cash as ATM's aren't really dependable
Head Phones/Earphones
Power Bank
Chargers for your electronic items
Umbrella or a Rain Poncho (if visiting during monsoon)
Torch
Trekking shoes(recommended for the trek) or Shoes with good grip.
Snow Boots if visiting in winter
Comfortable Lower if planning to go on a trek as jeans are not advisable for this purpose
What to see in Chopta
Like the best time to visit, I have covered this topic too in detail in a different post, Tourist Attractions and Places to Visit. I will provide a list of all the places below but to know more, please refer to the other post.
Tungnath Temple
Deoria Tal
Chandrashila Peak Trek
Bisurital
Kanchula Korak Musk Deer Sanctuary
Ukhimath
Dugalbitta
Baniyakund
Kalpeswar Mandir
Rudranath Temple
Kedarnath Temple
Omkar Ratneshwar Mahadev
I have covered details like where these places exactly are, how can you visit them, how much time is needed and which ones are must visit in Tourist Attractions and Places to Visit that I will urge you to read.
Things to do in Chopta
Chopta is really a tourist spot in the middle of nowhere. There isn't much to do here but that is exactly what you should visit here for. Spend some time in peace doing nothing but enjoying the scenic beauty around you. The most popular activities that Chopta is known for is trekking and camping.
The Tungnath and Chandrashila trek is among the most famous ones. Next in line is the short trek to Deoria Tal which is perfect for beginners. Deoria Tal is also a known spot for overnight camping.
Photography is another activity that you would love to indulge in while visiting Chopta. The nearby Kanchula Korak Musk Deer Sanctuary would please anyone who has an interest in wildlife or photography. Some rare Himalayan species like monal bird, musk deer, and Pika Mouse are found here.
If you were visiting in winter, then Snow trekking, skiing will be the two most common activities to look forward to. For adventure enthusiasts, Rock craft, rock climbing, rappelling can be arranged on request.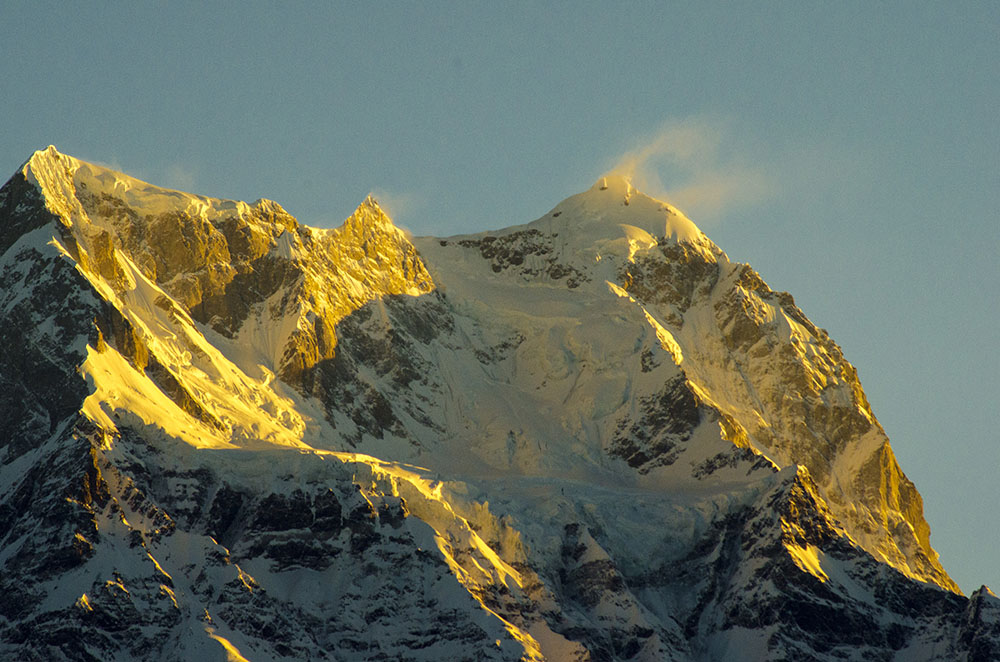 Where to Stay in Chopta
Accommodation in Chopta is available in all forms. Depending on your own preference, you can opt to stay at either a campsite, resort, or a cemented hotel. As you get closer to Chopta you will start noticing hotels, guest houses, and campsites around Dugalbitta and Baniya Kund. Price per day will range from Rs. 800 to Rs. 7000 per day. If you were traveling on a budget, I would recommend keeping a cost estimate of minimum Rs. 1000 per day.
The dhaba owners on the route also offer dormitory type accommodation; charging about Rs. 100 – 200 per bed. This usually happens over the weekend when there is a tourist rush. If you want, you can stay at a campsite in Chopta as well. Do not stop at either Dugalbitta or Baniyakund and continue driving to the point where the trek for Tungnath starts. There are a few tents available for rent here as well that you can rent.
Booking in advance is not really required. No matter which you arrive here, you will easily be able to find a place to stay. Even I would recommend that you reach the destination, look for a hotel or campsite per your liking, and negotiate an on the spot deal. Booking in advance just means that you may end up paying more.
Also Read: Tungnath Chandrashila Deoria Tal Itinerary
Self Camping
If you can bring your camping gear, then you can pitch your own tent as well. I will suggest that you do not do so though in the middle of nowhere. Camp near some dhaba or an existing campsite by paying the locals a small fee. The best spot to camp would be after Chopta and before Bhulkan; rather than between Dugalbitta and Chopta.
Another great place to camp would be on the Tungnath Trek. There is a meadow en route that you will come across after about an hour of trekking. It is an open ground with a few tea stalls and dhabas so hard to miss. If you are able to trek until here with all your camping gear, it would be worth the pain. Pay one of the dhaba owners a little fee and pitch your tent in the meadow.
Other accommodation choices
There are guest houses available at a couple of places on Tungnath trek and even at the Tungnath temple. A lot of people opt to stay at the temple for the night. This allows them to catch both sunset and sunrise views from Chandrashila top which is known to be a sight for sore eyes.
If you can manage to tweak your itinerary accordingly, staying for a night at Tungnath comes highly recommended. Please note though that the guest houses here are very simple, bare, and basic.
Chopta Gopeshwar Road
Another great place to stay would be on the road from Chopta to Gopeshwar. Most of the tourists tend to stay between Dugalbitta and Chopta and not many go beyond Chopta. This would give you an option of staying at a more peaceful place and further away from the crowd. There are a few guesthouses available on the 4 kilometers long stretch between Chopta and Bhulkan.
Also Read: Himalayas in Monsoon: Top Tips for a Safe Trip
Bank / ATMs
There is no bank or ATM in Chopta but you will find plenty on the route. The last ATM is at Kund, right where you turn towards Ukhimath. Before that, there are a few ATMs at Bhiri and Chandrapuri as well. However, The last ATM with guaranteed cash available will be at Rudraprayag; and I will advise that you withdraw cash here if you weren't carrying enough already.
Mobile Network in Chopta
Only BSNL phones work at Chopta. All other networks including Airtel and Vodafone will completely remain out of network. For BSNL, it does not have to be postpaid; even prepaid phones will work fine.
Chopta Itinerary
I will recommend an itinerary for 4 to 5 days. For the sake of the itinerary, I will assume that you are starting from Delhi and traveling by your own vehicle. If you were traveling by public transport or for a different number of days, then you may ask me for suggestions on the itinerary in the comments below.
Delhi to Chopta – Day 1
Chopta to Tungnath / Chandrashila to Chopta – Day 2
Chopta to Sari Village to Deoria Tal = Day 3
Deoria Tal to Rishikesh – Day 4
Rishikesh to Delhi – Day 5
If you were short on time, you can continue straight to Delhi on Day 4 rather than staying at Rishikesh for the night.
Also Read: Tungnath Chandrashila Trek – How to Plan & Prepare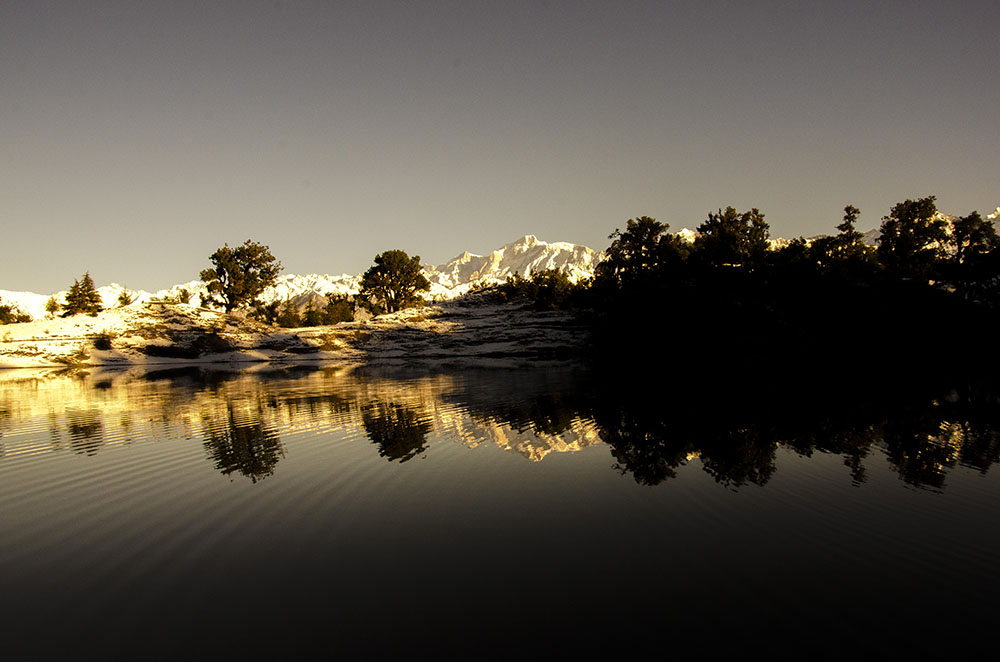 Other Tips
Kund is the point from where the road for Chopta bifurcates. The road on your left goes to Gaurikund and the one straight goes to Ukhimath, from where Chopta is about 30 kilometers away.
There is a direct trek from Deoria Tal to Chopta that involves crossing Rohini Bugyal. It takes about 6 to 7 hours to complete the distance. This trail, however, is through a dense forest and is not marked. You must bring a proper guide along and not attempt this trek on your own.
If you were planning on completing the Tungnath and Chandrashila trek, then you must bring proper heavy clothing even during the summer months. It gets very cold at this altitude and you will need protection against the weather.
Before starting on the trek for Tungnath or Chandrashila, please make sure that you are carrying enough water with you; as well as some biscuits or chocolates that you can munch on while trekking.
Where & What to Eat
You will only find the normal north Indian food like Roti, Sabzi, Daal, Chawal, etc. There are no fancy restaurants anywhere so there will also not be a large menu to chose from.
If you were traveling in the months of April or early May, then I would recommend buying Rhododendron juice at any shop in Chopta or Ukhimath. It tastes great and is worth trying.
Also Read: Deoria Tal to Rishikesh – Camping on White Sands
There are a few dhabas and restaurants in Chopta that you can eat at. The most convenient would be to eat at your hotel or campsite only. If you were staying at a camp, then the per head charge you will pay will be inclusive of meals as well.
The strange part is that they won't give you a menu at any of the dhabas or restaurants in Chopta. An even crazier part is that the food out here is very costly. So you will order some simple items without knowing their price and then get slammed by a huge bill that you would have no choice but to pay. So before you order anything, please ask for how much it is going to cost you. Even some very basic food items will cost you more than a reasonable rate at Chopta.
What to Buy in Chopta
There are no huge markets in Chopta that you can shop. There are only 3 or 4 grocery stores open here selling some basic day to day stuff.
Chopta Road Conditions
The road will be a mix of good, bad, and ugly depending on the time of your travel and the area. It is really hard to predict about the road conditions in this region as it changes each year. Starting from Delhi, the road to Rishikesh is a smooth highway for the most part of it.
Up to Srinagar from Rishikesh, it is mostly average but starts to deteriorate as you climb further up. After Srinagar, the road is in bad condition. In the monsoon season, you can safely assume that the entire stretch will be a nightmare full of slush.
Also Read: Kedarnath – The Holy Adobe of Mahadev
Best Vehicle for a trip to Chopta
There is really no best vehicle for this journey. Every car can reach Chopta as long as it is in good condition. We went in a Honda Brio and there were 6 of us in that small hatchback with all the luggage. The locals here, in fact, drive around in a Maruti Alto mostly. In terms of motorcycles as well, you just need to make sure that your motorcycle is in good condition. Even a 150 CC bike can easily complete the journey.
Petrol Pump & Mechanics
Like ATM, the closest petrol pump to Chopta is also at Kund. My advice, however, would be that you top up at Rudraprayag only.
There is no mechanic at Chopta. However, for minor fixes or flat tires, you can find mechanics at all small towns en route. If it was something major, then you would have to bring back your vehicle to either Rudraprayag, Srinagar or Rishikesh.
Hospital / Medical Assistance
The nearest hospital or medical assistance is at Ukhimath by the name of Primary Health Center. Please note though that this is a very small clinic equipped with only handly some minor ailments. For something serious, you would have to return to Rudraprayag, Srinagar, or Rishikesh.
Electricity and other facilities
There is no electricity in Chopta at all. All the guest houses, however, have solar powered panels that can also be used to charge your phones or camera batteries as well. I would still recommend that you do not count on it and carry a power bank with you. There are a few grocery stores where you can buy some general stuff from. If you were traveling by car, my advice would be that you stuff whatever you need either from your home; or from any of the towns en route like Srinagar.
Culture & Festivals
Due to its proximity to the Tungnath and other Panch Kedar temples, pilgrimages are an important part of the town's culture. And not just Chopta, but for the entire region as a matter of fact. There are several places close to Chopta that are religiously important in Hindu Faith.
The Pandava dance is kind of unique to the place and is worth attending. During the festival, Locals dress up in vivid colorful costumes and portray stories from the Mahabharata in dance form. It is like Ram Leela but a much more colorful and dancing version of it.
Local Transport
Chopta is a very tiny hamlet and you do not need local transport to move around. If you wanted to go to Sari Village to visit Deoria Tal, you will have to look for either a private or shared taxi.
Chopta Altitude
Chopta is located at an altitude of 8,790 ft.
Temperature of Chopta
During summer, the average temperature of Chopta ranges between 15 Degrees to 24 Degrees Celsius between day and night. During winters, it fluctuates between 5 Degrees to -15 Degrees Celsius.
Does it snow in Chopta?
Yes, it surely does snow in Chopta. It is a perfect hill station to visit if finding snow is on your mind. It starts to snow here towards late December and continues till mid-February. Visit here in either January or February and you will definitely find snow in Chopta. On the trek towards Tungnath and Chandrashila, you can find snow as deep as 4 to 7 ft.
Time needed for Chopta Trip
At least 4 days is what I will recommend for visiting Chopta. If you have more days then it would be even better; allowing you time to explore more tourist places. But on the minimum side, you must have 4 days in hand otherwise it would just be a rushed trip and you won't enjoy it much.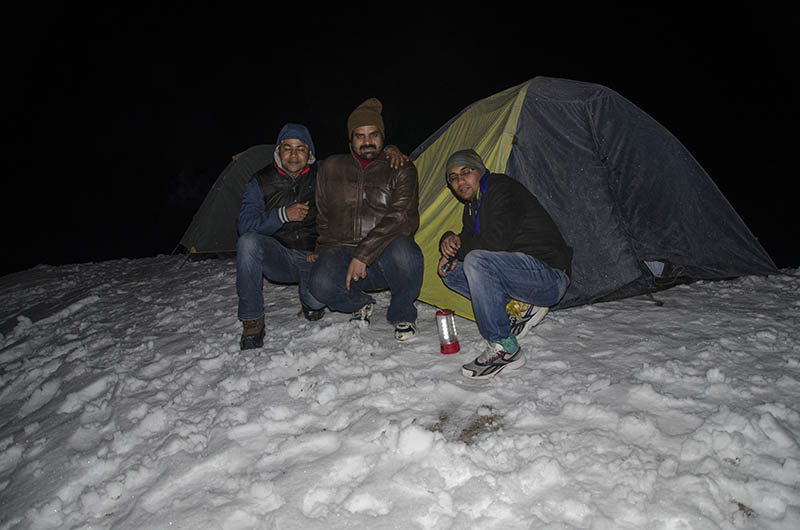 Conclusion
That pretty much covers all that you need to know in order to visit Chopta. I hope the information above was of help. If you have any questions or need any further details, please feel free to ask in the comments section below, or at our Community Forum, and I will be glad to answer.