Reveling in its sobriquet "Queen of the Hills", Mussoorie stands out among all the hill stations in the world. This elegant town, steeped in old world charm has been blessed by more than its fair share of natural beauty. A glimpse of the layers upon layers of hills, rising up higher and higher to join the eternally snow clad Himalayas can jolt even the most jaded traveler to attention! Some of the most majestic peaks in the Indian Himalayas can be clearly observed from Mussoorie – Chaukhamba, Bandarpunch, the Gangotri group, and Srikantha are a commanding presence in the distance. These spectacular views of steep, rolling hills draped in dense forests of oak, cedar, pine, birch rhododendron and of course, holy Deodar trees will have you goggling with wonder.
Mussoorie town spreads out over a ridge in the Garhwal Himalayas, more than 6500 feet above sea level. Although founded less than 200 years ago, its strategic location played a huge role in establishing its importance. It is a pit stop for Hindu pilgrims on the sacred "Chota Char Dham Yatra" to Yamunotri, Gangotri, Kedarnath, and Badrinath; as well as adventure enthusiasts who are gearing up to scale the higher mountains beyond. The mighty rivers Yamuna and Ganga also flow past the two sides of Mussoorie for nearly 19 kilometers.
Image: Paul Hamilton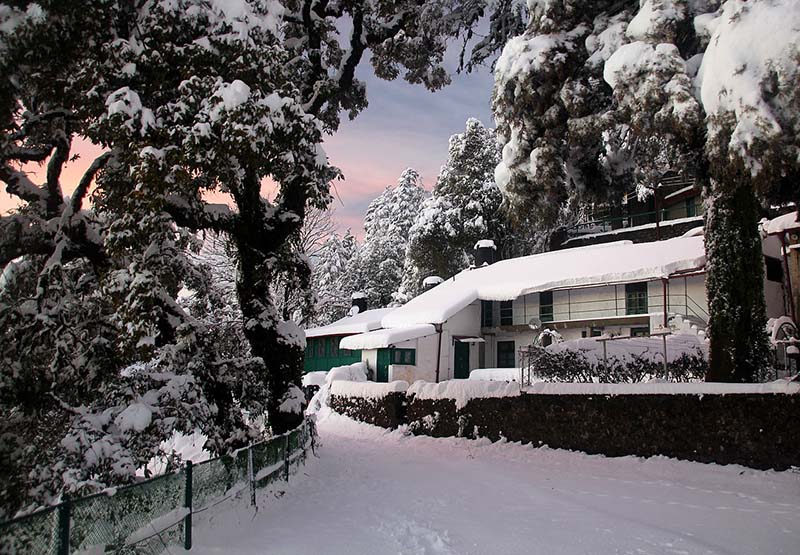 Know Mussoorie
---
How to Plan a Trip to Mussoorie
Mussoorie's pleasant weather, fresh and life-giving breezes, scented mists and gorgeous panoramic views act as a magnet for tourists weary of the heat and dust of the Indian plains. A surprising number of foreign tourists also flock to Mussoorie every year, especially during Christmas, when the town is at the apex of its natural beauty. The pristine, snow blanketed town to match the majestic Himalayan peaks, and this vista against a bright blue sky is one that will stay with you forever. How you can plan this stunning and charmingly beautiful hill station is what I will be discussing in this article.
Where is Mussoorie Located?
Mussoorie is located in the northern Indian state of Uttarakhand, in the Garhwal Himalayas. It lies 300 kilometers to the north of the national capital New Delhi and is accessible by road, rail and air. The nearest railheads are at Dehradun and also at Haridwar, from where you reach it via Rishikesh and then Dehradun. It is located at a height of more than 6500 feet with its highest point at "Lal TIbba" at 7500 feet. It is flanked by the Himalayas towards the north and northeast, and Shiwalik ranges to the south. You can also behold panoramic views of the entire Doon Valley from up here, and a magical sight it is!
Also Read: Gaumukh Trek from Gangotri – A Complete Travel Guide
Why to visit Mussoorie?
If you weren't sure whether or not you should visit Mussoorie then mentioned below are a few reasons why you should. To sum up, Mussoorie is your destination if:
You want to visit a hill station to end all hill stations
You are a thrill seeker looking to test yourself; looking forward to enjoy some fun activities
You want peace and quiet from din and drama of city life; want to spend some time in peace and tranquility
You want to relax in a soothing, calm and above all cool temperature
You want to explore the upper Indian Himalayas
Is Mussoorie safe to travel?
Is it safe to travel to Mussoorie? Well, a one-line answer to this question would be that yes it. But there are of course several terms and conditions applied when we talk a topic like safety. Mussoorie is a hill station with steep climbs and a winding road that gets narrow at a lot of places. So you must have a decent enough driving experience and should know how to handle a vehicle in a hilly region. This place receives a lot of snow during winter and then it rains cats and dogs here in Monsoon.
The crime rate in the area, however, is almost next to none. So as long as you check the weather forecast before leaving, drive safely and sensibly, do not get into any unnecessary arguments then yes, Mussoorie is a very safe place to visit. However, visitors are advised to stay cautious during monsoon season. The only thing visitors have to consider is to stay indoors as it may rain continuously during the rainy season.
The standard rules of safety like being alert with strangers and not to hang out in strange places will apply to everyone. If you are traveling alone then it is advisable to stay in a hotel in Mussoorie itself and not in a remote area.
Where to stay in Mussoorie
Mussoorie being a much in demand tourist hotspot, you will find hotels of all sizes, amenities and price ranges in this town. Again, it is wiser to pre-book accommodations to get a  good deal. Here's a tip – the state tourism body Garhwal Mandal Vikas Nigam operates a chain of hotels throughout the region. They are located at prime spots, sometimes a stone's throw away from the best attractions. They are also clean and spacious with courteous and helpful staff.
How to reach Mussorie
---
Due to its location in Himalayas, reaching Mussoorie is only possible by road but it is fairly easy. Mussoorie is a major tourist spot and hence a very well connected town. You can either bring your own vehicle and drive all the way to Mussoorie or you can get public transport.
Also Read: Gangotri – A Complete Travel Guide and Itinerary
How to reach Mussoorie by Road
If you were traveling by your own vehicle, then below is the route that you can take to reach Mussoorie. For the sake of explaining the route, I will assume Delhi as your starting point.
Delhi – Ghaziabad – Meerut – Khatauli – Muzaffarnagar – Dehradun – Mussoorie
Depending on the road you took, this entire journey will be between 280 to 320 kilometers. From Muzaffarnagar, you can either head to Dehradun via Saharanpur or via Haridwar. It doesn't matter which road you take though, because the difference in kilometers and travel time won't be much. At an average, it will take you about 9 to 10 hours from Delhi to get to Mussoorie once you take in the road conditions, hilly area, and traffic into consideration. The road till Dehradun is pretty much a straight one and then climbs up in a steep manner to Mussoorie for the last 50 odd kilometers.
How to reach Mussoorie by Bus
There are regular buses to Mussoorie from almost every major town nearby. You can find luxury buses operated by private companies or state run services. If you were coming from Delhi, then you just reach to ISBT and board any of the buses operated by DTC, UP Transport or Uttarakhand Roadways. If you could not find a direct Bus for Mussoorie then look one for Dehradun. From Dehradun then, you can look for any local transport to complete the last stretch of your journey. The total fare of the Bus would be around Rs. 500 to Rs. 800 depending on the type of Bus.
How to reach Mussoorie by Train
Nearest railway station to Mussoorie would be the Dehradun Railway Station, located 36 kilometers away. It has trains connecting to New Delhi, Amritsar, Jammu and Kolkata, among others. In particular, the Delhi-Dehradun Shatabdi Express is a 5.5-hour journey one way.
How to reach Mussoorie by Flight
Jolly Grant would be the nearest airport to Mussoorie. It is located 60 kilometers away in Dehradun, which has direct flights to Mumbai and New Delhi. From Dehradun, you can hire state transport buses or private taxis to reach Mussoorie.
How to reach Mussoorie from Dehradun
Once you have reached Dehradun by either train or flight, you can reach Mussoorie by either public transport or a taxi. There are regular buses leaving for Mussoorie from Dehradun train station. Please make sure that you are boarding the right bus though because buses would go to the opposite ends of the Mussoorie Mall, Library and Picture Palace. The last bus leaves at around 8 PM and is usually very crowded. The bus would take about an hour and a half to drop you to Mussoorie and would charge about Rs. 50 per person.
If you wanted to travel by Taxi then you could get those too from either the train station or the airport. From the Dehradun railway station, a taxi would charge around Rs 1000 for Mussoorie and about the same amount of money from the Airport as well.
A third option could be Shared taxis which will cost you Rs. 300 per person for a drop to Mussoorie from Dehradun.
For return journey, you can take a bus from many bus stands in Mussoorie (Library, Masonic Lodge, Tehri and Landour) to Dehradun. From there, the road network is well connected to Delhi, Haridwar, Chamba, Shimla, Chandigarh and Saharanpur
How to reach Mussoorie by Taxi
If you wanted, you could also rent a private taxi for your trip to Mussoorie. Different taxi operators and tour companies offer prices depending on the package you chose, the duration of the trip and the type of taxi you booked. But on an average basis, for a drop to Mussoorie, a private taxi will cost you about Rs. 4000 to Rs. 5000 from Delhi or any other city at equal distance. This taxi will only drop you to Mussoorie though and there won't be any sightseeing involved. From Rishikesh or Haridwar, a taxi would cost about Rs. 2000 and from Dehradun, you would pay around Rs. 1000.
Also Read: Rishikesh Taxi Rates – Taxi Fare in Rishikesh
How to reach Mussoorie in Winter
All of the above modes of transport that I explained above will remain applicable in winter season as well; except for rare occasions when heavy snowfall may block the roads temporarily. Even if that happens, authorities usually clear the road and restore connectivity just as soon as they are able to.
Local Transport in Mussorie
Private taxis – These typically charge Rs. 1000 per person for the Dehradun – Mussoorie journey. A share taxi would reduce the cost to Rs. 300 per person.
Self-driving – Drive into Mussoorie on NH58 till Roorkee and then on NH72-A after till Dehradun. Then, drive on New Mussoorie Road.
Cycle rickshaw – Some flat stretches in Mussoorie offer cycle rickshaws. However, avoid these if possible. They are time-consuming and impossible to navigate through thick crowds. Also, certain areas of Mussoorie such as the Mall Road are closed entirely to vehicles. This town is best explored on foot. It is also pretty costly.
Private car – For a full day of sightseeing, it is wise to book a private car. The cost will be approximately Rs. 1800. At the day end, they will drop you where you wish
By Garhwal Mandal Vikas Nigam (GMVN)

A government operated 2X2 seater service gives an option of sight seeing in Mussorie.
Kempty Falls – Rs 150 per person
Kempty Falls, Santura Hilltop Temple & Mussoorie Lake – Rs 250 per person
Dhanaulti and all of the above mentioned places – Rs. 350 per person
Buranskhanda and above mentioned 4 places – Rs. 400 per person
Bookings for this service start at 8 am at Library Bus Stand. This service is available and can be availed on the spot.
What to see & Things to Do
---
What to See in Mussorie
I have actually covered this topic in great details in anther article, Tourist Attractions in Mussoorie and Things to Do. But for a quick reference , below is a list of places that you can visit in Mussoorie and some other fun activities that you can indulge yourself in.
The Mall
Gun Hill
Benog Wildlife Sanctuary
Dhanaulti
Company Garden
Jwala Devi Temple
Camel's Back Road
Bhatta Falls
George Everest's House
Soham Heritage Centre
Happy Valley
Mossy Falls
Jabarkhet Wildlife Reserve
Shedup Choepelling Temple
Library Bazaar
Mussoorie Lake
K Dev Bhoomi Wax Museum
Lal Tibba
Kempty Falls
Cloud's End
Bhadraj Temple
Lambi Dehar Mines
Mullingar Mansion
Pari Tibba
Savoy Hotel
Things to do in Mussoorie
Hathipaon Trek
Ropeway to Gun Hill
Paragliding
Ziplining
Skywalking
White water rafting
Hiking
Mountain climbing
Roller skating
Winemaking
If you want to know more about these places, how you can visit them, and which ones can be considered as must visit, please read Tourist Attractions in Mussoorie and Things to Do.
Best time to Visit
---
Weather of Mussorie
Mussoorie retains a cool and pleasant climate throughout the year with misty mornings and evenings, bright sun and a clear sky. It snows here heavily during the months of January and February. Snow starts to melt in March and April to June is pleasant weather with clear sunny skies. During monsoon, the sky is cloudy and it may rain for days on end; sometimes enough to even cause landslides and block roads. Monsoon is gone by September but leaves plenty of greenery behind. Autumn arrives in October and brings Orange-ish looks in the valleys all around. By October end, winter starts to settle in again and the following months of November and December will again see temperature dropping close to 0 Degrees Celsius. It starts to snow again in Mussoorie towards the end of December.
Also Read: Uttarakhand Roadways Bus Time Table
Temperature in Mussoorie
Here is the month wise average temperature break up. Please note though that this is just an average and during winters, it may fall several degrees below 0 during nights.
Mussoorie in January: 2 to 10 degree Celsius; heavy woolen and warm clothes needed
Mussoorie in February: 3 to12 degree Celsius; heavy woolen and warm clothes needed
Mussoorie in March: 5 to 16 degree Celsius; Snow starts to melt and weather gets a little warm
Mussoorie in April: 7 to 21 degree Celsius; Pleasant weather, light woolens needed
Mussoorie in May: 14 to 24 degree Celsius; Pleasant weather, plenty of cottons with jacket
Mussoorie in June: 16 to 23 degree Celsius; Pleasant weather, plenty of cottons with jacket
Mussoorie in July: 15 to 20 degree Celsius; Monsoon season, waterproof everything
Mussoorie in August: 15 to 20 degree Celsius; Monsoon season, waterproof everything
Mussoorie in September: 14 to 19 degree Celsius; this is the best time to visit Mussoorie
Mussoorie in October: 11 to 18 degree Celsius; Winter starts to settle in towards end of the month
Mussoorie in November: 7 to 15 degree Celsius; Dull and Dry, bad time to visit
Mussoorie in December: 4 to 13 degree Celsius; Dull and Dry, bad time to visit
Best time to Visit
When is the best time to visit Mussoorie will entirely depend on your reason to visit; and will definitely be different for everyone. If we talk in terms of the weather:
Summer (March through June) – The peak tourist season, with pleasant temperatures and clear skies. Perfect for sightseeing and adventure sports.
Monsoon (July through mid-September) – The off-season, and prone to landslides. If you like solitude, this is the time to visit. Also brilliant for a romantic getaway. Be aware that most activities, scenic spots and adventure sports will be closed during this time.
Winters (October through February) – Fresh snowfall and sub-zero temperatures. Incredible time for honeymooners. Great for winter sports.
When to go to Mussorie?
So if you wanted to see snow and possibly even catch a live snowfall, then the months of January and February will be the best. But if you are someone who is not too fond of cold weather than definitely avoid traveling at this time. The months of April to March are generally considered to be the best time to go because the weather in these months in Mussoorie is the best. It, however, does get crowded at this time because a lot of families plan their Mussoorie trip at this time only. So if you are not too fond of crowded places and like offbeat destinations more, then definitely avoid traveling in these months.
July and August is the time for Monsoon and it is generally advised to avoid traveling in the hills at this time. But if you are ready to take the risk then you will be rewarded with vistas that will sweep you off your feet. November and December is a bad time to visit because the scenery at this time will be dull and dry. The weather will be extremely cold and there won't even be any snow around.
So to break it down,
Best time to visit Mussoorie with family: March, April, May; and June
Best time to visit Mussoorie in winter: February and March
Best time to visit Mussoorie for photography: April, July, August, September; and October
Best time to visit Mussoorie on Budget: July and August
Best time to visit Mussoorie for honeymoon: January, February; and March
Best time to visit Mussoorie for snow: January and February
Best time to visit Mussoorie to see snowfall: January
Travel possibilities during different seasons
During peak tourist seasons, all forms of transport will be highly expensive. To get to Mussoorie you must plan at least 2-3 months in advance and pre-book travel tickets. Otherwise, not only will you find prices sky-high, you may not be able to book a ticket at all. During monsoon, prices drop, but traveling through the mountain roads is tricky as landslides are frequent and devastating.
Family Trip to Mussoorie
Mussoorie is a child-friendly place and there are plenty of attractions to keep the young ones occupied and happy. However, since they will be unfamiliar with the terrain, it is important to keep an eye on them at all times, especially in the wilderness areas like waterfalls, viewpoints and picnic spots.
Also Read: Chopta Tungnath Chandrashila Deoria Tal Itinerary
Couple trip to Mussoorie
Mussoorie is perfect for a romantic getaway, whether for a week or even just a weekend!
What to Pack
---
Clothes to Pack for Mussoorie Trip
Carry warm clothes no matter what time of year you are traveling. Also, dress in layers so that you can put on or take off a layer when the temperature changes suddenly. In winter especially, thermal wear and heavy jackets are a must. Carry extra pairs of clean socks at all times. All mountain areas can experience sudden or continuous downpours at all times of the year, so carry an umbrella, poncho or windcheater. Mussoorie is best explored on foot, so sturdy, all terrain, all weather shoes are a basic requirement. Remember, respect the sentiments of the local tribal people and do not wear clothes which are revealing, especially when visiting a holy place such as a Monastery.
Also Read: Chopta – A Comprehensive Travel Guide & Itinerary
Other Items

Some other things to carry for Mussoorie will include
Warm Caps
Pair of Waterproof Warm Gloves
Sunglasses
Sunblock lotion with highest SPF that you can find (if visiting in Summer)
Toilet Paper
Prescribed medicines if you are on medication
Head Phones/Earphones
Power Bank
Chargers for your electronic items
Umbrella or a Rain Poncho (if visiting during monsoon)
Torch
Snow Boots if visiting in winter
Comfortable Lower if planning to go on trek as a jeans is not advisable for this purpose
Facilities Available
---
Banks and ATMs in Mussoorie
All the commercial banks of India have branches and ATMs in various parts of Mussoorie.
Petrol Pumps & Mechanics in Mussoorie
There are several petrol pumps and mechanics all over in Mussoorie. You will not have problem finding one either.
Mobile network, Data connectivity
---
All major mobile networks in India offer connectivity within and near Mussoorie. However, the farther you venture into remote areas, the lesser the chances of mobile connectivity, except BSNL network. Always carry a dumbphone with a BSNL SIM that you can use in case of emergencies. Dumbphone charge lasts for weeks and they are hardy in chilly weather. Any smartphone you carry should be kept close to the skin. Extreme cold can cause a smartphone battery to zonk out.
The Mussoorie town centre has free Wi-Fi courtesy Reliance Jio.
Also Read: Deoria Tal – A Complete Travel Guide & Itinerary
Other Tips
---
Electricity and other facilities
Mussoorie does not experience frequent power cuts. However, you should carry a high power torch and extra batteries if you plan on traveling to remote areas. All hotels and guest houses here have electricity and other facilities that you will need as a tourist.
Hospitals and Medical Assistance



There are several hospitals and clinics available in Mussoorie and finding medical assistance will not be a difficult task at all. Here are the top hospitals in Mussoorie:
Landour Community Hospital : Contact – 135 263 2053, 135 263 2541, 135 263 2614
Civil Hospital: Contact – 135 263 2891
St. Mary's Hospital: Contact – 135 263 2869
---
Mussoorie Road Condition
Condition of the road to, in and around Mussoorie is a mix of good and average. There are really no bad sections of road that can become a problem. Coming from Delhi, the entire road is mostly smooth except for a few bad patches around Haridwar and Rishikesh; or near Chhutmalpur if you were coming from Saharanpur side.
Best Vehicle for Mussoorie Trip
There is really no best vehicle for visiting Mussoorie. I have seen locals here drive around in a Maruti 800 or Alto. The only thing needed is that your vehicle is in good condition and well serviced. With that being said, the roads within Mussoorie are very steep and narrow at a few places with sharp turns. When I say steep, I mean the kind where a Royal Enfield climbed up in 1st gear with a single rider and I wasn't sure if it was going to make it. If you are bringing your car here, it would be best to not drive it inside the town unless you are really good at the wheel and know how to maneuver a vehicle at such climbs.
---
People and culture
Mussoorie is an eclectic mix of various ethnic Kumaoni and Garhwali tribes (they lived here since time immemorial), Gurkhas, Nepalis, Tibetans, and migrants from the Indian plains who settled here decades ago. Although the town was established by a European country, it has a quintessential Indianness – of colorful, bustling and a perfect example of unity in diversity. Mussoorie celebrates tribal folk festivals, Tibetan holy days, Christmas, and of course the Hindu religious festivals with equal elan and enthusiasm.
Also Read: Lansdowne – The Most Comprehensive Travel Guide
Events and festivals
Mussoorie celebrates several festivals with happiness and fanfare. Listed below are some of the most celebrated festivals broken down by month.
January: Kale Kaua or Uttarani – Celebrates the beginning of winter's end
February: Basant Panchami and Samvastar Pareva – Saraswati Puja
March: Phooldeyi – The homes are decorated with the first flowers of spring
April: Bikhauti –  A festival that celebrates Navratri, prayers for abundant future harvests and sibling love all in one!
July: Hariyala – A celebration for the wedding of Goddess Parvati and Lord Shiva
August: Olgia or Gheeya Sankranti – A festival to celebrate the ripening of the harvest and the full abundant treasures from nature
---
What to Eat in Mussoorie
Garhwal cuisine has a rustic character, being simple, homely, nutritious and inexpensive. Much of the food is grown and consumed locally. In fact, if you ask for local dishes, it is likely that the rice, wheat, vegetables or fruits are freshly harvested from some local garden. The organic produce tastes more flavorful than anything you would find in a city grocery. Food imports are mostly made to satisfy tourist tastes.
Local dishes emphasize pulses and wheat. For special occasions, meat dishes are served, which are delicately spiced and cooked, in stark contrast to other north Indian meat-based dishes. Meals are cooked with 4-5 ingredients and the combinations allow flavors to emerge perfectly.
Foods to try in Mussoorie
Here are some typical dishes you will find here:
Parathas – Slathered with fresh, unsalted butter and served with a tangy, sour apricot chutney
Chicken curry – Mildly seasoned and served on the bone
Fish – Caught from the Kempty River, coated in millet past and fried to perfection. Served with apricot chutney
Mutton Kachmoli – An entire sheep rotated over the fire and seasoned sparsely to get an authentic, hunted-barbecue taste
Kachi – Locally prepared citrus liquor with a dash of lemon juice
Momos – A Tibetan gift and much loved. Served with Shezwan chutney
Maggie – Cooked with vegetables, each shop and stall offers its own version
Egg dishes – Hot omelettes and eggrolls on chilly evenings, how can you resist?
Bhaang Ki Khatai – A chutney of bhang seeds, cumin seeds and red chillies cooked in buttermilk and served with parathas
Thechwani – A snack of crushed radish roots and boiled potatoes seasoned with ginger, garlic and coriander
Sisunak Saag – Made with nettle leaves boiled in water, combined with butter, tomatoes and salt. A very nutritious side dish for rice
Kafuli – Gravy of mashed vegetables and Spanish leaves cooked in ghee or mustard oil. Served with kulcha or roti
Sani Hui Mooli – A paste of radish, bhang seeds and lemon juice
Bhutta – Fresh sweet corn is boiled or roasted
Where to eat in Mussoorie
Mussoorie offers innumerable options to eat out – large restaurants on the Mall road, tiny hole in the wall shops, street stalls, roadside dhabas and Maggie points. You can eat a different dish every day at every meal! However, if you have the opportunity to befriend a local, try authentic homemade Garhwali fare. Beats the market offerings any day!
Also Read: Kedarnath – The Holy Adobe of Mahadev
What to Buy in Mussoorie
Don't leave Mussoorie without shopping to your heart's content. Here are the Mussoorie's most famous shopping choices:
Handcrafted woollens – Dresses, caps, pullovers, socks, scarves, shawls and mufflers. Special shout-out to Pashmina goodies
Brass and wooden knickknacks – Statues, walking sticks, boxes of various sizes and home decor pieces
Accessories – In the Tibetan section, you can find some very trendy, quirky and unique footwear, bags and jewellery
Souvenirs – Lampshades, prayer wheels, prayer flags, books and porcelain
When is Mussoorie Open?
Mussoorie remains open for tourists throughout the year.
When does it Snow in Mussoorie
It starts to snow in Mussoorie towards the end of December. Chances of snowfall remain high throughout the month of January but then start to go down as February progresses.
Also Read: Himalayas in Monsoon : Top Tips for a Safe Trip
Itinerary
---
Time Needed for Mussoorie Trip
Time needed for visiting Mussoorie will really depend on where you were starting from; but coming from a place like Delhi, 4 to 5 days is an ideal time for the trip. Two days  will be spent in traveling to and from Mussoorie which will give you another 2 to 3 days for sightseeing and exploring all the nearby tourist destinations. Below is an example of an itinerary for visiting Mussoorie.
Mussoorie Sightseeing Itinerary
Covers: Kempty Falls, Lal Tibba, Mall Road and Cable car ride at Snow View Point
Day 1: Begin from New Delhi to Mussoorie; lunch on the way and dinner at Mussoorie
Day 2: Mussoorie – Hiking and nature walks at Camel's Back Road, bathing at Kempty Falls, View from Gun Hills, Lal Tibba, Happy Valley and Company Garden. Tibetan Temple visit. Ropeway ride at Snow Point
Day 3: Mussoorie – Mall Road in the morning, Zip lining and rock climbing in the afternoon. Relax at the hotel in the evening
Day 4: Begin from Mussoorie to New Delhi, check out after breakfast and reach the railway station or airport at Dehradun. Onward to New Delhi
Mussoorie to Kempty Falls
In order to reach Kempty Falls from Mussoorie, you should look for buses heading towards Barkot, Nainbagh, Yamunotri, and Purola. Sometimes Purola buses go via Vikas Nagar which is completely off the route so do confirm with the conductor if you were boarding a Purola Bus. If you were coming from Dehradun, then you can, in fact, catch a direct bus to Kempty Falls without coming to Mussoorie.
You can also take a bus to the Library end of Mussoorie and walk to the Kempty Bus stop from there. From Kempty Bus Stop, you can then take a bus or taxi (or any other vehicle going in that direction) to reach the waterfall.
Bus fare for Library end or Kulri end from Dehradun is Rs. 60 per person and then you will pay another Rs. 15 for Kempty. If you were traveling by your own car then you would have to pay Toll Tax for entering Kempty Village.
Once you reach Kempty Falls, there are two ways to get down to the falls from the road. Either you can take the stairs or hitch a ride in the cable car for Rs.80 per person. This charge is for both getting you down to the waterfall and back up. Make sure you do not throw the ticket away and keep it with you carefully until you are back otherwise the operators will not let you ride back up again.
Camping in Mussoorie
Mussoorie is really a town and there are no camp sites here. There are however a lot of places on outskirts of Mussoorie (towards Dhanaulti) where a lot of camp sites have been set up. You will really have to contact a local tour operator and book in advance.
To know more about these places, please read Tourist Attractions in Mussoorie and Things to Do.
Trip to Mussoorie – Conclusion
That pretty much is all that you need to know about visiting Mussoorie. I hope the information above was of help. If you have any questions; or need any other details; please feel free to ask in the comments section below; or at our Community Forum; and I will be glad to answer.