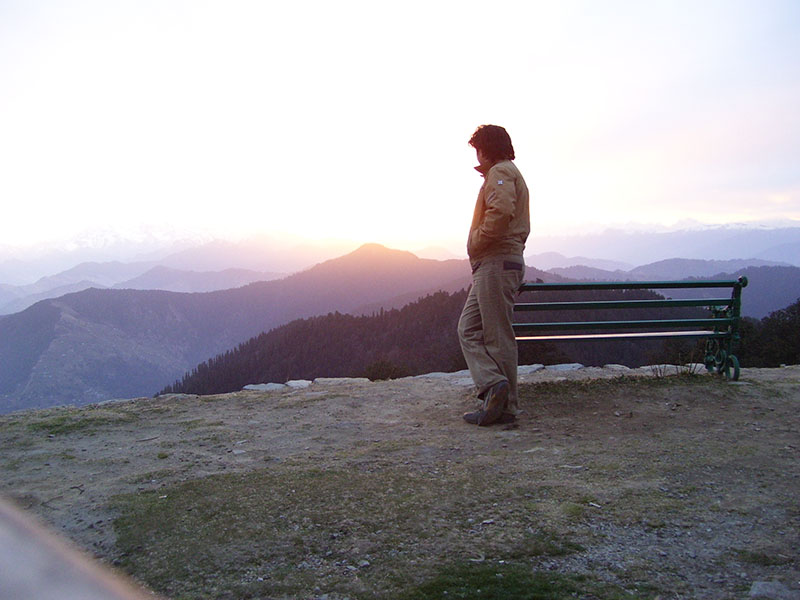 There are two major reasons why so many people travel to Shimla each year. The first one is that it is easily accessible with good road connectivity and availability of basic amenities. The second and even bigger reason is that there is plenty to explore here. And I am not talking about just the main Shimla town. No, I am referring to the small villages around it like Kufri, Mashobra, Fagu, and Narkanda; some of which are actually even more scenic that Shimla itself.
Shimla is perfect for someone who has a lot of shopping and eating out as a part of their itinerary. But during the tourist season, it gets a lot crowded which is not everyone's cup of tea. So what do you do if you want to spend some time away from the crowd? Where do you go if a few days of peace is what you seek? You skip Shimla entirely and drive towards Narkanda.
About Narkanda
Narkanda is a sleepy little village located at a distance of about 65 kilometers from Shimla; a journey that can be easily done in 2 hours at most on some very smooth roads. It is at an altitude of 2708 meters and becomes a well-known skiing resort every winter. Apple farming and farming in general is the main source of income for the people here but tourism too plays a major part in their livelihoods.
This place is very scenically located and is perfect for anyone who wants to plan a trip to an offbeat destination without going too remote. Until about a decade ago, it was mostly unknown but has started to receive tourists now in recent years. It falls on the road to Kinnaur and Spiti valley so it also acts as a stopover for people completing the Spiti Circuit or visiting Kinnaur
Why visit Narkanda?
The first question that comes to mind is why visit Narkanda? To be honest, there is really nothing here. Just a group of houses and a few hotels located on a hilltop and that is pretty much it. There is no long list of places to explore and the primary attraction of the place is its natural beauty. But that is exactly the reason why people come here and why you should too.
I think everyone will agree when I say that places like Shimla and Manali doesn't even feel like a tourist destination anymore. Both these towns have gotten so populated and crowded off-late that a trip here feels like you went from one city to another. There are buildings, cars, and buses all around, a view that you were getting in plenty at your home town. It is not exactly what you came looking for in the hills.
Also Read: Places to Visit in and Around Shimla
This is exactly the reason why many people now do not prefer to stay in Shimla at all. They will just drive right through it and stay at the small villages on the outskirts.
Even if you were staying in Shimla itself, a day's drive to Narkanda is highly recommended. Narkanda is at a slightly higher altitude than Shimla and the entire drive is on a breathtaking landscape. The road gains altitude gradually while running almost near the crest; offering a bird's eye view of the valleys around.
In the months of monsoon and after, greenery remains in abundance all around. In winter, this place receives heavy snowfall and gets buried under a thick sheet of snow; providing excellent conditions for skiing.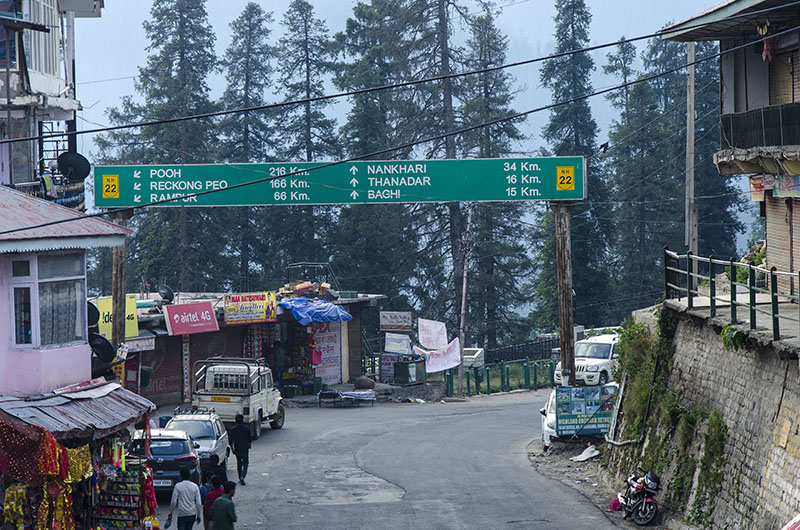 How to Reach Narkanda
Due to its location up in the hills, the only way to get to Narkanda is by road. You can either drive all the way from your home. Or you can arrive at any of the nearest airports or railway stations and get to Narkanda from there by road.
How to reach Narkanda by Road
For this part of the post, I will assume that you are starting your journey from Delhi. However, even if you were coming from a different place, the information below should still be able to explain the route.
Starting from Delhi, the route of your journey will be as mentioned below.
Delhi – Sonipat – Panipat – Karnal – Kurukshetra – Ambala – Kalka -Kandaghat – Shimla – Theog – Matiana – Narkanda
You will first drive on Delhi – Chandigarh highway all the way till Ambala. After Ambala and just before Chandigarh, you will then turn on the Himalayan Expressway and then continue towards Shimla. There has been some road widening work happening on this stretch in the last couple of years so you may run into a bit of traffic.
As you get closer to Shimla, chances are that you will get stuck in the traffic and a long line of cars here. Be patient, cross the crowded town, and continue towards Narkanda. The entire journey from Delhi to Narkanda will take about 9 – 10 hours depending upon your speed and breaks. From Shimla, it takes about 2 hours to get to Narkanda.
How to reach Narkanda by Bus
Narkanda is a very well connected town and there is a regular HRTC bus service available. From Shimla, you will easily be able to find a bus or a shared taxi going towards your destination. The road towards Spiti valley and Kinnaur valley passes through Narkanda. This means that any bus going towards major towns like Kaza, Rampur, Reckong Peo will have to travel through Narkanda.
You would have heard or read that there are direct buses from Delhi and Chandigarh for Narkanda. I would however not advise relying on that. No, I am not saying that there are no direct buses because there could be one. But Narkanda being just a small village, the frequency of this bus would be very less.
A better way for the journey always will be that you first board a bus for Shimla. This will also give you the choice of an AC or Deluxe Bus which will probably not be available for Narkanda direct. Once you get to Shimla, you can then look for a different bus or shared taxi for the last 2 hours of your journey from Shimla Bus stand.
How to reach Narkanda by Taxi
There are direct taxis available from almost all major cities nearby for Narkanda. How much it will cost will entirely depend on your choice of taxi, the operator, number of days, and your negotiation skills.
There are really no set rates for this but from a city like Chandigarh, it will cost you about Rs. 5000 or a drop. From Shimla, the charge will be around Rs. 2000 for a drop and Rs. 3000 – 4000 for a same day return journey (full day sightseeing).
Shared Taxi to Narkanda
A cheaper and better option will be a shared taxi that ply on these routes regularly. It is mostly either is a Tata Sumo or a Bolero but the good part is that they run on almost an hourly basis and will cost about the same as a Bus. Even the locals travel more by the shared cabs than a Bus.
Also Read: When is the Best time to visit Narkanda?
Narkanda Closest Airport
Narkanda does not have an airport of its own. The nearest airport to Narkanda is the Shimla airport located in Jubbarhatti. This however is a small airport and flights are limited.
The nearest major airport is at Chandigarh which is connected with several flights from all over the country. The distance between Chandigarh airport and Narkanda is about 175 kilometers.
If you were planning to catch a flight, booking for Chandigarh will be a much easier option. After you land at Chandigarh, you can book a taxi for Narkanda right from the airport itself. Or you can travel by public transport as explained above.
Narkanda Nearest Railway Station
The nearest railway station to Narkanda is at Kalka, about 125 kilometers away from Narkanda. The famous Kalka – Shimla toy train plies on this route daily and the fare is also not that high.
This in fact is a great way to plan a trip to Narkanda. You can reach Kalka, board the toy train from there, arrive at Shimla, and then board a bus from Shimla to Narkanda.
It is a fun but a slow way to travel. If you had no interest in the toy train, the next and major railway station is at Chandigarh. This one is very well connected by trains from all over the country. From Chandigarh, you can then travel to Narkanda by private taxi or public transport.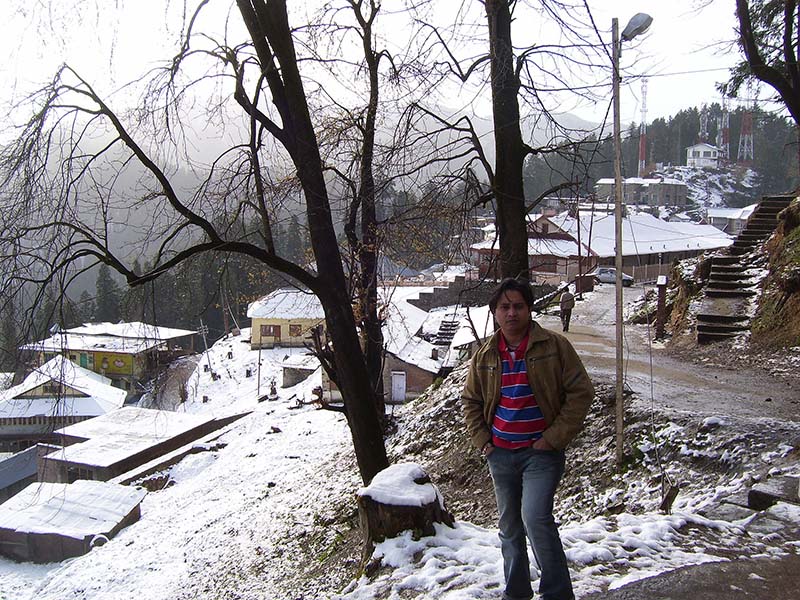 Weather of Narkanda
Narkanda has a sub-tropical climate which means that winters here are very cold but summers are warm. The day temperature fluctuates between 19 °C to 28 °C but can drop down to around 10 °C at night. During winter the temperature remains between -5 °C to 10 °C.
During the months of April to June, it mostly remains pleasant and dry during the day. I have witnessed snowfall in Narkanda in early April as well. So yes, the weather here can change suddenly anytime.
Monsoon arrives by late June and it rains heavily in this region throughout July and August. The average precipitation during the monsoons is 1,575 mm.
It starts to get cold again in late September and by mid-December, it can snow anytime in Narkanda. The weather remains to be very cold until March next year. During the months of December to February, the town receives a considerable amount of snowfall, accounting for the low temperatures.
I have covered this information in another article in great detail. Please take a look at Month by Month Comparison of Weather in  Narkanda.
Best time to Visit Narkanda
In my opinion, the months of January, February, April, May, and September can be considered as the best time to visit Narkanda. January and February for someone who seeks snow and September early October otherwise.
But it will also depend entirely on what exactly are you looking for. If snow is what you seek then the months of January and February will be the best. During this time, the entire region from Shimla to Narkanda gets buried under a thick sheet of snow. Valleys turn white and this small village becomes a popular ski resort.
Do keep in mind that during this time, the weather will be extremely cold and you must be prepared to handle it. Skiing is one of the main attractions of Narkanda which happens in the months of January and February.
If you want to see lush green hills then the months of July and August would be the best. But with monsoon on, there is also a risk of rain and resulting landslides. If you want a safer time with plenty of greenery, you should try September. By September, monsoon would be long gone by there still would be plenty of greenery left all around.
The safest bet for a family trip is the months from April to June. This is when the weather is at its best. Days will be moderately warm and nights pleasantly cold. The scenery can be a little dull and dry though. With school vacations on and a lot of families planning their vacations, it also tends to get a bit crowded in May and June.
I have talked more about the weather and the best time to visit in another article, When is the Best Season and Month to Visit Narkanda that I will urge you to read.
Clothes to Pack for Narkanda Trip
This will majorly depend on which month you are traveling in but a windproof jacket is a must at all times. If you were traveling from January till March, then you must bring heavy woolens. Temperatures at this time can dip to zero and it can get extremely cold at nights.
You should pack some thermals, woolens, gloves, caps, warm socks and a good jacket for this time. Your jacket should also include a hoodie that can protect your neck, head, ears, and face. A muffler too can come in very handy.
For the summer season, your regular cotton clothes and a jacket will do the job. Days remain pleasantly warm in Narkanda during summer and you will actually be walking around just wearing a T-Shirt. Do remember though that the weather here can turn unexpectedly without any warning. One moment it will all be warm and sunny and the next moment it will get windy and cold. So a good warm jacket will come in handy all time.
If you were traveling during monsoon, then pack clothes that can dry fast, polyester for example. Keep a pair of rubber sandals handy for walking or riding around in the rain; like Crocs for example. You definitely do not want to get your shoes wet because that will take ages to dry and will be a great hassle.
If you were traveling a car by then keeping an Umbrella with the rest of your luggage can prove to be a good idea.
Also Read: What to see in Narkanda?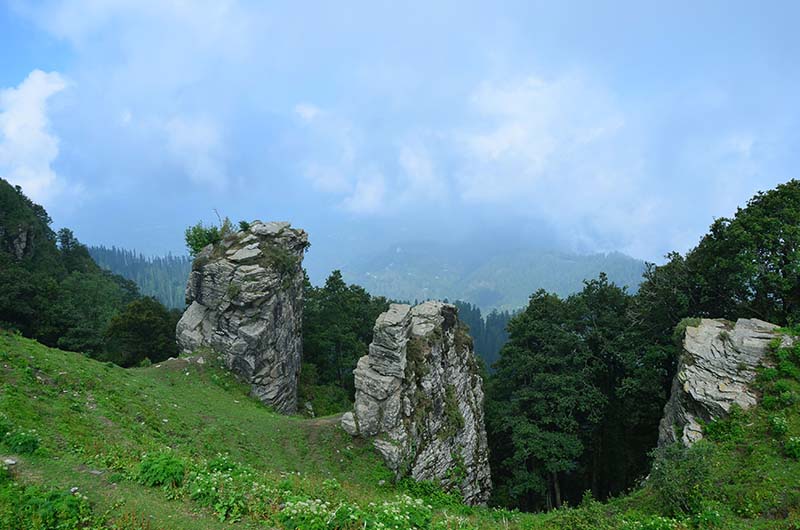 What to see in Narkanda
Narkanda is a small peaceful village and its natural beauty is its primary attraction. You will be spending some time in the lap of Mother Nature; away from the busy and rushed city lives. Apart from its serenity and tranquility, however, there are a few places that I will recommend visiting while you are in Narkanda.
Also Read: How to Plan a Trip to Chitkul?
Hatu Peak
Hatu Peak is the highest summit of the Narkanda region. It is located at a distance of about 10 kilometers from Narkanda, and at a height of 3400 meters. A motorable road from Narkanda goes all the way to the top.
This place is a treat for nature lovers and adventure enthusiasts alike. From the top, it offers a stunning panoramic view of the valley around and the snow-capped Shrikhand Mahadev peaks. Sunrise and sunset views from Hatu are a feast for the eyes.
If you wish to, you can either drive to Hatu peak or trek all the way. The trek starts from Narkanda itself and is a day-long activity. I will recommend that you take a local guide to help navigate your way through the forest. Another way could be that you walked on the motorable road itself.
Hatu Temple
It is a beautiful temple located at top of Hatu Peak. According to local belief, the famous Hatu Mata temple is the temple of Maa Kaali. People come in great numbers on the first Sunday of Jyeshtha to pay ritual here.
There is an ancient stove-like formation of rocks nearby the temple. Locals believe that it was used by the Pandavas brothers to cook their food during their Agyaat Vaas.
Also Read: How to Plan a Trip to Thanedar
Tani Jubbar Lake
It is a small man-made oval-shaped lake located about 15 minutes of drive away from Narkanda, towards Thanedar. There is a pathway built around the lake and it is a pleasant walk. Even the drive from Narkanda to the lake is quite scenic.
The lake is said to be home to several exotic birds. The best part however is that it is a great camping spot if you have your own gear. There is a small clearing near the lake where you can pitch your tent for the night.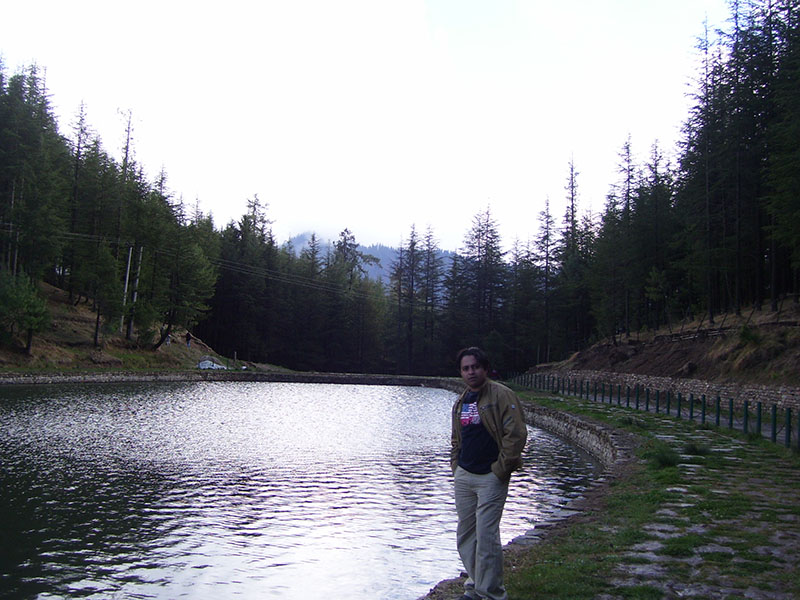 Jor Bagh
If you are into trekking then about an hour from Hatu Peak are the beautiful meadows of Jor Bagh. The trail will take you through the dense forest and finally ending at a mist-covered green clearing; which actually will look like a shot straight out of a movie or wallpaper.
Mahamaya Temple
This is a beautiful temple, dedicated to Goddess Kali, and is located at Kacheri, about 7 kilometers from Narkanda.
Snow Covered Narkanda
If you were visiting Narkanda during winter then I believe your biggest attraction will be the snow-covered town which is bound to leave you mesmerized. If you have never witnessed a live snowfall then visit Narkanda in January, spend a few days here and you will definitely see one.
Sutlej View Point
Drive a few kilometers downhill towards Rampur and you will be treated with a stunning view of Sutlej River flowing in the valley below. You can actually continue driving down till you reach the banks of the river, but the point from where you get the first view of the river is about half an hour's drive from Narkanda.
Some other places that you can visit while you are in Narkanda are Arya Samaj Mandir, Stokes Farm, Thanedar and St. Mary's Church. I have covered this topic in great detail in another post, Sightseeing in Narkanda – What to See in Narkanda that I will urge you to read.
Things to do in Narkanda
The first thing that you will enjoy doing in Narkanda is to savor on the vistas it offers. Relax, take a walk around the village and enjoy the peace around. If you were visiting here in the winter season, then the best choice would be to indulge yourself in skiing. You can get all the arrangements done including the guide and equipment for it at Narkanda itself.
For the rest of the time, it will entirely depend on how many days you are visiting the place. If you were short on time then visit all the places I listed above which can easily be covered in 2 days.
If you were into trekking, however, then the best activity would be to trek from Narkanda to Hatu peak, and even further till Jor Bagh.
Drive to Jalori Jot
Jalori Pass is a mountain pass located in the Kullu District of Himachal Pradesh. It is located at a height of 3,120 meters (10,236 ft) and acts as one of the two gateways to Tirthan Valley.
The road to the pass is both scenic and challenging. For a day-long trip from Narkanda, you can also drive all the way till Jalori Pass which is about 90 kilometers from Narkanda. The drive to the pass will take you down right to the banks of Sutlej river and then climb up on a narrow broken road to the top of Jaloi Jot. If you drove to the other side of the pass, you will enter the beautiful Tirthan Valley.
Please keep in mind though that the pass gets closed sometime by late November due to heavy snowfall and then opens in March. So a trip here from Narkanda is only possible from April to November. For more details, please read How to plan a trip to Jalori Pass.
Shimla Narkanda Itinerary
Mostly Narkanda gets included in itineraries for people either visiting Spiti valley or Kinnaur. You will however find a lot of tourists here visiting only Narkanda. How many places you want to cover will entirely depend on the number of days you have in hand but I will suggest a few itineraries as an example.
For the sake of this article, I will assume that you are starting from Delhi. If you were coming from a different city, then only the journey for 1st and last day will be different. The rest of the details will still apply.
Delhi to Narkanda – Day 1
Local sightseeing – Day 2
Return to Delhi – Day 3
This is a simple 3-day trip where you arrive at Narkanda on Day 1, stay and explore places here on Day 2, and return home on Day 3. If you however had more time in hand, then you can also plan your trip like this.
Delhi to Narkanda – Day 1
Local sightseeing – Day 2
Narkanda to Chail – Day 3
Chail to Delhi – Day 4
OR
Delhi to Narkanda – Day 1
Local sightseeing – Day 2
Narkanda to Sarahan – Day 3
Sarahan to Shimla / Chail – Day 4
Shimla / Chail to Delhi – Day 5
Shimla Narkanda Itinerary
If you want to focus only on visiting Shimla and Narkanda then the itinerary can be as below.
Delhi to Shimla – Day 1
Shimla – Day 2
Shimla to Narkanda – Day 3
Local sightseeing – Day 4
Narkanda to Chail – Day 5
Chail to Delhi – Day 6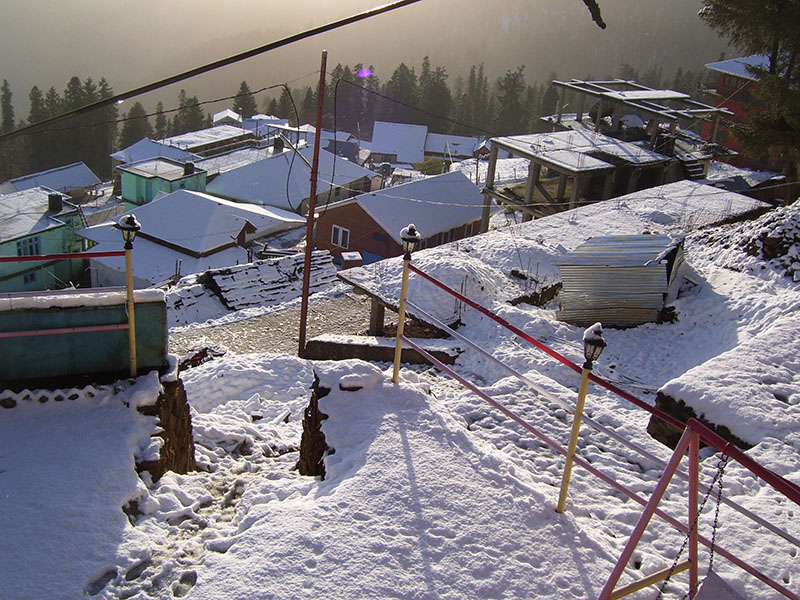 Where to stay in Narkanda
There are a lot of hotels in Narkanda and you will have no problem finding a place to stay. In peak tourist season, however, you may want to book your stay in advance. A lot of people visit here during January and February for skiing and hotels tend to get all booked.
In terms of cost, keep a budget of around Rs. 1500 per day. There is also an HPTDC hotel here which can be a great choice for accommodation.
Except for the winter season, my recommendation would be that you arrive here, look around, find a hotel per your liking, and negotiate an on the spot deal.
Where and What to Eat
There are numerous local dhabas here that serve some Himachali dishes like Thupka and all other north Indian dishes as well. You can choose to either eat at any of these dhabas or at the hotel that you were staying at. I have covered this information in a different article Best Foods to Enjoy in Narkanda that I will request you to check.
Mobile Network in Narkanda
All cellular companies have coverage in Narkanda. No matter which network you are on, your phone will be working fine here. The reception will be strong and voice clarity satisfactory. Data connectivity too will be good.
Shopping in Narkanda
Narkanda is just a small village and you can walk across it in 15 minutes at most. There really isn't much of shopping choices here and if you wanted to buy something, talking a walk through the markets in Shimla will be a better choice.
A few items however that you can buy in Narkanda are Himachali shawls, Pattoo blankets, Himachali caps, Pullans (woolen footwear, extremely handy at keeping your feet warm), Himachali robes, woven carpets, and blankets. The nearby village of Thanedar is best known to produce some of the world's best apples that you can buy.
Other Facilities
Mentioned below is information on other facilities available in Narkanda.
ATM / Banks
There are branches of Uco Bank, SBI, and HP State Co-operative banks in Narkanda and they all have their own ATMs as well. I have crossed Narkanda several times during my trips and have always found the ATMs functional and cash available.
Mechanics / Petrol Pump
There is a petrol pump at Narkanda where you can buy fuel from. Mechanics too are available in plenty. In fact, there are authorized service stations of some car and motorcycle companies here. If however, it was a major breakdown, then you may have to bring your car back to Shimla.
Also Read: How to Plan a Trip to Prashar Lake
Medical Facilities
Medical facility for small ailments and a dispensary is available at Narkanda. For anything serious, however, you will have to go to Shimla.
Narkanda in Winter
If you were planning a winter trip, then ensure that you are bringing some really warm clothes. Temperatures here can dip and remain below 0 degrees Celsius for several days altogether.
Before leaving home, please take a look at the weather forecast. Sometimes it can snow here so much that even roads can get blocked due to which you get stuck here.
Narkanda in winter is all about enjoying snow and skiing. Arrive here, stay for a few days, enjoy the snow and the cool weather, indulge in snow sports, and have a great time.
Also Read: How to Plan a Trip to Sarahan
Narkanda Road Condition
One of the best things I like about visiting this quaint little town is smooth roads. No matter where you are coming from, the roads are smooth tar all the way till Narkanda.
Shimla Narkanda Road Condition – This is a total of about 65 kilometers journey, doable in 2 hours, and the roads are smooth all the way.
Narkanda to Sangla Road Condition – If you were planning to explore a bit further towards Sangla, then the road until Karccham will be good. After Karcham to Sangla is a mix of bad and average.
Narkanda to Kalpa Road Condition – The roads after Narkanda change each year. To be on a safer side though, you can assume that until Rampur it mostly always remains good. After Rampur, as you enter Kinnaur, roads turn into average with bad sections in between.
Best Vehicle for Narkanda
There is really no best vehicle as such. The locals here drive around in Maruti Alto as well. All that is needed is that your car or motorcycle is well maintained and capable of climbing up the mountain roads.
Get your vehicle checked (serviced if required) and you will be OK. If you were going to ride a smaller engine bike, my recommendation would be that you ride solo and as light as possible.
Narkanda Altitude
Narkanda is located at a height of 9,060 ft. feet above sea level.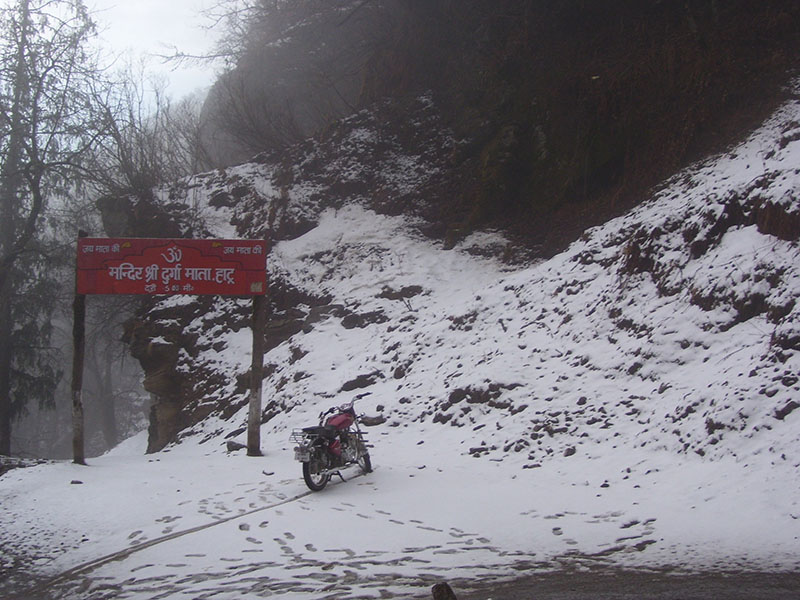 FAQs
Below are a few commonly asked questions about Narkanda.
How far is Narkanda from Shimla?
Narkanda is at a distance of 60 kilometers from Shimla.
How to reach Narkanda from Shimla?
The best way to reach Narkanda from Shimla is by a private taxi. If not, then you can easily find a shared cab or HRTC bus from the Shimla bus stand.
How to reach Narkanda from Kalka?
The Shimla Kalka toy train is a good and fun way to travel to Narkanda from Kalka. You can enjoy the scenic rail journey until Shimla and then hire a taxi to go to Narkanda from there.
How to reach Narkanda from Chandigarh?
The best way to get to Narkanda from Chandigarh is to hire a private taxi. If not, then you can find a deluxe bus for Shimla from Chandigarh and then another for Narkanda from Shimla.
Is Narkanda Worth Visiting?
Narkanda is one of the most scenic and peaceful villages in all of Himachal and is definitely worth visiting. It is easily accessible, has good road connectivity, and plenty of accommodation choices.
Is Narkanda road open today?
Yes, the road to Narkadna is open today. It in fact remains open for the entire year except for when heavy snowfall would have blocked the road temporarily. Even if that happened, authorities take action and clear the road as soon as they are able to.
When does it snow in Narkanda?
Narkanda receives snowfall between Mid December to Mid March. Sometimes, the snowfall can continue until early April as well.
Conclusion
I hope the information above on visiting Narkanda was of help. If you have any other questions; or need any further details; please feel free to ask in the comments section below; or at our Community Forum; and I will be glad to answer.