Kaza is the sub-divisional headquarters of Spiti Valley and is the largest township and commercial center of the valley. The town is divided into two parts; the older one known as Kaza Khas and the newer as Kaza Soma. Recently, it has come up as one of the most favorite tourist destinations in our country and the number of people visiting here rises each year.
This small town is best known for its colorful festivals, beautiful landscapes and several ancient monasteries located around it. It is also popular with tourists and adventure seekers during summer months because of its central location; which makes Kaza an ideal base camp for trekking, mountaineering, and tours directed to other parts of the valley.
In this travel guide, I will provide information on Kaza town including details like what you can see here, shopping, accommodation, eating, and other tourist activities. For a complete travel guide on the entire Spiti, I will recommend you to take a look at How to Plan a Trip to Spiti Valley.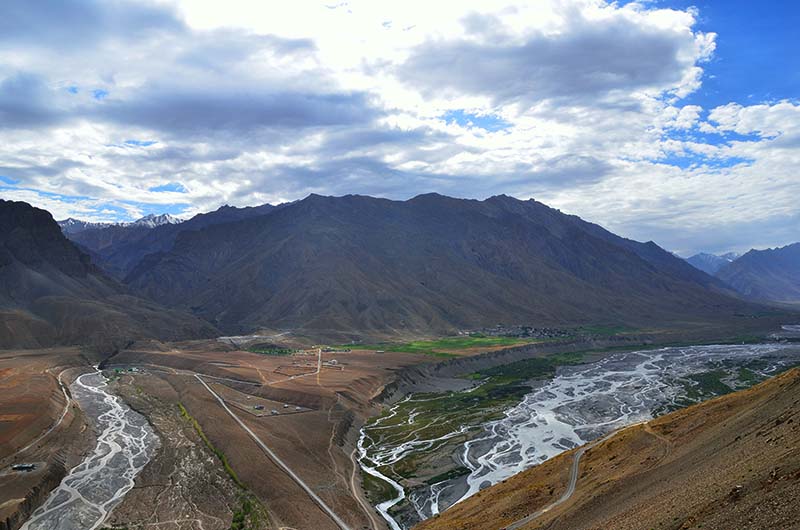 About Kaza
I often get asked whether Kaza was worth staying or should people just move to some other place. A general notion is that Kaza is just a town, a city and there isn't much to do around here. While the 'city' or 'town' part is correct, there are, in fact, several places in Kaza itself that are worth visiting. If you are traveling to Spiti, I will highly recommend spending at least a couple of days in Kaza. This town is what actually gives you a true taste of Spiti Valley. How? Read on to find out.
Where is Kaza Located
Kaza is located in the Spiti Valley of Himachal Pradesh. It is at a distance of 420 kilometers from Shimla, 200 kilometers from Manali and about 770 kilometers from Delhi.
How to reach Kaza
The town has two access points, one from Kinnaur Valley and the other from Lahaul Valley. The road from Kinnaur valley starts from Shimla, follows the Sutlej River until Poo village, and then turns north to follow the Spiti River all the way to Kaza.
The second road starts from Manali, crosses the mighty Rohtang La to reach Gramphu. Here it joins the road from Keylong and proceeds south right next to Chandra River until Batal. The road then climbs up the Kunzum Pass and descends on the other side into Spiti valley, reaching Kaza while crossing Losar on the way.
The Kinnaur route remains open throughout the year; except for occasional short periods when it may close temporarily due to landslides or heavy snowfall. The Manali route remains closed during winter months; usually from October end to early June due to heavy snowfall on both the passes en route.
I have covered this topic in great detail in another article, How to reach Spiti Valley by Road, Bus, Air and Flight. But for a brief overview below is how you can get to Kaza by any of the above mentioned two routes, either by your own vehicle or public transport.
How to reach Kaza from Shimla
If you were starting from Delhi for example and traveling via Shimla, below is the route that you will follow.
Delhi – Ambala – Shimla – Narkanda – Rampur – Pooh – Nako – Tabo – Dhankar – Kaza
Traveling this way, the total journey will be approximately 420 kilometers, depending upon where you started from in Delhi. It will take you at least 3 days to reach Kaza from Delhi, with a night halt in Shimla or Narkanda on Day 1 and Reckong Peo or Kalpa on Day 2.
This road remains open for all 12 months.
How to reach Kaza from Manali
If you, however, started from Delhi and traveled via Manali, then the route will be like below.
Delhi – Chandigarh – Mandi – Manali – Rohtang Pass – Gramphu – Batal – Kunzum Pass – Losar – Kaza
The total journey will come out to be about 740 kilometers, almost the same as via Shimla. The difference, however, is that you can complete it in 2 days easily. On Day 1, you will arrive in Manali and then go to Kaza on Day 2. Your travel time on Day will almost be of 14-16 hours though.
How to reach Kaza from Delhi by Bus
Traveling to Kaza by Bus is not at all difficult. The town is well connected and there is a regular bus service available by HRTC from both Shimla and Manali.
If you were coming from Delhi, then you will first board a bus from ISBT Delhi for Shimla which is very easy. There are several buses available for Shimla throughout the day, both ordinary and luxury. You can either board a state run bus by HRTC or HPTDC or book a bus with a private tour operator. All options are equally good.
From Shimla, there is a daily bus that starts at 6.30 PM and reaches Kaza by morning the next day. Or you can catch the morning bus for Reckong Peo first and then board the bus the next morning for Kaza from there.
If you went via Manali, then the journey will still be the same. First, board a bus for Manali from Delhi and reach there by evening or night. The next morning, reach the main bus stand and board the Kaza bound bus that starts between 6-7 AM and reaches Kaza by evening.
By Train
The nearest railway station to Kaza is in Joginder Nagar, at a distance of 365 kilometers from Kaza. This is a narrow gauge station and receives train a daily Toy Train from Pathankot railway station. The second option, and another Toy Train one, would be the Kalka Shimla Toy Train. The major nearest railway station however is at Chandigarh, about 500 kilometers from Kaza.
So you will first catch a train for Shimla, Joginder Nagar or Chandigarh and then reach Kaza by Bus. The best of these choices would be to get to Chandigarh by train and travel to Kaza by Bus. For more information, please read How to Reach Spiti Valley by Train.
By Air
Bhuntar is the nearest airport to Kaza but is only domestic and has limited flight connectivity. Chandigarh is the major and the biggest nearest airport. For more details, please read How to reach Spiti Valley by Air.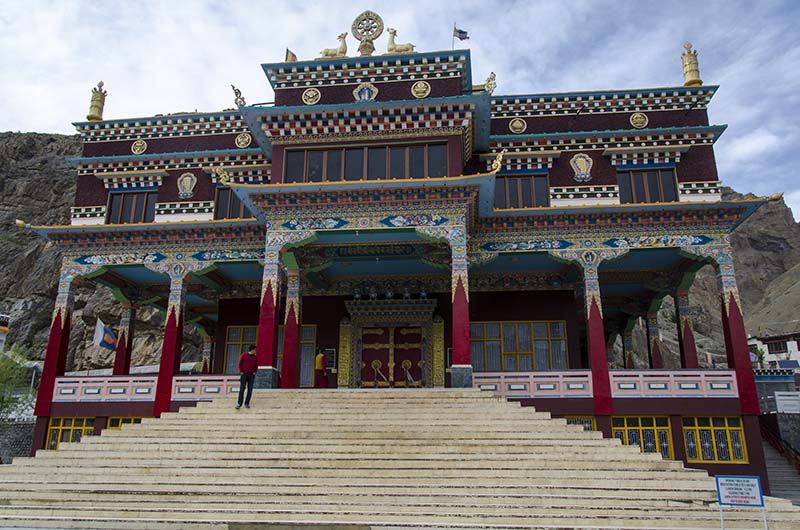 Tourist Places to Visit in Kaza
What is there to see in Kaza? To be quite honest, the scenic beauty of Kaza and the valleys around makes it a tourist attraction in itself. The small town is sitting quietly in the lap of mighty Himalayas, right next to the Spiti River. Even though a cold desert, it is still capable of capturing your gaze and keep your camera clicking.
While there isn't much to see within the town itself, there are several tourist attractions just a couple of hours away. Buddhism is the prominent religion in the valley here and hence, the monasteries here are the prime attraction. There are several ancient monasteries here like Key Monastery just a few kilometers away. Some other known monasteries are Tangyud Monastery, Tabo and Dhankar monasteries which are definitely worth a visit.
The confluence of Spiti and Pin Rivers, Marine fossils, Kibber wildlife sanctuary, Chandratal, Pin Valley are a few others to name.Please read Tourist attractions in Spiti valley and its vicinity for a complete list of must visit places while visiting Spiti.
Listed below are places that you can cover during your stay in Kaza town.
Key Monastery
The monastery of Key (also spelled as Kye or Ki) is considered among the best places to visit in Kaza. It is the biggest monastery of Spiti Valley and is also a religious training center for Lamas. It is an ancient monastery, believed to have been founded in the 11th century.
The monastery is located at a distance of about 14 kilometers from Kaza town on the road towards Kibber. You can either visit the monastery and return to Kaza or can incorporate it with a visit to the nearby village of Kibber, Komic, etc. For more information, please read How to Plan a visit to Key Monastery in Spiti Valley.
Remote villages of Spiti Valley
If you want to witness the true beauty of Spiti Valley, then the best way to do it is to visit the villages here. In a radius of about 25 kilometers around Kaza are scattered a handful of villages like Kibber, Langza, Hikkim, etc. An ideal way to spend your day in Kaza is to start early in the morning and cover all these villages. It will be a day-long drive and you will cover about 100 kilometers in total visiting a total of 6-7 different villages.
Unless you were very short on time and had no intention of staying in Kaza, this is one thing that I will highly recommend. The views in this upper village belt of Spiti are something that you will not get anywhere else in the valley due to which they count as the best places to visit around Kaza. You will see an amazing landscape, witness life in Spiti valley, and learn about the local culture. If you wish to, you can even stay in any of the villages as a paying guest.
From the route to these villages, you also get an awesome aerial view of the entire Kaza town, Spiti River, and the surrounding valley. If you have any interest in photography, this is the best spot to get amazing landscape shots of Spiti.
For more information please read Kaza to Kibber, Gette & Tashigang and Kaza to Komik, Hikkim, and Langza.
Visit Pin Valley
Located about 16 kilometers from Kaza is the Attargo Bridge which acts as the entry point of beautiful Pin Valley. You drive through a beautiful landscape before the road ends at Mud Village, 50 kilometers from Kaza. Pin Valley is home to the grey ghost of the Himalayas, the elusive snow Leopard. It is also one of the least visited and most peaceful places in our country. For more information, please read How to Plan a Trip to Pin Valley.
Visit Dhankar Village and Monastery
Dhankar is a small village located about 33 kilometers from Kaza. The place is best known for its ancient monastery, built on a spur, overlooking the confluence of Pin and Spiti Rivers. If you had time in hand, while you were in the village, you can also go for a short trek to Dhankar Lake which will take you about 3 hours from the village. For more details, please read How to Plan a Trip to Dhankar Village.
Visit Tabo Village and Monastery
Tabo is located about 48 kilometers from Kaza and is best known for its ancient monastery and the cave system. Tabo Monastery is believed to be the oldest continuously operating monastery in India. The ancient cave system around the village is worth visiting as well. For more details, please read How to Plan a Trip to Tabo Village.
Kaza Monastery
Next in the list of tourist places in Kaza is the monastery of Kaza itself. Also known as Sakya Tangyud Gompa, it is a relatively new monastery, built in 2009. It is one of the most vibrant, colorful, and beautiful monasteries of Spiti Valley. Just ask anyone in Kaza and they will point you in the right direction. Take a stroll through the town and spend some time at the monastery.
Kibber Wildlife Sanctuary
Kibber wildlife sanctuary is named after Kibber village itself (or vice versa maybe). It was established in 1992 and spans over an area of 2,220 square kilometers. The average altitude of the sanctuary is ranged between 3,600 to 6,700 meters and it is home to several endangered animals like snow leopard, Tibetan Wolf, Red Fox, Tibetan Wild Ass, Bharal (Himalayan Blue Sheep), Ibex, Tibetan Woolly Hare, Lynx Pika, and Pale Weasel. Several rare Himalayan birds like Bearded Eagle, Griffons and snow Cock are also found here.
For more details, please read How to Plan a Trip to Kibber Village.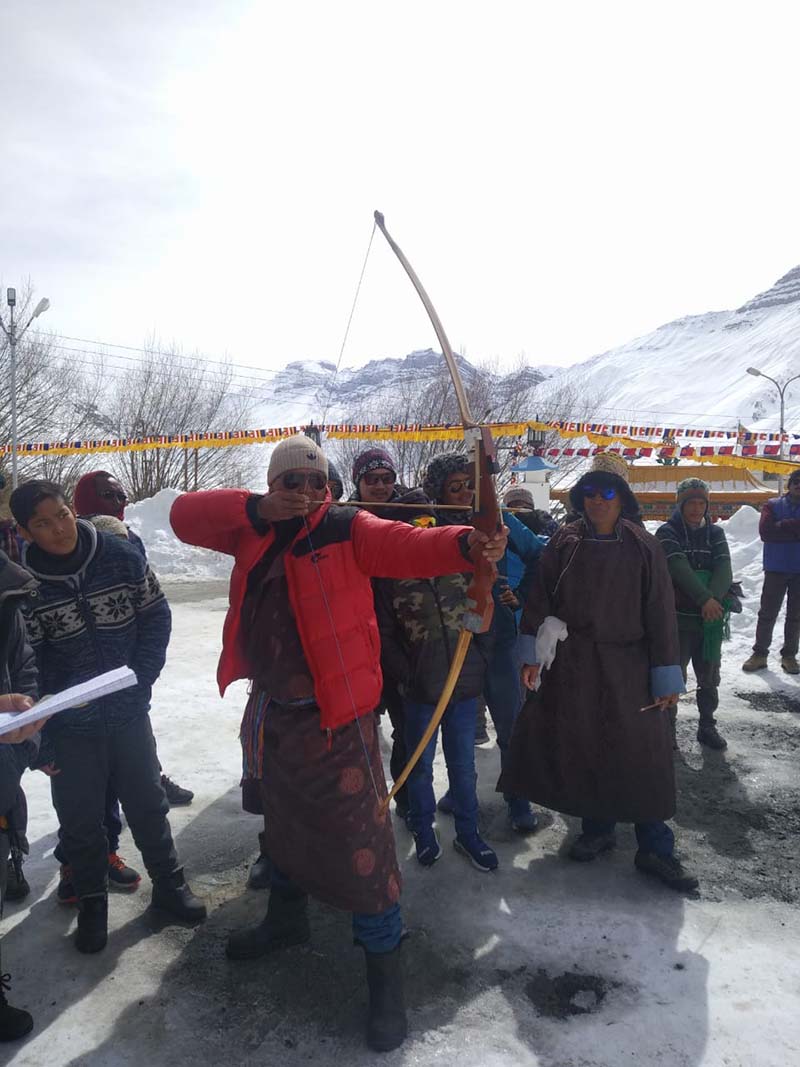 What to do in Kaza
After visiting all of the sightseeing places in Kaza that I listed above, mentioned below are a few other things to do in Kaza.
Shopping in Kaza
If you want to go shopping in Spiti Valley and buy some souvenirs of your trip, then Kaza is the place to do so. The central market in Kaza is the only market in all of Spiti and is very popular among tourists.
Local Warm Socks, Sweater, Shawl, Roasted Barle, Dry Cheese, Barle Powder, Sea Buckthorn Tea, Handicraft items are some of the most common items that are bought by tourists in Spiti Valley. But the list just does not end here. You will also find a lot of local artists from the nearby villages selling their produce in Kaza.
State government handloom center is you want to buy some local handicraft items at reasonable a price. Another item I will recommend are the local products made out of the Sea buckthorn plant. Spiti Sea Buck Thorn Society is a shop in the main market where you can buy it from.
Depending on your budget, time and preference, there are several other items available here. For more details, please read What to Buy in Spiti Valley and Where. Even if you do not want to buy anything, taking a walk through the market is still an activity that you will still enjoy.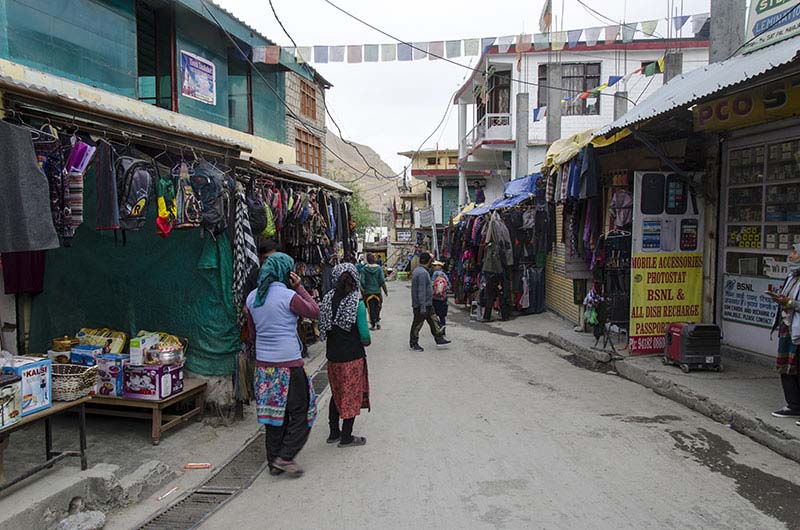 Try some Local Food
The next answer to the question of what to do around Kaza would be to try some local food. For this too, Kaza Khas will be the best place. The food here is a mouth-watering combo of Pahari-Tibetan-Punjabi-Israeli influences, topped off with some truly iconic homegrown dishes.
There is a German Bakery in the town which I know to be good. Other than this, you will find several restaurants serving Indian, Israeli, Tibetan, and continental dishes. Some of the most famous ones are Sol cafe, The Himalayan Cafe, Rangyul cafe, Cafe Zomsa, and Taste of Spiti. The rates will be different for each place but nothing too costly. The food will be good and you will definitely find something new to try here.
If you asked me though, the best way to enjoy some local Spitian food is to stay as a paying guest with a local and eat with them. This way, you do not pay too much and get an actual taste of Spiti. For more information, please read Food that you must try in Spiti Valley.
Go Trekking
There are several treks leading out of Spiti Valley, both short and long ones. Some of the easiest treks are the ones to Dhankar Lake from Dhankar Lake and to Sopona Lake from Mane Village. Other serious treks suitable for experienced trekkers are the Snow Leopard expedition to Kibber Wildlife Sanctuary, Pin Parvati Trek and Bhaba Pass Trek.
Interact with the Locals
Another thing that you will enjoy in Spiti is talking to the locals and listening to their stories. The best way to do this is to stay with a Spiti family as a paying guest. Share their table, eat with them, and see how they survive in such isolation and extreme weather.
My recommendation will be to visit any of the nearby villages like Kibber, Komic, Hikkim, etc, and stay there. Kaza is still a little modernized version of Spiti but if you truly want to see the simple yet warm life of the valley, then there is no other and better place to do it than the remote villages near Kaza.
Enjoy Sunset Views
The best spot to enjoy a sunset in Kaza is on the banks of Spiti River. Just walk through the town during the evening, reach the River and enjoy an amazing evening view from there.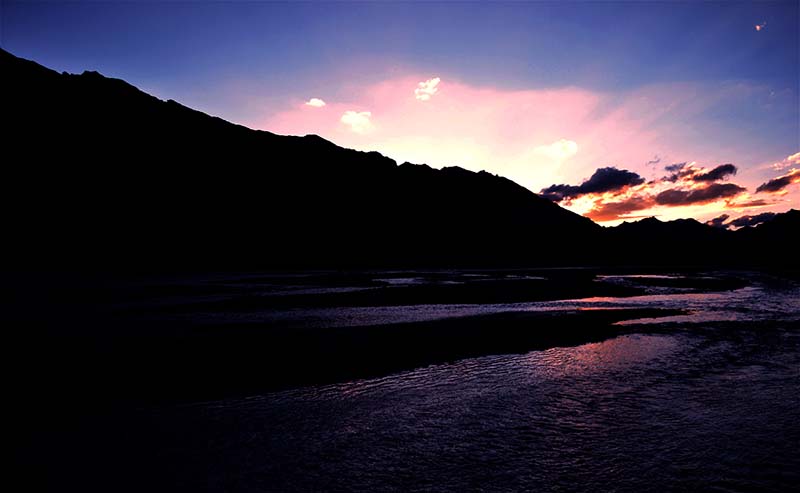 Festivals Celebrated in Kaza
Ladarcha Fair is probably the biggest and most anticipated festival of Spiti Valley, celebrated in the month of July in Kaza. Earlier it was celebrated on the grounds near Kibber village where traders from Ladakh, Rampur, and other places in Lahaul – Spiti would gather to exchange their produce. After the closure of Tibetan trader routes, the sight of this fair was then moved from Kibber to Kaza, the headquarters of Spiti valley.
After the move, what was once an occasion for people to exchange goods of daily use has now turned into a colorful celebration of different cultures. Thousands of people from not only Lahaul Spiti but also Ladakh and other parts of the country gather here to celebrate Ladarcha. The celebrations include music and dance performances and archery competitions. A prayer is held in Kaza Monastery to mark the end of the festival.
For more details, please read Festivals of Spiti Valley – A Colorful Celebration of Life
Weather of Kaza
Being in a cold desert, Kaza is one of the coldest towns in India. The temperature here varies greatly; in different seasons and even on the same day. One thing that remains common throughout the year is that it is always cold here. The only change in the weather in 12 months is whether it was harsh cold or pleasantly cold.
January is the coldest period of a year with an average temperature of -25 °C at night and 0°C during the day. Between December to March, the entire valley remains buried under a thick sheet of snow and can even sometimes get cut off from the rest of the country entirely if the weather turned extreme. It gets so cold here that even the water in the pipes freezes.
Between April to September, the weather mostly remains pleasant with moderately warm days and cold nights. July is the hottest month with an average temperature of 10 °C.
Spiti Valley is in a rain shadow area so it does not rain here at all. The nearby regions of Kinnaur and Manali, however, received heavy rainfall each year.
Best time to Visit Kaza
The best time to visit Kaza would be between May and September. Though it remains accessible from Kinnaur valley throughout the year, the Manali route is open only from June till early October. A visit in these months would mean that you will be able to complete the entire circuit and visit all of the tourist places in Spiti Valley. The weather will be pleasant and you will also not have any problem finding a place to stay.
If a winter trip is on your mind, then the month of February will be the best. This is when the snow on the ground is at most. But if you were visiting at this time, please be prepared to handle extreme temperatures, no electricity, snow on the roads and unpredictable weather. If it snowed too much and the roads got blocked, you may even get stuck here for a few days.
For more details, please read When is the Best time to Visit Spiti Valley.
Clothes to Pack
Contrary to common belief, you do not really need all thick woolens or furry jackets for visiting Spiti; unless it is a winter trip that you have planned. Days here are pleasantly warm and you will be comfortably able to take a stroll in the city wearing just regular cotton clothes. It is the nights when the temperature really dips but by then, you will be comfortably wrapped in blankets at your hotels.
What you are packing will depend a lot on how you are traveling, which month you are traveling in and how long your itinerary is. But the most important thing to remember is to pack clothes that you can wear in layers. For a trip from May to September, you should pack plenty of regular cotton clothes, a few light woolens, and a thick windproof jacket. This way, you can put on clothes in layers if feeling cold and take them off one by one if it gets warm.
For a winter trip, you will have to bring all heavy woolens, a windproof jacket, gloves, a monkey cap, woolen socks, and thermals. For more information on this topic, please read Clothes for Spiti Trip: What to Pack.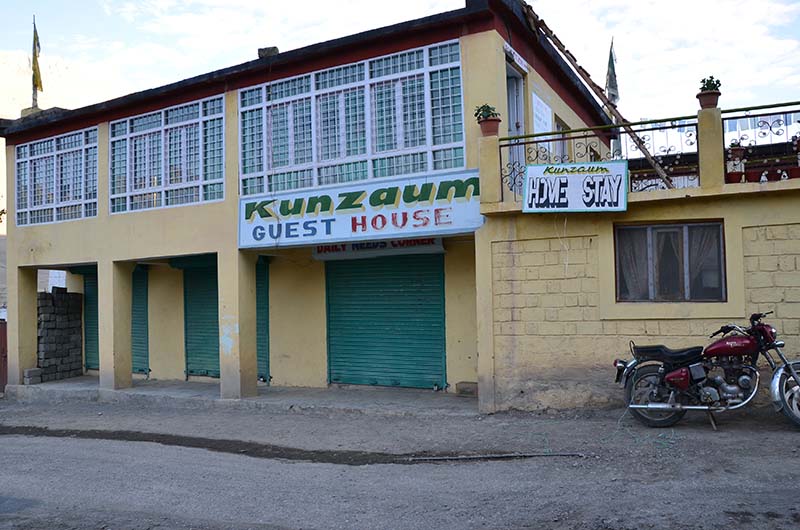 Where to Stay in Kaza
Old Kaza, known as Kaza Khas, is the main town and this is where the main bazaar is. This area is marked with several houses, hotels, shops, restaurants, guest houses, and homestays. This is really the heart of Kaza but as such, is also a little congested.
New Kaza, also known as Kaza Soma, is an extension of the main town, on the outskirts. There are a few hotels and guest houses here as well. As compared to the main town, you will get much better views if you stayed in Kaza Soma. It is also much more peaceful.
Finding accommodation is not a problem at all in Kaza. No matter what your budget or preference is, you will easily be able to find a place to stay for the night. There are several budget and luxurious hotels available that you may choose from.
Paying guest is another option available for cheap accommodation. Camping, however, can be a bit of a problem. Being a busy town, finding a camping spot will be a bit tough; though you may find one on the outskirts of town. I would, however, recommend that in Kaza, it is better to stay in a hotel rather than camping.
It doesn't matter which month you travel in, you will never run in a situation where you arrive at Kaza to find it completely booked. Though you may also book online or in advance, I always advise people to first reach there, find a hotel per their liking and budget, and then check-in. Booking in advance in most cases would only mean that you will end up paying more, and be deprived of the opportunity of staying at some other hotel that you may like better.
Acute Mountain Sickness in Kaza
If you traveled to Kaza via Shimla, then chances of suffering from altitude sickness are next to none. Traveling by road from Shimla would mean that you have already been at higher altitudes; but most importantly, have given enough time to your body to acclimatize; as the increase in altitude from Shimla is slow and gradual. On the other hand, if you reached here from Manali; you are most likely to suffer from symptoms, at least on your day of arrival.
Some people first plan a stay at Chandratal from Manali before reaching Kaza which actually is not advisable. Chandratal is at an even higher altitude than Kaza and is a place in the middle of nowhere. If your situation there worsened, you will be stuck for the night suffering. It is best to arrive at Kaza from Manali, give it at least a day for your body to adjust before planning a trip to any other place from there.
Please read How to handle acute mountain sickness in Spiti valley for more details on what AMS is, what are its symptoms and how you can deal with it while on a trip to Spiti valley.
Mobile Network in Kaza
BSNL or MTNL has the widest coverage in Spiti Valley. In Kaza however, Airtel will also work well. Jio is in the process of setting up its network. Idea and Vodafone do not work in Kaza.
There are several payphones in the town though that you can use. The BSNL connection is not that great and voice clarity can be bad. Data connectivity is intermittent and even when it is available, speed will be really slow.
Medical Assistance
Kaza has the only major hospital in Spiti valley. It is well equipped to handle most of the ailments. Last I was in Kaza, I also noticed a couple of small doctor clinics there and medical dispensaries.
Banking Facilities / ATM in Kaza
There are both banks and ATM facilities available in Kaza but cash may not be available at all times. You are advised to keep enough cash that can last for a few days.
Kaza Altitude
Kaza is at an altitude of 3,800 (12,470 feet) meters which actually is higher than even the city of Leh in Ladakh, the later being at 3,524 meters (11,562 feet).
Internet in Kaza
There are internet cafes in Kaza and several hotels / restaurants too provide Wi-Fi service. Speed however is again questionable. You can use it for basic browsing and checking emails but not for heavy downloads.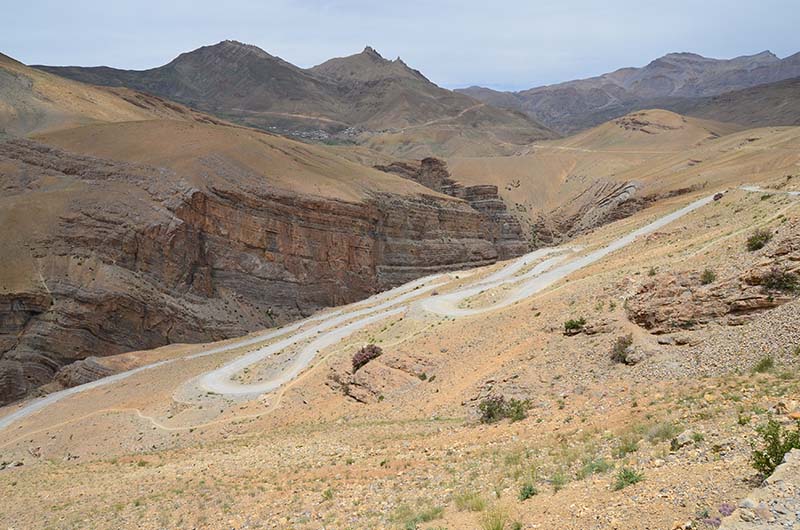 Kaza Road Conditions
The road from Shimla to Kaza is a mix of good, bad and average. The bad part is mostly limited between Tabo and Kaza; otherwise, the road is mostly smooth in the rest of the places.
The stretch between Manali to Kaza, however, is a complete nightmare, possibly the worst one you had ever been on. Take a look at Spiti Valley Road Conditions for a more visual representation of what I am talking about.
Best Vehicle
If you were visiting by car, then it will be better to bring an SUV with high ground clearance. It does not have to be a 4×4 but good GC is a must. If you were traveling by a hatchback or Sedan, I will advise to reach via Shimla and go back the same way. Do not include the Manali route in your plan otherwise you will risk damaging your car.
If you were traveling by motorcycle, then the only thing you need to ensure is that it is well serviced and ready for the trip. Even a 150CC bike can easily do the trip provided that you were riding solo and as light as possible. If you were riding with a pillion, it will be better to bring a bike with a larger engine, like Royal Enfield.
Mechanics / Petrol Pump in Kaza
Indian Oil has a petrol pump in Kaza which remains functional for most of the year. In peak winter however, even this petrol pump may run out of fuel sometimes. There are several mechanics available as well in the city and you will be able to get your vehicle fixed unless it is a breakdown severe in nature.
Bike Rental in Kaza
If you would like to rent a motorcycle from Kaza in order to visit the nearby areas, you can definitely do so. There are several rentals available here; depending on which motorcycle you chose, average rental would be around Rs. 1000 to Rs. 1200 per day.
Car Rental Services in Kaza
There are no self drive cars available here for rent as far as I know. If you want to rent a private taxi, you will have to rent it with the driver.
How to reach Kaza in Winter?
The only way you can reach Kaza in winter months is via Shimla. Manali route at this time remains closed. Even the road via Shimla can sometimes be blocked by snow so it will be best to check the road status before you leave.
Kaza Festival
For a complete list of festivals celebrated in Kaza and rest of Spiti Valley with dates, please read Festivals in Spiti Valley – A Colorful Celebration of Life.
Temperature in Kaza
Below is a monthly breakdown of average maximum and minimum temperatures in Kaza in Celsius. Please note that these are just average numbers based on historical data. Depending on the weather, the temperature can be higher or lower.
| | | |
| --- | --- | --- |
| Month | Average Maximum | Average Minimum |
| Kaza in January | -5 | -25 |
| Kaza in February | -2 | -17 |
| Kaza in March | 1 | -15 |
| Kaza in April | 7 | -8 |
| Kaza in May | 12 | -3 |
| Kaza in June | 18 | 2 |
| Kaza in July | 20 | 7 |
| Kaza in August | 20 | 7 |
| Kaza in September | 15 | 0 |
| Kaza in October | 6 | -11 |
| Kaza in November | 2 | -16 |
| Kaza in December | -3 | -20 |
Conclusion
I hope the information above on visiting Kaza was of help. If you have any further questions, please feel free to ask in the comments section below or at our Community Forum and I will be glad to answer.