I have always been an admirer of offbeat destinations. Whether it is just a weekend getaway or a trip lasting for several days, my first two preferences are always is to go somewhere new and somewhere offbeat. I do like visiting places like Shimla and Manali as well but am more inclined towards places less crowded. When it comes to hill stations, my belief is that going to an unexplored place really gives you a chance to see the natural beauty at its best without any human interference. Then there is also the fact that these small places are more peaceful and tranquil and provide a better escape for someone looking forward to getting away from the crowd. One such place that I ended at quite unplanned is the small village of Khirsu, in the state of Uttarakhand.
I was in Lansdowne with a few friends over a long weekend. While returning, we decided to take a different route back home; just for the sake of traveling on a different road. Hence, rather than coming back to Bijnor and Kotdwar, we decided to drive further to Srinagar and then circle back to Rishikesh from there. One thing led to another and somehow we ended up in a village that neither of us had heard of before. But we liked the place so much that we decided to extend our trip by a day more and stayed overnight in Khirsu. Since then, I have been to this small hamlet once more and will highly recommend to anyone looking for an offbeat destination in Uttarakhand. How can you plan a trip here is what I will be providing details on in this article.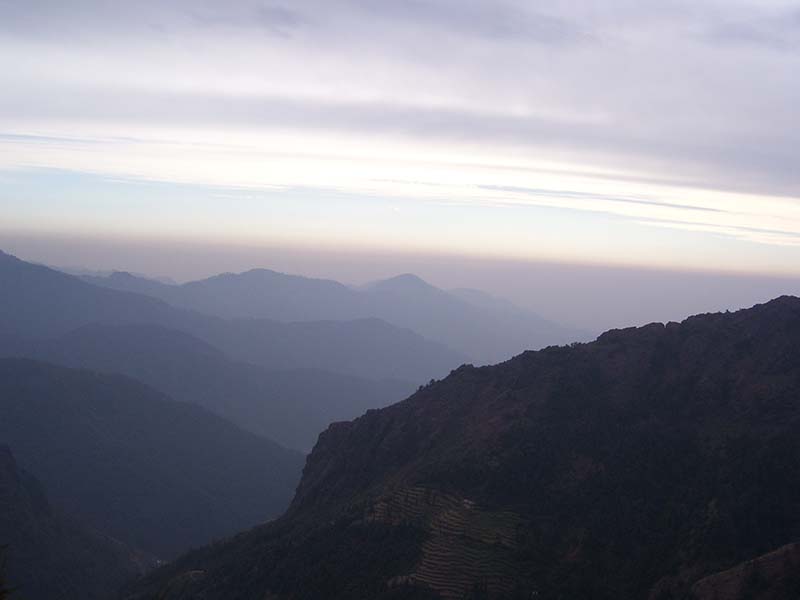 Below is a quick navigation menu of the details I will be covering in this post.
Khirsu Travel Guide
I will try to be as detailed as possible in the post below. If, after going through this information, you have any other questions, please feel free to ask in the comments section towards the bottom of this page.
Where is Khirsu
Khirsu is located in the state of Uttarakhand, at an altitude of 1,700 meters and about 40 kilometers from the town of Srinagar. Lansdowne is about 90 kilometers from Khirsu by a narrow internal road and Rishikesh is about 135 kilometers. To get here, you can either drive through Bijnor, Kotdwar, and Lansdowne or via Rishikesh and Srinagar. More details on both the routes are provided in the article below.
Why Visit Khirsu
Khirsu will suit only to a particular type of tourists; the ones that like to explore new places and visit silent offbeat locations. If your idea of a trip is to go shopping, eat out at fancy restaurants, party, do tons of tourist activities and go sightseeing to a whole bunch of places then Khirsu will disappoint you. If however, you would like to enjoy amazing vistas, witness great natural beauty, sit outside your hotel room enjoying the silence only disturbed by a distant voice of a woman shouting at her kids, do nothing all day long and experience how slow the time can sometimes pass by then Khirsu is your kind of place. Khirsu is famous for its scenic background and that is pretty much it. From here, you can see a spectacular view of the Himalayas, including snow-crested Trishul, Nanda Devi, Nandkot and Panchchuli peaks.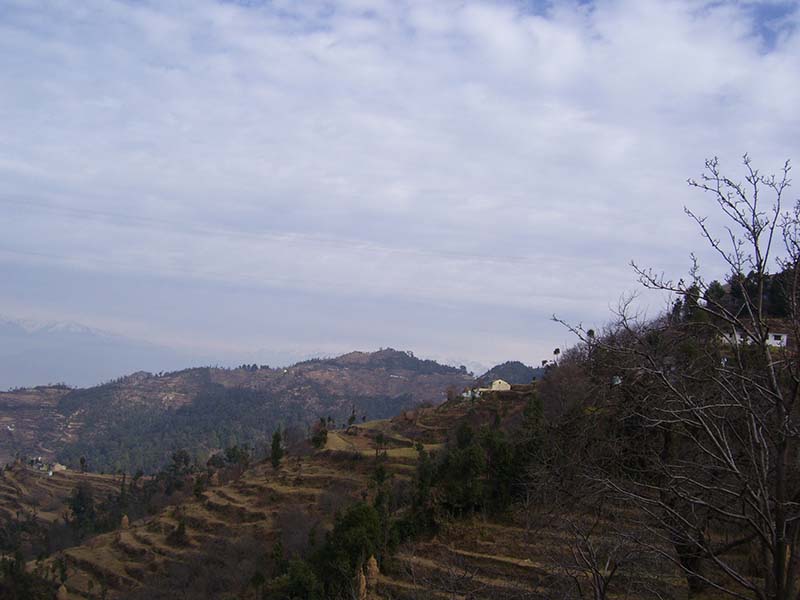 How to reach Khirsu
Khirsu and the nearby area is considered to be remote Uttarakhand but getting here is really easy. The road between Lansdowne, Srinagar, and Khirsu is actually a well laid one, though it is a bit narrow and steep at a few places. The bad section of the road is between Bijnor and Lansdowne and Rishikesh and Srinagar. Let us take a look at the different routes you can take to get here. I will assume Delhi as your starting point for this part of the information.
How to reach Khirsu from Delhi
If you were traveling via Lansdowne, the route from Delhi to Khirsu will be as mentioned below.
Delhi – Ghaziabad – Modinagar – Meerut – Khatauli – Bijnor – Najibabad – Kotdwar – Lansdowne – Khirsu
The total distance by this route will be about 340 kilometers in total and will take you 9 to 10 hours to complete. There is a road that bifurcates towards Bijnor from Meerut as well but I would not recommend it. It is in very bad condition, goes through a crowded area and will further delay your arrival. Better would be to reach straight to Khatauli and then go to Bijnor from there via Miranpur. After Bijnor, you will continue driving to Lansdowne and then to Khirsu.
Also Read: Munsiyari Travel Guide – How to Plan your Trip and Explore
How to reach Khirsu from Haridwar
For traveling via Haridwar, you can either take the road via Srinagar or via Pauri. For both of these, you will first reach Devprayag via Rishikesh. At Devprayag, you will have two options. Either take the road via Kundi and Pauri which will total your kilometers at 375 kilometers. Or you can first go straight to Srinagar and then take the internal road to Khirsu but this will add another 25 kilometers to the journey. In both cases, via Haridwar, it will take you about 10-11 (or even more) hours to get to Khirsu.
By Bus
There are no direct buses to Khirsu from any of the major cities and you will need to break your journey in multiple parts. You will first reach Kotdwar, then catch a bus for Lansdowne and then to Khirsu from there. A better way would be to get to Rishikesh and look for a bus for either Pauri or Srinagar. From both these places, you will easily find a Bus or shared taxi going towards Khirsu for about Rs. 50 per person. From Lansdowne, a Bus journey can easily be of about 3-4 hours. From Pauri and Srinagar, it is of 1 hour at most.
It takes about 4 hours to get from Rishikesh to Srinagar by Bus and there are several buses throughout the day, the last one leaving at 3 PM, and will cost you about Rs. 150 per person. From Srinagar, there is only one Bus for Khirsu in the day that leaves at 8 AM from the Pauri Bus stand. It takes about 1.5 hours to reach Khirsu and will cost you Rs. 50 per person.
If you missed this Bus, you can then catch a Bus or shared taxi to Pauri, which is about 1.5 hours of journey from Srinagar. It will cost you Rs. 45 per person. From Pauri, there are shared jeeps available for Khirsu throughout the day. It takes about 1 hour to reach Khirsu from here and will cost Rs. 50 per person.
For a comfortable and hassle-free journey, it actually makes sense if you were able to board a direct bus for Pauri instead of Srinagar.
Nearest Railway Station to Khirsu
The nearest railroads to Khirsu are located at Rishikesh, at a distance of 135 kilometers; or Kotdwar, at a distance of 115 kilometers.
Also Read: Dhanaulti – A Complete Travel Guide, Road Map & Itinerary
Nearest Airport
Jolly Grant Airport in Dehradun is the closest airport to Khirsu, at a distance of 145 kilometers. You can actually get a taxi from the airport itself for Khirsu or you can travel by public transport.
Local Transport
Khirsu is just a small village and you can easily cover it on foot. You do not need a local commute to move around here.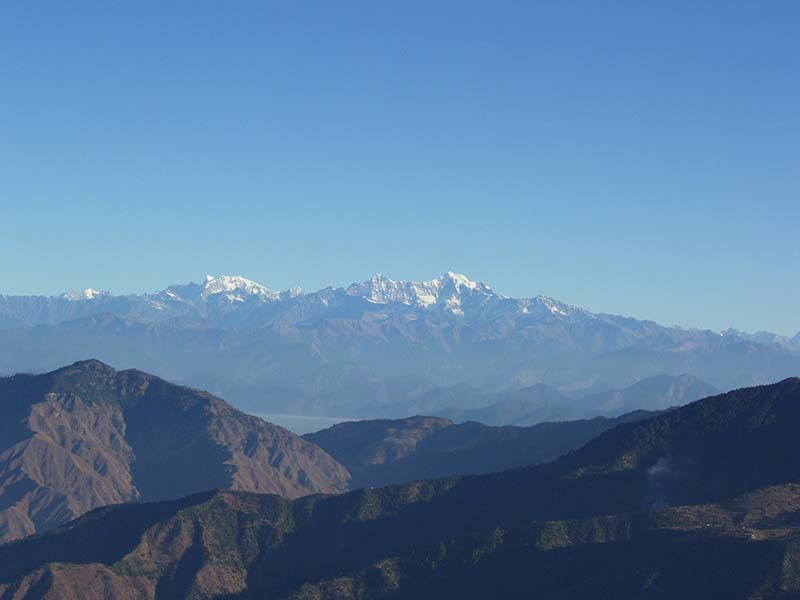 What to see in Khirsu
There is no long list of places to visit in Khirsu. It is just a small village; and the natural beauty is its prime attraction. It is surrounded by a dense forest consisting of pines, tall oaks, and old deodar trees. It is also known for its apple orchards; and can also be a good spot for bird watching. It is one of the best places to head to if you are looking for a picturesque destination to spend your holidays in the midst of the Himalayas. It is more of a less-traveled place that can be a good destination to spend your holidays in complete quiet with a 180-degree view of the gigantic Himalayan range in front of you.
Also Read: How to Plan your Trip to Chakrata?
There is a park located in Khirsu by the name of "Van Manoranjan Kendra". It is located near the rest house, at the foot of a mountain. The park is very much in its natural form with very little artificial alterations and is a pleasant walk.
Ancient Temples
Some of other tourist places in Khirsu are the ancient temples build in the Srinagar – Pauri – Khirsu – Lansdowne area. A few known ones are of Ghandiyal Devta, Jwalpa Devi, Deval Garh, Dhari Devi, and Ulka Garhi. Another temple that you will come on the way is the shrine of Kalpa Devi. The temple is built near a stream and can only be reached after climbing about 250 steps. I have not visited here but have heard of another temple on Lansdowne – Pauri road called Kandoliya Temple. The Kyunkaleshwar Mahadav Temple is another 8th century temple visited by a lot of locals.
Viewpoints
Furkunda viewpoint and Chaukhambha viewpoint are two spots to get some mesmerizing views of the hills and the valleys around. Ask any of the locals in the village and they will point you in the right direction. The temple at Ulkha Giri too has some stunning views around it.
Things to do in Khirsu
My favorite thing to do in Khirsu would be to "do absolutely nothing". The two times I have been here, I spent my days just walking around in the village, trying out some local food, enjoying the natural vistas and relaxing all day long. Nature walks, bird watching and photography are some of the other things to do here. The whole setting of the village will present you with great opportunities to click stunning landscape pictures. The clear skies at night, free of any pollution and lit with numerous stars, are great to get some star trail shots.
Also Read: Nainital – How to Plan your Trip & Explore
There are also a few easy treks that you can try your hand at. The Chowbatta trek is one of the most famous ones. While trekking, another activity that you can enjoy is of bird watching. Self-camping is a possibility as well in Khirsu.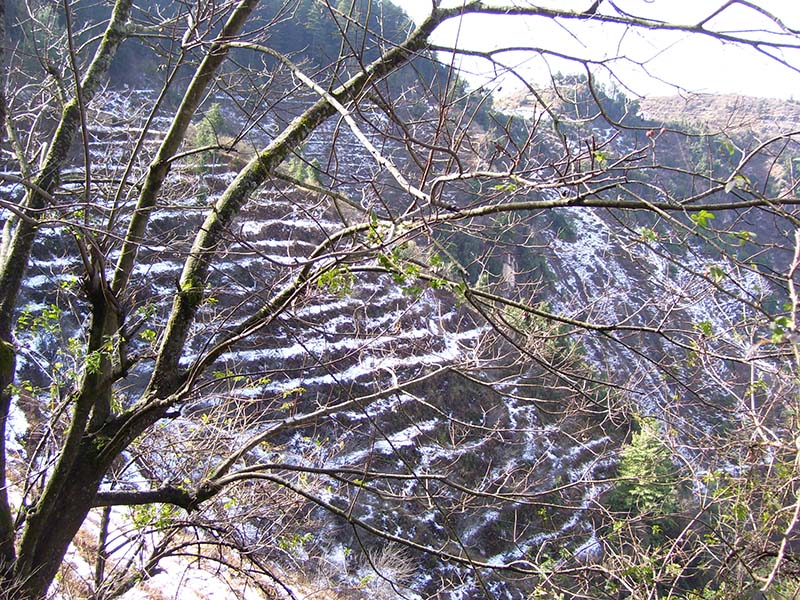 Where to Stay in Khirsu
There are a few hotels in Khirsu that you can stay at. I actually counted 4 when I was there last. How much will you pay will depend on the time of your arrival and your negotiation skills but keep an estimate of about Rs. 1500 per day. The best place to stay is the GMVN Tourist Rest House. It has panoramic Himalayan views on clear days and rooms are comfortable enough as well. The food here will be prepared only on demand but I will recommend eating at any of the restaurants in the village instead. You will have greater choices there, better tasting food and will cost you less. For booking the GMVN guest house, you can do it online from the Official GMVN Page.
If you did not get a room in the rest house, then there are a couple of other hotels as well that you can take a look at. If for some reason, you did not find a place to stay anywhere in Khirsu, then you can travel to Pauri town which is about 15 kilometers away and has several hotels.
I did not find any campsites in the village when I was there but have heard that Uttarakhand Forest Development Corporation sets up Eco-Tourism Camps between March and October every year. I cannot really provide more details on it because I was there in September and there weren't any camps around. But if you are visiting in this period, you can ask around in the village.
Also Read: A Complete Travel Guide to visit Mana Village
Food Options
Being a small village, there are no fancy restaurants in and around Khirsu. The best thing to do would be to eat at your hotel but you can also eat out at some local dhabas / eateries. You should keep your expectations low though. Food served will be very basic but delicious enough. The menu will consist of north Indian dishes as well as some Chinese dishes like Chowmeen and momos. I would recommend asking at either the hotel or at the dhabas if they can some serve some pahadi dish. You can tell them in advance to prepare. Some of the common local dishes are Sisunaak Saag, Bhaang ki Chutney.
Weather of Khirsu
Due to its altitude, the weather of Khirsu remains pleasant for most of the year. Summers are enjoyable with moderately warm days and cool nights. From March to July, the temperature continues to climb up and can even feel a little hot during the day. Monsoon arrives towards the end of the June and the rain gods rule the region throughout the months of July and August, until early September. It rains here quite a lot in fact; sometimes for days altogether, forcing you to remain indoors throughout the duration of the trip. Landslides caused by rains are not an uncommon sight in this region so please enquire about the weather before you leave home.
September is a pleasant month with lush green vistas all around and occasional light rainfall in the earlier part of the month. October starts to get colder with the arrival of the autumn season and by November; the temperature starts to dip close to 0 Degrees at nights. It snows here during late December to early February with temperature averaging out at 4-5 Degrees Celsius.
Also Read: Mussoorie – A Complete Travel Guide and Itinerary
Best time to visit Khirsu
Now considering the information above, I think it is safe to say that the months of April, May, and September are the best months to visit Khirsu. But a lot will also depend on the reason for your trip. For example, if you were looking to find some snow, you should plan in January. For enjoying lush green vistas; plan a trip in July, August or September. For a family trip, April and May would be best.
November is overall a bad month to go because the vistas at this time are very dull and dry. It will be terribly cold and there won't even be any snow around. If rain bothers you, avoid coming between late June to Mid September. For someone who is not too fond of cold, a trip from November to March will be a bad idea.
Clothes to Pack
What clothes to pack will entirely depend on the time of your visit. From November to March, you must pack heavy woolens accompanied with a windproof jacket, cap, and gloves. For a trip in April, May, and June, your regular cottons with a light jacket will suffice. If visiting during the monsoon, pack clothes that can dry faster, like polyester. A raincoat will be very beneficial at this time and if possible, carry an umbrella as well. For a trip in September October or March, some light woolens and a few regular cotton clothes will work.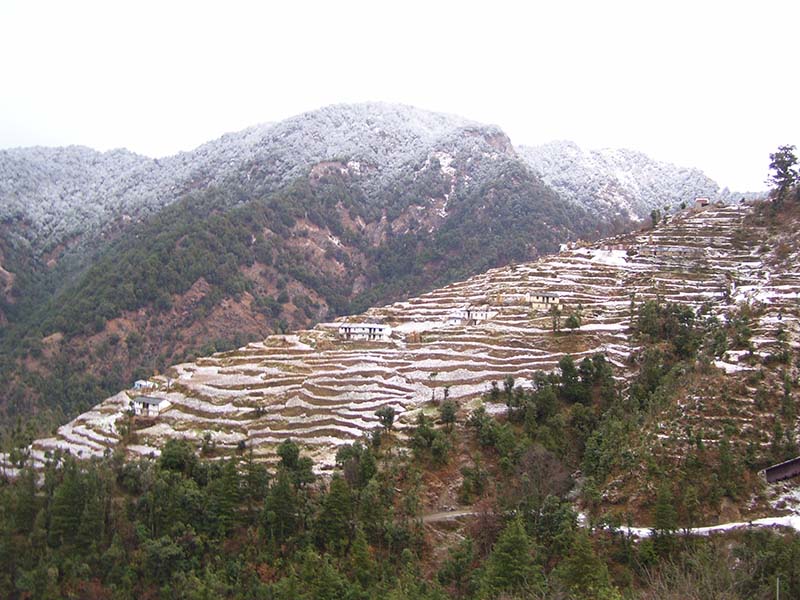 Shopping
Khirsu is just a small village and there is nothing to buy here really. Shops here are just a few small ones selling groceries and daily commodities. If you were looking forward to doing some shopping, then try your luck in Srinagar, Pauri or even Lansdowne.
Also Read: Gaumukh Trek from Gangotri – A Complete Travel Guide
Itinerary
Mostly, a trip to Khirsu is not a standalone one. What I mean by that is that it usually gets incorporated with a few other places like Srinagar, Lansdowne, and Chopta. How you want to plan it is entirely your choice but below is an example of an itinerary that you can follow.
Delhi to Lansdowne – Day 1
Total 258 kilometers
Will take about 6-7 hours
Overnight in Lansdowne
Lansdowne to Khirsu – Day 2
Total 92 kilometers
About 4 hours journey
Overnight in Khirsu
Khirsu – Day 3
Stay for a day in Khirsu
If short on time, you can skip this day
Khirsu to Chopta – Day 4
Total 120 kilometers
5 Hours Journey
Overnight in Chopta
Chopta – Day 5
Stay in Chopta
Trek to Tungnath Temple
Overnight in Chopta
Skip this day if short on time
Chopta to Deoria Tal – Day 6
Drive to Sari Village
Trek to Deoria Tal
Camp overnight at the lake
Skip this day if short on time
Deoria Tal to Rishikesh – Day 7
About 200 kilometers drive
Will take you 7-8 hours
Overnight in Rishikesh
Drive straight to Delhi if short on time
Rishikesh to Delhi – Day 8
Return to Delhi
About 220 kilometers drive
Will take 6 yo 7 hours
Also Read: Uttarakhand Roadways Bus Time Table
Time Needed for a Trip to Khirsu
As you can see, this is a very elaborate and relaxed trip. From Delhi, a minimum of 3 days is what you need if you just want to visit Khirsu. Drive to Khirsu via Lansdowne, stay for a day and return via either Lansdowne itself or via Pauri / Srinagar route. If you have more days in hand, you can add places to your itinerary as I mentioned above.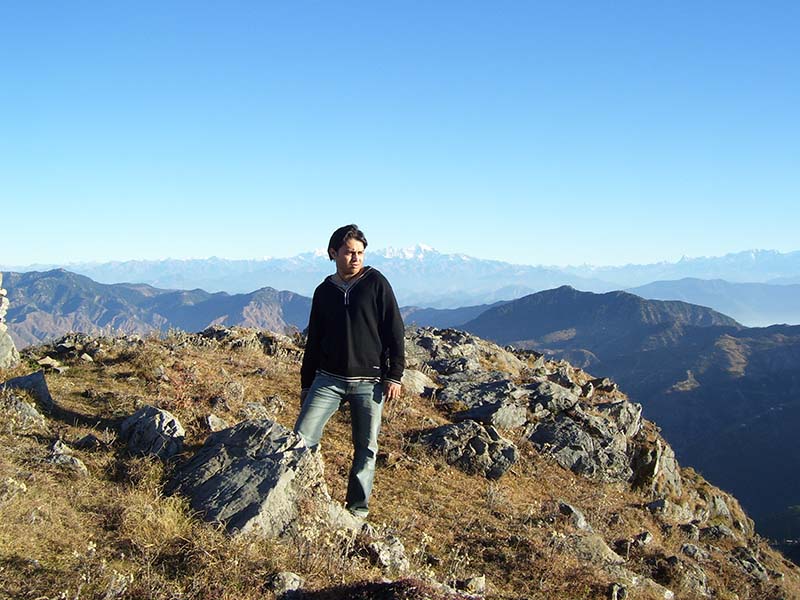 Bank / ATMs
SBI has a branch and an ATM in Khirsu but being in a remote area, there is a high possibility that you will find it out of cash. It would be better to not rely on it and carry sufficient cash.
Petrol Pumps / Mechanics
There is no petrol pump in Khirsu. The nearest one is either in Pauri or Srinagar. There are no mechanics here as well.
Hospital / Medical Assistance
There is a small hospital where you can get some basic medical help.
Mobile Network and Data Connectivity
BSNL and Airtel have the best network here. Vodafone was working as well but the voice quality was a little bad.
Road Conditions
Starting from Delhi, the roads will be a mix of good, bad and ugly. The ugly part is between Miranpur and Kotdwar if going via Lansdowne; or between Rishikesh and Pauri / Srinagar if going via Rishikesh.
Also Read: Places to Visit in Gangotri – What to See in Gangotri
Best Vehicle
There is really no best vehicle as such that is needed for visiting Khirsu. You will find the locals here driving around even in small hatchbacks. All that is required is that your vehicle is well maintained and serviced before the trip. This applies to both cars and motorcycles.
Altitude
Khirsu is at an altitude of 1,700 meters (5577 ft).
Temperature
The average temperature in Khirsu in summer ranges between 10 to 25 Degrees Celsius. During the winter season, it remains between 0 to 5 Degrees Celsius.
Is Khirsu safe?
Yes, Khirsu is a very safe place to visit as long as you act like a responsible tourist, do not take any unnecessary risks or put yourself in harm's way.
Does it snow in Khirsu?
Yes, it snows in Khirsu from late December to early February. The intensity and frequency of the snowfall, however, may not be that great.
When is the place open?
Khirsu remains open for tourism throughout the year. When to visit entirely depends on your convenience and reason for the visit.
Conclusion
I hope the information provided above on visiting Khirsu was of help. If you have any questions; or need any other details; please feel free to ask in the comments section below; or at our Community Forum; and I will be glad to answer.