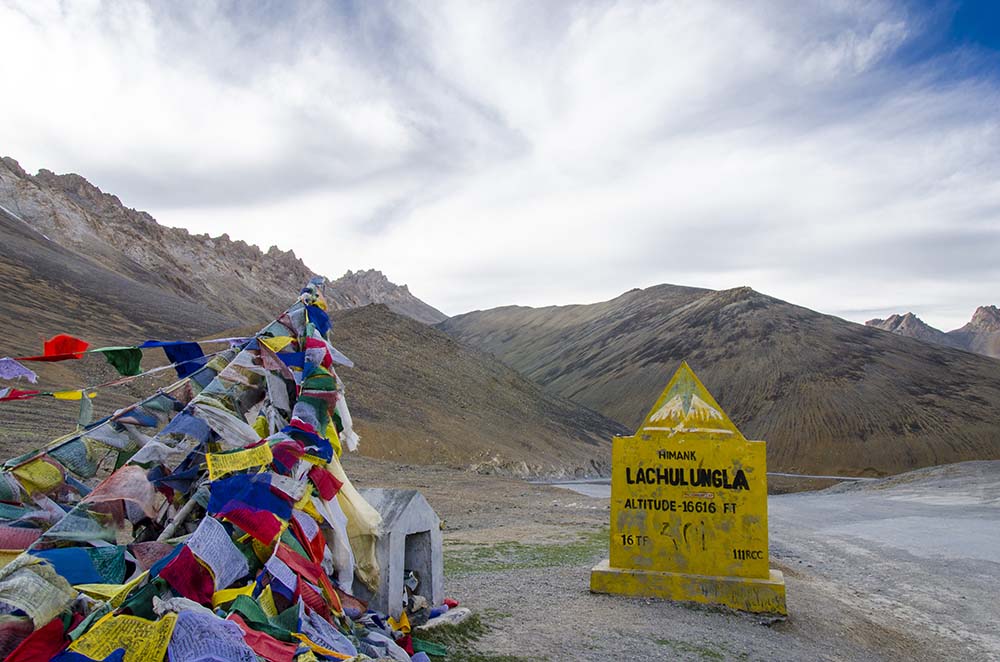 Lachulung La is a mountain pass located in the Indian Union territory of Ladakh. It is the 4th mountain pass that you will cross if traveling from Manali to Leh and 2nd if traveling the other way around. The pass sits at an altitude.
Also known as Lungalacha La, it sits at an altitude of 5,059 m (16,598 ft) and separates the valleys of Tsarap Chu and Tozay. It is one of the easier passes and it can be traversed cross-country by moving along the Nala on both sides. However, due to the altitude, a lot of travelers suffer from symptoms of acute mountain sickness while traveling on this stretch after Sarchu.
About Lachulung La
There are several passes in Ladakh that you would not realize you have crossed if there wasn't a board or a stone marker at the top. Lachulung La Pass is definitely among one of them. After Nakee La, the road descends for a while and then climbs back up again and before you even know it, you have driven up another high altitude pass and are standing at the top of Lachulung La.
The distance between Nakee La and Lachulung La is just about 18 kilometers. It is because of this short distance that the climb for Lachulung La seems a bit easier. But it is no less adventurous than any other passes on the Manali Leh route or in Ladakh. In fact, it is around Lachulung La that you have the highest chance of spotting wildlife between Manali and Leh.
Also Read: How to Plan a Journey on Manali Leh Highway
Lachulung La Altitude
The stone marker at the top of the pass reads the altitude as 16,616 ft which actually is incorrect. The elevation of the pass is 16,598 ft.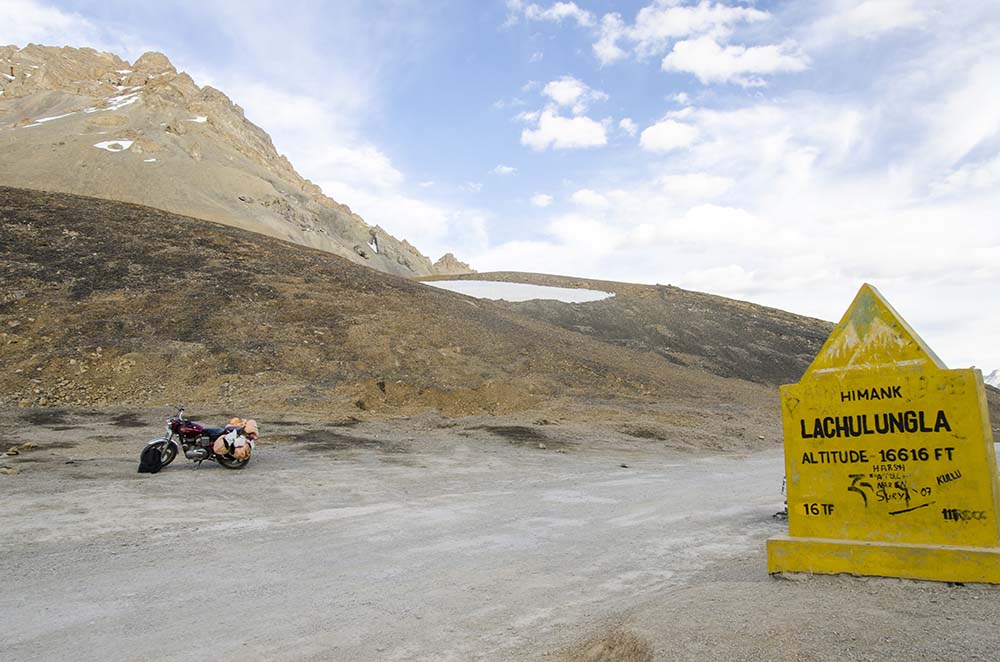 How to reach Lachulung La
Lunglacha La can only be reached between late May and Mid October when the entire Manali Leh stretch is open. For the rest of the time, the pass remains covered under several feet of snow and cannot be traveled to. You can travel either by your own vehicle or board a bus from Manali or Leh.
By Road
To better understand the route, I will recommend you to take a look at the Road Map of Manali Leh Highway.
Starting from Manali, the route of the journey will be as mentioned below.
Manali – Rohtang Pass – Keylong – Jispa – Baralacha La – Sarchu – Nakee La – Lachulung La – Pang – More Plains – Tanglang La – Upshi – Karu – Leh
The distance from Manali to Lungalacha La is 232 km. It will take 2 days to cover with a  night halt at either Keylong or Jispa. If you want to travel in a single day, you can remove Rohtang from the itinerary and travel via Atal tunnel. Keep in mind though that if you did this, you will have to cover the entire distance to Leh in a single day or at least reach Pang because that is the nearest where you can find accommodation for the night.
The distance between Leh and Lachulung La is about 195 kilometers and the journey can be done in 6 to 7 hours.
By Bus
Between June and September, HRTC and HPTDC operate a regular bus service between Manali and Leh. The bus covers the journey in a total of 2 days with a night halt at Keylong and will also cross Lachulung La on its way. Please note though that while traveling by a Bus, you will only see the pass from its window as it will not stop at the pass for sightseeing.
HPTDC Bus may halt for a little while but the HRTC bus will most probably not unless you requested the driver and he agreed.
By Flight
The nearest airport to Lungalacha La is in Leh City, at a distance of 195 kilometers.
Also Read: What Clothes Should you Pack for Ladakh
Road Conditions
The condition of the road around Lachulung La is a mix of good and average. There are some bad stretches at well but for the most of it, the road remains to be in a good condition. Restoration work on the highway continues for the entire duration that it is open. Snow damages the road each year and then BRO works to restore it as soon as they clear the snow.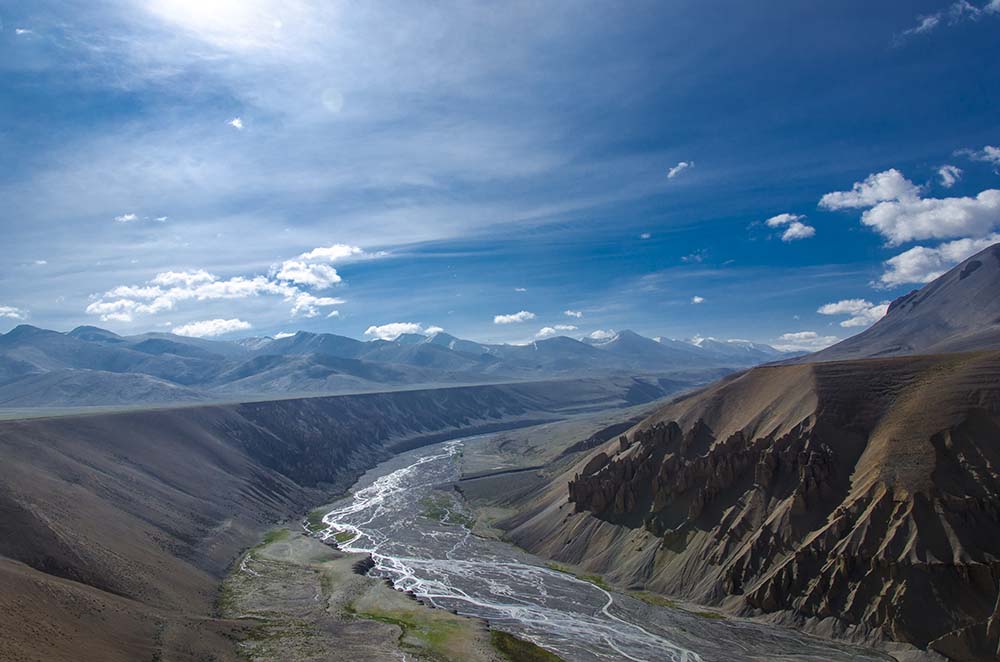 What to see at Lachulung La
There is nothing in particular that you would want to see at Lachulung La. It is an attraction in itself in the way that is one of the 5 passes on the Manali Leh route. But other than that, there is nothing else to see or do.
With that being said, I would like to add that it is at this spot between Nakee La and Lungalacha La that you get the true feeling of being in the middle of nowhere. And because of this very fact, you may also spot some local wildlife while traveling on this stretch.
Where to Stay
The nearest accommodation is available at Sarchu on the Manali side and Pang on the Leh side. Both of these places have tented accommodation where you can spend the night.
Mobile Connectivity
There is no mobile reception at Lachulung La. BSNL has the largest connectivity in Ladakh but even it does not work at Lachulung La. Between Keylong and Leh, just assume that you will remain completely off the network. For more details, please take a look at Mobile Connectivity in Ladakh.
Best time to Visit
The best time to visit Lungalacha La is between June to September which is also the best time to visit Ladakh. This is when both Manali Leh and Srinagar Leh highways are open and you can easily plan a road trip to Ladakh. In these months as well, I will recommend avoiding July and August due to the monsoon season.
If you were flying to Leh, you can also visit Tanglang La in May, October, and early November as well. By road, traveling in October should be avoided because snowfall at top of the passes can block the road, leaving travelers stranded on both sides.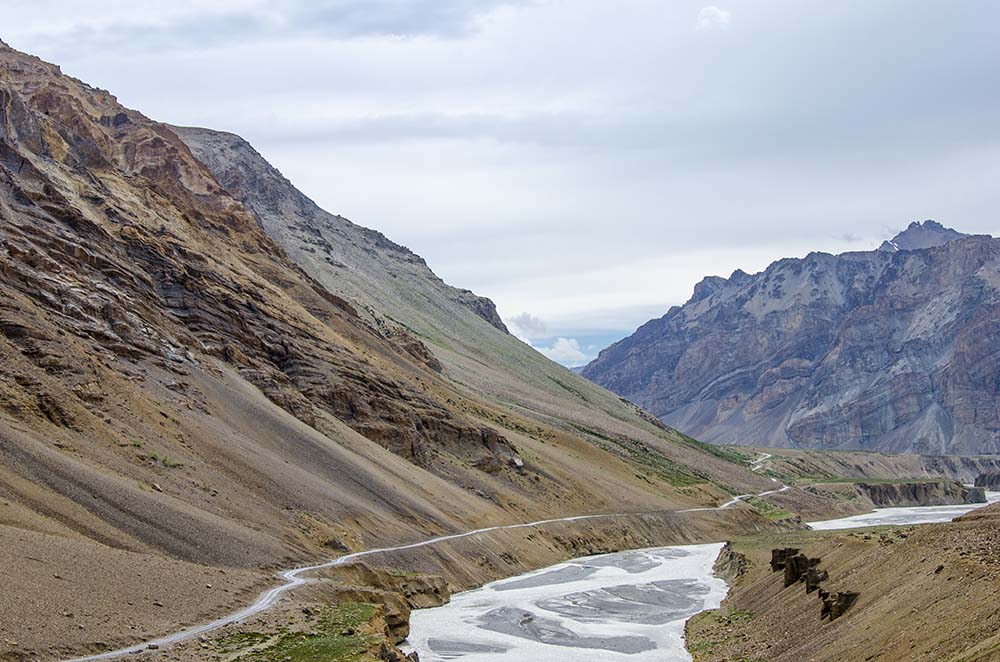 Weather at Lachulung La
The weather at Lachulung La will always be cold, irrespective of the month and time of the day you arrived. The pass remains snowed out between November to May. From June to September, days will be moderately warm but nights will still be freezing cold. It will also be very windy at the top.
Also Read: How to Prepare your Car for Leh Ladakh
Lachulung La Temperature
Between June to September, the day temperature will be around 15°C. At night, the temperature will remain several degrees below 0.
From November to April, the average temperature at Lachulung La remains to be around -20°C.
FAQs
1. Can we find snow at Lachulung La?
Yes, it snows heavily at Lungalacha La. But if you were visiting from June to September, then chances of finding snow will be very less.
2. Can we travel to Lachulung La in a small car?
Yes, the pass can be reached in a Sedan or hatchback as well. The only problem will be the low ground clearance and you will have to drive very carefully.
Conclusion
I hope the information above on Lachulung La was of help. If you have any questions or need any other details, please feel free to ask in the comments section below or at our Community Forum, and I will be glad to answer.