I visited Chandratal Lake for the first time a few years ago and was completely enthralled by what I saw. The landscape in front of my eyes was like no other and for a while I did not know what to do. A part of me wanted to put the camera away and allow myself to immerse in the beauty of the place whereas the other part wanted to click as many pictures as possible. In the end, I spent hours roaming around on its banks and ended up doing both.
The kind of vista you see at Chandratal is hard to find elsewhere. So much I was mesmerized that I returned only 2 weeks later to spend a couple of nights more in the camps here.
Chandratal may be smaller than some of the other high altitude lakes in the region but is a giant in beauty. It is often called the crown jewel of Spiti Valley and quite rightly so. Your trip to Spiti will remain incomplete unless you have spent at least one evening at Chandratal.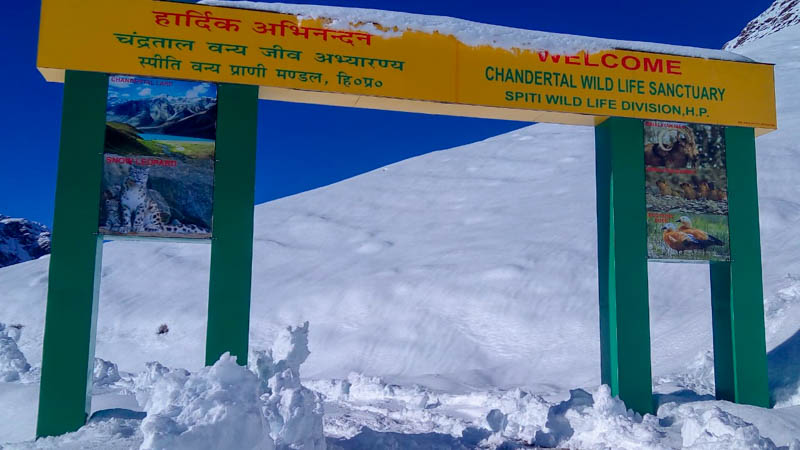 About Chandratal Lake
For a brief introduction, Chandratal, or Chandra Taal, is a high altitude lake located in Lahaul & Spiti region of Himachal Pradesh. The name of the lake literally means 'The Lake of the Moon' and is owed to its crescent shape. At an altitude of 4,300 meters, it is the source of Chandra River.
There are vast meadows on the banks Chandratal, favorite among the gaddi shepherds to graze their livestock. In the spring season, these meadows are carpeted with hundreds of varieties of wildflowers and attract thousands of tourists and flowers.
Chandratal is open for tourists from early June to Mid October. Between December to April, it remains in a completely frozen state.
Also read: How to Plan a Trip to Spiti Valley
How to Plan a Trip to Chandratal Lake
Mostly Chandratal becomes a part of the itinerary for a trip to Spiti Valley. Depending on your plan, this could be an affair lasting 9 to 14 days. You start from Shimla, cover all of Spiti, and end your trip at Manali while covering Chandratal on the way. Or you can also do it the other way around, starting from Manali and ending at Shimla.
However, in recent times, a lot of people have started to travel to only Chandratal to enjoy camping here. Adventure junkies and motorcycle enthusiasts come here to get a taste of the extreme off-roading opportunities that the roads here present. Depending on where you started from, this can be done easily in 4-5 days.
Both of the plans have their own pros and cons and are equally good. Below is some information on how you can best utilize your time and money while visiting Chandratal lake.
Also read: Mobile Network and Data Connectivity in Spiti Valley
How to reach Chandratal Lake
Let us first take a look at how you can reach Chandratal and then I will discuss other aspects of the trip. There are two ways that a person can get to the lake. The first route is via Shimla and the second one is via Manali. The Shimla route is longer and is best when you are covering the entire Spiti Circuit and not just visiting Chandratal. Traveling via Manali is the preferred way when you only want to visit Chandratal and return the same way.
In order to explain this better, I will first post a map of the region. This map includes the entire Spiti circuit, showing how to access Chandratal from both Manali and Shimla.  Click on it to view in full size or save to your hard disk.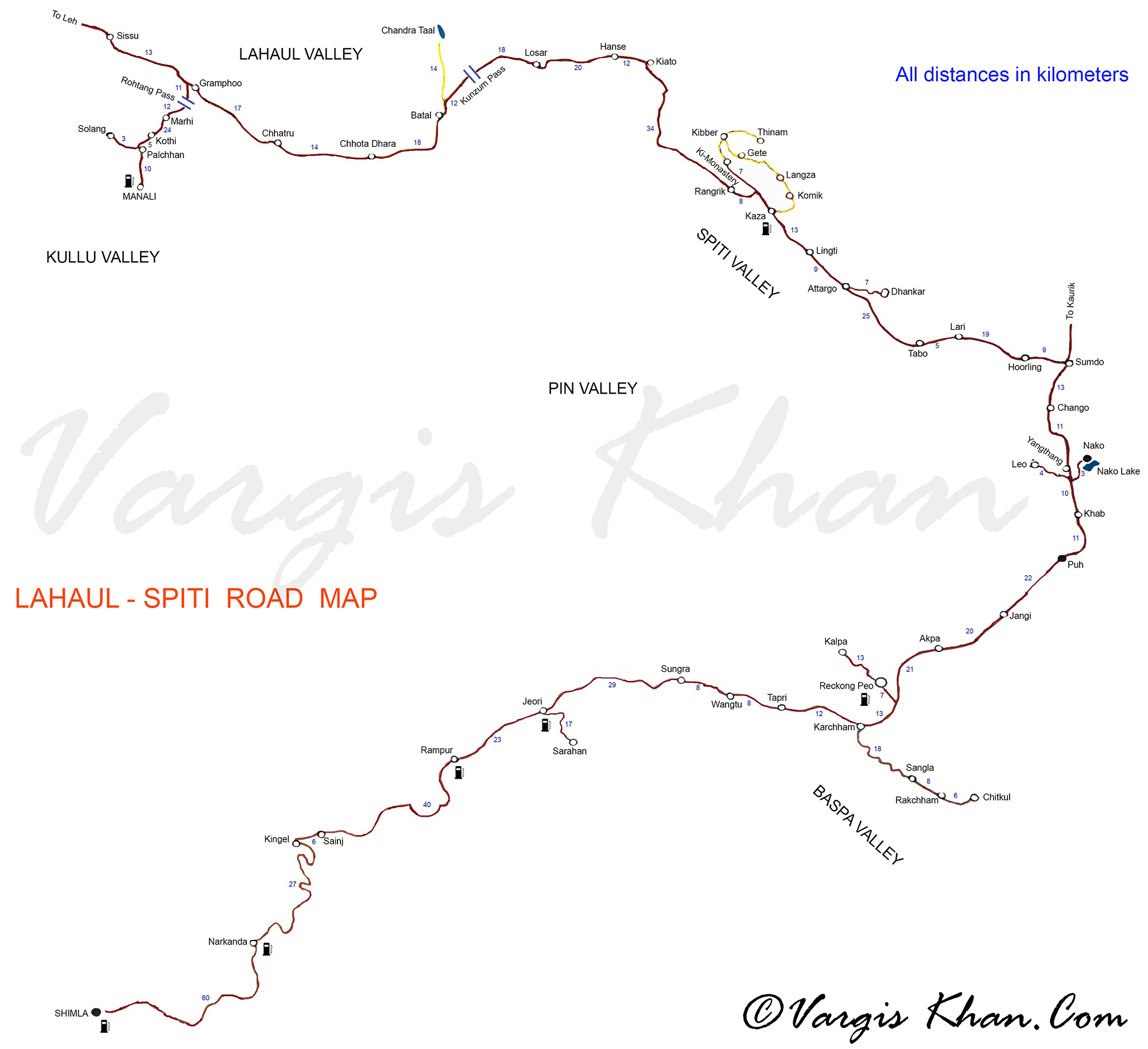 Manali to Chandratal Distance: 124 kilometers
Shimla to Chandratal Distance: 530 kilometers via Reckong Peo, Pooh, Kaza, and Batal
Keylong to Chandratal Distance: 120 kilometers
Gramphu to Chandratal Distance: 70 kilometers
Kaza to Chandratal Distance: 115 kilometers
Leh to Chandratal Lake Distance: 485 kilometers
The fastest way to reach Chandratal is via Manali unless you are traveling from Shimla or coming from Ladakh via Keylong. The easiest way however is via Shimla. Read on to know more.
How to Reach Chandratal Lake From Manali
When starting from Manali, it is extremely important that you get an early start. This would be beneficial primarily in the way that you will reach Chandratal in time and would have some daylight still left to trek to the lake. Secondly, if you started early, you will be able to avoid the possibility of getting stuck in a traffic jam towards Rohtang top.
After the introduction of the permits for Rohtang Pass, there is always a long queue at the Gulaba check post and sometimes it can even take hours before you get past it. So if you can, start by the first light of the day or even before that. The local taxi drivers get lined up at the check post even as early as 5 am sometimes.
From Manali, take the Manali Leh highway and cross Rohtang Pass. Road conditions will be good until you get closer to Rohtang top where it will be a mix of good and bad until Gramphu.
At Gramphu, you will notice a small dirt road to your right. Turn on this road and continue until Batal. This entire stretch is a badly broken and narrow dirt road filled with numerous water crossings, loose stones, gravel, mud, and slush so drive carefully.
Once you reach Batal, continue towards Kunzum Pass top. After about 2 kilometers from the Batal Bridge, you will notice another narrow dirt road to your left. There is also a board there naming it as Chandratal road. Turn on this road, drive carefully, and 14 kilometers later, you will be at Chandratal.
Chandratal to Manali Travel Time
The total travel time between Chandratal and Manali will be between 6-8 hours, depending upon your speed and breaks. The opening and closing of both the road and Chandratal are related to each other. So if this road is closed, then Chandratal will be as well and you cannot get there even if you went via Shimla. If Chandratal Lake is open for tourists then this route will also be open.
The distance from Manali to Chandratal is not really that great, just 124 kilometers which leads some people to believe that they can make this a quick trip. Make no mistake, however, this small distance can easily take you up to 8 hours to complete and sometimes even more.
You need to consider the fact that these 124 kilometers include a steep ascent to Rohtang Pass, then the slush and traffic towards Rohtang top followed by a nightmarish journey on Gramphu Batal stretch. Then comes another ascent towards Kunzum Pass top and finally a 14 kilometers drive on a dirt road that is barely wide enough for one car.
Rohtang Permits
If traveling by your own vehicle, you need to ensure that you first obtain the permit for Rohtang; either from the SDM office Manali or online. Without the permit, you will not be able to travel any further than the Gulaba check post.
The number of permits issued in a day is strictly limited, due to which, it can be a cumbersome task to procure it. Sometimes people even get delayed in Manali for an entire day because there was no permit available on their date of travel. For more details, please take a look at How to Obtain Permits for Rohtang Pass.
Manali to Chandratal by Bike
A bike trip is one of the best and most adventurous ways to visit Chandratal. Riding a motorcycle through water streams, on narrow roads, through boulders and slush is surely fun if you know how to handle the bike. But at the same time, you must practice extreme caution, especially on the notorious Batal-Gramphu stretch. There have been instances when bikers have died on this 60 kilometers long treacherous stretch.
If you cannot bring a bike of your own, you can surely rent one from Manali. Please read How to rent a Bike in Manali for more details.
How to reach Chandratal Lake from Kaza
The distance between Kaza and Chandratal is slightly more than a hundred kilometers. But the catch here is that the entire road is in a bad condition. From Kaza to Losar has is a badly broken tarred road and after Losar, there is no road at all.
Due to this, the travel time between both places is around 5-6 hours. From Kaza, take the road towards Losar and from there, continue towards Kunzum Pass top. A few kilometers after Kunzum top, as you start descending towards Batal, you will notice the narrow road going towards Chandratal that you will need to turn on.
Also read: Clothes for Chandratal Trip – What to Pack?
How to reach Chandratal Lake from Shimla
If a visit to only Chandratal is on your mind, then you must journey from Manali because reaching Chandratal from Shimla would mean 3 days of a journey. The only reason why you would want to take the Shimla route is if you were on a Spiti valley trip. That way, you can start from Shimla, cover the entire Spiti circuit, and exit at Manali covering Chandratal.
Depending on your itinerary and the places you wish to cover, this journey can be broken in several days. I have explained an example of an itinerary at Shimla to Spiti Itinerary – A detailed Travel Plan Plan that you can take a look at.
If however you are starting from Manali and want to cover the entire Spiti circuit, you can refer to Manali to Spiti Itinerary – A Detailed Travel Plan.
At the least, it would take you 3 days to reach Chandratal from Shimla. The first day you can travel until Reckong Peo and stay there for the night. On the second day, you can do Peo to Kaza and on the third day, you can go to Chandratal from Kaza.
How to reach Chandratal from Keylong
If you are coming back towards Manali from Ladakh and have an additional day; adding Chandratal to your itinerary would be a good option. You can reach Chandratal from Jispa or Keylong and go to Manali the next day.
Keylong to Chandratal is a good 8-9 hours of journey, most of the time being spent on Gramphu to Chandratal stretch. Start early from Keylong towards Rohtang Pass and then from Gramphu, take the road towards Spiti to reach Chandratal.
If traveling by bus, catch the early morning Manali bound Bus from Keylong. It will drop you at Gramphu between 8-9 AM. The Kaza bound Bus from Manali reaches Gramphu sometime after 9 AM; so you can board this one to reach Chandratal diversion. If for some reason, you are not able to match timings with these buses at any point, the only other option would be to wait for a shared taxi, especially from Gramphu to Kunzum Pass.
How to reach Chandratal from Delhi
If you are traveling from Delhi, the best way to travel to Chandratal is via Manali. Delhi to Manali is a good 12-14 hours journey depending on your speed. On Day 1, reach Manali from Delhi and on Day 2, reach Chandratal from Manali as I described above in the article.
There are several HRTC buses to Manali from ISBT Delhi that you can board. Most of these buses start in the evening and reach Manali early in the morning. I have covered this entire journey at great length in a different article that you can read at How to Travel to Chandratal from Delhi?
How to reach Chandratal by Bus
Below is some information on how you can plan a trip to the lake by Bus.
Manali to Chandratal Bus
If traveling by bus, you will need to catch the early morning Bus to Kaza that leaves Manali at around 5 AM. Board this bus and get off near the Chandratal diversion at Kunzum Pass. From here, you have two choices, either to walk all the way to the lake or hitchhike. A lot of people travel on this road in the peak tourist season and you will have no trouble finding someone to give you a ride.
A better choice in my opinion will be to get off at Batal and not near the division. From Batal, at the Dhaba, you have a high chance of finding a shared taxi for the lake.
Otherwise, you can just get down near the division and start walking to the lake. On the way, if a vehicle passes you by, you can ask them for a ride.
Kaza to Chandratal Bus
If coming from Kaza, you will need to catch the early morning 7 AM bus from Kaza to Manali and then get down at Batal as I explained above. An important thing to pay attention is the timing of the bus when it arrives at Batal. Because the next day, when you are returning, you will have to reach Batal at the same time to board this bus again for Manali.
Shimla to Chandratal Bus
If you were planning to come from Shimla by Bus, you can first board the daily Shimla to Kaza bus. Or you can first go from Shimla to Reckong Peo and then catch the Peo to Kaza Bus. From Kaza, board the 7 AM bus to get to Chandratal.
The fare from Manali to Chandratal will be about Rs. 250 per person. If coming via Shimla, the total fare will come out close to Rs. 750 per person. For more information, please take a look at Spiti Valley by Bus.
By Air
Bhuntar Airport near Manali is the closest airport to Chandratal, located at a distance of about 180 kilometers. You can get a taxi for Chandratal directly from the airport itself. Or you can first come to Manali and then look for a taxi from there.
Other than Bhuntar, the second closest airport is in Shimla at a distance of 370 kilometers via Manali and about 500 kilometers via Kinnaur Valley.
Both of these are however small airports with limited flights. The nearest major airport is in Chandigarh that is well connected with the rest of the country. If you were traveling by air, my suggestion would to catch a flight to Chandigarh and then travel to Chandratal from there.
Nearest Railway Station to Chandratal Lake
The nearest railway station to Chandratal is the Joginder Nagar railway station near Mandi, at a distance of about 290 kilometers. You can also travel to Shimla by the famous Kalka Shimla Toy train and then get a taxi to Chandratal from there.
Both of these are however small railway stations with limited connectivity. Hence, it would be better to travel to Chandigarh instead by train and then go to Chandratal from there.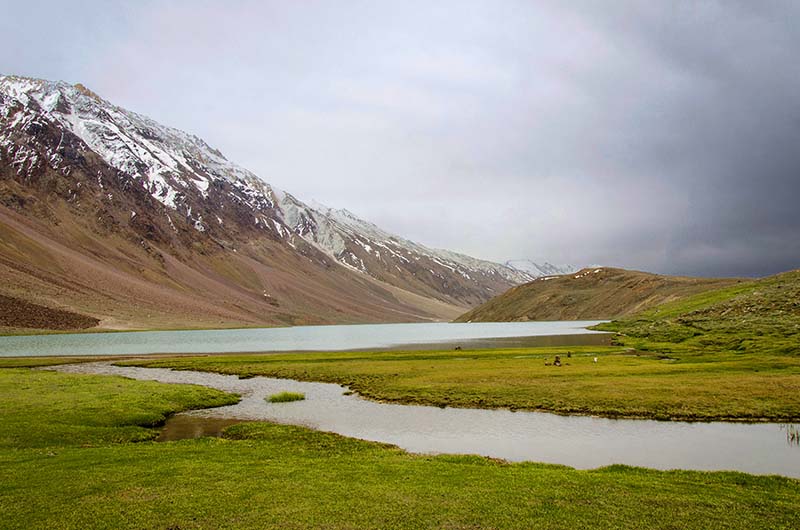 What to See at Chandratal Lake
First of all, let us talk about why should you visit Chandratal and what do you see there? The answer to this question is the natural beauty of the place and the adventurous nature of the roads. There are no markets here and no long list of activities to do. It is just a silent lake sitting in the middle of nowhere, between high rising snowcapped peaks. All that you can do here is to take a walk, enjoy the natural beauty, do camping, click plenty of pictures, and return.
But in itself, this is the greatest attraction of Chandratal. This is a place far away from civilization, soaked in tranquility, and perfect for some soul searching. The road leading to the lake is one of the most adventurous ones you had ever been on and will have your heart jumping to your mouth at several places.
So if your idea of a trip was to visit crowded hill stations, party, eat out and spend time shopping then Chandratal is definitely not for you. But if you want to spend some time away from the crowd, do some trekking, camp in the wilderness, see some stunning landscape, and have an adventurous drive then Chandratal is surely worth your time and money.
Mythology
There is also interesting mythology related to this lake, a beautiful love story that you can read about at The Legend of Chandratal.
The primary attraction of a trip to Chandratal Lake is of course its natural beauty. Some other tourist attractions en route are Manali, Rohtang Pass, and Kunzum Pass. On the way between Batal and Chhota Dhara, you get to see the end of Bara Shigri Glacier, the largest glacier in Himachal Pradesh and the second largest in the Himalayas after Gangotri.
Accommodation at Chandratal
There are no hotels at Chandratal. The only option available is campsites. Charges of these campsites can be Rs. 1500 or above (different for each camp) per person including meals. Please refer to the below articles for more details on the campsites at Chandratal. I have covered this information in another article that you can take a look at Camping at Chandratal and Accommodation at Chandratal.
If you are on a budget trip and do not wish to stay at these camps, the only other choice is the Dhaba at Batal. You can come back to the Dhaba ents after visiting Chandratal and stay here for the night. It is basically a dormitory-type accommodation under a huge tent with a few beds laid out. Charges for staying here will be anywhere between Rs. 200 – Rs. 300
Hotels at Chandratal
The only concrete hotel available nearby is the PWD guest house at Batal. If you are able to find the caretaker and get him to agree in letting you stay; you can stay at the guest house and eat at the Dhabas which are right next to it.
Batal has the facility of a satellite phone, the number of which is 08991722020. If you want to call in advance and inquire about booking the PWD guest house, you can do so at this number. The chances of finding accommodation at the guest house are almost none.
If you do want to stay here, rather than calling the dhaba at Batal, you should get a prebooking done by the PWD office. Even after that though, the caretaker can still be gone and your booking will be good for nothing. So it is better to not rely on this guest house for accommodation.
Self Camping
Camping on the banks of Chandratal is restricted by the law. The nearest campsite is at least 3 kilometers away from the lake. Even if camping on your own, you are not allowed to pitch your tents anywhere near the lake.
Please take this seriously and do not attempt to camp close to Chandratal or you may get in trouble. Also, consider the fact that it is a sweet water lake with a lot of wildlife around. You may get attacked by some wild animal coming to the lake for drinking water at night.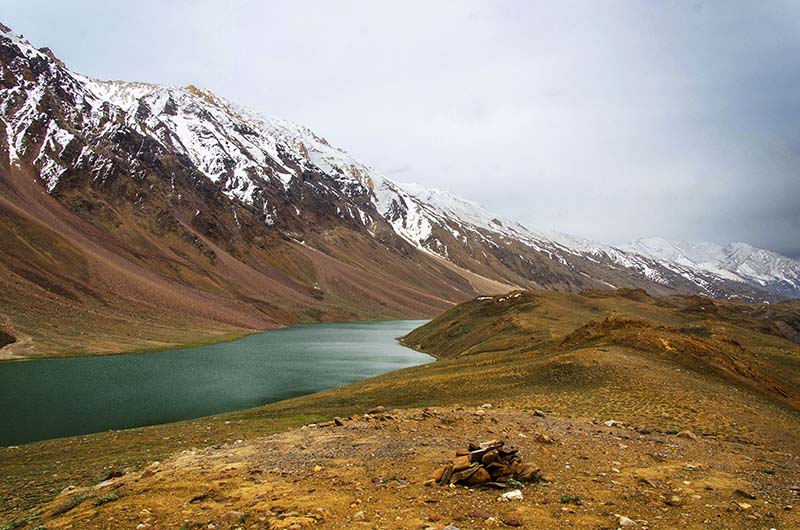 Chandratal Lake Weather
Freezing Cold is how the weather at Chandratal can be best described. The lake sits surrounded by glaciers so a chill in the wind remains present at all times. Even in July, you will be crawled under two blankets when spending a night here. Chances of a snowfall remain throughout the year, though very less from June to August. If cold is something that you are not overly fond of, Chandratal is not a place for you to visit.
Temperature at Chandratal Lake
The average temperature at Chandratal in summers remains between 5 to 10 degrees during the day and 0 Degrees Celsius at night. In winters, the average temperature is -20 Degrees Celsius.
Best time to visit Chandratal
By road, Chandratal is open only from June 1st week till September. Some people do trek here in May and October as well but then you will have to make arrangements for accommodation as well. All the campsites become operational from June 2nd week onward and wrap up by early October.
So the only time you can visit Chandratal by road is from June 2nd week to October first week. Out of this, the best time for a trip to Chandratal would be June 3rd and 4th week, early July, and the first two weeks of September.
If you go in early June as soon as the road opens up; you will be traveling on really bad roads. Monsoon hits the Manali region by late July and August; so if you go at this time, you will encounter rain with a possibility of landslides.
Water streams during the monsoon will be at full flow and there will also be a lot of slushes around. By late September, it will start to get extremely cold at nights. So if you can, plan your trip for the second half of June or the first half of July and September. For more details, I will recommend reading When is the Best time to Visit Chandratal.
Chandratal in January to April
Chandratal remains closed between January to April. The passes of Rohtang and Kunzum receive as much as 50 ft of snow each year, making it impossible to travel to Chandratal at this time. You cannot reach the lake either from Shimla or Manali or even by trekking. If the weather favored, in late April, you may think about traveling towards Kunzum Pass from Kaza. You can go as far as the road allowed and then return but Chandratal will surely be off-limit.
Chandratal in May and June
BRO starts clearing the road in March and it is usually by Mid May that they are able to finish the operation. After that, a couple of weeks are spent assessing the road in terms of safety. This is the time when only locals are allowed to travel. After all, is deemed well, the road is declared open officially by Mid to Late May.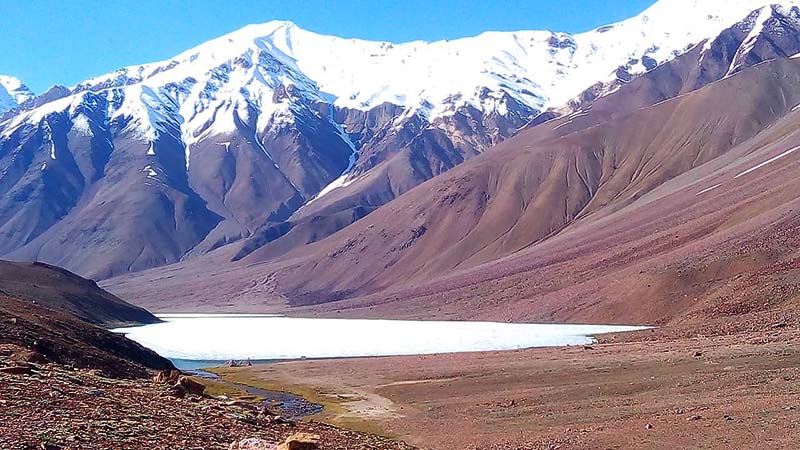 Chandratal however opens only in the first week of June. The campsite owners reach the lake after the road is opened and start to set up the camps which take another couple of weeks. At this time, you can surely drive to Chandratal but finding a place to stay may become tricky. In case there was no campsite open, you will have to come back to either Losar or Batal and stay there for the night.
This is a good time to go because there will be still plenty of snow for you to enjoy and the condition of Gramphu Batal road will not be that terrible either. The exact opening of the road however will depend on how fast BRO is able to clear the road and the amount of snow that year.
This is also when the weather is at its best with moderately warm days and cold nights. Overall, it is a good time to go.
Chandratal in July to September
Monsoon is not a good time to plan a visit to this area. Monsoon can wreak havoc here in July and August. Landslides caused by incessant rains and deaths caused by it are a sight not too uncommon in the hills. All the rains will also increase the flow of the water in the nallahs en route and will make the trip more risky and adventurous.
Late June is when the monsoon arrives in the region and is in full swing by July and August. By the end of August, the intensity and frequency of the rains start to drop. If possible, avoid a trip altogether at this time but if you must, then plan either in early July or late August.
September is one of my favorite times to visit the Himalayas. Monsoon will be long gone but would have left plenty of greenery for you to enjoy. If you went after September 15th, there will be almost no chance of rain and the vistas on the way will be simply amazing.
The only catch however is that the weather in September will be considerably colder than the previous months.
Chandratal in October to December
October 15th is usually the official closing date of Chandratal but it can close before that as well. If you have to go in October, then the safest time is only in the first week of the month. Keep in mind though that the chance of snowfall at this time is extremely high. In 2018, tourists got stuck at Chandratal at Batal for 3-4 days and had to be saved by the Army. The picture below was taken on October 10th.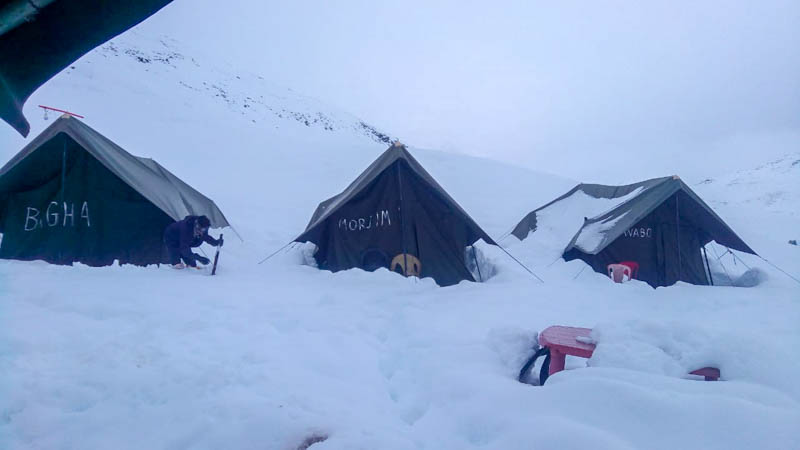 By the end of October, the road gets buried under snow once again and Chandratal becomes inaccessible. You can plan to trek in early November if the weather was favorable but a trip after November 15th in any form will be a dangerous affair.
By the end of December, the entire Spiti Valley starts to receive heavy amounts of snow. This is the time when even the road between Kaza to Losar can get closed. The temperatures dip down to freezing -25 degrees Celsius.
Altitude Sickness
Chandratal is at a height of 4,300 meters; which means that you may suffer altitude sickness while spending a night here. If you start to feel any symptoms of acute mountain sickness while at Rohtang Pass; Kunzum Pass, on the way to Chandratal; it is best to avoid staying at the lake altogether. Continue straight to Kaza before it gets dark, stay there for a day at least, and then come back to Chandratal. This will allow your body some time to acclimatize and will reduce the chances of AMS.
If you still suffer the symptoms; cancel your plans of camping at the lake. Refer to Acute Mountain Sickness in Spiti Valley for more details on Altitude sickness in Spiti and how to deal with it.
Altitude
Chandratal is at an elevation of 4,250 m (13,940 ft) approximately. During the winter season, the water of the lake freezes completely owing to its high altitude.
Road Conditions
Spiti valley is notorious for its bad roads. So when you plan a trip here, you already know that you are going to encounter some of the worst roads that you had ever been on. If you were coming from Shimla, then until Kaza, the road will be a mix of good and average. The tricky part of the journey however is between Manali and Kaza including Chandratal.
If you were traveling from Manali, then until Rohtang top, the road is mostly good and a little bad at some places. From Rohtang Top to Gramphu is mostly good. From Gramphu to Batal is a narrow dirt trail with numerous water streams, steep climbs, mud, slush, and loose boulders on the road itself.
Batal to Kunzum Top is a narrow dirt trail with steep climbs and hairpin bends. The 14 kilometers long stretch to Chandratal is an extremely narrow dirt road that is barely wide enough for one car. Let me post a picture to give you an idea.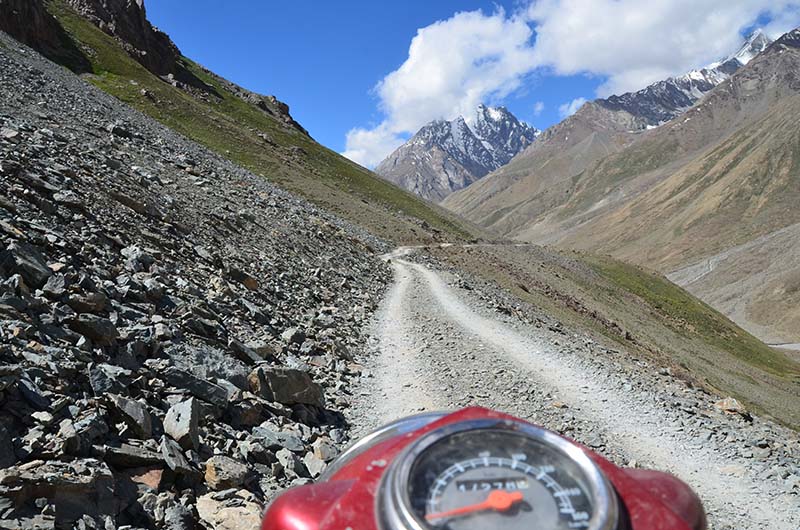 The road between Losar and Kunzum Pass is again a dirt road with steep climbs and hairpin bends. Between Kaza and Losar is a broken road that was once tarred but not anymore. Take a look at Spiti Valley Road Conditions to see a few more pictures to get an idea.
Best Car for Chandratal
An SUV is what you need for visiting Chandratal. It does not have to be a 4×4 but good ground clearance is a must. You cannot make the mistake of bringing a sedan or SUV here without risking serious damage to your car's underbelly. For more details, please read Which is the Best Car for Spiti Valley.
Best Bike for Chandratal
If you were traveling by bike, then any bike will do as long as it is well maintained and serviced. The only condition is that if you were coming by a smaller engine bike like 100 to 150 CC, it would be best to ride solo and as light as possible. If you were riding with a pillion, then you need a larger engine bike like Enfield 350 or 500 CC. If you do not own such a bike, then you can reach Manali and rent one from there.
Chandratal Lake Itinerary
Below are examples of a couple of itineraries that can be followed for visiting Chandratal. I will suggest an itinerary from both Manali and Shimla. For the sake of the itinerary below, I will assume Delhi as your starting point. Even if you were coming from a different place, only the journey on the first and the last day will be different. The rest of the details will still apply.
Delhi to Manali – Day 1
Manali to Batal / Chandratal – Day 2
Batal to Chandratal – Day 3
Chandratal to Manali – Day 4
Manali to Delhi – Day 5
Below is the itinerary that you can follow if you were coming from Shimla, covering the entire Spiti Circuit.
Delhi to Shimla / Narkanda – Day 1
Shimla / Narkanda to Sarahan – Day 2
Sarahan to Chitkul – Day 3
Chitkul to Kalpa – Day 4
Kalpa to Nako – Day 5
Nako to Pin Valley – Day 6
Pin Valley to Kaza – Day 7
Kaza – Day 8
Kaza to Chandratal – Day 9
Chandratal to Manali – Day 10
Manali to Delhi – Day 11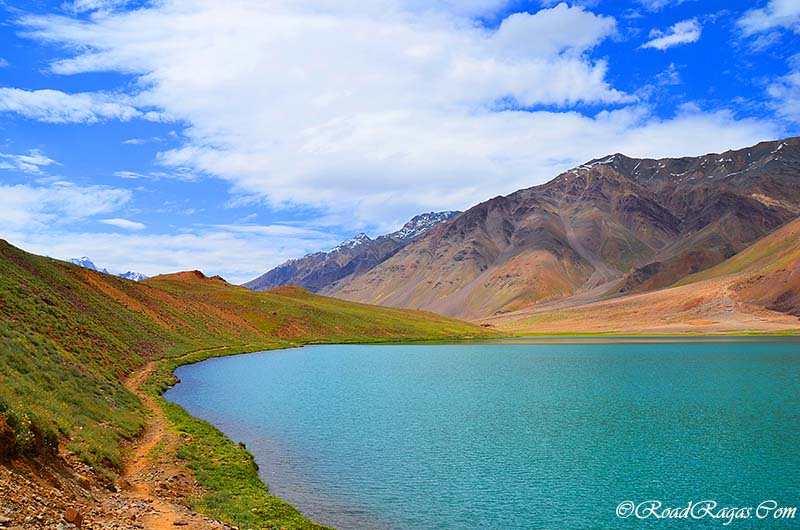 Clothes to Pack
Irrespective of your time of travel, you will have to pack warm clothes, thermals, and a heavy windproof jacket. The trick while packing clothes for anywhere in Spiti is to pack in layers; meaning clothes that can be worn on top of one another. This way, you can just add another layer if you were feeling cold or remove a layer if you were feeling warm.
Do not carry all heavy woolens though. Pack a pair of thermals, regular cotton clothes, some light woolens, a heavy jacket, and gloves. Please ensure that your jacket has a hood to protect your head, neck, and face. If not, you should pack a scarf or muffler as well.  For more details, please take a look at Clothes for Spiti Valley Trip – What to Pack.
Mobile Network at Chandratal
There is no network available at Chandratal. From Manali, you will remain connected until Rohtang but will lose the network shortly after. There is no reception on Batal Gramphu road, Kunzum Pass, Chandratal, or Losar. In Kaza as well, only BSNL and Airtel will work. Jio is setting up their tower in Kaza so they will also provide service shortly after. But there is no reception anywhere in Spiti for Vodafone or Idea.
For more details, please take a look at Mobile and Data Connectivity in Spiti Valley.
Other Facilities
Petrol Pump & Mechanic: The nearest petrol pump is in Kaza and Manali. A tankful at either of these places will be sufficient to reach the next gas station while covering Chandratal on the way.
Banks and ATM: The nearest ATM is either in Manali or Kaza.
Medical Help: Manali and Kaza are where you can get some medical assistance if needed. There is a dispensary in Losar to buy some basic medicines. I will strongly recommend carrying your own first aid kit and some medicines like for flu, fever, headache, pain, etc.
Conclusion
I hope this information on how to plan a trip to Chandratal Lake was helpful. If you have any further questions, please feel free to ask in the comments section below; or at our Community Forum; and I will be glad to answer.