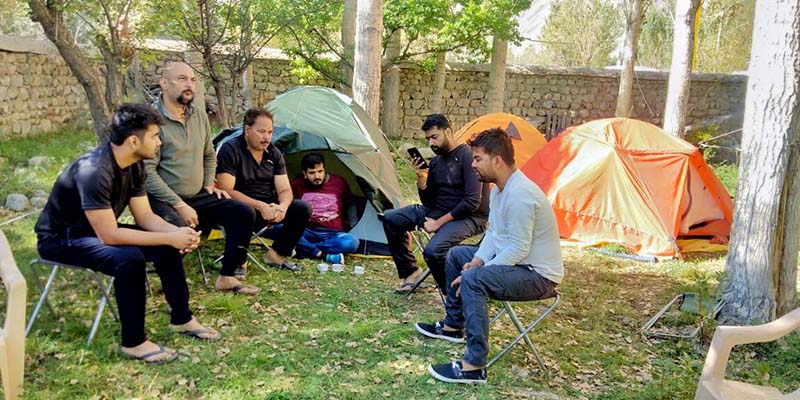 Camping in Ladakh is always one of the key factors that I am sure everyone looks forward to while planning their Ladakh itinerary. It doesn't matter if it is your own tent or you are planning to stay at a campsite; the experience will be enough to last a lifetime.
Also Read: How to Plan a Trip to Leh Ladakh – A Complete Travel Guide
The charm of Ladakh, the feeling of being amidst the mighty Himalayas, silence all around under a starlit sky, the cold weather, cool breeze, the fluttering sound of the tent; put this all together and it gives you a night to remember.
But the question is what will be better? Should you camp in Ladakh on your own or should you just stay at an existing campsite? Or what are the key factors that you should keep in mind while opting for either of these?
Camping in Ladakh
If you do not have your own camping gear then the answer is quite a straightforward one. You reach Ladakh, find a campsite that fits your preference and budget and check in. But even in this case, you must keep in mind a few things to ensure that your experience is a memorable one and hassle-free.
Campsites in Ladakh are in ample these days. If you stayed at the wrong one, it will just ruin your night and trip as well. On the other hand, if you have your own camping gear, and were thinking of bringing it along, you must have some information above where and how you are going to set it up to avoid any kind of trouble.
I will first talk about self camping in Ladakh followed by some tips on staying at a campsite. Below is quick navigation of the information covered in this post.
Self Camping in Ladakh
Self Camping in Ladakh sure sounds like a great idea. Ladakh is a barren wasteland and the spots where you can pitch your tent are in plenty. They are all absolutely and equally stunning in terms of scenic beauty.
In fact, except for the town of Leh, you can pretty much camp everywhere in Ladakh and even on the highways leading to it from Manali and Srinagar side. With that being said, it is not really as easy as it sounds. You may have done camping at a lot of other places but trust me when I say this, none of them were like Leh Ladakh. If you want to camp on your own here, you got to be aware of the challenges you may face and prepare for those accordingly.
No, I am not trying to scare you out of the idea. It is no rocket science and a lot of people do it each year. The lakes of Pangong and Moriri, the valley of Nubra, the plains of Moore, the landscape of Lamayuru are all heaven for camping enthusiasts.
For someone interested in doing some night photography or clicking star trail pictures, there is no better way to do it than to stay out in a tent.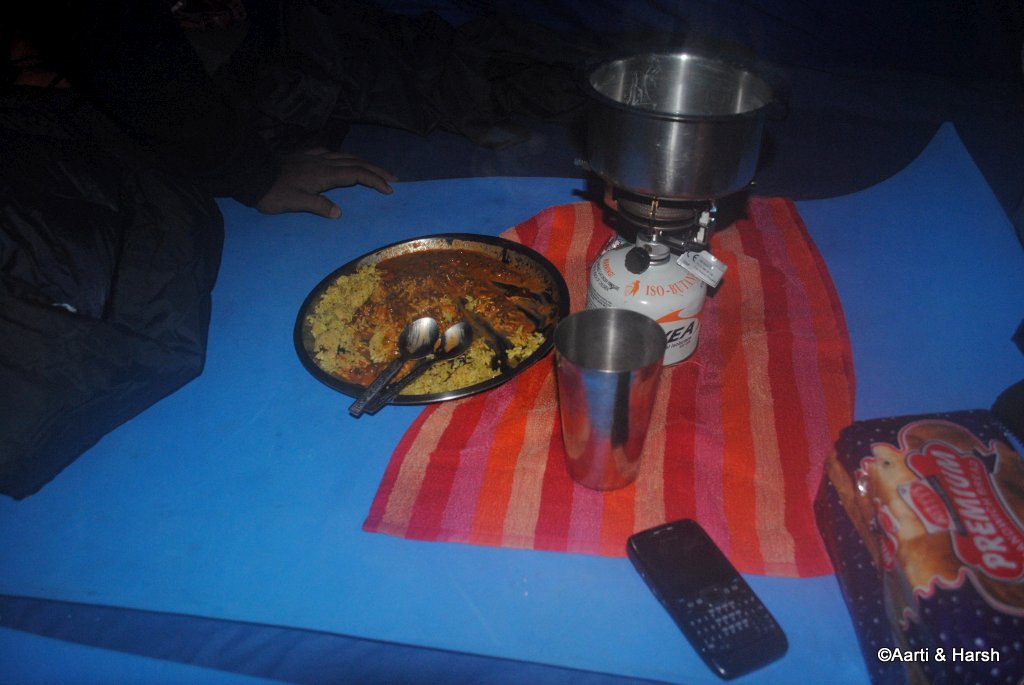 Camp Close to an Existing Dhaba or Camp Site
If you are carrying your own camping gear, you can pretty much camp anywhere you like. You are free to find a site that you like and camp there for as long as you want.
With that being said, I would highly advise against self camping in Ladakh just anywhere or in the middle of nowhere. You should always look for a place where there is a campsite, a Dhaba, a Chadar tent or maybe a small village nearby. This is beneficial in several ways.
Almost all the campsite owners will allow people to pitch their own tent in exchange for a small cost and in return, they will allow you to use their washrooms as well.
Secondly, in case you are not in the mood to cook, you can always pay for the campsite and they can arrange for your dinner as well. If you are camping in fields or near a village, you will definitely need permission from villagers. It is not at all hard to get in exchange for a small tip if required.
Also Read: What to do in Ladakh | Fun Things to do in Ladakh
Do not Camp too Close to a Lake
Ladakh is a region of several beautiful lakes but please ensure that you do not camp too close to the lake. The first reason for not doing so is that some of these lakes, like Tso Moriri and Pangong, are considered a wetland reserve, and camping close to the banks is forbidden by the law.
The second reason, of course, is your own safety. The fact cannot be denied that some wild animal may come to the lake at night and you may land in trouble which also adds another point here that you must clean up before calling it a night.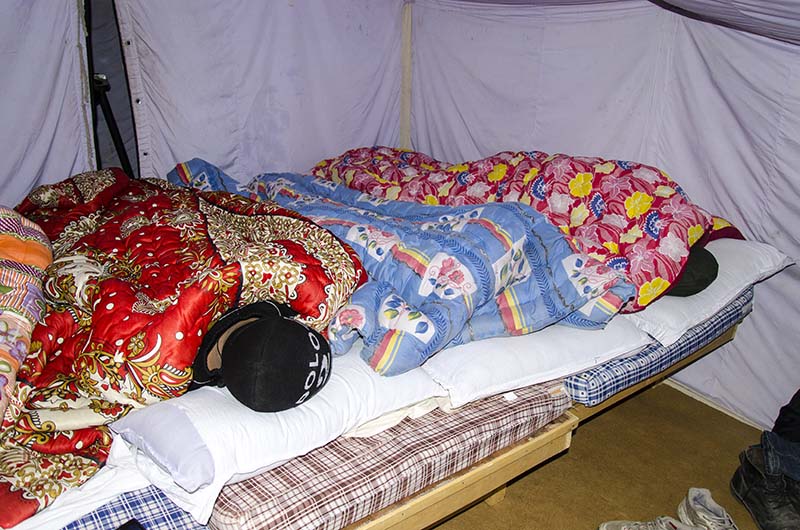 Do not Litter while Camping in Ladakh

Do not leave any eatables outside; and before bidding each other goodnight, make sure all the food is properly cleaned. Leave nothing that may attract a wild animal.
There were talks of an incident in 2006 or 2007 when a foreign couple were camping somewhere in Moore Plains and were attacked by a wild animal. While packing up your camp, please make sure that you are not leaving litter behind. Bring any waster along with you and discard it at an appropriate place.
Also Read: Highest Motorable Road and Passes in the World
Beware of the Dogs
Dogs too in Ladakh are quite aggressive and you may run into a pack of aggressive ones which will be extremely dangerous. These dogs are not used to seeing strangers or motorcycles so often so you got to be very careful while self camping in Ladakh. Please read The Beasts of Changthang Valley to read my story of an encounter with dogs in Ladakh.
Do not Camp in an Open Place
Another important point to consider is to not camp at an open place at an altitude; like at a hilltop because at night, fierce winds from all sides would make it unbearably cold; and may even unfasten your camp in the night.
Check your camp and make sure that all the hooks and the ropes are secure. Check the direction of the wind and if possible, camp in the shadow of a mountain that can protect you from it.
Put off any fire completely
In case you start a bonfire, please do not leave the fire lit outside. When you are done, put off the fire completely; may even use water to ensure it is completely extinguished.
Bring a Proper Sleeping Bag
For your camping gear, make sure that your sleeping bag is capable of handling at least a -10 temperature otherwise it will not remain warm enough. Even in the months of June and July, the temperature can drop to freezing points in several areas in Ladakh.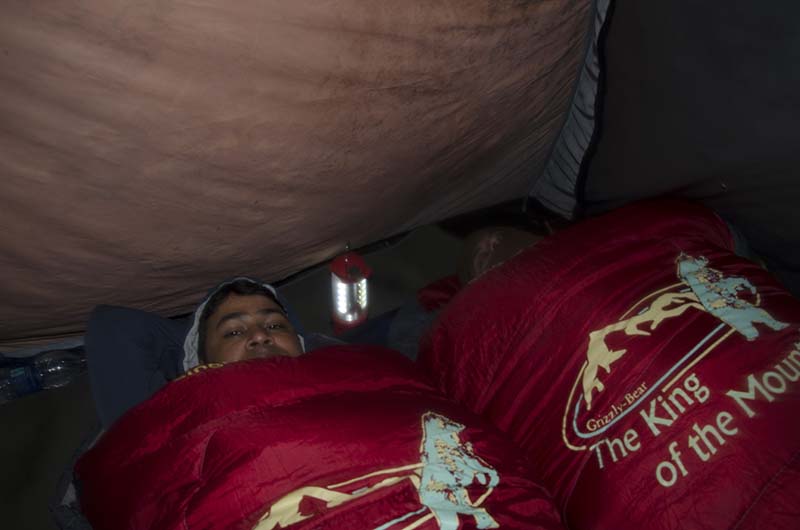 Bring Plenty of Drinking Water
Please also carry plenty of drinking water; preferably bottles of mineral water as the water from the streams may not always be the best to drink for several people.
There is also the fact that the water in streams is freezing cold. So drinking it directly is quite tough and you may even catch a cold. Keep your bottles within the camp under sheets; so that the water remains moderately warm to drink.
Bring a Tarpaulin Sheet
It is more of a personal opinion but you may even consider buying a Tarpaulin sheet. In simple words, a "Tirpaal" of good thickness that you can spread on the ground where you pitch the tent.
It would be very beneficial in terms of providing insulation from the cold or moisture from the ground. It will also save the thin material of your tents from sharp rocks and pebbles.
Other than that, the tarpaulin will also be an extra layer that will definitely prove comfortable while you are sleeping. While you are buying the tarpaulin, make sure it is at least a foot larger on all sides than the size of your tent.
Keep Booze & Smoke in Check
Keep your smoking and drinking under check and trust me, I mean it. If you drink too much and your body is not able to comprehend, you will be sick in the middle of the night and will have nowhere to go to.
Consuming alcohol or smoking too many cigarettes at such an altitude may trigger symptoms of acute mountain sickness. If it happened while camping, it may turn into something serious. My honest advice would be to not booze at all but if you must, then just take a little to enjoy.
Do not Camp close to Military Establishments
Please do not set up your camp close to a military base or post. If you want to do it in terms of a safety spot, then please walk up to the post and seek permission. If your request is denied, please don't push and move along.
Carry Essential Items while camping in Ladakh
Some of the necessary items that you must bring along are a first aid kit, regular medicines, a torch, a camping knife, mosquito repellent, snacks, dry fruits, and a flask.
Bring Appropriate Clothes
When crawled in a tent in a sleeping bag, you will not be able to sleep if you were wearing heavy woolens or your big fluffy jackets. But at the same time, you can also not just take everything off and go to sleep wearing a cotton T-Shirt and shorts because then you will be cold.
Hence you need to bring clothes that are sufficiently warm but are also light, thin, and comfortable enough to wear at night. A great example of such clothes would be good quality thermals.
Also Read: What kind of Clothes should I Pack for Ladakh?
Analyze Yourself
Last but not least is the condition of your own body. At a place at such a high altitude, with oxygen levels low, doing a job of putting up a camp can be quite exhausting.
If you are not feeling too well, or if there is any sign of acute mountain sickness, please do not camp at all or at least do not camp in the middle of anywhere. If you or anyone in the group showed signs of exhaustion or like running a fever, it would be best to stay at a cemented hotel.
Where can you Self Camp in Ladakh?
Now let us talk about where you can set up your camp. As I mentioned, places where you can do so, are endless but mentioned below are some of the safe and recommended ones.
Camping on Manali Leh Highway
Starting from Manali, the area between Keylong and Darcha would be best for self camping. You will come across several fields and villages with stunning scenery all across, like in the picture below. Just pay any of the villagers a small amount for a spot. Until, Darcha, there are numerous places perfect for self-camping on Manali Leh Highway.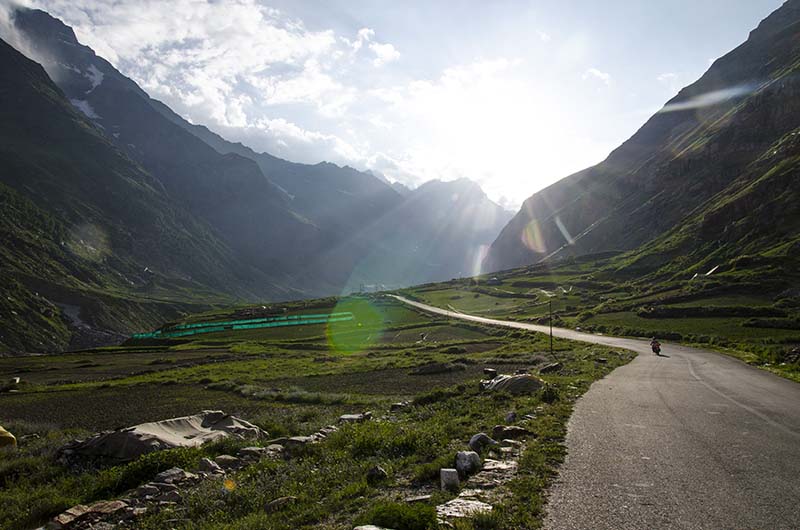 There is a great spot near Deepak Tal where you can set up your tent. Right next to the small lake, there are a couple of Dhabas here as well that you can order food from. Once you cross Baralacha La, you will come across another body of water and a couple of Dhabas near it where you can camp.
After this, the border area of Himachal & Ladakh and then Sarchu are both perfect for camping. There are numerous campsites located here so it is also one of the safest places to go camping.
After Sarchu, the next spot would be Pang tenting accommodation. For more details on the Manali Leh route, please read Choices of Accommodation on Manali Leh Highway.
Camping on Srinagar Leh Highway
Sonamarg, Baltal, Kargil, Lamayuru, Mulbekh, Alchi, Saspul, Uleytokpo, and Nimmu are some of the best spots to camp on the Srinagar to Leh route. I have covered and explained this entire route with the help of a road map at How to Plan a Trip from Srinagar to Leh.
Camping in Nubra Valley
The dunes in Hunder are considered the best camping spot in all of Ladakh. But that area is mostly occupied by several campsites. If you are able to find a spot here, then it will also give you easy access to sightseeing in Diskit.
If you want to camp at a more silent place, then camp in Turtuk or Panamik. For more details, please read How to Plan a Trip to Nubra Valley from Leh.
Camping at Pangong Tso
For self-camping at Pangong Lake, my recommendation will be to drive all the way to Man and Merak. Camp there after talking to some locals. For more details on Pangong Lake, please read How to Plan a visit to Pangong Lake from Leh.
Almost the entire shoreline of the lake towards the start is occupied by an endless line of campsites so finding a good spot here could be tricky.
Camping at Tso Moriri
For camping in Karzok, either camp before the village or talk to a local. Do not go too close to the lake and be very careful with the dogs in the village at night. Do not wander out of your tent after it's dark.
For more information on Moriri Lake, please read How to Plan a Visit to Tso Moriri from Leh. If you were traveling from Pangong to Tso Moriri, then please read How to Travel to Tso Moriri from Pangong Tso Directly.
Camping at Tso Kar
This is honestly my favorite spot to camp. It is not at all crowded and a great place to pitch your tent. You can in fact camp at Tso Kar while traveling between Manali and Leh.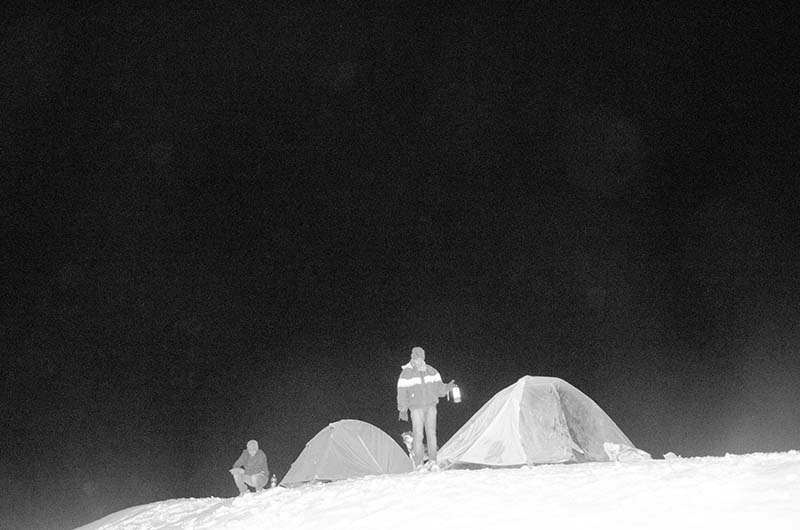 Camp Sites In Ladakh
The above points would be regarding self camping in Ladakh. Now let us move on to camping sites. The first question that comes to mind is where you can find a campsite which I have covered in a different article, Where Can you Camp in Ladakh.
The second question is how much a campsite in Ladakh costs? Well, it depends really but on average, a moderately comfortable campsite with meals included would cost you anywhere between Rs. 2000 to Rs. 2500 per person, depending upon your negotiation skills.
Some of the sites will agree to even as little as Rs. 1000 per person and some of these may go up to as high as Rs.3500 to Rs. 4000 per person (or even higher than this).
Also Read: Ladakh Travelogue – A Journey to the Land of Lamas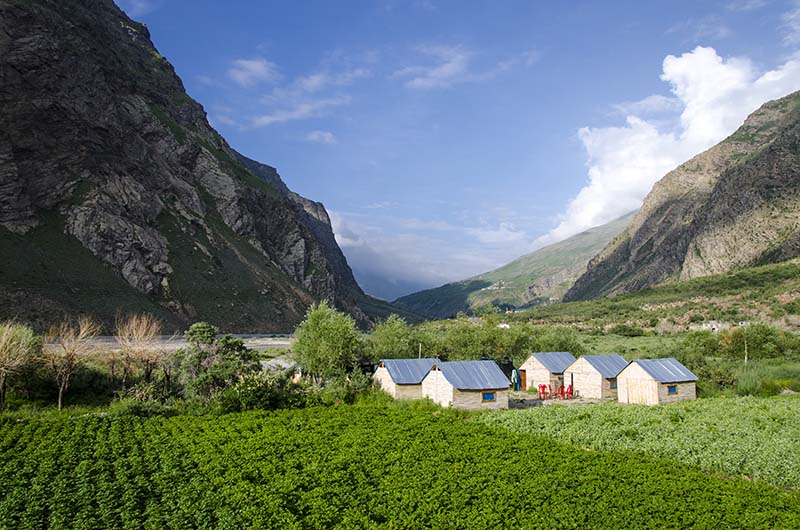 What to Check at a Campsite?
Which site you decide to camp at will be as per your choice of location and budget, but listed below are a few things that you should check before deciding to stay.
Make sure the tent that you are being allotted is in a good condition. After you close the flap at night, there must not be any direct wind entering the tent.
Check the bedding to ensure they are clean and there is no smell.
Some of the camps have attached washrooms and some have commonly shared ones; but in both cases, take a look at the condition of the washrooms.
Please also have a word with the site owner to ensure that they are providing hot water; because the last thing you need in Ladakh is going to your daily routine in the morning with cold water.
Make sure you discuss the food that the camp will be serving for dinner and breakfast and set your expectation there.
In case you feel you may need an extra blanket or a pillow, let the campsite know before it got dark.
If you are planning to leave early the next morning; let the owner know so that he can have the breakfast ready in time.
If you need to charge your camera or phone battery; please check to make sure that your campsite is providing that option.
Also Read: How to reach Ladakh by Road, Bus, Train and Flight
Self Camping in Ladakh Vs Campsite
It is really hard to say which one is better because they both have their own pros and cons. While self camping can be more fun, it is also a tedious task of going through the entire hassle of putting the camp up. Then there are also concerns related to washroom facilities, sundries, food, and carrying the entire stuff along with you.
While staying at a campsite will avoid you all this hassle; you are bound to what the camp is providing and choosing a site of your own choice is no longer an option. In my opinion, if you have your own campsite and do not mind carrying it along; then you should bring it and camp on your own.
If you were traveling by motorcycles, then it would be best to stay at campsites only.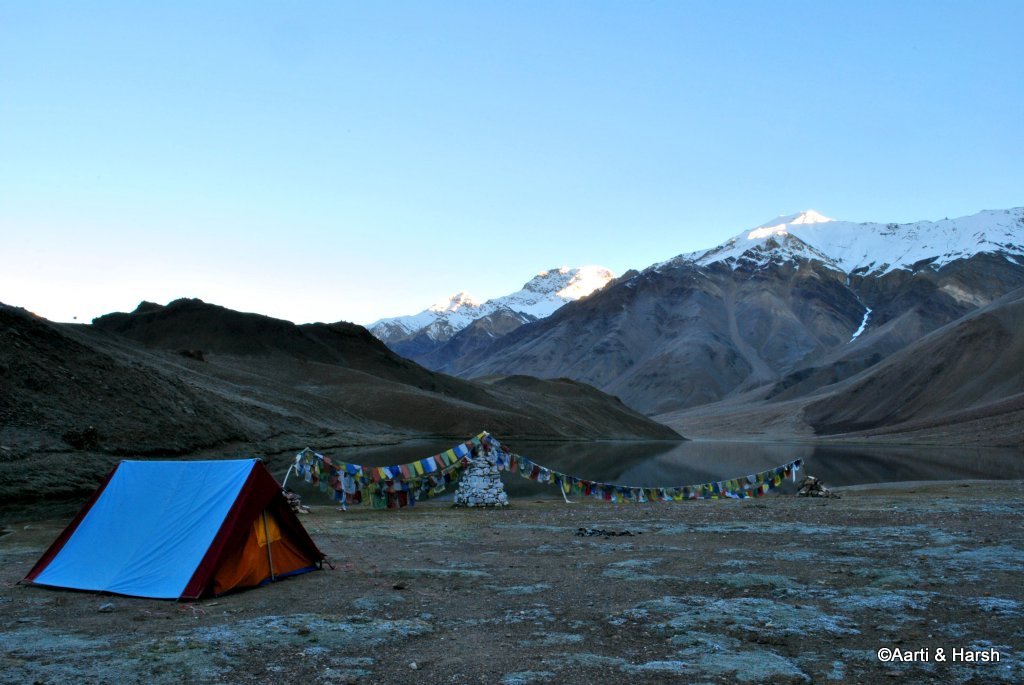 FAQs about Camping in Ladakh
Listed below are some of the most commonly asked questions about camping in Ladakh.
Q1. Is Camping allowed in Ladakh?
Yes, Camping is allowed in all places in Ladakh that are open for tourists.
Q2. Is a permit required for self camping in Ladakh?
No, you do not need a permit to set up your tent anywhere in Ladakh. The only permit you need to get is the regular Inner Line Permit from the DC office in Leh and that will suffice for camping as well.
Q3. What are some of the best spots to camp in Ladakh?
Jispa, Pangong Tso, Nubra Valley, and Tso Moriri are the best places for camping in Ladakh.
Q4. Where can we not camp?
Do not camp in places that are in entirely deserted areas or close to military establishments. Also, You will cross several high altitude passes in your Ladakh Trip but do not make the mistake of setting up your camp at the top of any of the passes. This will prove to be your biggest mistake. Always drive down from the pass completely and then find a spot for camping.
Q5. Is it safe to camp in Ladakh?
As long as you follow the tips I mentioned above, yes, it is completely safe to go camping in Ladakh.
Also Read: Turtuk – How to Plan your Trip & What to See
Camping in Ladakh – Conclusion
I hope the information above on camping in Ladakh was of help. If you have any questions; or need any other information; please feel free to ask in the comments section below, or at our Community Forum; and I will be glad to answer. If you have done a Leh Ladakh camping trip and have tips that can be of help to others, please do kindly suggest.