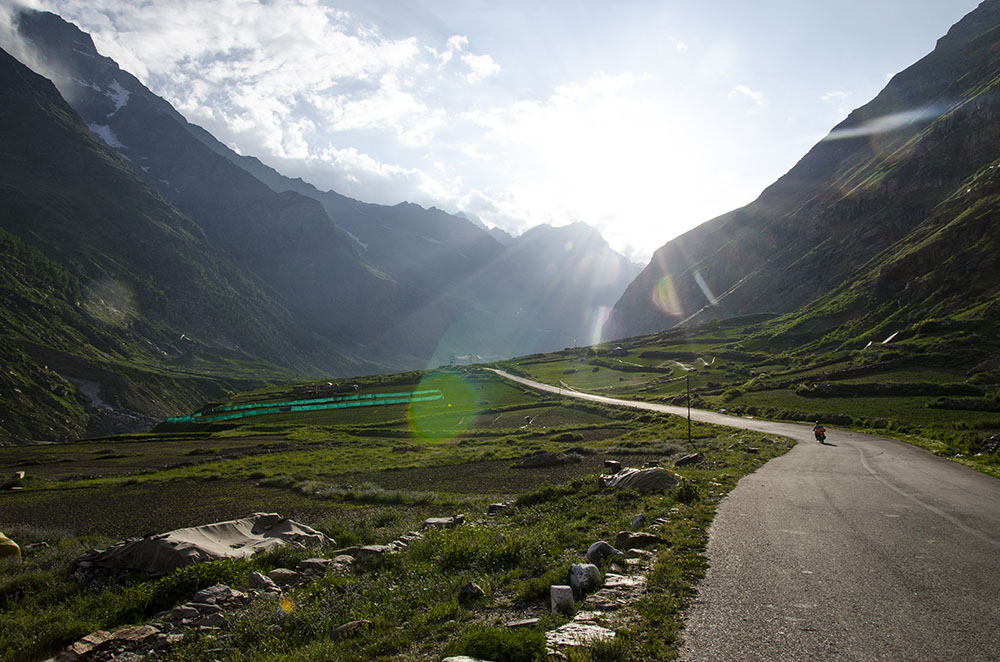 The entire length of the Manali Leh route is actually a tourist attraction in itself. Every turn of the road here will present you with amazing sights and the landscape will continue to change. With that being said, there are some places that are worth a note. Below is a list of such tourist places on Manali Leh highway that will remain the prime attraction of your journey.
For other details on planning a road trip from Manali to Leh like the best time to visit, where to stay, an ideal itinerary, safety tips, and a route map, please take a look at How to Plan a Journey on Manali Leh Highway.
The list below is really a comprehensive one and covers almost all places to visit between Manali and Leh. All of them are right along the road and you will not have to deviate from the route to visit any of them.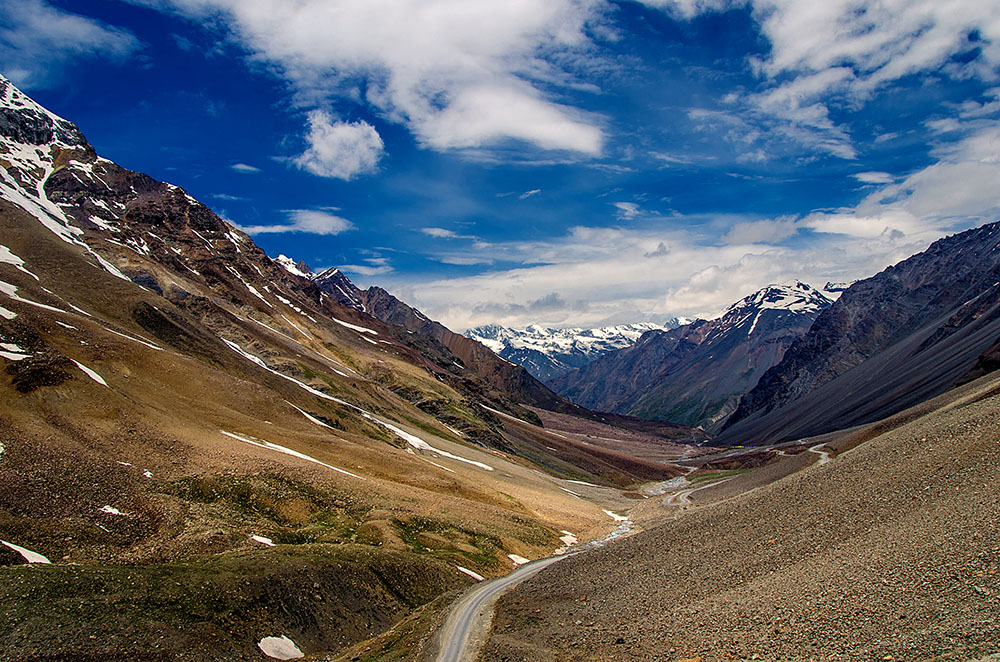 What to see on Manali Leh Highway?

Below is a list of what Manali Leh Highway will offer you.
Natural Beauty Like no Other
This definitely remains on top of the list. As I mentioned above, every turn of the road here will leave you enchanted. From the lush green hills of Kullu Valley to the cold barren desert of Ladakh, every sigh is worth cherishing.
Adventure
Need I say this? Driving on a road that is open for just 5 months in a year and completing the journey would fill your soul with a feeling of accomplishment that is going to last a lifetime.
Solitude
In a country like ours, the second most populous in the world, Solitude is a little hard to find but you will get plenty of it while traveling from Manali to Leh.
Peace
Imagine sitting on a hill with snow-capped mountains all around, not a soul in sight, just the sound of cold wind, with a cup of tea in your hand and you will get the idea.
Culture
Experience and witness the culture and customs of Ladakh, the monasteries, the food, and wonderful people; things you will not find elsewhere in the country.
High-Altitude Passes
A total of 5 high-altitude passes that you will cross in order to get to Leh, each one of which is an experience in itself.
Nallahs / Water Crossings
Ever driven through a stream of water with damaged road and rocks underneath, a hill on one side, and a straight fall on the other? Get ready because you will be doing it several times on the Manali Leh highway.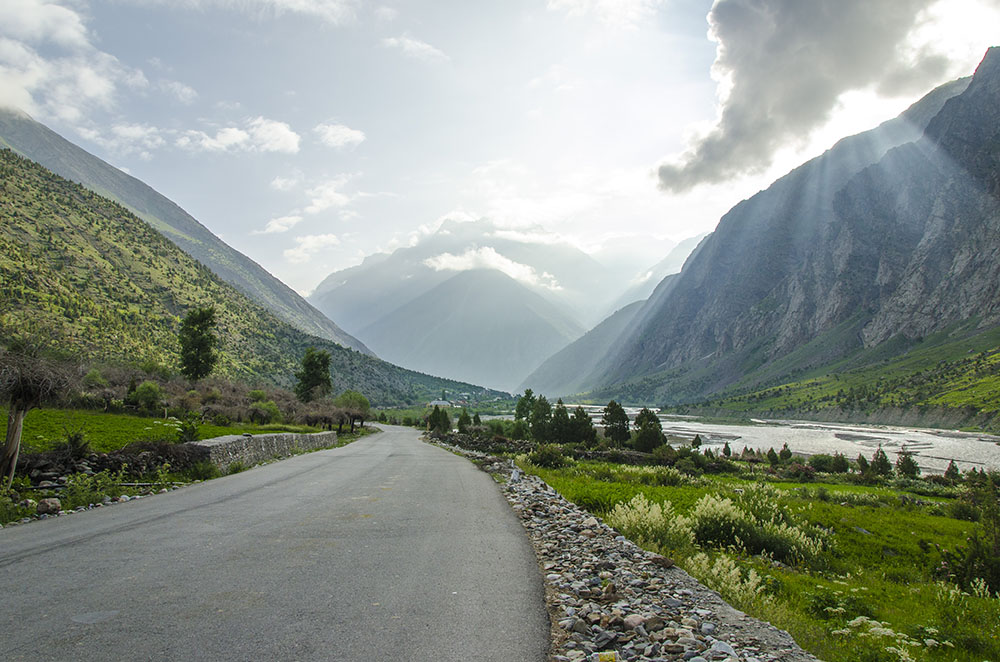 Tourist Places on Manali Leh Highway
With this being said, there still remains the question of what do you see? Where do you stop and spend a little more time than others? Below are a few places that in my opinion are the star of this journey.
A detailed description of these tourist places on Manali Leh Highway is provided further in this article.
Manali
Rohtang La
Jispa
Deepak Taal
Baralacha La
Suraj Taal
Shaheed Sainik Bhawan
Gata Loops
Nakeela
Lachulung La
Moore Plains
Tso Kar
Tanglang La
I will also list down all the places on Manali Leh highway below with a brief description. You can take a printout of this while on the journey, more like a checklist, to ensure that you did not miss visiting a place that was worth a visit.
Also read: A Detailed Road Map of Ladakh
Manali
One of the major tourist destinations of our country, Manali needs no introduction. At a height of 2,050 m (6,726 ft), this small town is a beauty in itself, though in my opinion, it is getting way too crowded these days.
Traveling from Manali to Leh would mean that you will be in Manali between the months of June till September. Of this, June and July also happen to be the tourist season here so be prepared for a swarm of tourists.
Hotels and guest houses are in plenty here so finding a place to stay will not be any problem at all If you want, you can spend a day in Manali before beginning your journey to Leh. This way you can get a final check done on your motorcycles, car and will also provide you with ample time to obtain Rohtang Permits.
Read How to Obtain A Permit for Rohtang Pass for more details on obtaining the permits and restrictions that apply to getting across Rohtang La.
Ascent to Rohtang
A task in itself, the ascent to the mighty Rohtang Pass will give you the taste of what you are in for right at the beginning of your journey. Start as early as possible from Manali, well before sunrise.
Rohtang top is located roughly around 55 km from Manali, the first 40 kms of which are a feast for the eyes. Numerous water streams, waterfalls, enthralling landscapes, best of which you will witness at sunrise.
You will not really see the sunrise but that hue at top of the peaks is a sight in itself. This road really gets crowded as the day grows and you do not want to get stuck in traffic. Hence, it is very important that you start early.
The last 10-15 kilometers near the top are a mix of muddy slush, pebbles, and water crossings that will both scare and thrill you at the same time. Below is a breakdown of places that you will come across while ascending Rohtang La.
Places on Rohtang Route
Palchan – Just a small village on the route, good enough for a cup of tea or breakfast if you started from Manali without having breakfast. No tourist spot here as such.
Kothi – Another small village like Palchhan.
Gulaba – Gulaba is at a distance of about 20 kilometers and is also known as the lower winter snow point after the road to Rohtang Pass gets closed in Winter. Nothing to see here in July except for its natural beauty.
Marhi – Also known as the highest snow point in Winters, Marhi has a few dhabas where you can stop and eat, and that is pretty much it.
Rani Nallah – Just a few kilometers ahead of Marhi, Rani Nala is a glacier point and also a spot where you need to be careful while riding or driving. No matter which time of the year you reach here, you will always find snow at Rani Nala and something the snow walls can be several feet high.
Once the snow starts melting, the entire stretch near Rani Nallah gets prone to landslides and the road always remains in pathetic condition. If you failed to start early from Manali, this is the spot where you may encounter a traffic jam.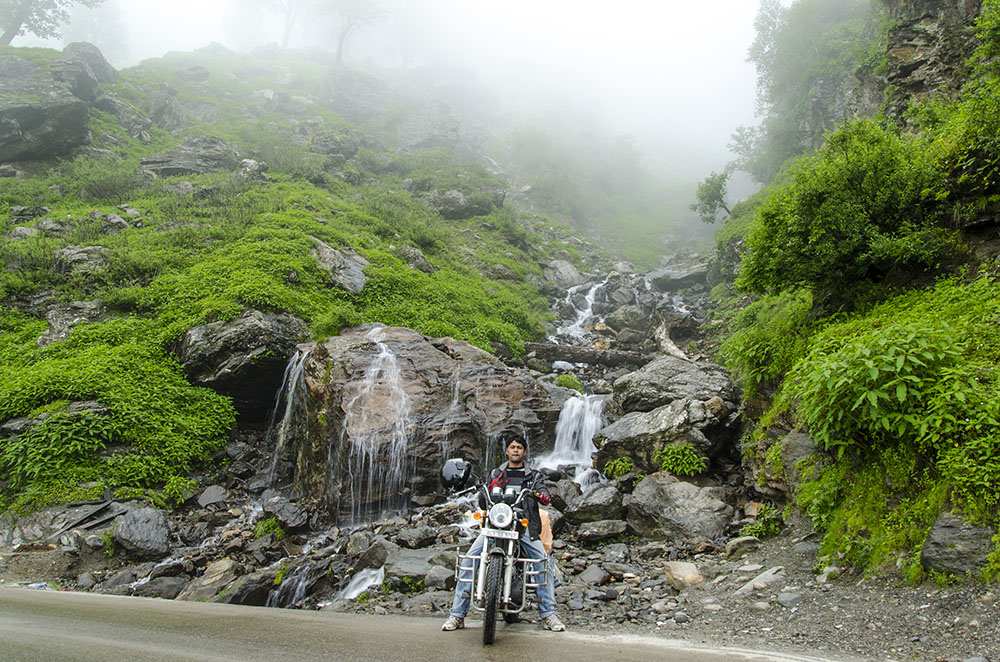 Rohtang Top
This will be your first high-altitude pass of the journey. 90% chances are that you will find snow at the top. Spend some time and revere the sight that you will never forget for the rest of your life if this is your first time at Rohtang.
The literal meaning of Rohtang is "a pile of corpses". Why it is called that is anybody's guess but do not let this scare you. Beguiling landscapes consisting of fierce wind, chilling temperature, snow-capped peaks, and lush green valley's around is what Rohtang Pass is famous for.
At the top, the total elevation from sea level is 3,979 m (13,051 ft). The total distance between Manali and Rohtang Pass is approximately 51 kilometers.
Also read: Accommodation on Manali Leh Highway – Where to Stay
The road across this mighty hilltop connects the valley of Lahaul and Spiti to Kullu valley and remains closed for about 6 months in a year, from sometime in November to April.
If this is your first time at such a high altitude, it will also be the place where you may or may not feel high altitude sickness. If you do then do not spend too much time at the top and start descending on the other side immediately. As you gradually get to a lower altitude, the effects of altitude will also subside.
G

ramphu
This is the spot where a road bifurcates towards Spiti valley. There is nothing here except for a small Dhaba which also works as a Chadar tent, offering a bed for as low as Rs. 200 – Rs. 300.
If it wasn't for this Dhaba and the road bifurcation, you probably wouldn't even notice that you have crossed Gramphu.
Chandra River
Right after Gramphu, you will start traveling with River Chandra until Jispa. There is a beautiful legend related to this river. Take a look at The Legend of Chandratal for the story behind the Chandra and Bhaga Rivers.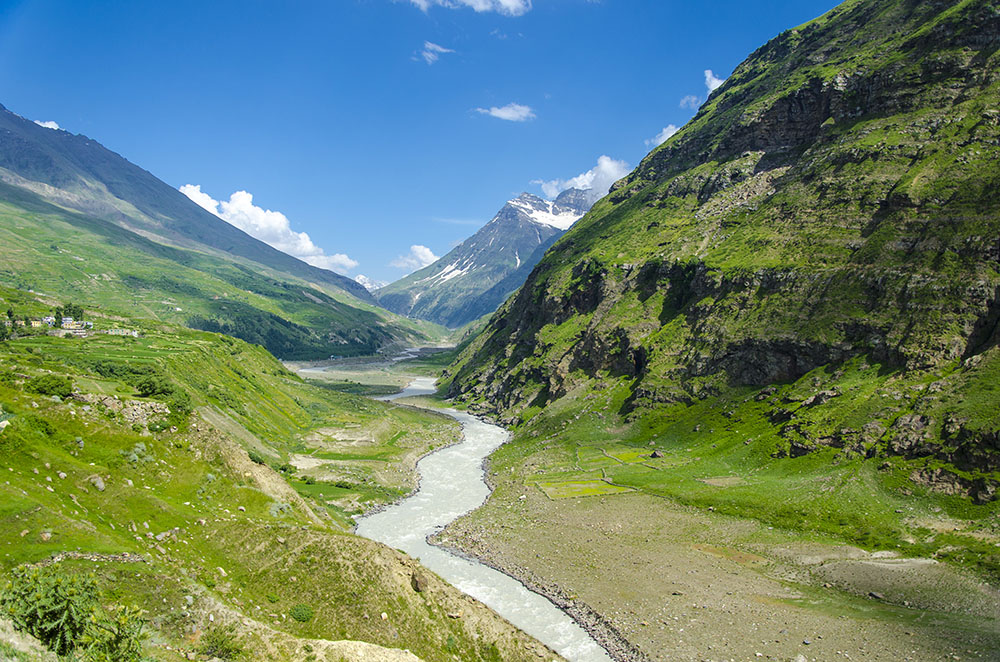 Kokhsar
A few kilometers ahead of Gramphu, Kokhsar is famous for being the first settlement in Lahaul Valley. Kokhsar has several small dhabas that also operate as Chadar tents and a few mechanic shops as well.
There is also a PWD guest house in Kokhsar but you really need to book in advance to stay at this guest house. If not the PWD rest house, you can also stay here at a couple of other guesthouses.
Sissu Waterfall
Also known as Khagling, Sissu is another small village located on the banks of Chandra River. There are a few Dhabas/Chadar tents and a PWD guest house in Sissu but like Kokhsar, you will have to book in advance to stay in this guest house as well.
There is a waterfall in Sissu that really turns into a beautiful sight between June to September. Right near the waterfall is a lake that is formed by the water from the fall. To get to the waterfall though, you will have to leave the highway.
If you do not want to do so, enjoy the sight from the road itself.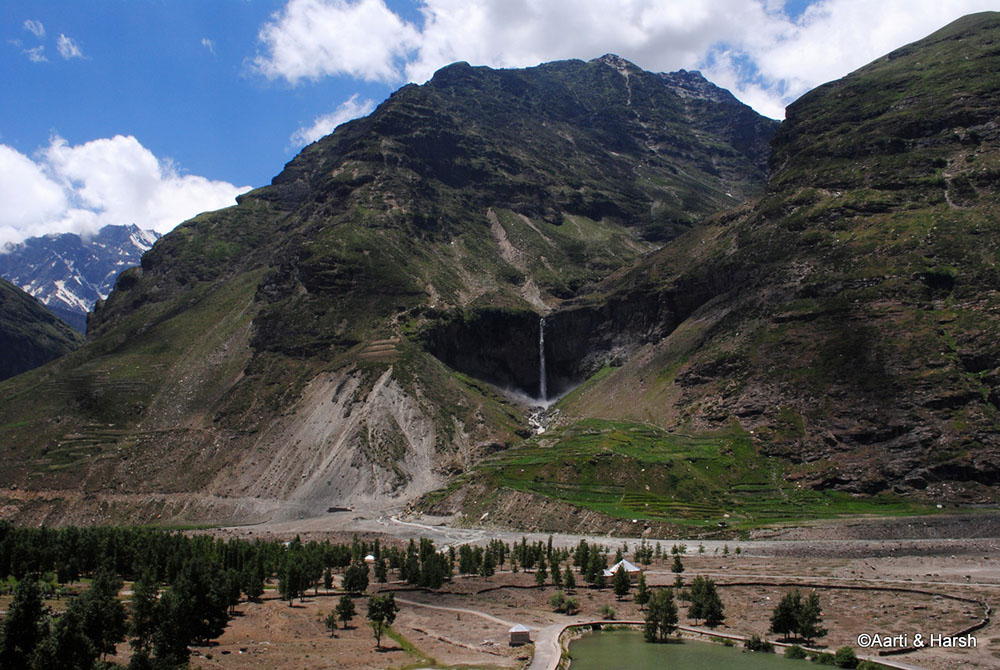 The confluence of Chandra & Bhaga Rivers at Tandi
This small town is famous for two things. The first one is that it has the last petrol pump on Manali Leh highway. After Tandi, the next gas station is another 365 kms away as you get closer to Leh so ensure that you fuel up here.
The second thing that this town is famous for is the confluence of River Chandra, originating from Chandratal Lake, and River Bhaga, origination from Surajtal lake.
Together these rivers become one here and form the Chandrabhaga river. The same river, after entering Kashmir, is called River Chenab. Stop for a while when you cross Tandi and witness the confluence.
Keylong
Keylong is the administrative headquarter of Lahaul & Spiti Valley and the largest town on Manali Leh highway. It is also home to Kardang Monastery, the largest and most important monastery of the Drukpa sect of Tibetan Buddhism.
Being a major town, the place is filled with an ample amount of hotels and guest houses, fitting into any budget. HRTC and HPTDC buses too halt here for the night before continuing to Leh the next day.
There is a high possibility that you may get a signal here if you are using a postpaid BSNL or Airtel cell phone connection. There is also an ATM at Keylong in case you forgot to withdraw cash from Manali.
Jispa
Jispa is another small village on Manali Leh highway and my favorite place to stay. Accommodation is in form of 2 cemented hotels and a few campsites.
There is also a mechanic shop at Jispa which happens to be the last mechanic shop on route. I must recommend spending the night in Jispa and it will be worth every single penny.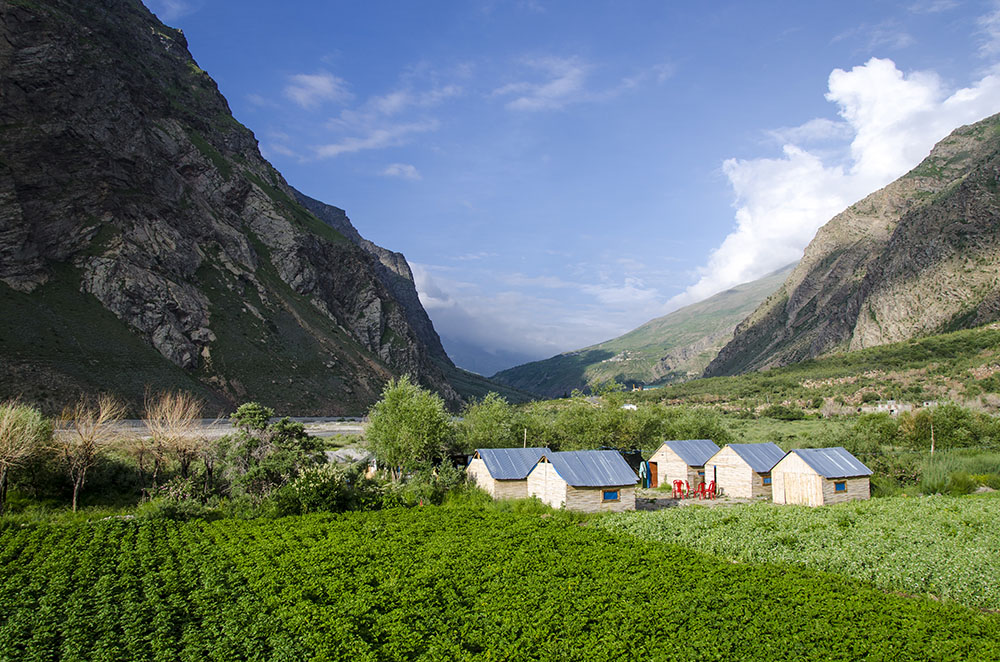 Darcha
The only thing worth mentioning about Darcha is that it is the end or starting point of the famous Zanskar trek. There are a few chadar tents here if you would like to stay for the night.
The Shingu La Pass road connecting Lahaul to Zanskar Valley also bifurcates from the Manali Leh route here.
Deepak Taal
Right after Darcha and before the ascent of Baralacha La is the beautiful lake of Deepak Tal. It is a very small lake but do not let the size deceive you. It may be smaller in size but a giant when it comes to natural beauty.
There are a couple of Dhabas / Chadar tents right next to the lake. It also works as a camping spot if you are planning to pitch your own tent.
Talk to the Dhaba owner and they can arrange your food and will let you use their washrooms in exchange for a small charge.
This small lake is probably the most charming of all tourist places on Manali Leh Highway.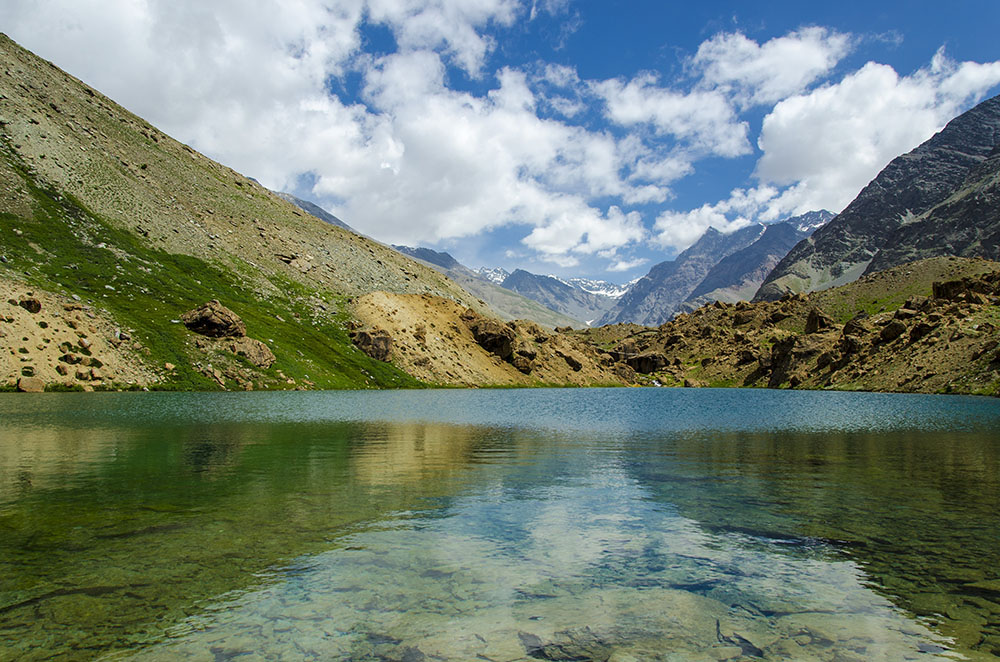 Patseo
Nothing too great about Patseo. It is just a small place with a few Army camps.
Zingzing Bar
I really wonder who came up with this name but this is the spot where the ascent of Baralacha La starts. Roads can start to deteriorate post this point and there will be a few Nallahs to cross, formed by the melting snow atop Baralacha La.
Also read: Manali to Leh Road Map With Distance
Baralacha La
This will be your second high-altitude pass on Manali Leh highway. Ironically, though Tanglang La is at a higher altitude, it is actually Baralacha La that remains covered with snow for a longer duration and receives way more snow than Tanglang La.
If you are traveling in June or early July, chances are that you will find a lot of snow atop Baralacha La.
Suraj Taal
Also known as Surya Taal, it is a small lake at the top of Baralacha La Pass. It is the source of the Bhaga River and presents a stunning view amidst the mighty hilltops all around.
There is also a trek between Suraj Taal and Chandratal that originates from here. If luck favored you, you may find the lake completely frozen even in July. The legend related to River Chandra is also relevant to Suraj Taal.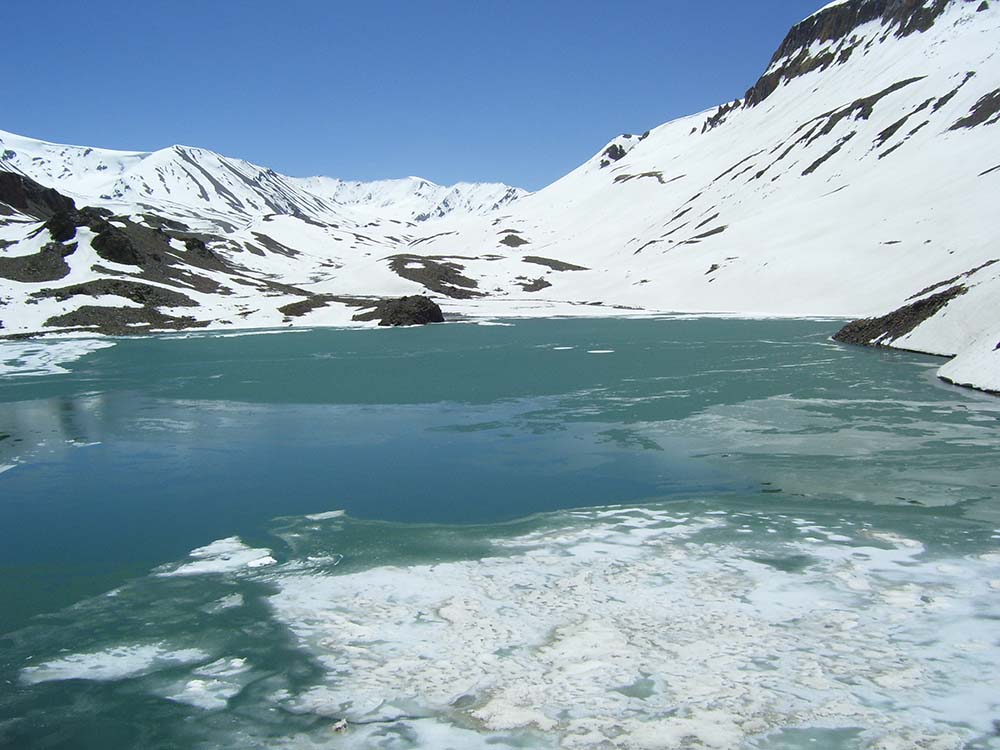 Killing Sarai
Another weird name but the road conditions here will be mostly bad, terrible as a matter of fact. There used to be a massive water crossing here that was capable of even not letting the trucks pass. This is why the place was named as such.
Thankfully though, BRO has now built bridges all over the region and you are not required to cross the nallah anymore.
Bharatpur
Also known as Bharatpur City ( I am not sure why) this is a small location for campsites and Chadar Tents. If you were planning to camp at Sarchu, you may want to consider Bharatpur City as well because camps here are way cheaper than Sarchu.
Also read: Manali to Leh – Available Modes of Transport
Sarchu
Sarchu is the point where the state of Himachal Pradesh ends and Jammu & Kashmir starts. It is like the center point of Manali Leh highway and a famous camping site.
A lot of people chose to stay at Sarchu, either in a campsite, or a Chadar tent or camp on their own. If you are planning to pitch your own tent, it is recommended that you do so closer to a campsite.
For a small charge, the campsite can give you a spot to camp and will also let you use their washroom facilities.
Gata Loops
It is a series of 21 hairpin bends that will take you to the third high-altitude pass of the journey, Nakeela. It is also reported to be a haunted site apparently. Take a look at  The Ghost of Gata Loops to read about the ghost that haunts these Loops.
Nakee La
This will be your third high altitude pass, located at a height of 15,547 ft. If you are lucky, you may even see some wildlife at the top of Nakee La.
Lachulung La
Shortly after you drive down from Nakeela, you will start driving up the fourth high-altitude pass, Lachulung La. It is located at a height of 16,616 ft. This is also the second-highest pass on Manali Leh highway.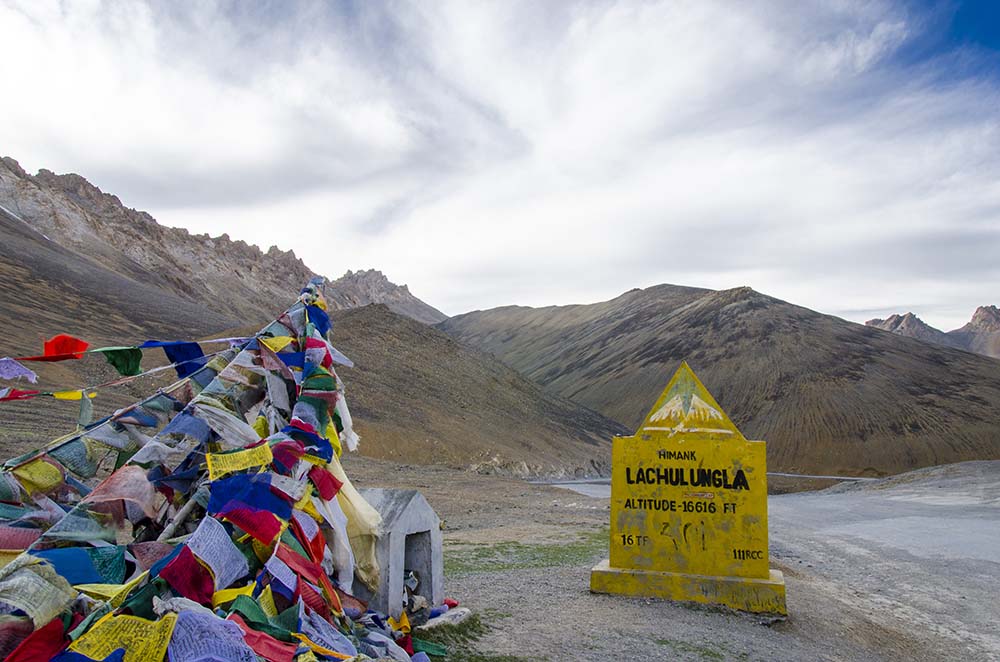 Pang
This is another major camping site en route. There is an entire series of Chadar tents here where you can break the journey for the day. The location of Pang is quite scenic with a river flowing while you approach Pang from Manali Side and More plains on Leh side.
Moore Plains
A plateau in the lap of the Himalayas, Moore Plains are a sight to treasure. Do not however make the mistake of speeding as the road can get a lot bumpy without warning. Stay on the road and do not wander off. If you are lucky, you may spot a Kiyang or blue sheep here.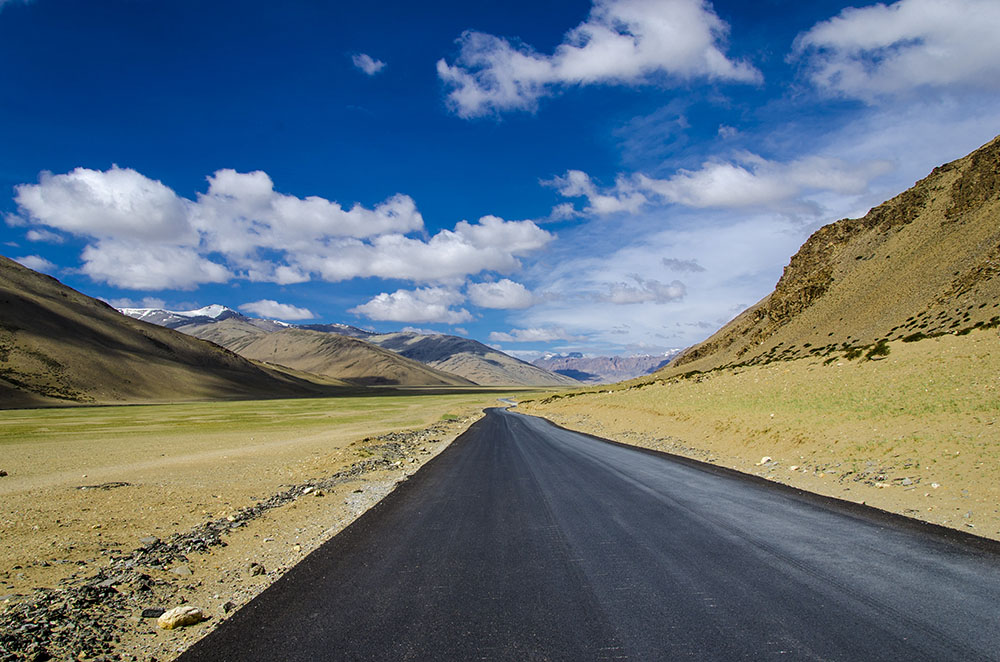 Debring
This is the place where a road bifurcates towards Tso Kar. There are a few Chadar tens and Dhabas at Debring.
Tso Kar
If you are ready to leave the Manali-Leh road for a little while, you may take the road towards Tso Kar which is about 20-25 kilometers from Debring.
The small lake of Tso Kar is quite scenic but worth a visit. There are few Chadar Tents at Tso Kar if you want to stay. Leave the Manali Leh highway, go to the lake, spend some time there and return to Debring. A return journey will take no more than 90 minutes.
Tanglang La
This will be your fifth and last high altitude pass on this road, located at a height of 17,582 ft. In my opinion, it is also the toughest because of the severely damaged road leading to it.
Tanglang La is the highest point of Manali Leh highway and is also considered the second highest motorable pass in the world. This claim is disputed though. It may have been such once upon a time but not anymore.
You will definitely feel the effects of AMS here and low levels of Oxygen. I recommend that you do not spend too much time at the top. Just stop, take a few pictures and be on your way.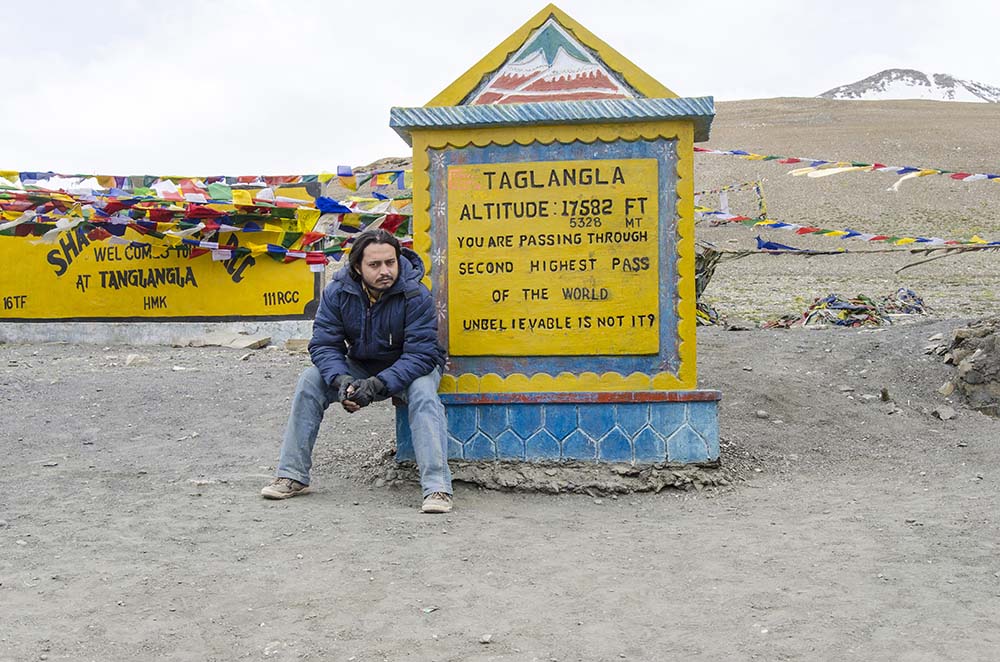 Rumtse
While approaching Rumste and even after this small town; notice how the hills start to become colorful and even the vegetation starts to appear once again. There is a trek to Tso Kar and Tso Moriri, further to Spiti valley, that starts from Rumtse.
Also read: Best Time to Travel from Manali to Leh
Upshi
Nothing worth mentioning about Upshi, just another town on the way as you start to get closer to Leh.
Karu
Karu is a village on the Manali to Leh highway, just a few kilometers before Leh. The location of the village presents quite a vivid display of colors; the white on top of the hills, the green of trees, the colors of flowers, and strangely in the stones as well.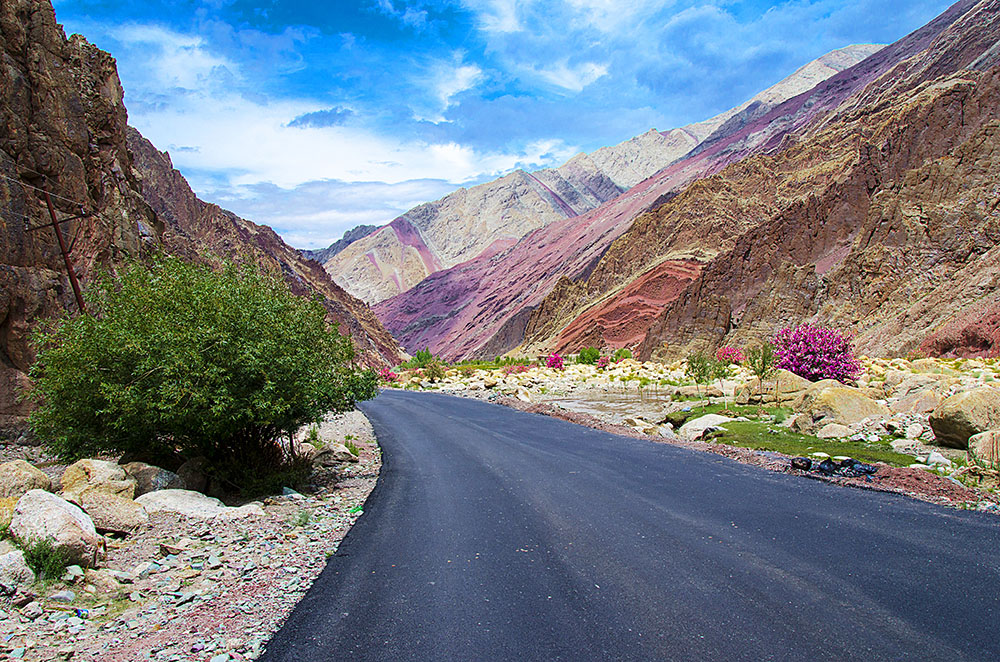 Leh
This is the town where you have been thriving to reach. A heaven on earth in each and every way. Your journey on Manali to Leh highway will end but there is much more to come as this will become your base to explore Ladakh. Check into a hotel and get ready to see some more amazing sights.
For visiting other areas of Ladakh and to know how you can plan your itinerary ahead, please take a look at How to Plan a Trip to Leh Ladakh – A Complete Travel Guide.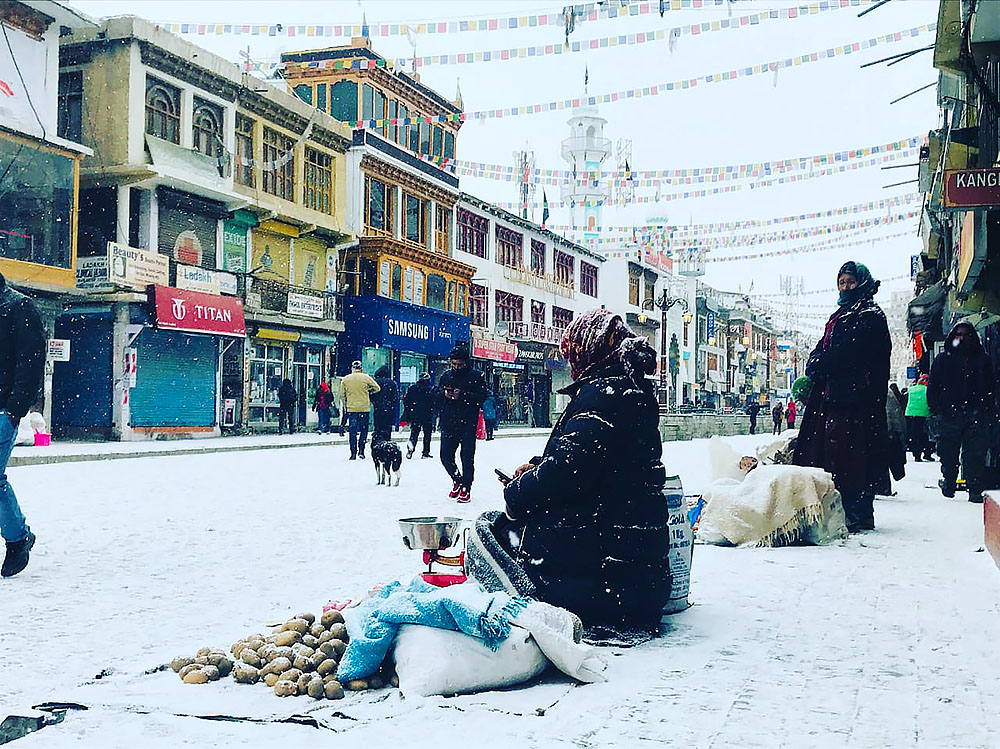 Tourist Places on Manali Leh Highway – Conclusion
The tourist places on Manali Leh highway that I mentioned above are just the highlights of the journey. As I mentioned above, this entire road is an attraction in itself. So go ahead, take the challenge and cherish it for life. There will be no time like the first time, no matter how many times you travel on it after.
I hope the information above on tourist places on Manali Leh highway was of help. If you need any further information, please feel free to ask in the comments section below or at our Community Forum, and I will be happy to answer.