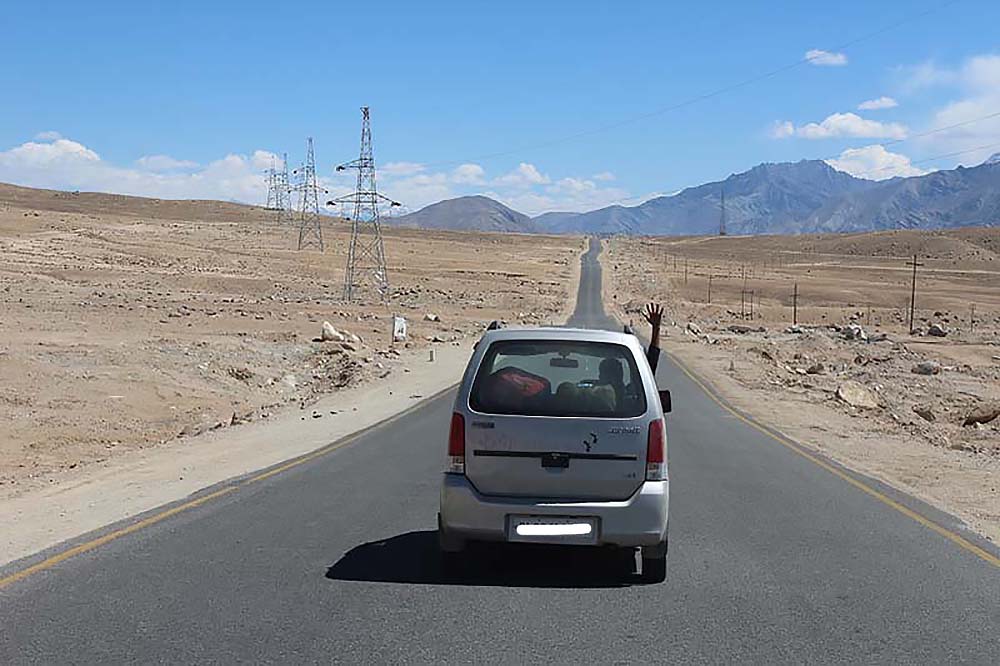 The true fun of a trip to Ladakh is traveling by your own vehicle, either a motorcycle or a car. While it can be adventurous to handle the challenging roads, it can also be a nightmare sometimes if you did not know what you were doing. Based on my own experience of the roads here, mentioned below are a few Ladakh driving tips on how you can manage your vehicle through tough sections of the road.
There are several challenges that the roads in Ladakh will present you with. It also applies to the two highways leading to Ladakh from Manali and Srinagar. You will be crossing several high-altitude passes, climbing up on narrow winding roads. There will be snow, mud, slush and sometimes the roads will just turn into a badly broken dirt track.
The biggest challenge however will be the numerous water crossings you will encounter. Nothing compares to the adrenaline rush of passing through those water streams.
Also Read: How to Plan a Trip to Leh Ladakh – A Complete Travel Guide
As thrilling and adventurous as it all may sound, the fact cannot be denied that it can prove to be quite dangerous as well. Both you and your vehicle can get hurt and If you were not being careful. Caution has to be practiced no matter how well experienced a driver or rider you are.
Ladakh Driving Tips



The best car for a trip to Ladakh will be an SUV with high ground clearance. It does not have to be a 4 wheel drive but there should be plenty of ground clearance. Anything over 180MM is decent enough but you will still have to be careful. 200MM or above is safe and you can even try off-roading at some places.
Ground clearance of less than 180MM means that you are risking damage to the underbelly of your car and will have to be extremely careful. But do not let that hold you back. I have known people who have commuted on Manali Leh highway in a Maruti 800 and a 13-year-old Wagon R as well.
If you are taking a Sedan or a Hatchback, you would have to be extra cautious. Otherwise, the belly of your car will be kissing the ground at several places. Just keep yourself mentally ready for a few scratches underneath your car. For more details on this topic, please take a look at Which is the Best Car for Leh Ladakh Trip.
If you are traveling in an SUV, then you can go at any time of the year when the highway is open (June to September). If you own a hatchback or a Sedan, then traveling either early in the season or towards the end will be a wise decision.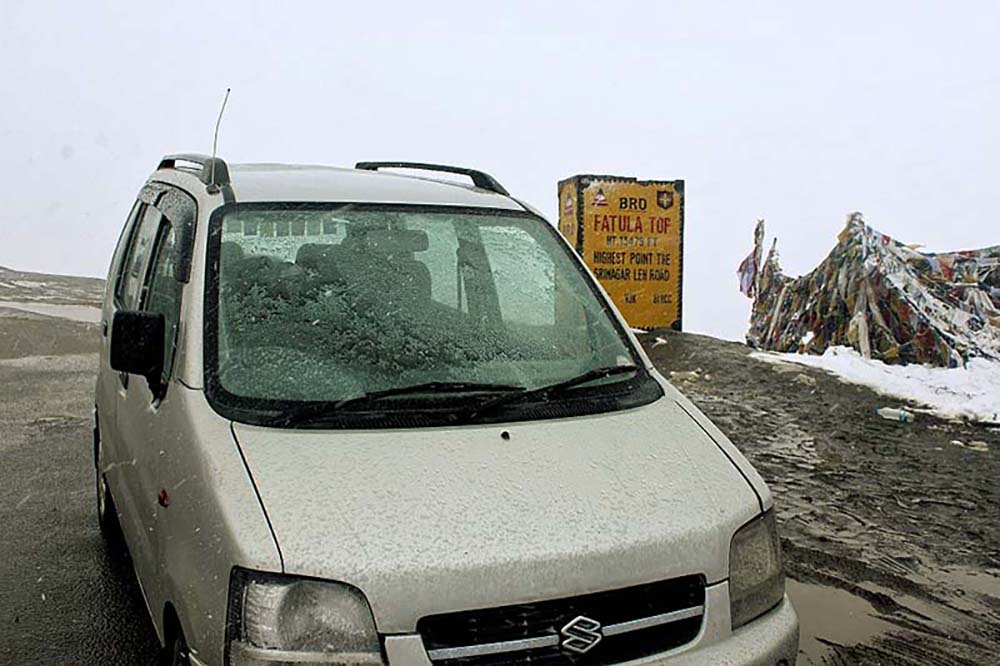 Do Not Drink and Drive
This by far remains on top of the list of Ladakh driving tips. This actually applies everywhere but do not make this mistake at all in Ladakh. Even if you have done it in the plains once in a while, do not think that you will be able to manage up here as well.
Ladakh and the roads leading here are unforgiving in this matter. Even a small mistake, a small miscalculation can prove fatal. The reason why I kept this at top of the list is that a trip to Ladakh is a time when you have fun with your friends. Sitting late at night at a camp around a bonfire will be a temptation to pour in some alcohol but please avoid that.
If you did have a few pegs and still have the hangover, let someone else take the wheel. Do not at all drive while you are still under the influence of Alcohol.
No Show Off
Being confident of your driving skills is good but do not be over-confident and do not try to show off. A lot of people try to leave the road and take dirt trails either to test their vehicle or their own driving skills. This is not really wise.
Please stay on the road even if it is the longer route. Do not try to go off-roading unnecessarily, even a small problem here can prove to be catastrophic. Below is a picture of a guy being over-confident in Ladakh that resulted in his car tumbling down the hill.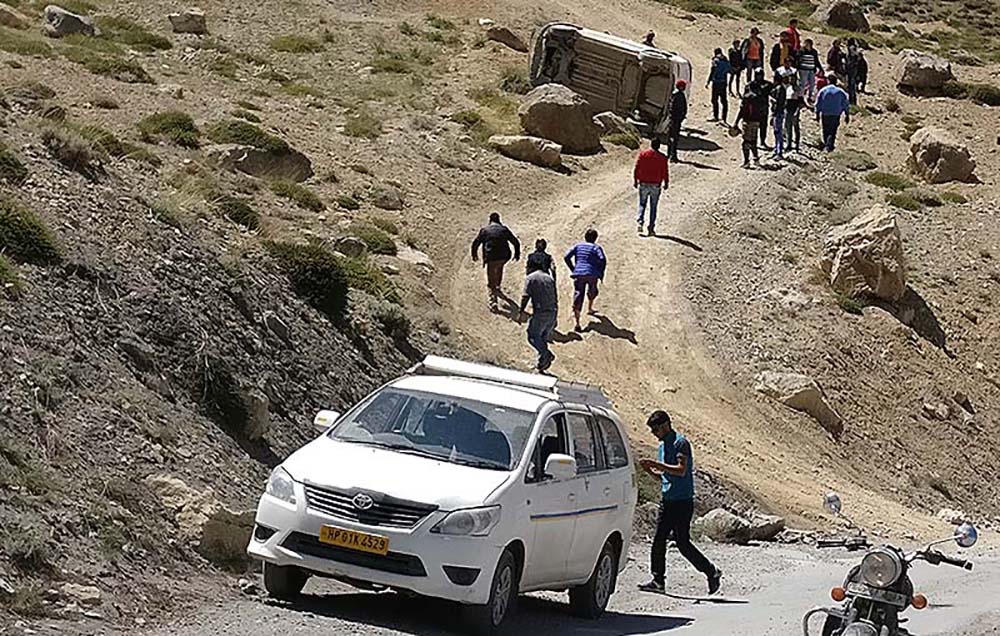 Driving through Slush
This will be another important one of Ladakh driving tips. While crossing slush, please stop for a minute. Step out, inspect the area ahead and then take your car across very carefully. If you are still unsure then wait for a little while for another car to arrive and follow its lead.
Stay in the first gear, do not half clutch, and cross over in a single go while maintaining the momentum.  If the slush seems a little too much, ask your fellow travelers to step out of the car so that they can help push the vehicle if you get stuck.
Accelerate slowly to ensure that your car doesn't skid. You really need to go easy on the gas to avoid your wheel spinning. Also avoid any sudden movements on the steering, accelerator, or brakes.
Also Read: Clothes for Ladakh Trip – What to Pack
Getting Out of Slush
In case you get stuck and the wheels do start to spin, do not continue to accelerate. Rather, stop and try reversing a bit for a couple of meters and try to take a different angle. If you are stuck and you try to accelerate your way out, it would only bury your wheels even deeper.
If you are in a 2 wheel drive and got stuck in slush or sand, engage the first gear. See if you can get in momentum by doing that. If you are able to, do not continue to stay in 1st and very quickly, engage the 2nd gear as soon as you start to move.
In a 2 wheel drive, because of lack of traction, you will need a bit of wheel spin to manage your way through which you will get in the 2nd gear. Staying in 1st will put stress on the clutch plates and you will not get the needed spin to find your way out.
However, though, the change from 1st to 2nd has to be really quick. If you take too long to change gears, your car will stall again. Never try to manage your way out of slush using half clutch else you will just end up burning the clutch plates.
Driving Up and Down the Hills
When driving up a hill, you will come across several hairpin bends. It is always wise to downshift to tackle those to prevent stalling.
When going down the hill, do not continue to apply brakes because it may overheat the brakes resulting in a failure. Rather, engage a lower gear and descend slowly, allowing the engine braking to help you.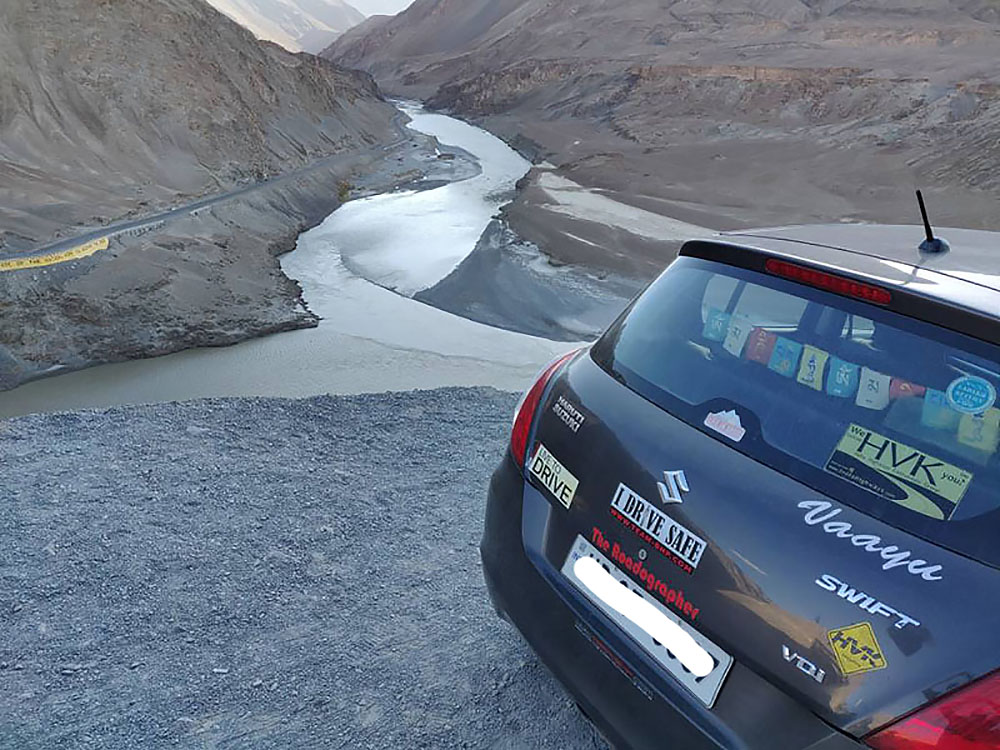 Water Crossing
While crossing a water stream, please stop your car for a minute. Get down, inspect the crossing and then take your car across slowly. Try to find a spot where the water does not seem too deep or does not have any loose stones.
Another good practice, in case you are not feeling too confident, is to wait for another vehicle to pass by and then follow its lead.
Several times you will come across water flowing across a perfectly laid road but do not just speed through it. It will cause a splash which further may lead to water entering the engine. Slow down and drive across.
Also Read: Motorcycle Water Crossing Technique & Tips
Carry all Required Paperwork
Please ensure that you are carrying all necessary documents like your driver's license, vehicle registration certificate, PUC, and insurance documents.
Carry all Required Essentials
Please carry all essentials spare parts that can come in handy for a quick fix. Some of the recommended items are a spare tire, set of screwdrivers, tool kit, jack and spanner, compressor, foot pump, spare engine oil, coolant, and a puncture repair kit.
Jerry cans for fuel, adhesive like Feviquick, spare bulbs, towing rope, jump-start cables, a torch, funnel, etc are some other items that you should have.
Know your Vehicle
Do not bring your car to Ladakh unless you know it well. By knowing, I mean you should know the pickup capabilities of your car, how to maneuver it around those tricky turns, and how to take it up steep ascents when it refuses to go any further.
You should know well that short distance your car travels between you applying the brakes and it coming to a complete halt.
Also Read: How to Prepare your Car for Leh Ladakh Trip
Have Patience
Patience is the key while driving to Ladakh. Do not attempt to overtake at turns and drive slow at rough stretches. Do not try to rush through the water streams or bad sections of the road. If the road is blocked for any reason, please wait patiently in the queue and do not try to get ahead of others.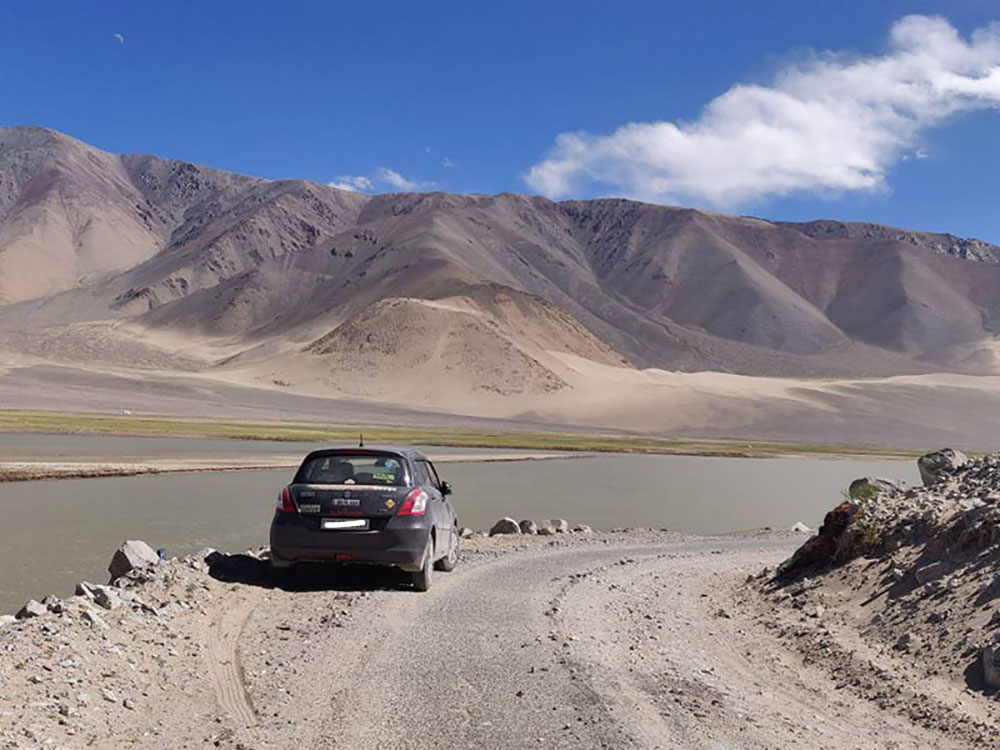 Travel Light
A trip to Ladakh is not only stressing to your own body but to your vehicle as well. Do not overburden it with items you do not really need. Travel as light as possible while making sure that you are carrying all necessary items.
Fuel
You will need to pay close attention to it. Ladakh is a place where you will not come across a gas station for hundreds of kilometers.
You should know your car's fuel efficiency and plan accordingly the fuel you need to carry with you. On the safer side, always carry a minimum of 20 liters of fuel in Jerry cans. For more details on this topic, please take a look at How to Manage Fuel Availability in Ladakh.
No Speeding
Several times you will come across a freshly laid tarmac, inviting you to speed up but do not make that mistake. These roads, even though smooth, are still bumpy and can prove dangerous for your car's suspension.
Especially around areas like More plains, Chumathang, and in Changthang valley, you will see a straight road ahead of you for miles. But please maintain a decent enough speed only. There are several dips and sand traps on these roads that can really cause a sudden twist in the gears.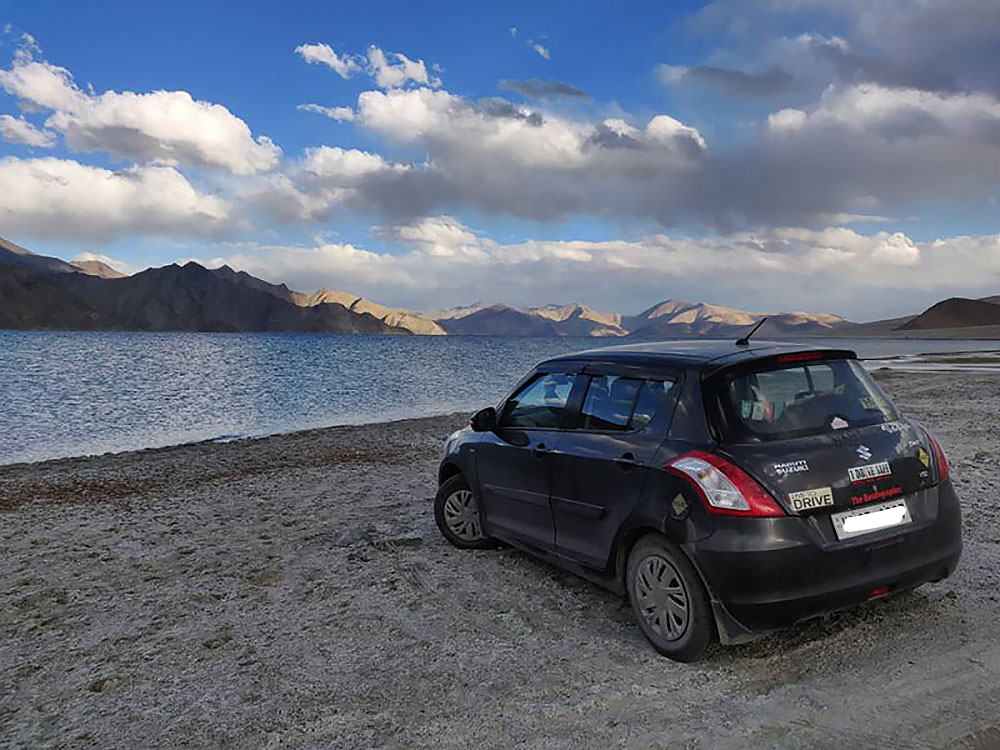 Help Others
If you come across anyone in need of help, please stop and do what you can. Up there, when you do not have a living soul for miles around, help is tough to find. If and when you are in a situation to help someone, please do so.
I know we are talking about Ladakh driving tips and this is not really a driving tip but imagine this. You may be in need of help the next day yourself and you would hate it if someone just passed you by after an hour of waiting without offering to help, right?
Avoid Heating
Ladakh is a cold desert. The weather here is always cold which may tempt you to turn on your car heater. Unless absolutely necessary, please avoid doing so though.
We know that there is a shortage of oxygen at high altitudes. With a closed environment, your window glasses up, turning on a car heater may reduce the oxygen levels inside the car. This may make breathing hard and trigger symptoms of acute mountain sickness.
Stay Focused
Ladakh is beautiful no doubt but when at the wheel, you cannot really afford to be looking at the vistas. Stay focused and keep your eyes on the road. If you come across a beautiful view, stop the car and then enjoy it.
Take Breaks
Please take sufficient breaks at regular intervals. Let your car rest while you enjoy the scenic beauty of Ladakh. Do not rush through the journey.
It is not the destination that matters in the case of Ladakh, but it is the journey that you need to enjoy. You need to remember that traveling here is also stressful for your car. So let it rest and cool off at regular intervals.
Do Not Litter
In the end, Ladakh is a beautiful place so please let it be so. Do not litter in the valley or on the roads as you drive through. Carry garbage bags and dispose of them at an appropriate place where there is a dustbin. Do not be the reason for the creation of more spots like the one in the picture below.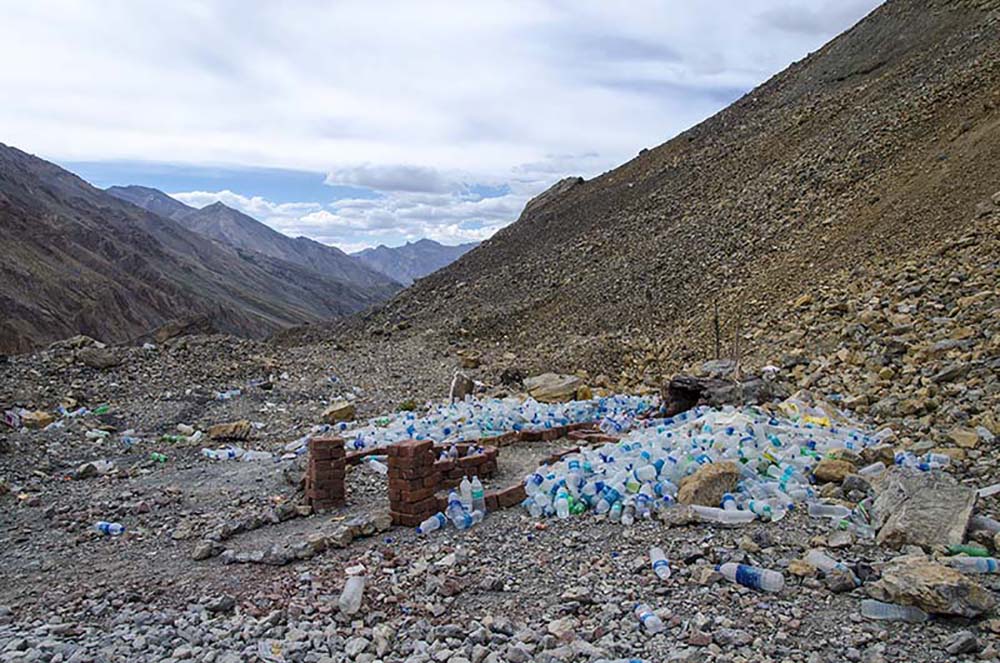 Ladakh Driving Tips – Conclusion
I hope the above-mentioned Ladakh Driving Tips were of help. If you have any further questions, please feel free to ask in the comments section below or at our Community Forum, and I will be happy to answer.