Renting a motorcycle in Srinagar is one of the most common ways for tourists to explore the valley; and in my opinion, is also one of the best. It will free you from the hassle of relying on public transport; frequency of which is not that great in the remote areas of Kashmir. It will also save you from shedding several thousand on a private taxi which is not an option for someone traveling on a Budget. It is also much more fun than sitting inside a Bus or a Car. Exploring the beautiful paradise of Kashmir and nearby areas of Ladakh on a motorcycle is an experience in itself, one that you must have. If you were wondering how much it will cost you, then mentioned below are Srinagar Bike Rental Rates for the year 2019 which can help answer that question.
For more details on visiting Kashmir, including information like what to see, public transport, where to stay, mobile connectivity, itinerary planning, taxi rates, best time to visit, where to find snow etc., please take a look at How to Plan a Trip to Kashmir – A Complete Travel Guide.
For renting a motorcycle in Srinagar, please contact Faisal at 9596410670. He runs a motorcycle rental agency and has bikes in amazing condition. Give my reference and he will give you a discounted price. Several of the accessories that other agencies will charge you for will cost free of cost with Faisal. I have rented bikes from during my Kashmir trips and have never faced any problem at all. He is also a gem of a person who will ensure that your trip remains hassle-free and will help you in any way that he can. His rental firm is known by the name of Kashmir Travelogue and is in my opinion is the best bike rental in Srinagar.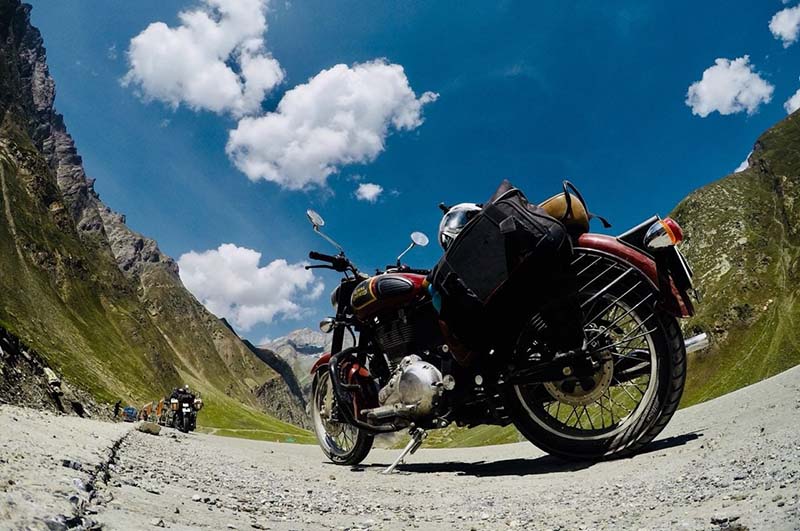 Srinagar Bike Rental Rates 2019
As far as I know, there is no motorcycle rental association in Srinagar that decides and enforces the rates like it is in Ladakh. Out here, the per day rent you will pay for a bike is pretty much in sync with how it is trending in the rest of the country. What this also means is that the final cost you will pay will depend on the agency you were dealing with and how good you were at negotiating. If you need more than one motorcycle for a longer period of time, you will get a higher discount.
Listed below are the motorcycles currently available in Srinagar for rent and their respective charges.
Royal Enfield Himalayan
Engine Size: 411CC
Rental: Rs. 2000 per day
Royal Enfield
Engine Size: 500CC
Rental: Rs. 1,800 per day
Royal Enfield
Engine Size: 350CC
Rental: Rs. 1,500 per day
Bajaj Avenger
Engine Size: 220CC
Rental: Rs.1,300 per day
KTM Duke
Engine Size: 200CC
Rental: Rs.1,500 per day
Automatic Bike / Scooty / Activa / TVS Jupiter
Rental: Rs. 800 per day
Other Bikes
Engine Size: 150CC to 200CC
Rental: Rs.1,000 per day approximately
Also Read: Srinagar Taxi Rates 2019
Rent a motorbike in Srinagar
Listed below are some of the things you should remember while you rent a bike in Srinagar.
You must hold a valid and permanent driving license; temporary license will not work. If you were a foreign national, you should have an International driving license. The license issued in your own respective country will not hold valid.
Any damage to the motorcycle will have to be paid by you. Though the motorcycles come with a third party insurance cover, the rental agency will not be going through the hassle of filing for claims for damages caused by you. You will have to pay for those.
If you crashed the motorcycle beyond repair, you will have to pay up the entire market value of the motorcycle.
If you were involved in a crash after which the motorcycle had to be transported back for repairs, you will also be paying for the transportation cost.
A security deposit of Rs. 20,000 will have to be made before taking the delivery of the motorcycle. This amount will be refunded when you return the bike with no damage.
An additional Rs. 350 per day will be charged if you want to also rent the riding gear; including the carrier.
If you want to get an additional helmet for pillion rider, that will cost you an additional Rs. 50 to Rs. 100 per day.
Raincoats, chargers etc are not part of the riding gear and will be charged separately.
Tool Kit and Spare Parts are not covered under rental cost
You will have to pay for your own fuel. The rental agency will give you just enough to get you to the next petrol station.
Luggage Carrier
Only Royal Enfield motorcycles come with a luggage carrier installed with space to hold jerry cans. No other bike will have this facility and if you chose to get one, you will have to pay for it separately.
Also Read: Manali Leh Highway Travel Guide
Legal Cost
Any fines/penalties imposed by the cops like for reckless driving, riding without a helmet, increasing the speed limit, riding with more than 2 people on the bike or any legal trouble too would have to be borne by you. So for example, if the motorcycle got impounded, it will be your headache to get it back from the cops and return to the dealer.
Identity Proof
You must also carry another government-issued identity card like PAN Card, Aadhar Card, Voter ID Card or your passport. This is needed because your ID proof will be deposited when you rent the motorcycle and will get returned at the time of returning the bike. A driver's license too can work as an identity and residence proof but the agency cannot keep it with them while you ride around on their bikes. They will return the DL and will hold on to a different ID proof. If you are a foreigner, they will return the passport as well but may ask you to pay a higher amount as security.
Also Read: How to Rent a Bike in Srinagar
Bikes on rent in Srinagar for Leh
All the motorcycles I listed above are available for rent to go to Ladakh. The thing, however, is that Srinagar registered motorcycles are not allowed for sightseeing in Ladakh. You can rent a bike from Srinagar and can use it only to reach Leh. Once you get there, you will have to leave it parked at the hotel and rent another Leh registered bike for visiting places like Nubra Valley and Pangong. This is a very serious matter and please do not take this lightly. There have been cases when Srinagar and Manali registered bikes were vandalized in Ladakh.
Srinagar to Leh Bike Rental
The charges that I explained above will remain applicable for Ladakh as well. The only difference is in terms of the security amount. For example, if you rented a bike for a day to visit Gulmarg, then the security amount will be a little less than what you will pay for renting a bike for 7 to 9 days for Ladakh trip. Per day rental will remain the same irrespective of duration and destination.
One way Bike Rental from Srinagar to Leh
If you rent a bike from Srinagar to Leh and leave it there (or even Manali for that matter), you will be asked to pay an additional amount of Rs. 10,000 to Rs. 15,000 as cost of transporting the bike back to Srinagar. This charge will be over and above your daily rental.
Also Read: Srinagar Leh Highway Travel Guide
Scooty on rent in Srinagar
Automatic bikes like Activa, Scooty, TVS Jupiter are available for rent and will cost you about Rs. 800 per day. These are a great choice for visiting places like Gulmarg or local sightseeing in Srinagar; but I wouldn't recommend renting one for Ladakh due to its small wheel size.
Best Bike Rental in Srinagar
Kashmir Travelogue is the best agency for motorcycle rental in Srinagar.  All their motorcycles are in amazing condition and will not give you any trouble anywhere. Rates that you will get at Kashmir Travelogue will be way less than any other rental agency in Srinagar.
Kashmir Travelogue- Bike & Motorcycle Rental Firm
Lal Chowk, Srinagar
http://kashmirtravelogue.com/
Phone: 09596 410 670
The riding gear and accessories that other dealers will charge you Rs. 350 per day for will be provided free of cost by Kashmir Travelogue. And their riding gear is quite comprehensive too; way bigger than all others. Take a look at the link below for a detailed review.
Also read: Best Place to rent a Bike in Srinagar
Srinagar Motorcycle Rental – Conclusion
I hope the information above on Srinagar Bike Rental Rates for the year 2019 was of help. If you have any questions; or need any other details; please feel free to ask in the comments section below; or at our Community Forum; and I will be glad to answer.