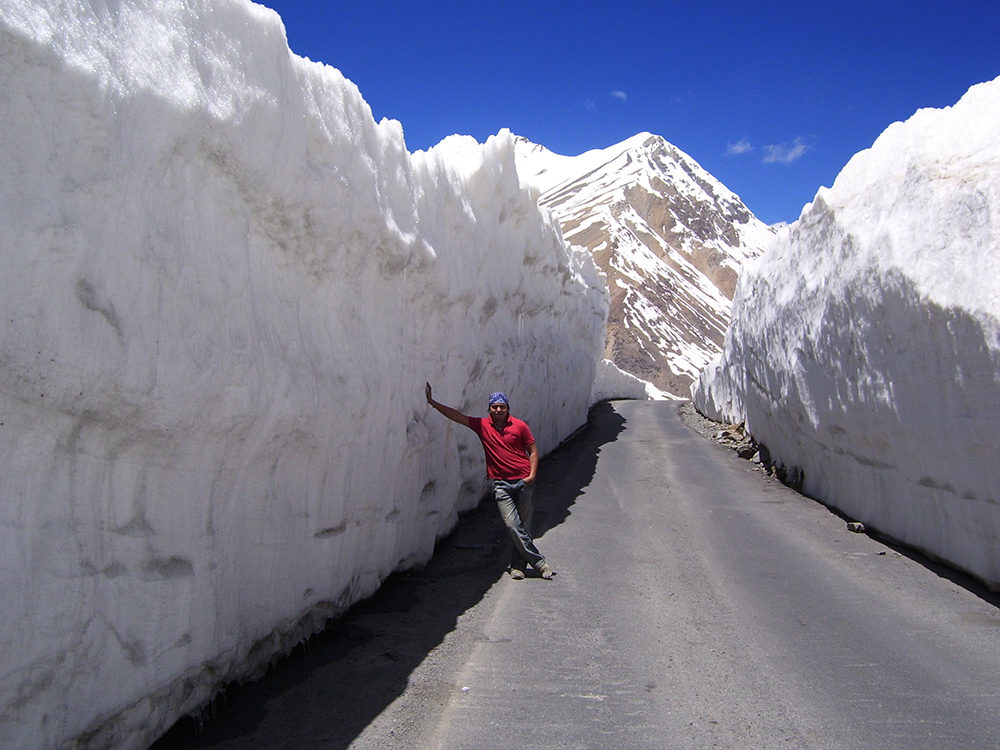 Baralacha La Pass is a high-altitude mountain pass in the Zanskar range of the Himalayas. The pass is located in the Lahaul Valley of Himachal Pradesh along the Manali Leh Highway. Also known as Baralcha La, it sits at an elevation of 4,890 meters (16,043 ft).
From Mid October to early May, Baralacha La remains buried deep under snow. During the months of January and February, it receives as much as 50 ft of snow due. It is the first pass to close on Leh Manali road and the last one to open.
BRO starts their snow clearing operation sometime in March and finally declares Baralacha La open sometime in May, much after the opening of Rohtang Pass.
If you were traveling from Manali to Leh, Baralacha La will be the second pass that you will cross, after Rohtang. If you were just visiting Manali or Lahaul Valley, a visit to the top of the pass is highly recommended. Read on to find out more.
About Baralacha La
There are several things that make Baralacha La worth a visit. It is one of those passes where you will always find snow, even during the peak summer season. The picture that I posted above of snow walls was clicked in the first week of July.
But it is not only about the snow. The scenery and the views you get between Keylong and Baralacha La will probably be the best that you can get in the entire Lahaul Valley. The beautiful lakes of Deepak Tal and Suraj Tal that you see near the pass may be small but are a giant in beauty.
And then there are the stories related to the pass. One is the folklore related to Suraj Tal and the second one is of a ghost that is said to haunt this mountain.
Below is a short video of how this beautiful pass looks just after winter.
How to Reach Baralacha Pass
In order to get to Baralacha La, you will first have to reach Manali. From Manali, there are two routes that you can take. The first one is via Rohtang Pass and the second one is via Rohtang Tunnel.
Route 1: Manali – Rohtang Pass – Keylong – Jispa – Darcha – Baralacha Pass = 190 km
Route 2: Manali – Rohtang Tunnel – Keylong – Jispa – Darcha – Baralacha Pass = 145 km
For a tourist, the first will definitely be the preferred one because then you also get to see the mighty Rohtang Pass on your way. This way, your journey will be for two days. On Day 1, you reach Keylong via Rohtang and stay there for the night. On Day 2, pay a visit to Baralacha La and then return to Manali via Atal Tunnel.
If you only had one day in hand, you can plan a day-long trip but will have to start really early from Manali. You will go to Baralacha Pass via Atal Tunnel and return the same way.
By Bus
Traveling by Bus to the pass can be a little tricky. There is a daily HRTC Bus that travels from Manali to Leh that you can board for this journey but then the problem will be of returning.  Hence a better way would be to rent a motorcycle or a scooter from Manali and travel to the pass. If the budget was not a problem, you can also hire a private taxi in Manali.
By Bhuntar
The nearest airport is in Bhuntar, at a distance of 50 kilometers from Manali. Flights to this airport are however limited and often canceled. The next nearest airport is in Chandigarh which is a much larger and better-connected airport.
By Train
The nearest train station to Baralacha La Pass is in Chandigarh.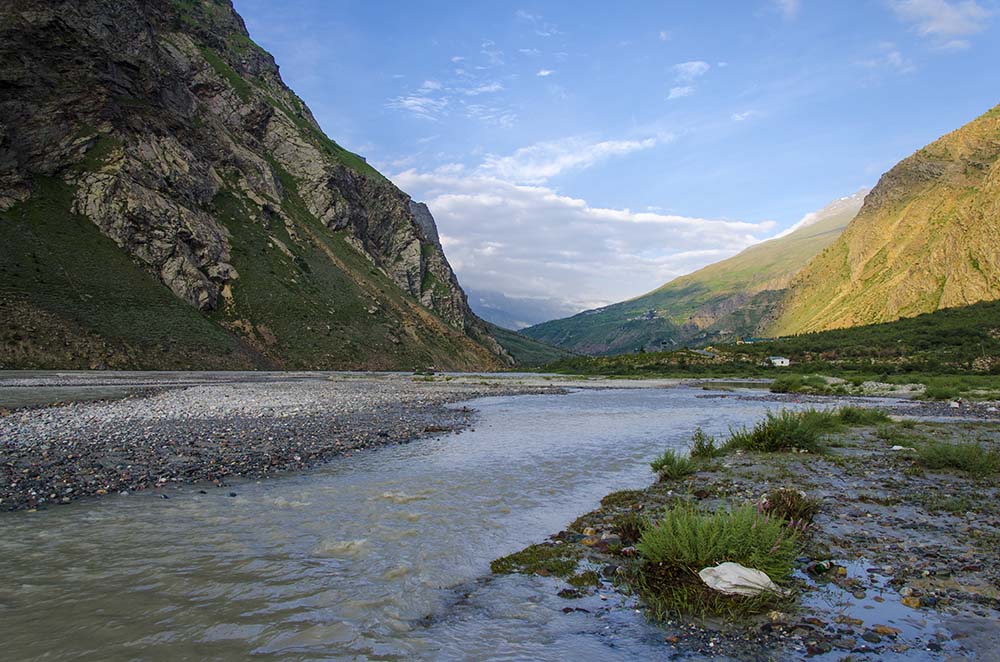 Best Time to Visit Baralacha La
The best time to visit Baralacha la Pass in my opinion is the months of May, June, and September. You should avoid visiting in July and August because of the monsoon season. You can plan in May and October as well but there will always be uncertainty about whether the pass was open or not. The weather too in October will get very cold.
Hence a safer time will either be in June or September. If you want to see the famed snow walls, June or early July will be better. If you wish to see a lush green Lahaul Valley, September will be a better time to go.
What to see at Baralacha La
Baralacha is really a tourist attraction in itself. It is counted among the places to visit on Manali Leh Highway and in Lahaul Valley. But below is a list of places that you should see at Baralacha La or on your way there.
Rohtang Pass
Rohtang is Manali's crown jewel and is responsible for more than half of the tourism in the region. At an altitude of 13,054 ft, the top of the pass remains buried under snow for all 12 months and is a beauty in itself.
Lush green mountains, beautiful valleys, snow-capped peaks, waterfall, natural springs, challenging roads, water crossings – you will cover all of it on your way to Rohtang Pass.
Also Read: How to Plan Your Trip to Rohtang Pass?
Bhaga River
Jispa is located on the banks of the Bhaga River. Your journey as well between Rohtang and Jispa will have you traveling right next to the river. In some places, it is really a magnificent sight and will be hard to believe that you are not somewhere in Europe.
The confluence of Bhaga and Chandra Rivers
Bhaga River originates from Suraj Tal Lake, also known as Surya Taal Lake. It later merges with the Chandra River near Tandi to form the Chenab River. Chandra River originates from the famous Chandratal. Below is a picture of the spot where these rivers merge into each other.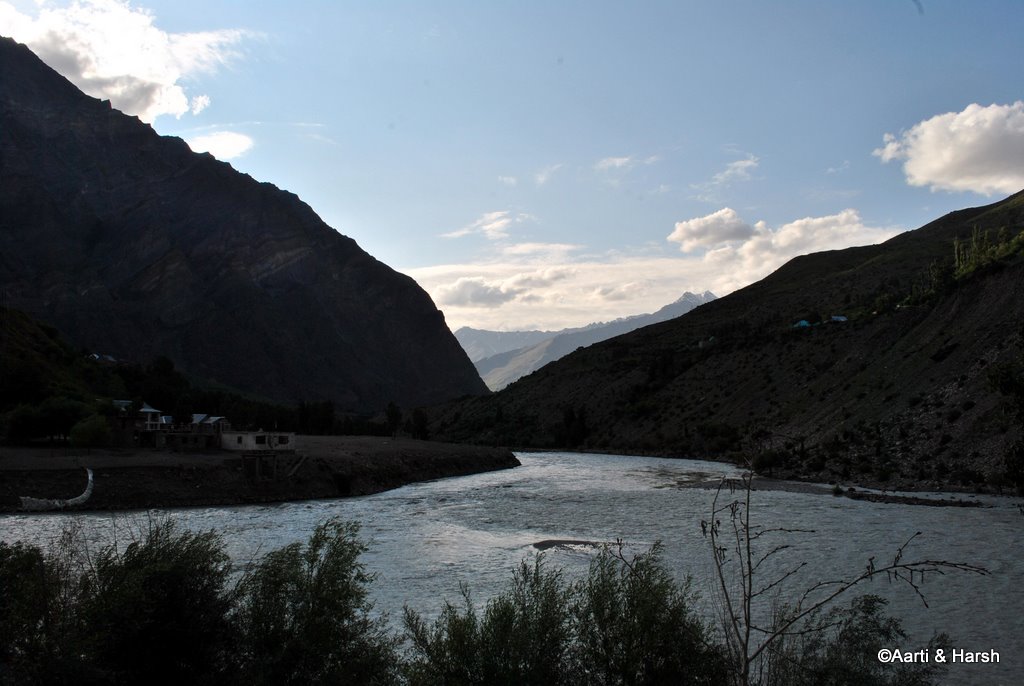 Deepak Tal
Deepak Tal is a small lake that you will cross while traveling from Jispa to Baralacha La. There are a couple of dhabas near the lake where you can take a break and get something to eat. It is also a good spot for camping if you were carrying your own tents and the rest of the gear.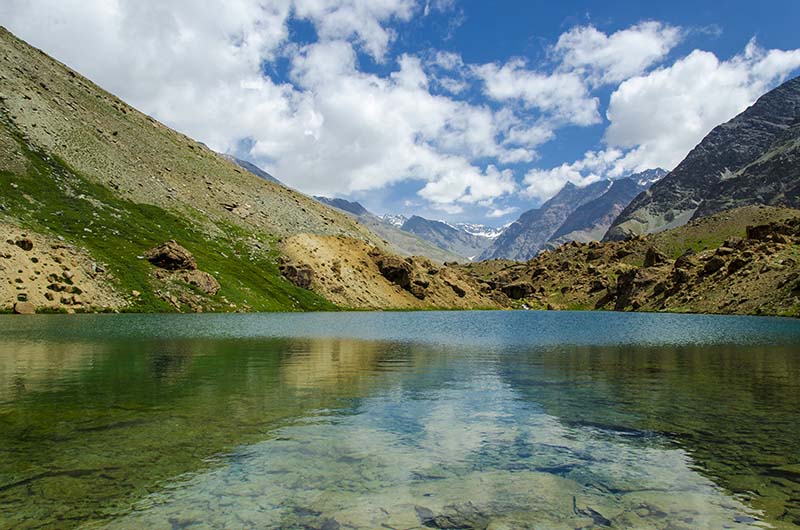 Suraj Tal
This is another small lake located at the top of the Baralacha La Pass. It is the source of the Bhaga River and remains frozen for most of the year. The picture of the lake below was taken in July. So if you take a drive towards Baralacha La, you will be able to visit the pass and the two above-mentioned lakes on the same trip.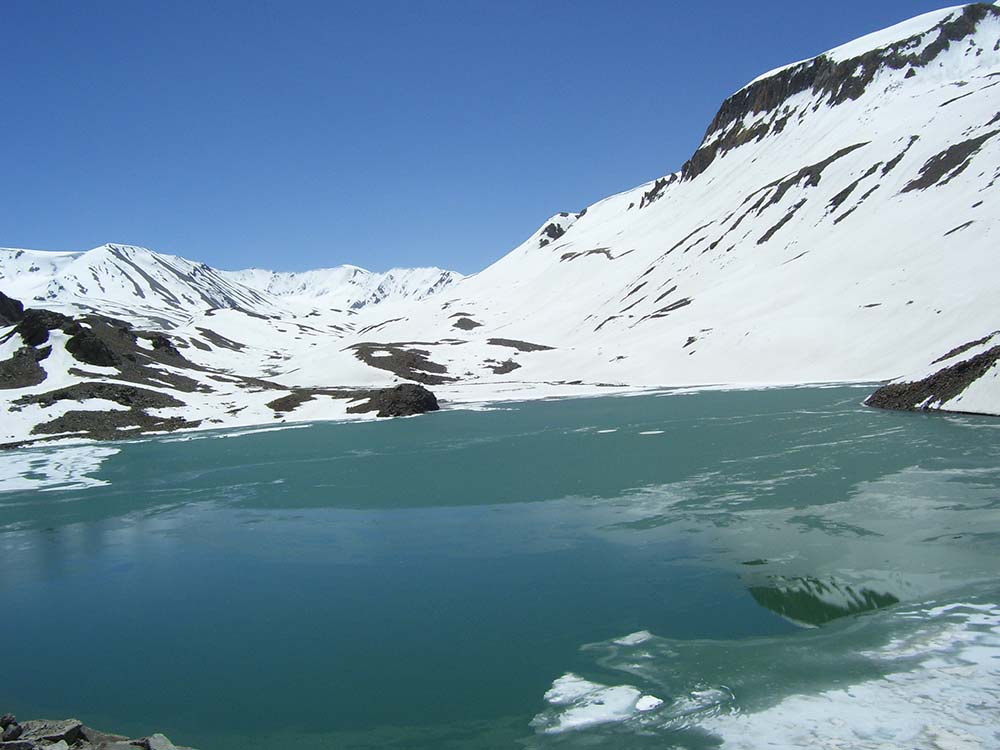 Snow, Snow, and More Snow
That is correct. If it was the snow that you were after, then you will find plenty of it at Baralacha La. If you were traveling towards early June, chances are that you will find even Suraj Tal partially frozen.
Jispa
Jispa is a small little village between Keylong and Baralacha La. If you were planning to stay for a day in Lahaul Valley, It is Jispa that I will recommend that you stay at. It is a very quiet and scenic hamlet and a perfect spot to go camping.
There are a few campsites and wooden huts right on the banks of the Bhaga River that are perfect to spend a lovely evening with your friends and family. For more details,  I will recommend that you take a look at How to Plan a Trip to Jispa.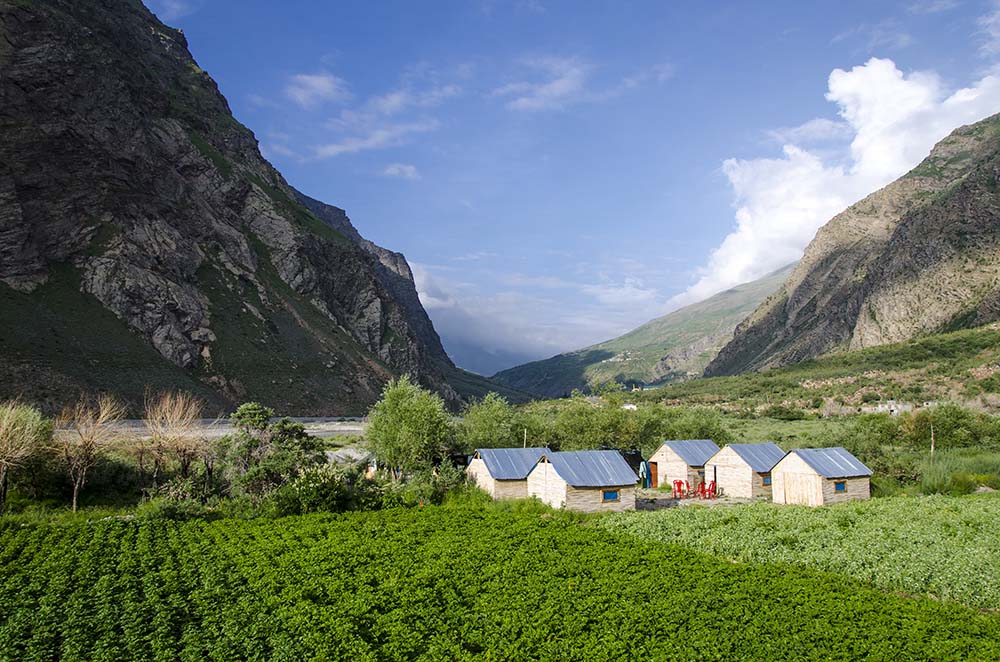 Stories about Baralacha La Pass
There are two famous stories related to Baralacha La. The first one is a love story and the other one is a ghost story.
The Legend of Suraj Tal
Suraj Tal is a small lake located at the top of Baralacha La Pass, the source of the Bhaga River. Chandaratal is a lake located in the Spiti Valley and is the source of the Chandra River. It is said that these lakes are named after Chandra, the beloved daughter of the moon, and Bhaga, the only son of Suryadev, the Sun god.
They both met each other and fell in love. But when their parents did not approve of their marriage, they both eloped and Baralacha la is where they decided to meet each other.
Chandra reached a little ahead of time than Bhaga. When she didn't find Bhaga at Baralacha La, she wandered off in search of him towards Kunzum Pass and then started to circle back to Baralacha La again.
Just when she reached Tandi, she saw Bhaga coming down from the opposite direction looking for her. They both consequently met and the celestial marriage was performed. The spot where they met is the one where Chandra and Bhaga Rivers merge into each other. To read about this story in detail, please take a look at The Legend of Suraj and Chandra Taal.
The Cannibal of Baralacha La
The second story is of a ghost that haunts the Baralacha La. On top of the pass, there are what seems to be the remains of a building that was once used by the Indian Army. It goes by the name of Shaheed Sainik Bhawan.
Legend has it that one winter; a man killed three soldiers in this building and ate them. Yes, you read it right. He literally ate their remains. He was later killed by the Army but it is said that his spirit, as well as those of the dead soldiers, still haunt the road across the pass. To read more about this, please take a look at The Cannibal of Baralacha La.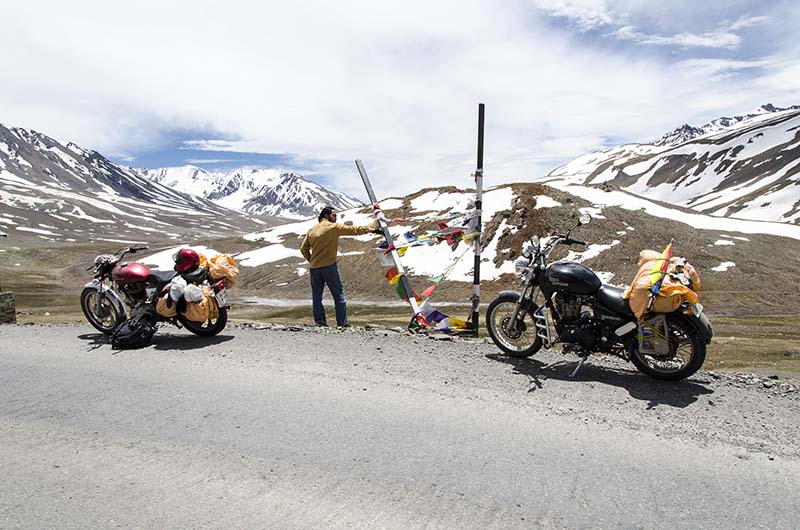 Mobile Connectivity
There is no network reception at Baralacha La. BSNL has the largest coverage in Lahaul Valley but even it stops working around Jispa. The only place where you will have a strong reception is at Keylong where BSNL, Airtel, and Jio will work very well. Once you drive out of Keylong, you will lose network shortly after. You may have a reception in Jispa on a BSNL phone but it will be very weak.
ATM / Petrol Pump / Hospital
The last petrol pump is in Tandi.
Keylong is the last place where you will find an ATM and a Hospital.
Road Conditions
The condition of the road between Manali and Baralacha La is super smooth. There are a few bad stretches in between and you will also have to handle a couple of water crossings but for most of it, the road remains to be in a good condition. You can easily complete the trip even in a hatchback or a Sedan.
Also Read: How to Plan a Trip to Lahaul Valley
Where to Stay and Eat
The nearest place where you can find accommodation is in Jispa. There are some dhabas and Chadar tents in Darcha and near Deepak Tal but those are really just dormitory-type temporary accommodation. Keylong or Jispa is where you will find decent enough campsites or hotels.
The nearest place where you can get a bite is the dhaba near Deepak Tal.
Baralacha La Weather
The weather at Baralacha La is always cold. It is a high-altitude mountain pass that remains covered under snow for all 12 months. It will always be very windy towards the top of the pass and you will feel the chill in the air. The weather here gets so cold that Suraj Tal remains frozen from October to May and only turns blue for 4 months a year.
Temperature at Baralacha La
During the summer season, the temperature at the pass will remain around 10°C during the day and several degrees below at night.
In the winter season, the average temperature at the pass remains around -25°C or even lower.
Conclusion
I hope the information above on Baralacha La Pass was of help. If you have any questions, please feel free to ask in the comments section below and I will be happy to answer. You can also follow me on Instagram and chat with me live there or subscribe to my YouTube channel and ask a question there.