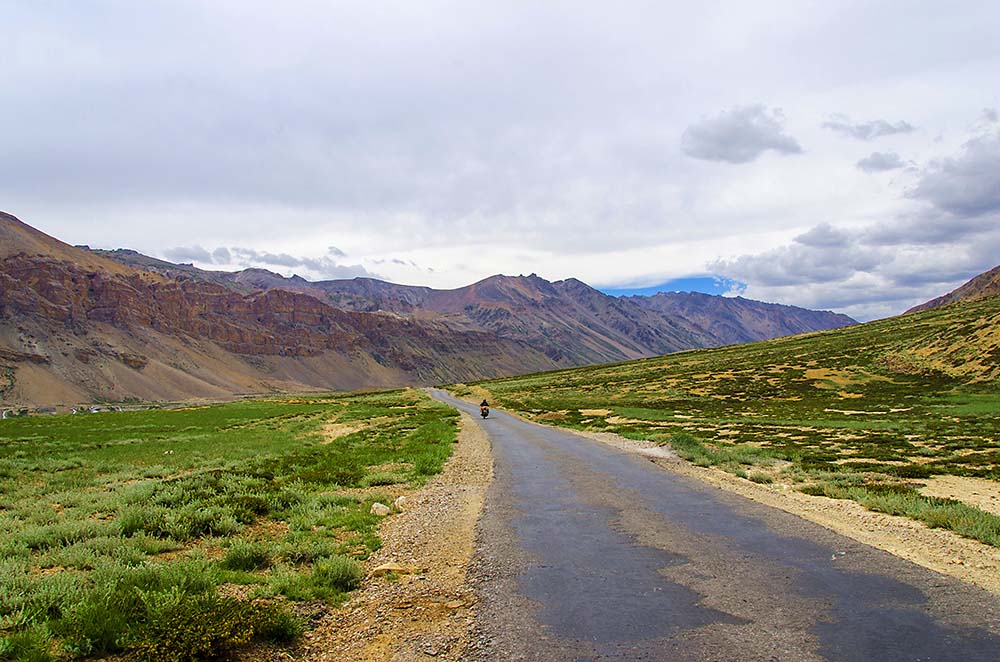 Sarchu is a site for tented accommodation and a major halt point on the Manali Leh highway. A lot of people traveling from Manali to Leh or vice versa chose to stay here for the night before resuming the journey the next day. Sarchu has a few dhabas, Chadar tents, and campsites where travelers can break their journey.
It is also a good spot to pitch your own tent. A lot of travelers planning to do self-camping in Ladakh pick Sarchu as a preferred spot. If you were going to be traveling on the Manali Leh highway anytime soon, below is a brief overview of Sarchu that can help you plan your journey better.
For a complete travel guide on Manali Leh Highway, please take a look at How to Plan a Journey on Manali Leh Highway.
About Sarchu
Sarchu is actually the border between Himachal Pradesh and Ladakh. There is a police check post here and once you cross that barrier, you are officially in the union territory of Leh Ladakh.
The actual name of the place is Sir Bhum Chun. I have no clue how that name came to be but over a period of time, it got shortened to Sir Chun and then Sarchu.
Before the tourism mania in Ladakh started, there was nothing in Sarchu. Initially, it was just a police check post on the border of the two states. Then a couple of Dhabas came into existence where the truckers would stop to get something to eat. Those Dhabas eventually turned into tented accommodation called Chadar tents and started to offer beds to travelers for Rs. 100 per night.
After Manali Leh highway and Ladakh became a craze, several campsites got established at Sarchu. The number of Dhabas too increased and what was once nothing but a police check post is now a major halt point between Manali and Leh.
Sarchu Altitude
Sarchu is situated at an altitude of 4,290 m (14,070 ft).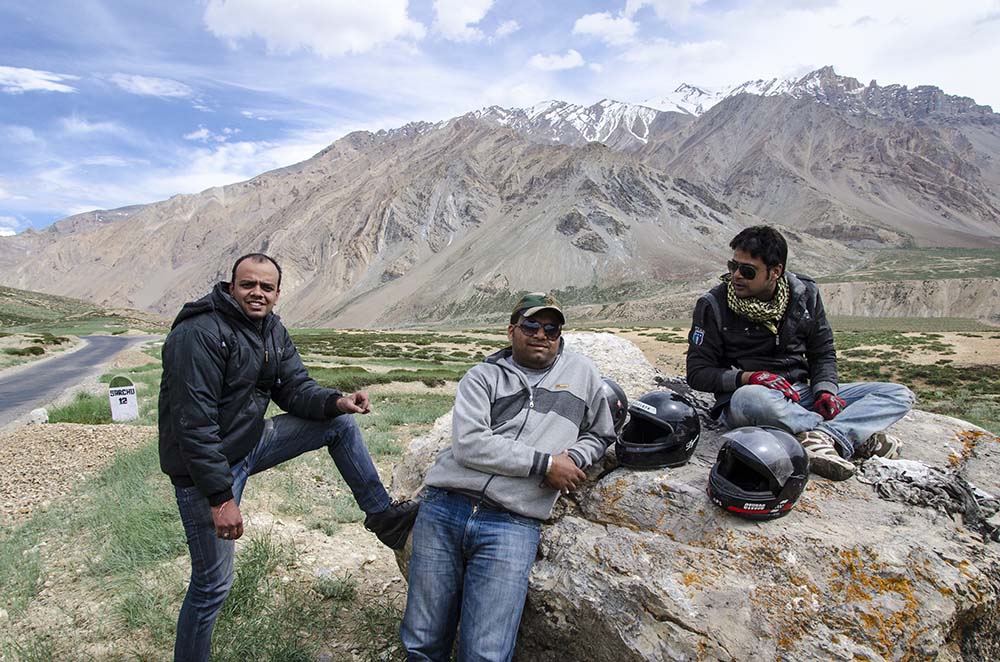 How to reach Sarchu
Sarchu can be reached only between the months of June to September when the Manali Leh highway is open. You can either drive by your own vehicle or board an HRTC bus for Sarchu. The place can of course be accessed from either Manali or Leh.
Manali to Sarchu
Starting from Manali, the route of the journey will be as mentioned below.
Manali – Rohtang Pass – Keylong – Jispa – Darcha – Baralacha La – Sarchu
The total distance traveled will be a total of 220 kilometers and can be covered in about 8-9 hours. If you started early from Manali by 7 AM, you can easily make it to Sarchu by 3 to 4 pm.
There is however another route that can be taken.
Manali – Palchan – Rohtang Tunnel – Sissu – Keylong – Jispa – Darcha – Baralacha La – Sarchu
Traveling this way, you will avoid traveling to Rohtang and save yourself about 50 kilometers in distance and 3 hours of travel time.
The total distance will get reduced to about 177 kilometers and you can reach Jispa in about 5 hours from Manali.
Manali to Sarchu Bus
There is no direct bus between Manali and Sarchu and you will have to first go to Keylong. This actually is a little tricky. In the tourist season, HPTDC operates a bus between Manali and Leh that will pass via Sarchu. But with this bus, you will have to buy a ticket for Leh.
A couple of years ago, HRTC started a daily bus between Manali and Leh that will complete the journey in a day. This bus however was stopped the next year for unknown reasons.
There were talks that will start after the inauguration of the Atal tunnel but I am not too sure about it right now. If at the time of your travel, this bus was available, then you can board it from Manali in the morning and get down at Sarchu.
If this bus was not available, you will first have to board a Bus for Keylong; and look for another mode of travel from there. If bus timings did not match, you can always opt for a shared cab from the Manali Bus stand.
Leh to Sarchu
If you were traveling from Leh, the route will be as mentioned below.
Leh – Karu – Upshi – Pang – Sarchu
The total distance between Leh to Sarchu is about 250 kilometers and can be completed easily in 7 hours. You will also be crossing the passes of Tanglang La, Lachulung La, and Nakee La on the way.
Leh to Sarchu Bus
There is a daily bus available between Sarchu and Leh that you can board for this journey.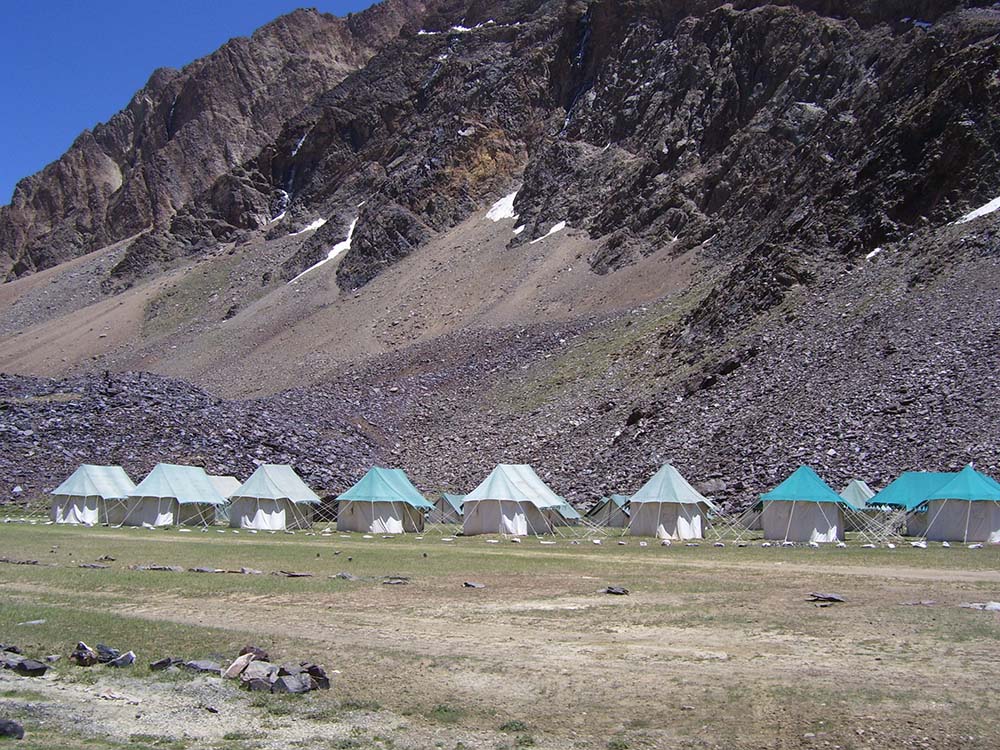 Where to stay in Sarchu
Accommodation is only in the form of tents. Where to stay will entirely depend on your budget. If you wanted to just crash for the night and did not want to spend too much then Chadar tents are a good choice. These are dormitory type accommodation where you can easily get a bed for a couple hundred. Privacy of course will be a concern and you will be using a common bathroom.
If the budget is not a problem, then there are a few campsites here that are a good choice of accommodation. Expect the price to be anywhere between Rs. 1000 to Rs. 2000 per person depending on your negotiation and time of travel.
Self-camping is also possible if you were carrying your own gear. The entire place is like a vast ground in the middle of nowhere and you just need to find a suitable spot to pitch your tent. Try to stay as close as possible to the other campsites or the dhabas though. For food, you can get it from the dhabas only. For more details, please take a look at Self-Camping in Ladakh.
There are also some poorly maintained shacks here that you can opt for to sleep under a tin roof.
Places to visit in Sarchu
What to see in Sarchu? Nothing really. There is actually nothing here except for some naked mountains and a large ground-like area.
Your sightseeing will all happen while traveling from Manali to Leh. There is nothing in Sarchu as such that you will spend time sightseeing. For a complete list of places you will visit on the route, please take a look at Tourist Attractions on Manali Leh Highway.
Things to do in Sarchu
What to do in Sarchu? Once again the answer is nothing except for camping. You either stay at a campsite or do self-camping. The last time I was here, I was told that even bonfires were banned here in order to not disturb the wildlife.
There is really nothing to see or do here. You stay here for the night and move on the very next morning.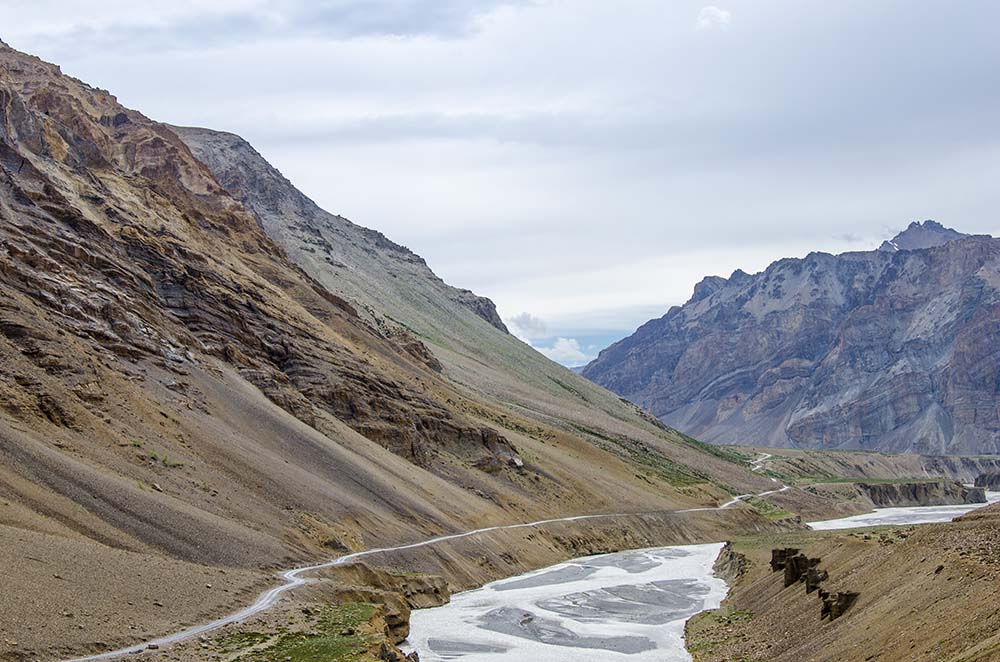 Mobile Network in Sarchu
There is no cellphone reception in Sarchu. BSNL has the widest coverage in Himachal and Ladakh but even that does not work in Sarchu. Here, your phone will be as good as a paperweight or a camera.
If you would like to stay connected for as long as you can, my recommendation will be that you stay at Keylong instead. BSNL, Airtel, and Jio work in Keylong. Start from Keylong in the morning and get to Leh by evening. Your phone will not work in the day but you will be able to get reception by evening once you reach Leh. For more details, please take a look at Mobile Network in Ladakh and Data Connectivity.
Best time to visit Sarchu
Sarchu can only be visited between June to early October. Due to a limited window, you can plan your trip in any month that is convenient for you. I will however recommend not visiting between mid-July to early September as this is the monsoon season.
Ladakh is in a rain shadow area which means it does not here. But the route that you will take to get here via Manali and Rohtang receives heavy rainfall each year. Sometimes the road between Chandigarh and Manali can get closed as well due to landslides caused by incessant rains. For more details, please take a look at When is the Best time to visit Ladakh.
Sarchu Altitude Sickness
Altitude sickness is one of the reasons why a stay here is not recommended. Sarchu is at an altitude of 4,290 meters and from Manali, the gain in altitude is double in a few hours. In the morning Morning, you are in Manali at 2050 meters and by evening, you have gained more than double the altitude. This is why the majority of travelers suffer from altitude sickness in Sarchu.
The temperature drops drastically at night here which adds to the symptoms of AMS. My recommendation is that you should stay in Jispa instead if you are worried about AMS.
But if you decided to stay at Sarchu for the night, make sure that you rest and keep yourself warm. Do not stay out in the wind after the sun goes does and step inside your tent. Keep yourself covered at all times. For more details on what AMS is and a few tips, please take a look at How to Handle Acute Mountain Sickness in Ladakh.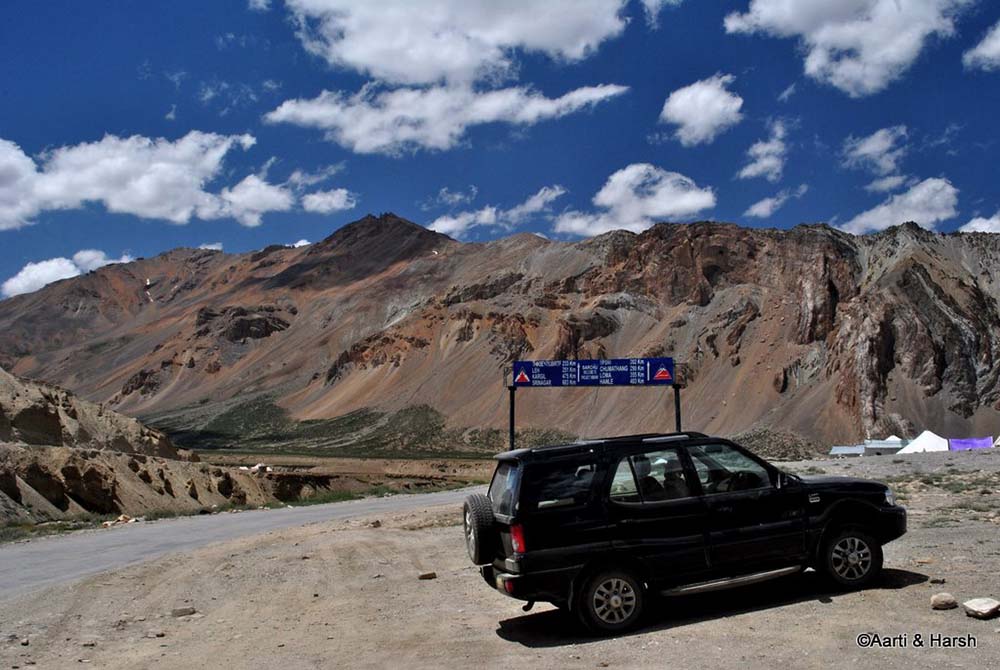 Other Tips
Mentioned below are some other tips that can be of help in planning your trip.
Medical Facility
The nearest hospital is in either Keylong or Leh. I will highly recommend carrying some basic medicines while traveling from Manali to Leh. The Goldrop Camp at Sarchu offers some medical assistance for people suffering from AMS. So if your condition deteriorated at night, you can seek their help.
ATM
The nearest camp is either in Leh or Keylong. Please carry sufficient cash before leaving Manali for Leh.
Petrol Pump
The nearest petrol pump is either in Tandi or Leh. Depending on which side you were coming from, please make sure that you get a tankful done before you start. For more details, please take a look at Fuel Availability in Leh Ladakh – How to Manage.
Pangong Lake to Sarchu
Yes, you can travel from Pangong Lake directly but it will be a very long drive. The distance between both the place is about 340 kilometers via Chang La. Start really early from Pangong and you will be able to make it to Sarchu by 4 or 5 PM.
But if you were thinking of going directly to Pangong Lake from Sarchu, then I will highly advise against that. The first reason is that you will have to get to Leh anyway to get your permits for the lake without which you will not be allowed to travel. The second reason is that going to Pangong directly will mean that you will just increase the chances of altitude sickness even more.
A better way for the journey is to get to Leh first and then go to Pangong. Do not go directly from Sarchu to Pangong Tso.
Tso Moriri to Sarchu
The distance between Sarchu and Tso Moriri (Karzok) is 220 kilometers and can be covered in 6-8 hours easily. So yes, for your return journey, you can travel directly from Tso Moriri Lake to Sarchu and then go to Manali directly from there.
But if you were thinking of going directly to Tso Moriri from Sarchu, then you cannot and must not do that for the same reason that I mentioned above for Pangong. You will have to go to Leh first.
Itinerary
Manali to Sarchu Itinerary: You do not really need to think about your itinerary much. Start from Manali early in the morning, follow the route I mentioned above, and arrive by evening.
Leh to Sarchu Itinerary: The same rule will apply for coming from the Leh side as well. Just start early from Leh and you will reach by evening.
If you however wanted to modify your itinerary and include some other places between your travel to Leh, then you may ask me in the comments section below.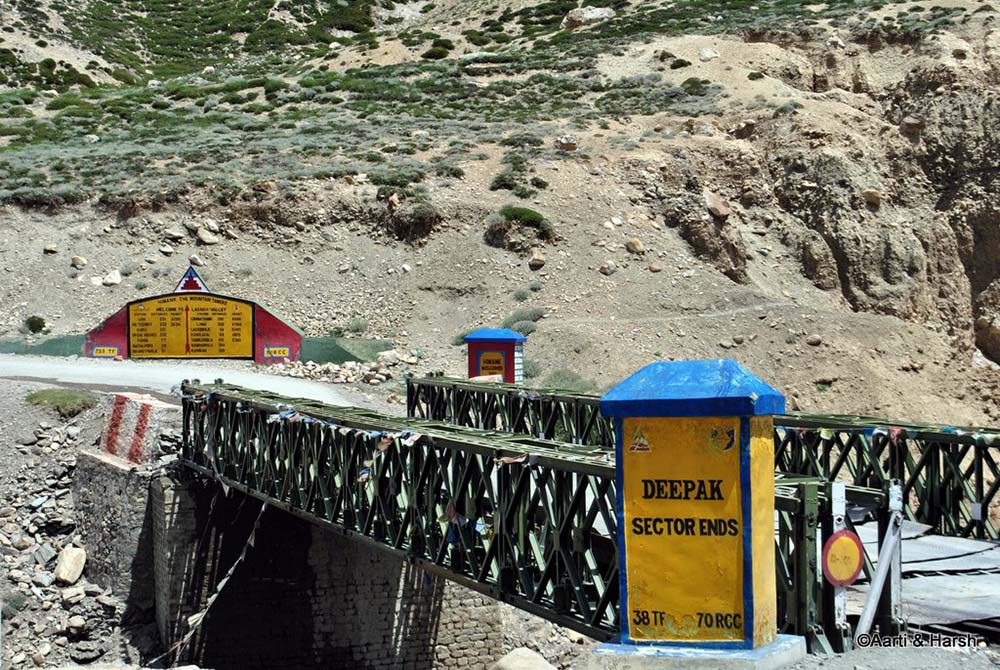 FAQs
1. Is Camping here Safe?
Yes. Except for the altitude sickness part that I explained above, camping at Sarchu is safe enough.
2. Is it safe for couples of families?
For couples and families, I will strongly advise that you should stay in either Keylong or Juspa and then go straight to Leh the next day.
Also Read: What Clothes Should you Pack for Ladakh
Distance Chart
Below is a little information on the distance with other nearby places.
Manali to Sarchu Distance and Time: 177 kilometers, 6 to 8 hours
Leh to Sarchu Distance and Time: 250 kilometers, 8 to 9 hours
Sarchu to Tso Moriri Lake Distance: 228 kilometers, 8 to 9 hours
Pangong Tso to Sarchu Distance: 340 kilometers, 10 to 11 hours
Sarchu to Pang Distance: 76 kilometers, 2 to 3 hours
Jispa to Sarchu distance: 85 kilometers, 4 to 5 hours
Keylong to Sarchu distance: 107 kilometers, 5 to 6 hours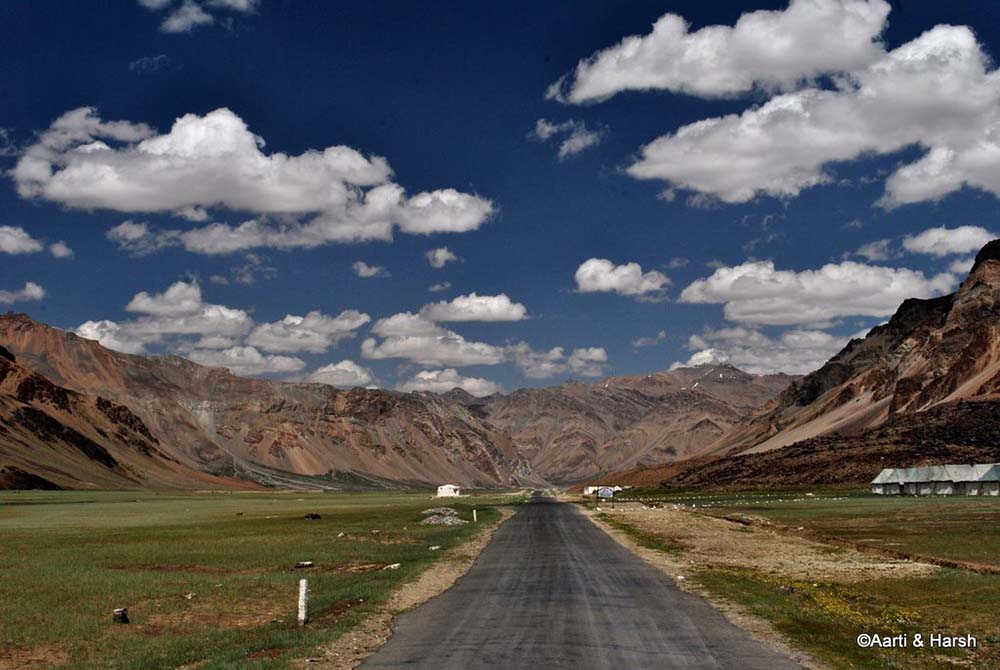 Temperature in Sarchu
Below is a table showing the average temperature trend in Sarchu.
| | | |
| --- | --- | --- |
| MONTH | MIN. TEMP (°C) | MAX. TEMP (°C) |
| January | -35 | 0 |
| February | -35 | 0 |
| March | -35 | 0 |
| April | 4 | 20 |
| May | 4 | 25 |
| June | 4 | 25 |
| July | 4 | 20 |
| August | 0 | 15 |
| September | -5 | 15 |
| October | -35 | 3 |
| November | -35 | 3 |
| December | -35 | 0 |
Conclusion
I hope the information above on Sarchu was of help. If you have any questions or need my other details, please feel free to ask in the comment section below or at our Community Forum, and I will be glad to answer.