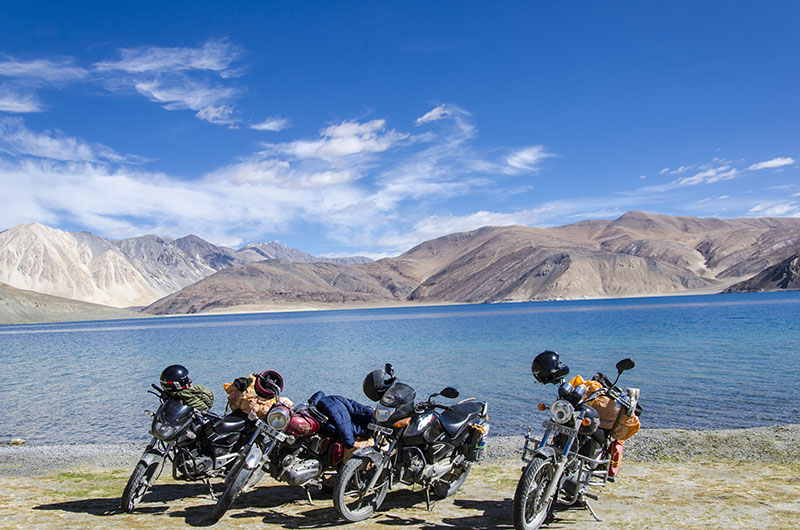 How to plan a bike trip to Leh Ladakh? This question bothered me a lot while I was preparing for my first ever Ladakh road trip. I was worried to the extent that I even bought a new Royal Enfield just because I was not sure if my old 150 cc bike will survive the trip. But no matter how many things I took care of, that thought continued to linger in my head that I have missed something and that things will soon all fall apart.
Does this sound any familiar? Are you going through the same right now? Trust me when I say this but I know the feeling. Preparation for Ladakh bike trip is indeed a cumbersome task; one that you must take care of meticulously so that your trip remains hassle-free. Out there, something as simple as a flat tire can be enough to ruin the day.
Based on my own experience, in this article, I will provide complete information on how to plan a bike trip to Leh Ladakh. I have been to Ladakh several times now and the tips that I am sharing below are something that I follow every time.
How to Plan a Bike Trip to Leh Ladakh
If you do a simple Google search, you will get an endless list of articles telling you what all you need to take care of. You can read on and on and by the time you finish, you will have a serious headache. You are not going to become a bike expert or a mechanic overnight and you do not even need to. Trust me, the answer to how to prepare for a Ladakh bike trip is not that complicated.
Best Bike for Leh Ladakh
Is my Bike good enough for a Ladakh trip? This is the first question that will come to your mind. I know I ended up buying a new bike but you do not have to do that of course.
To be honest, there is no best bike for Ladakh as such. Every bike is capable of completing this trip. On the web, you will find tons of travelogues by people who went to Ladakh on 125cc bikes, scooters, and even a Scooty. The only thing that is required is that your bike is not too old and is well maintained.
The best bike for Ladakh is the one that you own, irrespective of its engine size. You just need to bring it to a mechanic and get it ready for the tough journey ahead. For more details on this, please take a look at Which is the Best Bike for Leh Ladakh Trip.
So why did I buy a new one? That was because my existing bike was already way too beaten up and there was no point spending all that money on it replacing practically everything.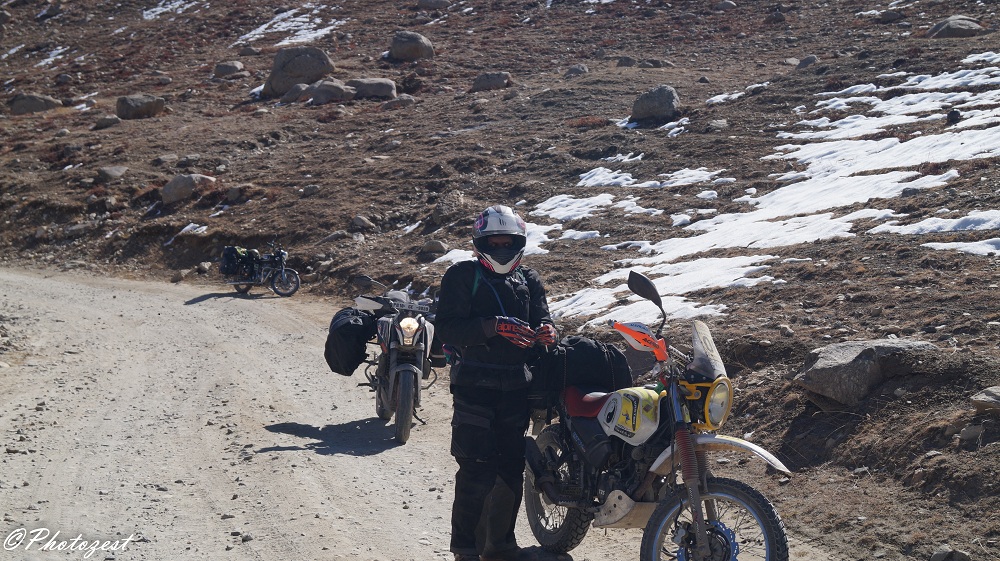 Get your Bike Ready for Ladakh
The next step in the process will be to get your bike ready for the trip; to make it comfortable as well as reliable. This will get divided into a few different parts and we will cover all.
Get it Serviced
If your bike has clocked over 1000 kilometers since the last journey, just get it serviced again. Tell the mechanic that you will be going on a long ride and ask him to inspect the bike very carefully. Replace or repair whatever seems dicey.
An important thing to remember here is to get the servicing done at least 7 to 10 days before the trip. Ride the bike around in the city for a few days and then make sure everything is performing to satisfaction and nothing got missed.
Mentioned below are a few things that you must get checked.
Cables
Tires
Wheel Alignment
Oil
Carburetor Tuning
Clutch Plates
Chain Set
Suspensions
Brakes
Electricals
Ball Bearings
Nuts and Bolts
For complete information on this topic detailing every part further, take a look at How to Prepare your Bike for a trip to Leh Ladakh.
Pack Essential Spares
Cities like Srinagar, Leh, and Manali have plenty of mechanics and you will have no trouble finding spare parts there. But in remote areas of Ladakh, you may find a mechanic or someone to fix your bike but it will be no good if you do not have the required parts or the tools.
To make sure this does not happen to you, below is a list of some essential spares that you should carry.
Your Bike's Tool Kit
Spare fuse
Spark Plug
Clutch, Brake, and accelerator cables
Headlamp Bulb
Chain Links
Engine Oil (About half a liter of it)
Screw Driver Set
Spare Key
Nylon Rope
Bungee Cords
Petrol Pipe: Can be used to take out petrol from another vehicle in case you run dry and someone else is ready to lend you some; enough to reach the next gas station
Foot Pump
Spare Tubes for both wheels
That really is all that you need to worry about. Just carry these items in spare and you will be OK.
Prepare for a Flat Tire
This should be your worst fear on the trip and. All the weight on the rear tire of the luggage will definitely increase the chances of a flat tire. How do you handle it? It will depend on whether you were riding a tubless bike or one with tubes. In either case, you need to buy a good quality foot pump.
If you were on a tubeless bike, then just keep pumping enough air till you are able to make it to the next mechanic. This is my suggestion but if you are ready to learn how to fix the puncture on a tubeless tire, then you can do that as well. You can even buy a tubeless tire puncture kit online these days.
If you were riding a bike with tubes, then the best way is to carry spare tubes for the front and rear wheel both. Go to a mechanic and learn how to take the wheel out, change the tube and mount the wheel back up. You will also need to carry the tools needed for this process.
So what will happen then is that if you had a flat tire, you will replace the tube with a new one, pump the air in and keep riding. When you reach the next repair shop, just get the punctured tube fixed and carry that as a spare. This is much easier than trying to fix a punctured tube yourself.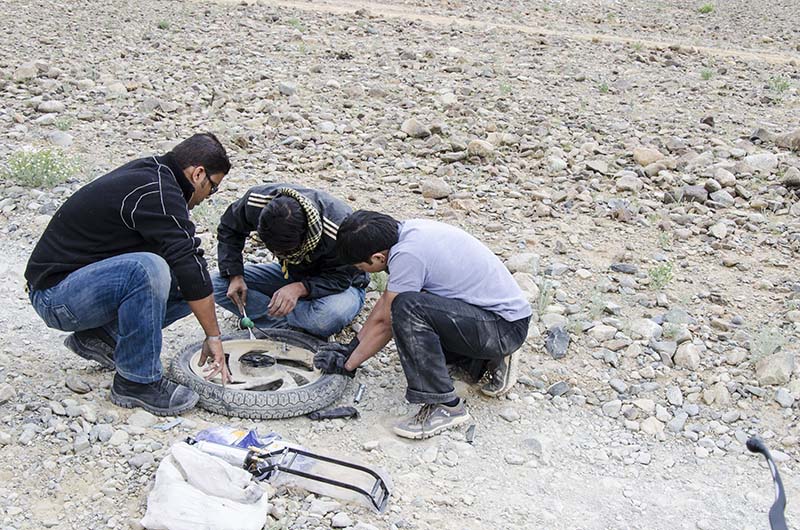 How to Carry the Luggage on a Bike
After all that is done, the next question is how to carry the luggage on the bike. You will have two choices, either get a luggage carrier installed or don't.
I personally have never used a luggage carrier but at the same time, I also cannot deny that it will make things much easier. These are easily available these days and you can even buy one online. Visit a mechanic and depending on which bike do you have, you can get a luggage carrier installed.
If not, then you can just rope your bags on both sides of the bike like and on the pillion seat. In either of these cases though, there are a couple of things you should take care of.
Buy a polythene cover from any hardware store. Before you mount your bags on the bike, wrap them in the polythene cover and then do it. This will safeguard your bags from dust, water, and mud.
Use both bungee cords and a nylon rope. First, mount the bags using bungee cords and then secure them with the nylon rope. This way, if either one came loose, there is a backup in place to keep the bags secured. You do not want your bags coming undone when you are cruising in the middle of the highway. I have heard of someone who died because of it while returning from Ladakh.
Prepare for Fuel
Yes, you will have to make arrangements to carry fuel for Ladakh. The thing is that fuel in Ladakh is available almost everywhere now in black. It will cost you Rs. 100 – 125 per liter but will save the hassle of carrying petrol. I always opt for this choice because of the safety risks that come with carrying fuel on the bike.
But if you want to do it then my recommendation is that you buy a metal jerry can. It will cost you a little but is a safer choice. If you cannot find one in the local market, you can order it from Amazon as well.
I will also recommend taking a look at How to Carry Spare Petrol on Motorcycle Safely.
Pack all the Documents
Do not forget to bring all your documents including the registration certificate, driving license, pollution under control certificate, and insurance papers. If you are missing either of these documents, please make sure you get it first before going to Ladakh.
Bikes Owned by Someone Else
What if the bike does not belong to you? Can you bring it to Ladakh? The answer is yes and no both.
If the bike is registered in your name then you are free to ride it anywhere in Ladakh. But if it is not registered in your name, you can only bring it to Leh City. But for local sightseeing in Ladakh (places like Nubra Valley or Pangong), you will have to rent a local bike from Leh. You cannot use that bike to go anywhere else in Ladakh and must leave it parked in Leh.
This is a self-imposed rule by the locals and there have been instances when this resulted in altercations, violence, and bikes getting vandalized or even captured.
This will apply even if the owner of the bike is your brother, cousin, or close friend. If you rented a bike in Delhi, Chandigarh, Srinagar, or Manali, those will also not be allowed locally in Ladakh.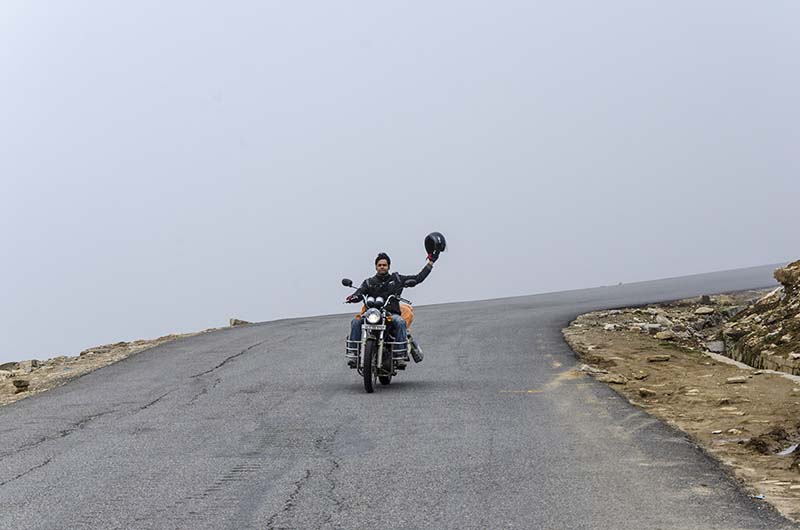 Clothes & Shoes to Pack for a Bike Trip to Ladakh
I have actually covered this topic in a different post, Clothes for Leh Ladakh Trip – What to Pack that I will request you to take a look at. The trick is to bring clothes that can be worn on top of one another, in layers. You do not have to pack all woolens or heavy clothes.
For shoes as well, there is absolutely no need to buy expensive or water-proof boots. All my trips to Ladakh have been in a pair of regular sports shoes and rubber sandals (I am not kidding). Take a look at the other post for more details.
Solo or with Pillion
Whether to ride solo or with a pillion will depend on 2 things, the engine size of the bike and your riding skills. If you are riding a 125 CC or a 150 cc bike then it is best to ride solo and as light as possible. If you were with a pillion, then it is best to go for a Royal Enfield 350cc or 500cc bike. You should opt for a Classic or Standard and avoid Himalayan if you can. If you owned a larger engine bike but it was too old and too beat up, then also it is not a wise idea to go with a pillion.
For more information on this topic, please take a look at How to Ride to Ladakh with a Pillion Rider.
I got an email some time ago from someone asking how to plan a bike trip to Leh Ladakh with family. I will strongly advise you against it. With your wife is OK but if you have kids with you, you should go by car, public transport, flight or rent a taxi.
Itinerary Planning
You need to have a well-drafted itinerary ready for your entire trip. Going with the flow is also fun but not for your first trip. This is something that you should do when you know the place a little bit and time and budget were not a problem.
But if this was going to be your first ride to Ladakh, it is best to keep an itinerary handy.  You should know your destination each day, the kilometers you were going to cover, and accommodation choices at your destination. When you are drafting the itinerary, make sure you keep the travel spread out evenly on all days.
Do not also try to stuff too many places. If you were short on time, it is wise to leave a few places out for your next visit to Ladakh.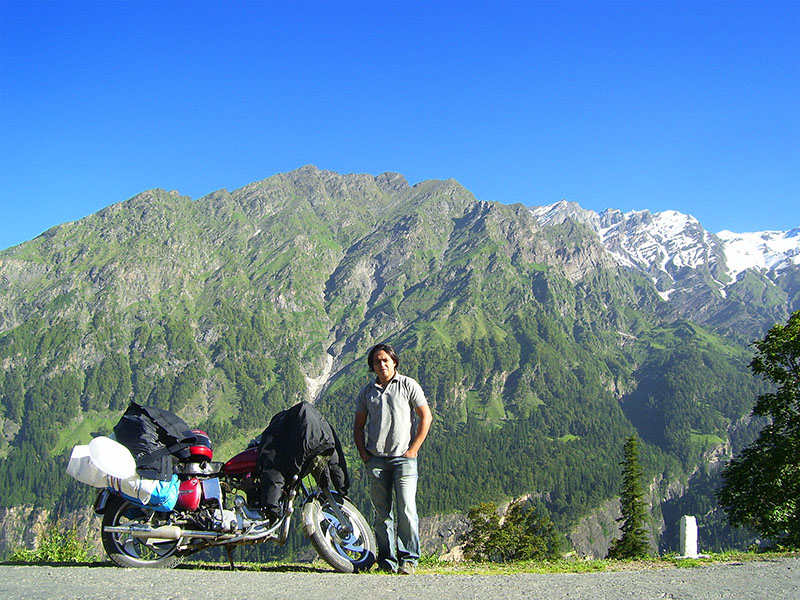 Assess and Analyze Yourself
But before we even talk about how to plan a bike trip to Leh Ladakh, you need to analyze and assess yourself. With all said and done, the fact is that Ladakh is a remote region that has its own set of challenges. Tourists have lost their lives in Ladakh either in road accidents, natural calamities, or due to altitude sickness. A friend of mine died near Pangong Lake because of AMS during his 10th visit to Ladakh.
You need to ask yourself, are you ready for such a long and tiring ride. Do you have any medical challenges like Asthama, heart disease, or anything that can get serious? If yes then maybe Ladakh is not the place for you. There are several other places in India that are equally beautiful and do not pose a threat to your life.
Another thing to consider is what is your motorcycling experience? Why do you want to ride to Ladakh? Are you someone who is into biking or are you just going because your friends were?
Also Read: How to Obtain Inner Line Permit for Ladakh
Prepare Yourself
If you just bought a new bike, have not done a long ride, and have never been to hills then you are surely not prepared for Ladakh. Start riding for long hours and make a few short weekend trips first. Familiarize yourself with handling a motorcycle in the mountains.
During the Ladakh ride, you will be sitting on the bike every day for an average of 6 to 8 hours. That is not something that you can just do. Even veteran riders get exhausted handling Ladakh on a bike. To ensure that the journey is more fun for you than a tiring affair, you should first make a few short bike trips before planning Ladakh.
And that basically is it. These are your Ladakh bike trip requirements; just some simple things that you need to take care of before you finally leave home for Ladakh. It is no rocket science and you are not going to the moon. This is the answer to the question of how to plan a bike trip to Leh Ladakh. Take care of what I mentioned above and you will be fairly prepared for the trip.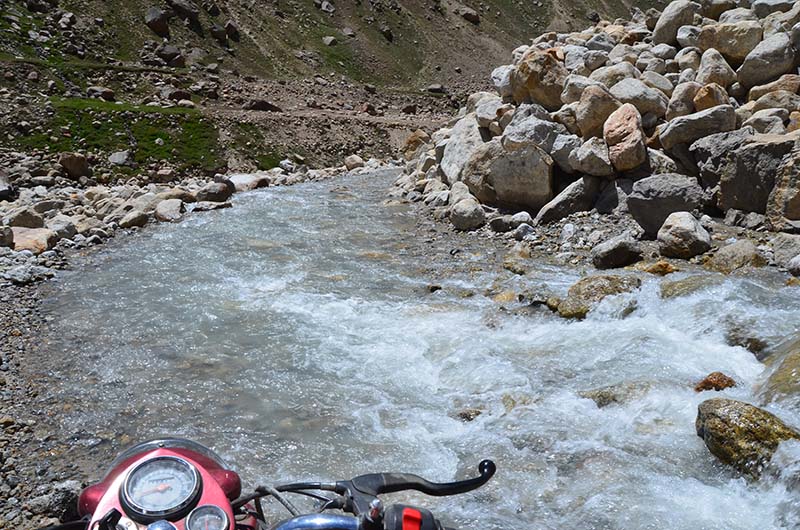 Preparation for Leh Ladakh Bike Trip
My preparation for Ladakh trip happened twice for the first time. A motorcycle trip to Ladakh had been a dream for quite some time, 4 years to be exact before it was finally realized. Those were the days when Ladakh was not a tourist hotspot like it is now. Back then, it was a place that only bikers or adventure enthusiasts went to. So yes, the information available on the place was also severely limited.
My first finalized plan for Ladakh was decided in the first week of October via Manali Leh highway. To prepare for it, I bought a new Royal Enfield and went on two short trips in September so that I can at least get one servicing of the bike done before the trip.
As fate would have it, this plan got canceled a week before we were supposed to go. It was majorly because people advised me strongly to not ride to Ladakh in October. I called the administration office in Leh and they too advised me to plan for next year in summer.
That is what I exactly did. The idea for Ladakh was pushed for July of the next year.
Cost of Bike trip to Leh Ladakh
How much it is going to cost is really something that will depend on a lot of factors. No one can tell you the exact cost unless you were buying a tour package. If you were going to ride on your own, it will be different for everyone. Please take a look at How to Calculate the Budget of Bike Trip to Ladakh for more details. In this post, I have given an example of how you can calculate the total cost that your trip will incur.
How to Plan a Bike Trp to Leh Ladakh with Pillion
I was going to be traveling with a friend of mine, Mohammed Shoaib. He owned a 150CC pulsar back then and the original idea was that we will ride our own bikes. But in the end, we decided that we will ride together on my RE 350 only. So now, the word 'pillion' got added in my Ladakh bike trip preparation.
By July of next year, my motorcycle was also a year old. It was not brand new anymore but I knew she could handle Ladakh with two people easily. But now, since there were going to be 2 people on it, the preparation had to be changed as well.
Getting a luggage carrier installed was the first thought since there was going to be a lot of luggage now. I went to a local mechanic but he insisted that he will not rent me a carrier and I will have to buy one.  I was not too keen on buying so gave up the idea of the carrier.
Instead, I got a small carrier installed right behind the seat, over the tail light; like the ones they have in bicycles. I don't why I did that but the thought was that something is better than nothing.
Ladakh bullet Ride with Alloy Wheels
I recently had gotten alloy wheels fitted in my Enfield. While I was at the mechanic, he put this idea in my head that Alloys will break due to the bad roads in Ladakh and I should change it back to spoke wheels for the trip.
I still had the spoke wheels and did not sell them after changing to Alloy. Trust me I seriously considered this putting them back on for a few days. But it just sounded stupid and too much of work and I gave up the idea.
All that I mentioned above about getting the bike serviced and ready was completed 10 days in advance. Bungee cords as well as Nylon ropes were bought. I asked Shoaib to go to a hardware store to get a polythene cover which he forgot of course. The dude instead found a large poster on the last day and that is what we wrapped our bags in. It was one of those posters they hang over the streets that are made of plastic-like material.
With all the preparation for Leh Ladakh bike trip done, we waited for D-Day to arrive.
Also Read: How to Handle Acute Mountain Sickness in Ladakh
Start of the Bike Trip
I have heard people talk about it. I read about it and always thought about how it would feel to ride your bike on the highest roads in the world. How it would feel to stand in what everyone calls as "Biker's paradise".
I have been planning and canceling for the last 4 years. It was 4th time that a plan of taking my bike up there was all set again. A plan that was finalized 3 times before and then got canceled, last time a week before I was supposed to go with my cousin.
So the fear of the plan getting canceled again was very high. I kept my fingers crossed for months and didn't talk about it at all, to anyone.
Fortunately, the plan did not cancel this time and we were able to start the trip as scheduled.
Ladakh Bike Trip Itinerary
The initial itinerary that we designed was a little different. But due to an unforeseen incident, the plan got changed during the journey. Below is how our final itinerary turned out to be.
Delhi to Sundernagar – Day 1
Sundernagar to Manali – Day 2
Manali to Jispa – Day 3
Jispa to Pang – Day 4
Pangong to Leh – Day 5
Leh – Day 6
Leh to Panamik – Day 7
Panamik to Leh – Day 8
Leh to Pangong Tso – Day 9
Pangong Tso to Leh – Day 10
Leh – Day 11
Leh to Dras – Day 12
Dras to Srinagar – Day 13
Srinagar to Delhi – Day 14
The days above are all hyperlinked. You can click on any of them to read about that day's journey.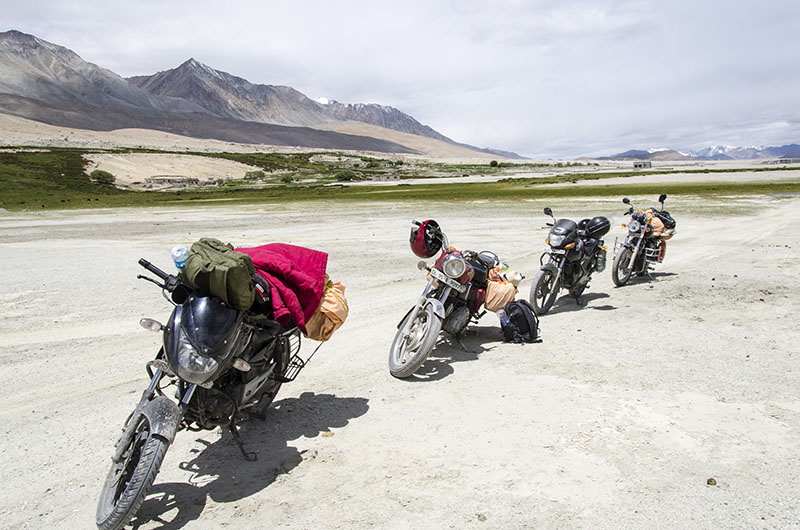 How to Plan Bike Trip to Leh Ladakh – Conclusion
I hope the information above on how to plan a bike trip to Leh Ladakh was of help. If you have any questions or need any other details, please feel free to ask in the comments section below or at our Community Forum and I will be glad to answer.