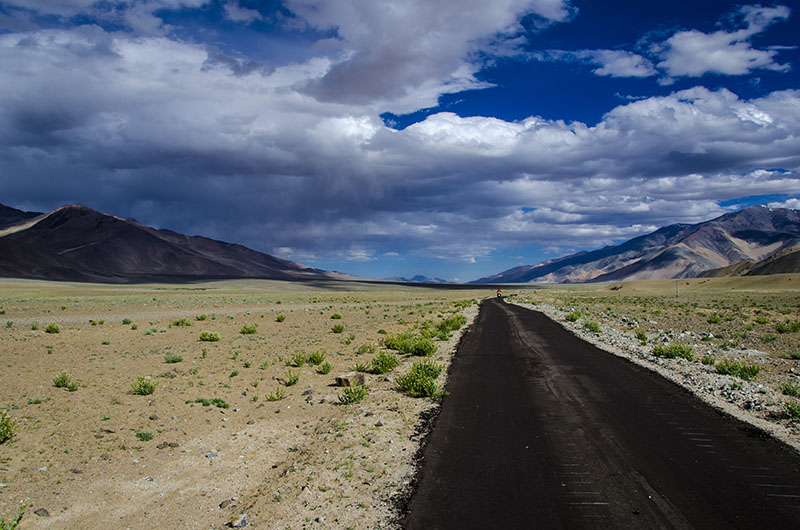 Hanle is one place that comes highly recommended for anyone visiting Leh Ladakh. Away from the crowd, it is a quiet little village that offers some of the best views that you can get during your trip. Even the drive to the village is a highly scenic one. If you were going to be in Ladakh anytime soon, in this travel guide, I will provide formation on how you can a trip to Hanle from Leh.
Ladakh is considered a remote region in itself. Even though there is a definite increase in tourism here, it is mostly limited to some well-known places like Nubra valley, Pangong Tso, and Tso Moriri. There are, however, several places in the inner part of Ladakh that are amazingly beautiful but not visited by that many people. These are places that can actually be termed as 'offbeat within an offbeat Ladakh'.
Also Read: How to Plan a Trip to Ladakh – A Complete Travel Guide
One such extremely close to the Indo-China border and hidden in the lap of mighty Himalayas is the small village of Hanle, also spelled as Hanley, Anle, or Anley. This tiny hamlet doesn't make it in the itineraries of many people; sometimes because of lack of time but mostly because of lack of knowledge. If you are traveling to Ladakh in near future and want to explore some of the remotest areas, Hanle is where you must go.
About Hanle
Hanle is located at a distance of about 255 kilometers from Leh in Changthang Valley of Ladakh. The valley is home to about a thousand people with around 300 living in Hanle. The close proximity to the Indo-Tibetan border makes this village a highly sensitive one and an inner line permit is required to visit here.
Tourism in Hanle was not permitted earlier. Tourists could only travel as far as Pangong Lake earlier and would have to return to Leh from there. Even now, Hanle remains to be off-limits for foreign travelers and can only be visited by Indians.
Other than tourism and natural beauty, what really puts Hanle on the map is the Indian Astronomical Observatory. It is the best spot in the entire country for observing the skies and the stars and that is why the Observatory was built here. More details to follow on this later in the article.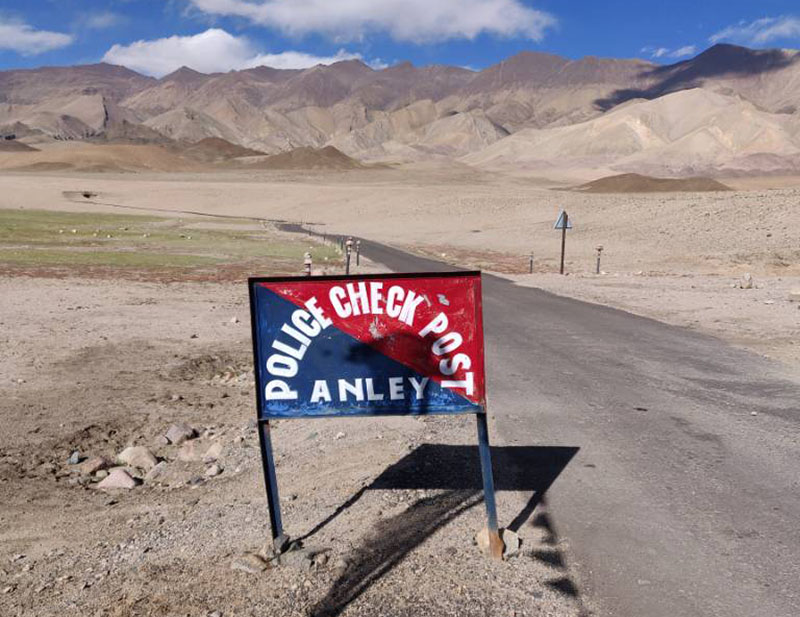 How to reach Hanle from Leh
There are two ways that you can reach Hanle from Leh. The first and the quicker route is via Chumathang. The second, longer but a more popular route runs through Changthang Valley. Let me explain this with the help of a map. Click on the thumbnail below to view the map in full size or save it to your hard disk.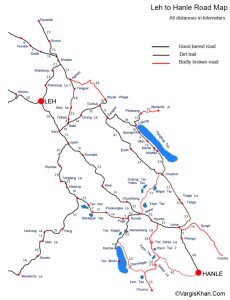 Which route to choose depends on whether you are just visiting Hanle or including it in your itinerary while visiting Pangong Tso or Tso Moriri. I will first talk about the route via Pangong because this is the most common way to travel from Leh to Hanle.
Leh to Hanle via Pangong Tso
Traveling this way, you will first reach Pangong Tso from Leh, spend a night there, and continue to Hanle the next morning. The route of the journey will be as below. The area between Pangong and Hanle is known as the Changthang Valley.
Leh – Karu – Sakti – Chang La – Durbok – Tangtse – Spangmik – Man – Merak – Chushul – Tsaga – Loma – Hanle
Or
Leh – Karu – Sakti – Chang La – Durbok – Tangtse – Erath – Chushul – Tsaga – Loma – Hanle
In both of these routes, the journey until Pangong Lake will remain the same. Get an early start from Leh and travel on the Manali Leh route until Sakti. From there, take the left road towards the mighty Chang La, known as the third highest motorable pass in the world (a claim which is no longer valid of course).
Spend some time at the pass and have some tea in the Army-run canteen. There is also a small shop at the pass where you can buy some souvenirs. From Chang La, it is a straight run to Pangong Lake via Durbok (also spelled Durbuk).
There are a lot of campsites at the lake. Find one per your liking and check into one for the night.
The entire journey will be if 160 kilometers until Spangmik and can take anywhere between 4-7 hours, depending on your speed and breaks. This should give you plenty of time to spend at the lake in the evening. The road will be mostly good except for the part around Chang La top.
Pangong Lake to Hanle
After reaching Pangong, you have two choices on how you want to travel to Hanle from there. Chushul will be the next stop and there are two roads that you can take to get there. You can either travel through the villages of Spangmik, Man, and Merak or you can take the direct road from Tangtse to Chushul via Erath.
The difference between both the routes will be the condition of the road and the proximity to the lake. The Erath route is a tarred road all the way to Chushul but runs a little away from Pangong. The road via Man and Merak is a complete dirt road but runs right next to Pangong Lake.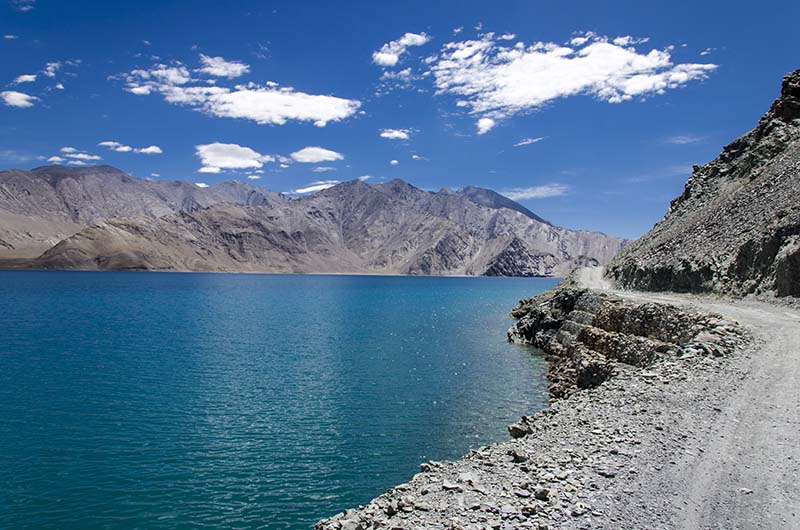 If you want a drive along the beautiful lake, then you should choose the Man/Merak road. This is what most of the people opt for as you also get to see the villages of Man and Merak on the way. If you do not mind a little away from the lake and would rather travel faster on a smooth road, or if you are in a Sedan or Hatchback, you must stay on the road via Erath.
Route Details
From Pangong, You will arrive at Chushul in a couple of hours. There is a war memorial here that is dedicated to the soldiers who laid their lives in the India-China war of 1965. Pay a visit to the memorial and continue driving towards Loma.
After Chushul, the road conditions will be really bad with a lot of water streams in between. It mostly is a dirt trail until a little before Loma after which it is again a smooth run.
On the way, you will also cross the Rezang La war memorial. Rezang La is where the final battle took place and only a handful of Indian soldiers held their position against hundreds of Chinese soldiers. You can read about it at Lest we Forget – The Heroes of Rezang La.
Pay your respect at the Rezang La war memorial and continue driving on. You will cross the high altitude pass of Tsaga La and will finally reach Loma.
At the Loma check post, you will have to submit all your photography equipment. That is right; you cannot bring your cameras to Hanle as it is a photography restricted zone. Leave your cameras at the check post and then drive another 50 kilometers to Hanle on a smooth road. You can collect your cameras the next day when you return from Hanle.
From the Loma check post, Hanle is about 50 kilometers and the road is super smooth.
Leh to Hanle via Chumathang
Now let us take a look at the second. In all honesty, this is actually how people return from Hanle. So the entire journey takes the form of a circuit. You reach Hanle via Pangong and travel back via Chumathang while covering Tso Moriri as well.
But if you decided to travel to Hanle via Chumathang, the route will be as mentioned below. If you were returning from Hanle then just read it the other way around.
Leh – Karu – Upshi – Chumathang – Mahe – Nyoma – Loma – Hanle
The total distance traveled will be about 255 kilometers in about 10 – 12 hours. It is a good way to go if you want to reach Hanle from Leh in a single day.
Traveling on this route means that you will have to take the Manali Leh highway from Leh all the way till Upshi. It will be a journey of about 50 kilometers roads on which are mostly in good condition. From Upshi, rather than continuing to Rumtse, take the turn towards Kumdok. From here it is a straight run to Mahe via Kere and Chumathang. The total distance between Upshi and Chumathang is around 130 kilometers and roads are a mix of good and bad.
From Mahe, continue another 50 kilometers to Loma. Register yourself at the check post here, submit photography equipment, and continue to Hanle.
The benefit of traveling on this route is that the road remains good for most of the part and you can easily do Leh to Hanle in a single day. Just start from Leh early in the morning and you will be in Hanle before the sun sets down.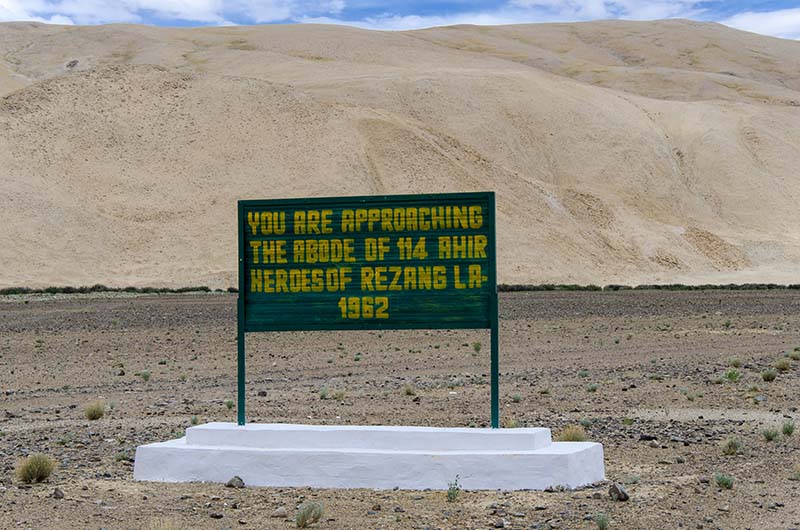 How to reach Hanle by Bus
Planning a trip to Hanle by public transport becomes a little tricky. The frequency of bus service or shared taxis towards Hanle is almost next to none. If you however want to reach here by Bus, there are a couple of buses you can use for the journey. Direct bus from Leh to Hanle is only on Saturday, at 6.30 AM from Leh. The fare for this bus is around Rs. 500.
Another bus you can use for this journey is on Tuesday, 6.30 in the morning from Leh. It goes from Leh to Koyul and passes through the Loma check post. However, using this bus, you will have to get down at Loma and look for another mode of transport for the final 50 kilometers from Loma to Hanle. This can be difficult and you may not actually find another mode of transport going that way at all.
Another bus that passes through the Loma check post starts from Leh every Wednesday at 9 AM. This bus goes to a small village called Mood and crosses Loma. Challenge however will again be finding another mode of transport after you get down at Loma.
These details are prone to change every year. For the most recent bus schedule, please take a look at Leh Ladakh Bus Sevice – Schedule, Timings, and Fare.
Shared Taxis
A local shared taxi will be extremely tough to find for Hanle. Locals usually do not travel that often between Hanle and Leh; and the ones that do use the weekly bus service. If you need to find a shared taxi, your best bet will be the tourist shared taxis that you can arrange via a tour operator.
Shared taxis are also available from the Leh Bus stand. They usually bring tourists to Hanle in groups and return the next day. For shared cabs, you really will have to ask around at Leh bus stand as there is no set schedule to it.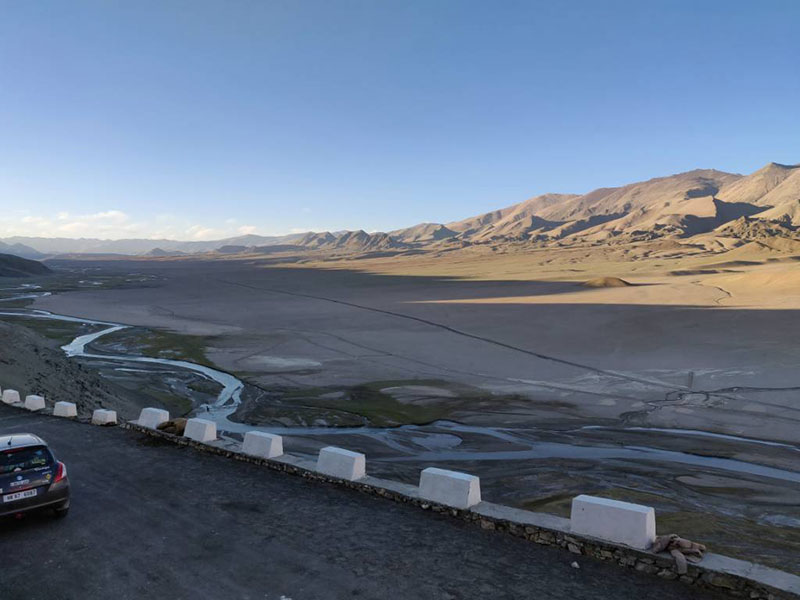 Tso Moriri to Hanle
You can of course do the itinerary above the other way around as well. From Leh, you will reach Tso Moriri on Day 1. Spend the night there and then go to Hanle on Day 2 via Sumdo, Mahe, Nyoma, and Loma. You will then travel to Pangong Lake via Chushul on Day 3 and arrive back in Leh on Day 4.
Also Read: Pangong Tso to Tso Moriri Route Guide
Tso Moriri to Hanle via Charchagan La
There is another route from Tso Moriri to Hanle that runs through Charchagan La as shown in the map I posted above. This is the remotest, toughest, and the least visited area in all of Ladakh and perfect for adventure enthusiasts.
What you must know is that is a badly broken dirt road for the majority of it and is best suitable for a 4×4 SUV. A Sedan or Hatchback will not survive this route. If you have a 2WD SUV, you may travel but only if you are really good at the wheel and know how to maneuver your car across tricky stretches.
To go this way, travel about 10 kilometers from Karzok towards Sumdo. You will come across a diversion where the road straight will continue to Sumdo and the one to your right will take you to Chumur. Turn on this road and continue towards Chumur via Charchagan La. After traveling for about 50 kilometers, you will come across a diversion where the road to your left goes towards Chumur and the one on the right to another high altitude pass, Salsal La.
Turn right and after traveling for about 25 kilometers from the Chumur diversion, you will come across another bifurcation on the road. The one to your right will take you straight to Hanle after traveling for about 60 odd kilometers.
The one to your left will take you uphill to another pass, Thit Zarbo La. After crossing the pass, you will exit between Nyoma and Loma. From here, take right towards Loma and straight to Hanle from there.
Traveling on this route, you will also be able to cover three small but beautiful lakes; Lam Tso, Kyun Tso 1, and Kyun Tso 2.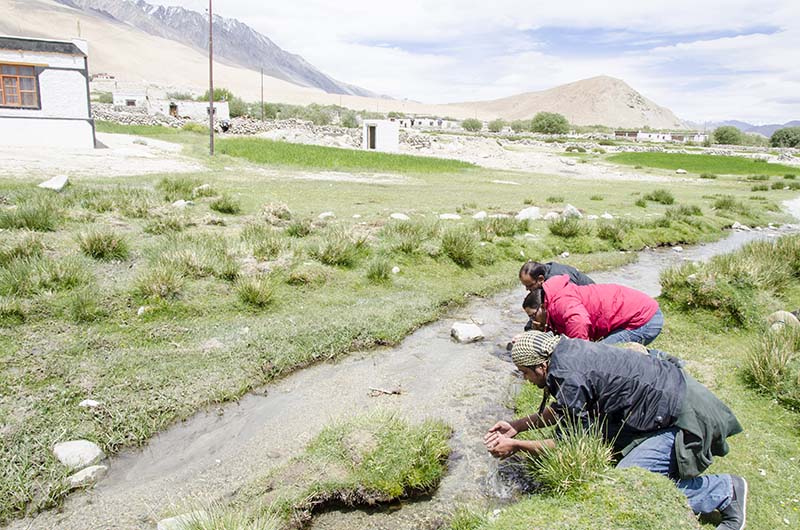 How to Plan a Trip to Hanle
Hanle usually gets added to an existing itinerary to visit either Pangong Tso or Tso Moriri. I have never come across anyone wanting to visit just Hanle and going straight there. Below is how you can plan your trip so that you are able to visit Hanle village as well.
Leh to Pangong Tso – Day 1
Pangong Tso to Hanle either via Man / Merak or Erath – Day 2
Hanle to Karzok (Tso Moriri) – Day 3
Karzok to Leh – Day 4
This is probably the best way how you can incorporate a visit to Hanle to your Ladakh itinerary. Reach Pangong on Day 1 via Chang La, then travel to Hanle on Day 2 via Changthang valley, reach Karzok on Day 3 via Nyoma, Mahe, Sumdo and return to Leh on Day 4 via Karu.
Another alternate way could be that while you are returning from Karzok to Leh, you can take the road towards Tso Kar rather than coming back via Chumathang; refer to the map I posted above.
If you opt for Tso Kar though, please keep in mind that you will have to cross Polo Kongka La around which the road is extremely bad. After visiting Tso Kar, you will exit at Manali Leh highway just after Pang from you will reach Leh crossing Tanglang La.
Another option is that you do not come back to Leh at all. Start from Leh, cover Pangong, Hanle, Tso Moriri, exit near Pangong via Polo Kongka La, and then return to Manali from there. Read Tso Moriri to Pang to Manali for more details on this. This is a good plan if you arrive in Leh via Srinagar and returning via Manali.
Places to visit in Hanle
The next question that comes to mind is what to see in Hanley? While the primary attraction of course remains to be the natural beauty of the place, there are a few other interesting spots that make it worth a visit. Mentioned below is a list.
Hanle Monastery
The monastery in Hanle is an ancient 17th-century gompa. It was built under the patronage of the Ladakhi king Sengge Namgyal and is currently home to 10 Lamas. It sits at the top of a small hillock at a very scenic location, overlooking the village and the valley.
Sengge Namgyal was one of the most prominent kings of Ladakh and is also nicknamed as "The Lion King". He died in Hanle on his return from an expedition against the Mongols, who had occupied Tsang and were planning to attack Ladakh.
The location of the monastery is only about 20 kilometers from the disputed frontier between India and Chinese-controlled Tibet.
Also Read: Which is the Best Bike for Ladakh
Indian Astronomical Observatory
The observatory in Hanle was established in the year 2001 and is remotely operated by the Indian Institute of Astrophysics, Bangalore. Sitting at an altitude of 4,500 m (14,800 ft) on the top of Mt. Saraswati, it is currently the ninth highest optical telescope in the world.
Like the monastery, the observatory also is situated on a hill overlooking the village. The entire station is powered by solar charged batteries.
Earlier the tourists were allowed right to the main dome and could even climb the spiral staircase to reach the main telescope. There is actually an observatory guest house as well where people were allowed to stay. But after the recent increase in tourism, this privilege has been taken away and you may even have to see the observatory from a distance.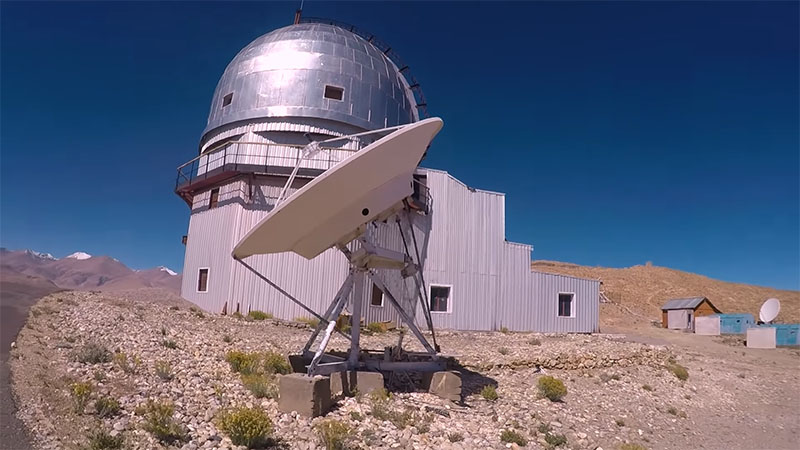 Photi La
At a distance of around 24 kilometers from Hanle is a pass that not many have conquered. It is known as Photi La and is quite close to the Indo-Tibetan border. At an elevation of 5,524 meters (18,124 ft), it offers an amazing view of the Hanle valley.
The road to the pass runs out of the village itself. The climb to the top is a difficult one with the last 5 kilometers being really steep. As you get closer to the top, you will start seeing boards put up by the Indian army letting people know that the ILP zone ends here and you are not allowed to go any further.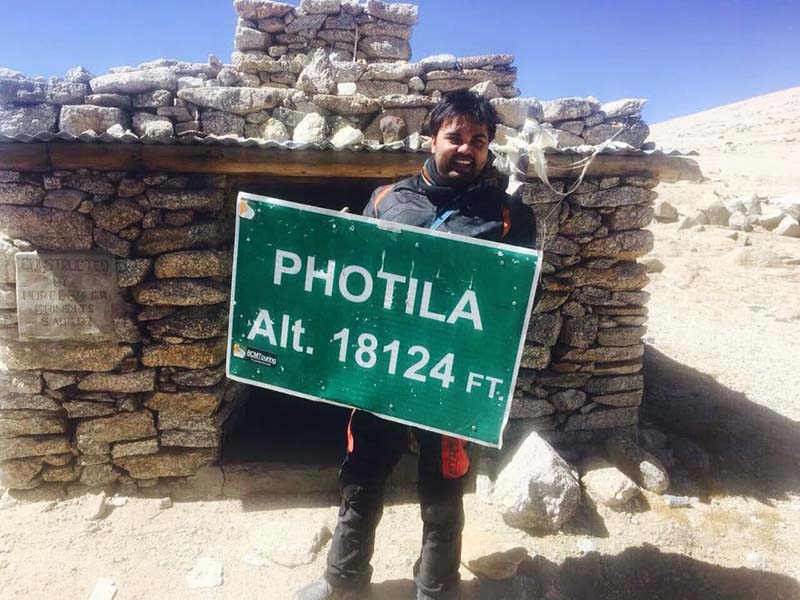 Umling La
At an altitude of 19,300 ft, Umling La currently holds the record of being the highest motorable road in the world. From Hanle, you will first climb up Photi La and then reach Umling La if you continued further.
This pass came into existence in the year 2017 and a lot of people successfully covered it without getting any permits. However, it is almost right next to the India-China border and when tourists started arriving here, it caused a lot of problems. Some bikers were even arrested and held by the Indian army.
As of now, this Pass is off-limits for tourists. From Hanle, you can only go as far as Photi La and not beyond. But in the future, if the Army allowed it, Umling La will become the greatest tourist attraction of Hanle. For more details, please read How to Plan a Trip to Umling La.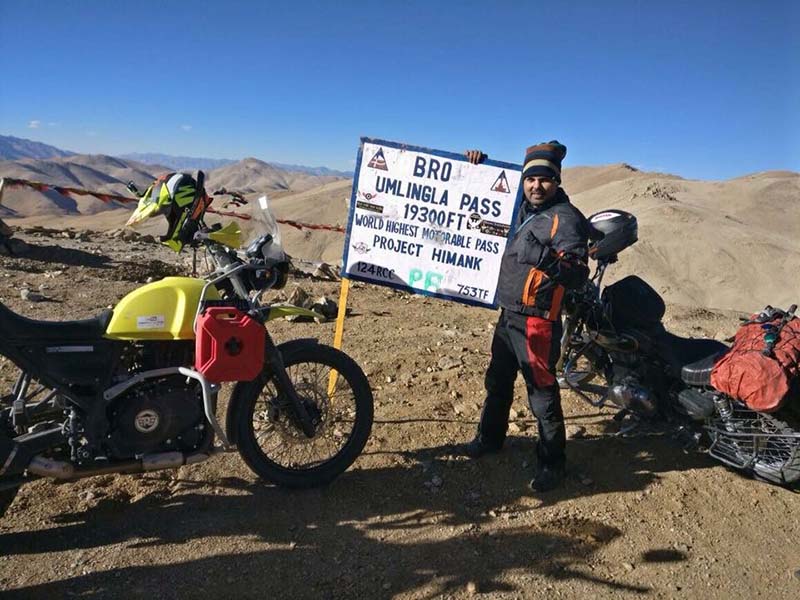 Hanle Night Sky
Let me just summarize it by saying that you have never seen anything like it. You may have seen skies lit with starts multiple times before but it is an entirely different experience at Hanle.
An annual rain plus snow precipitation of less than 10 cm, low ambient temperatures, low humidity, low atmospheric water vapor, dark nights, and almost no pollution make Hanle a perfect site for night sky-gazing. The clear view of the stars above from Hanle is the reason why it was the chosen place for Indian Astronomical Observatory.
Also Read: Nights of Ladakh – The Milky Way
Peace and Tranquility
With only a few people around, almost in the middle of nowhere; this is a peaceful place that seems to be at a standstill in time. Just take a walk through the valley, spend some time here alone, slow life down for a couple of days, relax and rejuvenate yourself.
Scenic Beauty
Last but not the least, the amazing vistas all around alone makes Hanle worth a visit. The beauty of the entire Changthang Valley is enough to inspire the awe out of anyone. The small mountains around Hanle are in sharp contrast to what you would have seen so far on your Ladakh trip.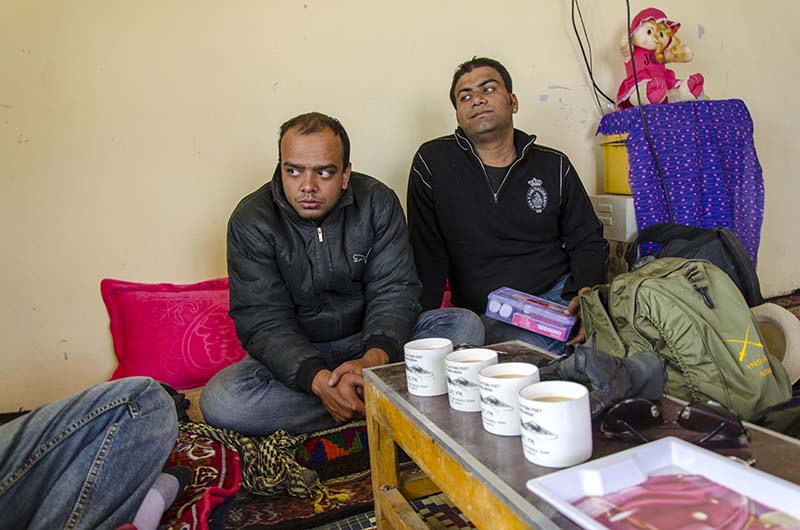 Accommodation in Hanle Ladakh
There are no fancy hotels here which I think is given with the fact that it is just a tiny village. Your choice of accommodation is limited to simple guesthouses (paying guests) and the Observatory guest house.
Guest Houses
Earlier there was only one guest house here by the name of Padma Guest House. It is a very small set up with about 6 rooms and the tariff can range from Rs. 2000 to Rs. 3000 per day depending on your time of arrival. Please do keep in mind that it is a very simple yet decent enough guest house. The rooms are quite clean, spacious and your stay here would be comfortable.
To inquire about this guest house, you can try calling Sonam Dorjay at 09469224302. However, since there is no cell phone reception in Hanle, you may find this number switched. In that case, drop him a message or email at [email protected] with your query. They have also recently gone online and you can book your stay at their online portal.
A few other guest houses have also come up in recent years by the name of Sonam Homestay, Milky Way homestay, Kelsang Homestay, Hanle House, and a couple of others. Just take a walk through the village, find one per your liking, negotiate a deal, and check-in.
Homestays
The option of paying guest and guest house is actually the same. All these guest houses were earlier homestays. After the increase in tourism, the locals saw an opportunity for extra income and extended their houses by a few rooms that they now rent out.
Please note that the charges that you will pay at the guest houses will be inclusive of meals as well. But it is always wise to confirm it before you check-in.
Indian Observatory Guest House
There is also a government guest house at Hanle Observatory. Earlier they allowed visitors to stay there but then limited it to government officials on work purposes only. You can try your luck though, talk to the person in charge there and see if they will let you stay. I stayed here during my first visit to Hanle for Rs. 300 per night which has been my cheapest stay anywhere in Ladakh so far.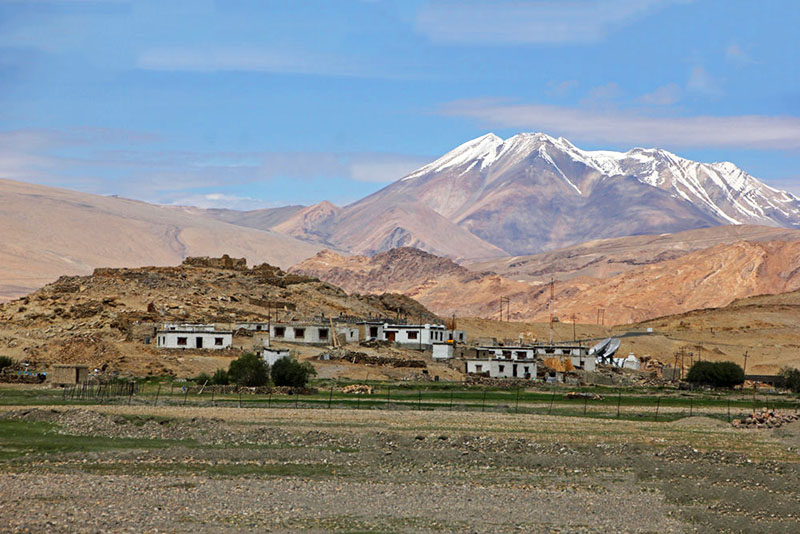 Weather at Hanle
As it goes without saying, Hanle is located in a cold desert and the weather here is extremely cold and harsh. During summer, days can be moderately warm but the temperature really dips during the night. Sun too is quite harsh here and you must carry some good sunblock lotion. In the winter season, if it snowed too much, the road can even get blocked sometimes.
Best Time to visit Hanle
The best time to plan a trip to Hanle can be any time between June and September when the tourist season is at its peak. You will have better chances of finding a place to stay and a mode of transport to travel by.
The entire valley and the roads to it remain deserted for the rest of the time and the only movement is of the Indian Army and occasionally traveling locals.
From December till March, the entire village remains covered under a thick sheet of snow. Life here around this time is quite difficult with water freezing everywhere. This is not really the time to be here because the extreme cold and high altitude may become too much to handle. Snow starts to melt around April and by June; the weather turns quite pleasant making it a perfect time to visit. For more details, please read When is the Best time to visit Ladakh.
Inner line Permit for Hanle
Hanle is very near to the Line of Actual Control, so one needs to get an Inner Line Permit to visit it. Read How to Obtain Inner Line Permit for Ladakh to get more details on places that you need ILP for in Ladakh and how to get one. Please note that your regular ILP will work for Hanle and as far as Photi La. There is no other permit required to visit.
Hanle Altitude
Hanle is at an approximate altitude of around 4,500 meters. The altitude at the village can be a bit lower but Indian Astronomical Observatory here is at an altitude of 4,500 meters, (14,764 ft). Photi La, the nearest high altitude pass, about 30 kilometers from Hanle, is at an altitude of 5525 meters, 18,124 ft.
Chances of anyone suffering from AMS at Hanle are actually quite rare. This assumption is based on the fact that in order to reach here, you would already have stayed at Leh and traveled via Pangong Tso or Tso Moriri.
Both these lakes are at almost the same altitude as Hanle. So after spending time there, your body would already have adjusted and thus reducing the chances of AMS at Hanle.
However, if you had trouble while you were at Pangong or Tso Moriri, or your AMS symptoms were quite serious, then I would strongly advise continuing to Hanle. If your situation worsens, medical facilities here are severely limited and the nearest hospital at Leh is 2 days away.
For more details on acute mountain sickness, read How to Handle Acute Mountain Sickness in Ladakh.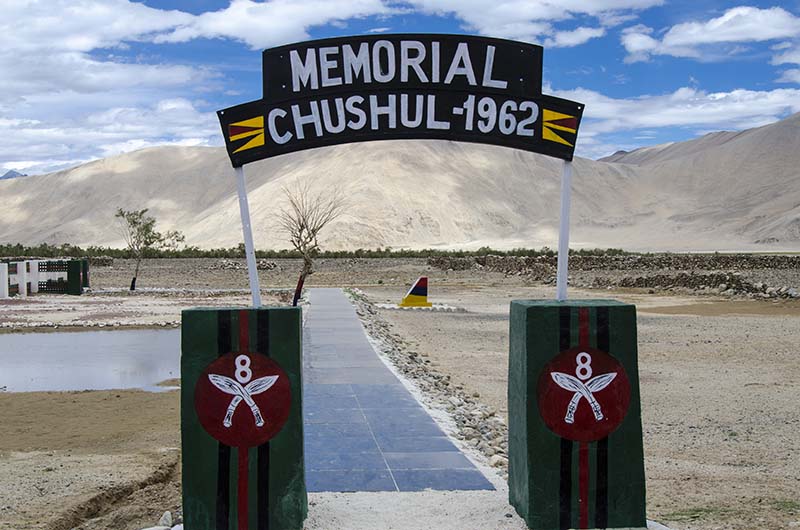 Road conditions and Preferred Vehicles
To summarize, road conditions on all the above-mentioned routes will be as below.
Leh to Hanle via Chumathang, Nyoma, and Loma: Mix of good and bad but mostly good. It can be covered in a Sedan and Hatchback as well.
Leh to Pangong Tso: Mostly good with a bad stretch around Chang La top, doable in Sedan and hatchback.
Pangong Tso to Hanle: Mix of good, bad, ugly, and really ugly; best for an SUV with good ground clearance.
Tso Moriri to Hanle via Charchagan La and Salsal La: Mostly a mix of bad and ugly. A 4×4 SUV is a must for this route.
Also Read: Which is the Best car for Leh Ladakh
Other Details
Mentioned below are other details that can be of help in planning your trip.
Distances
Leh to Hanle Distance: The distance between Leh to Hanle is 320 kilometers if you went via Pangong Tso and 250 kilometers if you went via Chumathang.
Pangong to Hanle Distance: The total distance between Pangong Tso to Hanle will be between 200 to 240 kilometers depending upon whether you chose to travel via Man and Merak or via Erath. Travel time will be less if you go via Erath and higher if you travel on the dirt road via Man and Merak.
Tso Moriri to Hanle distance: If you travel via Sumdo, Nyoma, and Loma, the distance between Tso Moriri and Hanle is about 150 kilometers. Traveling via Charchagan La and Salsal La, this distance would increase to 165 kilometers approximately.
Hanle Observatory Permission
If you want to get inside the observatory and see how things work here, you will have to get permission for it from Leh. Your regular ILP will not cover it.
Medical Facilities
The only place where you can get medical aid are the Army establishments. There is also a local pharmacy in the village but that is pretty much about it. For any medical emergency, you will have to rush back to Leh.
This is why it is important that
You do not continue to Leh if you were suffering from AMs at Pangong or on the way.
Carry a medical aid kit with some basic medicines and all of your prescribed medicines (if any).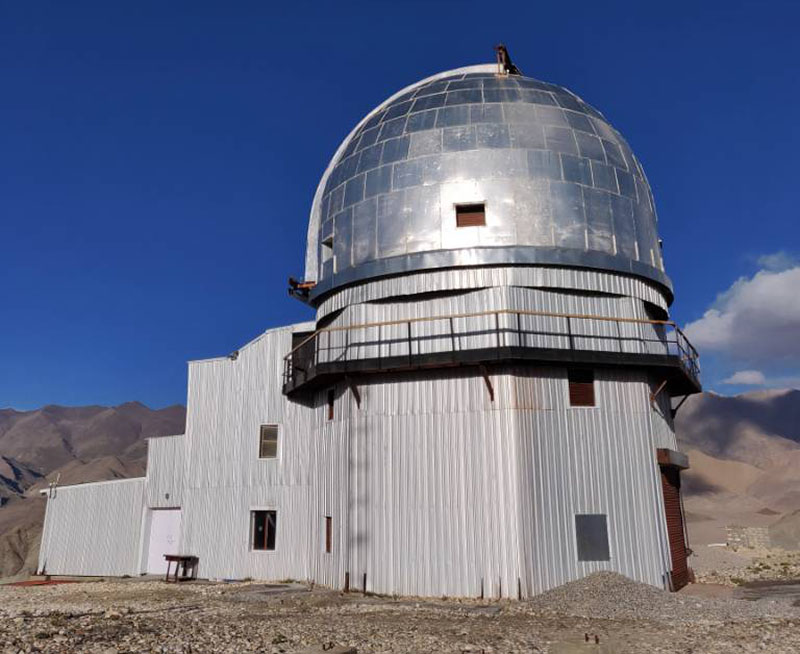 Where to stay in Hanle
Any of the guest houses in the village are a good option to stay. Take a walk around, find one per your taste and budget, and check-in.
Where to Eat
There are no restaurants or dhabas in Hanle and you will have to stay at the homestay that you were staying at.
Phone Connectivity
BSNL has the largest coverage in all of Ladakh and you may get reception in Hanle as well. Do not however count on it. For the most part, your phone will remain off the network. Any other network other than BSNL does not work in Hanle. For more details, please read Mobile Network in Ladakh and Data Connectivity.
ATMs
The nearest ATM is in Leh only. Credit cards or any other online mode of payment are not accepted as well and you will have to carry enough cash.
Petrol Pump
The nearest petrol pump is in Leh or at Karu. If you were planning to cover Pangong, Hanle, and Tso Moriri on the same trip, you will have to seriously think about your fuel options. For more details, please take a look at Fuel Availability in Leh Ladakh – How to Manage.
Conclusion
I hope the information mentioned above regarding planning a trip to Hanle was helpful. If you have any further questions, please feel free to ask in the comments sections below or at our Community Forum and I will be glad to answer.