Like previous years, this will remain to be a dedicated post to share updates on Manali Kaza road status in the year 2021. As the winter season progresses and ends, I will share the word on the opening and closing of the road. Other than this post, I will also be running a thread in the Community Forum to share the most recent pictures of the route.
I cannot post too many pictures here on this page because it will otherwise get too heavy. If you just want to know the Manali to Kaza road status today, then scroll through this page and you will get the required information. However, if you would like to see a more visual presentation of Manali to Kaza road condition today, then I will urge you to please take a look at the forum post.
Manali Kaza Road Status Today = OPEN

The current road status from Kaza to Manali as of today is OPEN. The snow has been cleared from both Rohtang and Kunzum Pass and locals are traveling across both the passes. If you do not wish to cross Rohtang Pass, you can also take the newly opened alternate route via Atal Tunnel to Keylong and Jispa, and then reach Kaza via Gramphu Batal road.
Manali to Kaza road status – OPEN
Shimla Kaza Road Status – OPEN
---
Updated February 2nd
The work to clear snow from Kunzum Pass will commence in early March. The expected date of opening of the Manali Kaza stretch as of now remains to be early May.
Sharing a recent picture of Kunzum Pass that was clicked last week by a friend who managed to trek all the way to the top. You can see the amount of snow accumulated and how the Kunzum Stupa is buried deep under.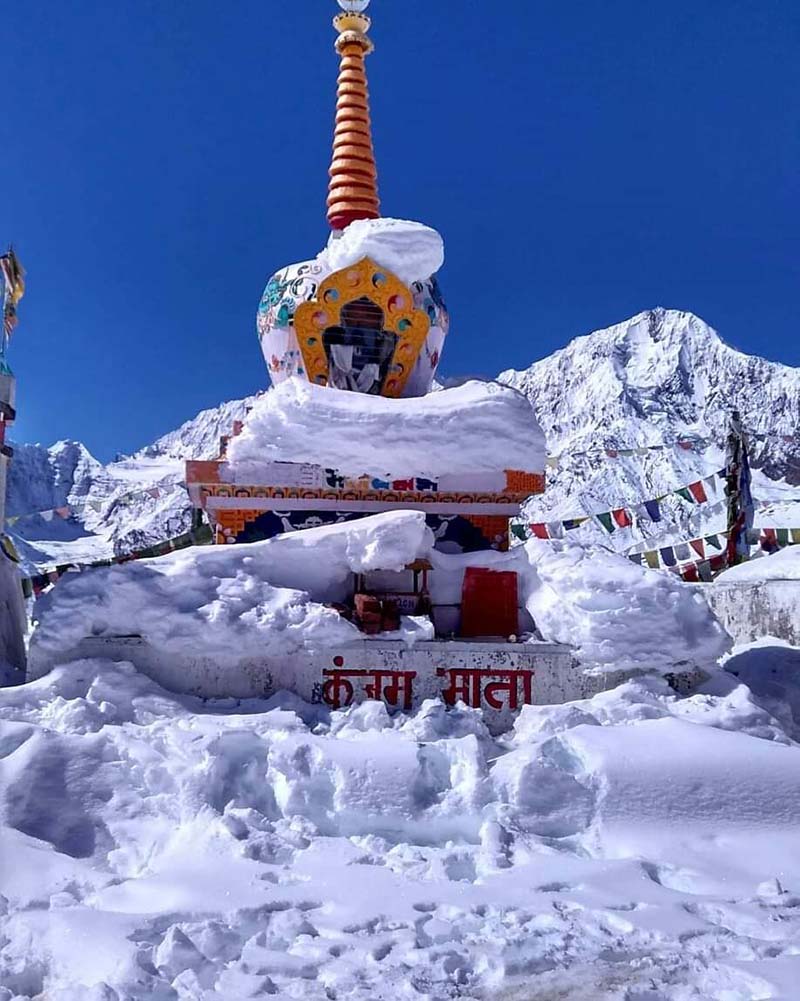 ---
Manali Kaza Road Status – January 21
Sharing a few pictures of the road between Kaza, Losar, and the nearby villages. By this, you can imagine the amount of snow on the road after Losar.
There is a lot of snow on the road and more is on its way in the coming months. There is a significant amount of snowfall this year in the entire Himalayan region. By the looks of it, it does not seem likely that Manali Kaza road will open any before than late May. This however may change in the coming weeks depending on the weather.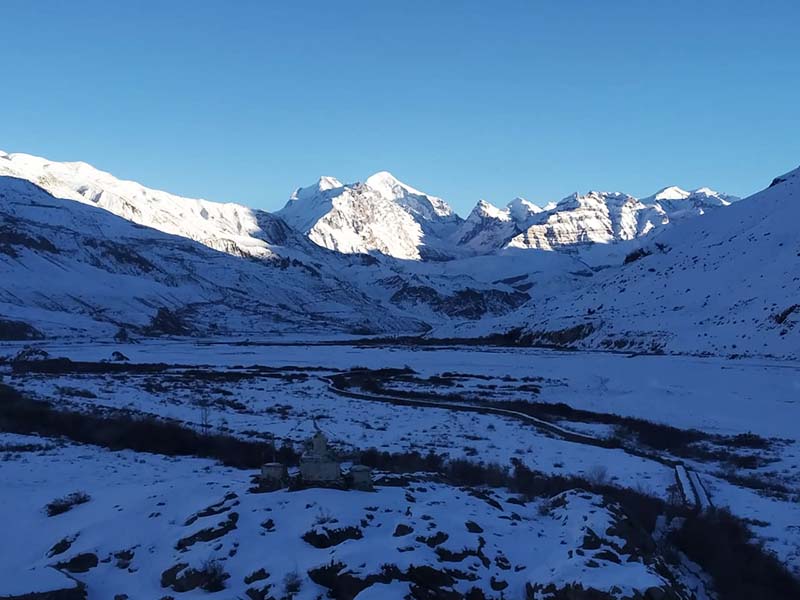 Manali to Spiti Valley Road Status
As a tourist, consider the road to be closed for this year. I would strongly advise against risking a journey on this stretch now. Blizzards and sudden heavy snowfall in this area are way too common. Do not forget that you will also be crossing two high altitude passes to get out and if that did not happen, you will be stuck for good.
There have been instances when tourists were caught in blizzards at places like Batal and Chhota Dhara and had to be airlifted out. And yes, there have been casualties as well so do not take the risk.
How to Plan a Trip from Manali to Spiti Valley
Knowing the road status of Kaza to Manali is definitely not sufficient for a trip on one of the most adventurous routes of our country. There are several things that you must have knowledge of and be prepared for. Listed below are some of the articles that I have written and would urge you to read so that you have a better knowledge of the route that you are about to be traveling on.
Shimla to Kaza Road Status
The status of the road from Shimla to Kaza is currently open, and it will continue to remain so unless the weather turned extreme and blocked the road anywhere along the route. However, even if that happens; the authorities clear the road just as soon as they are able to and restore connectivity. So yes, starting from Shimla, you can actually travel to Kaza throughout the year.
Kunzum Pass Status
The status of Kunzum Pass as of today is closed and the road. The estimated date of the opening of the road will be late May to early June in the year 2021.
Conclusion
I hope the information above on Manali Kaza Road Status was of help. If you have any questions; or need any other details; please feel free to ask in the comments section below, or at our Community Forum, and I will be glad to answer.