Continuing from the previous article where I talked about Manali to Leh Bus; in this article I will provide details on the reverse route of the same service; the Leh to Manali Bus that is. Manali Leh highway is commonly known as biker's paradise and quite rightly so. Most of the people would prefer to travel on this route by their own vehicle; either a car or a motorcycle. While your your vehicle will definitely be way more convenient, traveling on this route by Bus too is an experience one of its kind. It is definitely a way different angle and I am sure one that is worth enjoying.
Also read: How to Plan a Trip to Ladakh by Public Transport Services?
One of the greatest benefits of traveling here by public transport is of cost factor. If you were on a budget, then traveling to Ladakh by Bus can help reduce your travel cost significantly. Ladakh has been coming up as one of the most sought after tourist destinations of our country and by each passing year, the availability of public transport here is improving. So you will have no trouble to find a bus or a shared cab to desired destination.
Image Credit: HRTC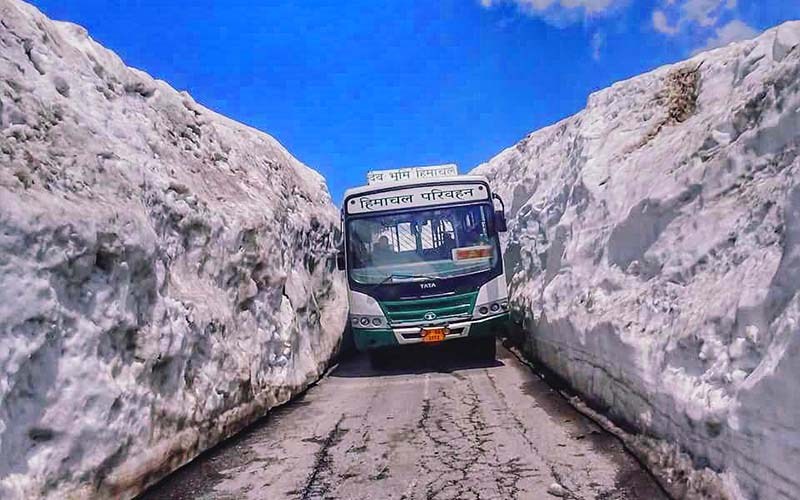 Leh to Manali Bus Service
There are two different type of bus services available on Manali to Leh route; and both are provided by Himachal Pradesh government. One bus service is run by HRTC (Himachal Road Transport Corporation) while the other one is by HPTDC (Himachal Pradesh Tourist Development Corporation). The HPTDC bus is more of a luxury coach targeted towards tourist population. The HRTC bus on the other hand is an ordinary bus that the locals here use.
Also read: Delhi to Leh Bus Service
Leh to Manali Bus HPTDC
This one is an all luxury bus that starts towards late June to early July after Manali Leh highway has been declared safe by authorities for a bus to travel. This bus remains operational until September 15th after which it is suspended until next year. This bus starts from Leh bus stand early in the morning and reaches Keylong by late evening. The next day it starts from Keylong at 6 AM and reaches Manali by afternoon.
Also read: List of Things you Must Carry for Ladakh Trip
Accommodation at Keylong is at Hotel Chandrabhaga and is included in your bus fare.There is a lawn in front of the hotel Chandrabhaga and HPTDC sets up tents in that lawn. Yes, you will not be staying at a hotel but in the tents. If you do not like it, you always have the option to check in to the hotel; but then you will have to pay for your room charges on your own; which is about Rs. 1,000 per room. HPTDC will not refund any money from your fare if you do not use the tents.
This bus stops at all major tourist places for sightseeing but is not a daily bus. It is usually available on alternate buses. Schedule for this bus is released by HPTDC each here and can be found at HPTDC Bus Schedule for Leh to Manali.
The best part about this service is that you can book your seat several days or rather months in advance. The booking page is available online at HPTDC Booking for Bus from Leh to Manali
Leh to Manali Bus HRTC
The HRTC bus service are the ordinary buses that ply in the region for locals to commute. As compared to HPTDC luxury bus, these are way cheaper and a great way to journey if you are traveling to Ladakh on a budget. Contrary to common belief, these buses are really not that uncomfortable and you can comfortably take the journey.
This actually is not one bus from Leh to all the way till Manali. You actually will be breaking the journey in two parts and two days. From Leh, you will first board a bus from Keylong which starts early in the morning at 5 AM. This bus travels all day and reaches Keylong by late evening where you will have to look for your own accommodation. The cost of your stay here is not included in the ticket. From Keylong Bus stand, you will next day buy a ticket for Keylong to Manali Bus and reach there by late afternoon in a different bus because the bus that came from Leh to Keylong will return to Leh from here.
Also read: Manali to Leh – Available Modes of Transport
Good to Know Info
There are several HRTC buses from Keylong to Manali throughout the day, last one being at around noon. So in case you miss one bus, you always have the option to catch the next one on the same day until noon. However from Leh to Keylong, it is just one bus at 5 AM. If you miss it, you will either have to look for some other mode of travel; or spend another day at Leh.
From Leh to Keylong, there is seat allocated with your ticket; but from Keylong to Manali, there is no seat allocation.
Another important factor here is that in case there is any problem; like if the bus breaks down, or there is a road block; or the bus is not running per its schedule; then this journey from Leh to Keylong will turn in to two days. Bus will halt for the night at either Pang or Sarchu' and then go to Keylong the next day; thus making the entire travel time from Leh to Manali as 3 days.
Also read: Accommodation on Manali Leh Highway
Leh to Manali Bus Fare
Fare are different for both HPTDC and HRTC Buses. The HPTDC bus being designed for tourists and a luxury one is costlier among the two. The HRTC bus is an ordinary and since it gets used by local villagers only, is cheap to travel in.
Leh to Manali HRTC Bus Fare
As I explained above, these are actually two different buses so you will also have to buy two different tickets from two different places. You will first have to buy a ticket for Keylong; and then for Manali from Keylong. But expect the total cost of the journey to be somewhere close to Rs.700. You pay about Rs. 150 for Keylong to Manali; and close to Rs. 500 for Leh to Keylong.
Leh to Manali HPTDC Bus Fare
For HPTDC Bus, you will pay at once as you book your seat. Fare per person is Rs. 2,900 which includes your accommodation at Keylong and meals as well (dinner, breakfast and tea).
Also read: What to See on Manali Leh Highway
Leh to Manali Bus Booking
Like the fare, the booking system too is different for HPTDC and HRTC Buses and I will explain both.
Leh to Manali HRTC Bus Booking
There is actually no booking system available for this. These are like the normal roadways buses that ply in our cities as well. You just reach the bus stop and board the bus. Same way, you will have to reach the Leh Bus stand early in the morning, find the bus going towards Keylong; board it and buy a ticket from the conductor. Next day, you will find the next bus going towards Manali at Keylong bus stand, board it and buy the ticket.
Your seat will be guaranteed and mentioned for the journey between Leh to Keylong; but for Keylong to Manali there is no guaranteed seat. So if you arrive and find the bus full, best to let it go and wait for the next one in an hour. There are regular buses going towards Manali from Keylong until noon.
Leh to Manali HPTDC Bus Booking
This bus is entirely dependent on booking system. On any given day, the bus will only travel if there are a minimum of 10 passengers for the day. If tickets booked online were less than 10, then the bus will be cancelled and HPTDC will make alternate arrangements for your travel by shared cabs. In this case, you will be needed to pay the difference between the Bus fare and the cab fare.
For this bus, you can either book the ticket online or buy in person from HPTDC office in Manali.
Also read: Best Time to Travel from Manali to Leh
Leh to Manali Bus Online Booking
There is no online booking system available for HRTC buses but you can indeed book a ticket for the HPTDC bus at this link, Book a Ticket for HPTDC Bus from Leh to Manali. Before you book the ticket though make sure you check the Bus Schedule from Leh to Manali.
Leh to Manali Bus Timings
Both these buses start early in the morning from Leh between 5 to 6 AM and reach Keylong between 6 to 7 PM. The HPTDC bus will start from Keylong at 6 AM again to reach Manali by noon. Since your ticket for this bus would already be paid for, please make sure that you reach the bus stand well in time to board the bus. With HRTC Bus however, since you anways will have to buy a new ticket from Keylong, you can catch any of the buses to Manali that day and do not necessarily have to rush to the bus stand in the morning.
Leh to Manali Bus Route
Route of both these buses is as mentioned below.
Leh – Karu – Upshi – Tanglang La – Pang – Lachulung La – Nakee La – Sarchu – Baralacha La – Zingzing Bar – Patseo – Darcha – Jispa – Keylong – Tandi – Gramphoo – Rohtang Pass – Manali
Also read: How to Handle Acute Mountain Sickness on Ladakh Trip
Leh to Manali Luxury Bus
Adding this point here since I have been asked this by several people. Yes, the HPTDC bus is a full luxury bus and quite a comfortable one. Seats and the overall bus condition is always good if not excellent. The local HPTDC bus drivers are very competent ones so you will be in good hands for the entire journey.
Leh to Manali Bus
I hope the information above was of help. If you need any further details, please feel free to ask in the comments section below; or at our Community Forum; and I will be glad to answer. If you have traveled between Manali to Leh in a local bus; then I would appreciate if you can please share your experience in a few lines to help others.