To camp in Ladakh is one of the greatest joys of a trip to this enchanting part of our country. It is a must-have experience, without which, your trip to Ladakh may even seem a little incomplete.
Speaking out of my personal experience, camping in Ladakh is quite fun in itself. Sleeping in a tent under a starlit sky in pin-drop silence presents an experience that you will cherish for the rest of your life. These camps are quite warm and comfortable enough with all facilities available.
Also Read: How to Plan a Trip to Leh Ladakh – A Complete Travel Guide
Depending on your own preference, you can either stay at an existing campsite; or bring all the necessary gear and pitch your own tent. Opportunities to do both are available in ample amounts throughout the route and the region.
Where can you Camp in Ladakh?
The lakes of Pangong Tso and Tso Moriri are mostly considered as the best place to go camping in Ladakh but the list does not end here. Tourism in Ladakh has grown several folds in the last few years and the availability of campsites also has greatly increased.
These are available now at almost all major tourist spots and in every budget. Now you can, in fact, manage most of your trip staying in camps only. If you are planning a trip to Ladakh, here is some information about places where you can hope to find tent accommodation or places where you can set up your own tent.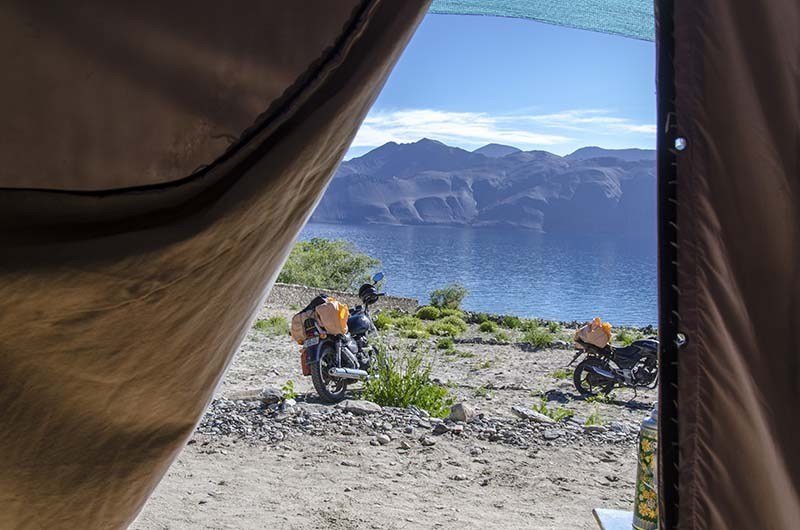 I will also recommend you to read my other article, Safety Tips for Staying in Camps and Self Camping in Ladakh.
Camping in Ladakh
There are three choices in terms of camping in Ladakh. The first ones are the campsites, the second is the Chadar tents and self-camping will be the third one. Campsites are the most comfortable of all but also the costliest. Chadar tents are the cheapest but not everyone's cup of tea. Self-camping is the most fun of all if you knew what you were doing and most trouble if you didn't.
Campsites in Ladakh 
One of the most common questions I get asked about campsites in Ladakh is about how comfortable they are. People tend to think that since it is just a tent, it will not be able to stand the harsh cold of Ladakh. And that they will have to spend the entire night tolerating the cold and being uncomfortable.
This is not true at all. These tents are very comfortable and very warm. Once the flap is shut, you won't feel a wisp of air inside. The bedding provided too is very comfortable with pillows and blankets. All of these campsites have a bed inside and you will not be required to sleep on the ground as well.
Some of the camps even have an attached bathroom. Even if you were traveling with family, these campsites are a great place to stay for the night and experience something different.
Per day charge will depend on the place you were staying at but on average, it costs about Rs. 2500 to stay at a camp in Ladakh. This cost will include lodging, dinner, and breakfast.
Chadar Tents 
What is a Chadar Tent? Well, it is a bit hard to explain really so I will just post a couple of pictures. See below.
It is a dormitory-type accommodation set up by the numerous Dhaba owners on the way. Towards the front of the tent is the Dhaba and then there is a series of beds next to each other. The price of all these Chadar tents varies. Depending on the place, expect the cost to be anywhere between Rs. 200 – 400 per person.
What you get in return is a bed to spend the night on. While it is a good way to save in a cost-efficient manner, there are four major concerns in traveling this way.
Hygiene 
The first and foremost is of hygiene. While the bedding provided to you will be warm and comfortable enough (at most places), it, of course, does not get washed or changed daily. You never know who or how many people would have slept in that blanket before you which may not be a fact of comfort for a lot of people.
Washrooms 
The second concern is of shared washrooms. You will be doing your business squatting over a pit dug in the ground that would have been used by the entire world already.
Privacy 
You are sleeping in a tent full of strangers so the privacy, of course, takes a nosedive.
Security 
To some extent, this can also be a concern. I am not talking about your own safety but of your luggage. You never who may get an idea to get up at night and go through your belongings.
Self-Camping in Ladakh 
If you have the proper gear and a hassle-free way to carry it all then self-camping in Ladakh is great fun. There is no shortage of places where you can pitch your tent but there are a few things that you must keep in mind.
Camping on your own here can be a memorable experience but a dangerous one as well if you did not know what you were doing. Please read Safety Tips for Camping in Ladakh for information on how you can camp in Ladakh in a safe and hassle-free manner.
Where to Camp in Ladakh
Now that we know the different manners of camping in Ladakh, let us briefly take a look at what all places can you do so.
Manali Leh Highway Camping 
Chadar tents are available throughout on Manali Leh highway and you will keep coming across them now and then. Almost every Dhaba en route has an arrangement and provides bedding for travelers to stay for a night. Pang is the biggest Chadar tent settlement on the way.
Proper camping sites are only available near Keylong, Jispa, and Sarchu. The most scenic sites will probably in Lahaul Valley, between Keylong and Darcha. The largest one is near Himachal Border and Sarchu. These are all good, luxurious campsites with all facilities available.
If your plan was of self-camping, you will find plenty of spaces to camp once you have crossed Rohtang. It is however advised that you set up your camp somewhere closer to a Dhaba or a Chadar tent. That way you can be sure that you are not camping somewhere you shouldn't. Secondly, that way you won't run out of food and water. Just pay a little amount to the Dhaba owner and ask them to give you a spot.
A couple of great spots I can suggest would be near Deepak Tal, near Himachal Border, and just after Pang, where the more plains start. A third good spot could be near Tso Kar.
Also Read: Choices of Accommodation on Manali Leh Highway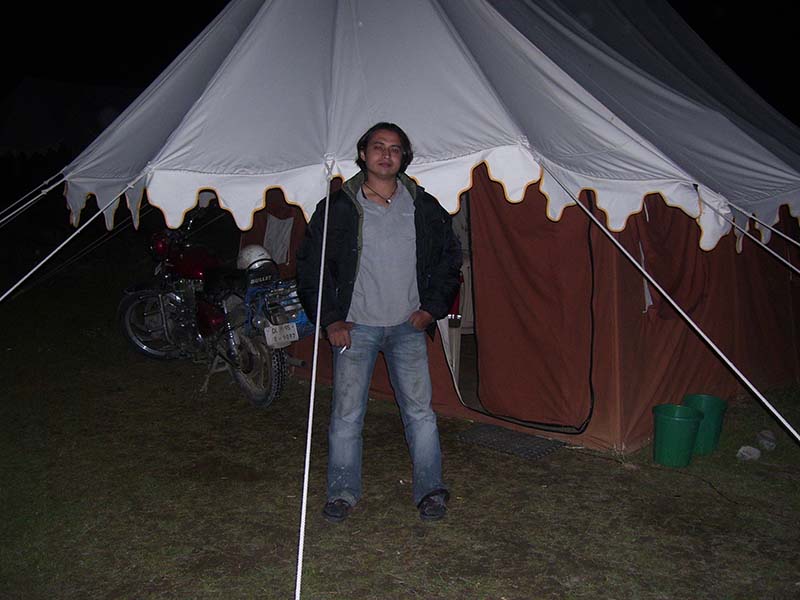 Camp on Srinagar Leh Highway
When I first traveled on the Srinagar to Leh route, there was not even a single campsite available anywhere. Throughout the route, there were only and only cemented hotels. However, with the recent boost in tourism in Ladakh, there are several campsites available between Srinagar to Leh as well.
Most of these are located in and around Sonamarg and Kargil but there is one campsite in Dras and a couple in Uleytokpo as well. Chadar tents on this route are not much but you may find some between Lamayuru and Leh.
Self camping is an option as well but keep it limited to Sonamarg, Dras, Kargil, Lamayuru, Mulbekh, Khaltsi, Uleytokpo, Saspul, or Nimmoo. I would not recommend pitching your tent at any other place. In these places as well, find an existing campsite or a Dhaba and pay them a little amount to give you a spot to pitch your tent.
If you are ready to take the risk of camping in the middle of nowhere, then the options are unlimited. Then you just need to find a spot suitable enough.
For more details, please read How to Plan a Trip from Srinagar to Leh.
Camping in Nubra Valley
Nubra valley is one of the biggest tourist attractions of Ladakh and there are numerous campsites here. The moment you cross Khalsar, you will start coming across campsites on both sides of the valley, in Diskit, Hunder, and Sumur.
The sand dunes of Hunder are considered to be the best of all spots to camp in Ladakh. Hence, the majority of the campsites in Nubra Valley are located there only. But you can find a few in and around Diskit and Sumur as well.
Self-Camping in Nubra Valley can be a bit tricky since most of the top spots are already occupied. I was there last year and did not notice any campsites in and around Panamik so you can try pitching your tent there. The entire Nubra Valley is a well-populated area and farming land so, once again, do not pitch your tent just about anywhere. Talk to a villager, pay a little and ask them to show you to a good spot for self-camping.
BEWARE of the dogs if you were camping on your own. They are quite aggressive, dangerous and do not see a lot of strange faces. While you are camping, stay close to your tent at night and do not wander out alone after dark.
For more details, please read How to Plan a Trip to Nubra Valley from Leh.
Camping at Pangong Tso
The very name of this lake actually has become the very synonym of camping in Ladakh. There is an entire series of campsites at Pangong that can easily fit in any budget. This is definitely the best place to camp in Ladakh. There are so many camps here that in 2019, the authorities had to consider banning camping near Pangong Lake entirely in order to protect and preserve the lake.
If staying at a campsite was not within budget, then you can also find Chadar tents as well towards the start of the lake. Just look for some large tents selling some snacks, tea, etc. They, in fact, sell petrol and Diesel as well at an increased price so if you were heading towards Hanle or Tso Moriri after Pangong; this is where you can tank up your vehicle.
You can also set up your own camp but finding a spot closer to the lake could be a problem since most of the space is already occupied by campsites. If you are carrying your own gear, my advice is to just keep driving next to the lake until there are no more campsites and then pitch your tent.
The best would be to go all the way till Man or Merak and pay a villager to give you a suitable spot. If you were ready to pay a little more, they can arrange for your food as well and you can even use their washroom.
For more details, please read How to Plan a visit to Pangong Lake from Leh.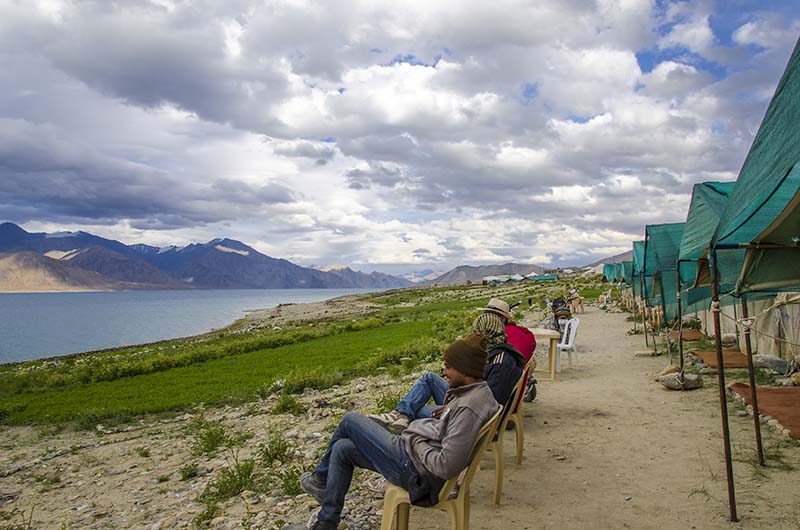 Camping at Tso Moriri
Like Pangong Lake, there are numerous campsites at Tso Moriri as well. Camps here are slightly more expensive though. The village next to the lake is called Karzok and there are several hotels and guest houses here too.
If you were planning to self-camp, then the most important thing to remember is to set up your tent a little away from the lake. Moriri is a freshwater lake and a protected Wetland Conservation Reserve which means that camping on its banks is forbidden by law.
For more details, please read How to Plan a Visit to Tso Moriri from Leh. If you were traveling from Pangong to Tso Moriri, then please read How to Travel to Tso Moriri from Pangong Tso Directly.
Camping in Changthang Valley
Changthang Valley is the region that you pass through while traveling from Pangong to Tso Moriri via Man, Merak, Loma, Nyoma and Mahe. There are no campsites anywhere on this route. In fact, finding any sort of accommodation in these villages would be tough. Do not set up your own tent as well anywhere on this stretch.
Camping at Hanle
There are no campsites in Hanle, just a small guest house. You can set up your camp though by paying any of the villagers for a spot. For more information, please read How to visit Hanle in Ladakh – A Complete Travel Guide.
Camping at Turtuk
There are 2 campsites in Turtuk but both are a bit on the expensive side. If not within budget, you can stay at any of the guest houses in the village. This is a great spot to set up your own camp but you cannot do that just about anywhere. You will have to pay a local for a spot. For more details, please read How to Plan a Trip to Turtuk from Leh.
Camp on Chumathang Route
Chumathang Route is the road you take from Leh to reach Tso Moriri directly via Karu. There are no campsites anywhere in between, just a small guest house near Chumathang Hot Water Spring.
Camp near Tso Kar
There are a few campsites at Tso Kar and Chadar Tents as well. If you want to stay away from the crowd and want to camp in Ladakh in a more silent place, then Tso Kar is the best choice. I camped here last year and it was an amazing experience.
With More Plains right next and nothing else in sight with hardly anyone around, Tso Kar is my recommended place to stay for at least one night.
For more details on visit Ladakh, please read How to Plan a Trip to Leh Ladakh – A Complete Travel Guide.
Where to Camp in Ladakh – Conclusion
This covers majority, if not all, of the information that you need to know about where to camp in Ladakh. If you have any questions, please feel free to ask in the comments section below and I will be happy to answer. You can also follow me on Instagram and chat with me live there or subscribe to my YouTube channel and ask a question there.