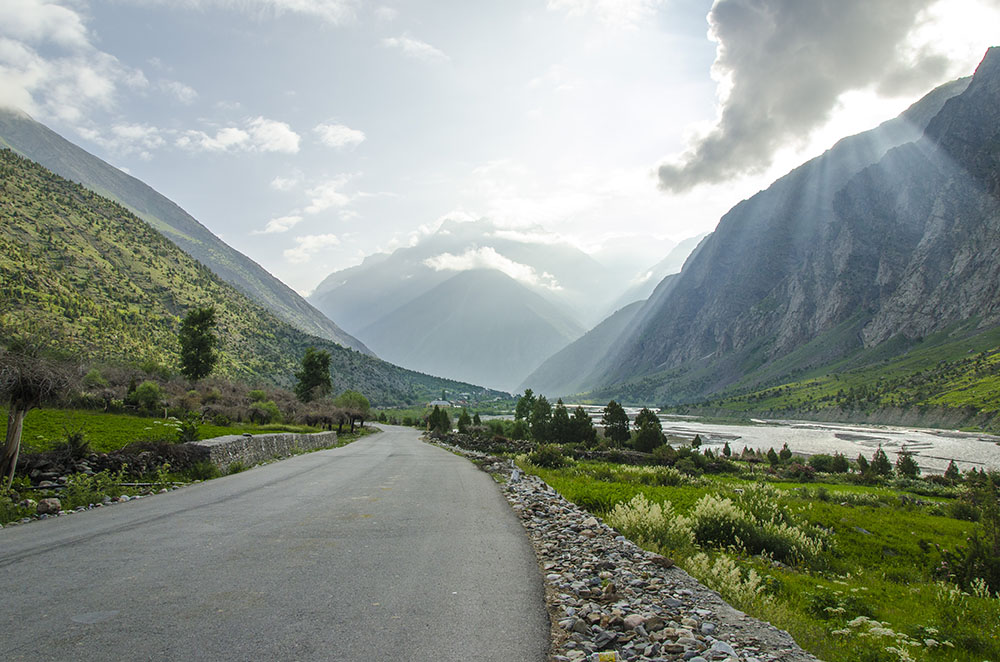 Whether to stay at Keylong or Jispa or Sarchu is one of the most common doubts people have while traveling on the Manali Leh Highway. All of these places have their own pros and cons but it is mostly Sarchu that gets picked because of its central location on the route.
But before you decide to do that, below is a brief comparison between these three places that can help you determine which one is a better choice to halt for the night.
Together, these three places are among the most convenient pit stops while traveling from Manali to Leh by road. A fourth place that is also popular among the bikers mostly is Pang, just before more plains. Where should you break your journey will depend on several factors like your mode of travel, time in hand, and who were you traveling with.
Please note that in this post, I am only doing a comparison between these 4 places in terms of night stay. For any further information on traveling from Manali to Leh, please take a look at How to Plan a Journey on Manali Leh Highway.
Keylong
Keylong is a town that is also the administrative center of Lahaul Valley. It is located at a distance of 116 kilometers from Manali via Rohtang Pass and 70 kilometers via Atal Tunnel. Since it is a town, there are several hotels in Keylong. BSNL, Airtel, and Jio have good connectivity here with 3G data.
Keylong also has the largest bus stand in Lahaul Valley and regular buses operate out of here to other villages in the valley. There is a hospital, a small market, Bank, ATM, and pretty much everything that a town will have. It is at an altitude of 3,080 meters (10,100 ft).
Jispa
Jispa is just a small village, about 23 kilometers ahead of Keylong. It is a group of a few small houses, few hotels, a school, a monastery, and some other local village buildings. The location of the village is very peaceful and scenic, right on the banks of the Bhaga River. Between Keylong and Jispa, you will get some of the best views on the entire Manali Leh stretch.
Jispa is at an altitude of 3,200 meters (10,500 ft). For more details, please take a look at Jispa Travel Guide.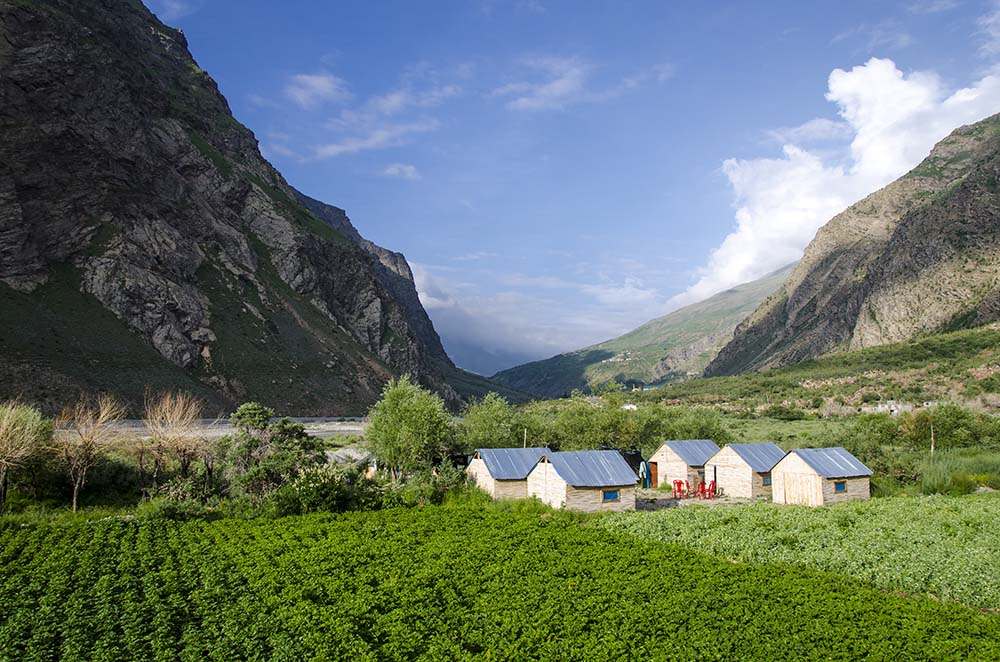 Sarchu
Sarchu is where the border of Himachal Pradesh ends and Ladakh begins. The place is also known as Sir Bhum Chun (I don't know why) and is a major halt point with tented accommodation. There is really nothing here except for a police check-post, a couple of Dhabas with tented accommodation, and a few campsites. That is pretty much it.
Sarchu is situated at an elevation of 4,290 meters (14,070 ft). For more details, please take a look at Sarchu Travel Guide.
Pang
Like Sarchu, Pang as well is also just a halt point consisting of a few Chadar tent Dhabas, campsites, and an Army Base. I think it was because of the Army base that the Dhabas came into existence in the first place. After that it grew into a major halt point.
Pang is at an altitude of 4,700 meters (15,400 feet).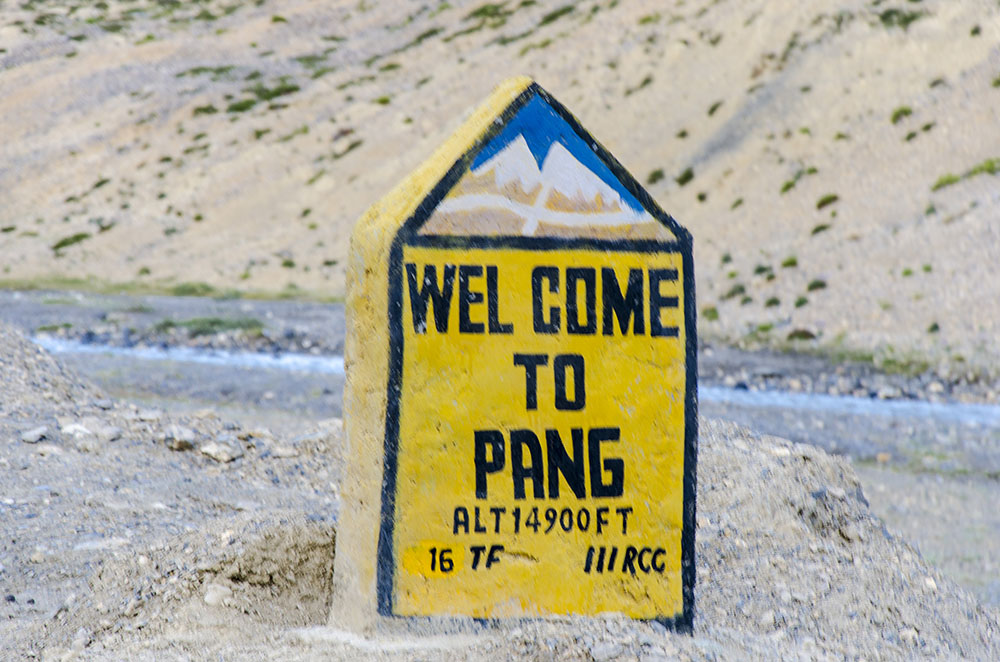 Where to Stay for the Night
Now that you have the details about these places, let us take a look at where you should be stopping for the night.
Acute Mountain Sickness
This should be your first and primary concern. Sarchu and Pang are the two places where people suffer from acute mountain sickness. Even people who regularly visit the Himalayas and have been to Ladakh before will experience symptoms of AMS at both of these places. To know what the symptoms are, please take a look at How to Handle Acute Mountain Sickness in Ladakh.
Think of it like this. One day you are in plains at your home. The next day, you are in Manali at an altitude of 6,398 feet or 2,050 meters. On Day 3, you arrive at Sarchu at 4,290 meters. This gain in altitude is a bit too much for the body to handle and there is a high chance that your night at Sarchu will be an extremely restless one.
From this aspect, both Keylong and Jispa are a much better choice. My recommendation will definitely be Jispa. This way, from Manali, you are at 3200 meters in Jispa on Day 3 and then at 3,524 meters (11,562 ft) at Leh the next day.
The increase in altitude will be gradual. You will not suffer from AMS during your journey from Manali to Leh. This will also prepare you better for further sightseeing in Ladakh. You may feel little symptoms as you drive through Sarchu and Pang for a couple of hours; but it will be gone as soon as you reach Leh.
Number of Days
This will be your deciding factor number two. Manali Leh highway is usually done in 2 or 3 days. If you were attempting in 2 days, I will recommend staying at Jispa and then go to Leh the next day. But if you were doing it in 3 days, then you will end up staying at 2 places anyway.
After Manali, stay at Jispa for the first night. After that, skip Sarchu and stay at Pang for the 2nd night.
Pang and Sarchu are both at the same height in terms of altitude. So if you were to suffer from AMS, it will happen to you at both places anyway. But the thing with Sarchu is that it is quite close to Jispa. You will finish your travel on Day 2 in just 3-4 hours at most and then will have nothing to do at Sarchu.
Also Read: How to Plan a Bike Trip to Ladakh
On the other hand, if you stayed at Pang, it will even out your travel on all 3 days. The added benefit will be that on Day 3, you will also have time to make a short detour to Tso Kar. This will also give you ample time for hotel hunting in Leh.
If you started from Pang by 7 in the morning, you will easily make it to Leh by 1 or 2 PM at most. You can find a hotel per your liking, check-in, freshen up and visit Leh Palace, Shanti Stupa, and the market in the evening. If you managed to reach by 12 noon, you can try and get your permits as well on the same day.
Distance
This is one argument that usually works in the favor of Sarchu. The place is right in the center of the Manali Leh Highway. So staying here for the night means that your journey will get divided into two days. This sounds like a great idea but there are two problems with it.
The first is that you will end up suffering from altitude sickness here that you will not at Jispa as I explained above.
The second argument is that Sarchu is not that scenic. Jispa in its comparison is an amazingly beautiful place and you will love spending an evening here. For example, if you started at 7 AM from Manali, you will get to Jispa by 4 or 5 PM at most even after considering the traffic at Rohtang La. If there was no traffic, you may actually end up reaching early.
But after you get here, there isn't really much to do. I stayed at Sarchu only once because of an unforeseen situation and man did I get bored there. We were just sitting at a Dhaba watching the trucks go by and that is pretty much it.
An ideal way for the journey will be that you start early from Manali on Day 1 and make it an easy drive to Jispa with plenty of breaks. Enjoy Rohtang and the lush green views of Lahaul Valley as much as you can. Then start by 6 AM from Jispa on Day 2 and you can easily make it to Leh by 5 AM with plenty of breaks in between at all the tourist spots.
But yes, if you were someone who would rather divide his journey equally on both the day then Sarchu will be an ideal choice.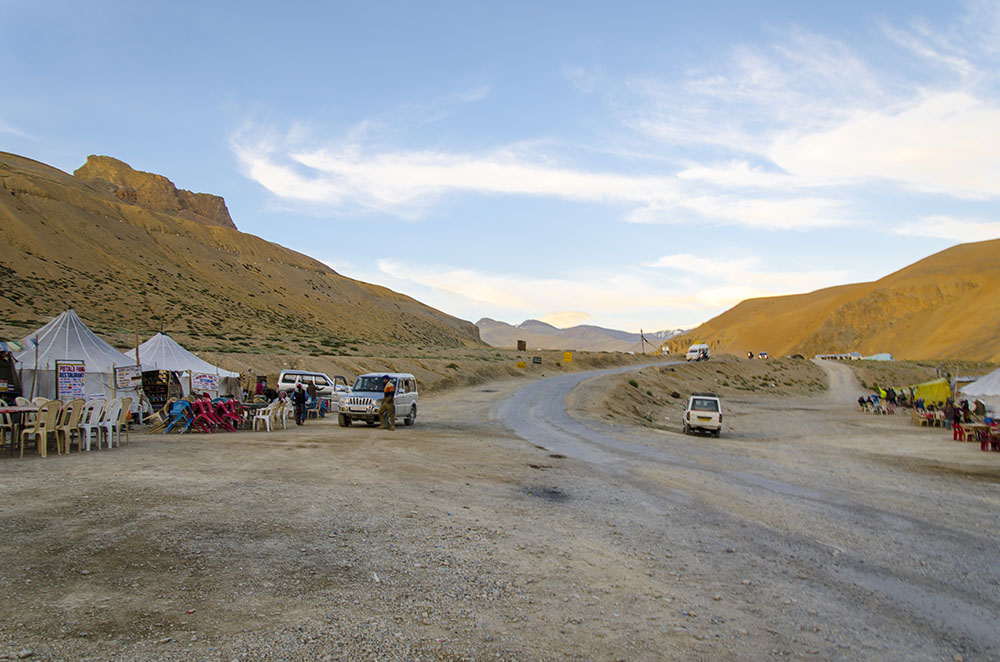 Accommodation Choices
This one will work in favor of Keylong. If you were traveling with family and would rather stay at a good cemented hotel then Keylong is the place you would choose. Jispa has a couple of cemented hotels as well but they cannot be called budget hotels. Sarchu and Pang have tented accommodation only.
Keylong however has a far greater range of accommodation options to chose from that will fit into any budget. Take a look at Manali to Leh Accommodation Choices for more details.
Mobile Connectivity
If you do not want to be disconnected and would rather that your phone continues to work, you should stay at Keylong. The next day, you will go straight to Leh. So even if your phone did no work in the day, it will work in the evening after reaching Leh.
Please note that this does not apply to Vodafone and Idea networks since they do not work in Keylong as well. Take a look at Mobile Connectivity on Manali Leh Route for more details.
By Bus
If you were traveling by HRTC or HPTDC Bus, your accommodation will be at Keylong. The price of the HPTDC Bus actually includes your lodging and meals at Keylong. But with the HRTC Bus as well, it will start from Manali and bring you to Keylong. From Keylong, you will then have to board another HRTC Bus for Leh early in the morning at 5.
Camping
If camping was on our mind, then Jispa wins hands down. There is no better place on the entire route that Jispa, irrespective of whether you were thinking of self camping or staying at a campsite. The village is located right next to the Bhaga River. Camping here means that you will be camping right next to a river. There is no better setting for pitching your tent than that.
There are wooden huts in Jispa that are also located next to the river. This is also a different kind of experience that you can get here. You can also pay the owner of these huts to give you a suitable spot for self camping. He will in turn also arrange a bonfire for you and can also cook.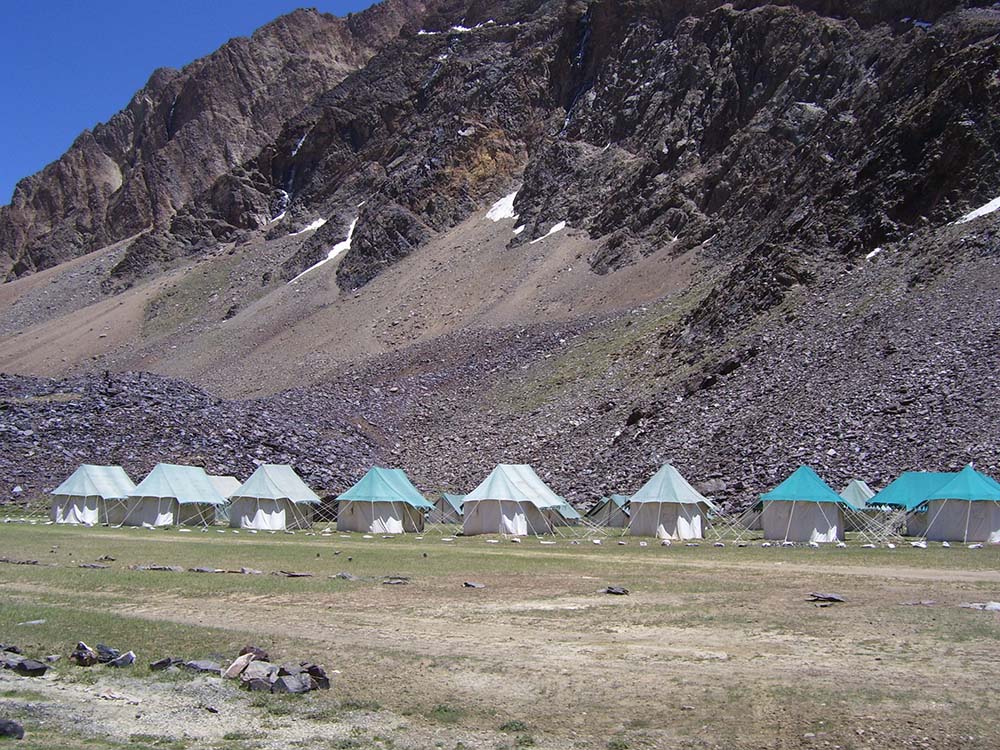 Weather
Manali is cold. Jispa is cold as well. But Sarchu is colder. The night temperature in Manali and Sarchu is nothing as compared to what you will experience in Sarchu. It is like a barren ground in the middle of nowhere and the temperature drops drastically at night. The wind picks up the pace and turns things even colder.
This is also one of the reasons why people suffer from acute mountain sickness here. The gain in altitude, lack of oxygen, and sudden drop in the temperature proves a little much for the body to handle. Weather will surely be one of the deciding factors on whether to stay at Keylong or Jispa or Sarchu or Pang.
Scenic Beauty
I think I kind of made this point already but will mention it again. Jispa is the most beautiful village on the entire route. Not spending some time here is really a sin. Even the journey from Manali to Jispa should be done in a relaxed manner.
There will be plenty of places where you would want to take a break and Rohtang will be the biggest of them all. You should really savor this day and enjoy the views around you as much as you can.
Jispa to Leh Route
The attractions do not just end at Jispa. After crossing the town, you will drive up the snow-covered Baralacha La pass and also see the beautiful lakes of Deepak Tal and Suraj Tal on the way. If you were just rushing to Sarchu straight from Manali, you will miss enjoying these places.
On the other hand, if you stayed at Jispa, you can start fresh early in the morning and spend time at all these places.
Traffic at Rohtang
Yes, this now is a harsh reality. Sometimes, there can be a wait time of 2-3 hours before Gulaba check post during the tourist season. If Sarchu was your destination for the day, this is sure to get you worried. On the other hand, if you knew that you just need to get to Keylong or Jispa, you will be much more relaxed.
The time you spend in traffic at Rohtang will just be an excuse to enjoy the views around and click more pictures.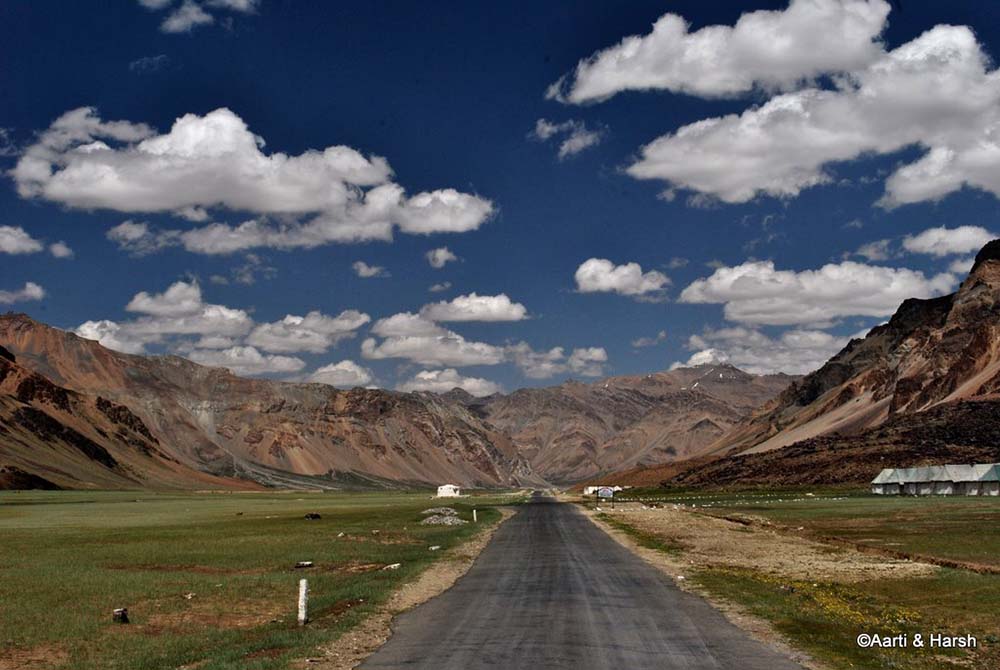 Keylong Vs Jispa Vs Sarchu Vs Pang
So if I am to rate these places from top to bottom, my choice of accommodation will be as below.
Jispa
Keylong
Sarchu
Pang
Below is a brief summary of the information above.
If you have three days on the Manali Leh highway, stay in Jispa on Day 1 and Pang on Day 2 before arriving at Leh on Day 3.
If you have 2 days, stay in Jispa and then go to Leh on Day 2.
Sarchu is at a central location that helps you divide the journey equally in two days but you are prone to suffering from AMS here.
Jispa is more scenic and a more peaceful place. But it has a limited choice of accommodation.
Keylong has a larger number of hotels, cellphone connectivity, ATM, and several other facilities. But it probably is the least scenic of the 4 places. Staying here means that you will increase your travel time on Day 2.
You should stay in Keylong only if you want to stay in a cemented hotel, do not want to lose cellphone reception, or traveling with your family.
If you want to camp on the highway, Jispa will be a much better choice.
Pang is the least preferred place and is only recommended if you are breaking the journey in 3 days.
Keylong or Jispa or Sarchu – Conclusion
I hope the information on where to stay at Keylong or Jispa or Sarchu was of help. If you need any other details or have further questions, please feel free to ask in the comments section below or at our Community Forum and I will be glad to answer.