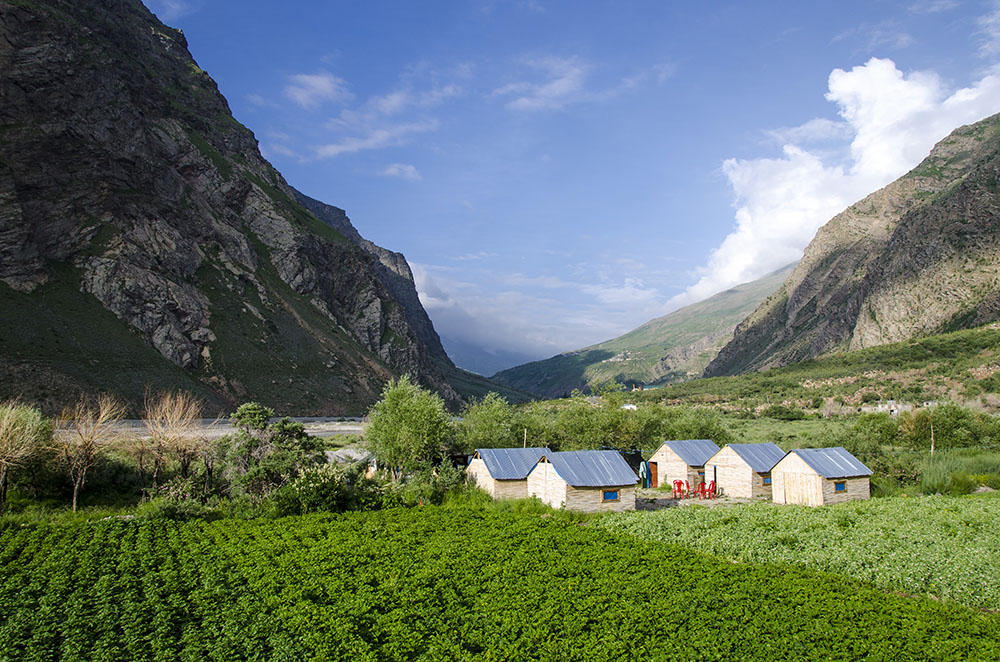 How many days you need to travel on the Manali Leh highway does not have a straight answer to it. Manali to Leh travel time depends on how you are traveling and how many days you have in hand. The highway can in fact be covered even in 1 day as well but the minimum time you should spend here is 2 days. A recommended period of time to actually enjoy the journey is 3 days.
Let me explain. If you travel in 1 day then you are just rushing through the journey. There will absolutely no time for sightseeing and you will suffer from AMS as well. In 2 days, you will have some time for sightseeing but the journey on both days will still be long. Chances of altitude sickness will also be there.
But traveling in 3 days ensures sufficient breaks, involves plenty of sightseeing, and allows the body time to acclimatize. Any more than that really is a luxury. In this post, I will talk in detail about Manali to Leh travel time and also suggest an example of an itinerary.
Manali to Leh Travel Time & Ideal Itinerary
This post is actually a part of a series detailing several aspects of the Manali to Leh route and things you should take care of. If you also want to know the sightseeing spots, accommodation choices and review a route map, please follow the links below.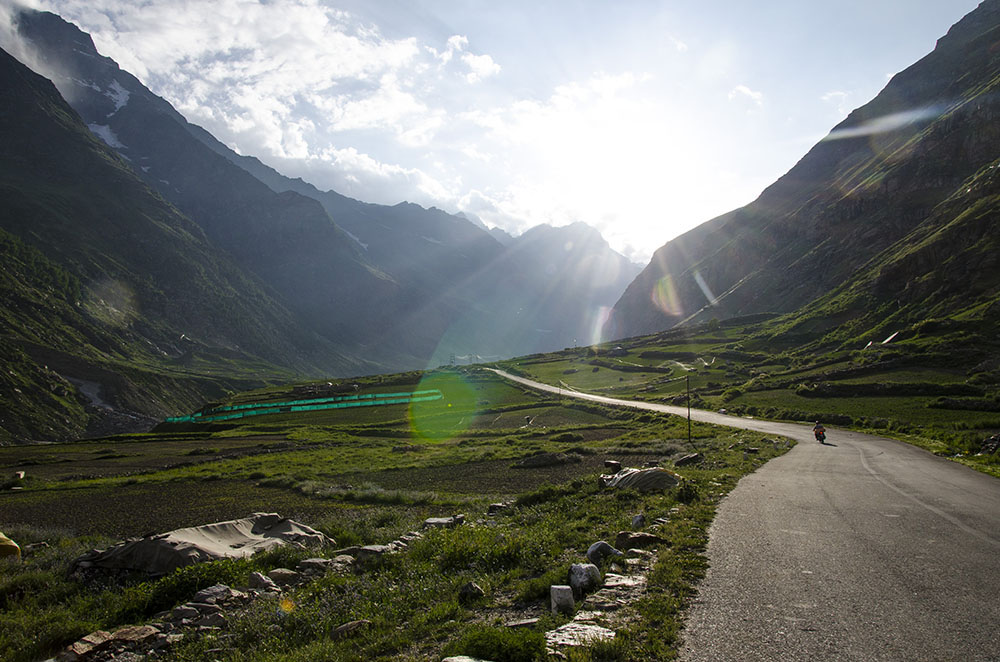 Manali to Leh in 1 Day
Competing the Manali Leh highway in a single day is called a "Canon ball run". I am not really sure who coined this term but it is 100% accurate. This option is quite common among the locals here or people who are in a rush to reach Leh.
The only way it can be completed is by getting aboard a shared taxi. It is neither possible nor recommended for a tourist to drive straight from Manali to Leh in one day on their own. However, the local taxi drivers here do that on a regular basis.
This journey starts sometime at midnight from Manali from where you will be continuously traveling for the next 16-18 hours, reaching Leh by the next day evening. It will cost you anywhere between Rs. 2000 to Rs. 2500 per person for a shared cab.
If it was me, I would simply call it a 'bone-breaking run'. You will be stuffed in a shared taxi with 7-8 other people (depending on which car it is) and will be traveling straight with breaks limited only to answer the nature call.
HRTC in fact also started a bus a few years ago that completed this journey in 1 day. It remained operational for that 1 year but was not re-introduced the next year. There is a high chance that it may start running again.
Pros and Cons
The only upside to this is that you will reach Leh in a single day but there are several severe downsides. The first and foremost is that you practically miss everything that you came to Manali Leh highway for. There is no time to enjoy the vistas and gaze upon the natural beauty of the region.
You will only just be sitting inside a moving car and looking out of the window which I do not think is a fun idea if it is going to last 16-18 hours.
The second and more serious issue will be acute mountain sickness which you are bound to suffer from if you take your body to such extreme heights in a matter of hours. For those taxi drivers and locals, it doesn't matter because for them it is an everyday routine.
But for a tourist like us, it can cause some serious problems. Please take a look at How to Deal with Acute Mountain Sickness In Ladakh to read about what acute mountain sickness is, what it can do to you, what the symptoms are and how to avoid it.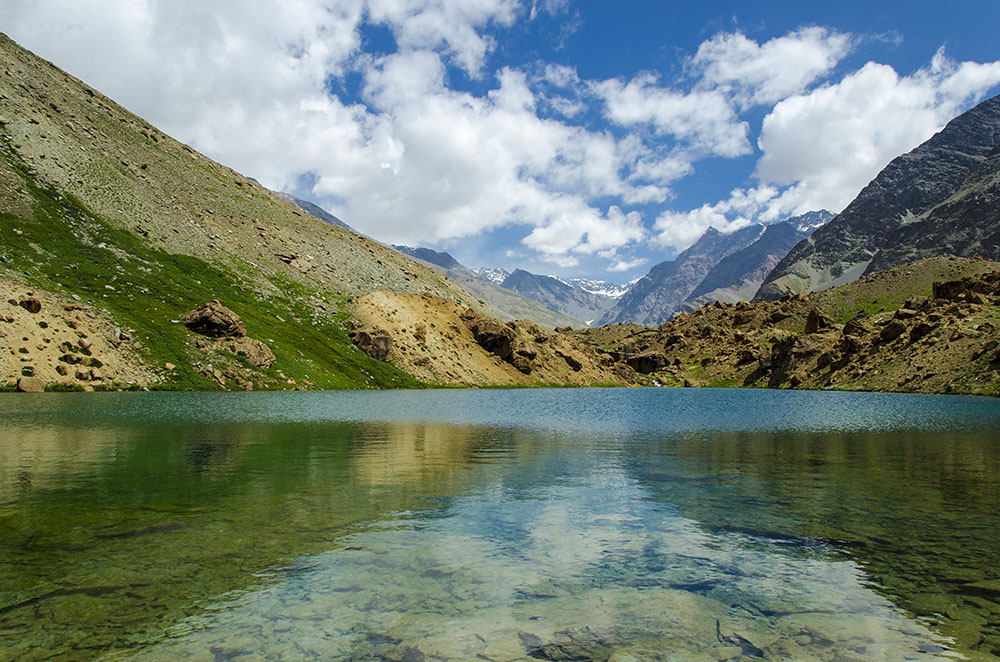 Manali to Leh in 2 Days
A two days journey on the Manali Leh highway is the most preferred one. No matter how you are traveling, whether it is a motorcycle or a car or if you are using public transport like a Bus, you can very easily reach Leh from Manali in 2 days. There are several variations of this plan depending on how you are traveling.
By HRTC Bus
If you are traveling in a state-run bus, then you will start from Manali on day 1 and will break the journey at Keylong for the night. On day 2, you will start early from Keylong and reach Leh by evening.
By Self-Owned Vehicle
If you are traveling in a self-owned vehicle or a private taxi, you can choose to stay for the night at three different places. This will depend on how early you started from Manali and which place is as per your taste. I will list these places down below. This also applied to people traveling by private taxi.
Keylong
The only upside of staying at Keylong is that it has multiple choices in terms of accommodation. There are several hotels and guest houses here that can fit into any budget.
Running hot water, good food are some of the other comforts that only Keylong will offer on the Manali Leh highway.
The downsides however are that it is a bit closer to Manali. This means that if you stayed here, then you will have to start really early from Keylong on Day 2 in order to make it to Leh in time.
Secondly, It is really a town now and not that scenic, to be honest. So it may disappoint some people in terms of sightseeing on a picturesque Manali Leh highway.
Jispa
This is my favorite place to stay. A small village on the road, barely 20-30 houses on the banks of River Chandrabhaga amidst the mighty Himalayas. The downside however is a limited choice of accommodation. For more details, please take a look at How to Plan a Trip to Jispa.
Jispa is at a distance of about 30 km from Keylong. So if you stayed here, make sure that you leave as early as you can in order to make it to Leh in time.
Mornings will be cold but you got to make sure that you hit the road by the first light of the day. Do not also take breaks too often or you will be completing the last lap of your journey to Leh in total dark.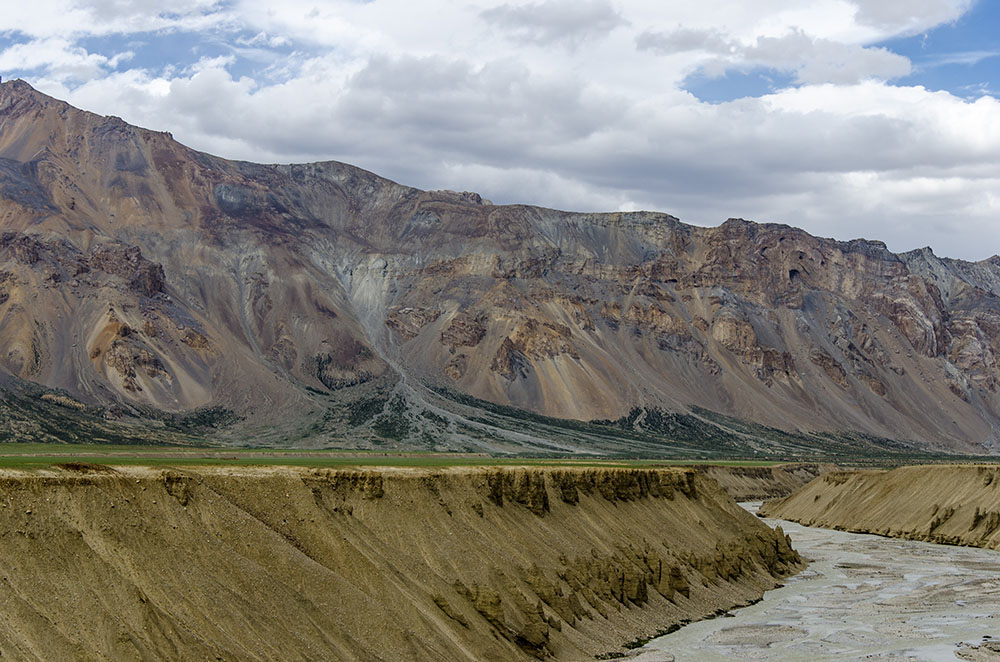 Sarchu
I will mention Sarchu in the list but it is not a place that I would recommend staying at. The only upside of staying at Sarchu is that the hours of the journey get divided equally between Day 1 and Day 2.
It is like the center point of Manali Leh highway and the distance on both sides, towards Manali and Leh, is almost equal. So you do not end up driving for way too long on either of the two days.
There are several downsides, however. The first and the foremost is that the high chance of suffering from Acute mountain sickness. Sarchu is at a height of 4,290 m (14,070 ft) from sea level whereas Manali is at a height of 2,050 m (6,726 ft).
So if you start from Manali in the morning and plan to stay at Sarchu for the night, you will take your body to more than double the height in a matter of few hours. Because of this, you will definitely suffer from altitude sickness in Sarchu. As a matter of fact, the majority of the people who stay here end up having a difficult night.
The second downside is that the only accommodation available is either chadar tents or campsites. There are no cemented hotels or guesthouses in Sarchu.
You can read more on this topic at Keylong or Jispa or Sarchu – Which is the Best Place to Stay.
Pang
Like Sarchu, even Pang does not come recommended for a night stay. Pang is at a height of 4,600 m (15,100 ft)from sea level, higher than even Sarchu. So you can rest assured that your night at Pang will be the most uncomfortable one of your entire life.
If you go directly from Manali to Pang, you will torture your body and can forget about enjoying the journey at all. Pang is closer to Leh, merely a 6 hours journey at the most. So the only upside of staying here is that you will not have to travel much on Day 2.
On Day 1 however, it will prove to be a really rushed and long journey. You will suffer from AMS once you get to Pang so a long and tiring day will end in an even tiresome night.
To summarize, for a 2 days trip on Manali to Leh route, you should either chose Keylong or Jispa for a night stay. Sarchu and Pang are best avoided. But if you do want to divide the journey equally and are ready to risk altitude sickness, you can stay at Sarchu as well. The itinerary will look something like this.
Day 1 . Manali to Keylong/Jispa/Sarchu
Day 2 . Keylong/Jispa/Sarchu to Leh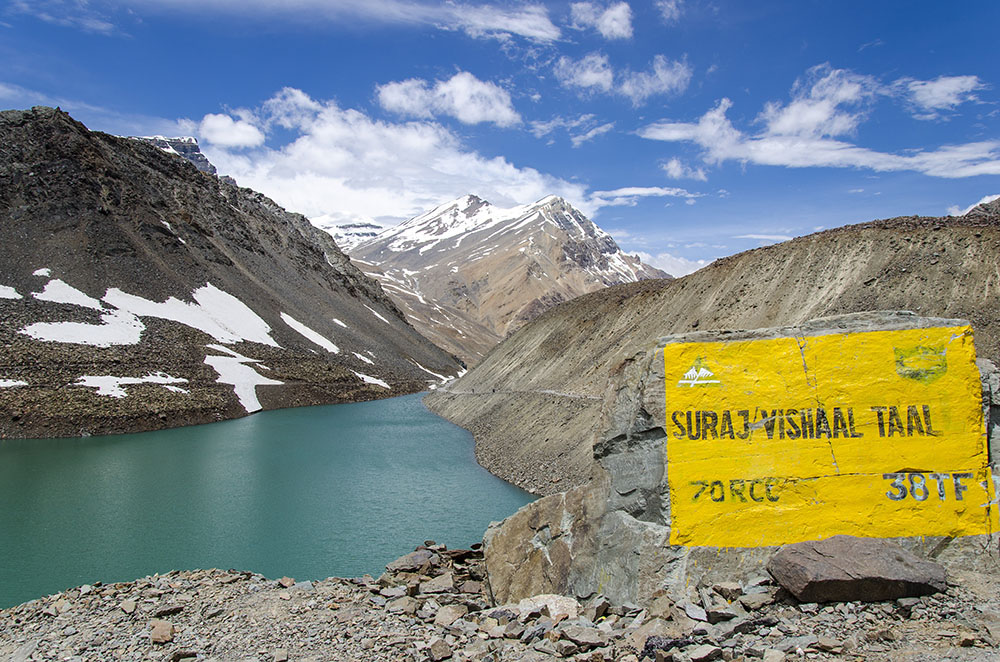 Manali to Leh in 3 Days
A 3-day journey on the Manali Leh highway is my personal favorite. This is beneficial in several ways. I always recommend giving this journey a minimum of 3 days if you really want to enjoy it. Below are a few points that you should consider,
Less tiring
This is the first and the foremost reason. You need to consider the fact that it is not your usual vacation. You will be traveling in extremely challenging conditions, away from civilization, away from basic amenities.
All this is bound to take a toll on your body. A 3-day journey will ensure that you do not travel for long hours, do not rush and in the process do not tire yourself.
Better planning
If you have 3 days in hand, you will be able to plan better for unseen events. There will be no rush and in case you run into trouble, you will have some time in hand to handle the situation.
Also Read: Clothes for Ladakh Trip – What to Pack
Enough breaks
What is the point of traveling on the Manali Leh highway if you like a vista and cannot even stop for some time to enjoy it? The road you will be traveling on is filled with such mesmerizing beauty that you would want to stop at every turn. A 3 days journey will give you ample time to do that.
Enough photography
Click all that you want. It doesn't matter if you are a photography enthusiast or just a cell phone photographer, you will have plenty of time to capture memories on your device.
Fewer chances of AMS
This will be the most important reason. The increase in height will be a little gradual and chances of suffering from AMS will reduce significantly.
Having said that, what will be an ideal itinerary for traveling on the Manali Leh highway in 3 days? Here is what I recommend.
Day 1 – Manali to Keylong/Jispa
Of course, I would recommend staying in Jispa over Keylong. Take an early start from Manali as I am guessing that you will also want to include Rohtang Pass in your trip rather than traveling through the Atal Tunnel.
Day 2 – Keylong/Jispa to Sarchu/Pang
I would suggest staying at Pang because it will reduce your travel time on the 3rd day. Starting from Pang in the morning by 7 will have you in Leh by a maximum of 3 pm, thus giving enough time for hotel hunt and settle down.
Do note though that if it is your first time at such a high altitude, then Pang is the place where you will most likely suffer from AMS. If that concerns you then you can consider staying at Sarchu however chances are that you will suffer AMS at Sarchu as well.
There is no set way to avoid it really. If you did not suffer from AMS at all, then you will be really lucky. All that you can do is be prepared, and do not exert yourself. If you were not at all feeling well while approaching Pang then do not stop here and continue all the way to Leh. If it got late, then you can look for a room in Karu or Upshi.
Day 3 – Sarchu/Pang to Leh
Start early from either of these places, take plenty of breaks and enjoy the journey. You will cross the magnificent More plains and also cross several high-altitude passes on Manali Leh Highway.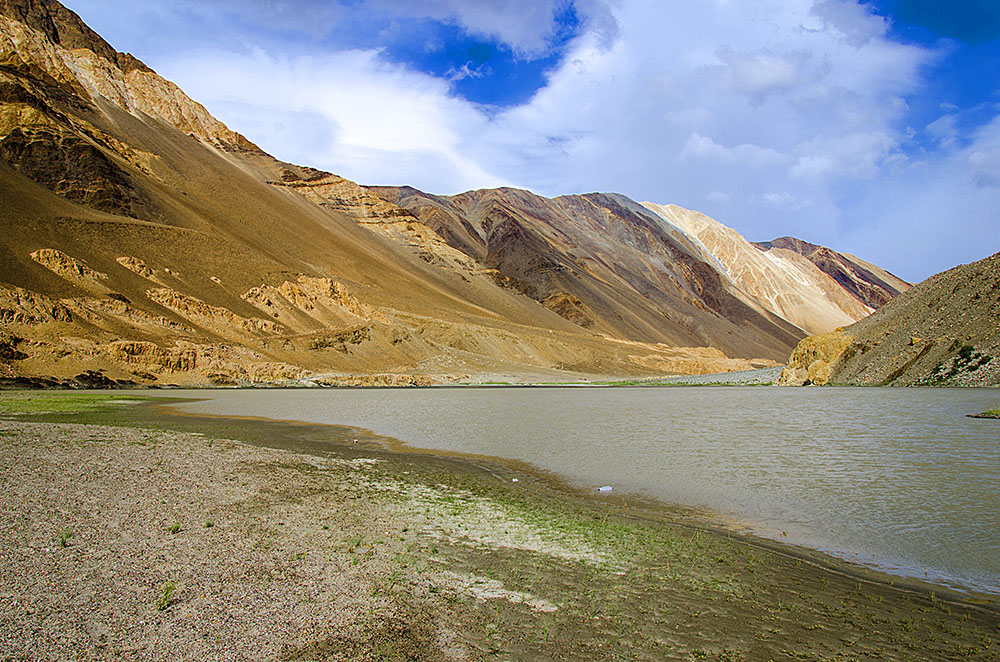 Manali to Leh in 4 Days
A 4 days journey on the Manali Leh highway is an extended and more relaxed version of 3 days journey. It is not really required as well. I would suggest that rather than spending 4 days on Manali to Leh, complete it in 3 days and use this extra day somewhere else in Ladakh.
However, if you want to dedicate 4 days to get from Manali to Leh, then below is the itinerary you can follow.
Manali to Keylong/Jispa – Day 1
Keylong/Jispa to Sarchu – Day 2
Sarchu to Pang – Day 3
Pang to Leh – Day 4
Manali to Leh Cycling Itinerary
What I stated above is if you are either riding a motorcycle or driving to Leh in a car. The itinerary will however change if you are planning to cycle on the route. Manali to Leh travel time on a bicycle, as you can guess, will be much longer.
Please know that I have just started to get into cycling and I am still limited to cycling around within the city. I am yet to take my bicycle out in the hills so my knowledge is severely limited in this aspect.
If you are planning a bicycle trip on Manali Leh highway, I would assume that you are into cycling for long, which means that you know more about it than I do. I can only suggest an itinerary that you can follow.
This trip would require a minimum of 10 days including a day to reach Manali (by Bus or car of course). I would suggest an Itinerary from Manali to Leh.
Manali to Marhi – Day 1
Marhi to Sissu/Tandi – Day 2
Sissu/Tandi to Jispa – Day 3
Jispa to Patseo – Day 4
Patseo to Sarchu – Day 5
Sarchu to Pang – Day 6
Pang to Tso Kar – Day 7
Tso Kar to Rumtse/Upshi – Day 8
Rumtse/Upshi to Leh – Day 9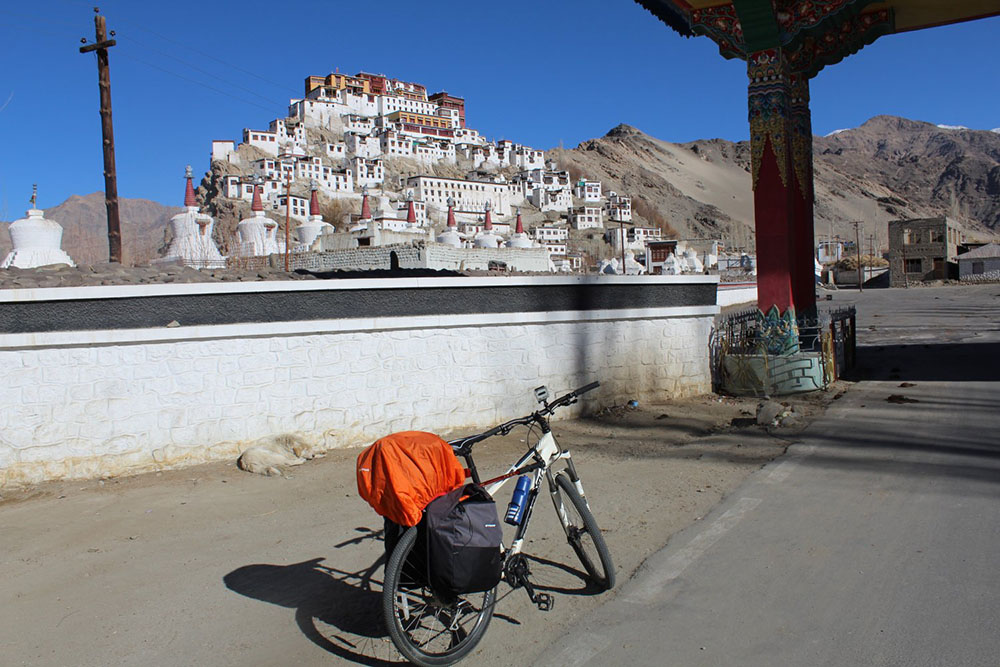 Manali to Leh Travel Time & Itinerary – Conclusion
I have been to Ladakh a few times and have in fact covered this highway in 1, 2, and 3 days. My first trip was in 3 days and after that, I mostly cover this road in 2 days; except for 1 time when I rushed back from Leh to Manali in a single day. My personal opinion is that 3 days is a recommended and sufficient time for this route.
I hope the information I provided above on Manali to Leh travel time was of help. If you have any questions or need any other details, please feel free to ask in the comments section below or at our Community Forum, and I will be glad to answer.